Mangala Resort & Spa
Monica Tindall
Nestled amidst the lush landscapes of Pahang, Malaysia, Mangala Resort & Spa is a hidden gem that promises an unforgettable retreat for those seeking tranquillity and rejuvenation. With its stunning lakes and landscaping, impeccable service, and farm-to-table experience, this resort is a haven for travellers looking to escape the hustle and bustle of daily life.
What was once a barren tin mine has been lovingly rehabilitated over two decades. It's no small mission turning around a polluted site into safe, liveable grounds, but just imagine if this is what was done to all dead mines. Significant work must be undertaken to reestablish wildlife and rid sites of hazardous materials. However, the end result is well worth the challenge, especially if it turns out even anything similar to Mangala Resort & Spa. It's truly a commendable project, and we're humbled by the continued commitment to the work.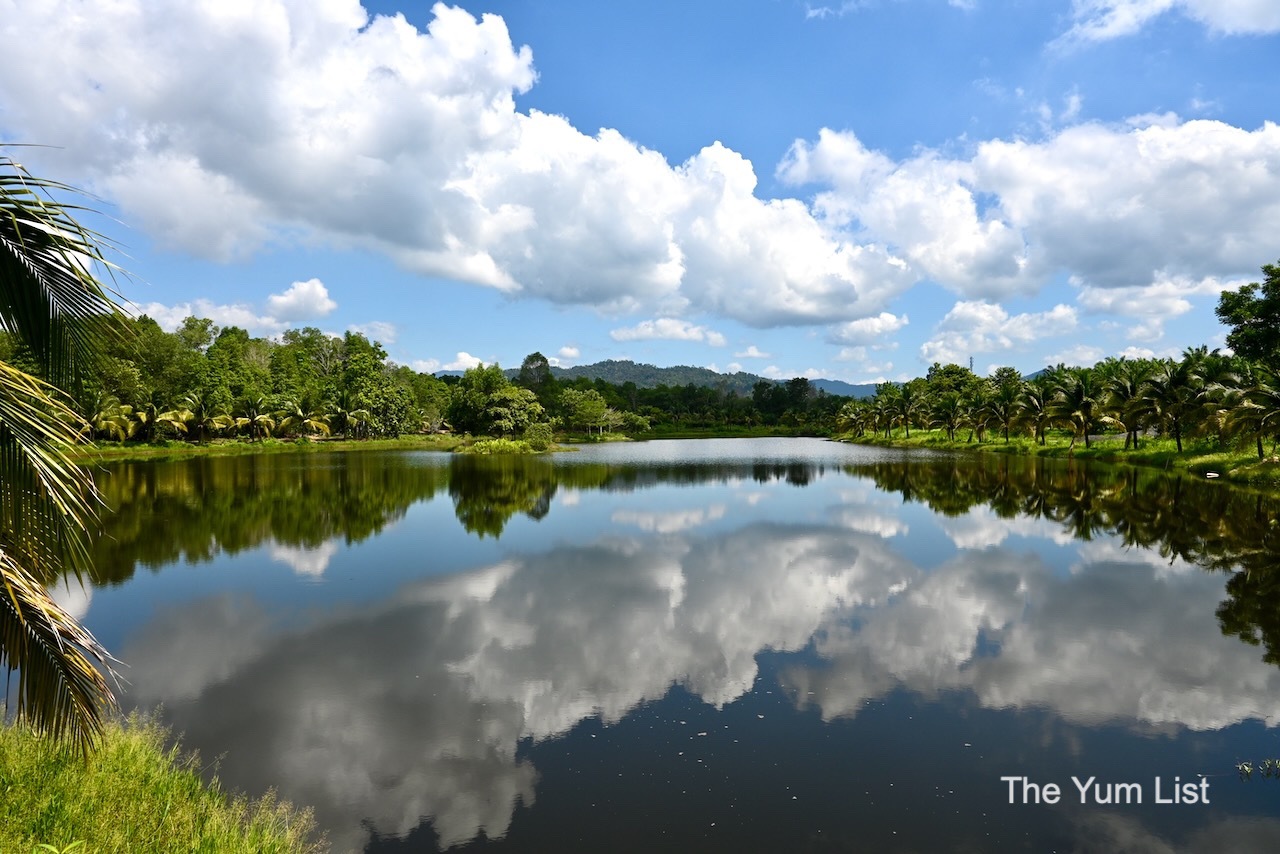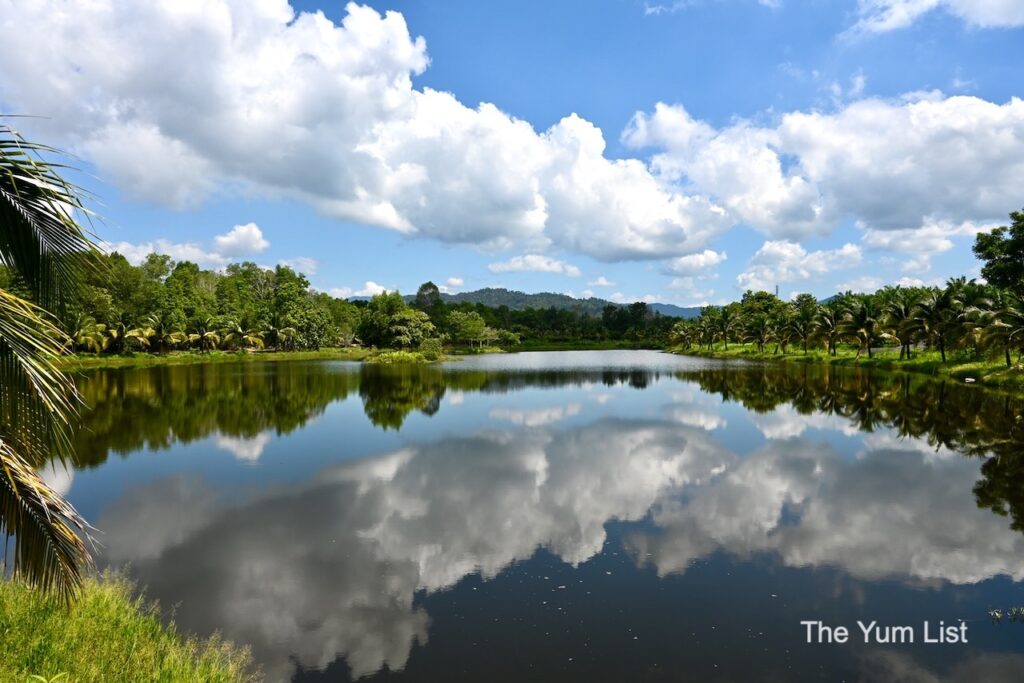 A Serene Oasis
As soon as we enter the gates of Mangala Resort & Spa, we feel a sense of calm and serenity. The resort spans over 100 acres of beautifully landscaped gardens, fruit orchards, and picturesque lakes, creating an idyllic setting for relaxation. A fresh coconut from the property's own farm welcomes us, hinting at the connection to nature we're about to appreciate over the weekend. It also sheds light on the quality of service to come. The staff, from the restaurant team to the rooms crew to the chefs and management – every interaction is friendly, positive, well-informed, communicative and proactive.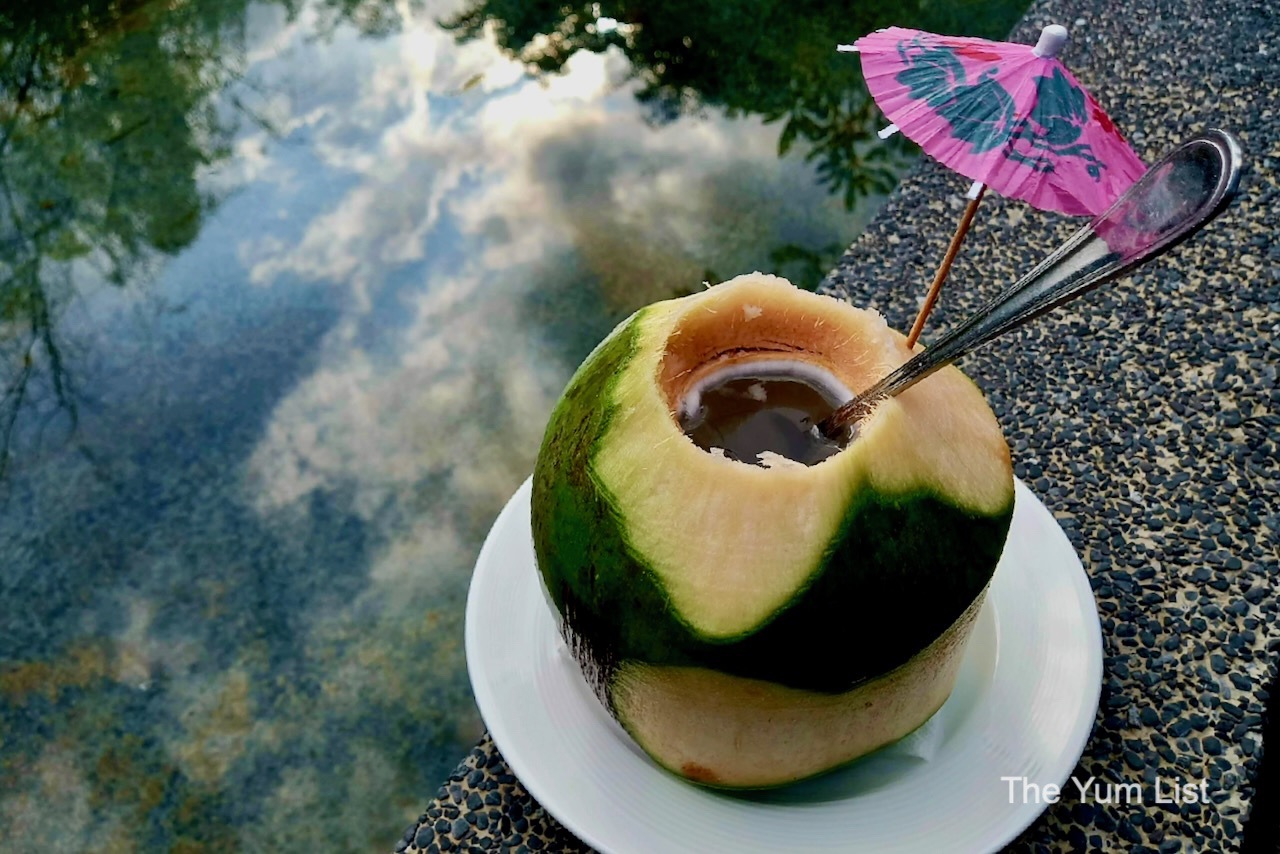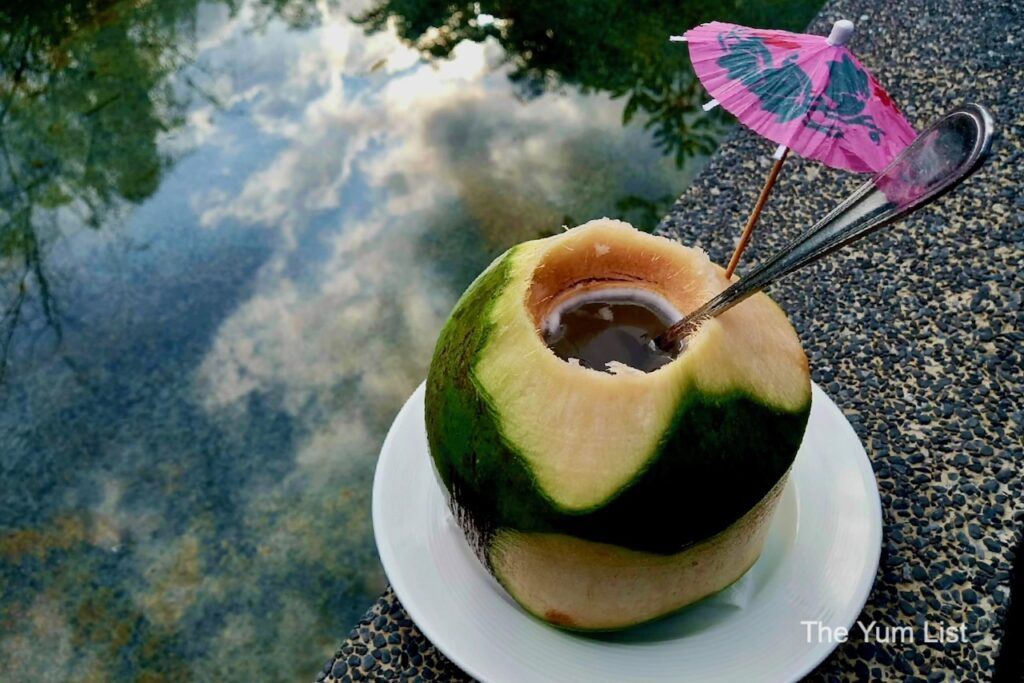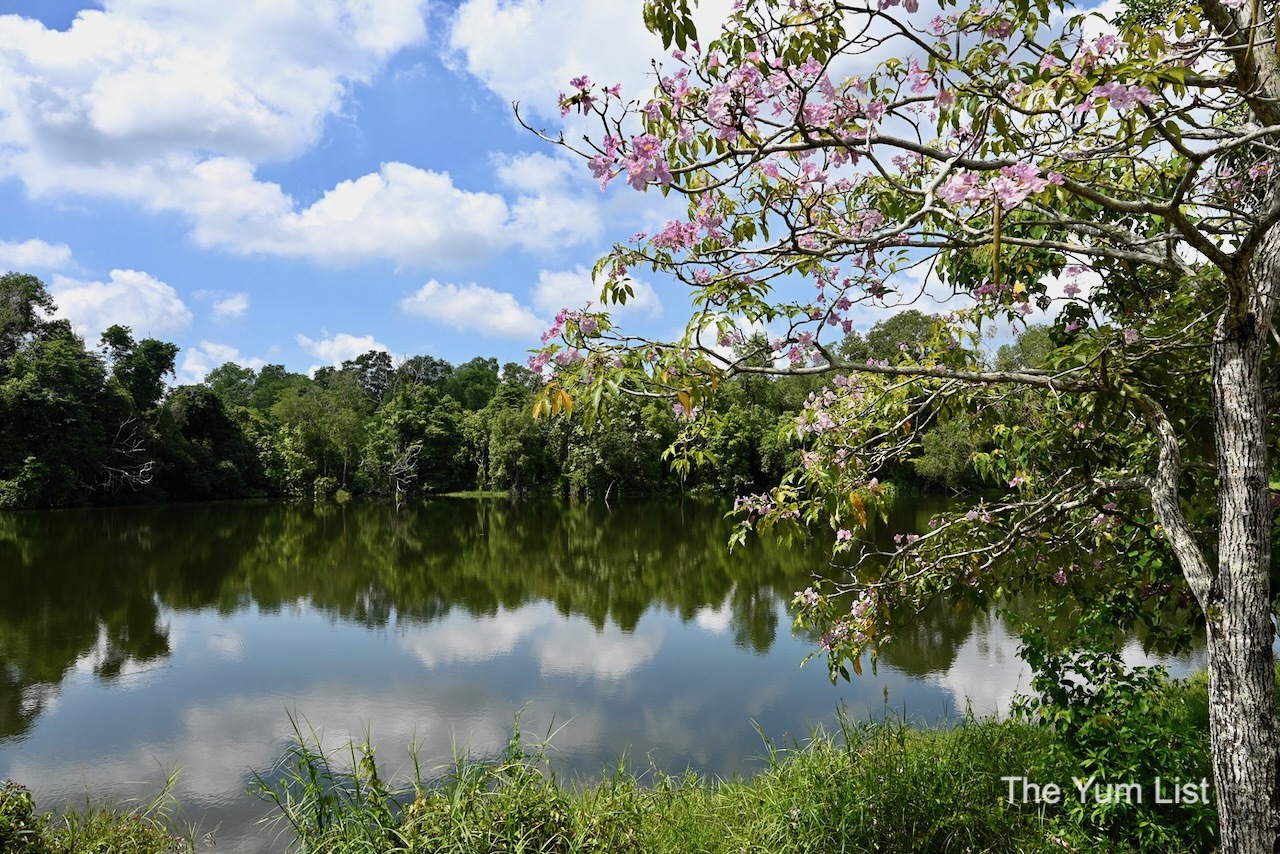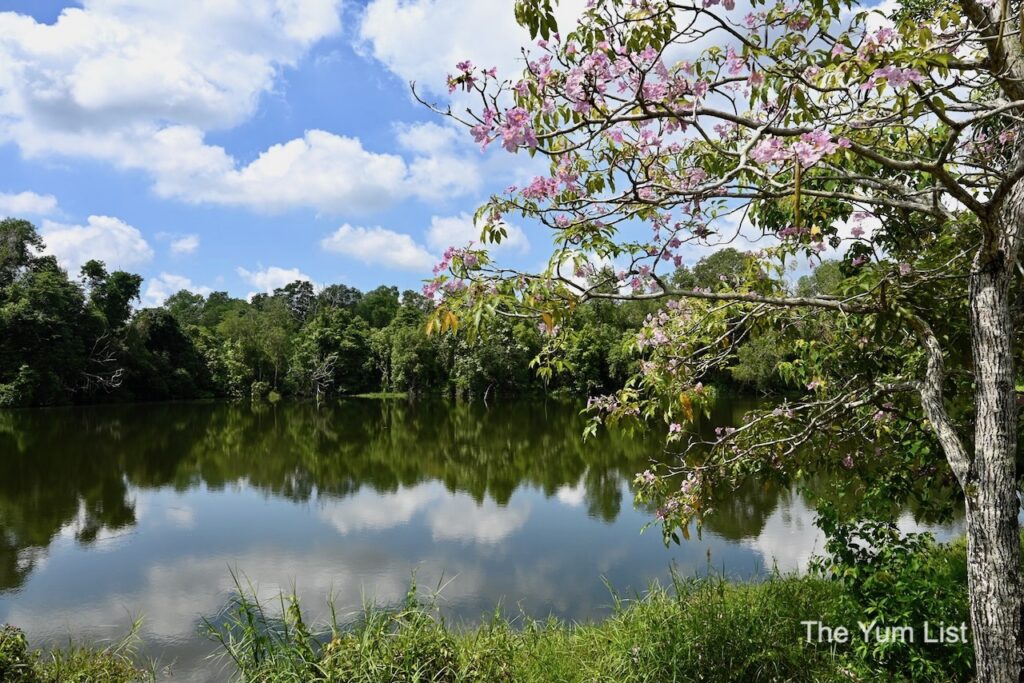 Villas Nestled in Nature
Mangala Resort & Spa boasts a range of luxurious accommodations that cater to different preferences and group sizes. From elegant villas overlooking the lake to spacious suites with private pools and even bungalows that sleep up to 14 people, every room is designed to provide comfort, privacy and connection to the natural environment. The interiors exude a contemporary yet authentic Malaysian charm, combining natural elements with modern amenities to create a harmonious living space.
Our stay is in the latest addition to the collection, an Amani Pool Villa, offering a built-up area of 60 square metres. Set upon gently sloping terrain, the rooms weave through a small orchard filled with mangoes and the beloved Musang King durian trees (don't worry, we can't smell them from our room!). Each villa boasts a poolside deck, large bathroom (ours includes a double tub), living area, king bed, and the highlight… a private saltwater plunge pool (ours, 807, is even secluded enough for skinny dipping). Some abodes feature interconnecting doors to the neighbouring villa, creating a seamless space for larger groups or families.
Now for the essentials: The room is exceptionally clean. The bed is supportive yet soft, and guests can request pillows to their liking. The shower offers almost instant hot water, and the bathroom is filled with natural light during the day, with a lovely garden outlook. Bath products are offered in refillable pumps and miniatures (we hope they get rid of the latter), and the mini-bar of several soft drinks, tea, espresso-pod coffee and some nuts is complimentary for the first use. Drinking water is currently provided in single-use plastic, but the management is looking into refillable bottles. In the meantime, bring your own bottle and ask the kitchen team to fill it up or request jugs. Lastly, Wi-Fi is fast, and we found decent connectivity around the resort despite its isolation.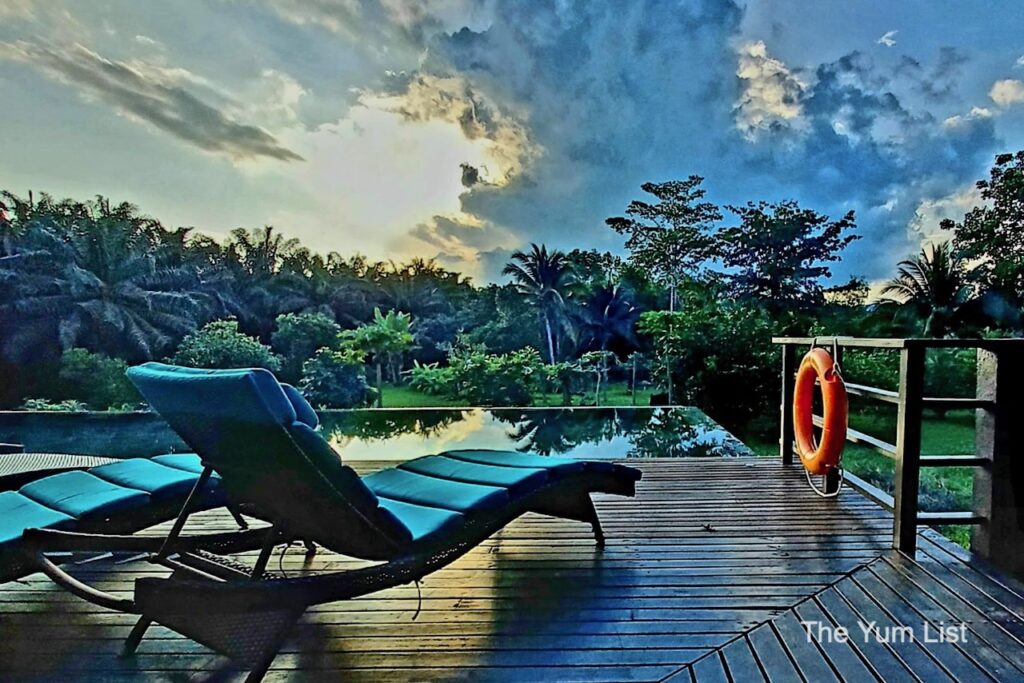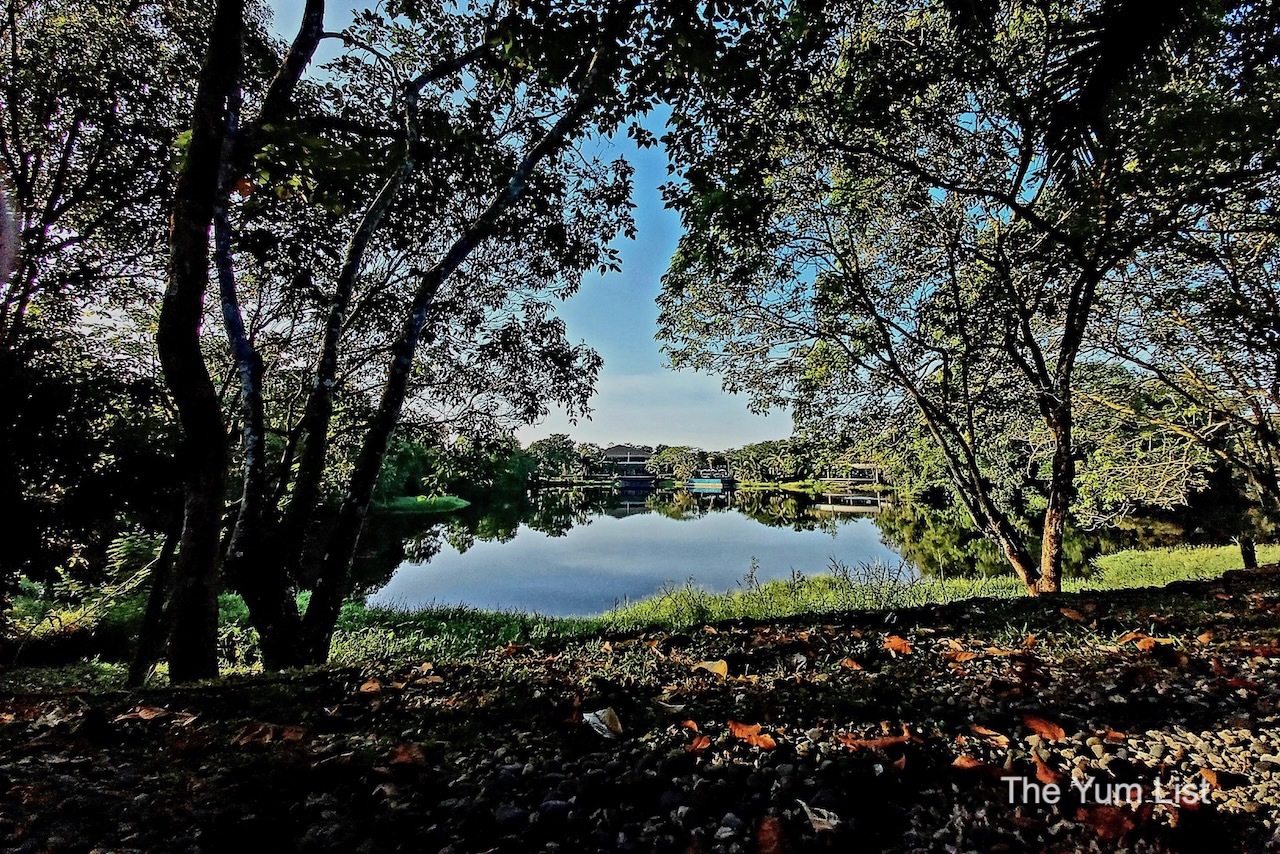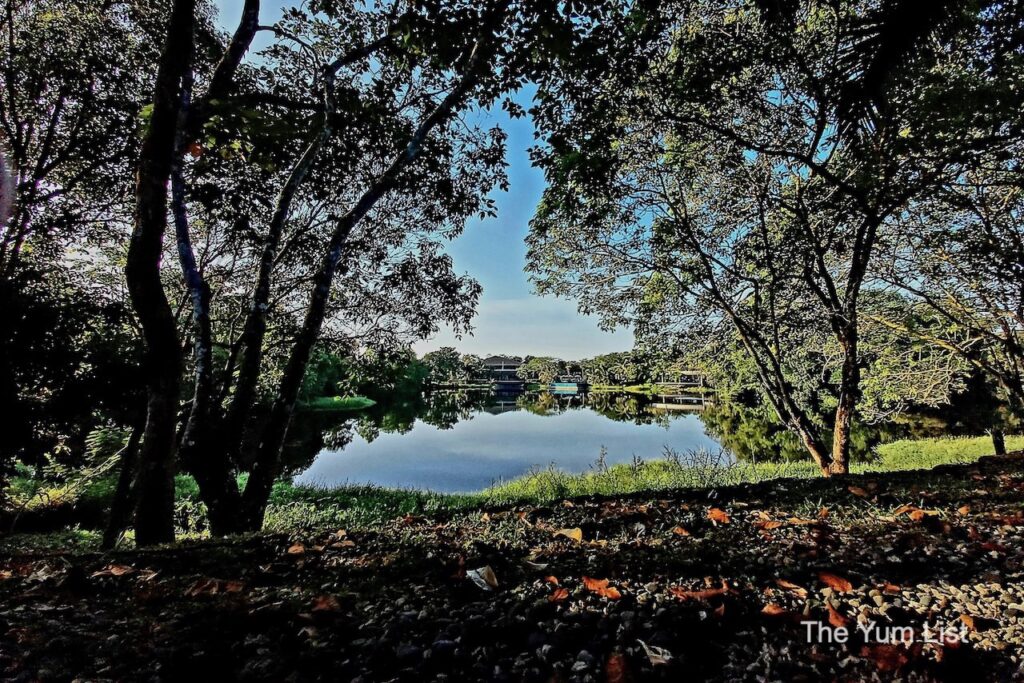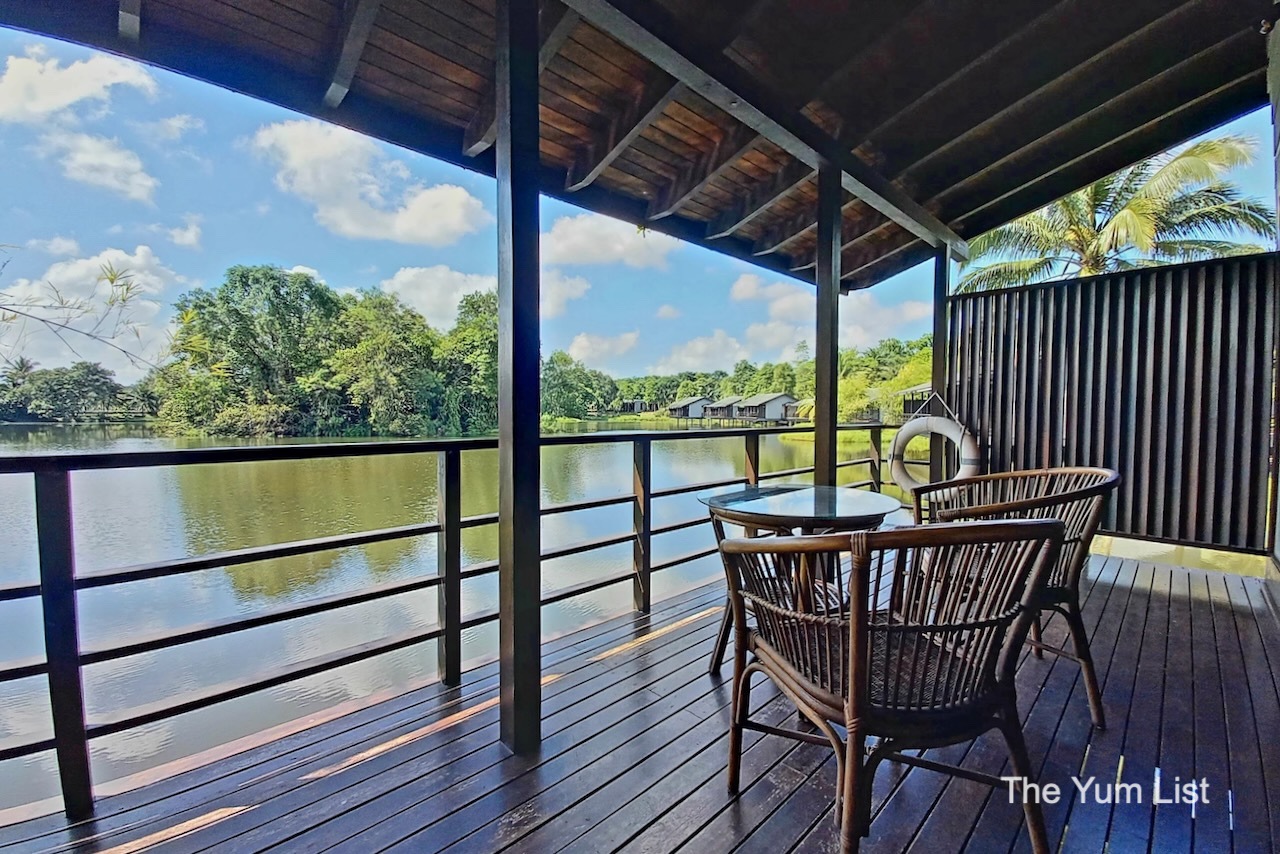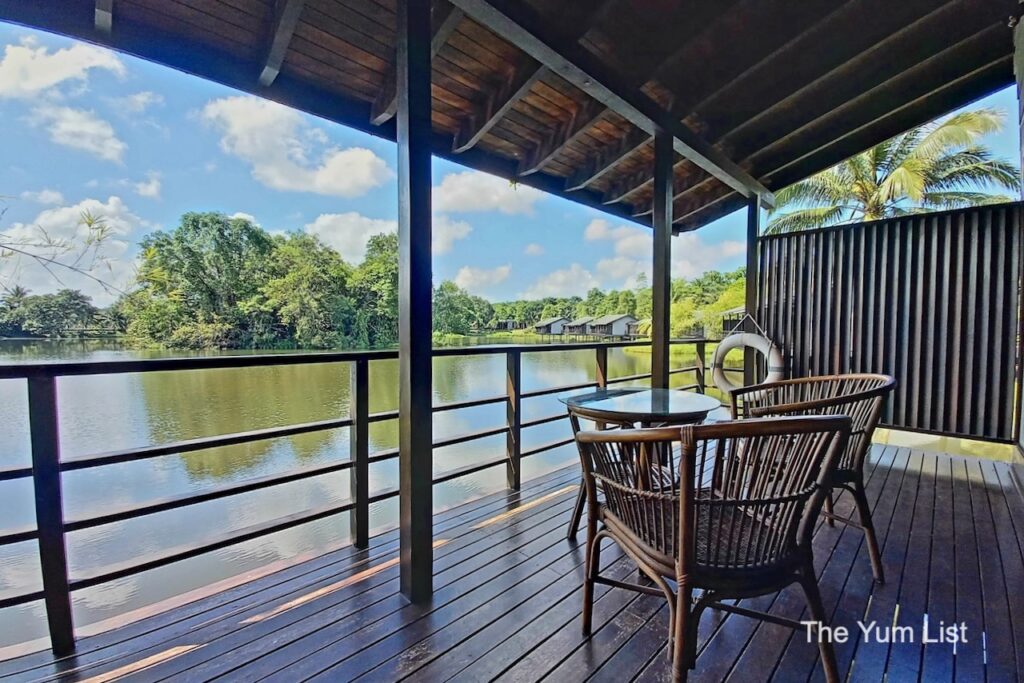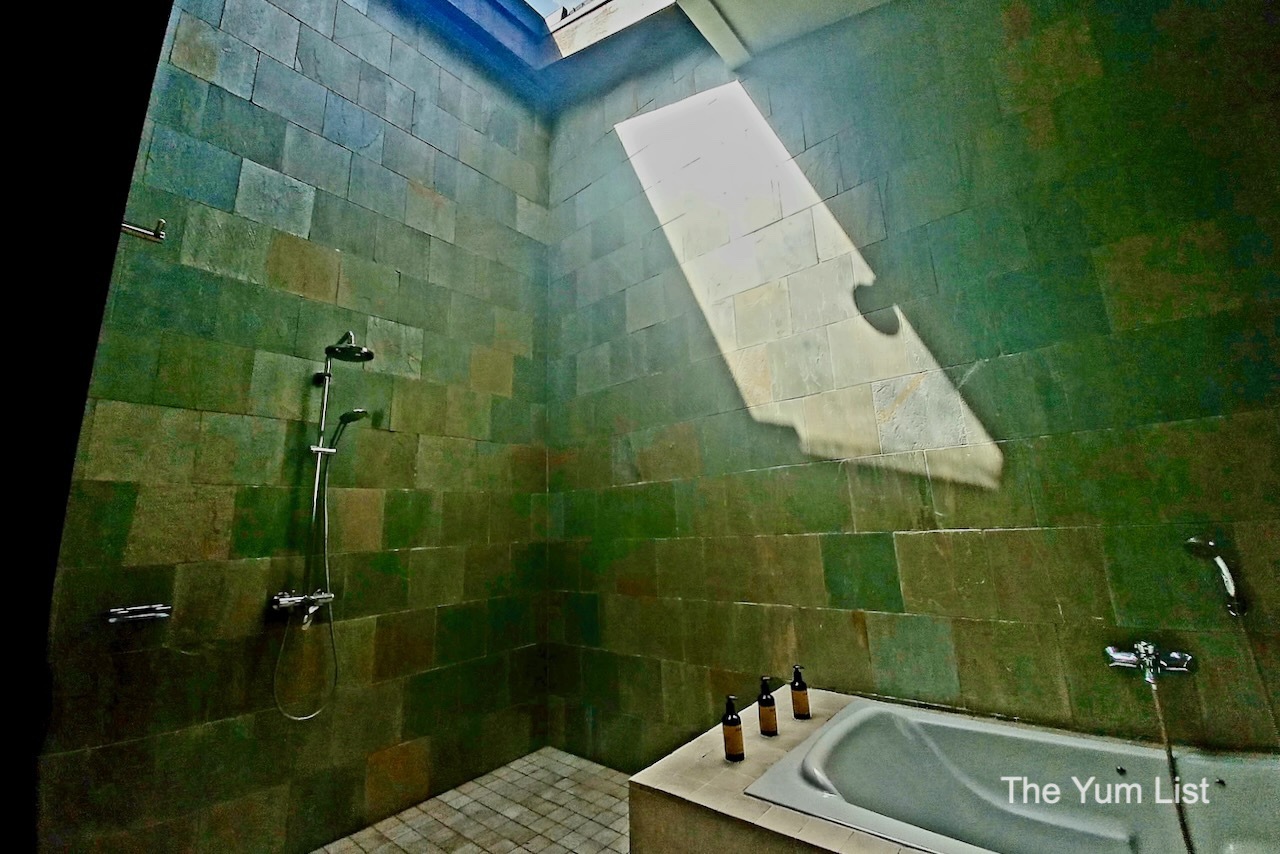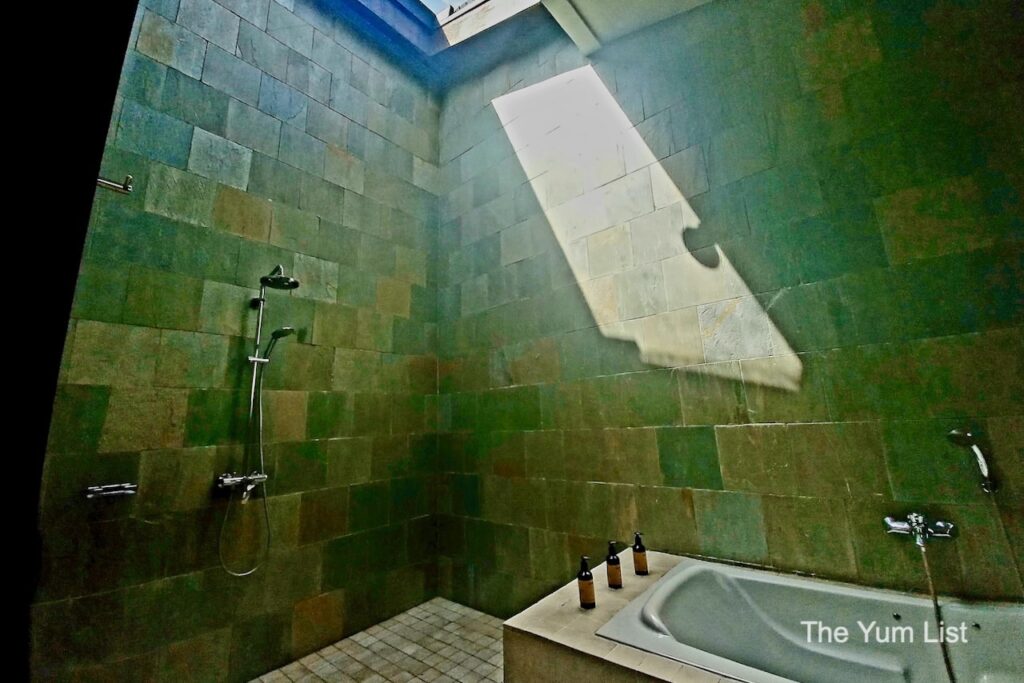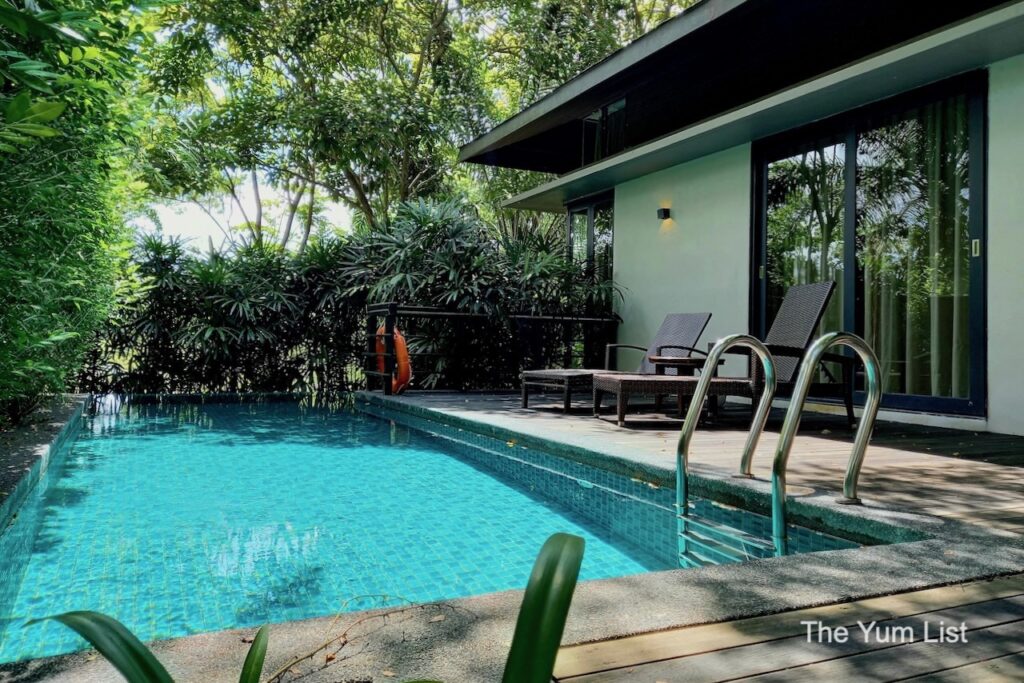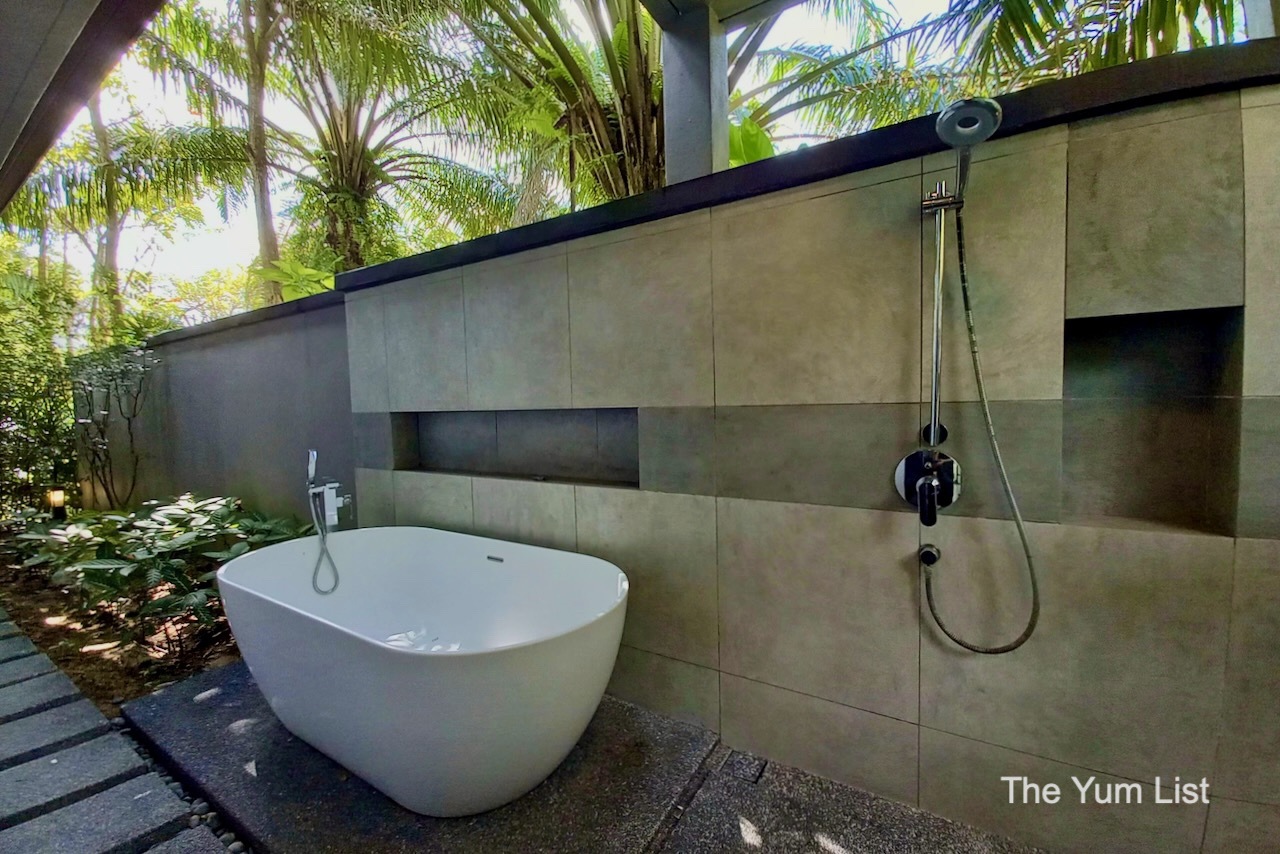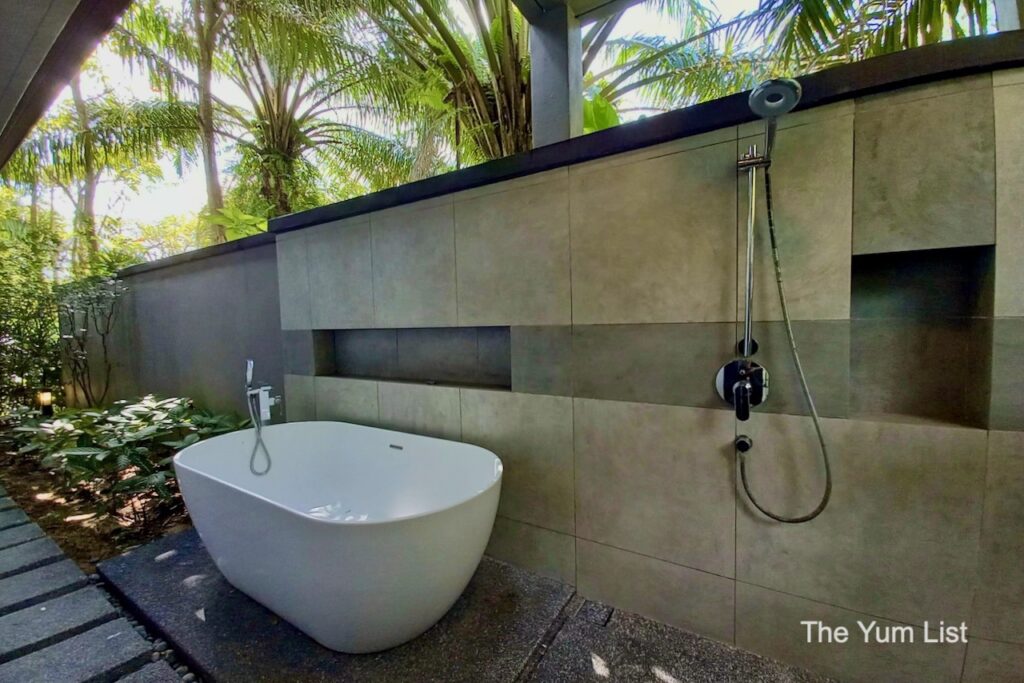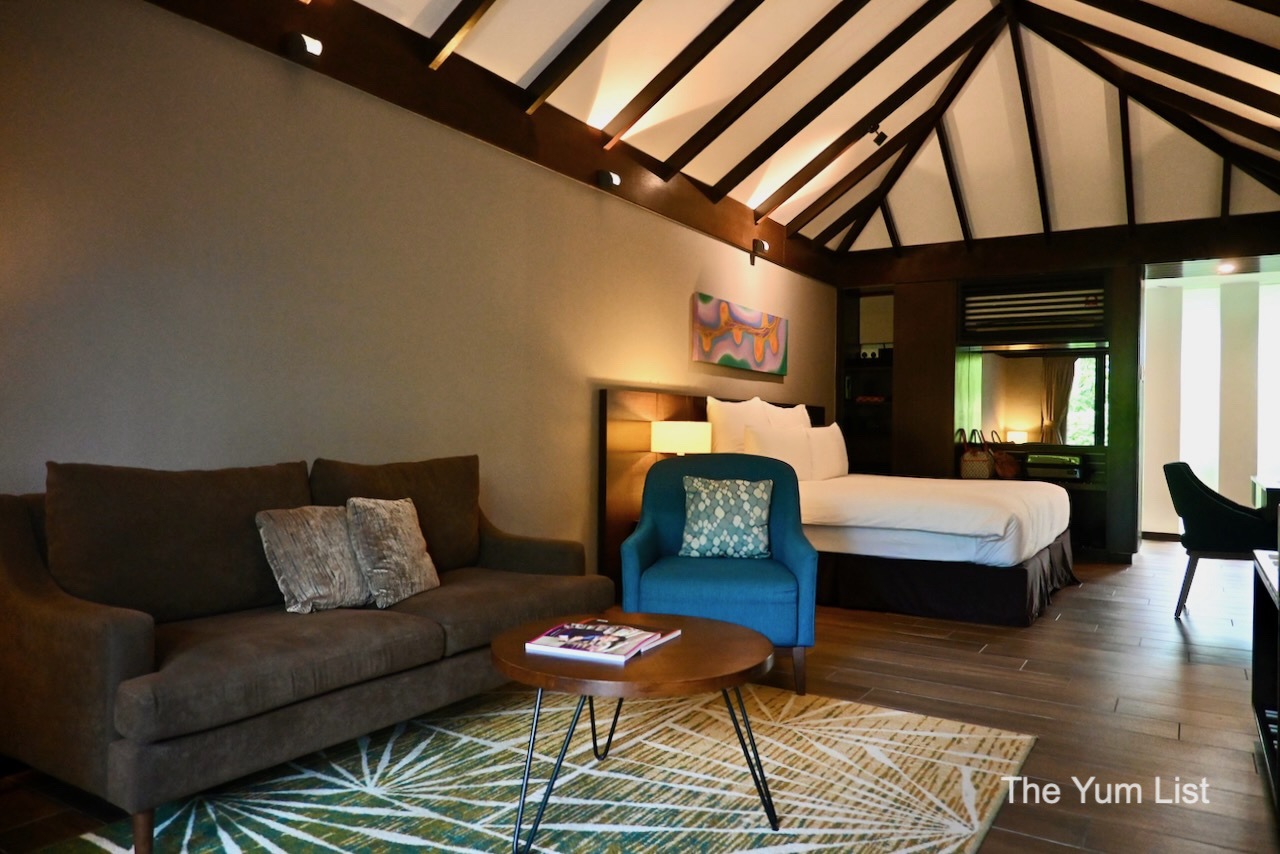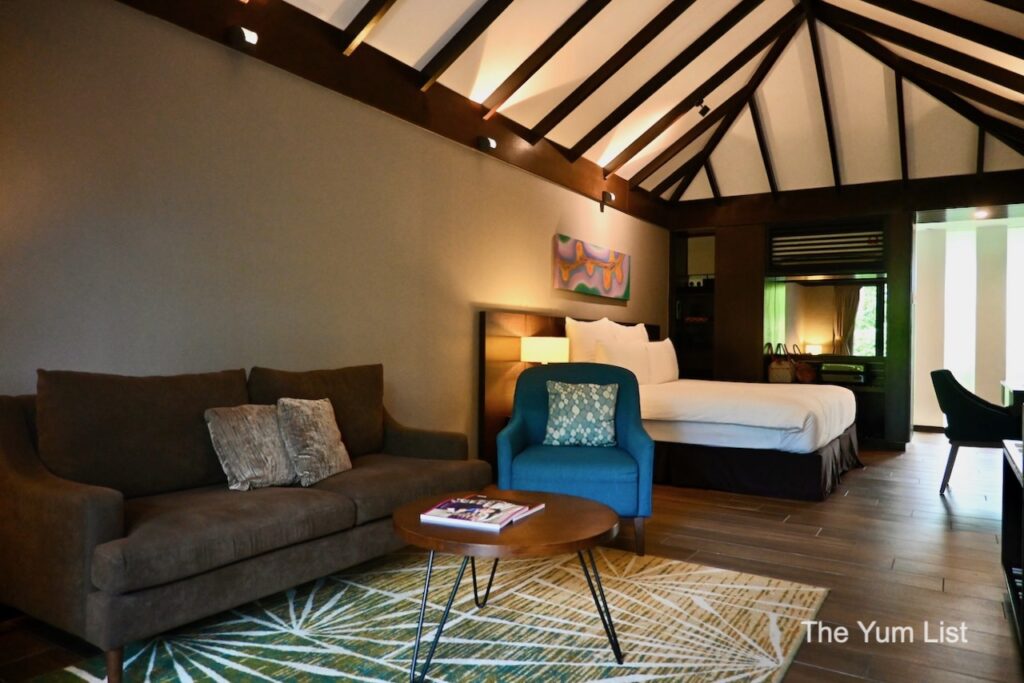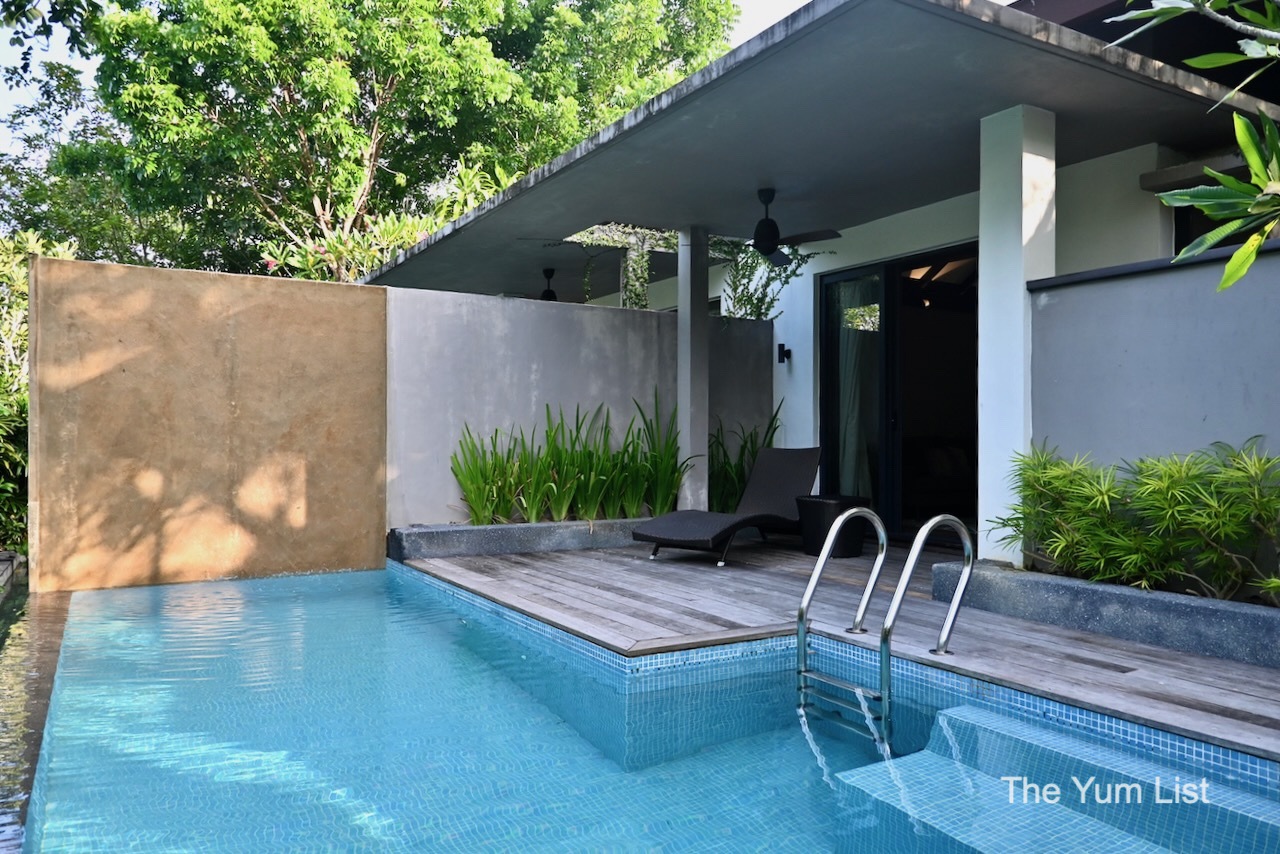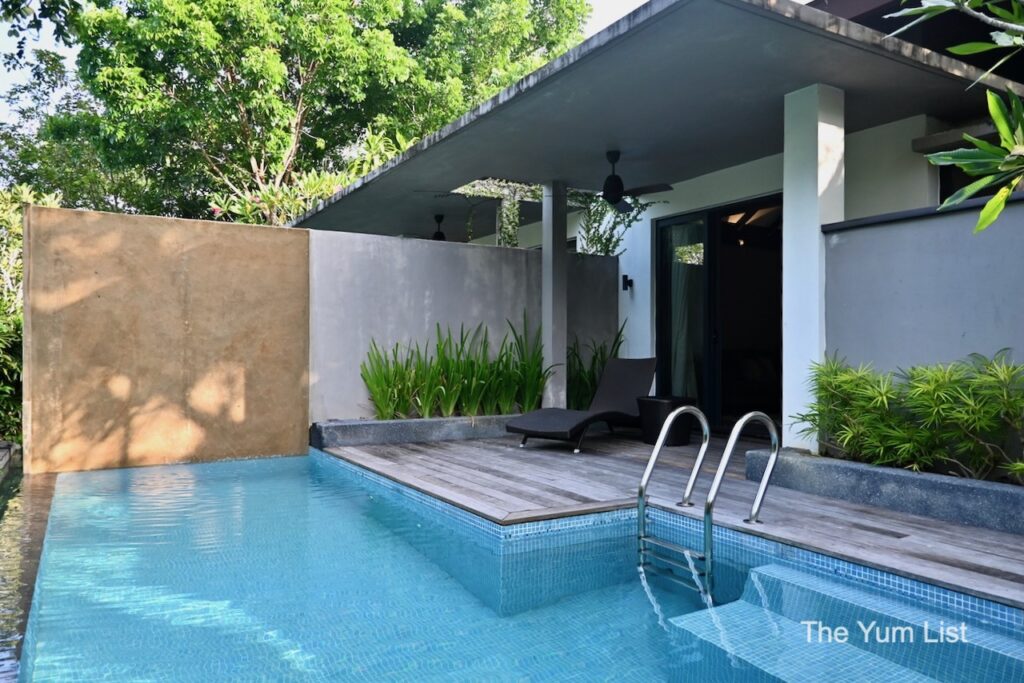 Activities & Facilities
Even though Mangala Resort & Spa is surrounded by rich forests and pretty coastlines, the property itself has plenty to keep us on-site. We spend much of our time in and out of our private pool, walking around the lakes and gardens and in the spa. Still, there is a gym (although it's not air-conditioned, so too hot for us to use) and plenty of land and water activities, such as bicycles, archery, scooters, kayaks and paddle boats for hire. Some packages include these activities, or you can rent equipment by the hour. You could also bring your own bikes and zip around the shaded paths. Furthermore, the communal pool is beautiful! It's lined with deck chairs, overlooks the lake and has a whirlpool encircled with lush gardens.
Daily activities such as nature walks (look out for the family of river otters in the lake!) and bird watching (over 170 species have been sighted!) are in the program, and a daily afternoon tea, complimentary for all guests, gives a taste of the farm's produce. With Chef Mohd Shahrul Nizam Bin Zulkifli (formerly of Mandarin Oriental Kuala Lumpur) now on board, there is also talk of farm tours to pick produce followed by cooking classes.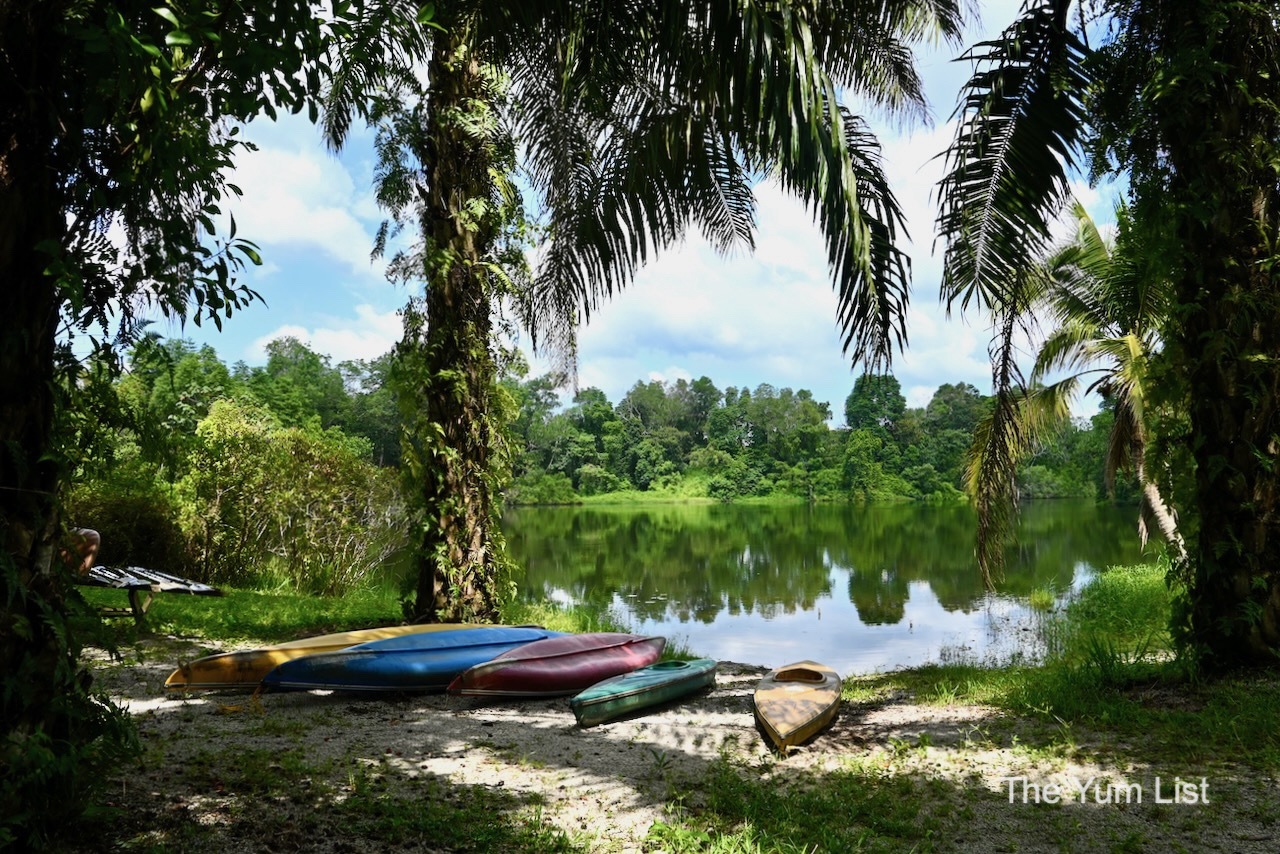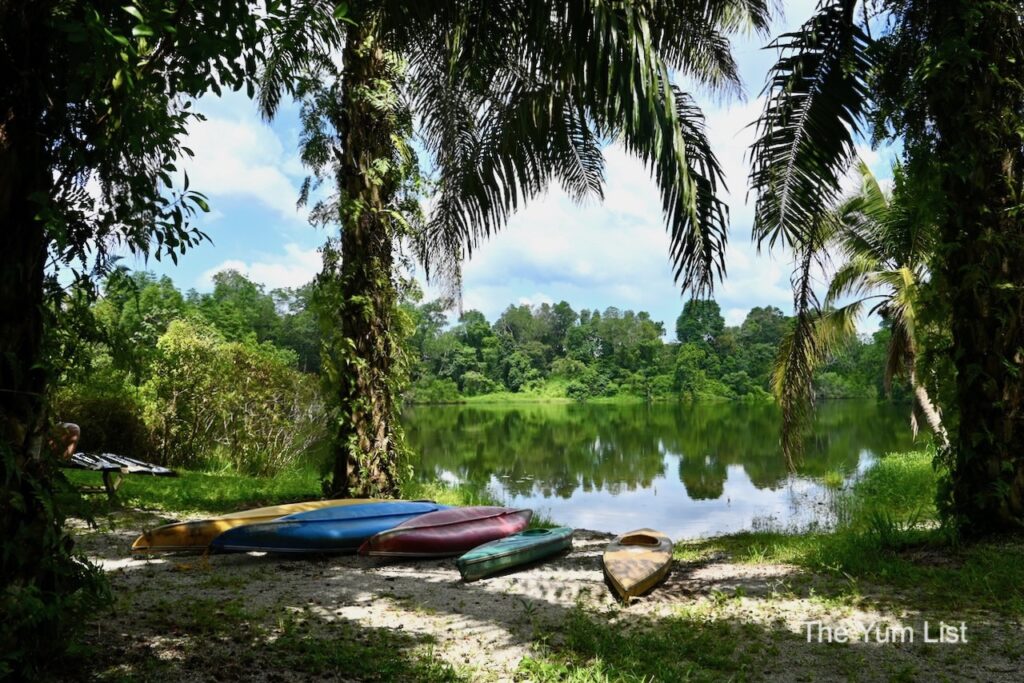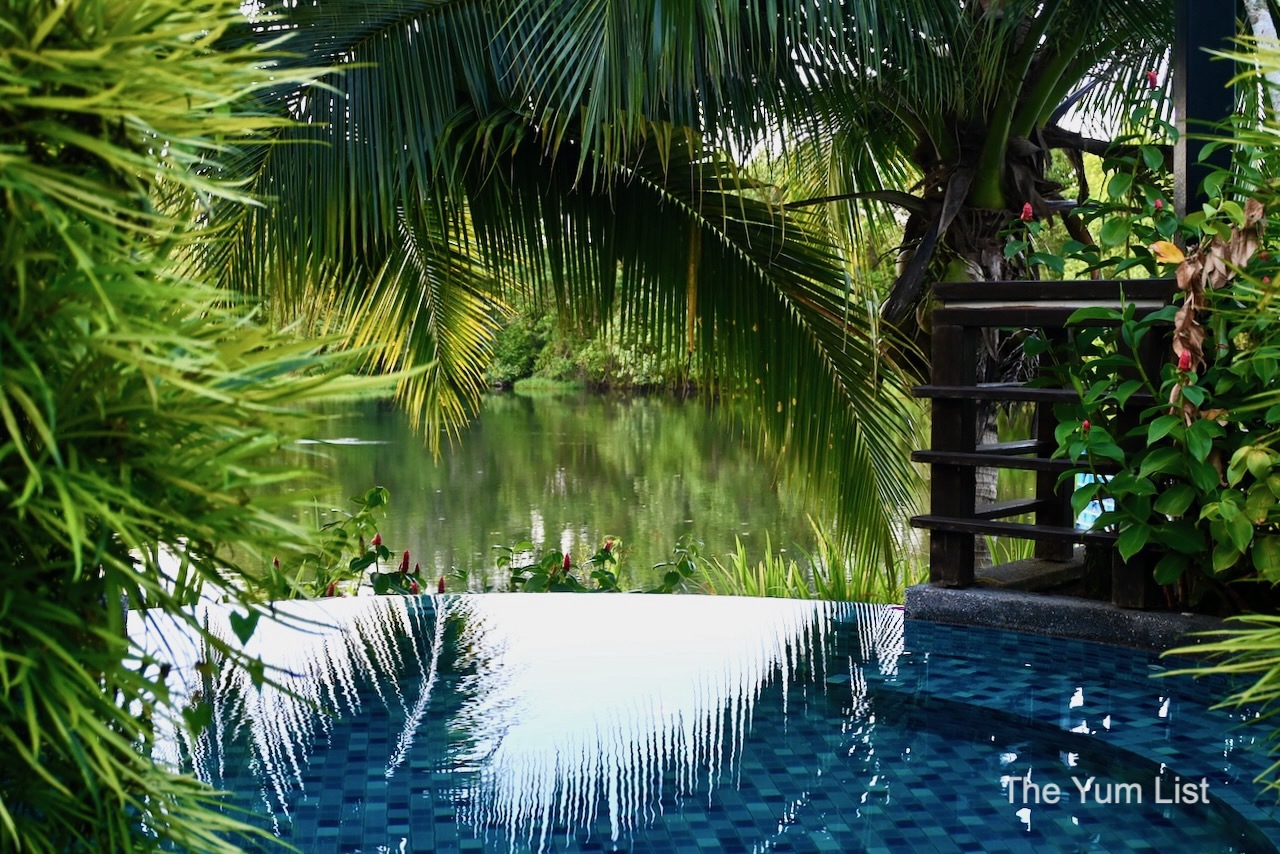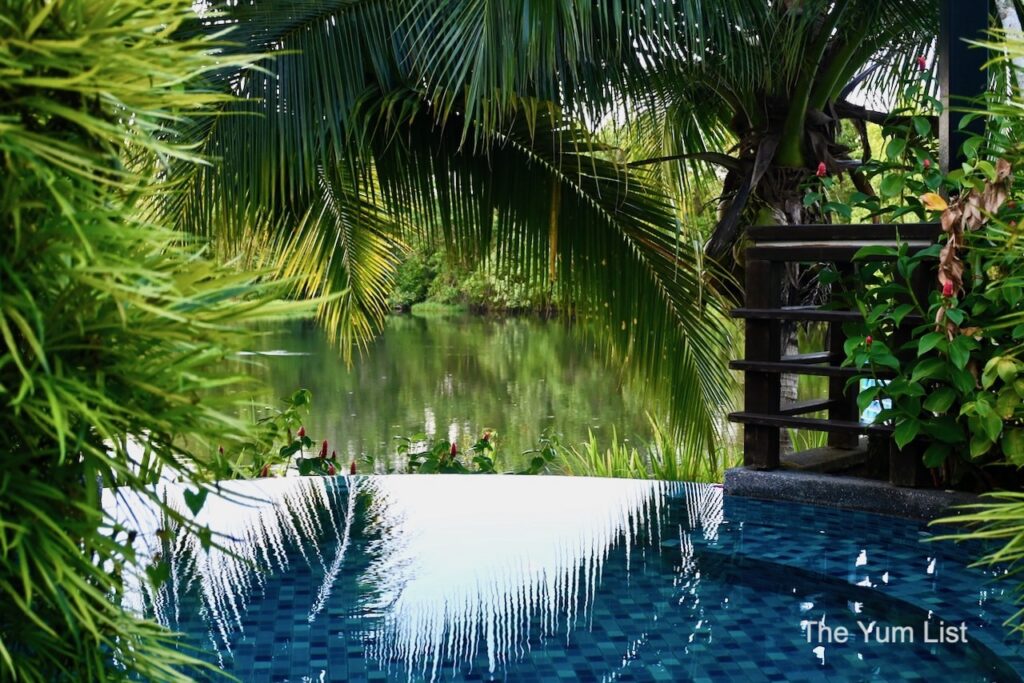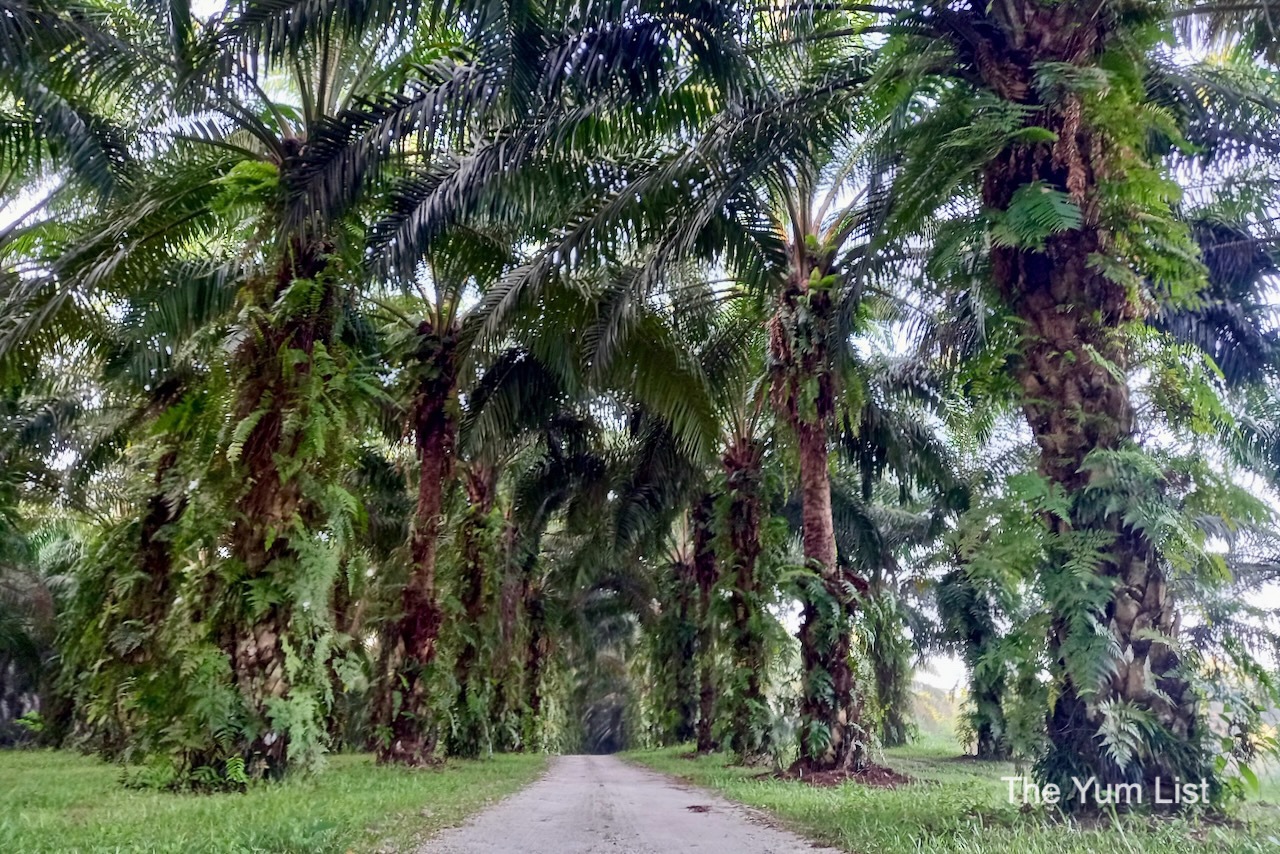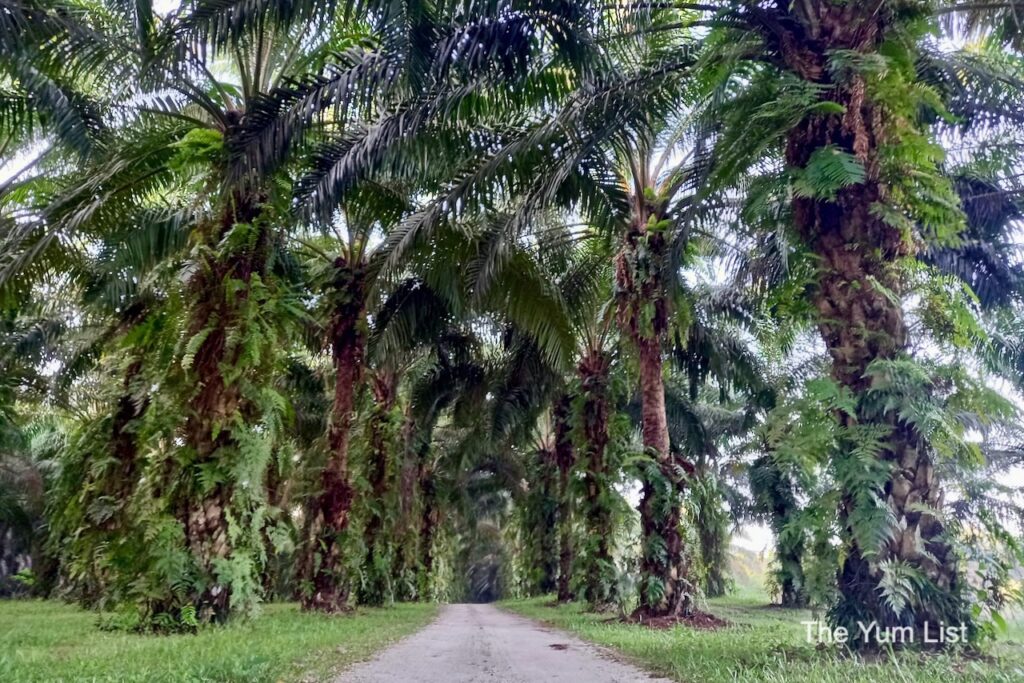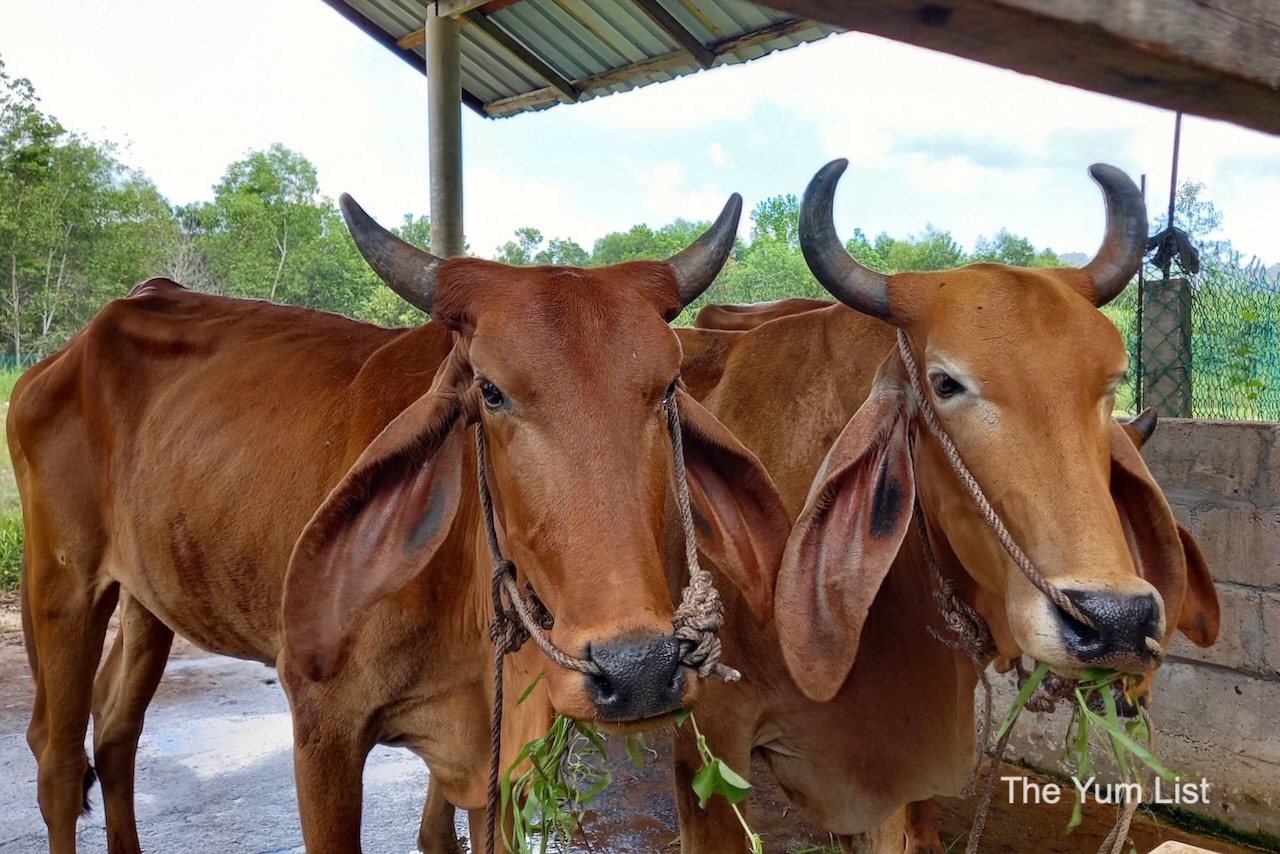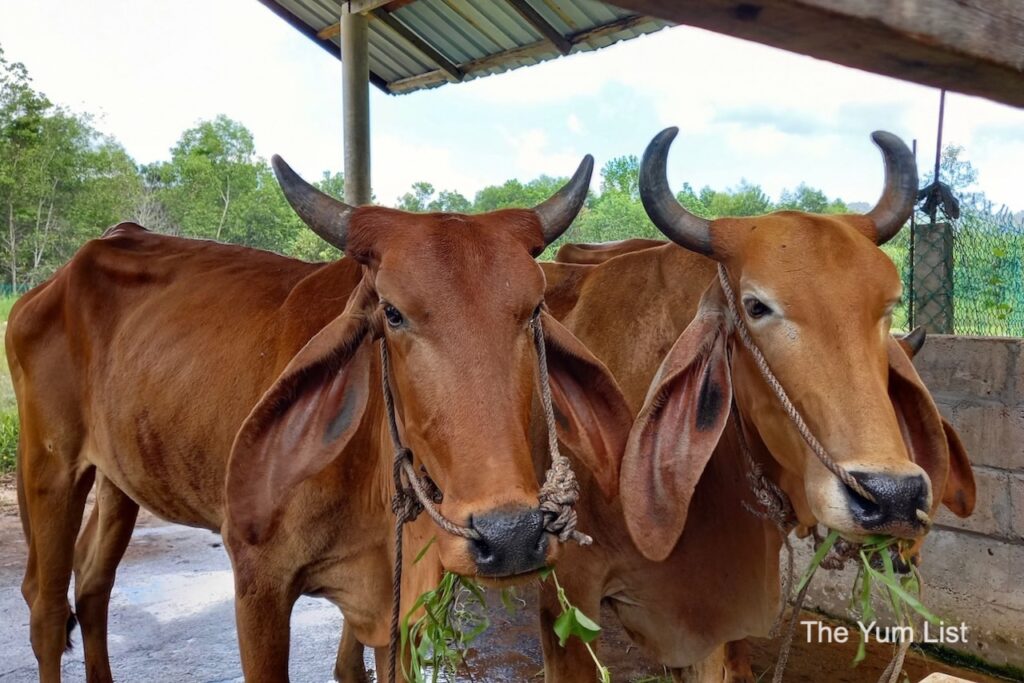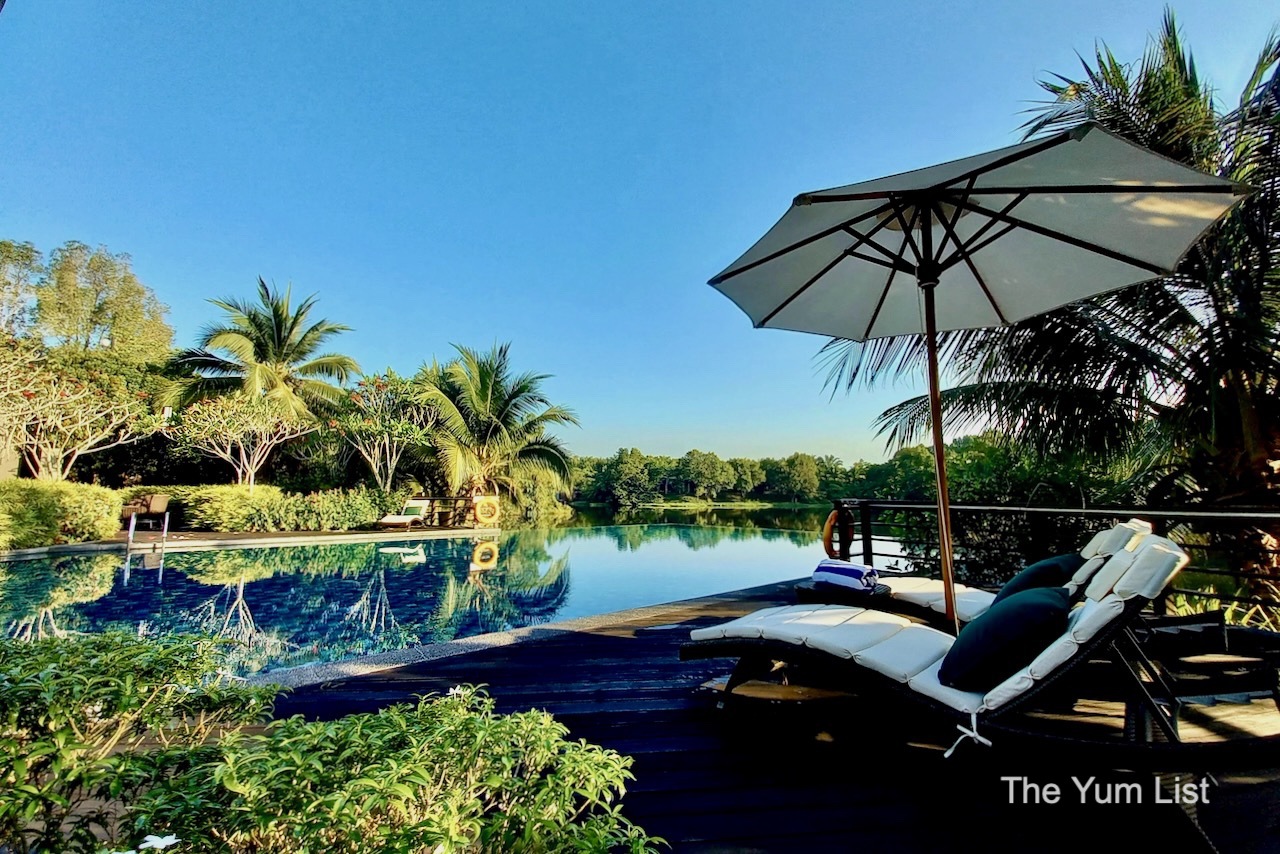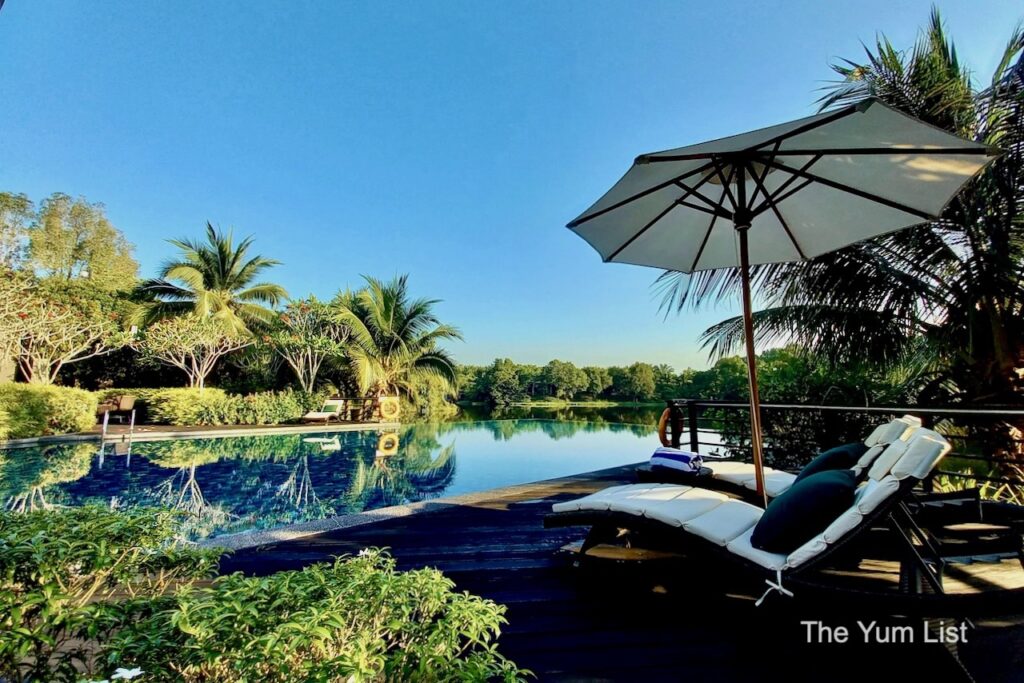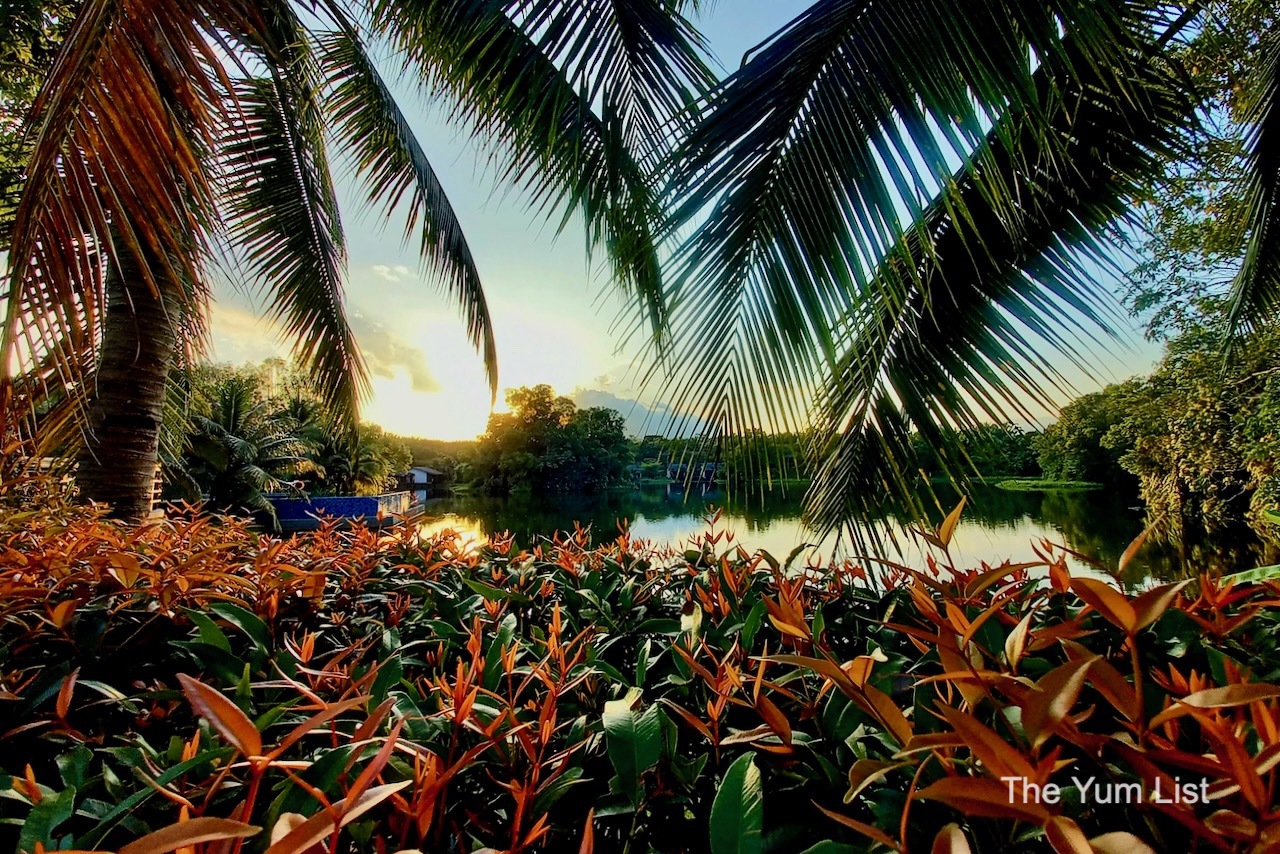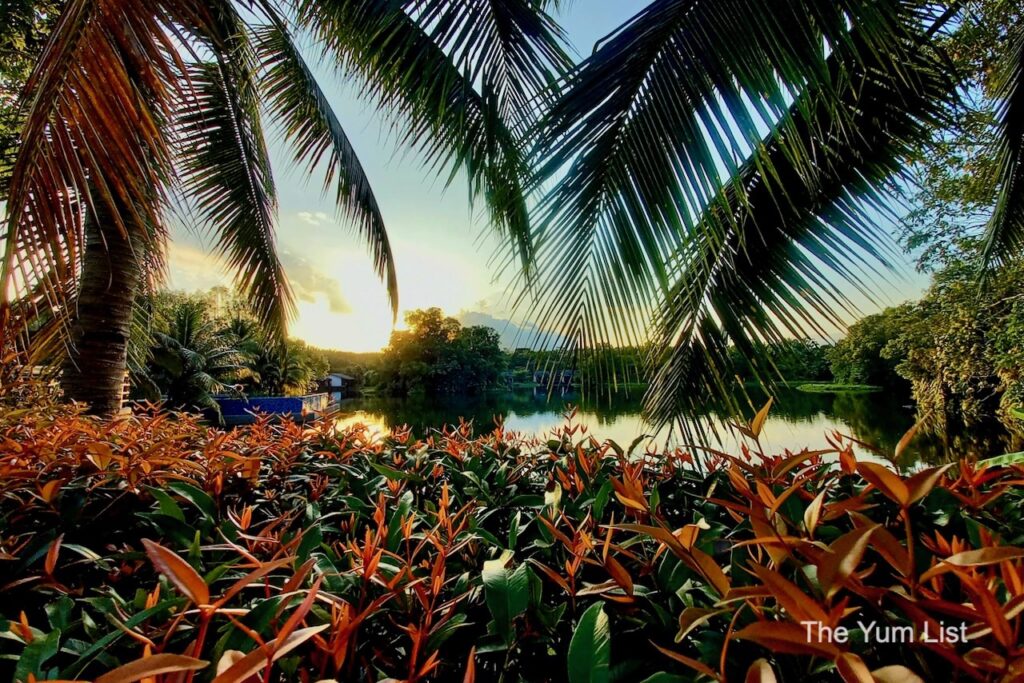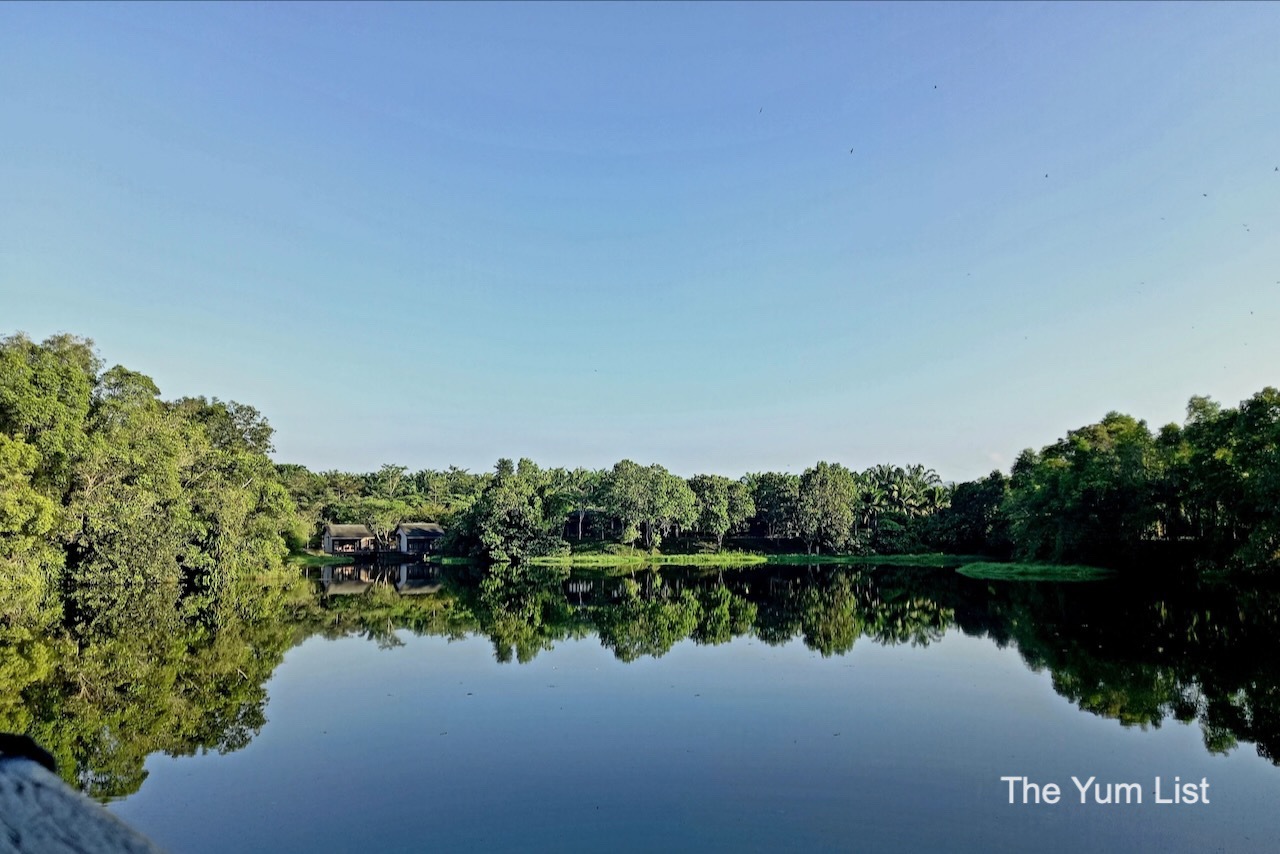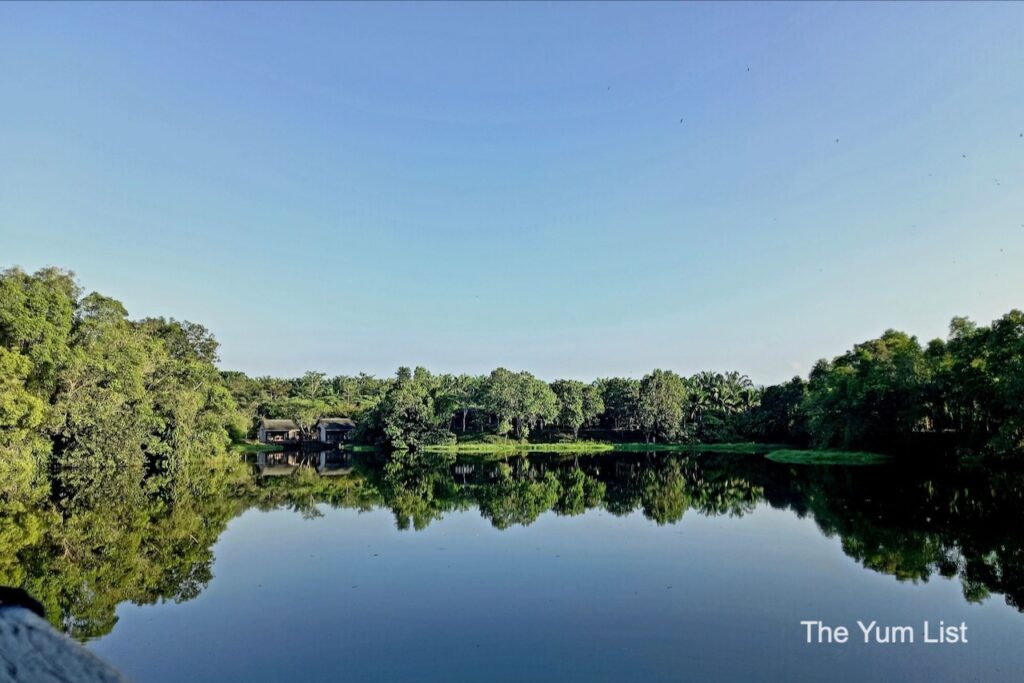 Mangala Resort & SPA
For those seeking ultimate relaxation, the resort's spa is a sanctuary of tranquillity. Open-walled villas are set on the edge of the lake, providing privacy and, at the same time, lovely water views. With the current heat wave, midday treatments can be quite warm, so you might consider a morning or later afternoon session.
The spa offers a range of treatments inspired by traditional Malaysian wellness practices, blending ancient healing techniques with modern therapies. From soothing massages to invigorating body scrubs, each treatment is tailored to meet individual needs.
When I see Spa Director, Ms Yati (formerly at St Regis Langkawi), I know we're in good hands. Details such as pre-and post-treatment beverages, consultation on areas to focus on and avoid, and rituals such as a foot bath are just as expected. My therapist, Chrissc, is an expert masseuse. Her hands are strong, and her technique is confident. She provides a full hour of pure bliss. I highly recommend making an appointment.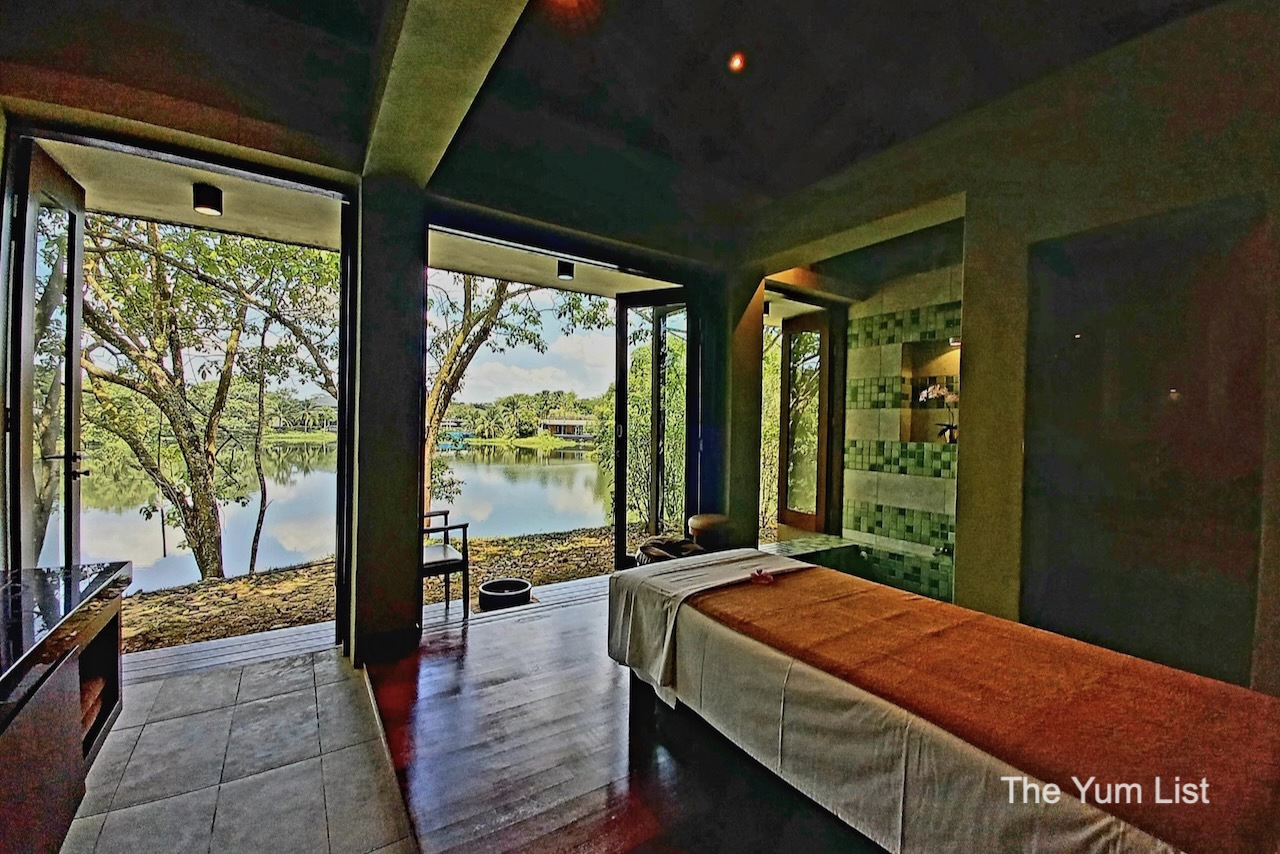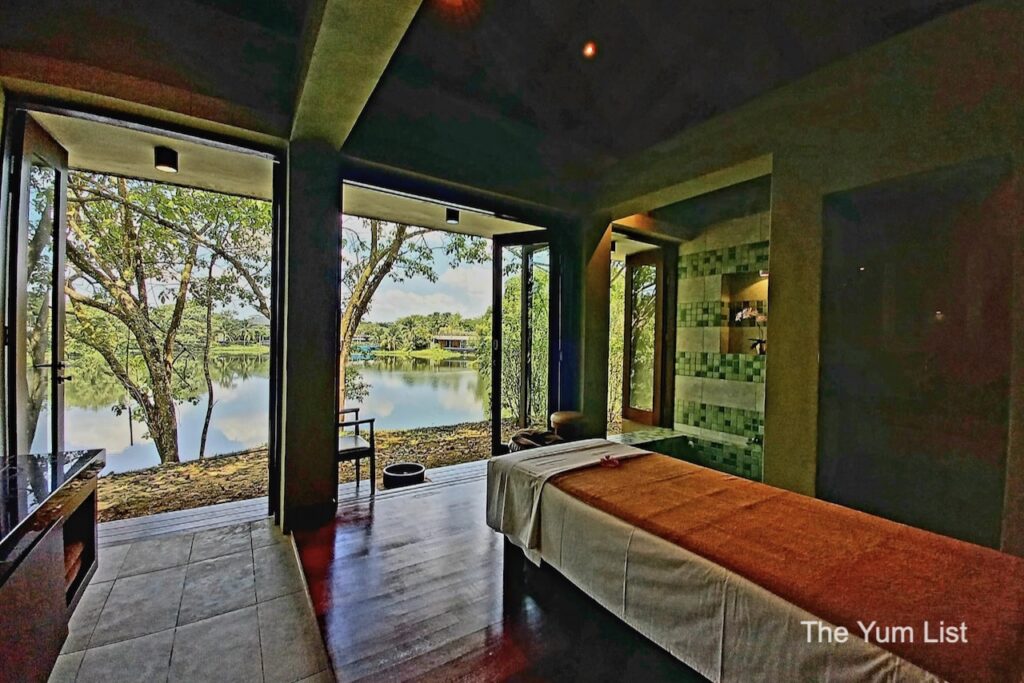 Excellent Food & Beverage
Mangala Resort & Spa offers a high-quality culinary experience that celebrates the flavours of Malaysia and beyond. For a kitchen literally, in the middle of a plantation, Lakeside Restaurant has surprisingly contemporary offerings, many made with fresh produce directly from their own farm. Guests can enjoy a range of options, from elegant fine dining experiences to casual al fresco meals overlooking the picturesque lake.
Lakeside Restaurant is a beautiful place to begin the day. The breakfast includes one main dish, tea or coffee, fresh juice, a pastry basket, yoghurt, fruit and cereal. I love that it's not a buffet. Instead, everything is prepared ala minute. The juices are blended on the spot with no sugar added (although you can ask for syrup or honey if you have a sweet tooth). And the best thing is the coffee is made with locally roasted beans by a barista, so there's a nicely textured foam on our lattes. This beats the standard hotel one-push-of-a-button style coffee, hands down. Eggs any style, pancakes, avocado on toast and even an acai bowl are Western options. Noodles and rice are also on the menu. We don't try them but see empty bowls – always a good sign – on neighbouring tables.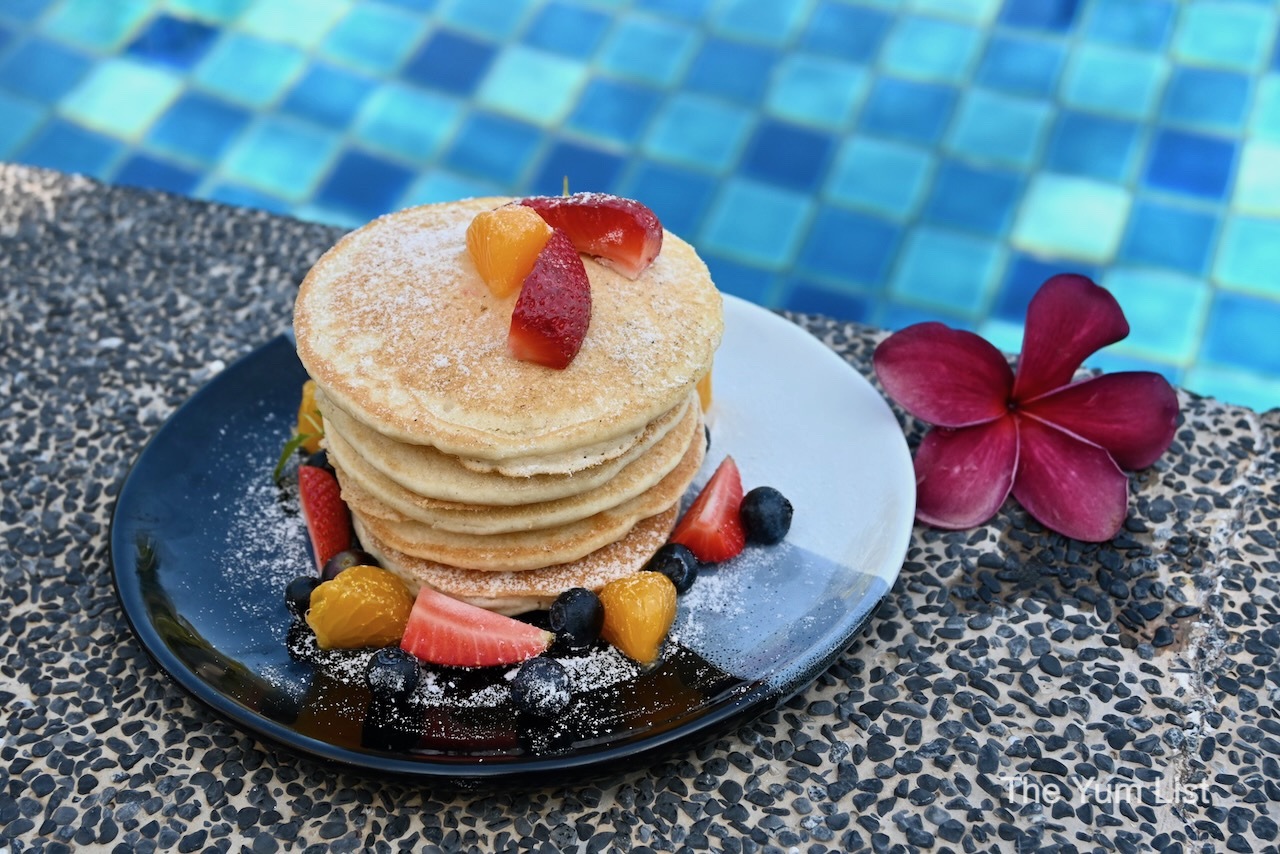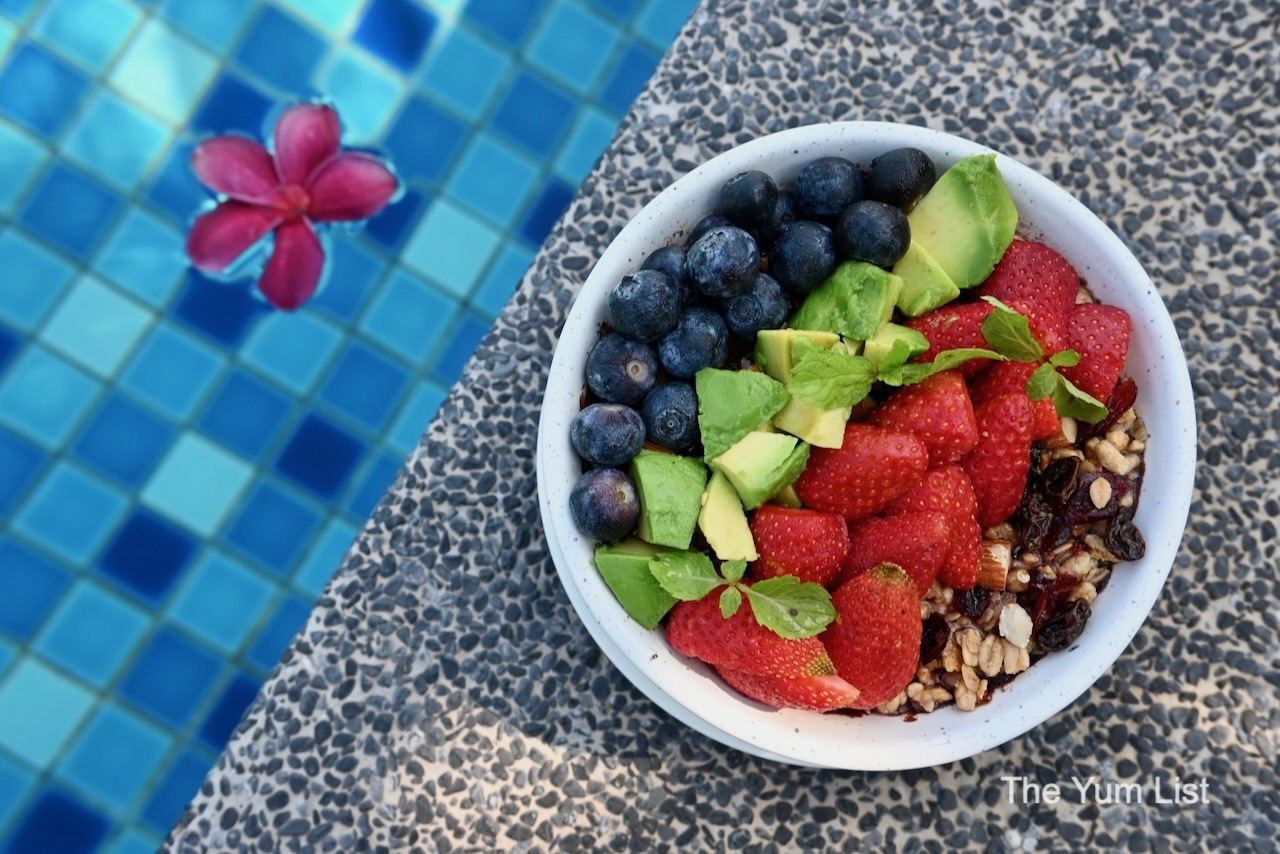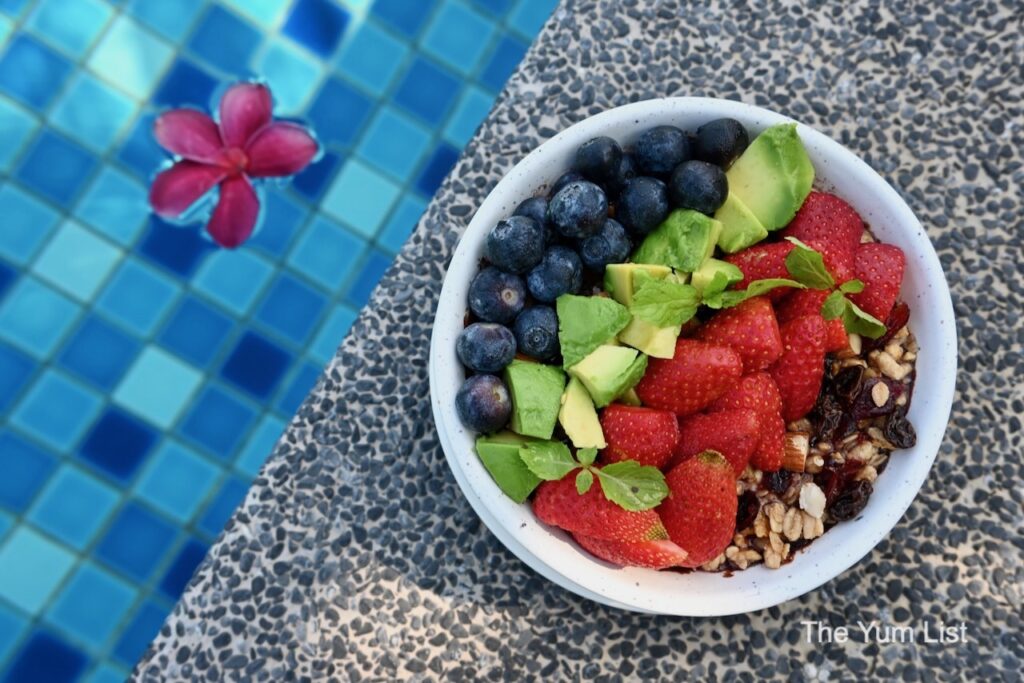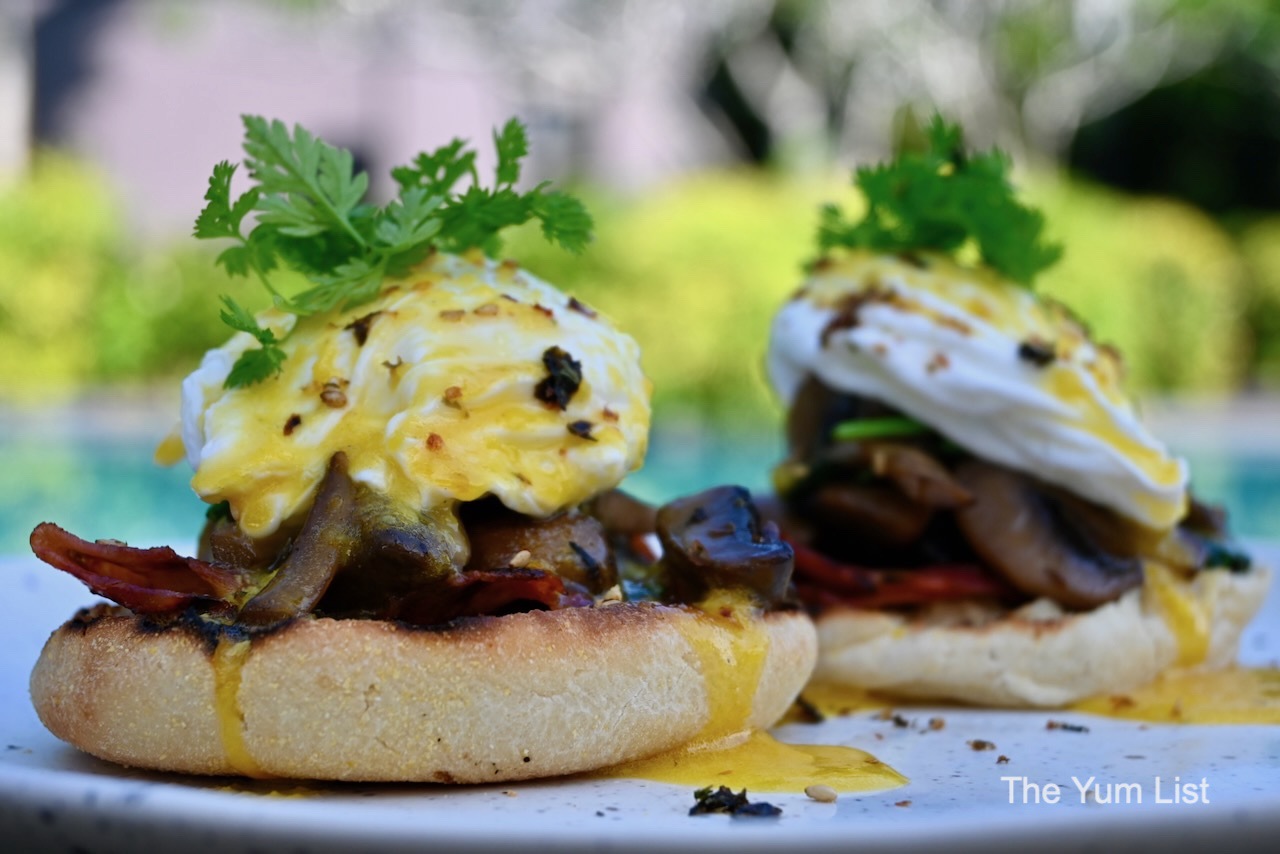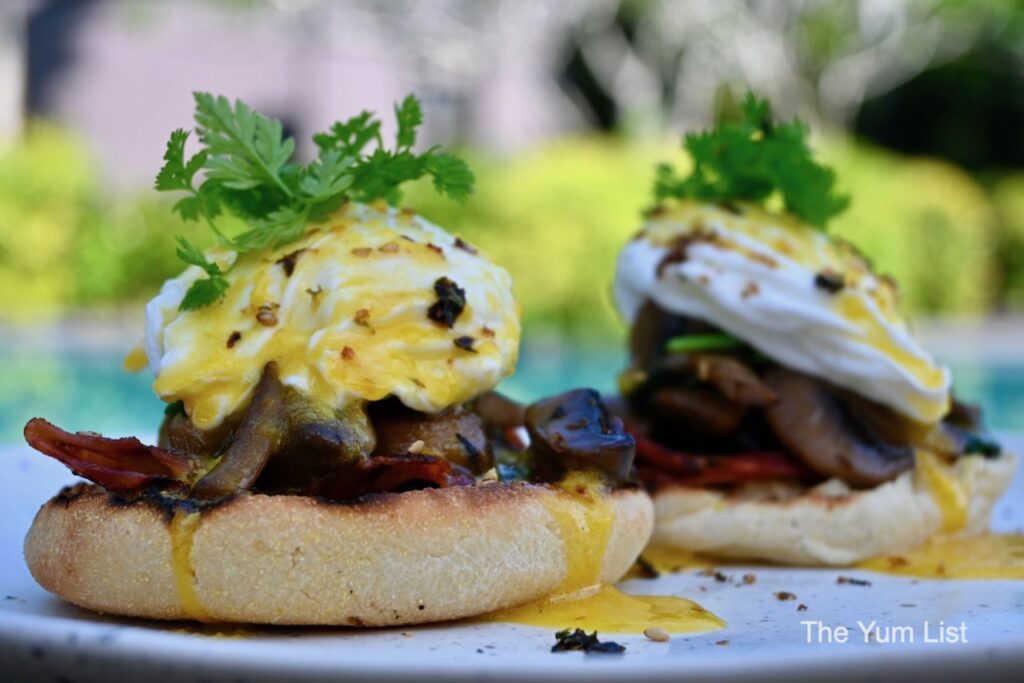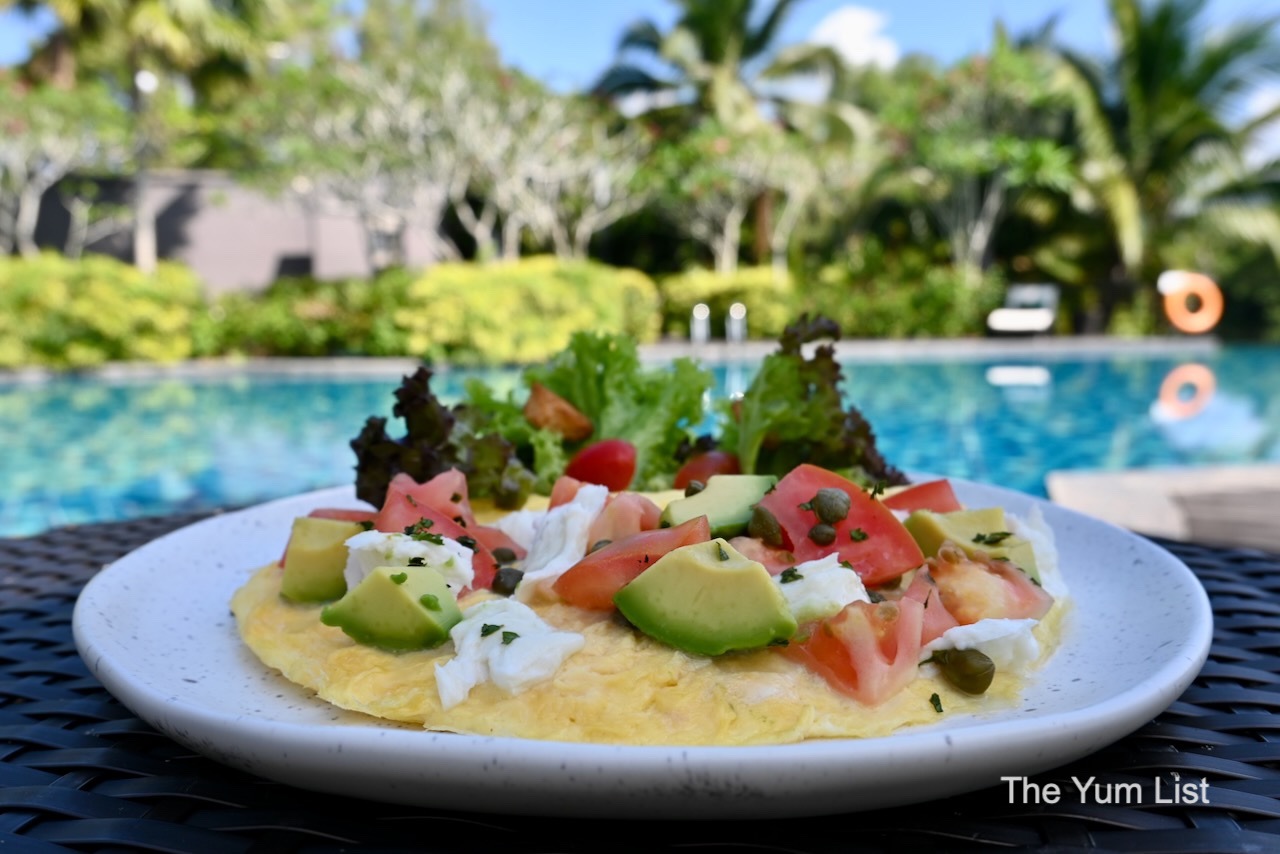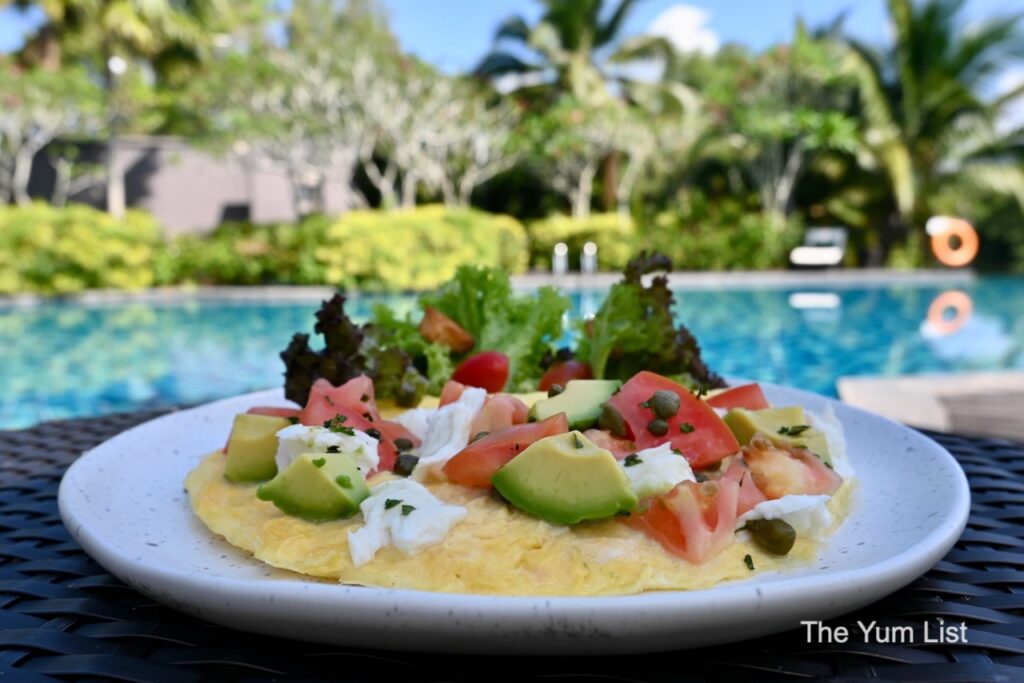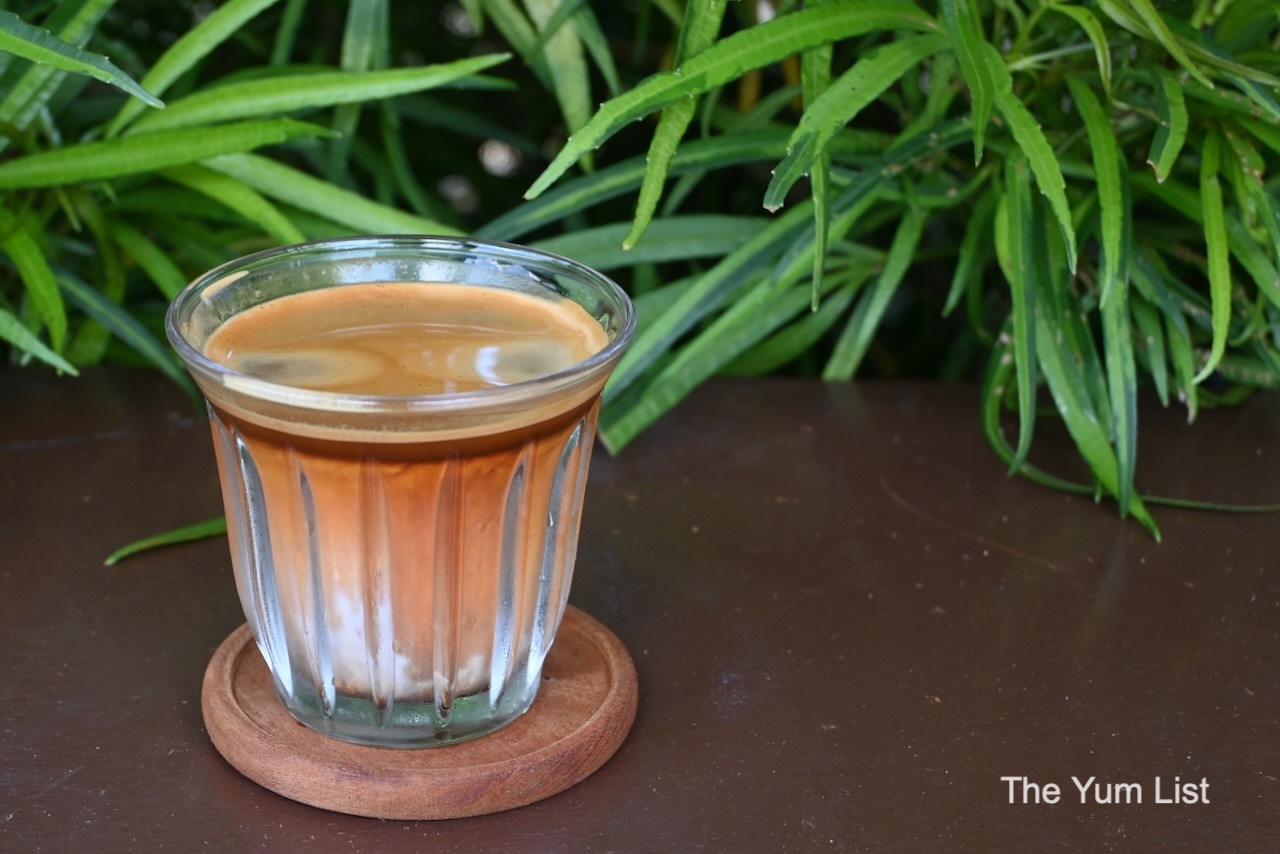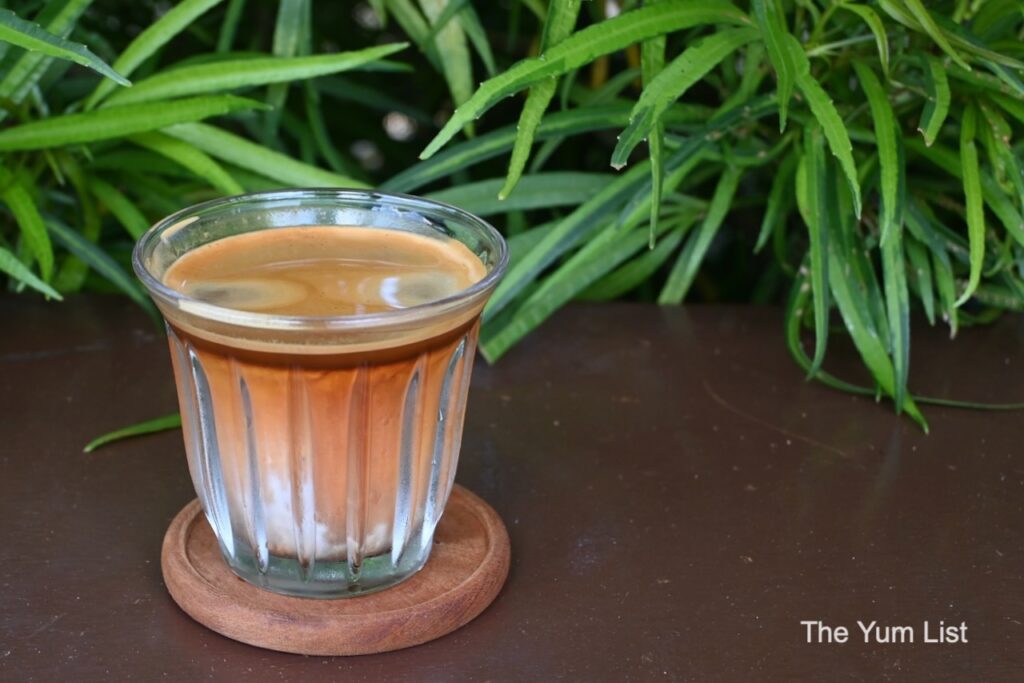 From the lunch and dinner menu, the Oxtail Soup (RM 42) is highly recommended. It's slow-boiled with local spices, resulting in a light and flavoursome broth. The Mushroom (RM 28) and Pumpkin (RM 32) soups, both meat-free options, are equally delightful with naturally thick textures and a touch of dairy. For a lighter yet substantial choice, the Mangala House Salad (RM 48) is packed with fresh ingredients, including avocado, broccoli, beetroot, and walnuts, lightly dressed with miso dressing. This pleases my healthy-food-loving tendencies to no end.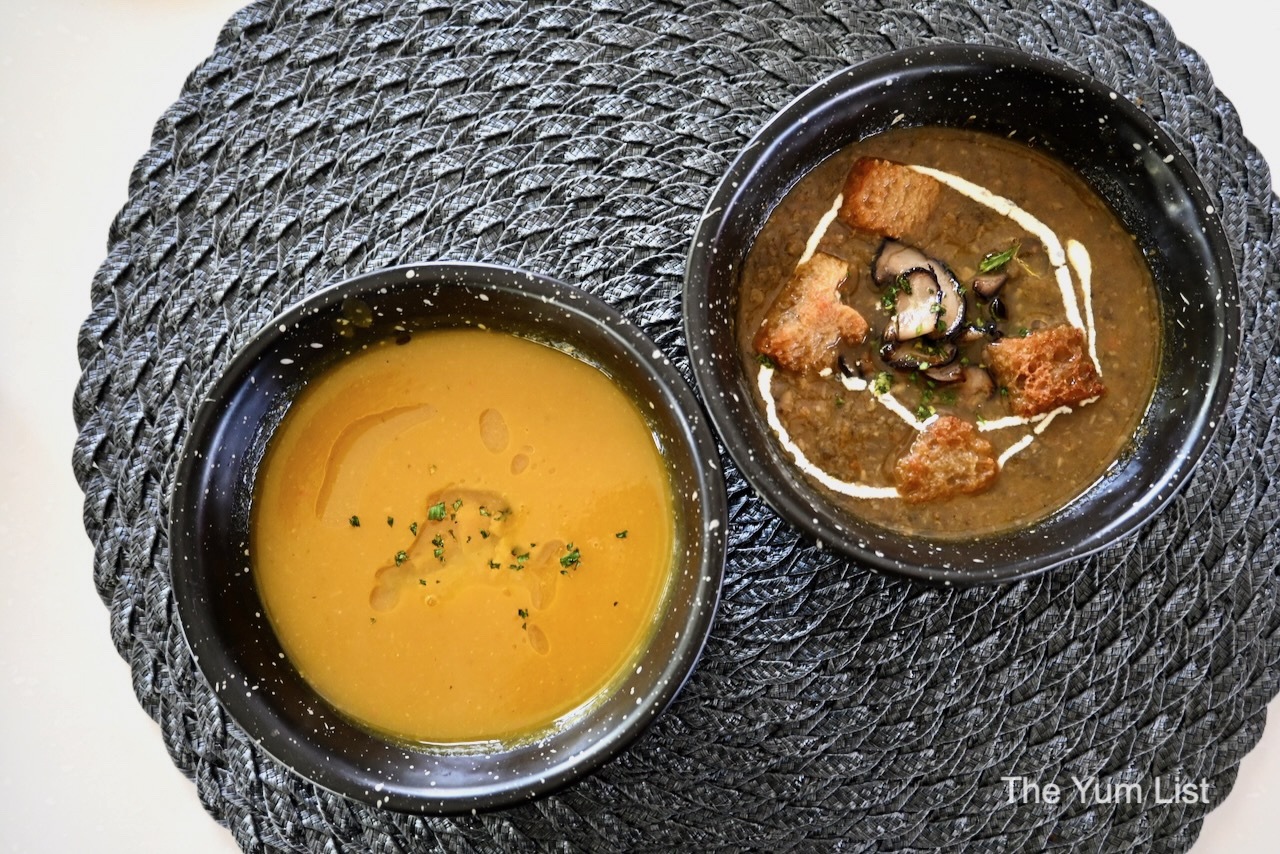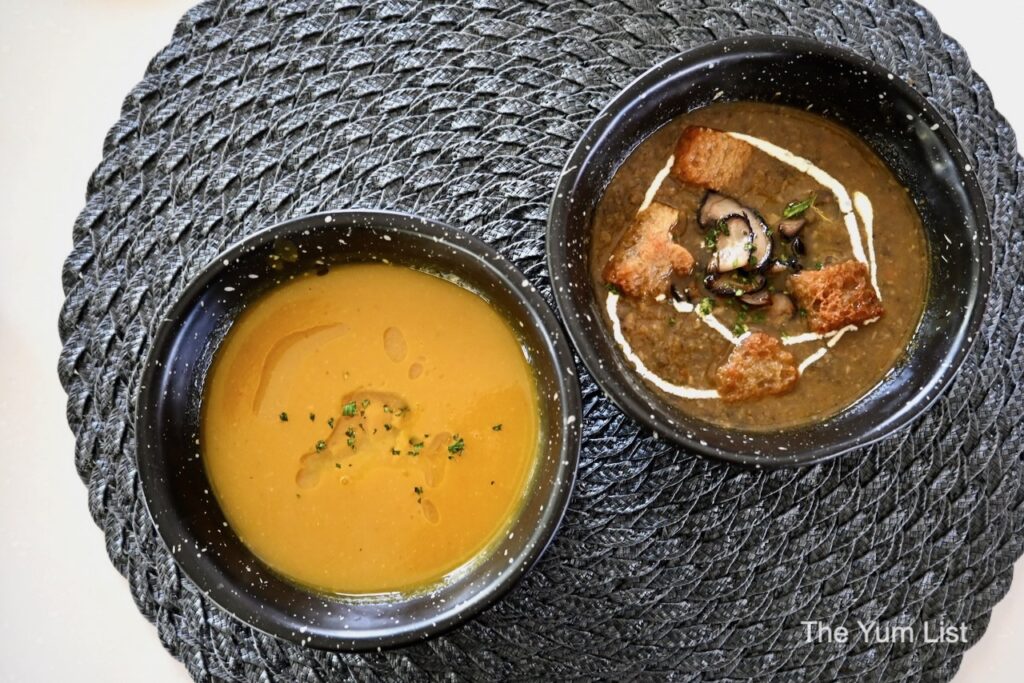 If you're in the mood for sandwiches or burgers, the Mangala Wagyu Beef Burger (RM 88) and Mangala Club Sandwich (RM 48) are excellent choices. The burger features a house-made patty topped with melted cheese, while the club sandwich is held together by a lovely sourdough. The signature dish, Mangala Signature Curry Noodles (RM 38), offers a choice of noodles in a rich curry gravy and is loaded with bean sprouts, long beans, fish balls, plump prawns and shredded chicken. Another tasty pick is the Seafood Fried Kuey Teow (RM 48), combining grilled tiger prawns, squid, and chicken with bean sprouts and chives.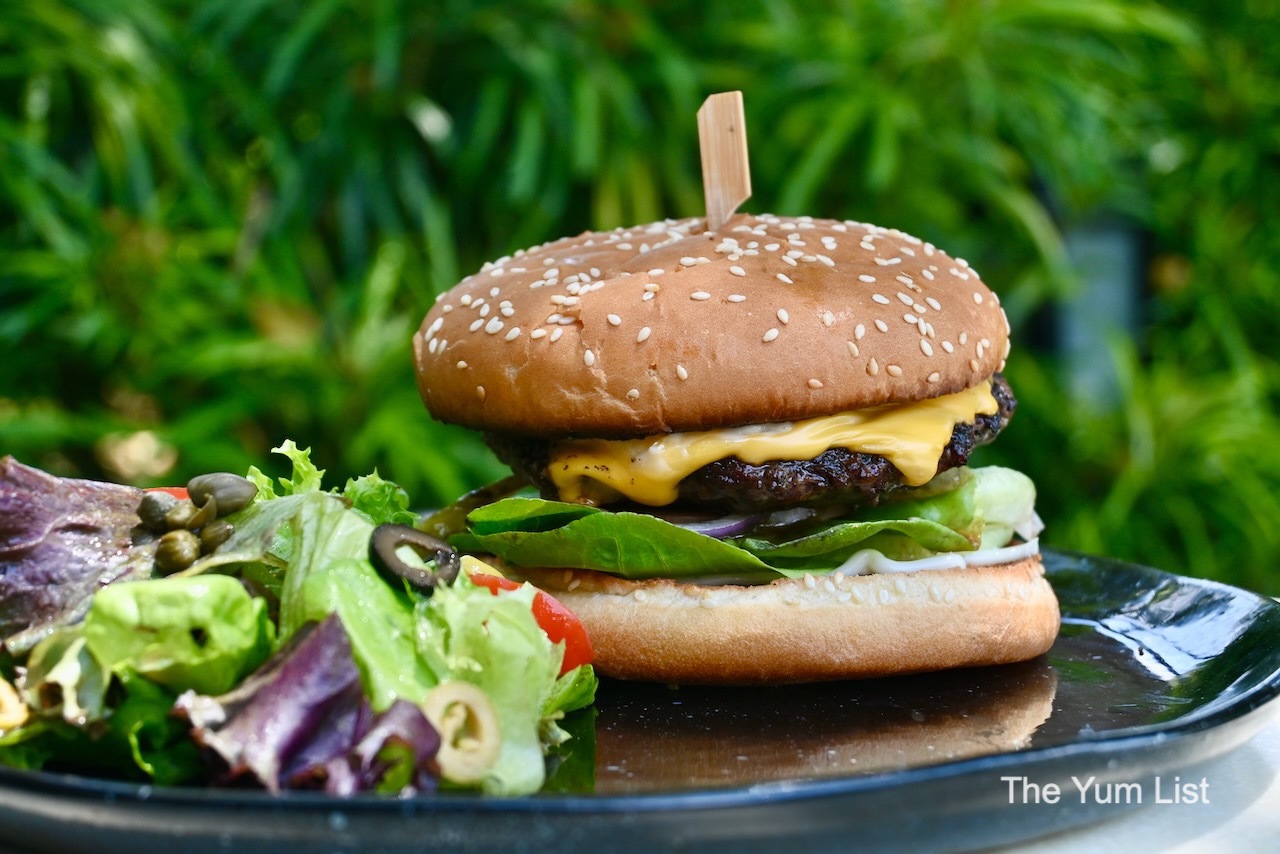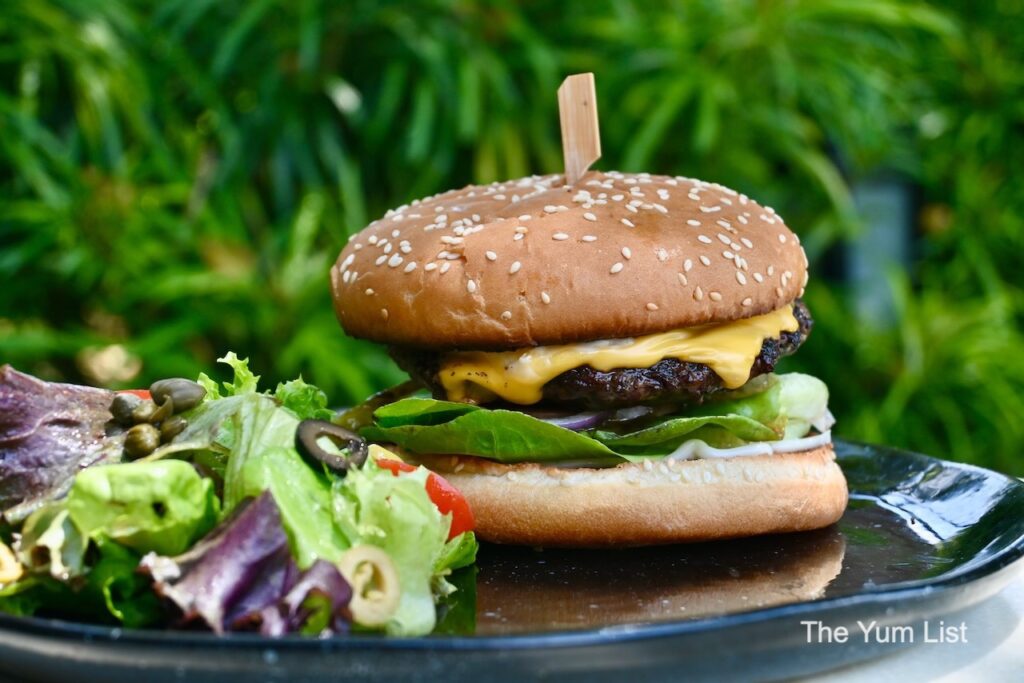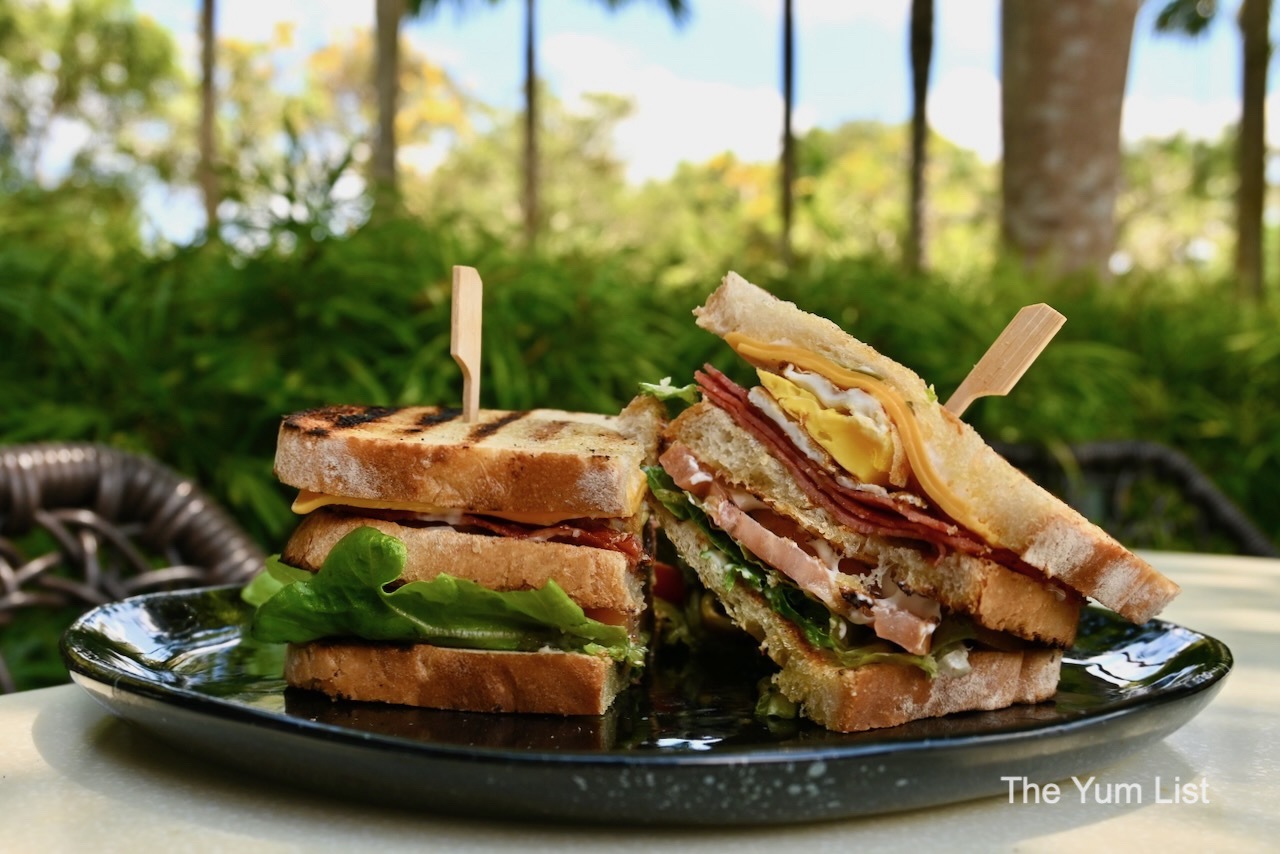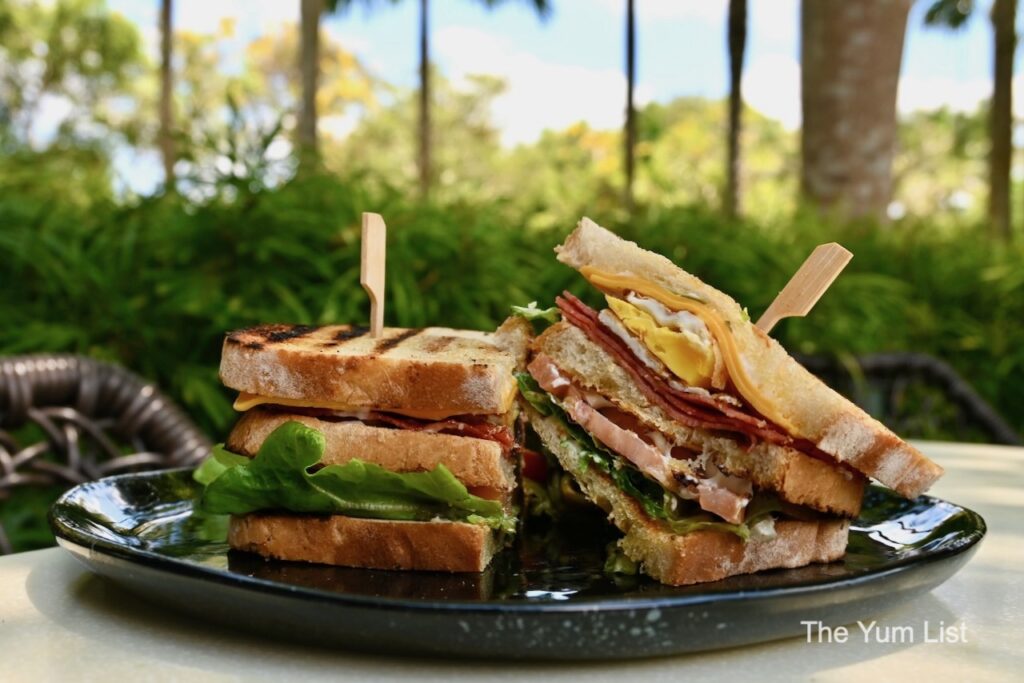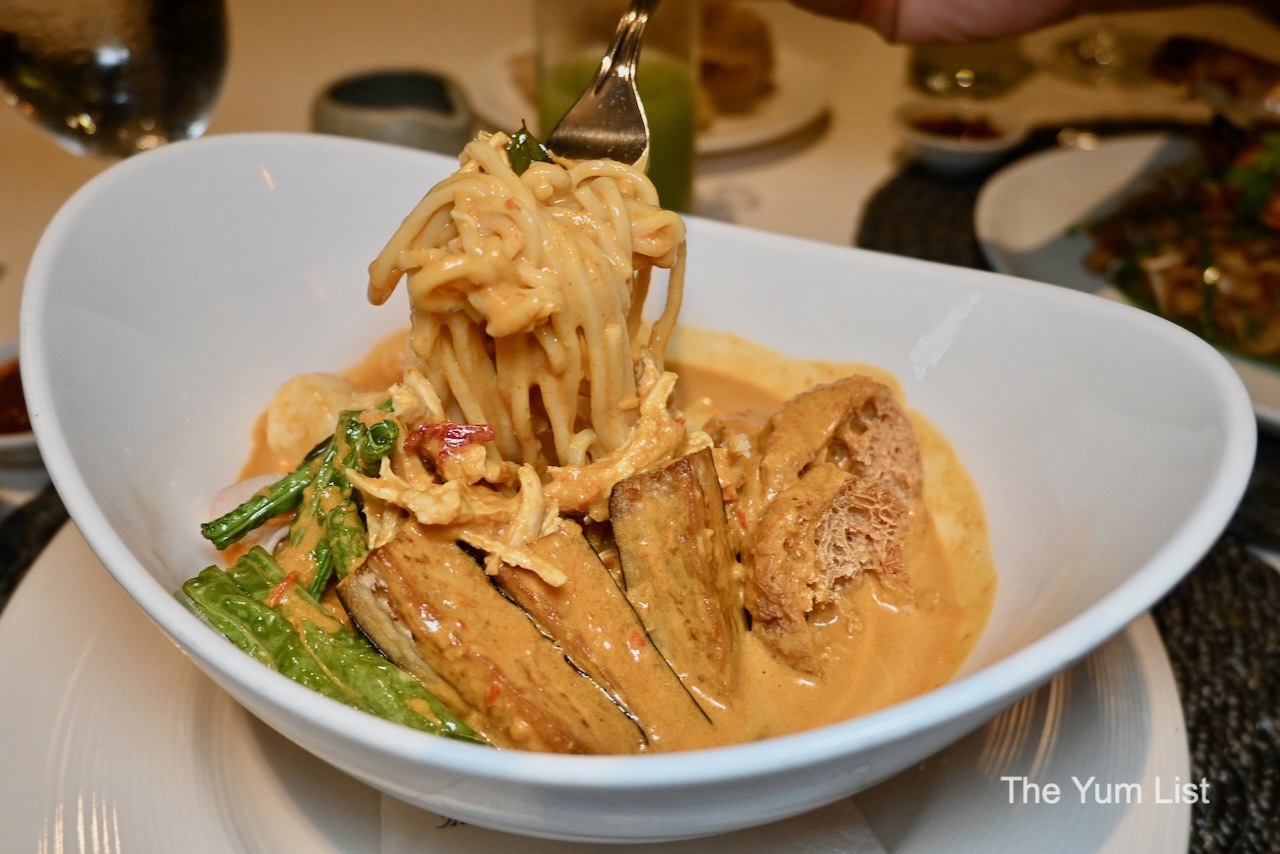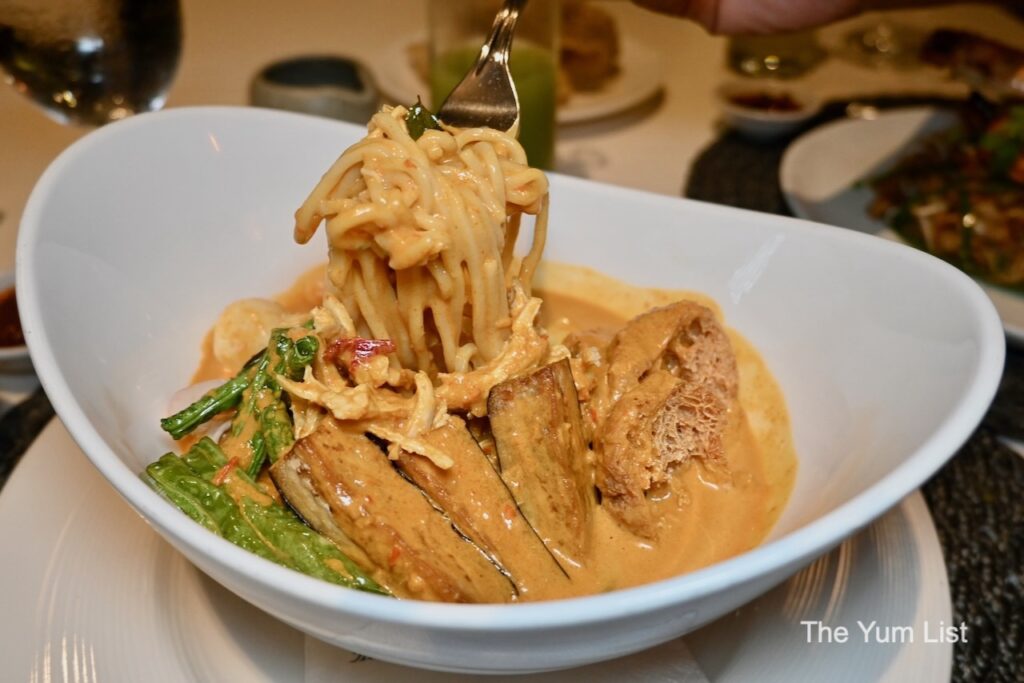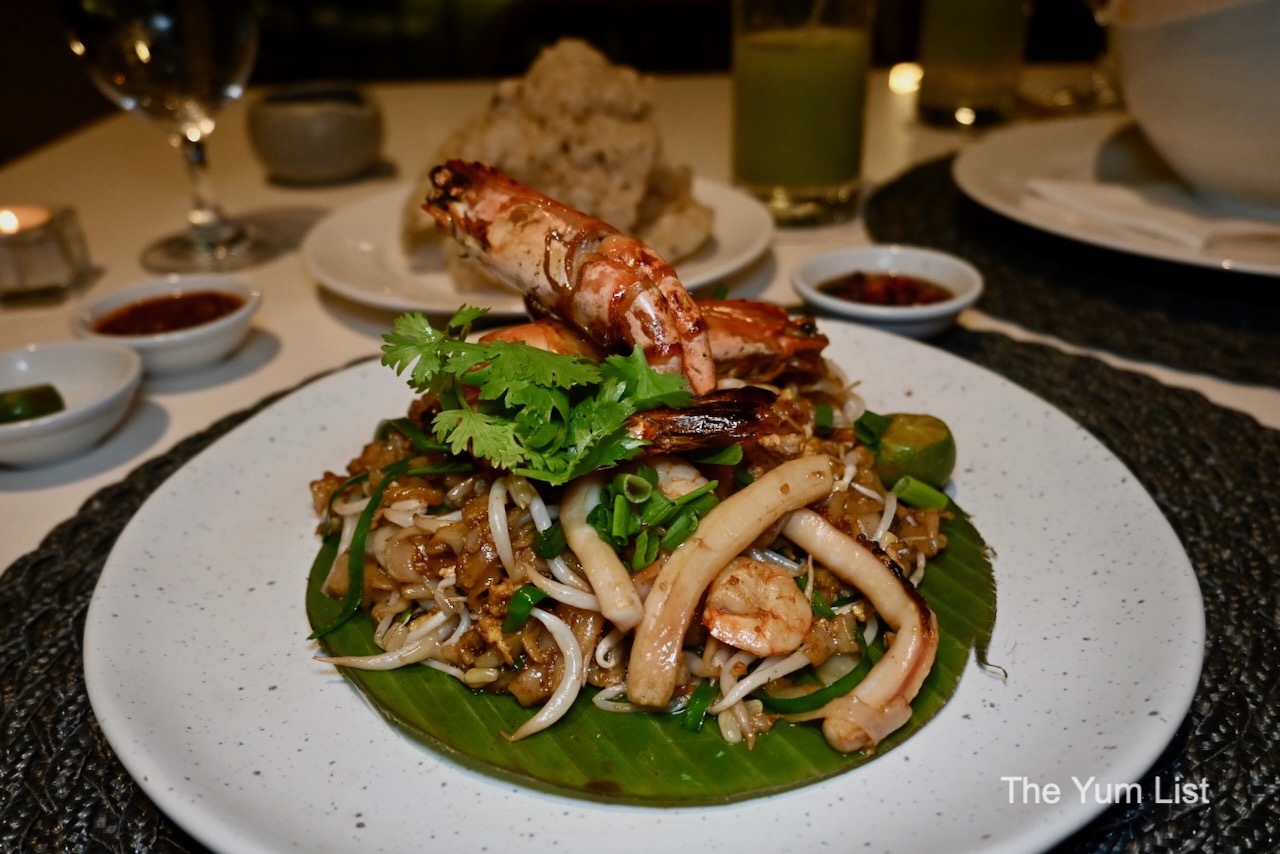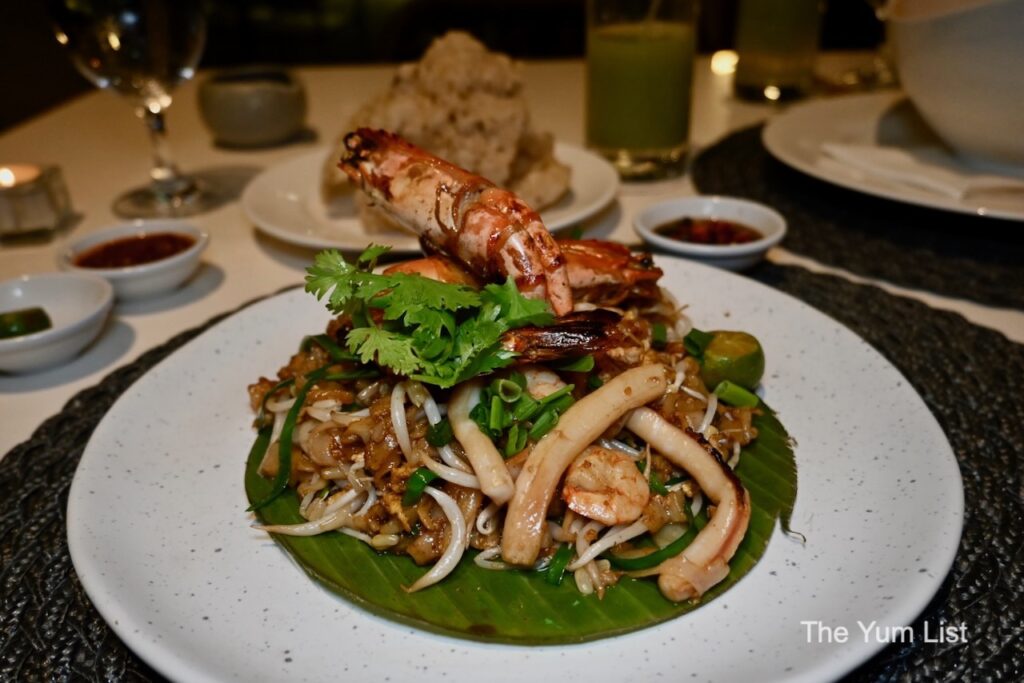 For dessert, the Basque Burnt Cheesecake (RM 25) is a must-try, served with Chantilly cream and fresh berries. Fresh Cut Fruits (RM 25) are also available, showcasing seasonal ingredients from Mangala's organic farm. The drinks list includes a variety of options, such as fresh juice blends, award-winning coffee combos, shakes, cocktails, wine, and spirits. Off-menu specials like Mango Passionfruit (RM 35) and Mixed Berries & Banana Smoothie (RM 35) are also offered, providing refreshing and fruity choices blended with milk, honey, and vanilla ice cream.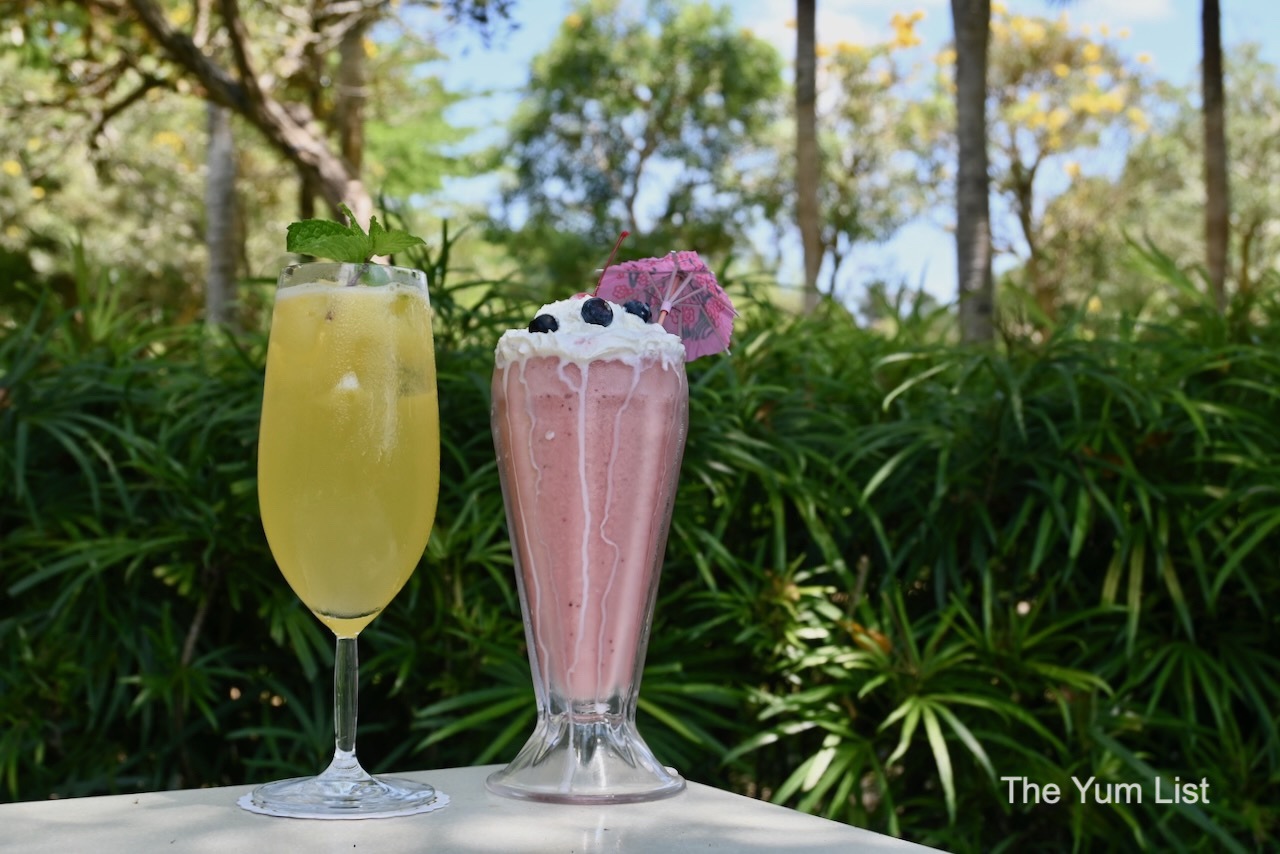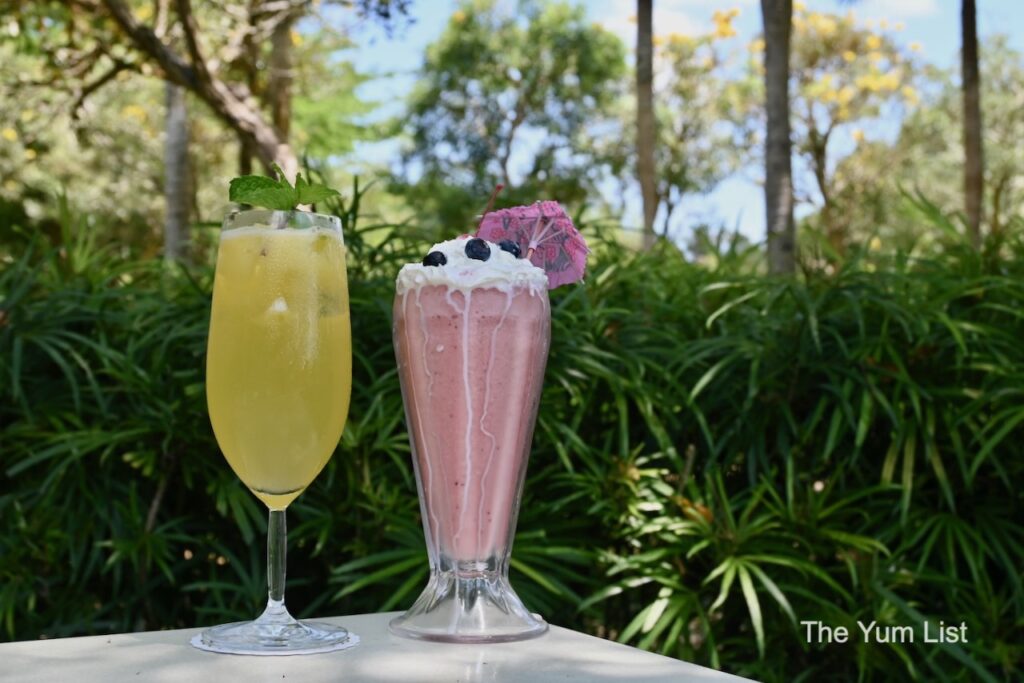 Dining Around the Resort
Besides the all-day-dining menu at Lakeside Restaurant, the Mangala team also offer special dining experiences such as floating breakfasts, picnics and romantic tables by the pool. The floating breakfast is fun, with great quality food, a large floating basket, and a cute teddy as "table" décor. Mains come with fresh fruit, tea or coffee, cereal, yoghurt and a bread basket. The Big Breakfast is varied and fills an entire plate, giving new meaning to the word "big." I appreciate trendy café options such as Acai Bowls and Avocado Toast.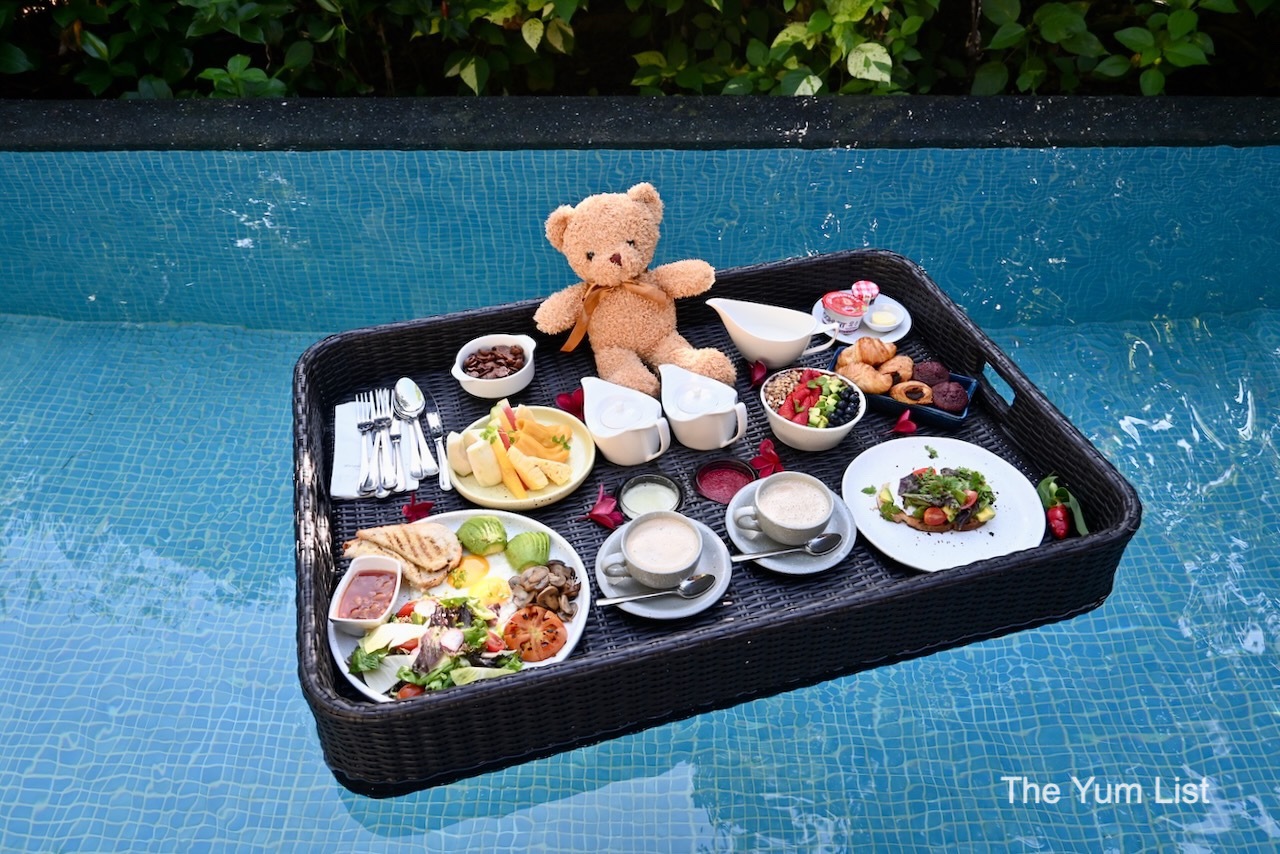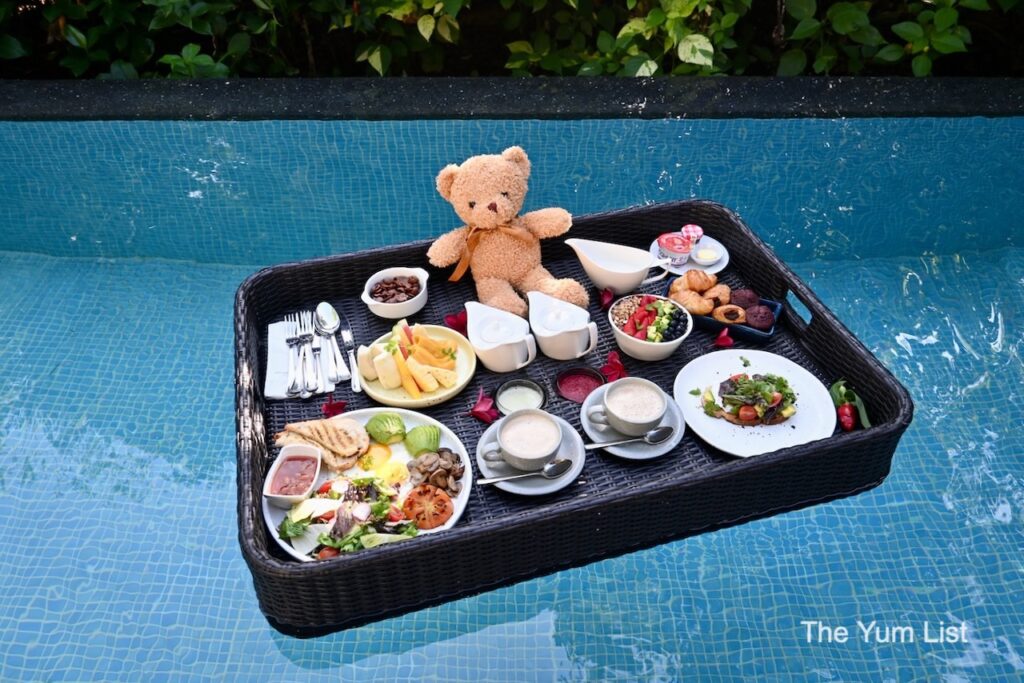 As the sun sets over the lake, casting a beautiful backdrop, the temperature cools, and the sky changes colour. The poolside setting offers a romantic atmosphere and a lovely experience for those who appreciate dining in the open air. Whether you pre-order to tailor the menu to specific preferences or choose the resort's set menu, dinner promises to be a memorable occasion. In May, a three-course line-up awaits, priced at RM180 per adult and RM90 for children. The menu includes a starter of baked oysters with melted cheese and tropical fruit salsa, breaded brie with onion jam. A refreshing ambarella (kedondong) granita acts as a palate cleanser before enjoying a choice of fish, beef, or seafood for the main course. The grilled seabass stands out with its golden edges and moist and flaky texture, accompanied by veggie caponata, creamy truffle mushroom mash, and Parmesan crisp. Other tempting choices include Aussie wagyu, prawns, and scallops, but the light fish plate satisfies our dinner cravings. To conclude the meal on a sweet note, a classic Italian tiramisu is the perfect ending.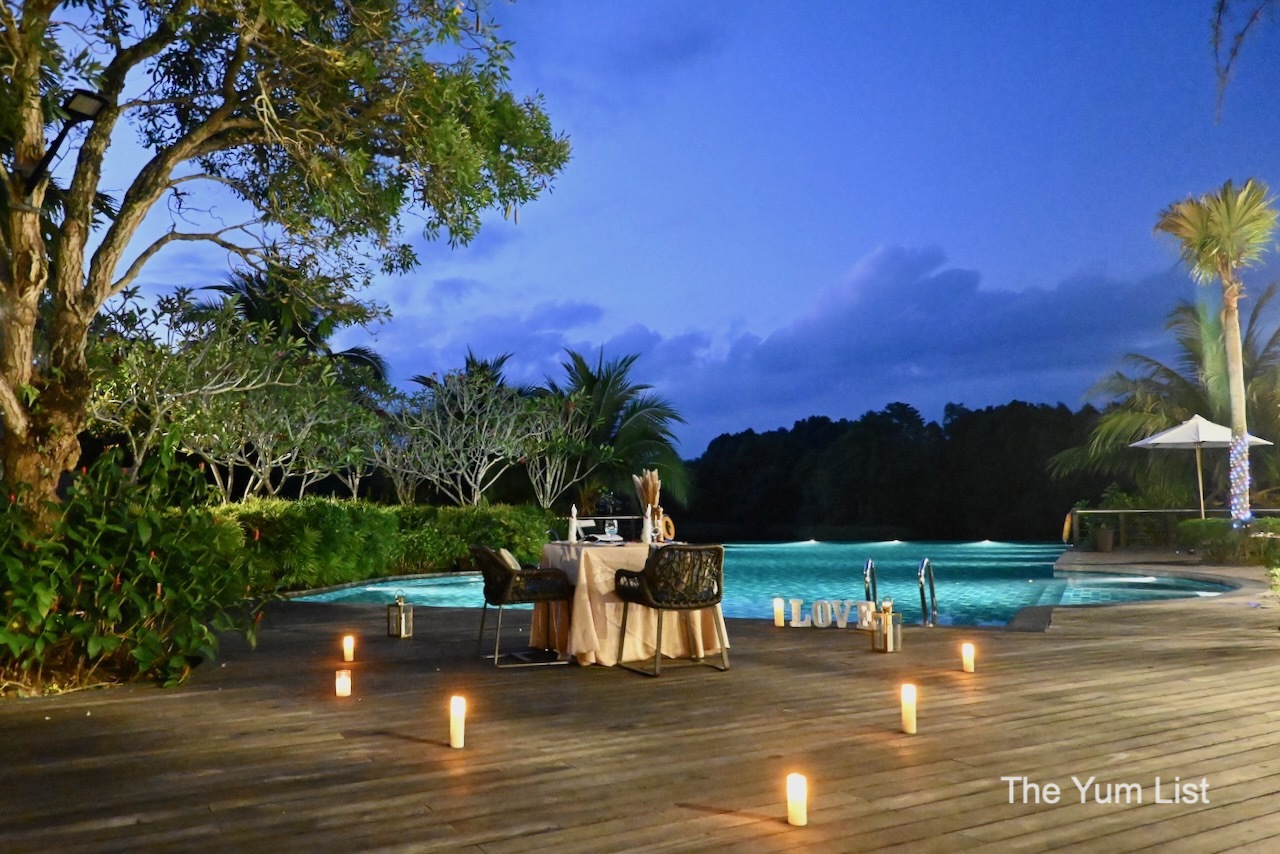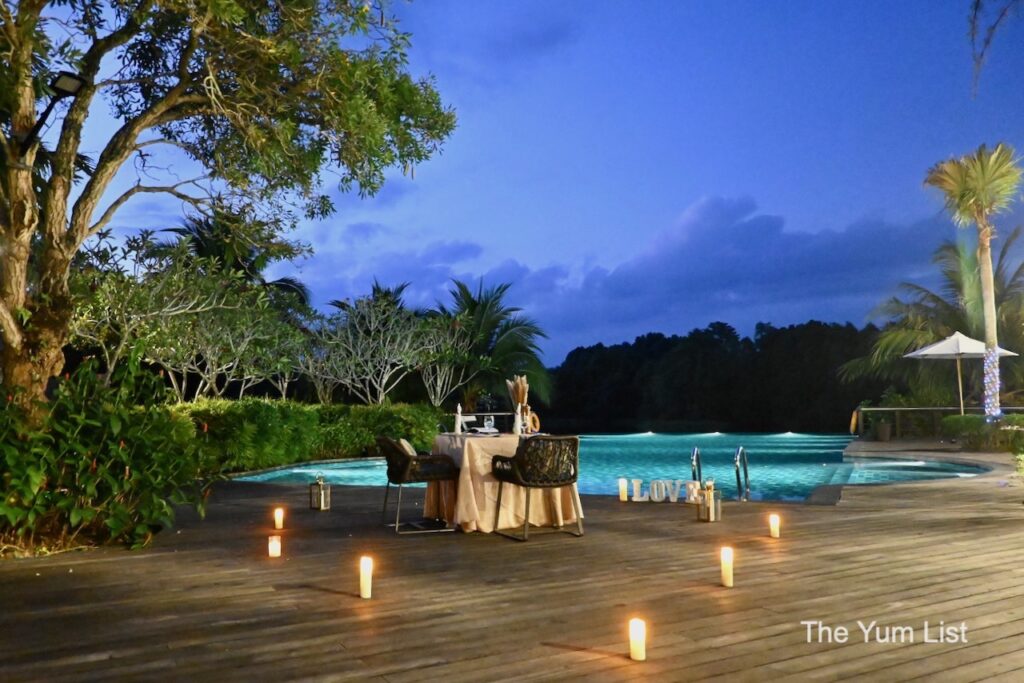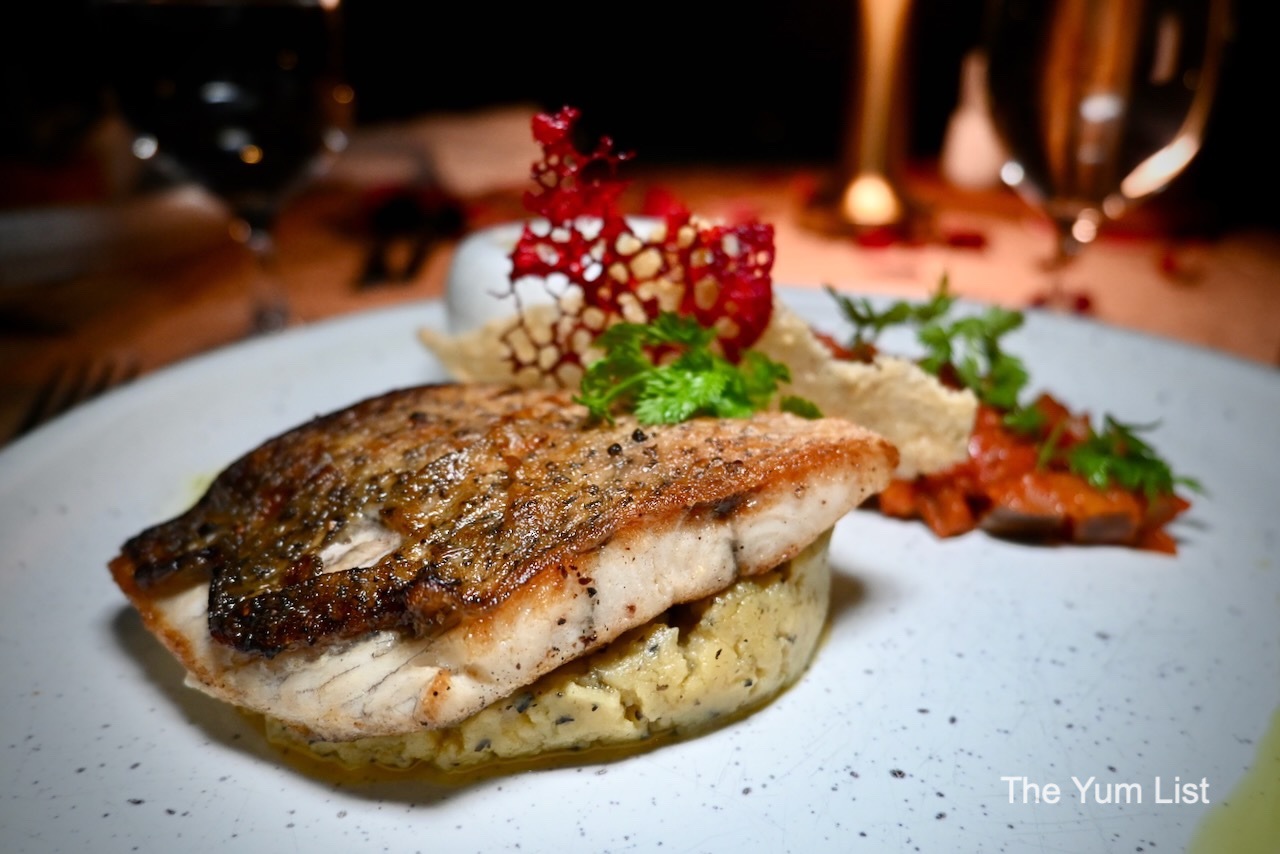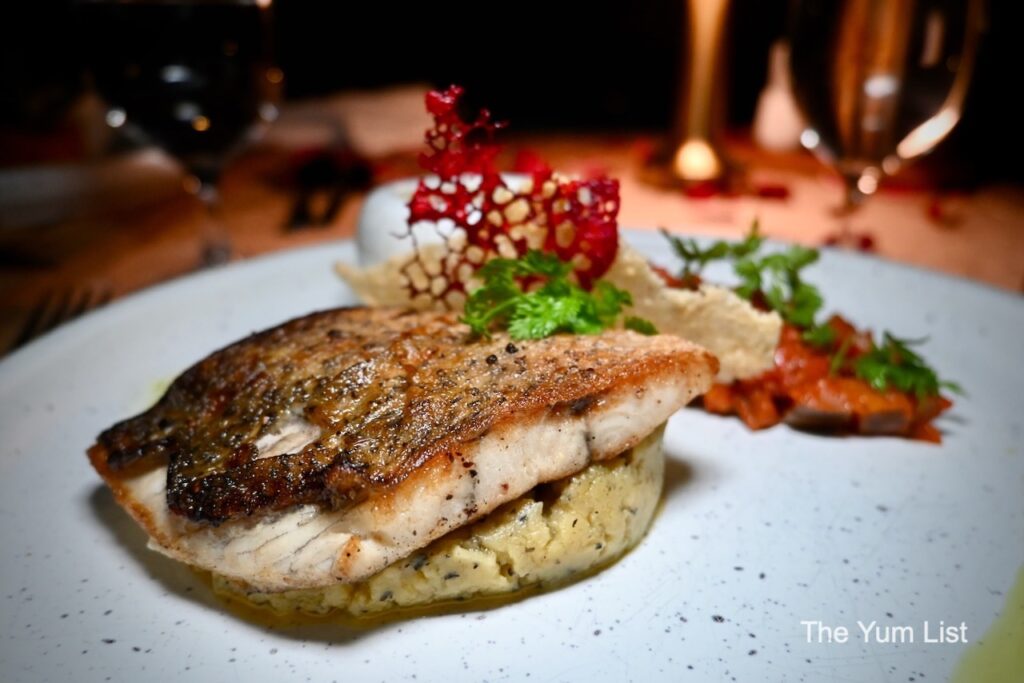 Mangala Resort & Spa Review
Mangala Resort & Spa in Pahang, Malaysia, offers a harmonious blend of luxury, natural beauty, and tranquillity. With its idyllic setting, gracious service, rooms set amongst nature, commitment to sustainability, and excellent food and beverage, the resort creates an immersive experience that nourishes the mind, body, and soul. Whether you're seeking a romantic getaway, a wellness retreat, or an adventure in nature, Mangala Resort & Spa is the perfect destination to unwind.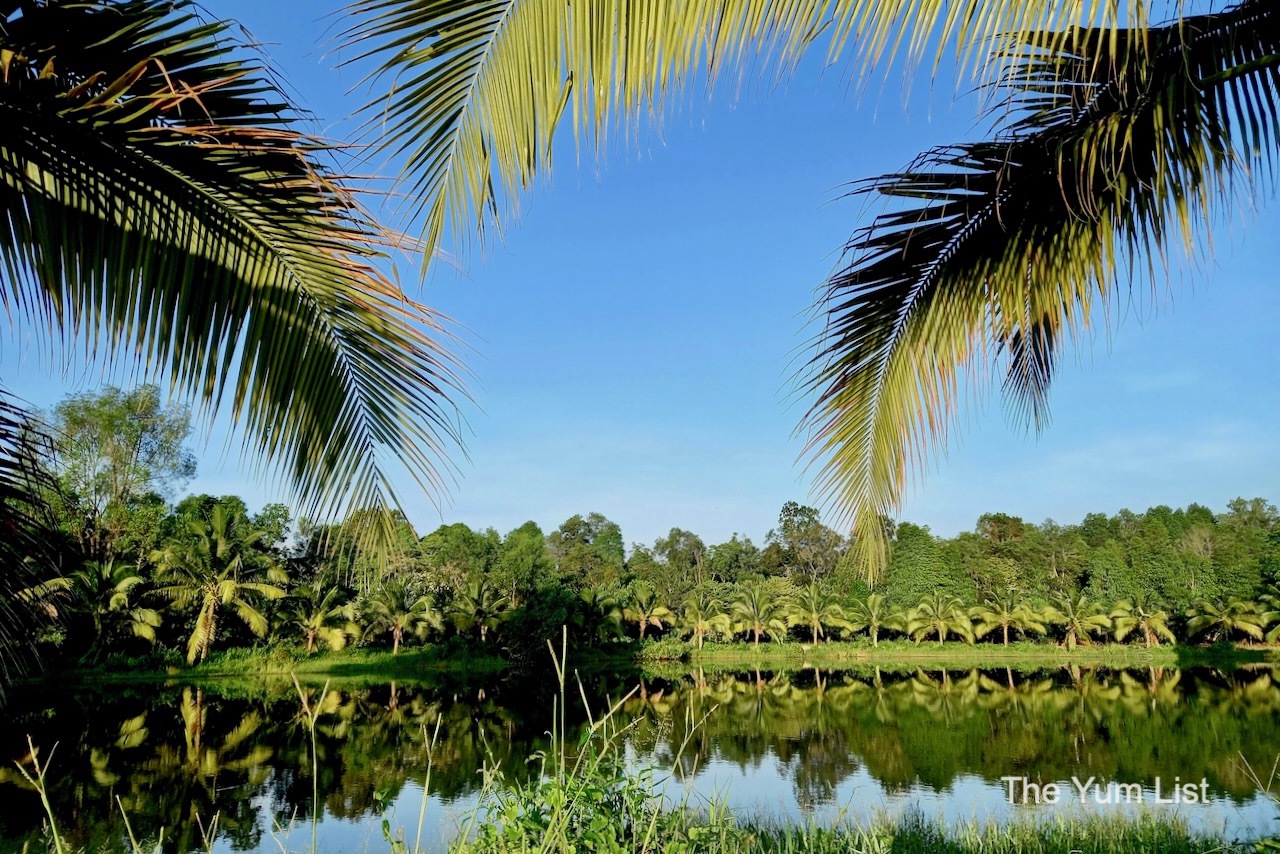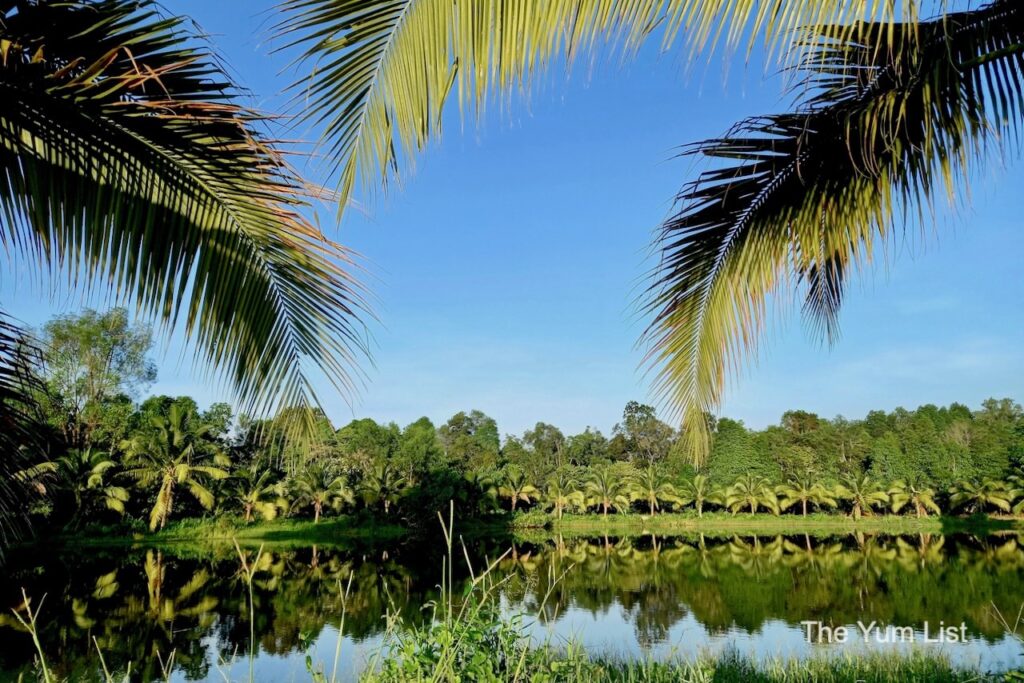 Reasons to stay at Mangala Resort & Spa: beautiful grounds and an inspirational project modelling the possibilities of mine rehabilitation; a range of accommodations from villas over the lake, suites with private pools, and bungalows for larger groups; excellent food and beverage; high-quality spa treatments; fantastic service team; less than a two-and-a-half hour drive on the highway from Kuala Lumpur.
Mangala Resort & Spa
Lbh Persiaran Tun Khalil Yaakob,
Kampung Melayu Gambang,
26300 Gambang, Pahang, Malaysia
+6 09 505 7788
Find more recommendations for luxury travel here and stay up to date with the latest gourmet happenings in Malaysia here and here.