LaGula by The Hungry Tapir – Vegan Bakery & Brekkie Bar
Words: Stephen Reid
Photos Rich Callahan
There are many reasons to suggest that we should all be eating more vegan and vegetarian food. Of course, many already do this because of the desire not to eat or cause harm to animals for personal or religious reasons, some because they feel it is better for their health, and others choose to eat less meat and dairy products because it reduces the environmental impact of intensive livestock and dairy farming. In his recent book 'Ravenous', Henry Dimbleby, the British businessman, author and founder of the UK restaurant chain 'Leon' tells us that the combined weight of all the animals bred for food is now twice the weight of all the humans on earth and twenty times the combined weight of all remaining wild animals and birds.
With more than 8 billion people on earth today, if even a small percentage of us chose to eat vegan or vegetarian meals one or two days a week, this would make a massive difference to the health of the planet, reducing both carbon emissions and the resulting impact on global warming. After visiting LaGula Vegan Bakery and Brekkie Bar, I'm also delighted to report that there is yet another reason we should be eating more vegan food, and that's because it is absolutely delicious and great fun!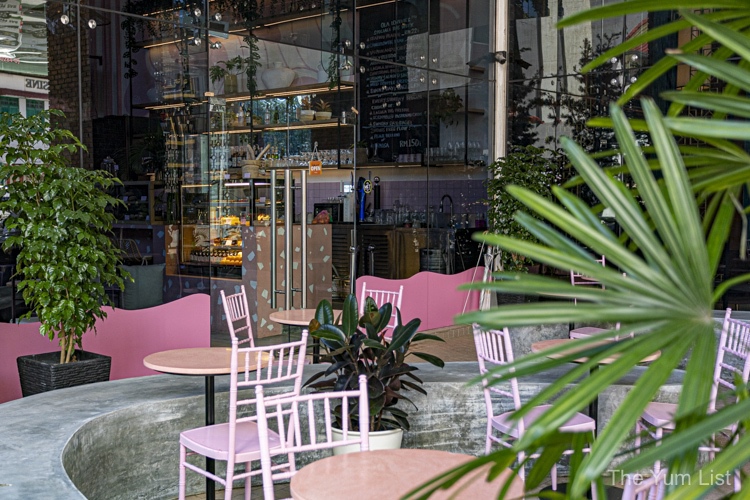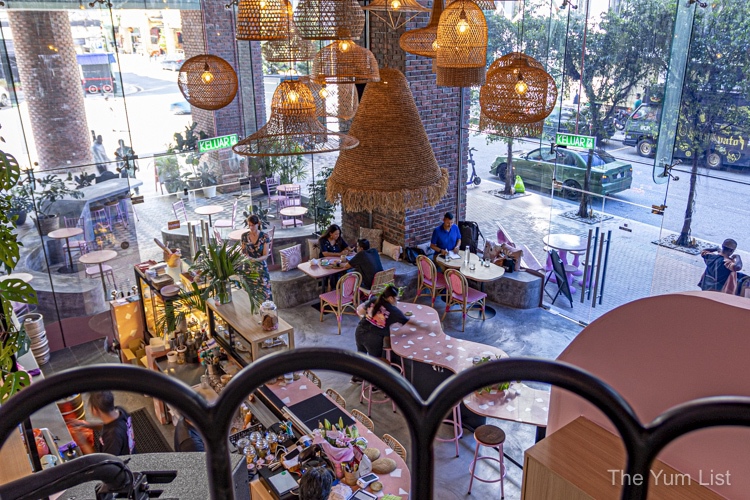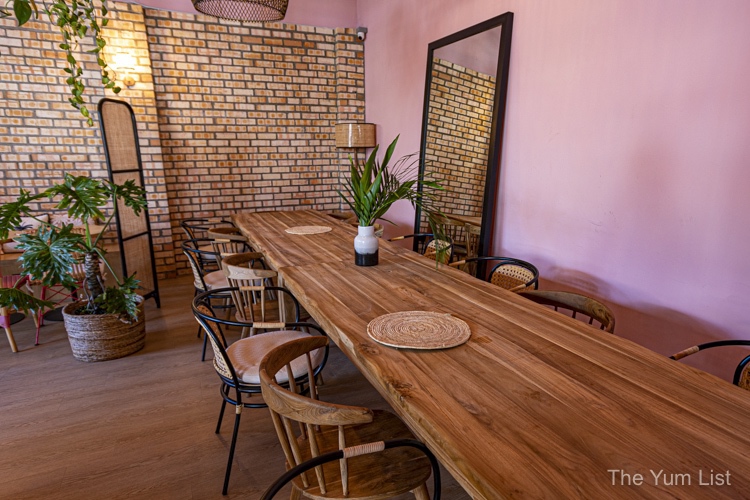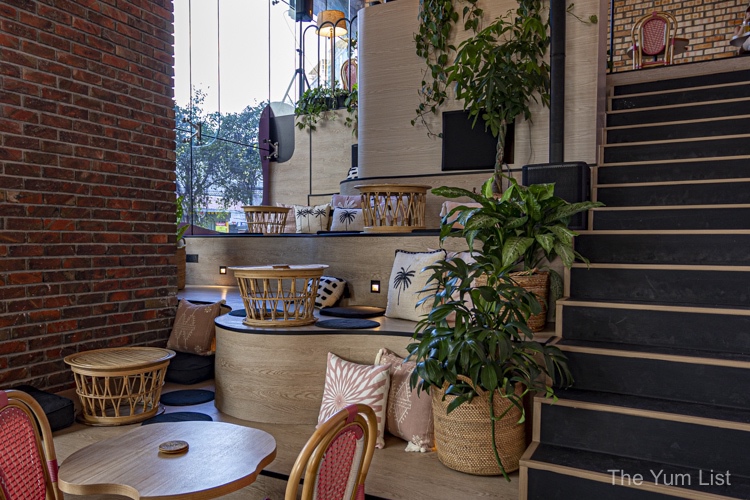 LaGula by The Hungry Tapir Vegan Bakery and Brekkie Bar
Beneath the shadow of the glistening tower of Merdeka 118 on the ground floor of Four Points Hotel by Sheraton Kuala Lumpur, Chinatown, is the latest joint venture by the family behind the nearby and well-loved vegan restaurant, The Hungry Tapir. Owners Makissa, Tristan (who also spins on the decks as a resident DJ) and their mum, Cynthia Rodrigo, have created an exciting and vibrant new addition to the breakfast and brunch scene.
You can't miss LaGula if you were to pass by; it's pink, very pink. The bar and counter are made of pink and white terrazzo, and there are pink-painted walls, and pink tiles, and even the air conditioning ducting high in the ceiling was given a pink makeover. However, this is balanced by the extensive use of polished concrete finishes on the floors and bench seating in the outside courtyard. The use of pale wood on table tops and on the very curvacious tiered seating area bounce light around what is both a light and airy space. The hard surfaces are softened by the hanging rattan light fixtures, soft throw cushions and vibrant green hanging plants. Makissa confessed that pink is not even her favourite colour to wear, but having a background in design and interior design, she, her brother and mother have come up with an eye-catching colour scheme which I'm sure will be featured in many future Instagram posts.
Arriving at LaGula in the middle of a hot afternoon, I was glad to be handed one of the refreshing drinks sourced from local suppliers, Wild Kombucha. I had the Peach Blossoms Kombucha (RM 15), which I found thirst-quenching and cooling. There is a range of other reviving tangy flavours available.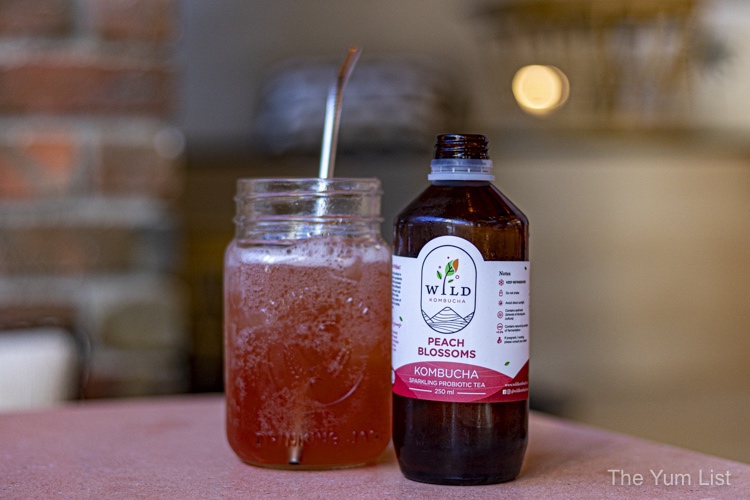 LaGula Nibbles to Share Menu
Makissa got us started on the 'See-Food' Platter (RM22). Golden morsels are enclosed in crisp golden breadcrumbs, which not only looked like but had a texture similar to prawns and squid. Monica and I found them almost indistinguishable from the real thing, although they were made from a product by Happiee in Singapore, from the roots of the Konjac plant. Even our Photographer Rich, who isn't a fan of seafood, was persuaded to try one and found them moreish. Presented on a wooden board with an excellent house-made tartar sauce and a zesty wedge of lemon, they are a generous portion, perfect for sharing with friends while you check out the rest of the menu.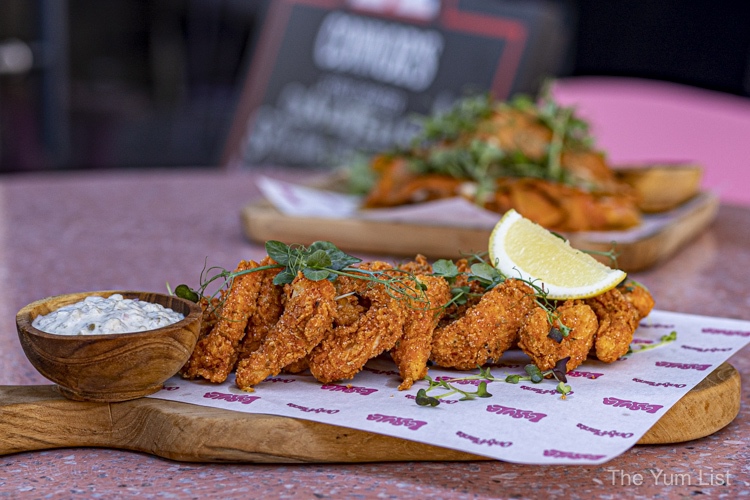 LaGula Greens
Ideal as a side dish or for those wanting a lighter option, Florals for Spring (RM 26) is described as 'groundbreaking' with a playful nod to the line from 'The Devil Wears Prada' movie. This is a very colourful and elegant bowl of salad leaves with rocket, carrot, mint, grapefruit, green apple, edible flowers house-made feta 'cheese' enveloped in a truffle vinaigrette – a feast for the eyes as well as your tastebuds.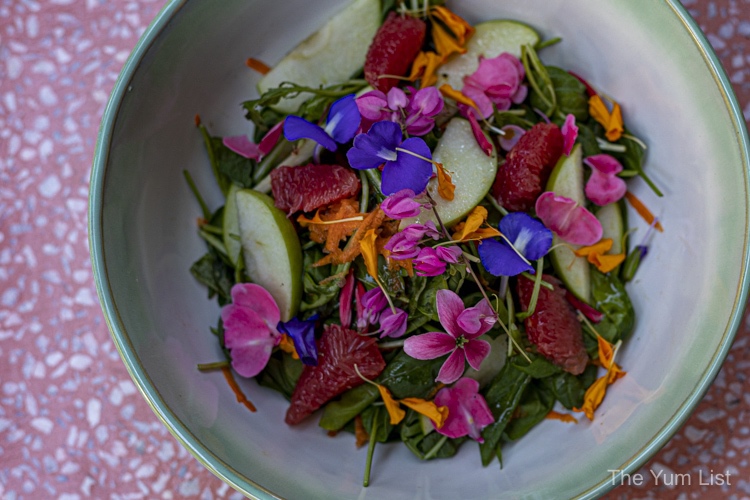 LaGula Breakfast
The next dish we sampled from the breakfast menu was the 'Valmon' and Cream Cheez Croissant (RM 25). The skills required to transform strips of a humble carrot into something with the flavour profile, smooth texture and colour of the finest smoked salmon is worth the trip to LaGula alone, and I can see this being a firm favourite on their menu. The smokiness of the 'Valmon' and fresh dill flavours almost jump out at you. This is another menu item that I think a blindfolded customer would prefer to the real thing. Wonderful.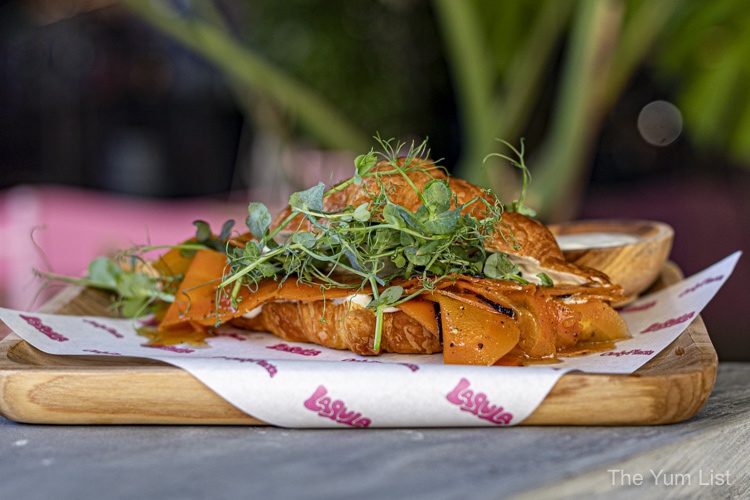 We followed this with the LaGula Big Brekkie (RM 35). This is a very substantial dish and would satiate the largest of appetites, flavoursome chewy chickpea 'sausage', ricotta 'cheez' wilted spinach, sauteed cherry tomatoes and baby mushrooms, vibrant scrambled tofu with turmeric, and my favourite, 'baked chickpea beans'—lovely firm little chickpeas enveloped in a thick, tangy, rich red tomato sauce. When you have tried these, I promise you that, like myself, you will forever be disappointed when presented with everyday baked beans. Somehow they also manage to squeeze onto the plate a soft, well-seasoned potato cake and a slice of sourdough toast made from their bread, baked on the premises.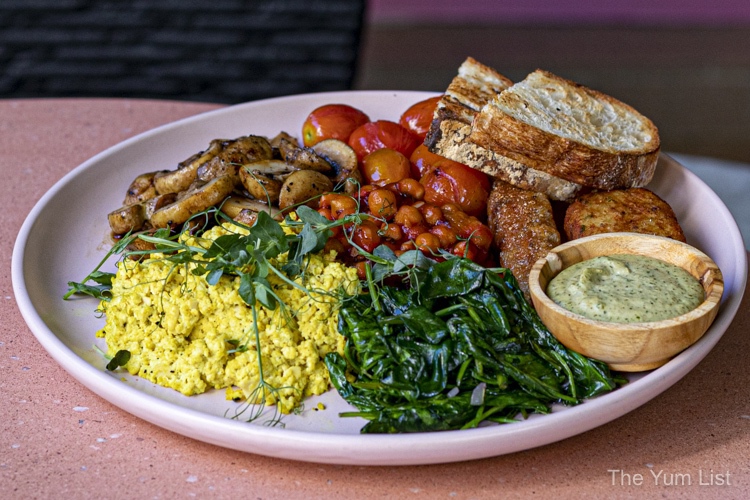 Bread-making skill was also evident in the sandwich we tried next, the Mr Rodrigo's Deli (RM28). This can be served on either sourdough or ciabatta. We had the latter, which had a soft pillowy texture. Another hearty dish, ideal for lunchtime, it contained layers of 'pastrami', made from black bean and soy, together with gherkins, 'cheez', a smothering of mustard and a topping of delicate pickled red onions. It comes with a house-made piquant BBQ sauce and is a very moist and satisfying sandwich. You might need to ask for another napkin, as I did, as the ample ingredients fight to escape from the bread.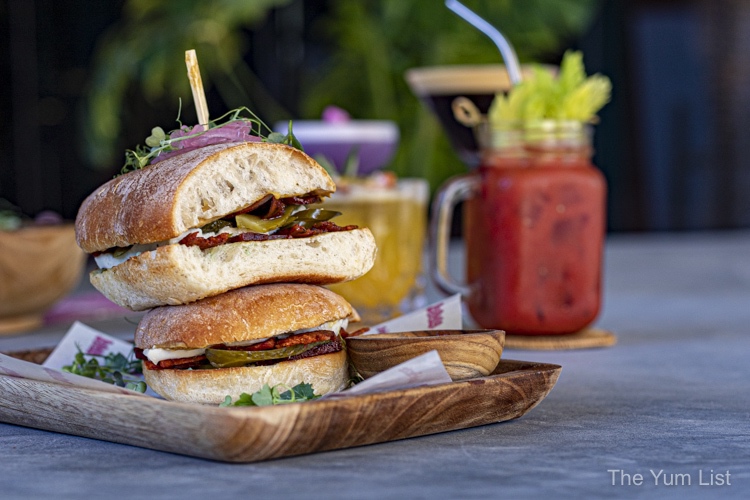 Plant-based Classics
Cynthia confided that the Wild Truffle Orzo (RM 24) was one of her favourites, and after sampling it, I can understand why. Tiny discs of pasta no bigger than a grain of rice, bathed in a sauce made from house-made blue 'cheeze' with baby mushrooms and topped with micro greens, were so perfectly seasoned and comforting it felt like a cuddle in a bowl. This dish can also be prepared using gluten-free pasta for an additional RM4.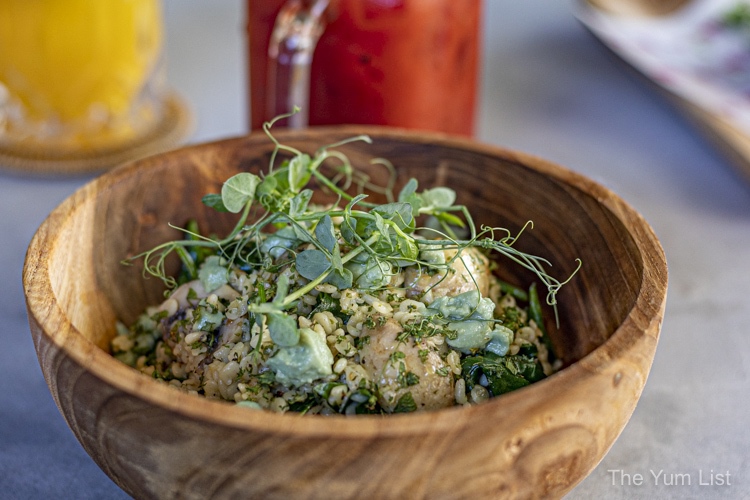 LaGula Bakery
With the opening of the new premises at LaGula the bakery here will serve as the central kitchen providing bread, cakes and pastries for both this establishment and The Hungry Tapir. Monica and I were excited to be given a backstage tour of the immaculate and gleaming new kitchen and bakery, where everything is made from scratch using vegan ingredients and no meat or dairy products are used anywhere. We were introduced to their head chef Htet who originally hails from Myanmar and previously worked in a popular Australian breakfast restaurant here. Producing purely vegan recipes was a new skill for Htet, but Cynthia said that he took to it with relish, and I can attest to his great proficiency. Future plans include an evening opening and introducing a range of sourdough pizzas they have been testing out, but we will need to wait to visit later in the year to try those out ourselves.
The range of cakes available changes daily, so check the board behind the counter and the display cabinet for the selection when you visit. We tried a slice of the Chocolate Berry Cake (RM18), which had a Biscoff crumb base and layers of berry and chocolate mousse topped with fresh strawberries. It was wonderfully light, and I enjoyed the interplay between the texture of the fluffy mousse and crisp Biscoff, as well as the contrast between the rich chocolate and berry layers.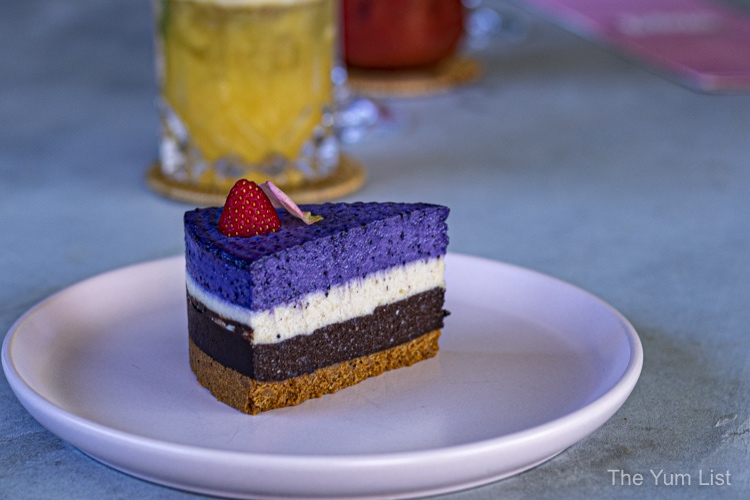 We also sampled the Pain au Chocolat (RM 6), delicate layers of laminated puff pasty with two batons of bittersweet soft dark chocolate melting inside, and the Almond Croissant (RM6) covered with delicate slivers of almond and dusted with icing sugar, both perfect to accompany your morning or afternoon coffee. Black Coffees are priced at RM11, whilst white coffees are RM16 and available with your choice of either oat, coconut or soy 'mylk'.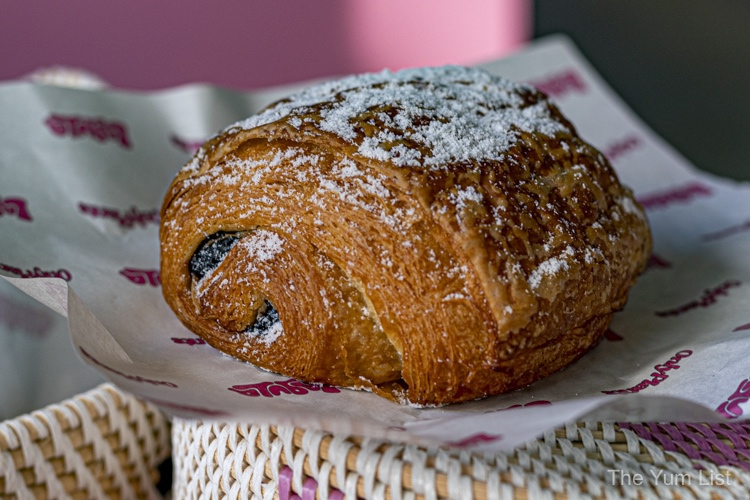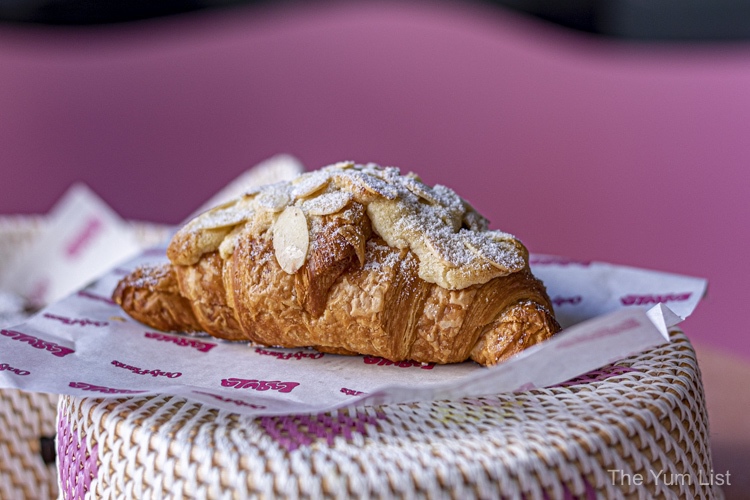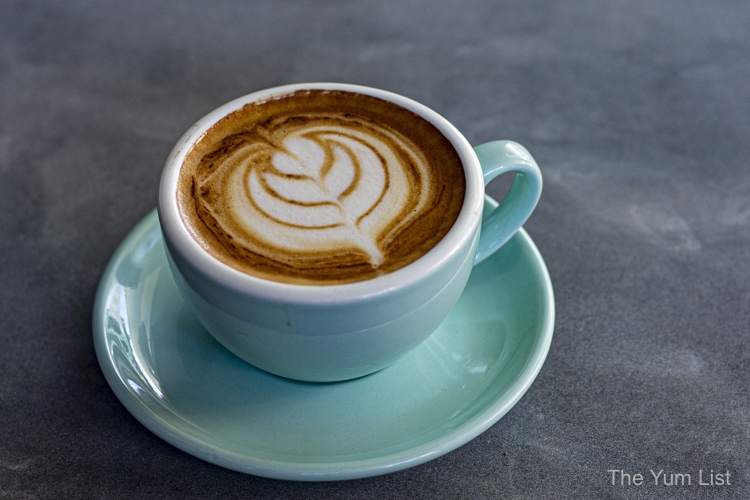 Vegan Cocktails
If you like to have a cocktail with your weekend brunch, LaGula has you covered. There is a surprisingly long cocktail list. We got to sample a classic Bloody Mary (RM33), a perfectly balanced mix of tomato juice, spices, lemon juice and vodka, served in a glass jar accompanied by a garnish of three olives and a sprig of celery. Monica's favourite was the Flower Power (RM40), a tropical mix of passionfruit, grapefruit, lemon gin and rosemary syrup that had her dreaming of forthcoming holidays.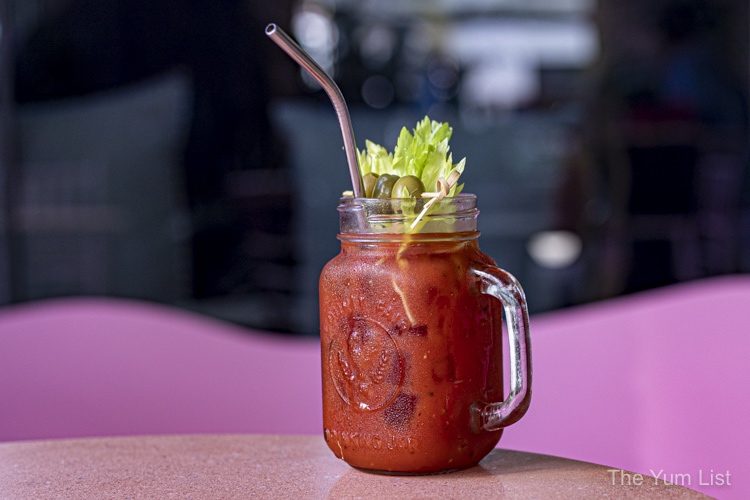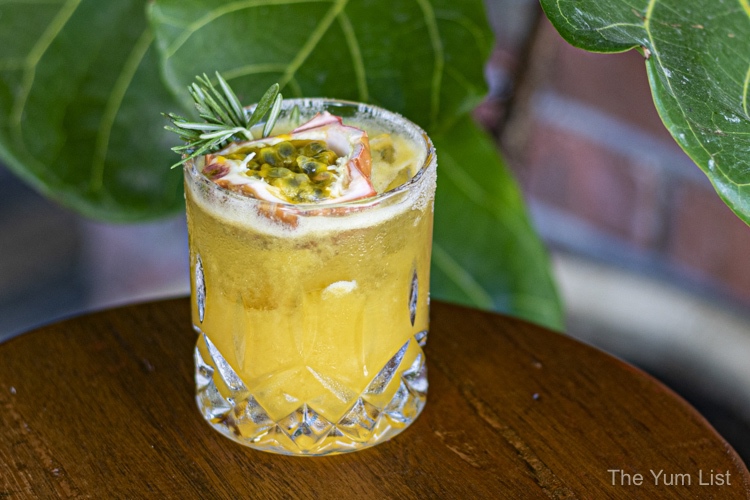 A very popular cocktail at the moment is the espresso martini, and the staff at LaGula do a very good version indeed, here playfully called the Cacao-feinated (RM35). Vodka, Frangelico, and espresso are shaken together over ice and presented in a chilled martini glass, a perfect layer of crema dusted with a line of cacao nibs.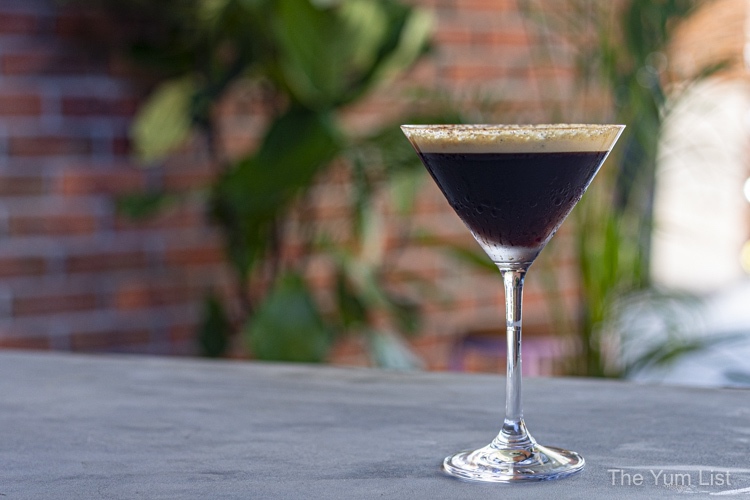 For those seeking a more delicate cocktail, I can recommend the Violet Ray (RM36). This reminded me of the Parma Violet sweets that were available in the UK when I was young, having a delicate floral flavour coming from the butterfly pea-infused rum, elderflower and angostura bitters. The cloud of foam supporting the garnish of a row of tiny pink flowers is usually derived from adding egg whites. However, here it is made from the inclusion of aquafaba, which is the liquid remaining after cooking chickpeas. I much prefer this as I often find that the flavour of egg whites can be too dominant when used in cocktails.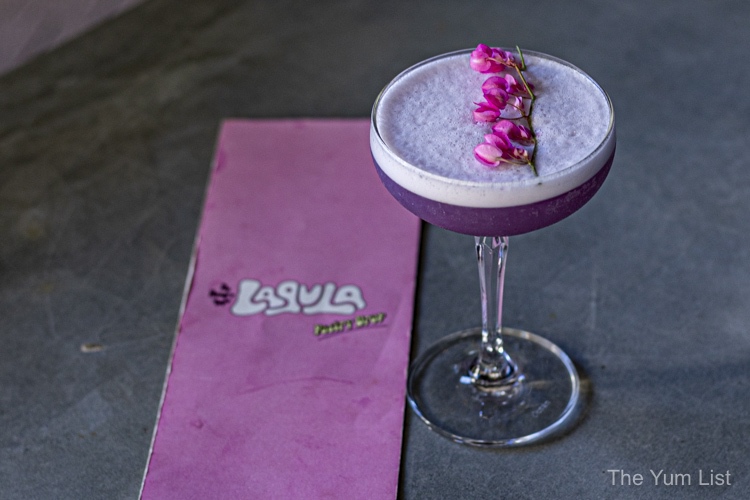 Vegan Macarons
Aquafaba is also used at LaGula to make a wide range of colourful and mouthwatering Macarons (RM5 each or six for RM25). The selection changes daily. I loved the chocolate one, and Rich said the blueberry flavour was terrific.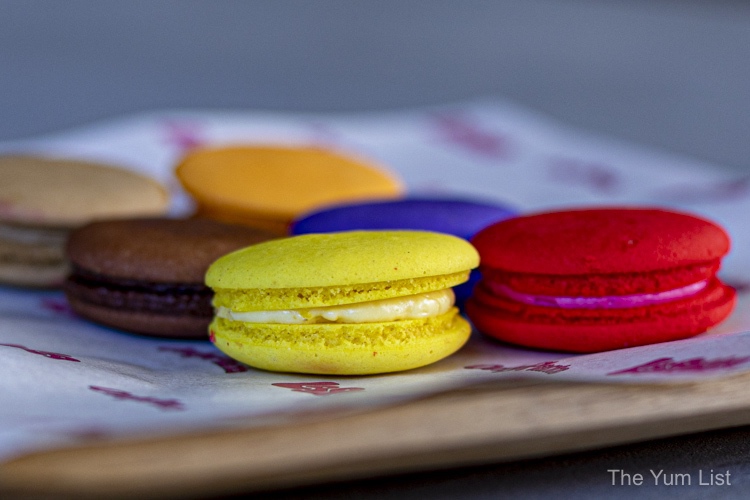 LaGula by The Hungry Tapir Review
Building on the success of their previous vegan restaurant, The Hungry Tapir, LaGula is a wonderful addition to the KL brunch and breakfast scene. I predict those waiting in line for tables at weekends will contain more than a few meat eaters who will be astonished by the variety of food and flavours available, as well as delight existing vegans and vegetarians. Do something for the planet and your tastebuds at the same time! Generous portions, friendly service and funky styling, will brighten your Instagram feed. I plan on going back to try the weekend Sunday Special, where you have a choice of either the Lagula Big Brekkie, Scrambled Pastrami Croissant, or the Sunday Specials Bagel washed down with two hours of free flow Mimosas or Pear Bellinis for RM150.
(Dog owners are welcome to bring their four-legged friends along to the outside terrace. Future plans include dog-friendly snacks such as 'Pup cakes' and Puppacinnos.)
Reasons to visit LaGula by The Hungry Tapir: incredibly attractive setting and incredibly delicious food; from coffee to cocktails, the drinks menu has any mood covered; must try the 'Valmon' and Cream Cheez Croissant, LaGula Big Brekkie and Wild Truffle Orzo.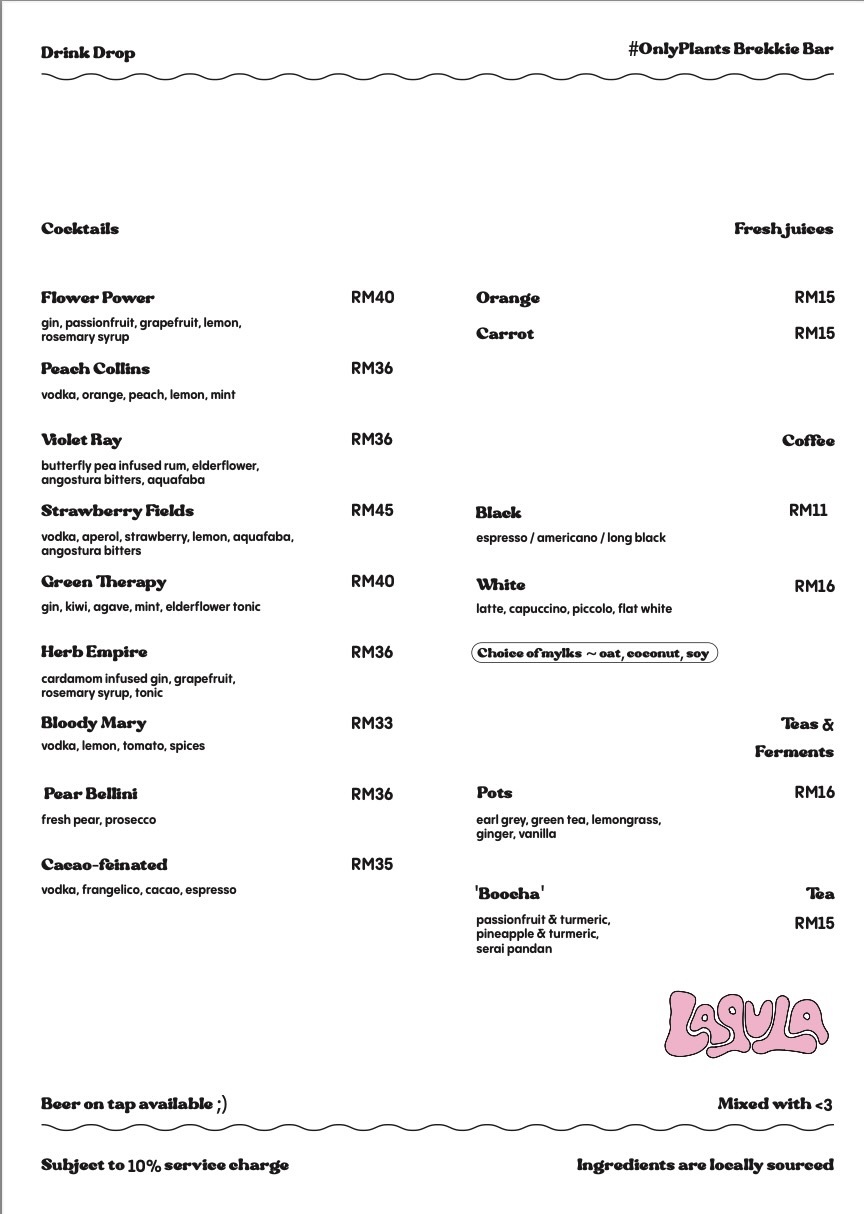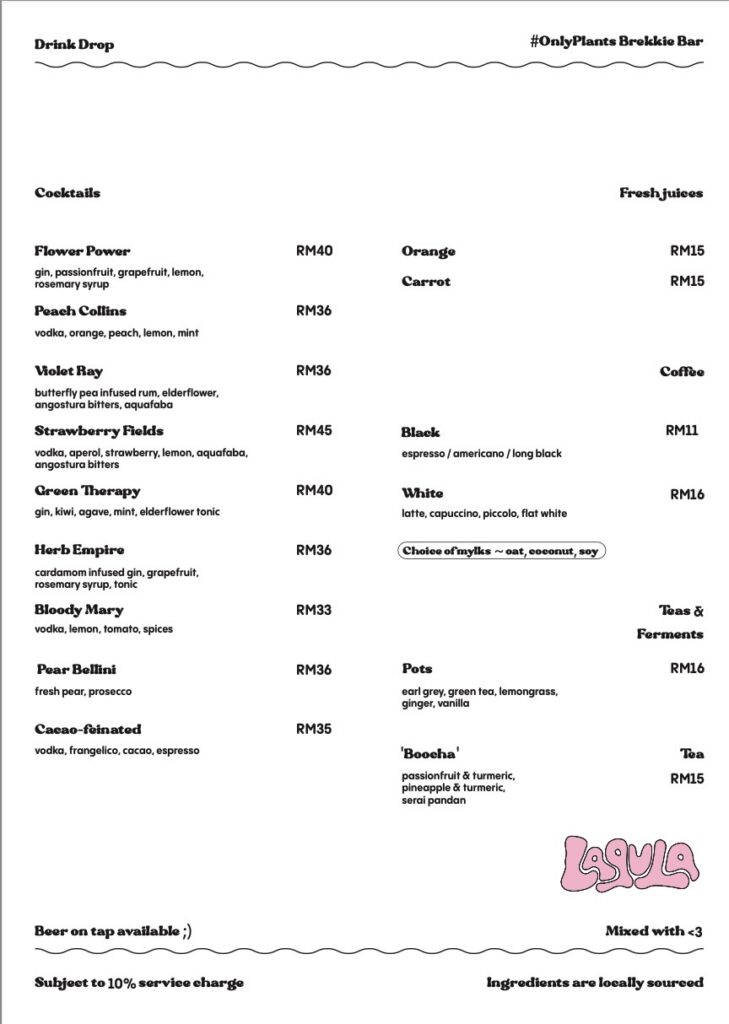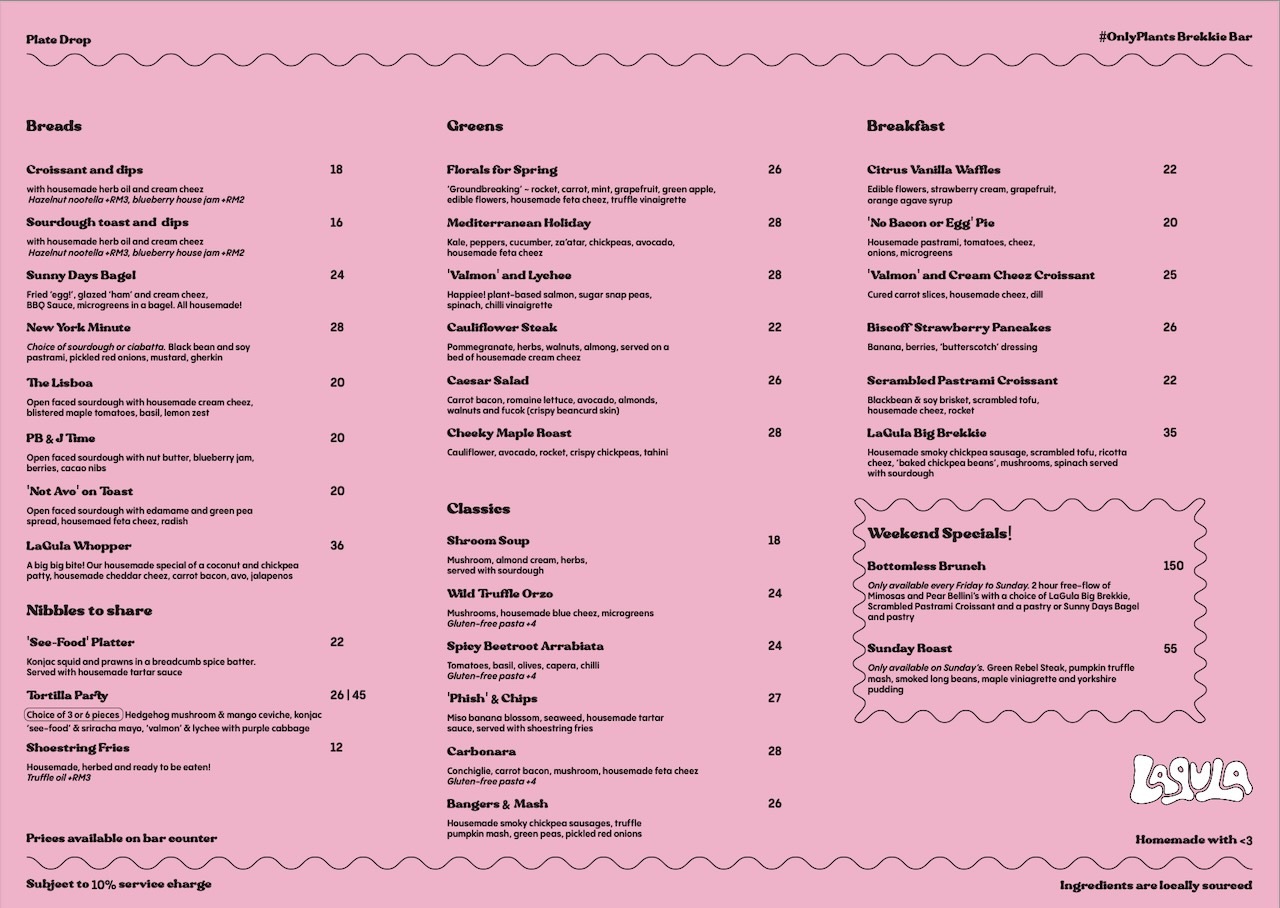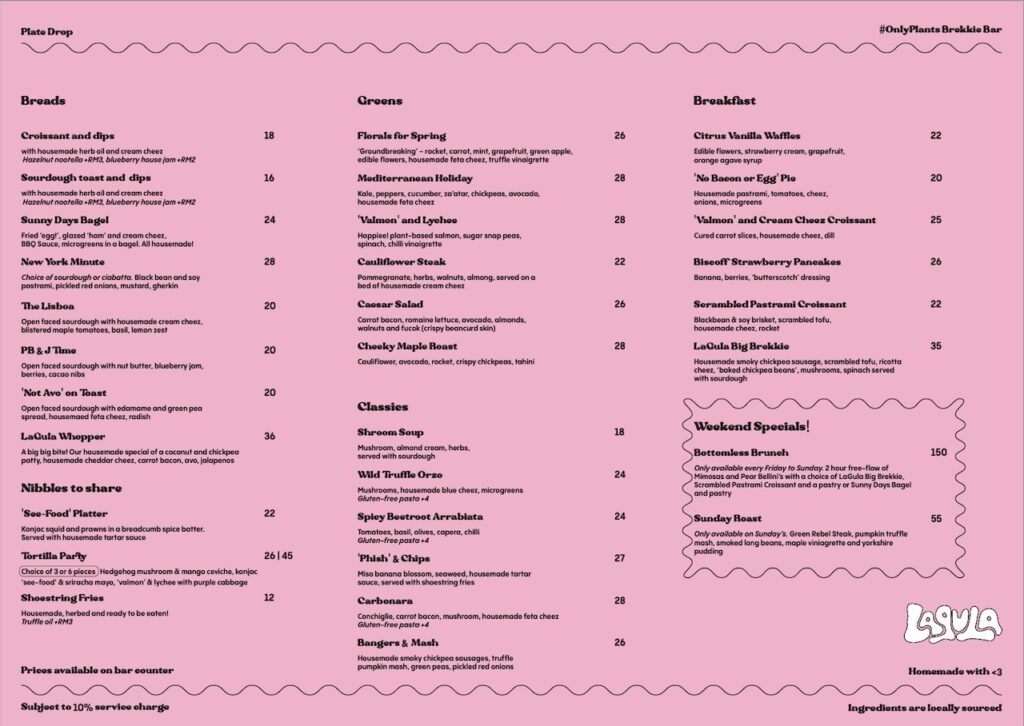 LaGula by The Hungry Tapir – Vegan Bakery & Brekkie Bar
G-02 Ground Floor, Four Points by Sheraton Kuala Lumpur, Chinatown
2 Jalan Balai Polis, City Centre,
50000 Kuala Lumpur, Malaysia
+60 11 6096 7726
@lagulabytapir
LaGula by The Hungry Tapir Opening Hours
11 am – 7.30 pm closed Mondays
More vegetarian and vegan food in KL here and stay up-to-date with the latest gourmet and travel recommendations for Malaysia here and here.