After One KL – Healthy Mediterranean Cafe Kuala Lumpur
Words: Matt Brown
Photos: Han Sen Hau
A self-described 'healthy-licious' sanctuary located in a quiet lane in the centre of KLCC, After One KL is a diamond in the rough, bursting with fresh dishes, gorgeous light and space and exciting energy every day of the week. Co-owned by Chef Denon Lee, this gorgeous bungalow was abandoned for years before Chef and his team took on the transformation. It took six months to renovate and set up the space, ready for opening in June 2022.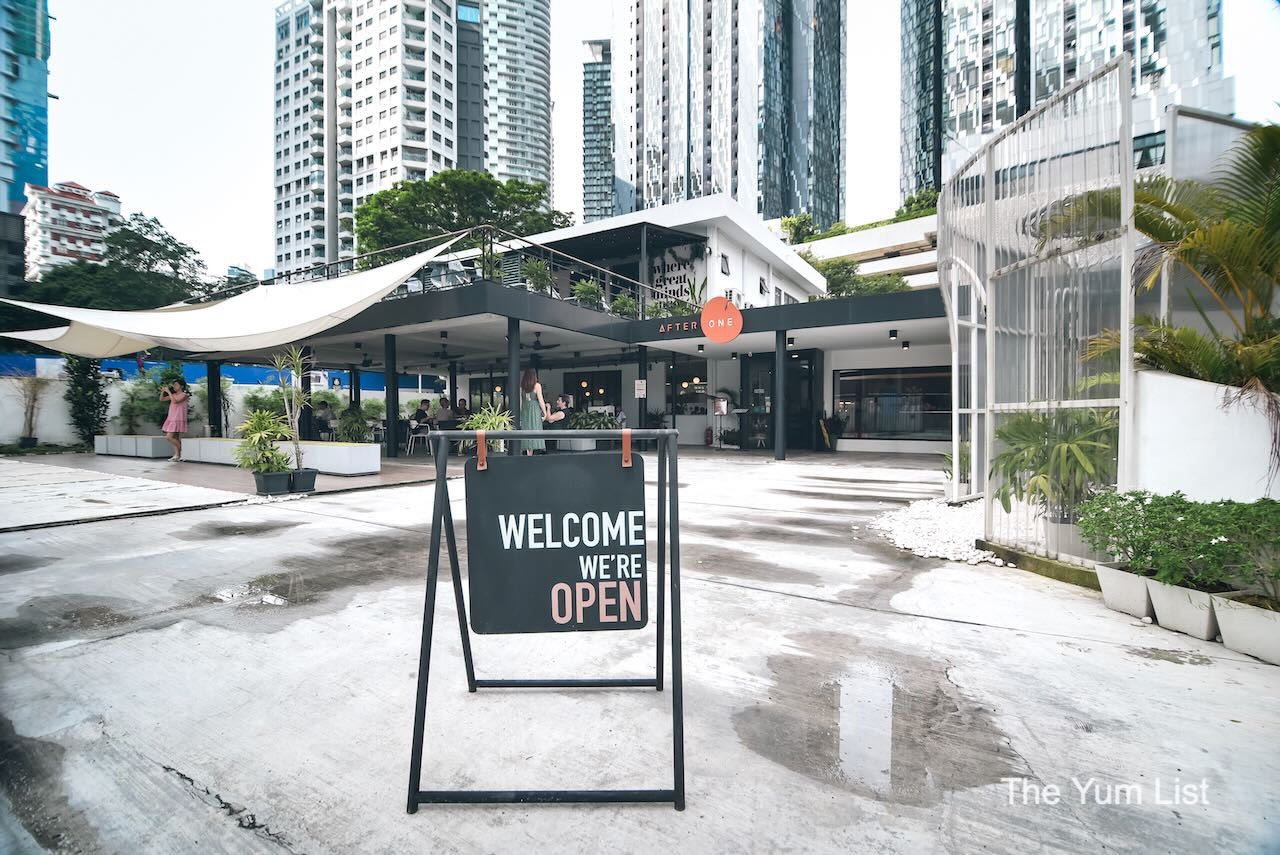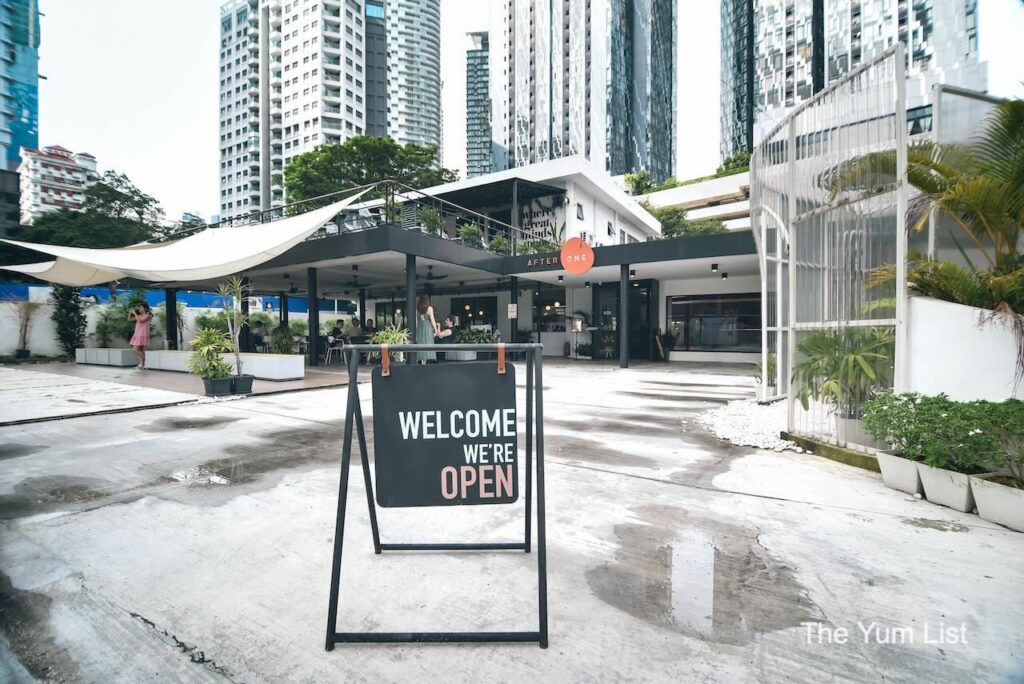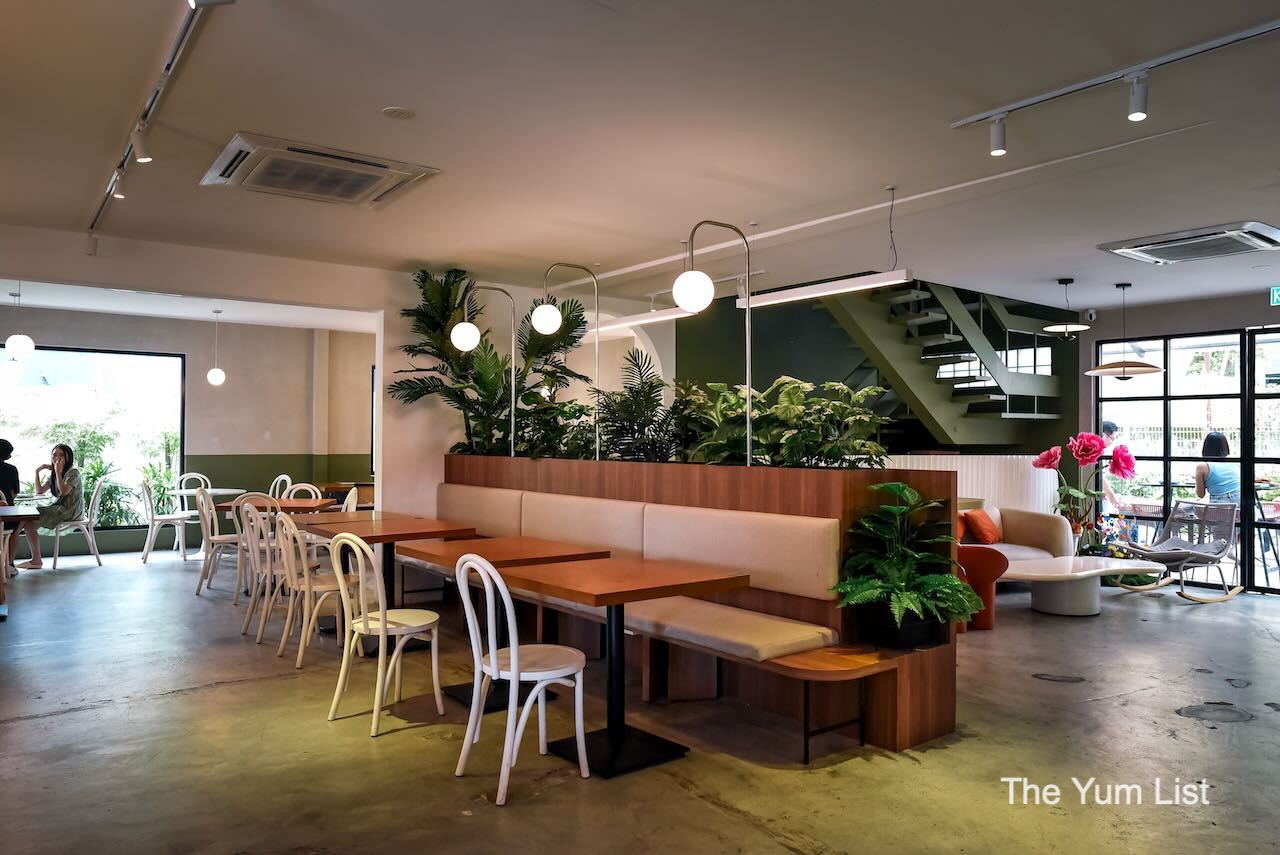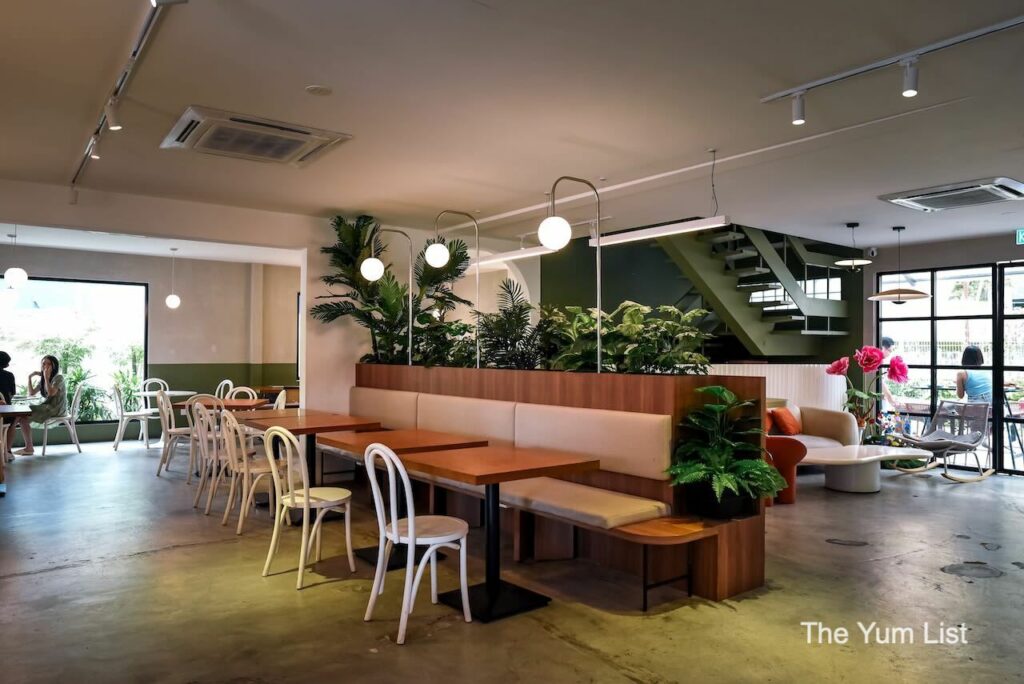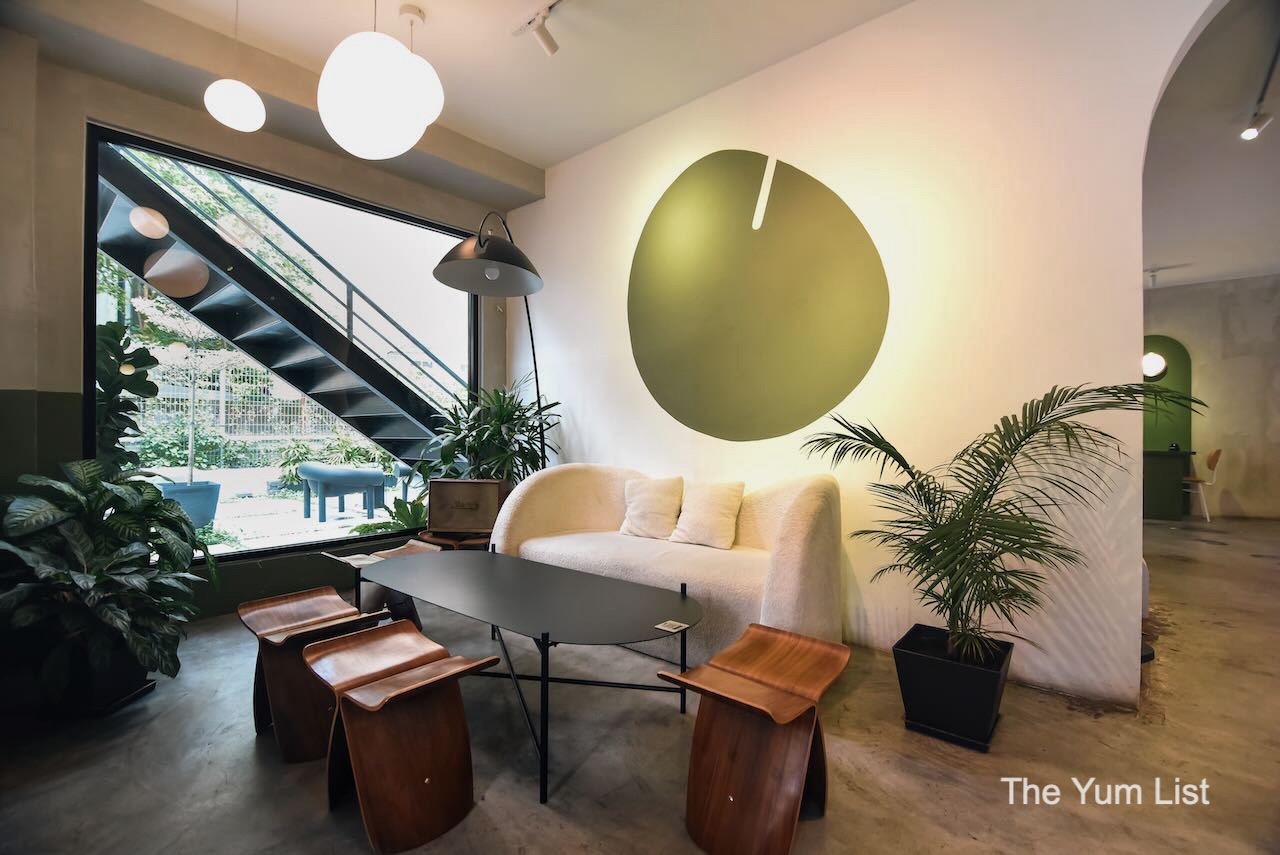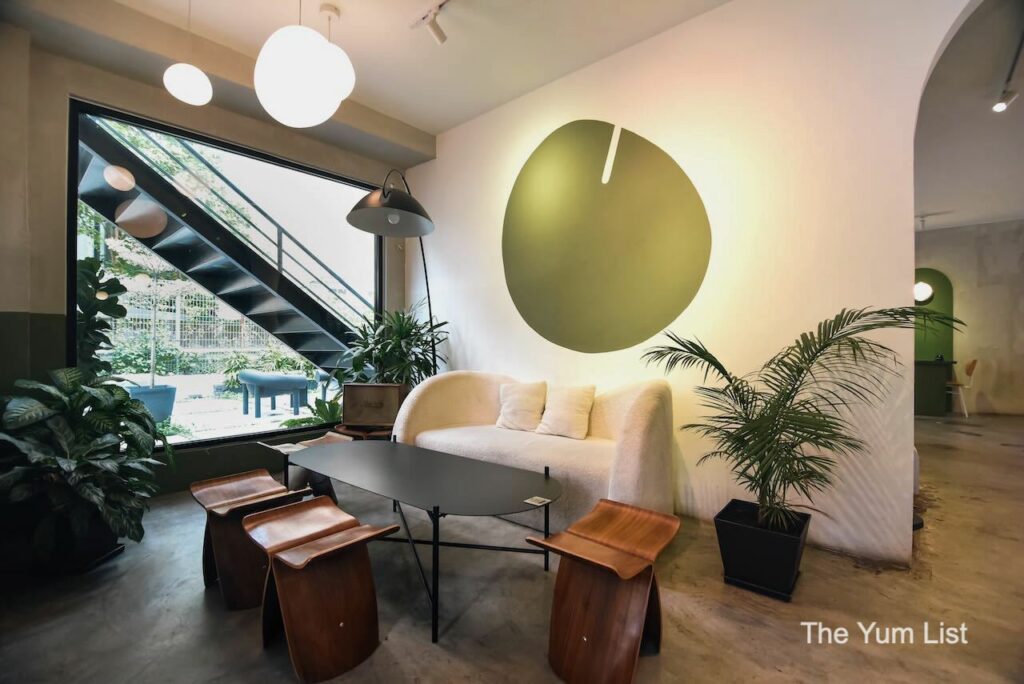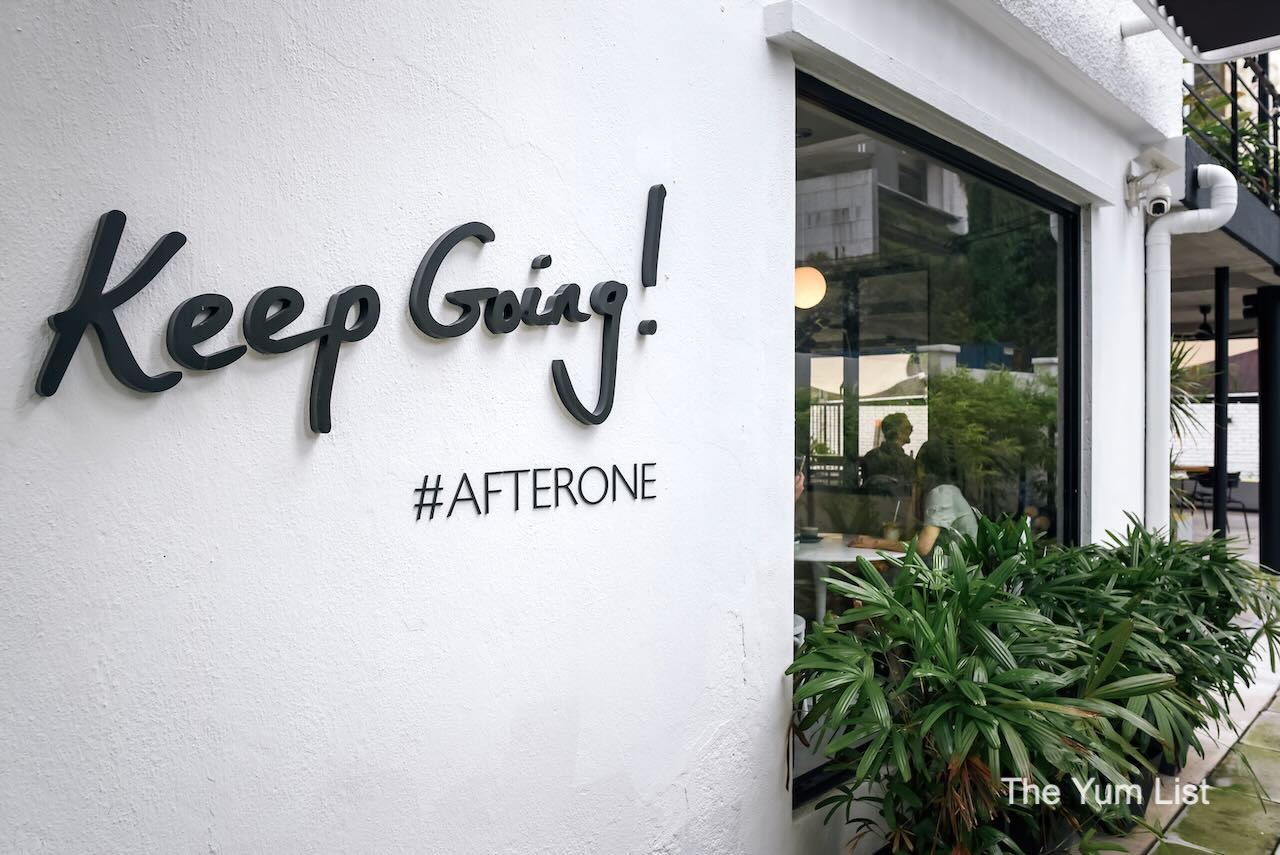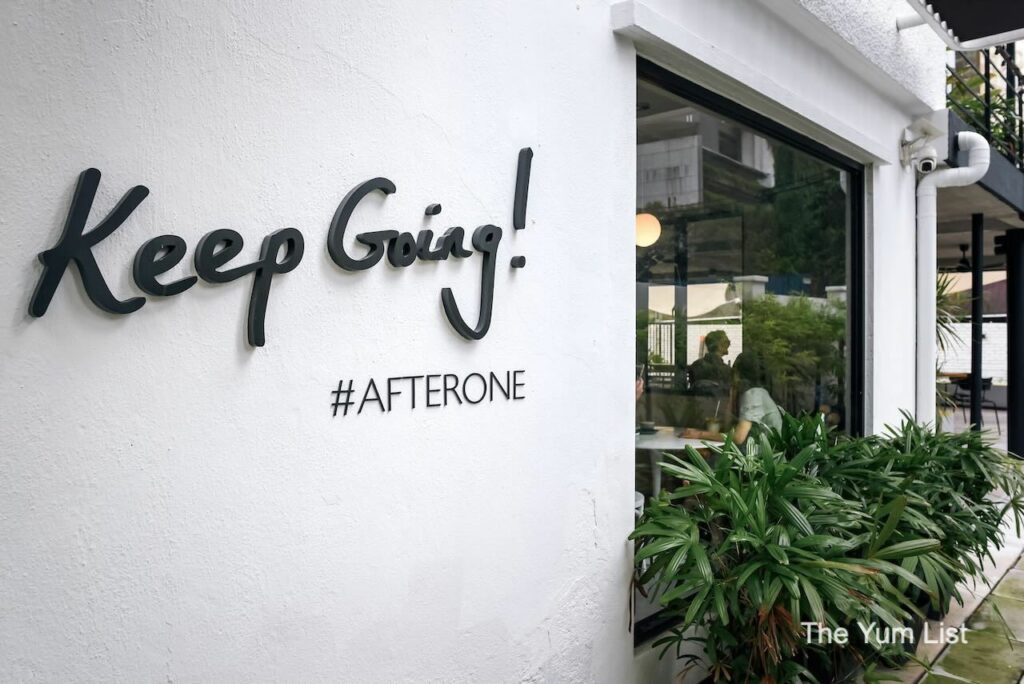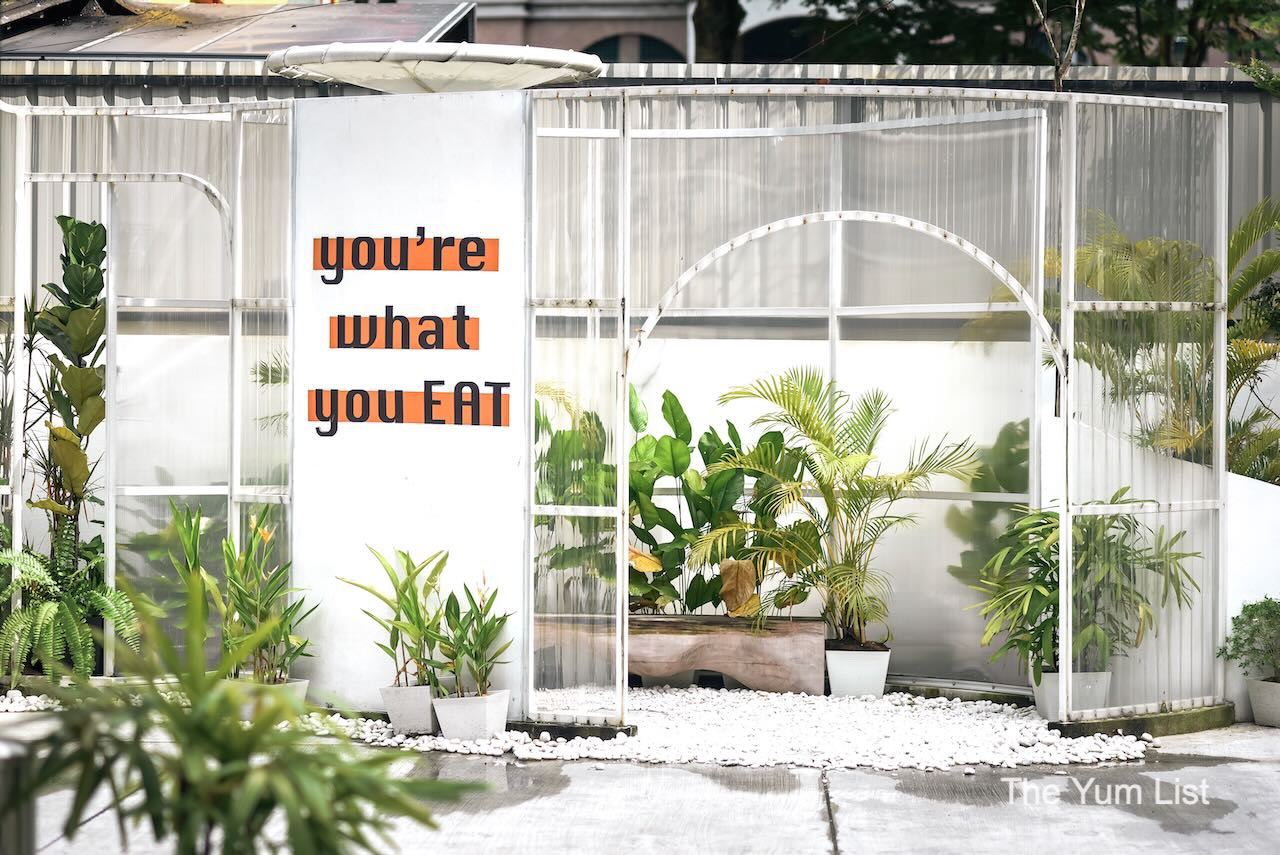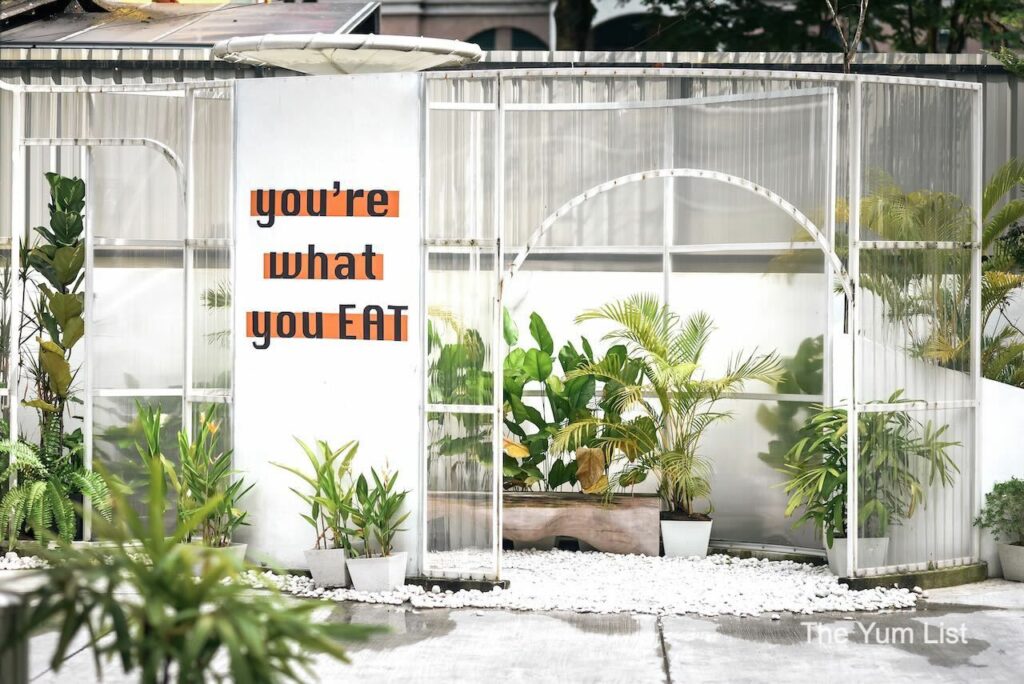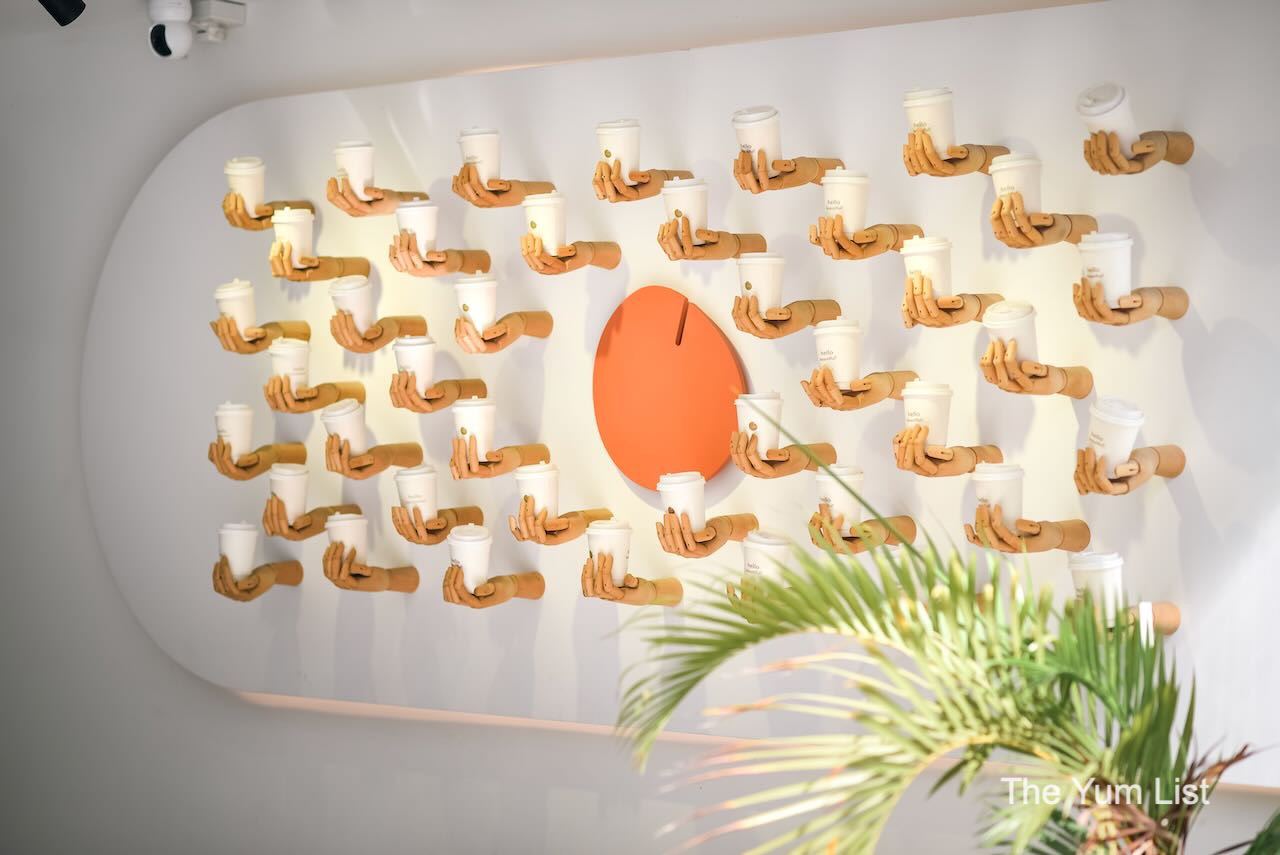 This is the first time Chef Denon has worked in Malaysia – his entire career has been US- and China-based. French cuisine trained, he aspired to create cleaner and healthier food accessible to everyone. His time at Nix vegetarian and vegan restaurant in Union Square, New York City, illuminated the possibilities of what can be done when turning the side dish into the main course. During Chef Denon's time at Nix, it was the only vegan restaurant that year to be awarded a MICHELIN star. So you know he brings with him a level of quality, expertise and imagination that will delight all diners.
After One KL Review
After One KL aims to conjure up relaxed images of brunch with friends and family – the name is inspired by its Lot number on Jalan Yap Kwan Seng and the time that we usually find ourselves organising a delicious get-together at a cafe. An aesthetic that draws on the light and multiple dining areas available – indoor, outdoor undercover, outdoor – and combines Scandinavian minimalism with a cheeky touch here and there, is already proving to be a destination popular for the content creator crowd.
Chef Denon has brought back to Malaysia a concept of healthy Mediterranean eating. He's a 'taste artist', with a careful eye for colour and balance. Having trained in French cuisine and worked exclusively abroad in the USA and China, this new venture is his introduction to the KL food scene with an unofficial motto of Be Kind To All – it's Muslim-friendly (no pork or lard), vegan options abound, and pet-friendly for outside seating.
For the events, the space is used for up to 200 people and can cater to weddings, corporate functions – anything you may like to book. They have previously held markets, product launches and dog yoga sessions, so sign up to their social media pages to get on their calendar. A small bar upstairs, Alta Societe, serves cocktails, a small selection of wine and offers a unique setting … but more on that in another article.
Breakfast Menu at After One KL
If you want to absolutely go nuts and be full for the rest of the day, look no further than the AO Full Breakfast (RM 42). It is HUGE – two pieces of housemade German chicken sausage, cured Norwegian salmon, and eggs from Perak – the chickens only eat fresh red worms and drink filtered water! – the best that Chef has eaten in Malaysia. Halved avocado, baked beans, roasted pumpkin and sourdough toast load up the rest of this tasty and filling plate.
The Shrimp, Eggs and Grits (RM 32) feature garlic shrimps, a grass-fed sunny-side-up Perak egg, grilled okra, cherry tomatoes, creamy polenta and mizuna (California peppergrass). The grits were an excellent addition to this dish, as their polenta-like quality balances the vegetables and seafood very well.
Syrniki Pancakes (RM 30) was added to the menu after Chef Denon chatted with an Eastern European customer who missed the pancakes from his hometown. Russian-style pancakes made of cottage cheese base served with yoghurt, berry compote and banana; this is a start to the day best matched with one of the excellent available coffees.
The Turkish Eggs and Sausage (RM 30) features spicy chicken chorizo sausage, herbed Greek yoghurt, grass-fed Perak eggs, olive ciabatta, cured shallots and dill. The chorizo bites have a kick that balances well with the tangy yoghurt and light eggs.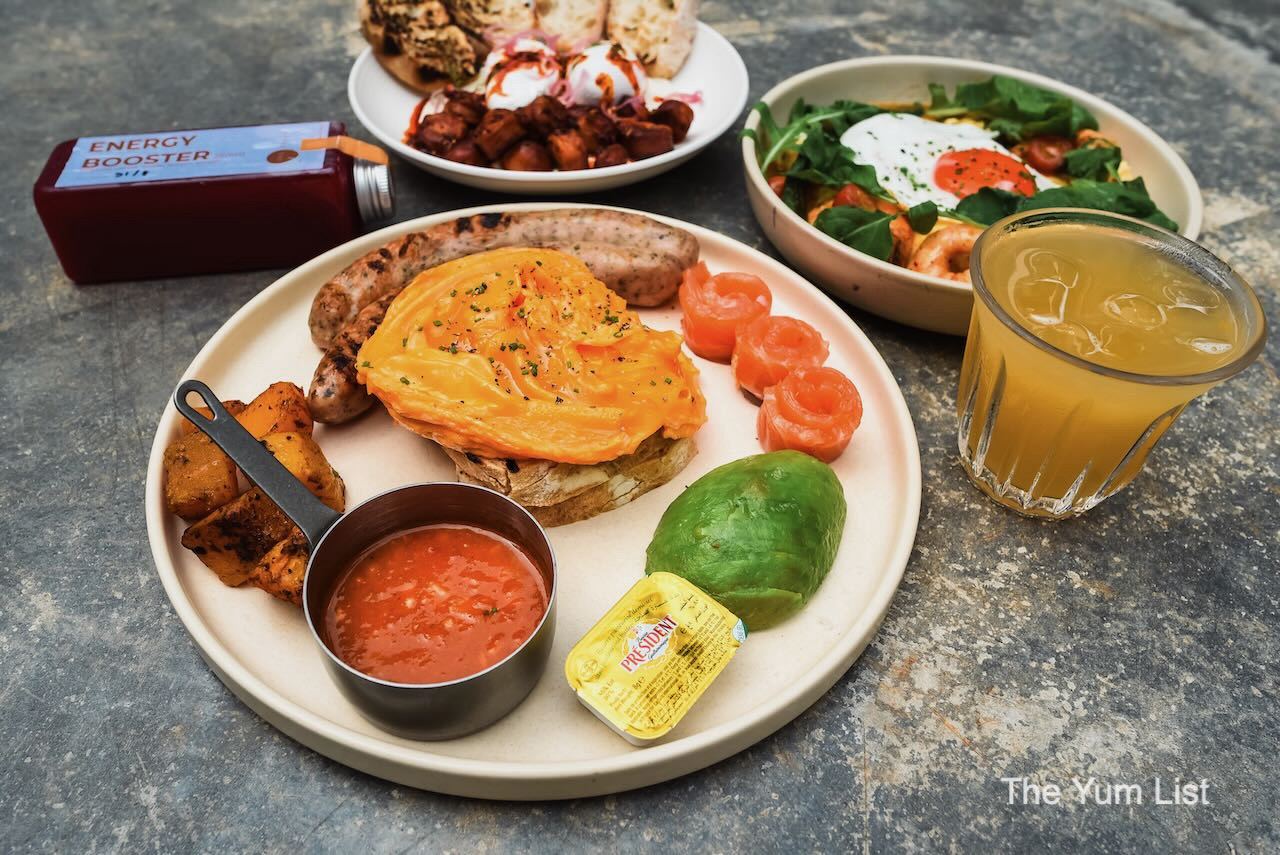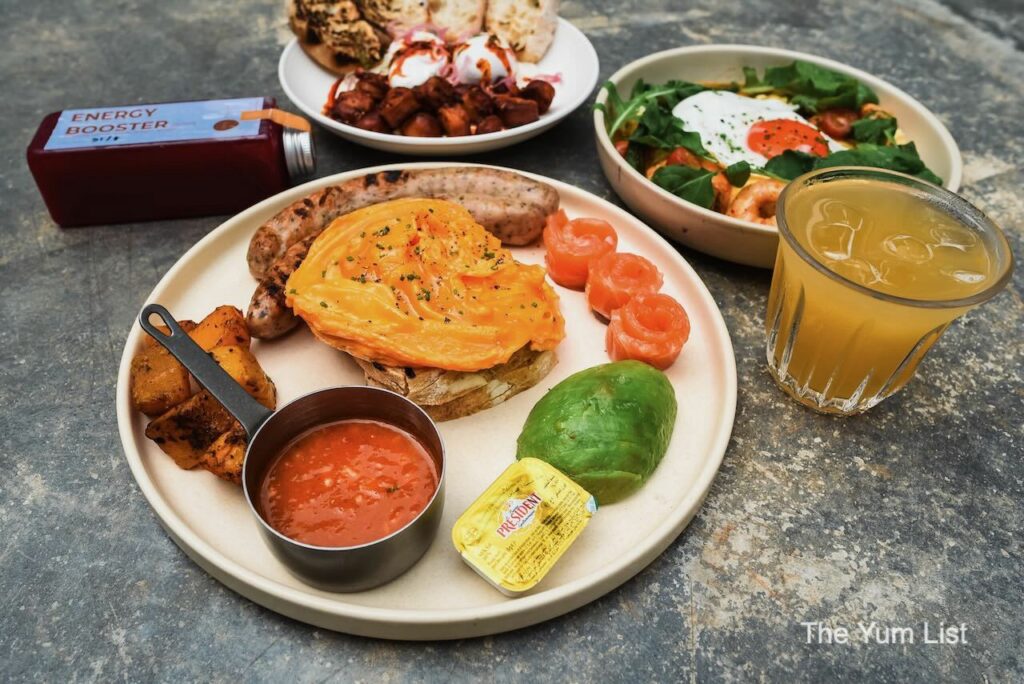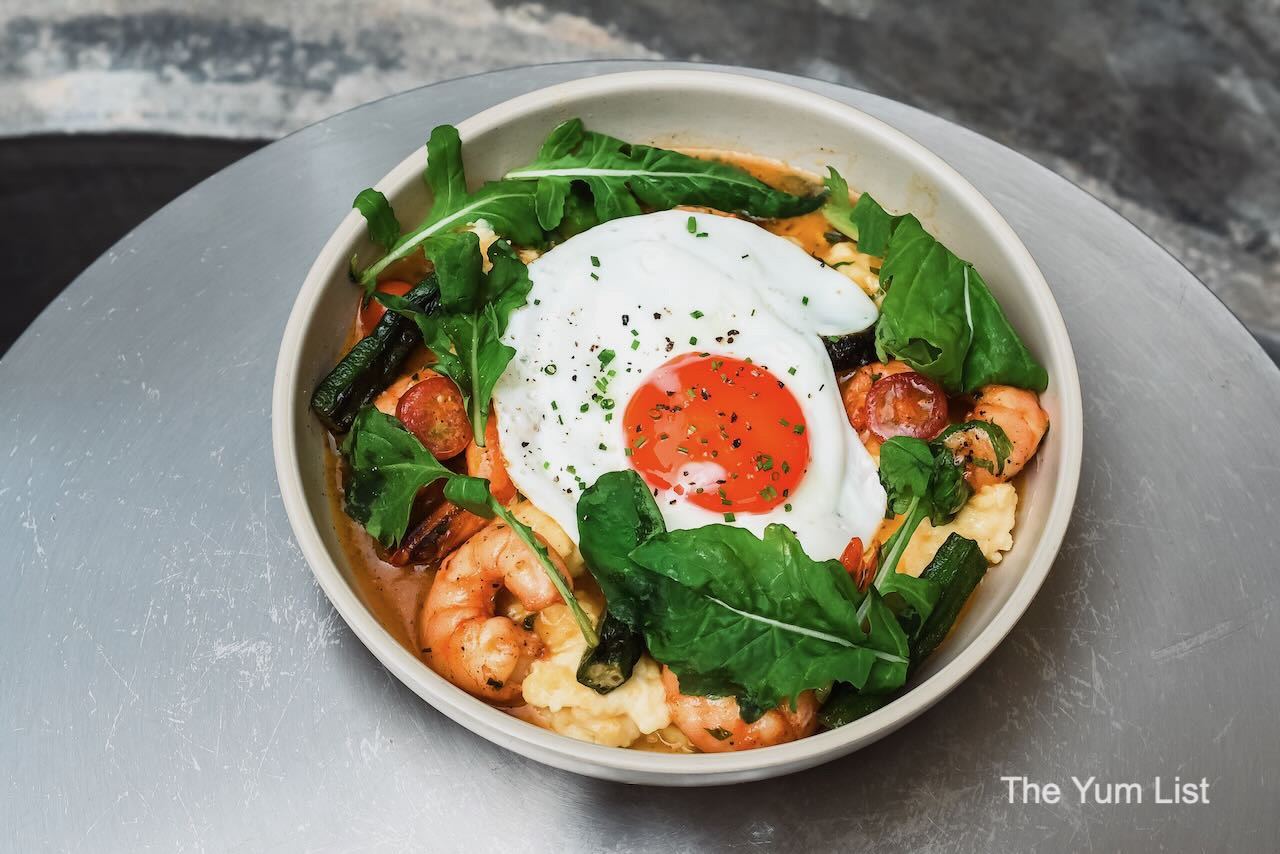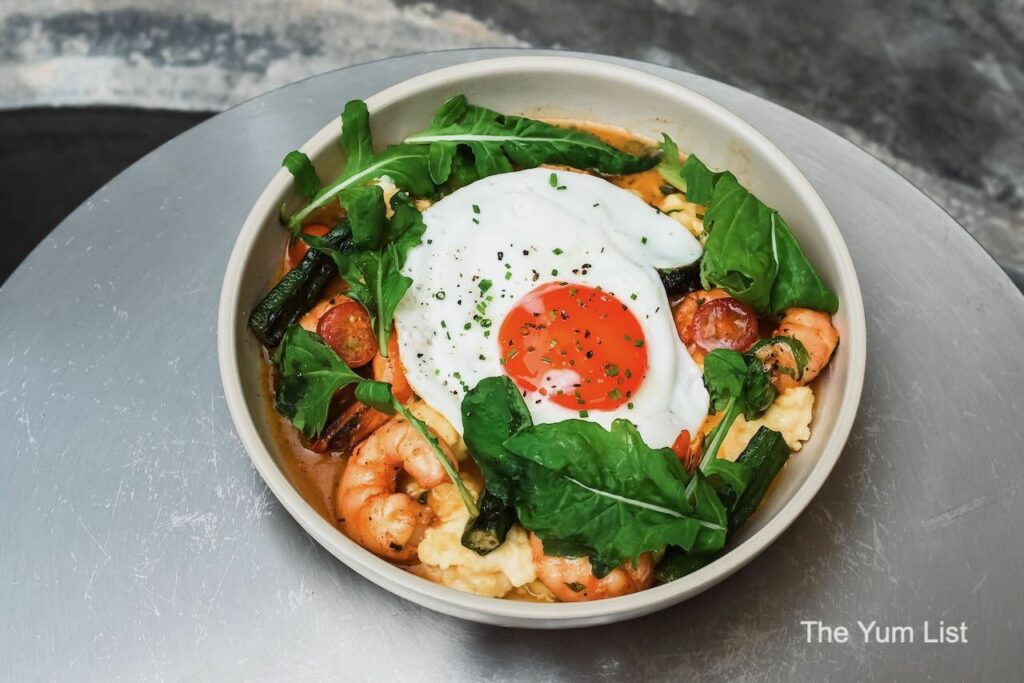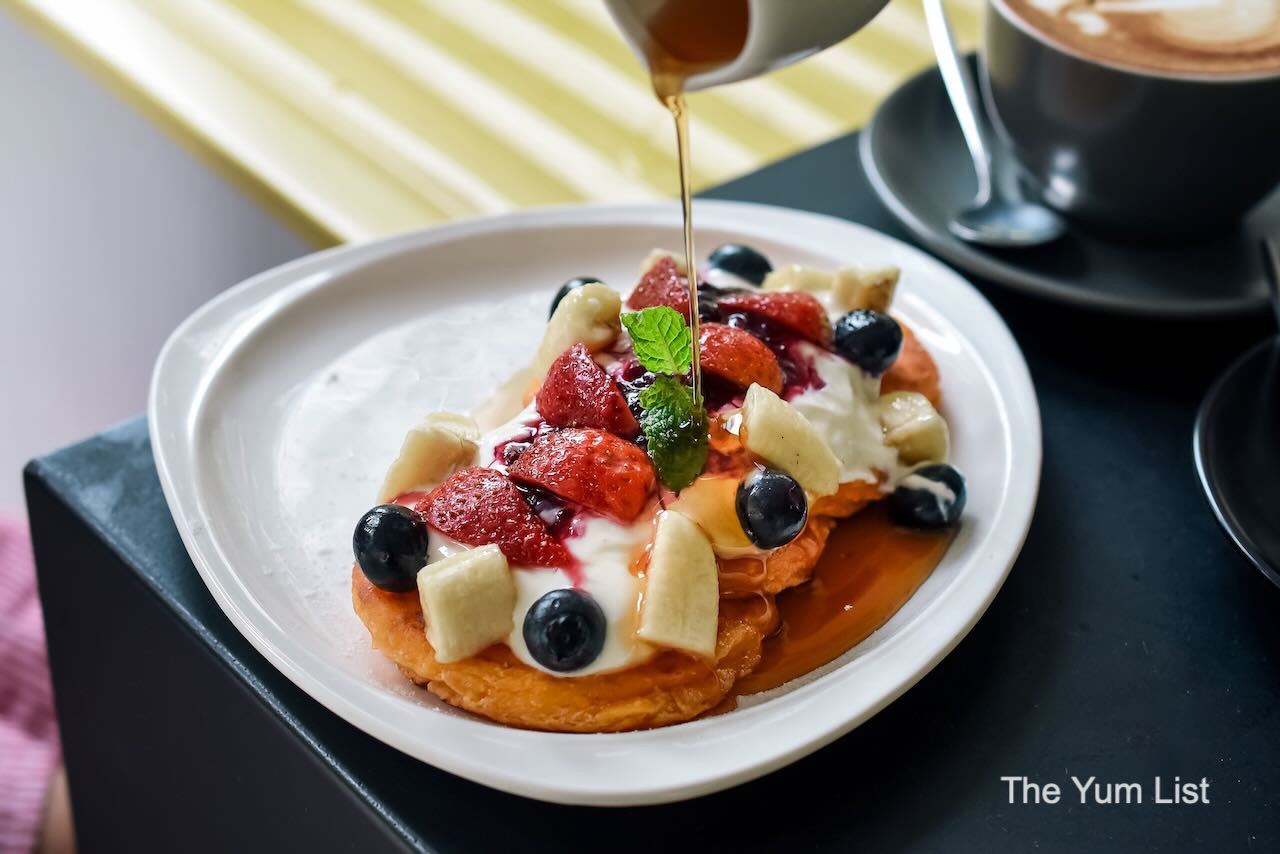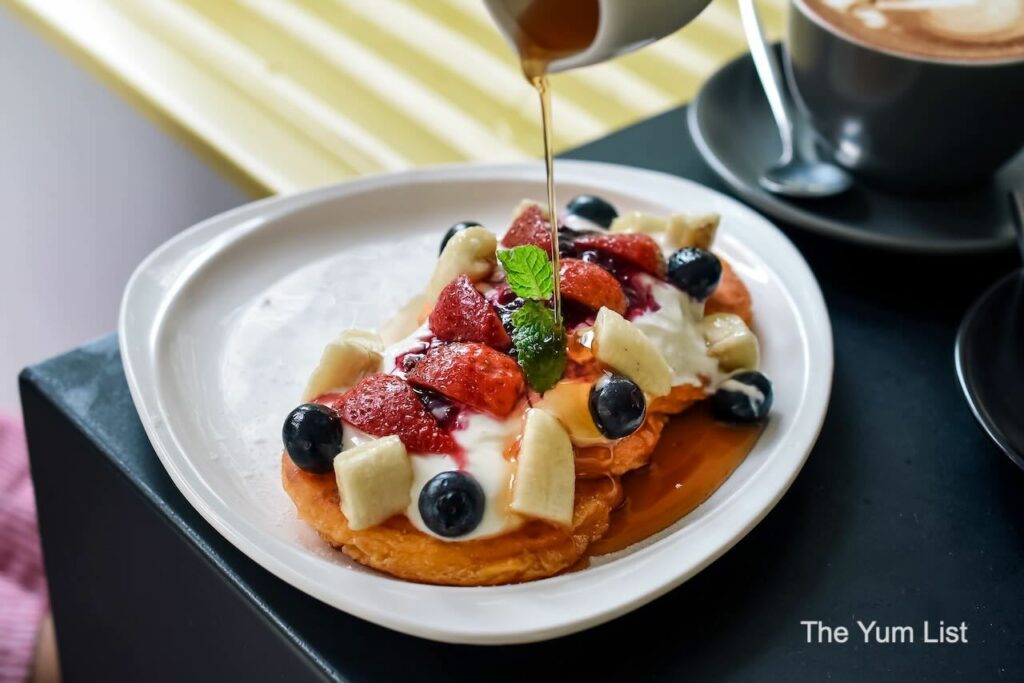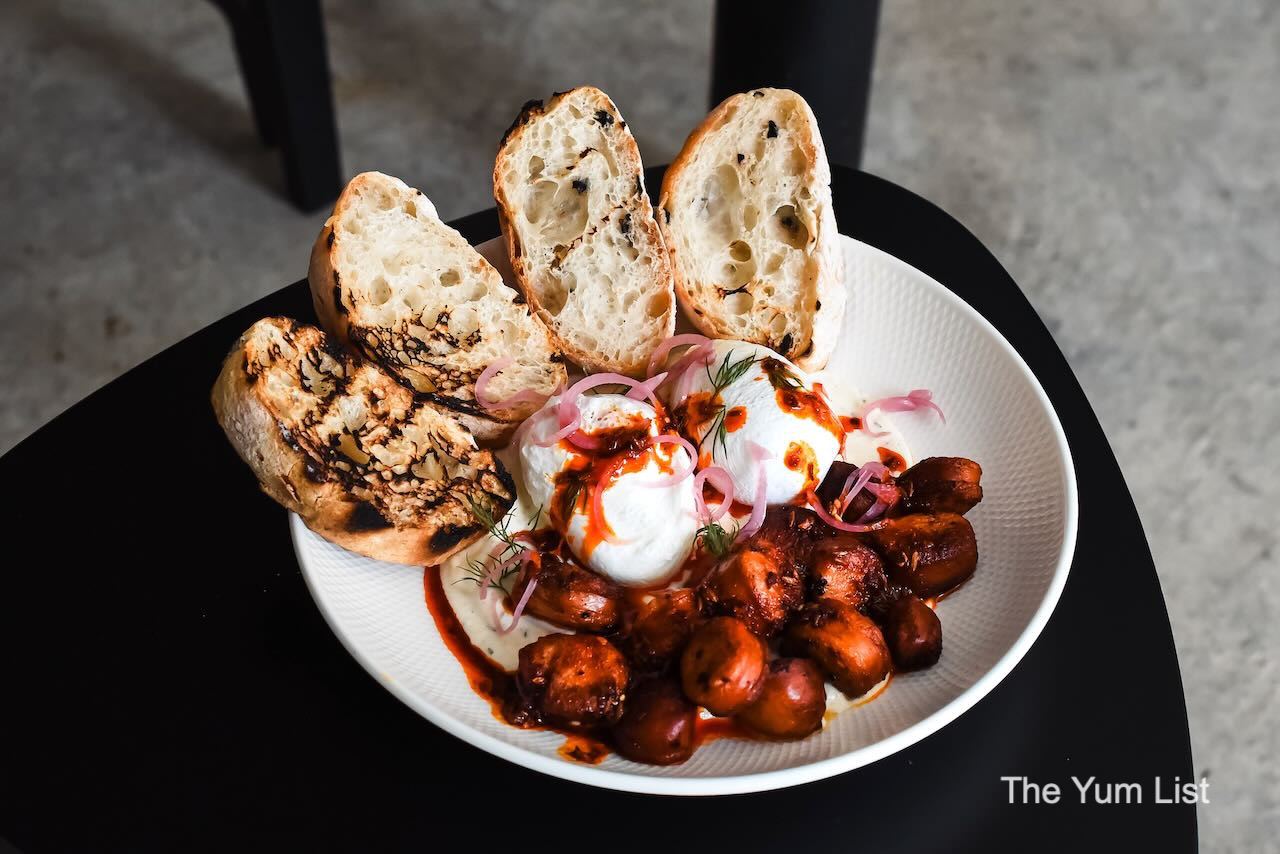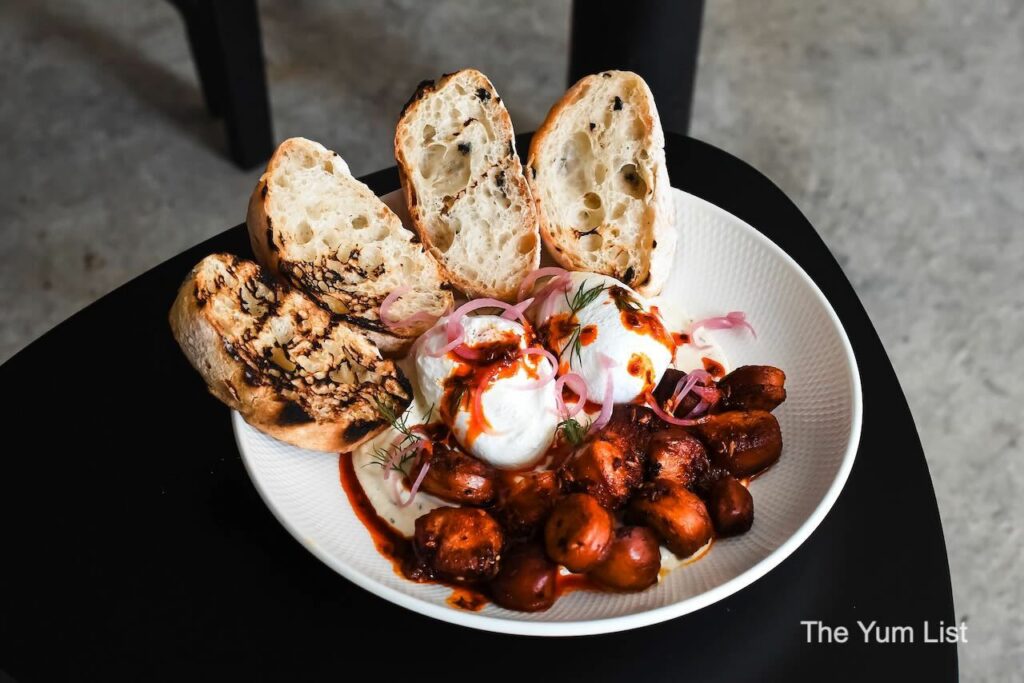 All Day Menu
While the breakfast menu lasts all day and into the evening, should you wish to eat a more lunch-style meal, there are plenty of great options for that as well. The Pan-Seared Mediterranean Fish (RM 40) is a 6oz butterfish, organic mixed grain, edamame and tapenade, with its side salad of grains incredibly satisfying and 'healthy-licious'.
Corn Succotash (RM 30) is an excellent dish for sharing more healthy goodness (high in amino acids!) with a great mix of pinto beans, grilled corn, zucchini, avocado, chipotle mayo and corn tortillas.
The tender and tasty Moroccan Chicken (RM 32) features Marrakesh-spiced chicken breast, tricolour quinoa, sweet potato and chermoula, a Moroccan marinade similar to chimichurri. This is sure to satisfy gym-goers with its lean-protein-packed profile and nutrient-dense side.
The hearty Pesto Sweet Potato Gnocchi (RM 30) uses housemade sweet potato gnocchi, portobello mushrooms, chestnut and a vegan pesto that will leave you asking for some bread to not miss a drop. The menu does an excellent job of offering something for everyone. The challenge of creating dishes that aren't solely based around a meat-based protein is very well met.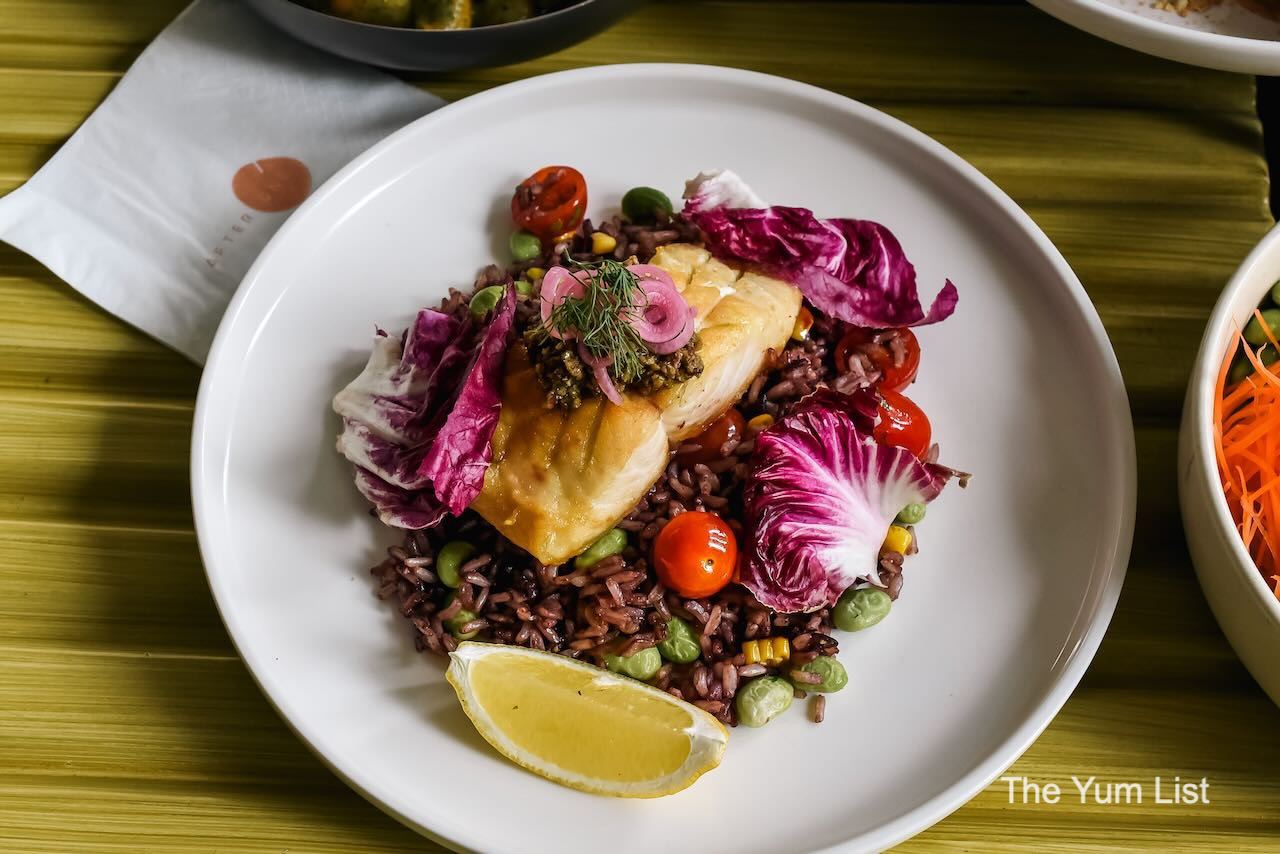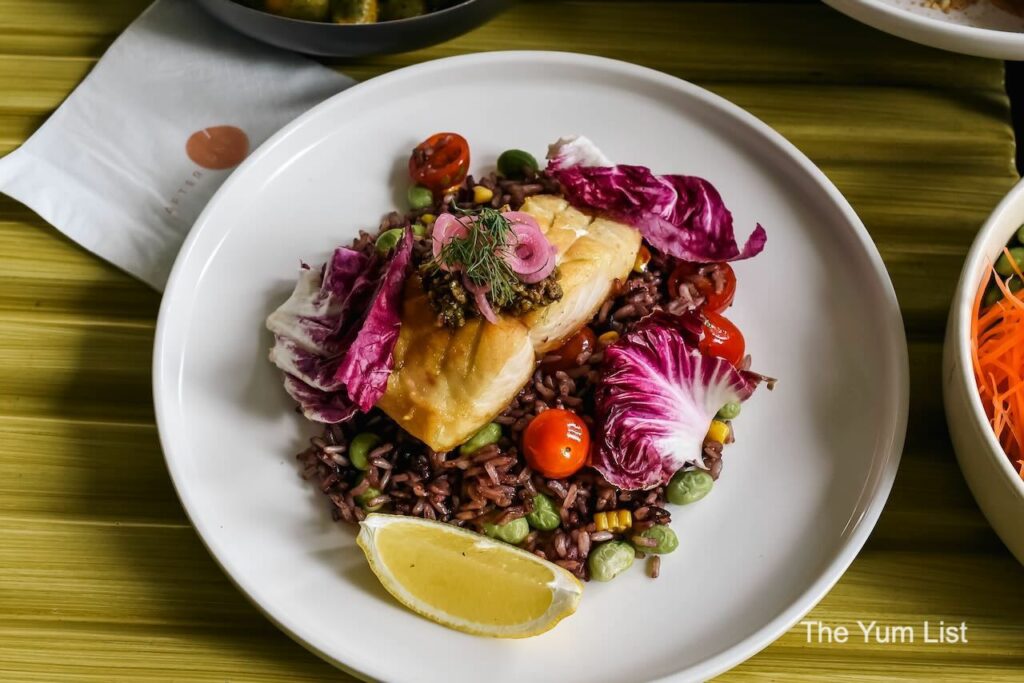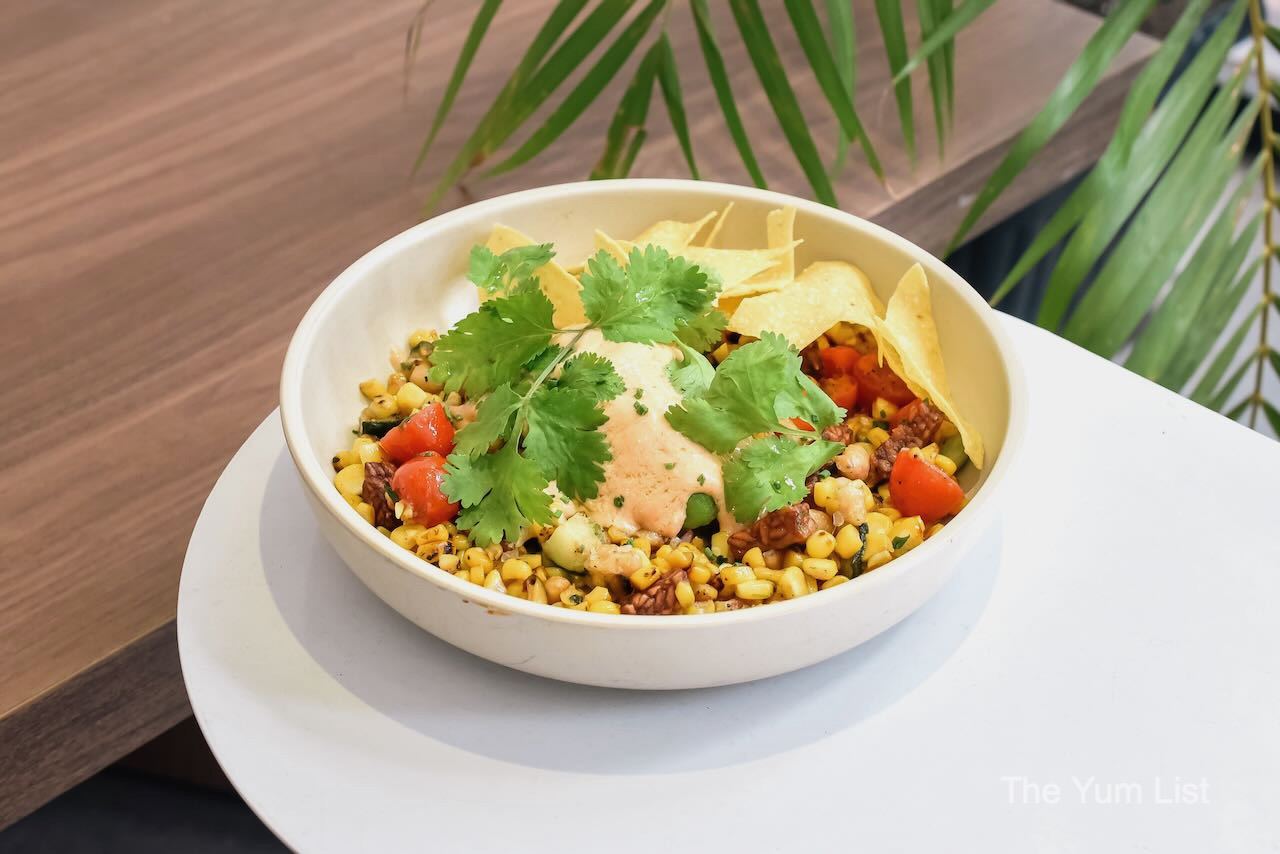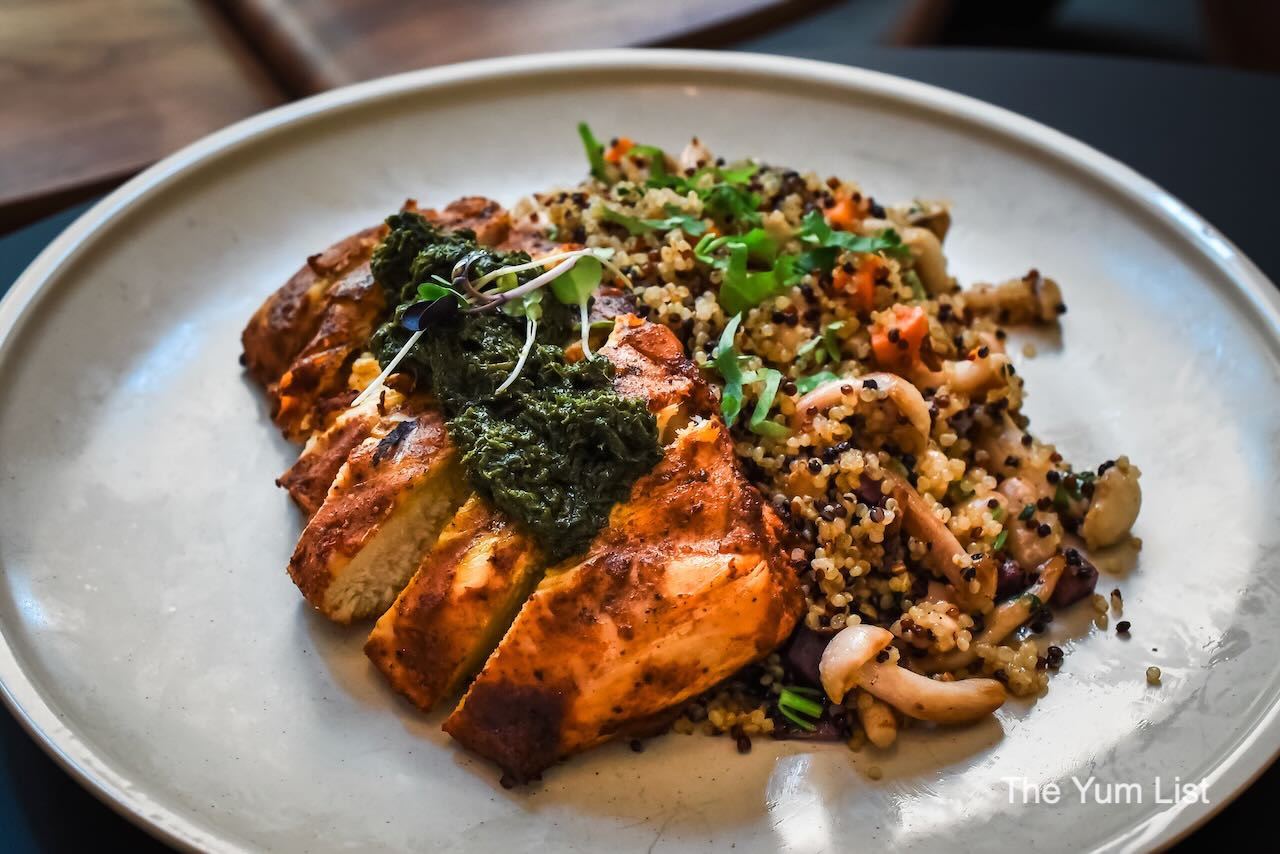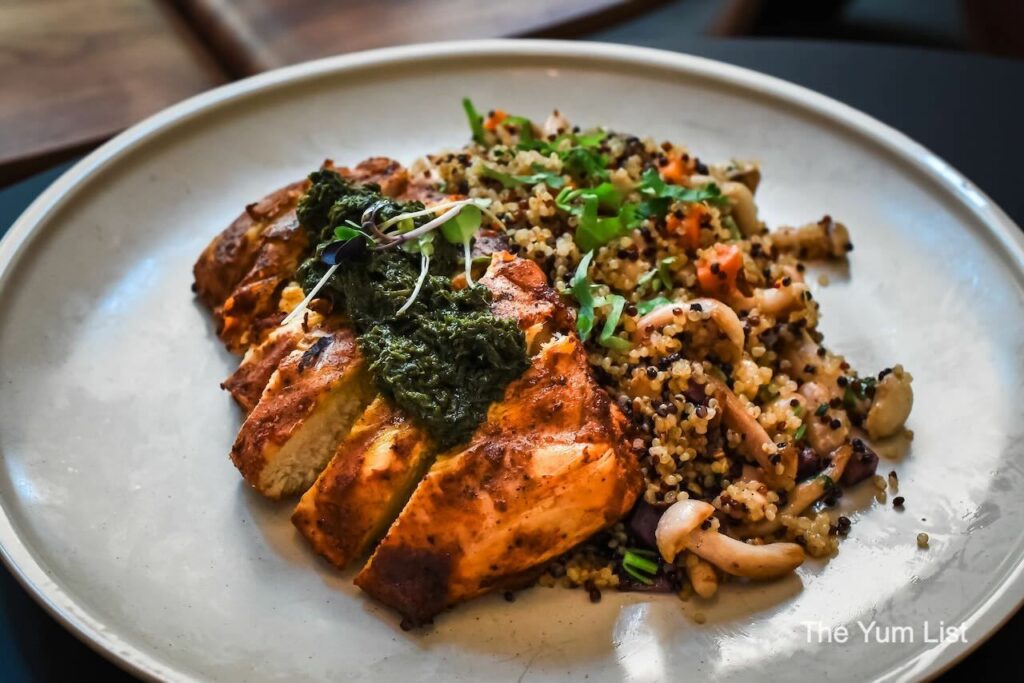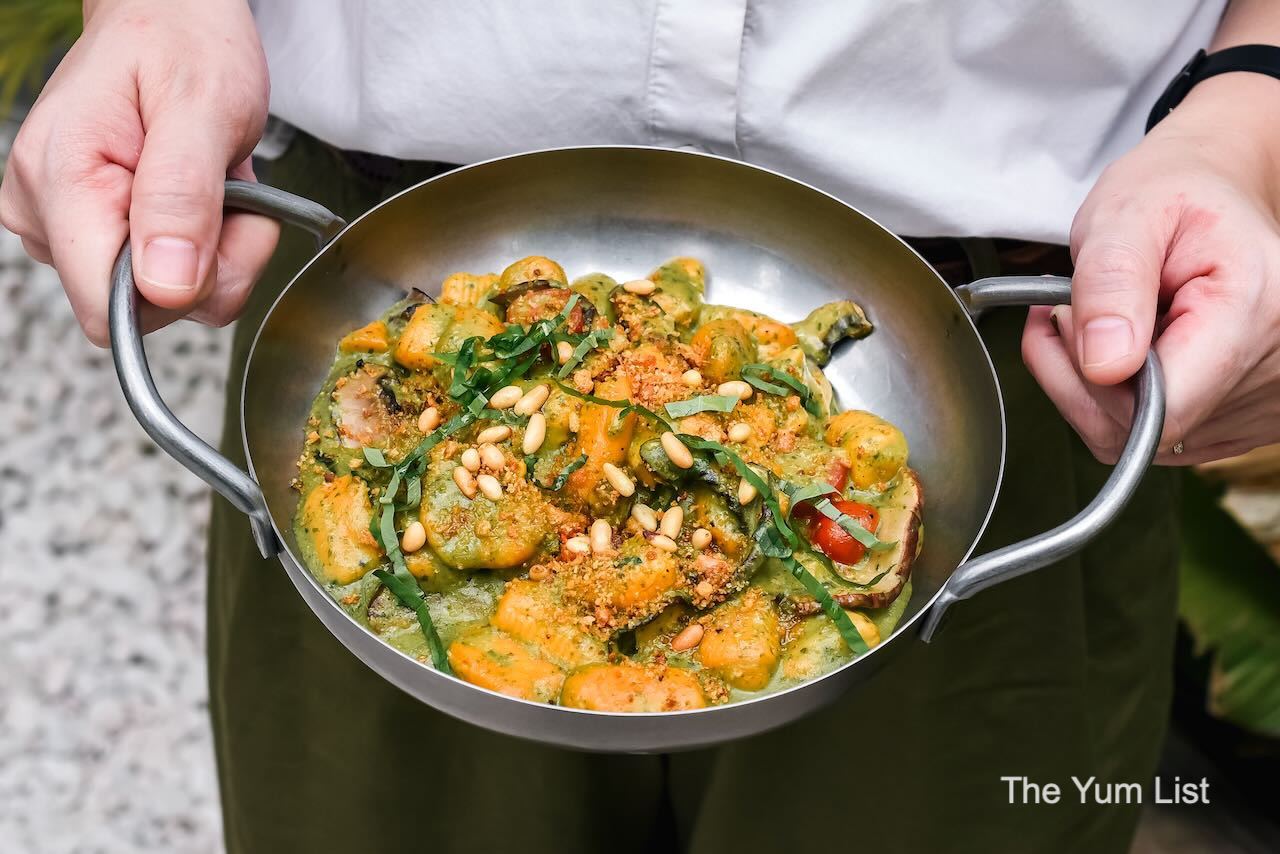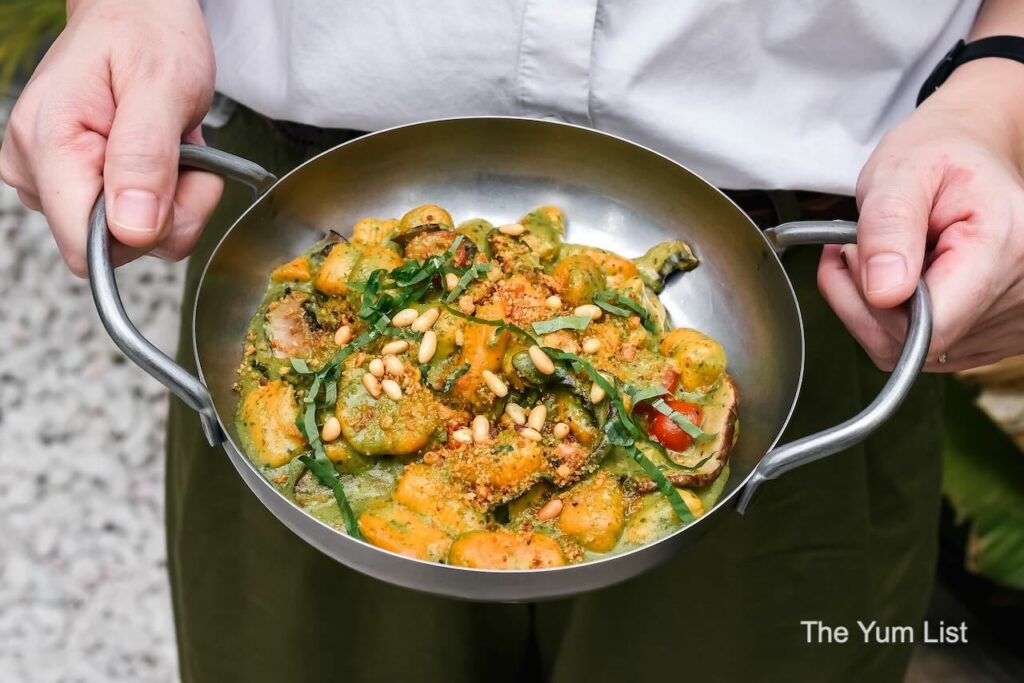 Salad
As if we weren't already full enough and blissed out from everything already sampled, we also tried the Summer Elote Bowl (RM 28 vegan, RM 32 with chicken). Grilled corn, avocado, roasted carrot, tri-colour quinoa and jalapeño dressing all work well together to make something fresh and healthy. This dish is based on one of Chef Denon's favourite salads from his time in the States.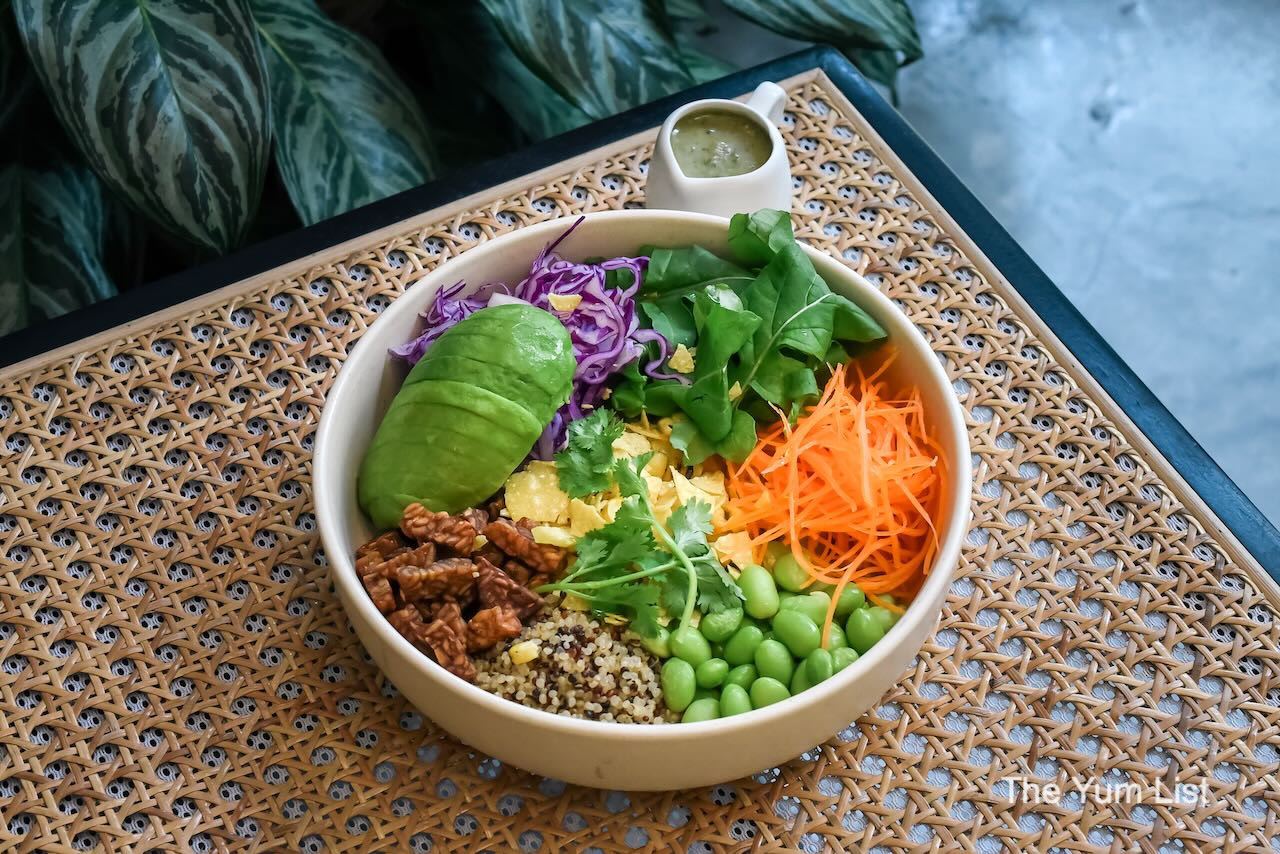 Dessert at After One KL
If there's something with peanut butter on the menu, I am in completely. The Peanut Waffle (RM 26) is made with homemade premium vanilla ice cream, fresh banana, peanut butter sauce, peanuts and Biscoff crushes and is another item ideal for ordering that second coffee to pair with. It's sweet and satisfying. Cakes and pastries are available at the counter if the choice of waffles doesn't meet your sweet tooth requirements (although, trust me – I really think they will).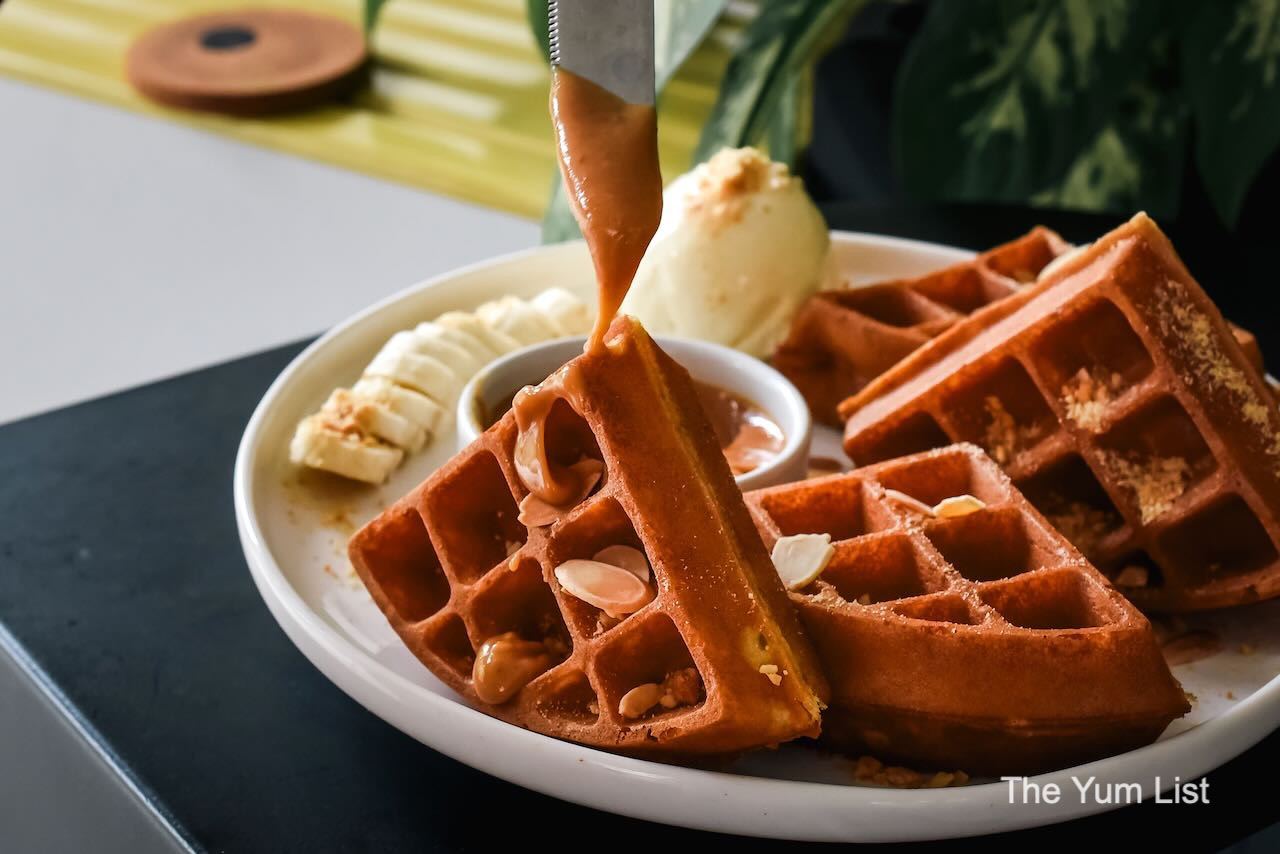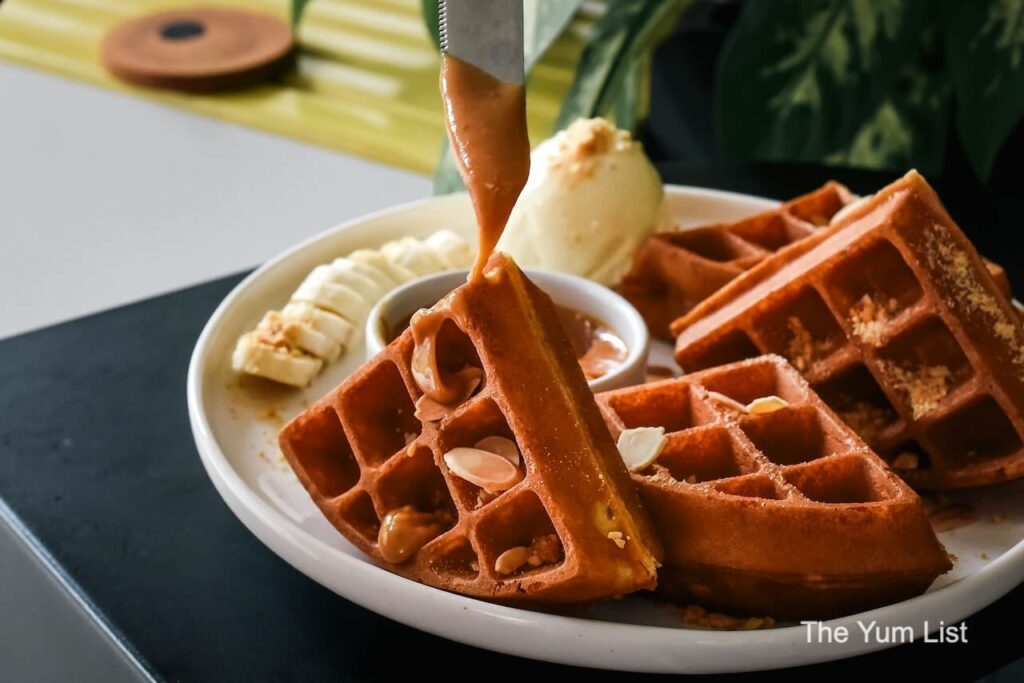 Drinks Menu
Guests are well hydrated at After One KL, with a wide range of drinks available to match the wonderful dishes on the menu.
From the Cold-pressed Juices, we tried the Energy Booster (RM 16): beetroot, carrot, apple, lemon, and ginger juices, which is bright and fresh and, thankfully for something that uses beetroot, not too earthy in flavour.
The locally sourced Kombucha (RM 16) has pineapple, ginger, black tea and kombucha culture, and even I, not the world's biggest fan of kombucha, enjoyed this refreshing blend.
Coffees are well-made and come with the usual options of Hot or Cold, as well as all of the usual milk substitutes. A hot Latte is RM 13, while a hot Matcha Latte is RM 15. Swap in oat milk for an additional RM 3.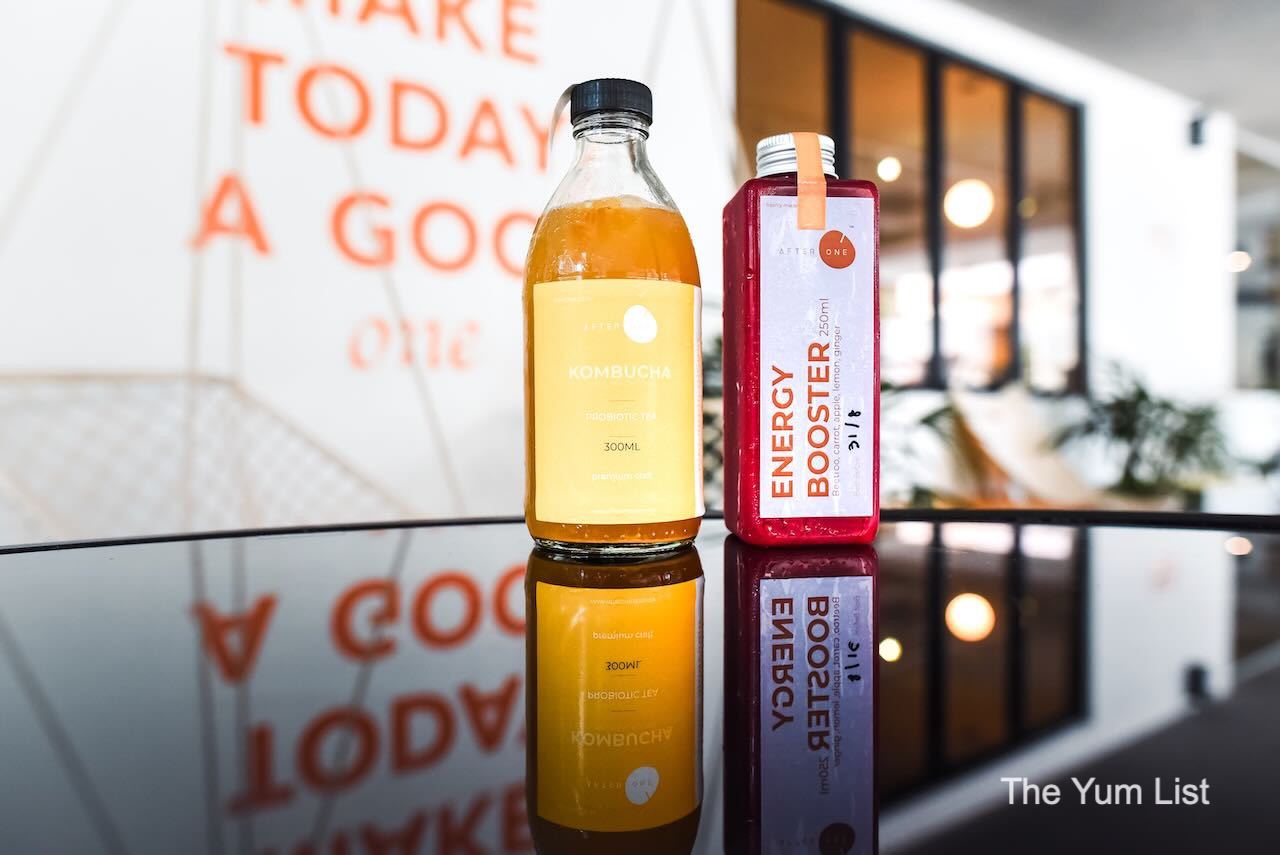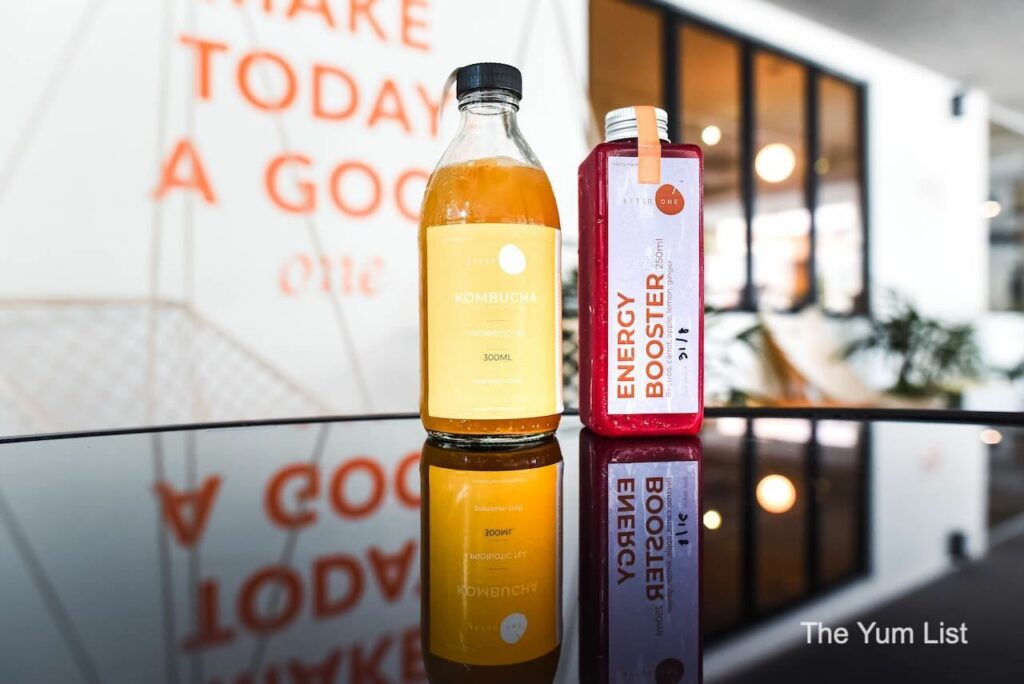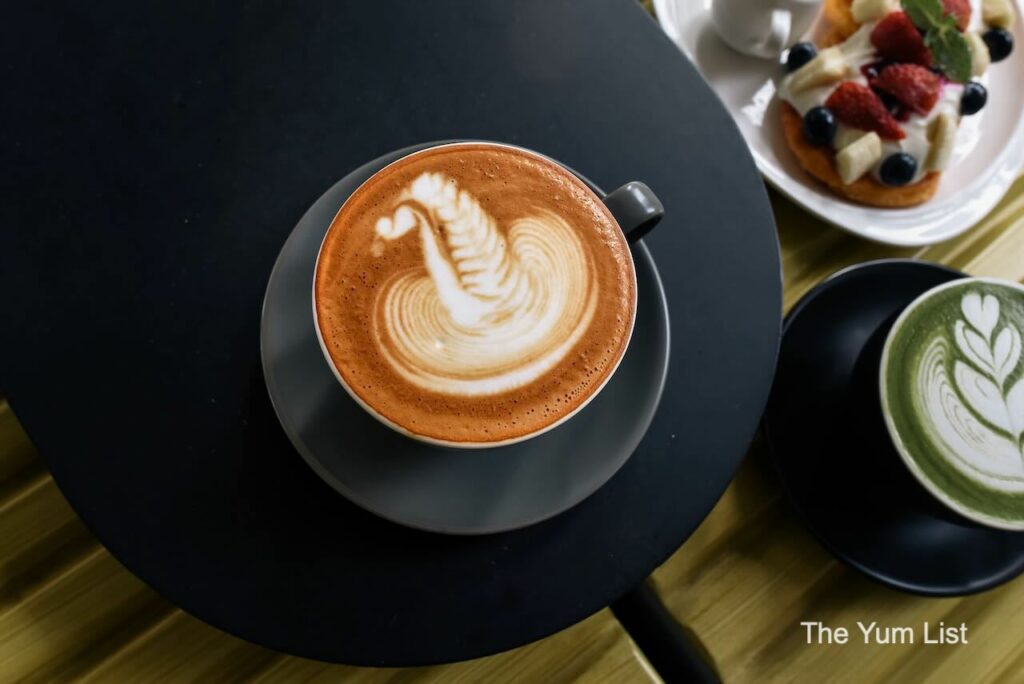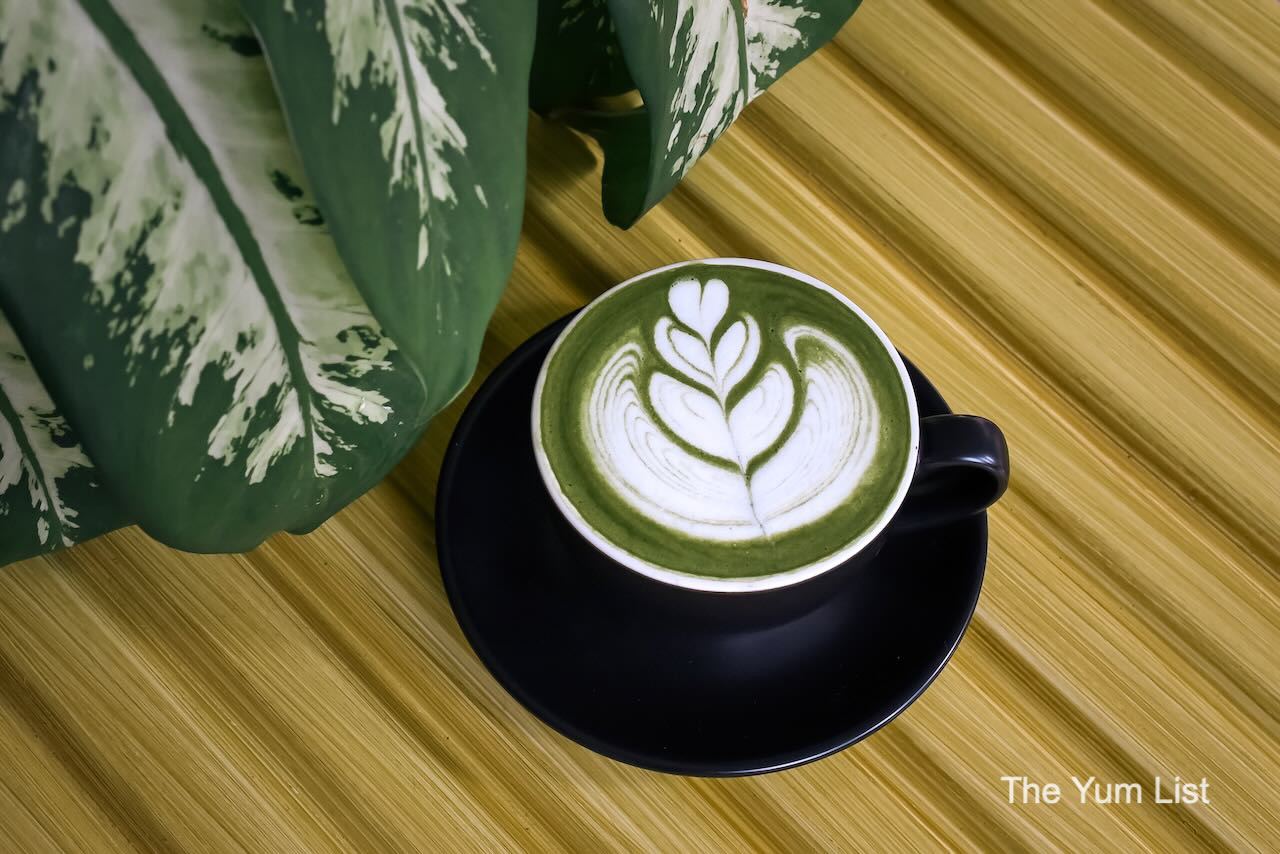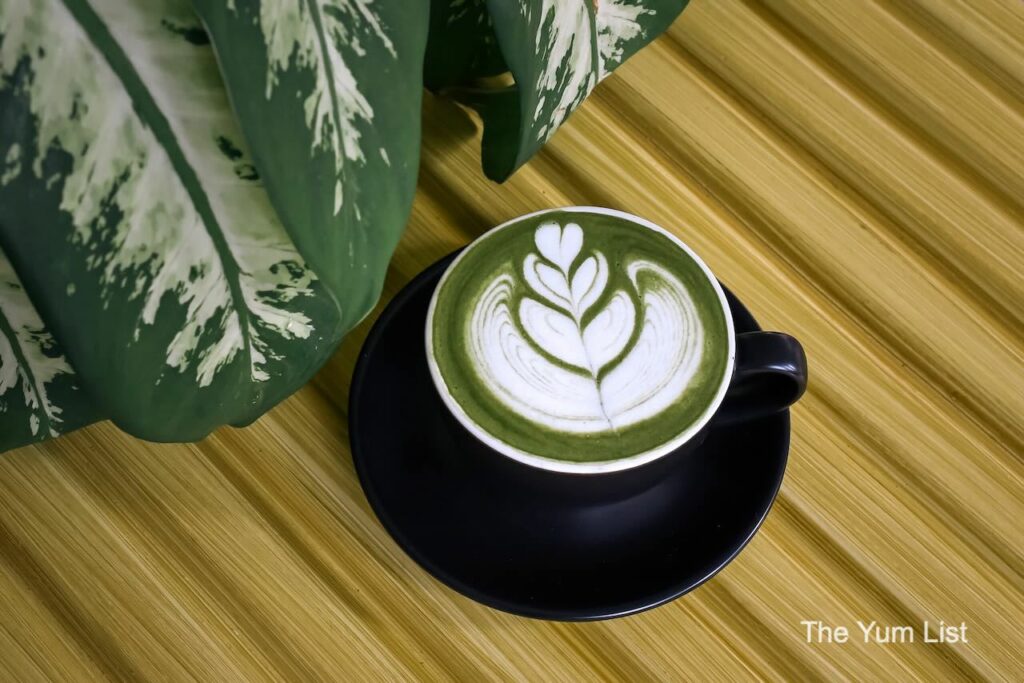 Should you wish to have some wine with your dinner, you do have the option of eating upstairs in the bar area, which has a lovely atmosphere and gives a great sense of just how well-utilised this space is.
Reasons to visit After One KL: The light-filled, green space that flows so naturally from one section to another feels like a unique experience for the heart of KL – modern, clean food with some good coffee as well. The plates burst with colour, which is always a great sign for those of us wanting to eat well in every sense of the word. Chef Denon and his team are working hard to establish a place to meet, eat and get a sense of retreat, which, after only a year of being open, they have achieved with impressive effect already.
After One KL
1, Persiaran Lidcol , Jalan Yap Kwan Seng,
Kampung Baru, 50450 Kuala Lumpur, Malaysia
+60 3 2181 0436
@afterone.kl
https://afterone.com.my
After One KL Opening Hours
Monday: 9:00am – 6:00pm
Tuesday – Sunday: 9:00am – 10:00pm
Find more healthy restaurants in Kuala Lumpur here and stay up to date with the happenings around Malaysia here and here.