Li Yen, MICHELIN Guide Chinese Restaurant, The Ritz-Carlton, Kuala Lumpur
Monica Tindall
It has been seven years since our last meal at Li Yen, the esteemed Chinese restaurant in The Ritz-Carlton, Kuala Lumpur. And, oh my, it has undergone a remarkable transformation. While the essence of Li Yen's culinary excellence and top-notch service remains steadfast, the restaurant has been given a magnificent makeover. Also new is a mention in the 2022 MICHELIN Guide Kuala Lumpur & Penang, solidifying its status as a dining destination of distinction.
Li Yen's interior now exudes a contemporary charm that marries tradition and modernity with finesse. Round white marble tables suggest timeless elegance, complemented by a mosaic-tiled floor and chrome trimmings accentuating the subtle opulence of the décor. Embroidered walls and emerald green lampshades soften the room, making it both inviting and sophisticated. There's even live music played on a traditional instrument as we enter.
Li Yen Menu
Li Yen's menu is unique for a hotel in the city because it is non-halal. Traditional Cantonese recipes are served family-style and are best for sharing. Most items have a choice of portion sizes, too, so you can order as much or as little as you need.
Hot Chinese tea is on our table within minutes of being seated, along with pickled green chilli slices, red chilli sauce and the most addictively delicious caramelised walnuts with sesame. Speedy service continues throughout the meal, which we appreciate immensely on Friday night after a long work week.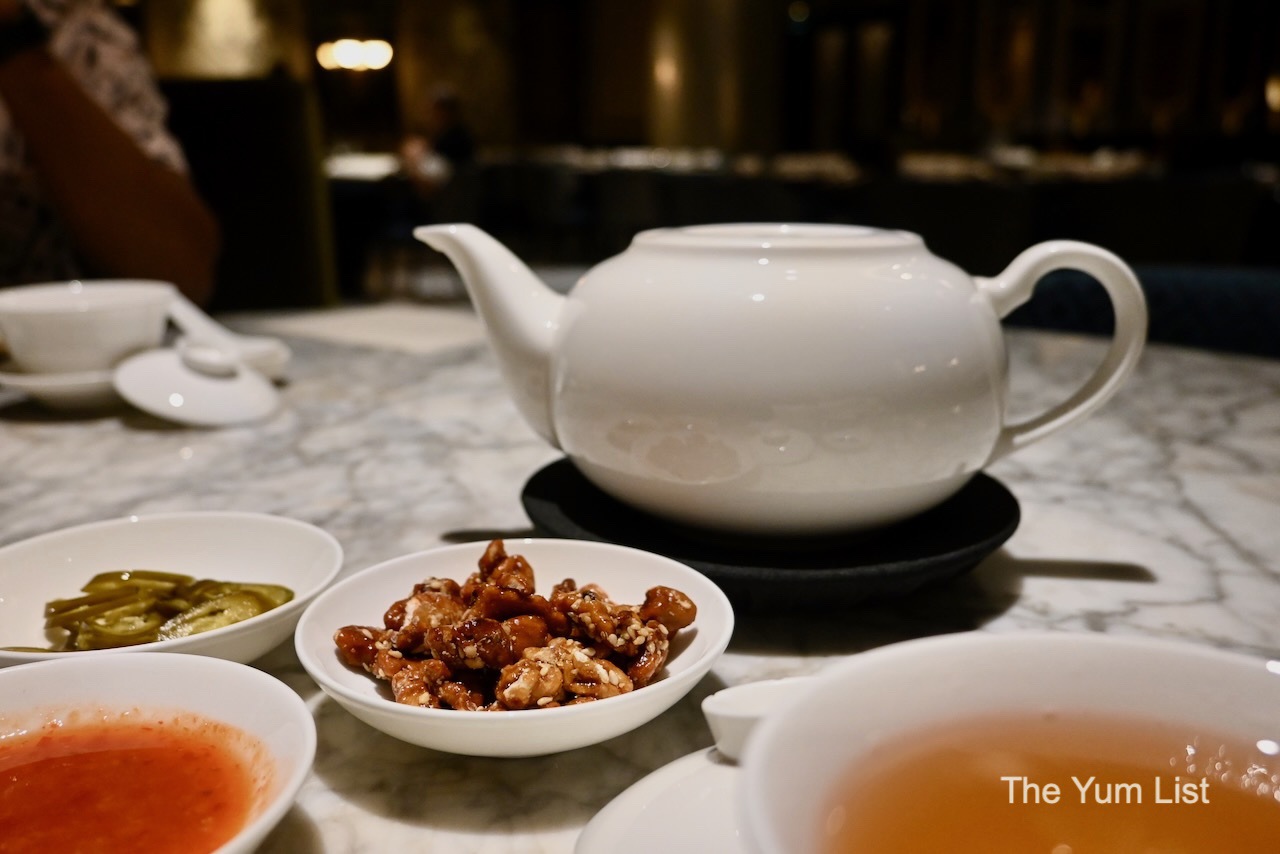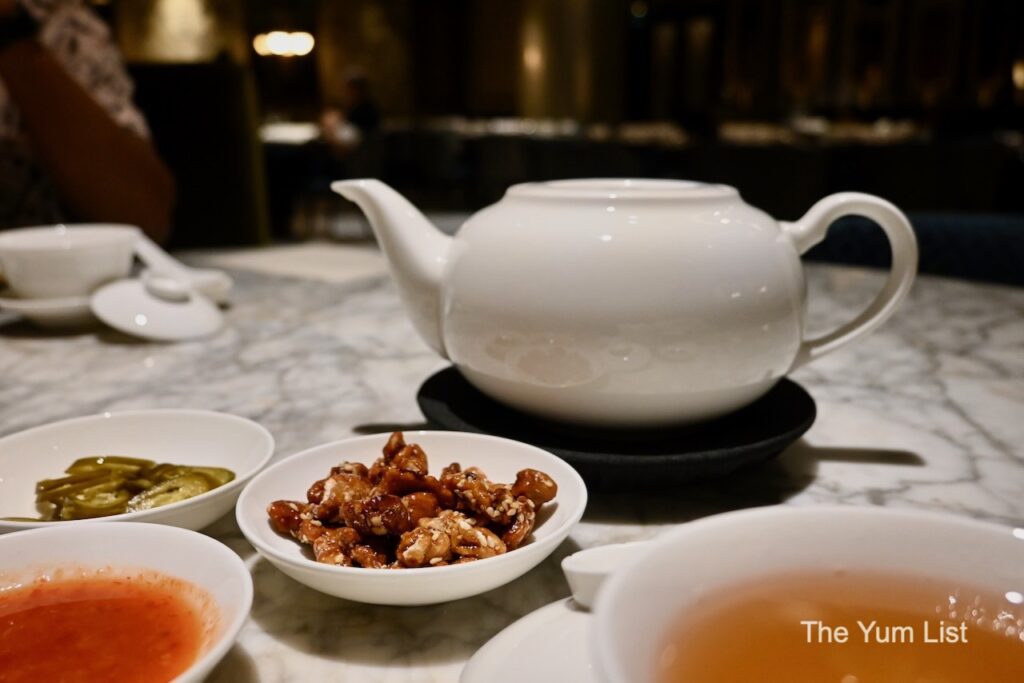 Menu
Our first dish is the Sea Grouper Soup with Vegetables (RM 40). The soup, almost milky in hue, reveals dark green spinach and sliced mushrooms floating to the surface. A generous piece of tender fish graces the centre of the bowl. It's a soothing and flavourful introduction to our meal, blending the essence of the sea with the flavours of the earth. A delicate hint of fresh ginger weaves its way through the dish, lending an elegant freshness to each spoonful.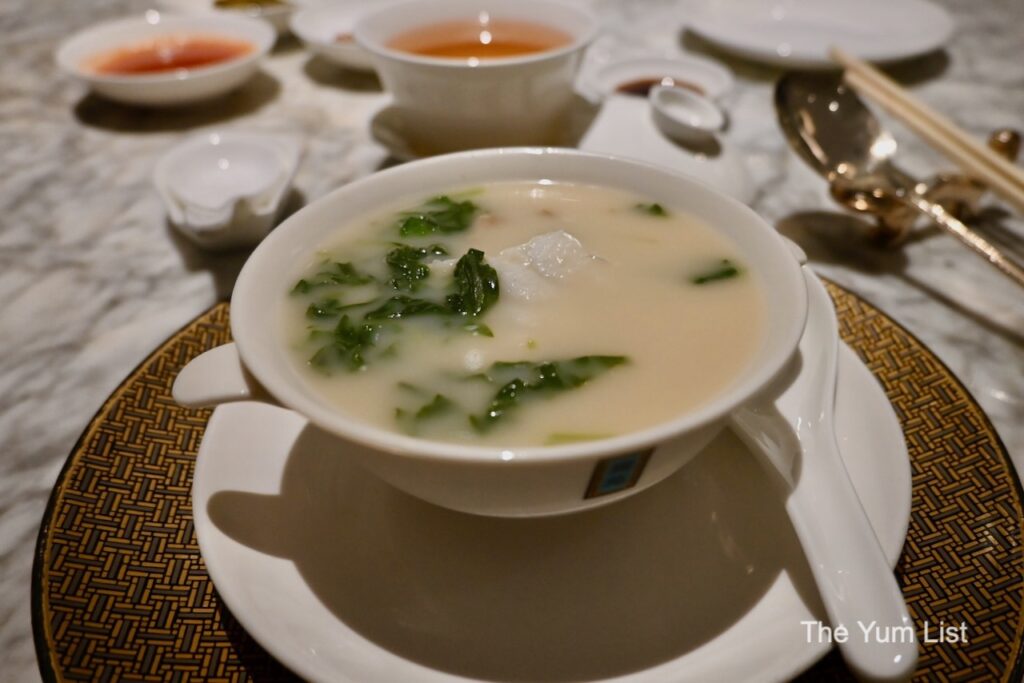 Next, we indulge in a house speciality, Deep-fried Prawns with House-crafted Mayonnaise (RM 50 per prawn). The prawns, plump and juicy, are lightly cloaked in a thin, crisp batter. A drizzle of airy mayonnaise and crushed peanuts crown the top. The kitchen graciously accommodates requests for a peanut-free version for those with peanut allergies.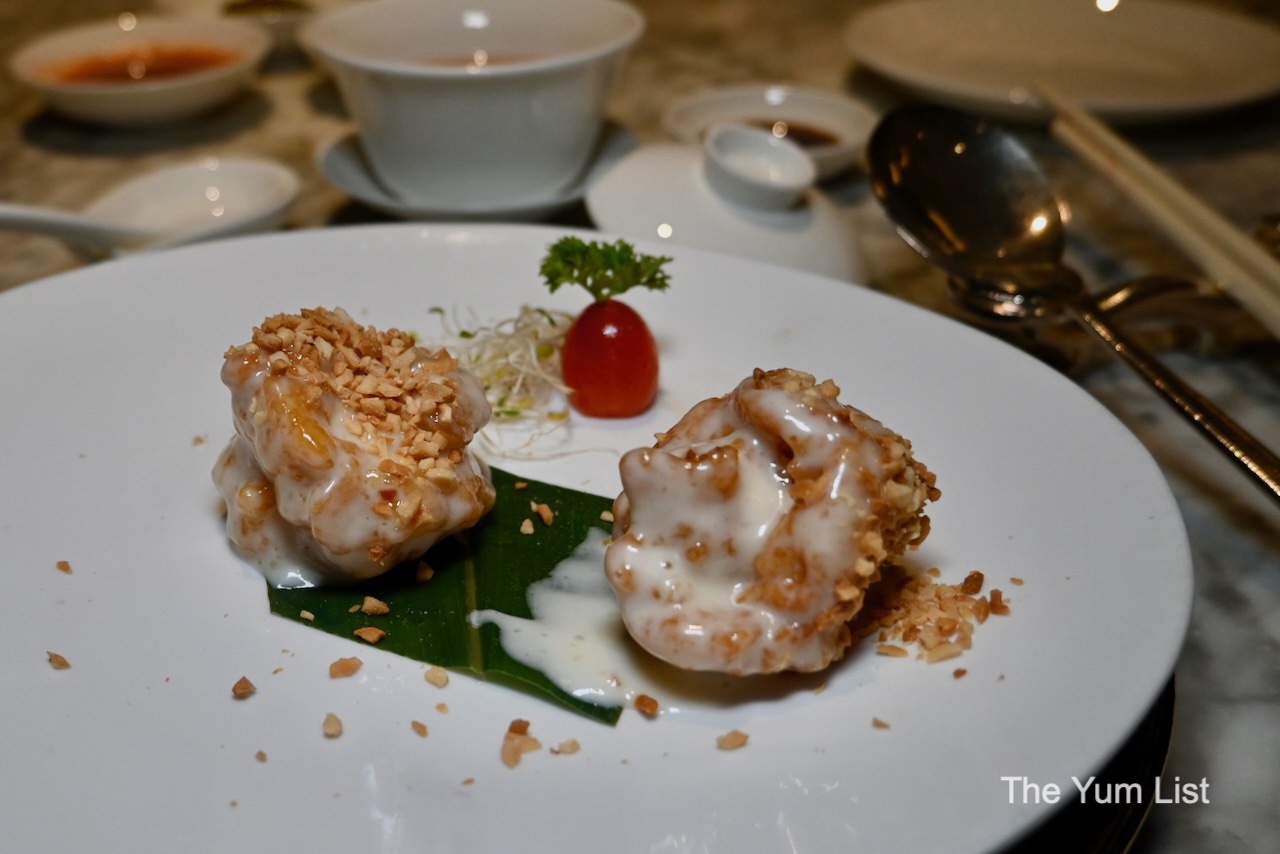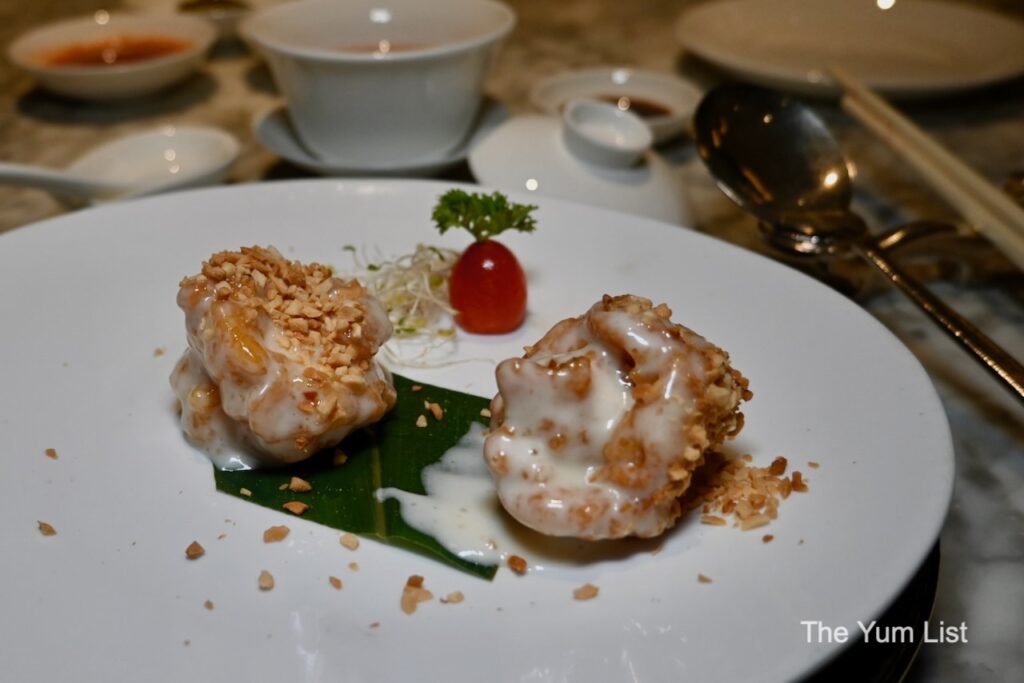 While I'm not a big eater of fried food, I can imagine many friends repeatedly digging into the Deep-fried Chicken Cutlet with Shrimp Paste (RM 60 small). Each piece boasts a satisfying crispness and pairs well with a few drops of the piquant red chilli sauce. Hubby, an unabashed fried chicken fan, eagerly requests the leftovers for a cosy Netflix snack.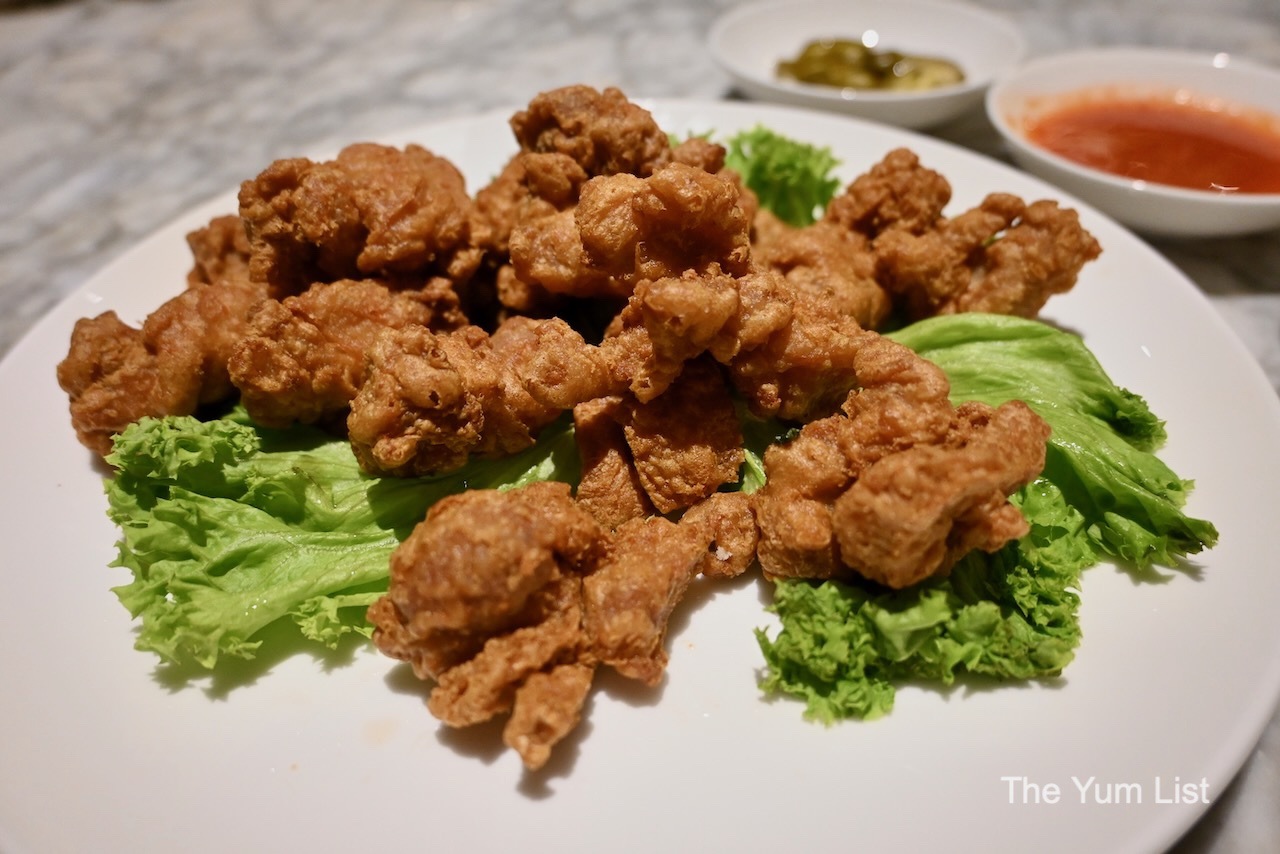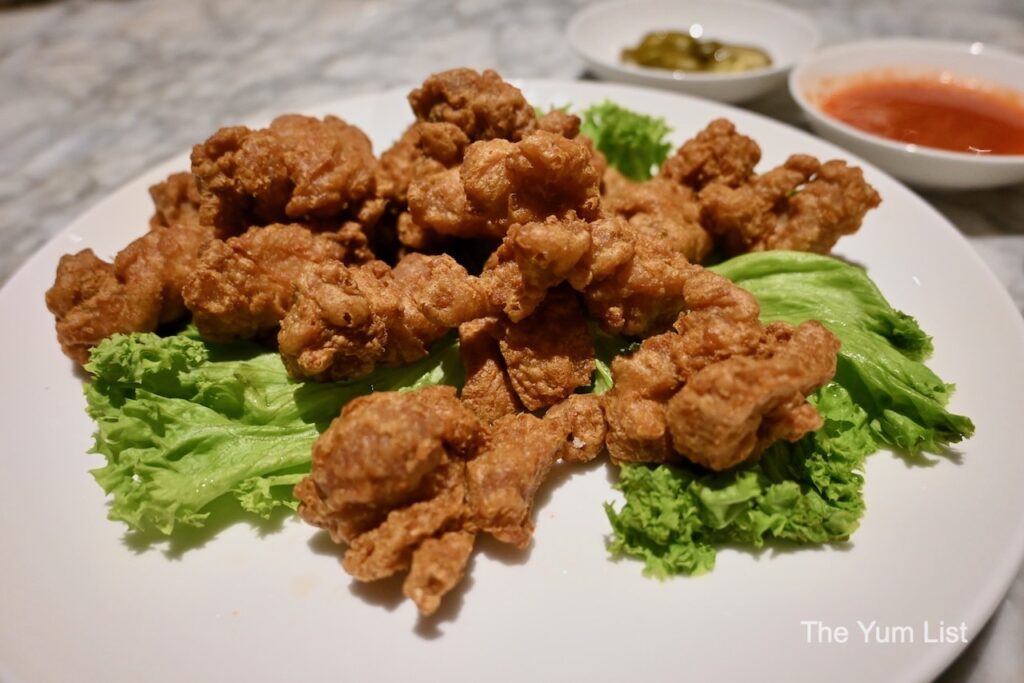 The Signature House-crafted Bean Curd with Shimeji Mushrooms and Spinach (RM 30) looks like a layered cake on the plate. The bean cured is the texture of a soft baked custard topped with a layer of minced spinach and deep-fried in a thin batter. Shredded dried scallops crown the top, and a generous tangle of spinach and mushrooms are delicious on the side.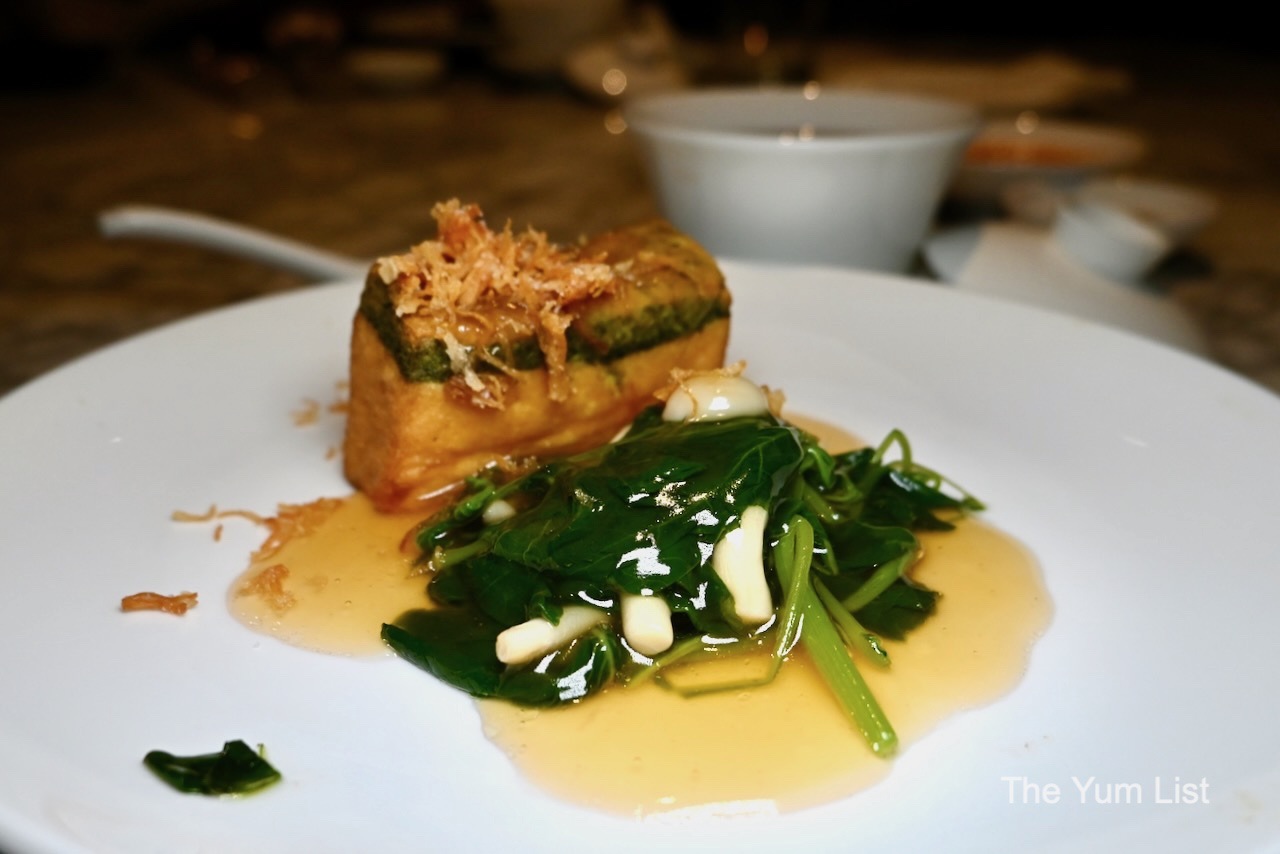 Another well-loved dish at Li Yen, Deep-fried Spare Ribs with Barbecue Sauce (RM 70), is meaty and well-coated in a gently sweet, sticky sauce. Each piece is about equal parts flesh and fat, making them extremely rich, especially with the sweet sauce. We attempt some decorum by picking them up with chopsticks but quickly move to fingers, ensuring no drop of the sauce is left behind.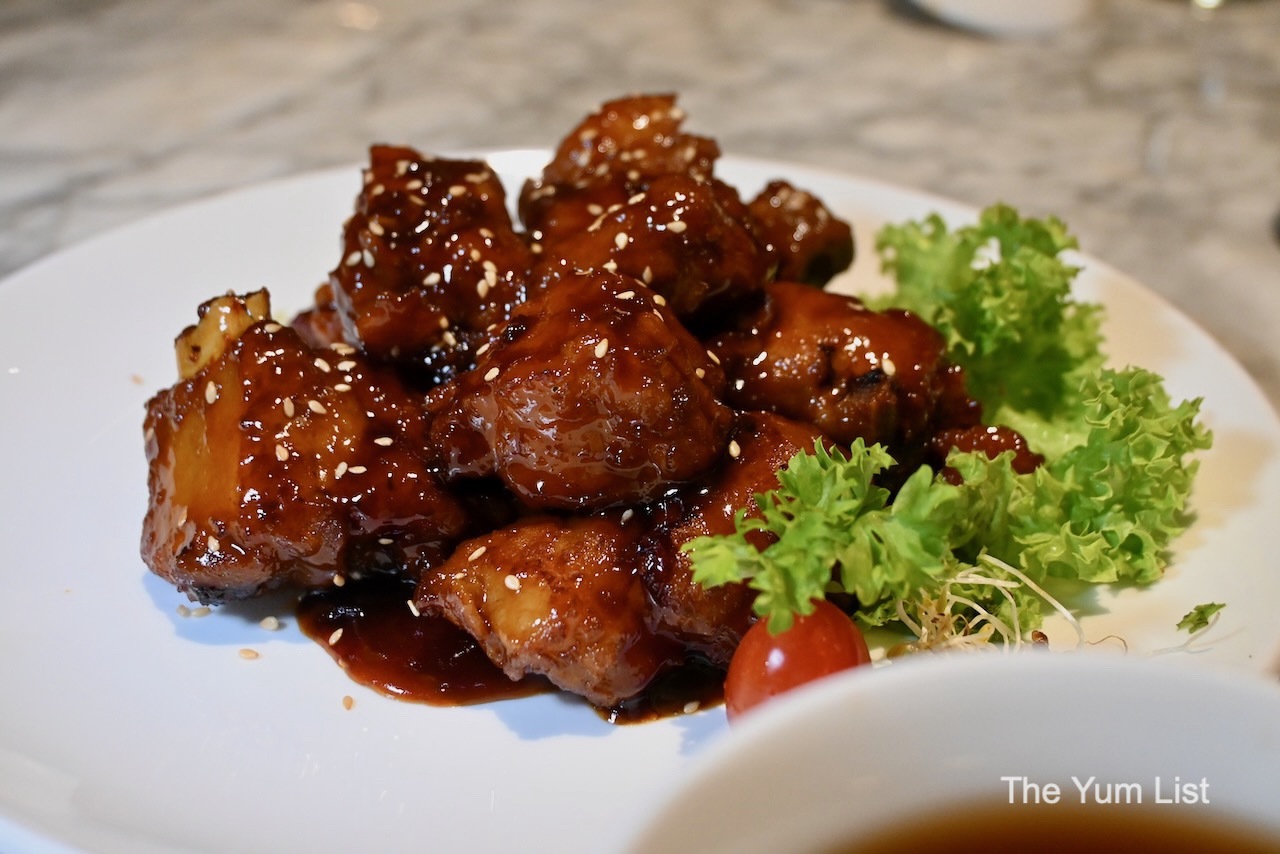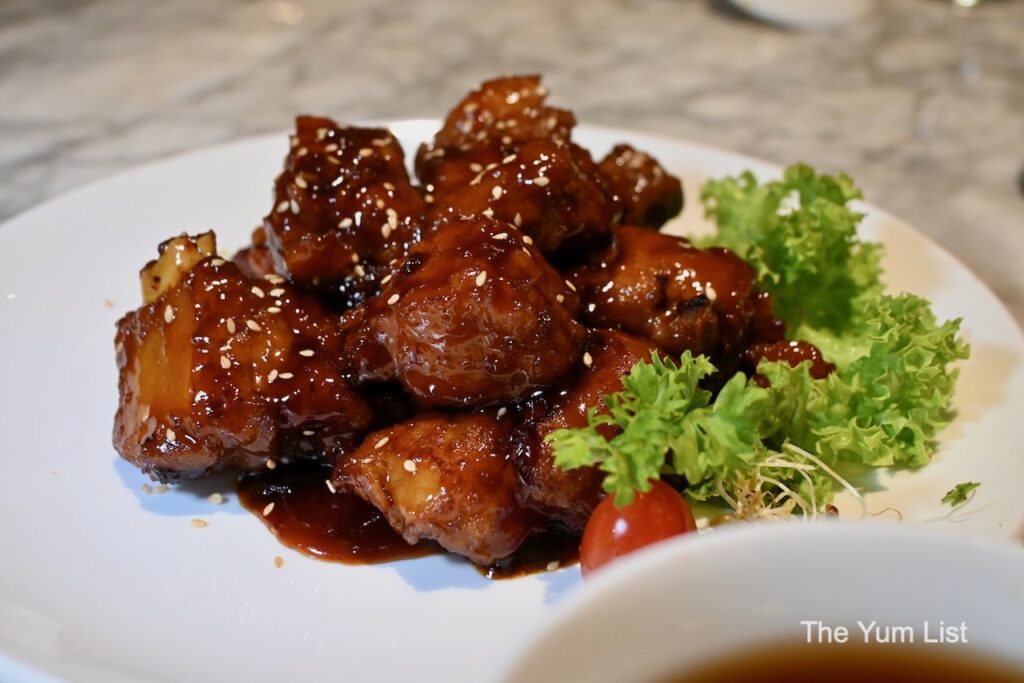 The Fried Rice with Scallops and Egg White (RM 70) arrives as a grand finale to the savoury courses and ensures no one leaves hungry. It has a lovely mouthfeel. We feel each grain of rice and appreciate the delicate changes in texture with a slight bite in the grains, a light crunch from fried onion, meatiness thanks to the pieces of scallops and freshness due to green spring onions.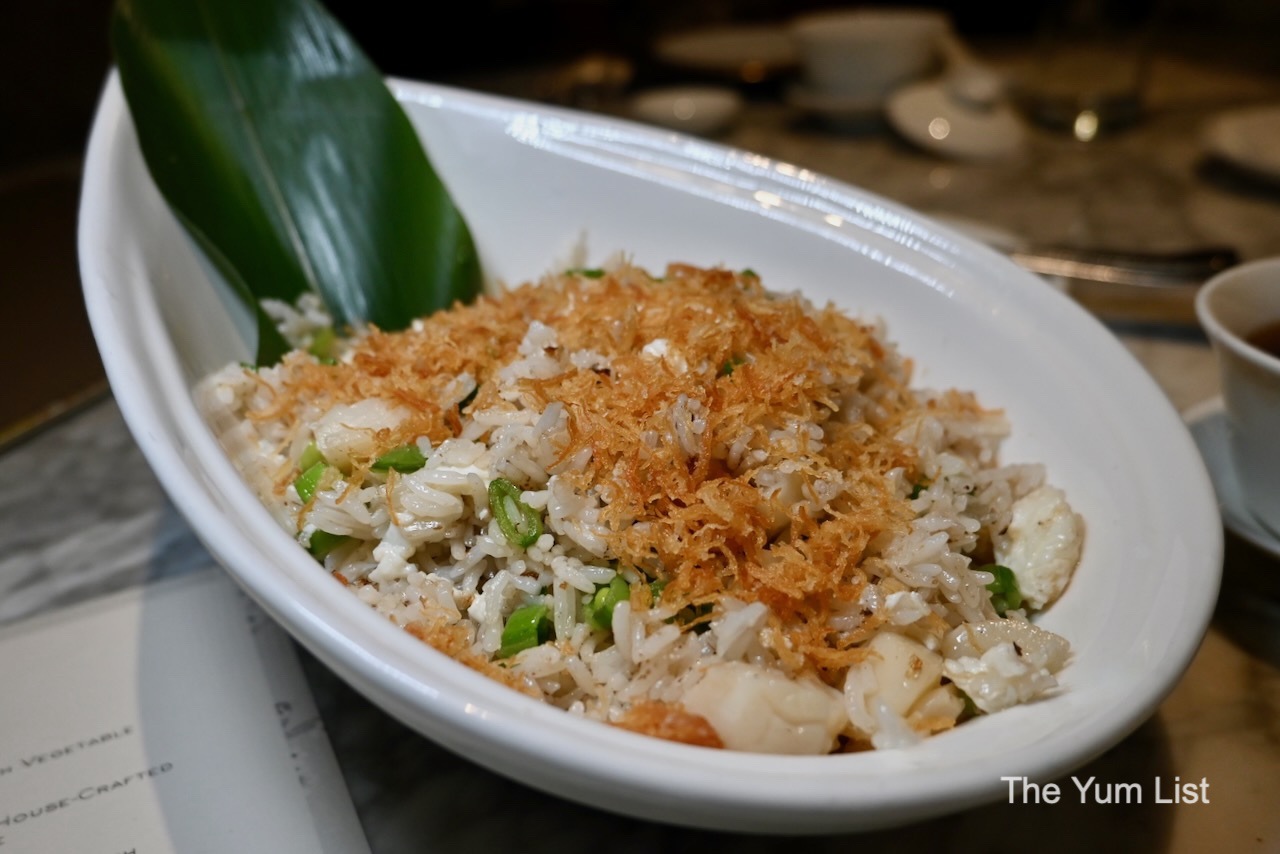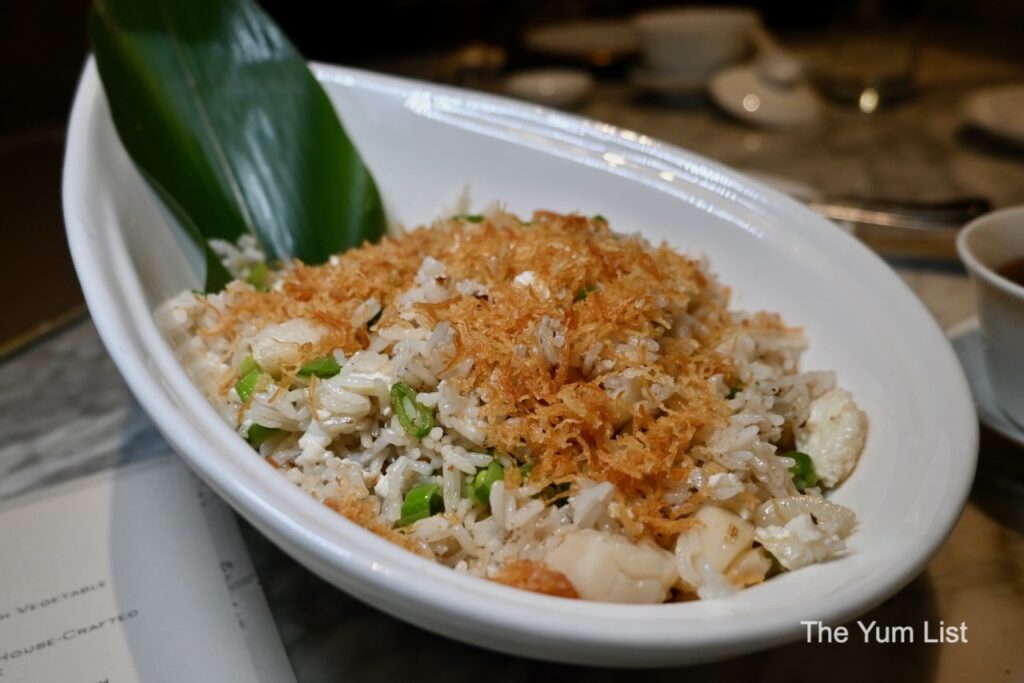 Dessert
To round off the meal, Chilled Sea Coconut with Lemon and Longan (RM 25) provides a light and refreshing conclusion. The chilled dessert is perfectly balanced, with the soup's natural sweetness harmonising with the lemon's zesty acidity. The addition of tropical fruits adds a delightful texture to each spoonful.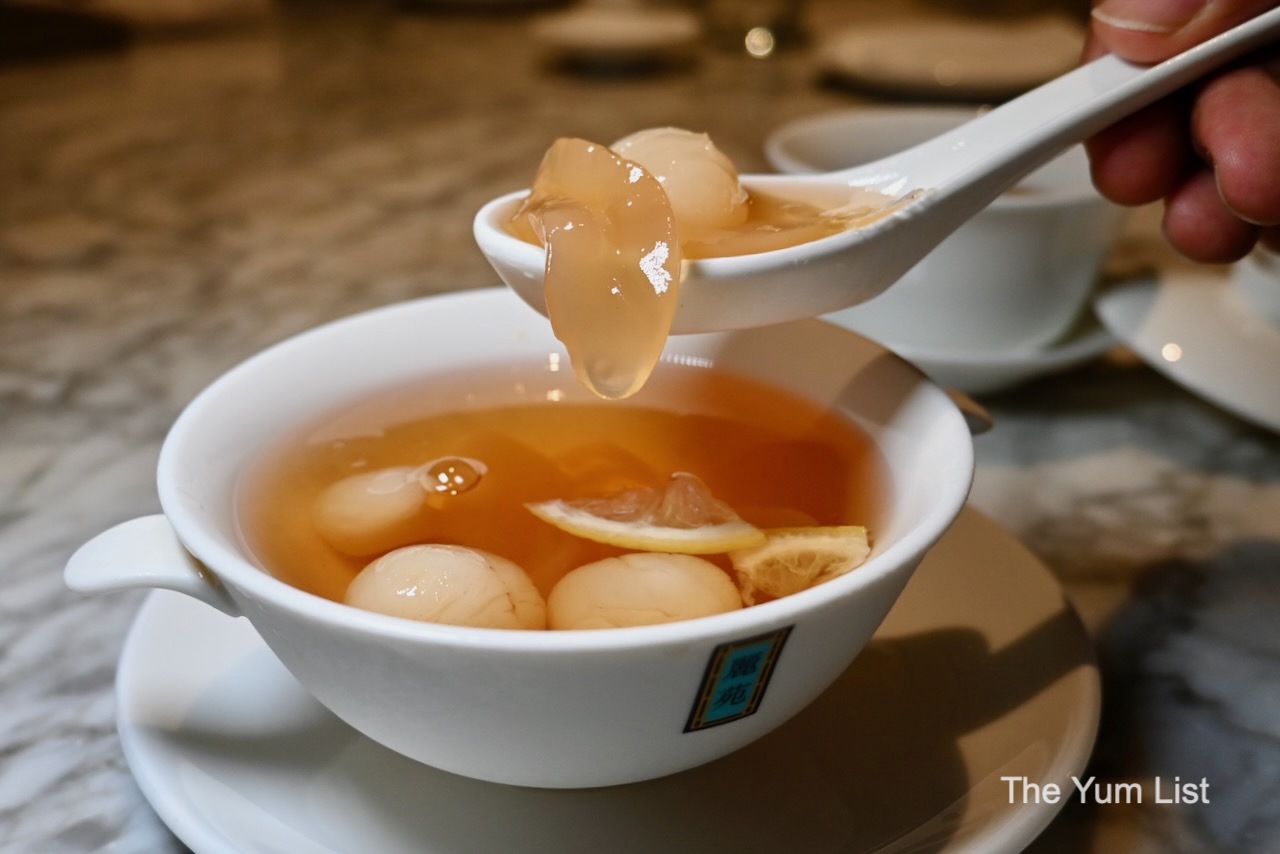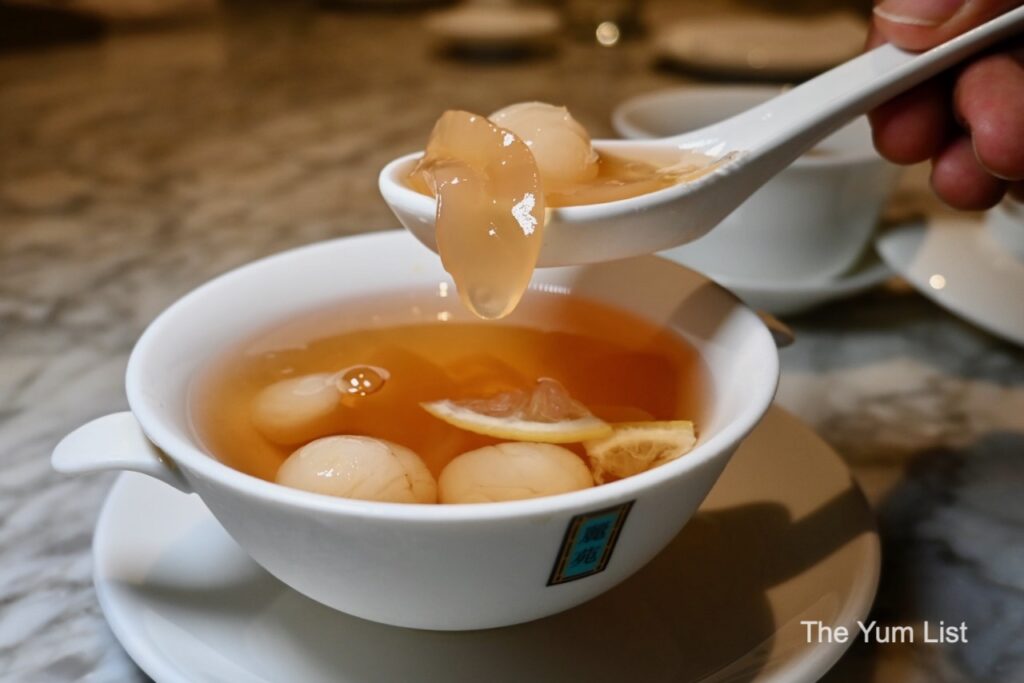 Li Yen Chinese Restaurant Review
We enjoyed our evening rediscovering Li Yen Chinese Restaurant. We were delighted to dine in the sophisticated new setting but equally pleased to find that the high quality of the food and service remained unchanged.
Reasons to visit Li Yen Chinese Restaurant: the stylish, attractive setting; a hotel Chinese restaurant that serves pork; fast and friendly service; our top menu picks are the Sea Grouper Soup, Deep-fried Prawns, Fried Rice with Scallops, and Chilled Sea Coconut with Lemon and Longan.
Li Yen Chinese Restaurant
Level 2, The Ritz-Carlton, Kuala Lumpur
168, Jalan Imbi, Kuala Lumpur, 55100, Malaysia
+60 18 646 8033 +60 32 782 9033
Li Yen Opening Hours
Monday to Saturday: 12 pm – 3 pm & 6:30 pm – 10 pm
Sunday: 10:30 am – 3 pm & 6:30 pm – 10 pm
Find more Chinese restaurants in Kuala Lumpur here, and stay up-to-date with the latest gourmet and travel recommendations for Malaysia here and here.