Les Bouchons KL – French Bistro Kuala Lumpur
Words: Matt Brown
Photos: Rich Callahan
In a city as well-fed as KL, it can be surprising to realise how few classic French cuisine options exist. Fortunately, the Les Bouchons group of restaurants, who operate three of their namesake outlets in Singapore and one in Johor Bahru, have graced our city with its own Parisian-style bistro in the heart of the city. Taking over a versatile first-floor space on Jalan Mayang (formerly Nadodi), the team have worked tirelessly to establish a wonderfully authentic experience where private rooms, velvet-padded booths and light-filled deck spaces all help to create a memorable setting, even before the incredible food has arrived on your white linen-covered table.
To assist with setting up this new Les Bouchons outlet in KL and ensure that it continues the high standards expected of the brand, Executive Chef Mickaël Cornac and Restaurant Manager Ben Teh have spared no attention to detail. The cutlery is French, the decorations and art were all imported from Paris (the owner thinks of the space as a mini Louvre), and the menu honours the flavours, sauces and techniques that make French food so renowned worldwide.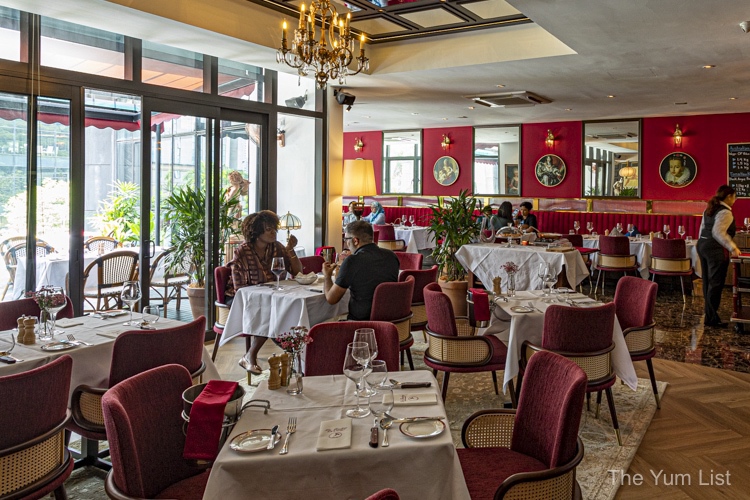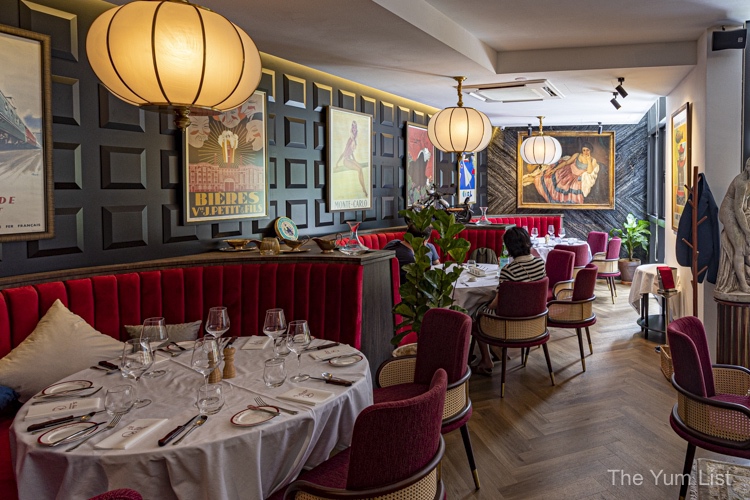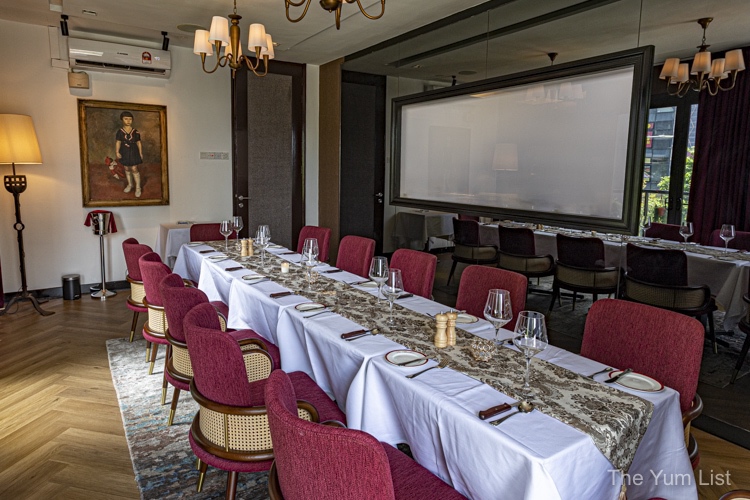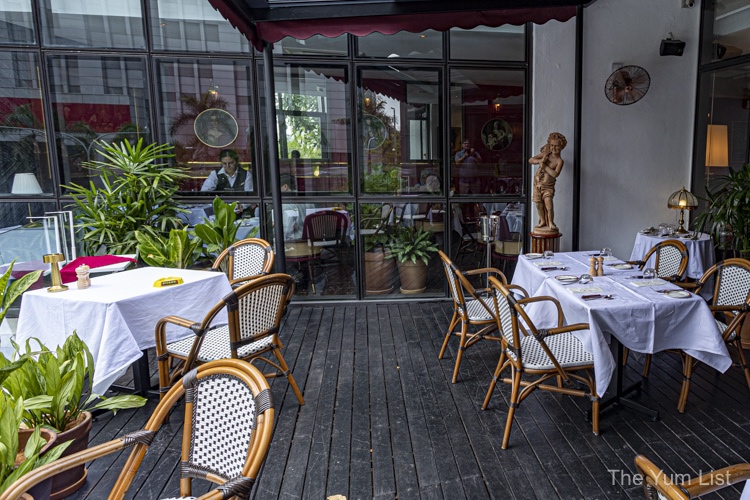 And speaking of renown, if you are unfamiliar with Les Bouchons, be prepared to experience the concept of free-flow homemade French fries – the kind of unique touch that I only knew I needed once it was presented. Les Bouchons KL takes great pride in their title of 'Le Roi du Steak Frites', which translates to 'King of Steak and Fries', and after the time we spent there, we agree that it is a crown they wear very well.
Les Bouchons KL Wine List
Before we get to the food menu, a few points on the wine list. The Les Bouchons team know that without a wine selection with the right depth and diversity, it is hard to exist as an authentic French restaurant. Being a wine importer, the team have curated a hand-picked list, offering labels unlikely to be found elsewhere in the city.
Mixing New and Old World wines, the cellar is stocked from small bespoke vineyards to globally respected producers, all personally visited by the owner of Les Bouchons and imported for the benefit of the rest of us. While most come from France, there are also wines from Italy, Spain and New Zealand. House wines are served by the glass, carafe or bottle, and each is carefully selected to be an excellent food companion.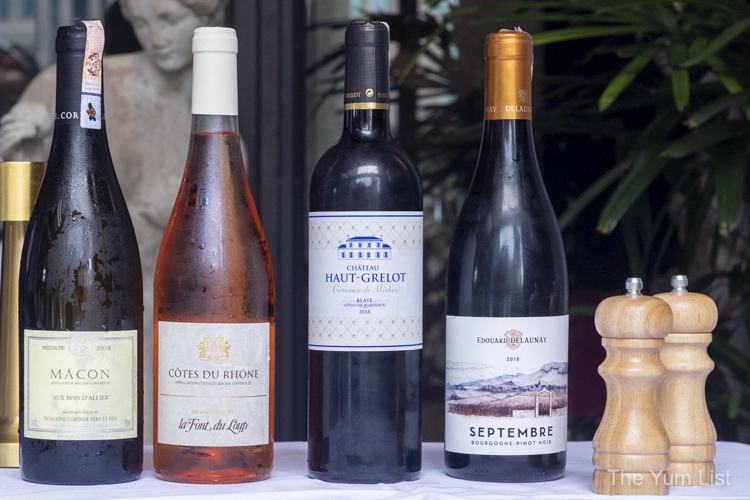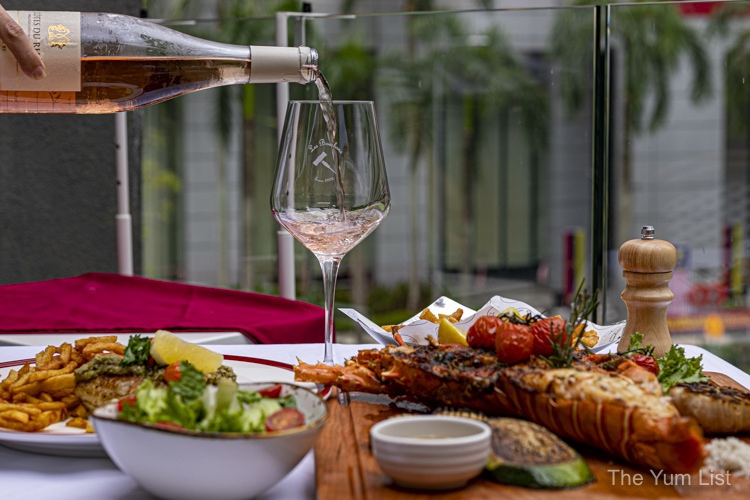 Les Bouchons KL Menu
The restaurant's menu is a French bistro in style with hearty, value-for-money portions. Steak is a must-order, continuing the Singapore outlet's tradition, but so is seafood, a Kuala Lumpur addition. The menu is with no pork or lard and has several vegetarian and vegan options.
Starters
We began our meal with a basket of bread, enough to elicit a stream of satisfying sounds from the table. The ideal combination of crispy-shelled and lightly chewy on the inside, and all warmed up, encouraged us to spread as much delicious butter as was legally allowed.
The aforementioned thoughtful wine selection was evidenced in our first glass, a lovely Chablis by Domaine Cordier Père et Fils, Mâcon "Aux Bois D'Allier" 2018 (RM48 per glass, RM228 per bottle). The low yields of these vines develop a wonderfully concentrated wine for the region, nicely balanced in acidity. Lengthy time on the lees and aging in large barrels soften the crispness and allow the flavours and aromas to mature. It's a versatile wine and would do well across several courses.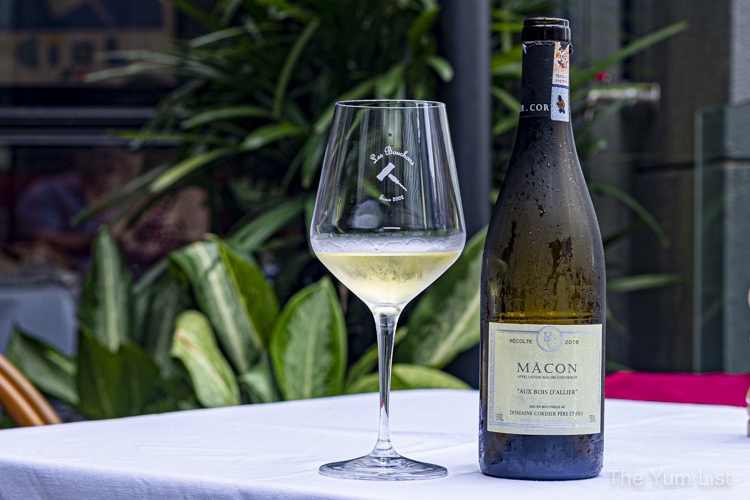 The Caesar Salad (RM42) was impressive and generous – so much so that our table of four questioned whether it had been made larger for us all to share. It turns out that this is the actual size, a generous portion for the price. Chef Micka wanted to create a salad that was not overpowered by one ingredient (usually lettuce), and this substantial dish balanced romaine lettuce, tomatoes, garlic croutons, eggs and turkey bacon with a Caesar and parmesan dressing very well.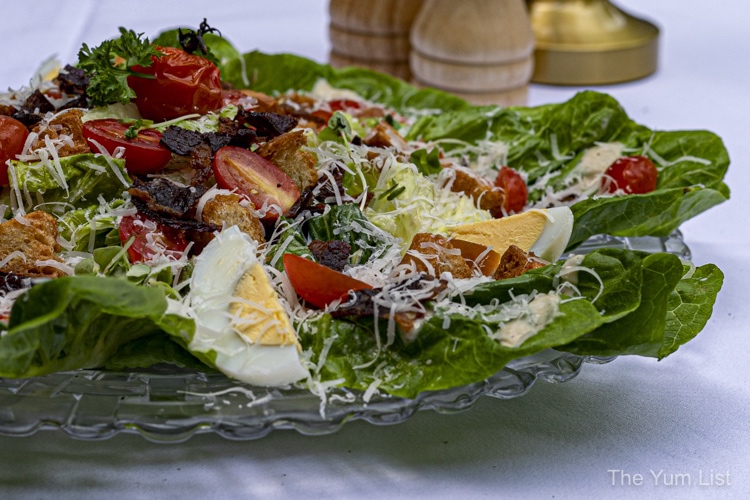 The Soupe à L'oignon Maison (RM36) is an excellent French onion soup served with Emmental toast. The soup is especially impressive given that it's made with no sugar, flour or wine. Instead, it derives its hearty flavours and thickness by slow cooking the onions, which brings out their natural sweetness. The kitchen was possibly quite surprised by just how clean that bowl was when it returned to them.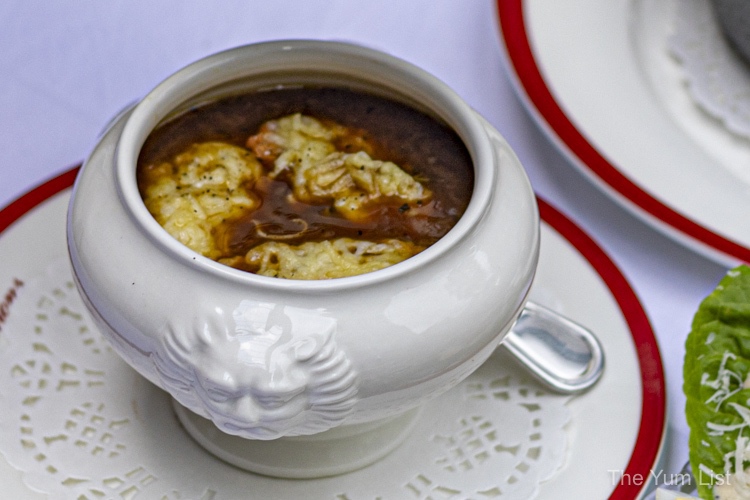 Our final starter that grabbed my interest the instant I saw the menu was the Lobster Mac and Cheese (RM108). My mouth is watering, just remembering how good this was. Grilled lobster with prawns and very cheesy mac and cheese: I won't gush because I have a word count and my dignity to maintain, but … wow.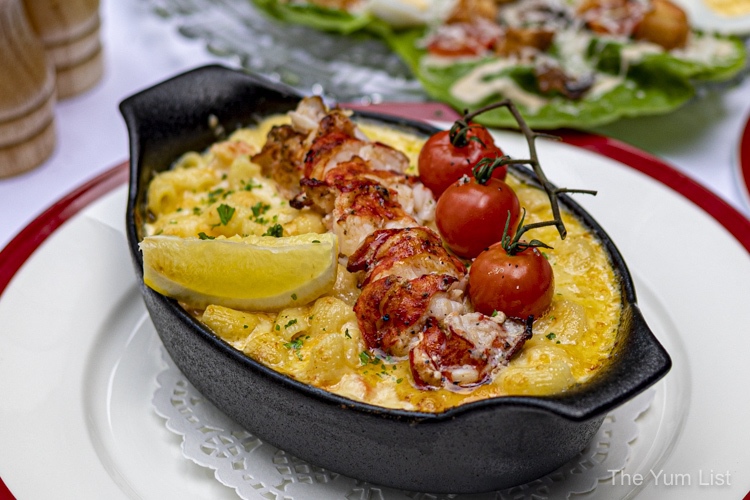 Seafood
Moving forward in the menu, we switched wines to the Château La Font du Loup di Rhône Rosé 2019 (RM40 per glass, RM198 per bottle). Its strawberry and citrus notes paired fantastically with the following two dishes. The palate is vibrant and lively, showcasing the essence of freshly crushed fruits. Its elegance and long-lasting, dry finish made this wine another great by-the-glass selection.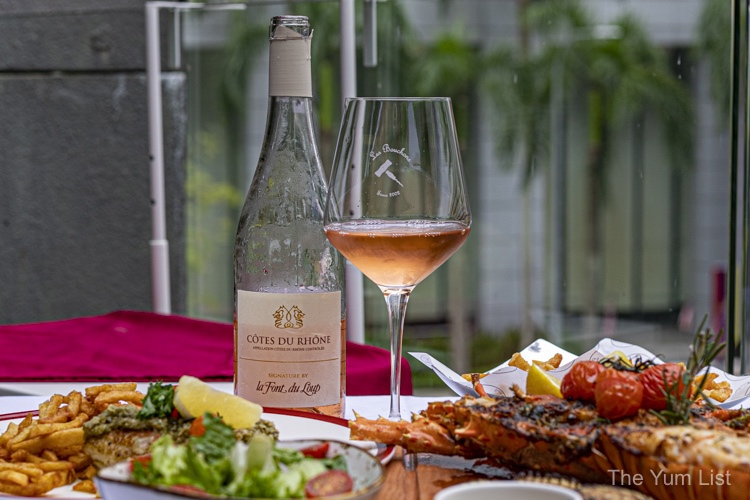 The Filet de Flétan Grillé, Sauce aux Câpres (RM98) was a perfectly grilled Halibut served with a sauce that combines capers, lemon, olive oil and salt and pepper. The plate also featured a hefty serving of the famous fries. They were flawless mops for the jus and sauce, ensuring not a drop went to waste.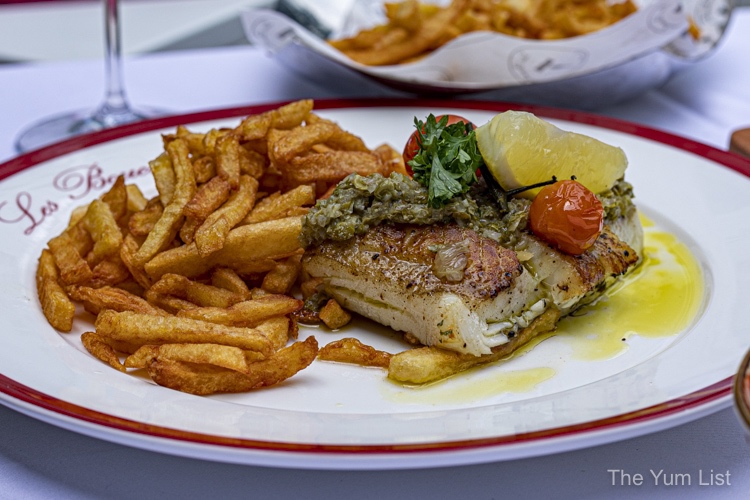 A showstopper of a dish arrived next – Langouste Grillée, Beurre, Ail et Thym (RM398). This is a whole 1.2kgs of grilled spiny lobster from Sabah, where Chef Mika found the best produce after an exhaustive search. KL is the only Les Bouchons outlet to serve this, and we highly recommend the order. So tender, juicy, and flavourful and served with impressive grilled zucchini disks and garlic and thyme butter good enough to write poetry about, this dish stands above many brilliantly executed dishes on the menu.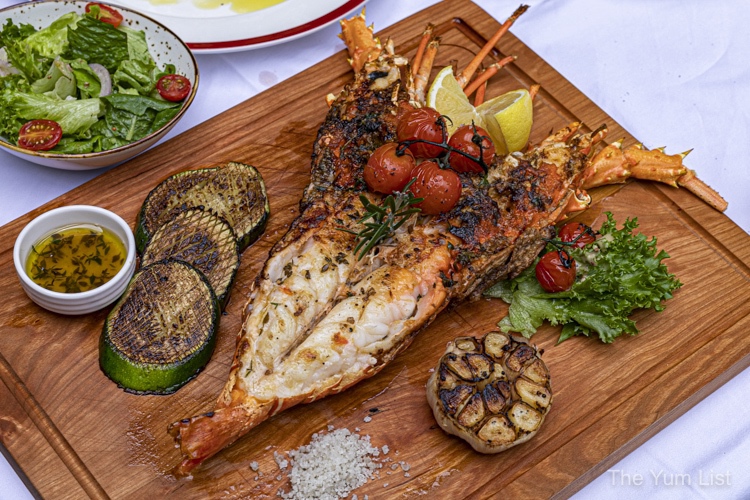 Les Bouchons KL – Mains & Sides
Les Bouchons has been known for over twenty years in Singapore as the place for great steaks, so, of course, we had to try the Entrecôte de Bœuf, Black Angus, MS 2 (RM178), which is 250 grams of Australian Rib Eye, grain-fed for 150 days. It's served with a mountain of fries and some delicious vigneron butter infused with garlic and herbs. Although the steak is undoubtedly tasty enough on its own, four sauces are provided for extra pizzaz – Dijon mustard, wholegrain mustard, homemade mayonnaise and bearnaise sauce.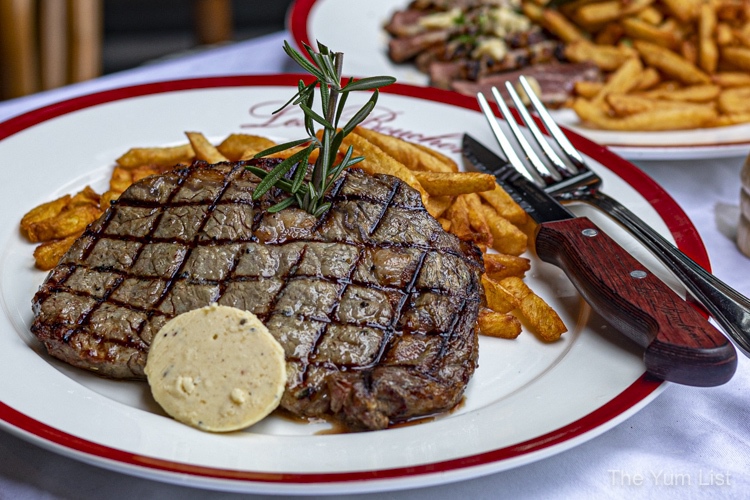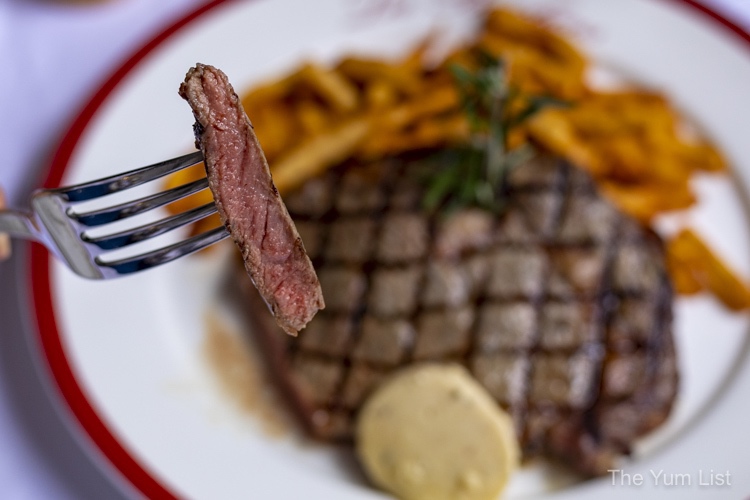 We matched the steak with a glass of Château Haut-Grelot, Côteaux de Méthez Bordeaux 2018 (RM50 per glass, RM248 per bottle). This merlot offers refined and powerful aromas, with undertones of blackberries and delicate notes of smoky wood and spice. It's full-bodied, opulent, smooth, and velvety in texture, making an excellent partner to the steak.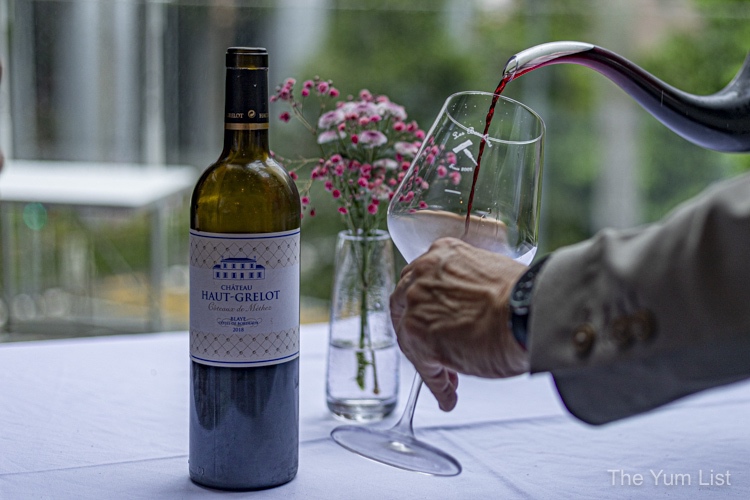 A second red, Edouard Delaunay Septembre Bourgogne Pinot Noir 2018 (RM 46 per glass, RM228 per bottle), is an ideal match for our duck with its lively palate and structure. Its dark fruit elements, particularly cherry and redcurrant, worked wonders with the tender and juicy duck. It elevated the Magret de Cannard Grillé, Beurre Vigneron (RM90), the grilled French duck breast served with another mountain of fries and a neat little mesclun side salad (the fries and side salads are served with every main course). Chef Micka searched high and low around Malaysia for just the right kind of duck to source. However, in the end, he had to import from his home country as the ducks in France are raised with much more fat (they probably eat as much vigneron butter as I did during our visit).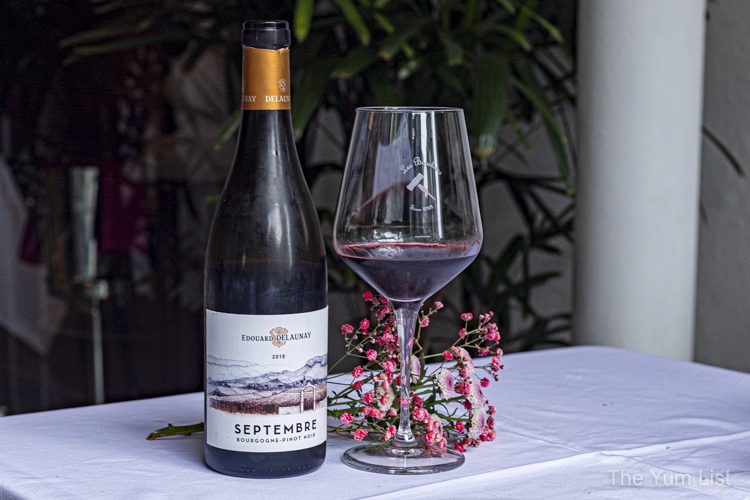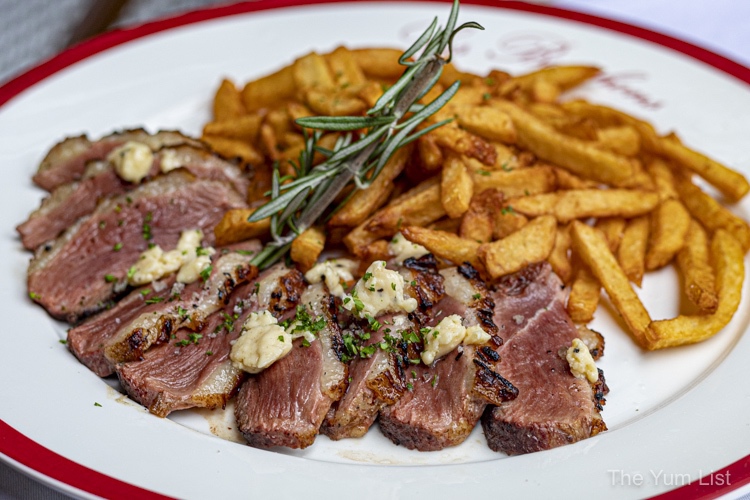 Side dishes can also be ordered with the mains, so we sampled the Provencal Ratatouille (RM26), a hearty mix of perfectly stewed vegetables that could be a dish all on its own. The same could be said for the Sauteed Mushrooms (RM14), which smelled and tasted divine and was in a portion that felt like an entire field of button mushrooms.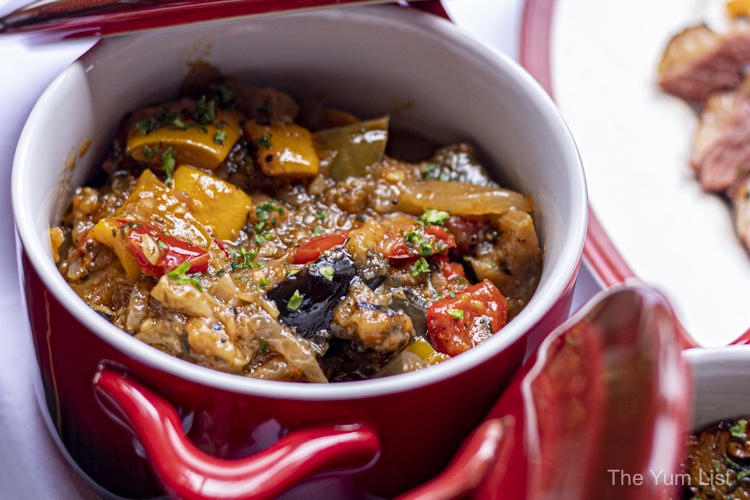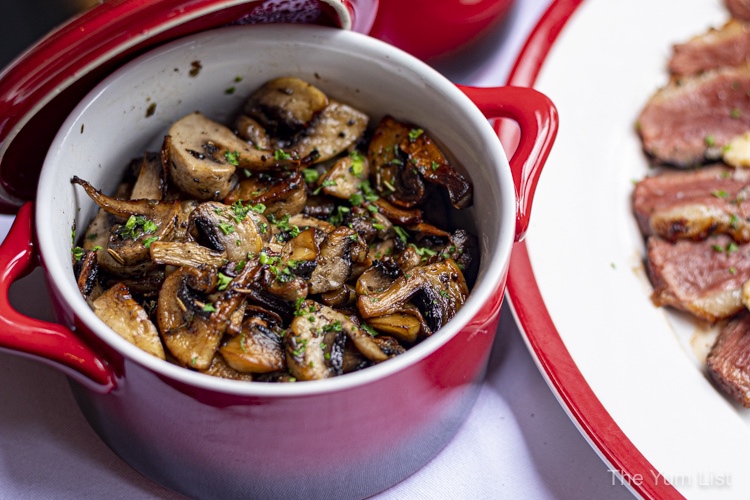 Dessert
What's French for "This is all amazing, but I'm going to pass out from so much good food"? I couldn't say, so dessert was inevitable.
A delightfully boozy and refreshing way to end your meal is the Coupe Colonel (RM36), which is lemon ice cream sitting in a pool of vodka. Simple AND effective!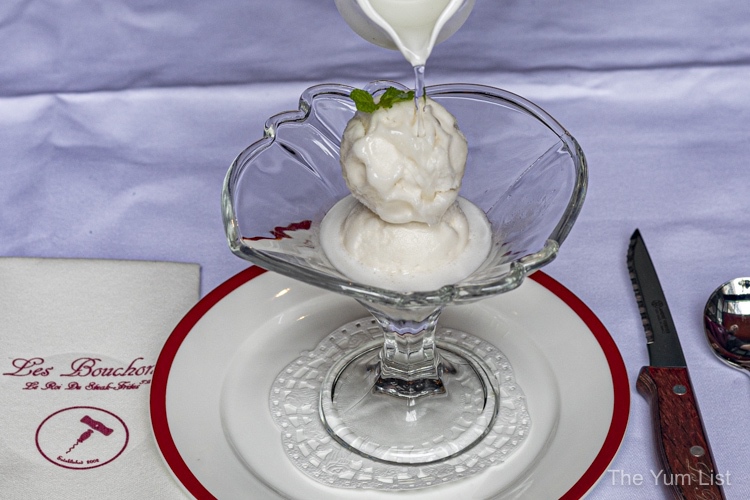 The classic Crêpe Suzette (RM78) was flambeed at our table with Grand Marnier. The light and lovely crepes were drenched in orange sauce and served with a scoop of vanilla ice cream.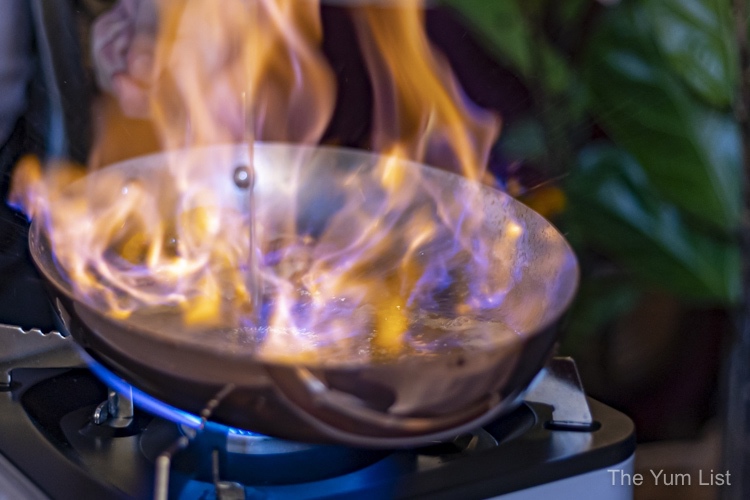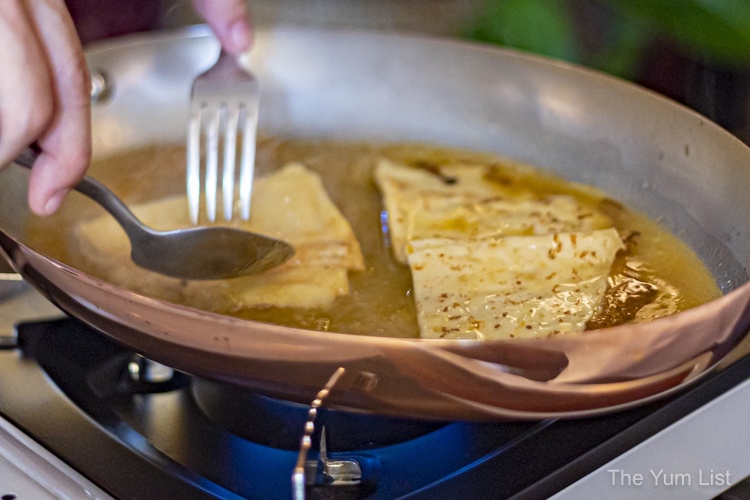 Crème Brulee (RM26) was another bowl that returned to the kitchen perfectly clean, with its rich custard base topped by a satisfyingly crackable caramelised sugar scooped off the plate by repeatedly clashing spoons.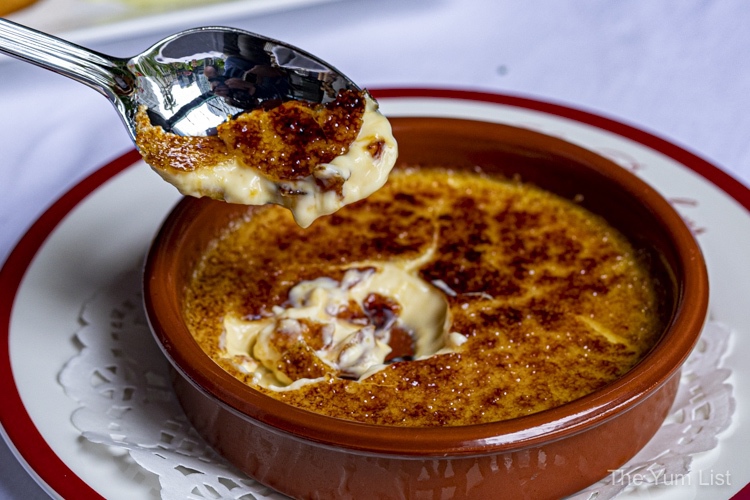 Lastly, the Tarte du Jour (RM38) changes daily to keep things exciting. On this occasion, we were blessed with Tarte Normande Aux Pommes – an apple pie served with ice cream, a perfect mate to coffee or tea to finish your meal.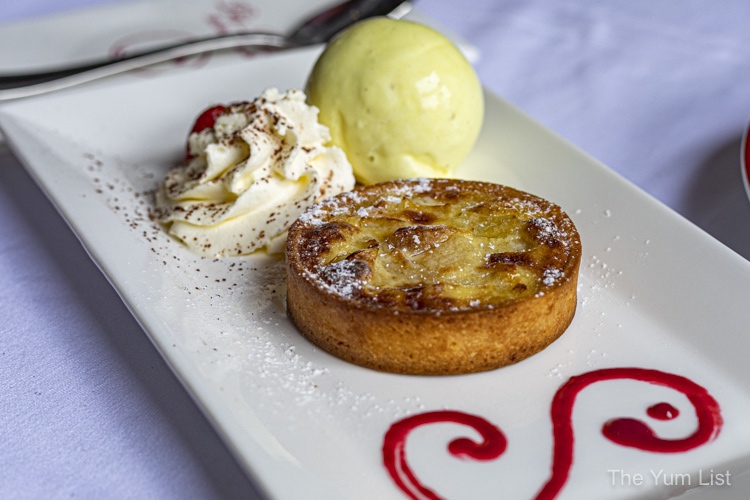 Les Bouchons KL Review
We can't speak highly enough of this new French bistro to hit the KL dining scene. Les Bouchons ticks all the boxes with a gorgeous setting, excellent service, delicious food, a great wine list and value-for-money portions. Check out some fantastic deals on their lunch menu – included below.
Reasons to visit Les Bouchons KL: the gorgeous setting; excellent service team; any of the items we sampled would make for a fantastic meal, but the Lobster Mac & Cheese is a must-order; thoughtful and exclusive wine list; set menu lunches during the week – RM68 for two courses and RM88 for three!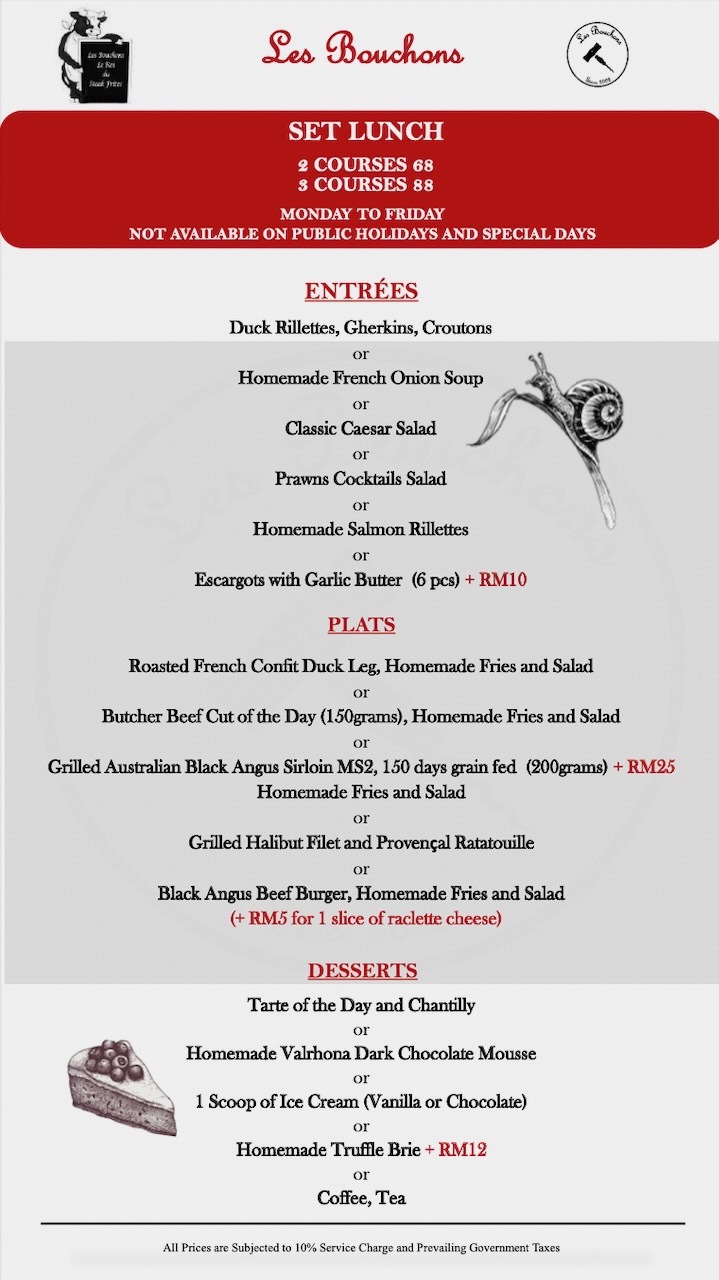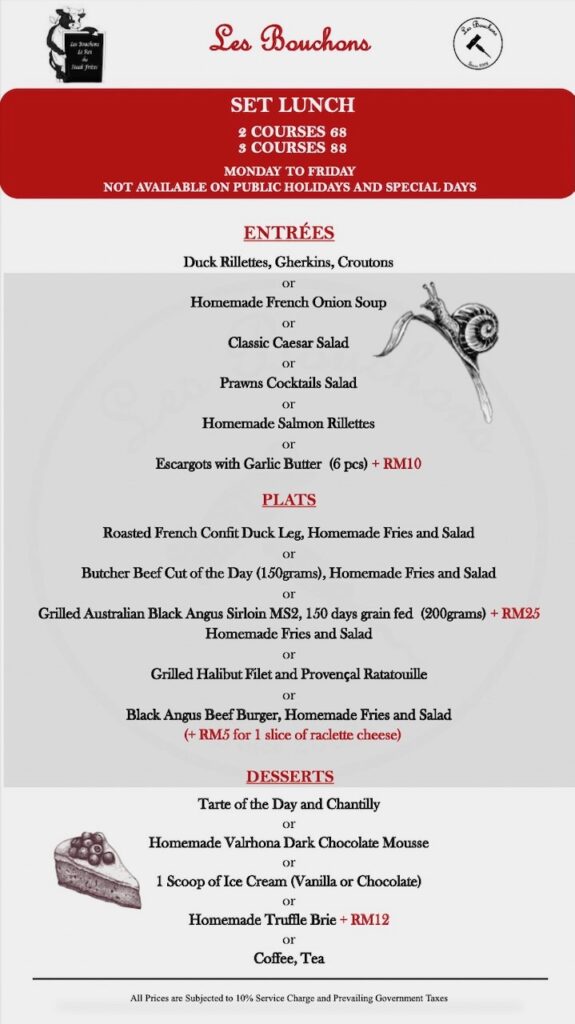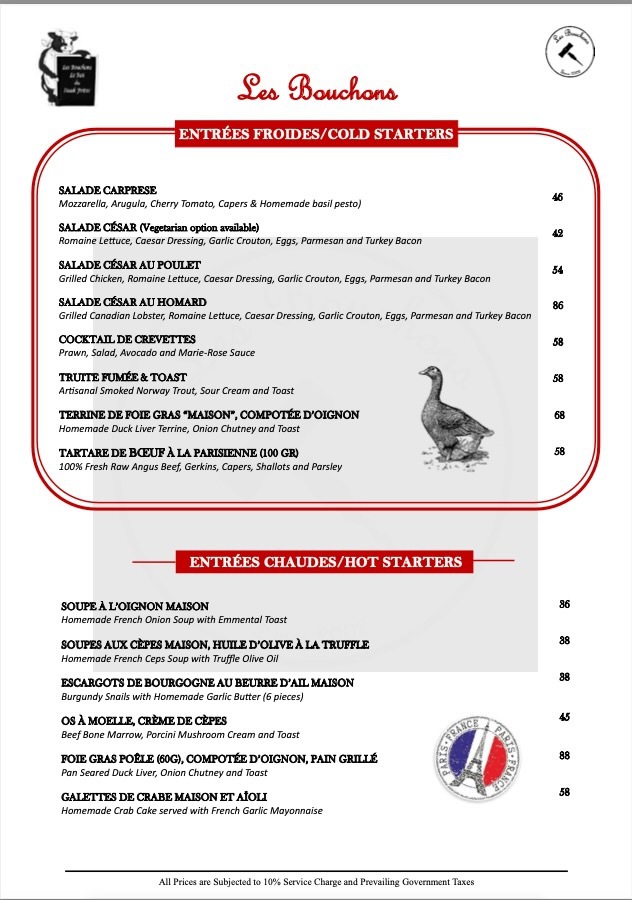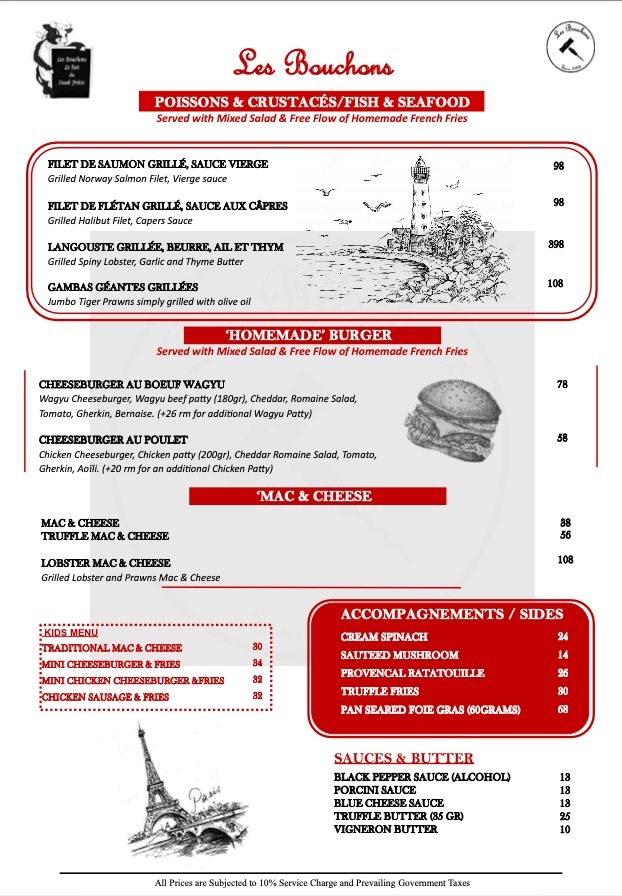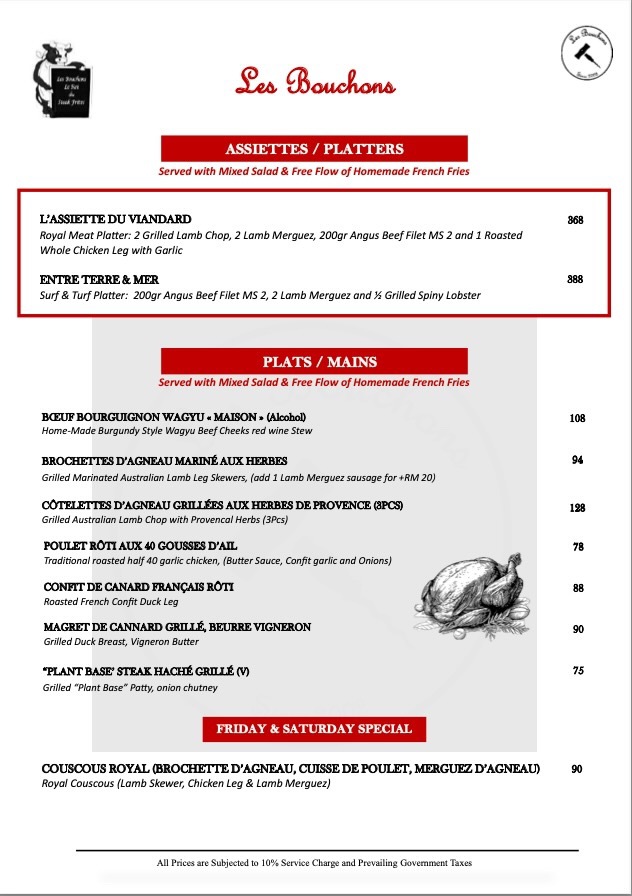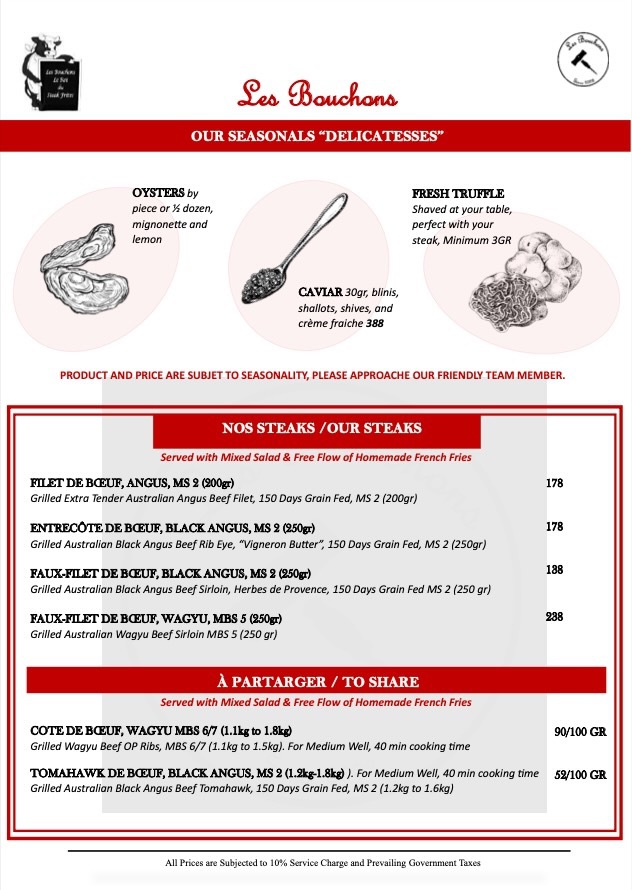 Les Bouchons KL
Lot 183, 1st Floor Jalan Mayang, Off Jalan Yap Kwan Seng
50450 Kuala Lumpur, Malaysia
+603 2181 2228
www.lesbouchonsmalaysia.com
Les Bouchons KL Opening Hours
Daily
Lunch: 12:00pm – 2:30pm
Dinner: 6:00pm – 10:00pm
Find more French restaurants in KL here and stay up-to-date on the latest culinary happenings around Malaysia here and here.