Love My Do Hairlounge – Hair Salon Plaza Arkadia, Desa Park City
Monica Tindall
Avoider of traffic and inconvenience, I don't often venture to "the other side of town." However, when I do, there's always something new to discover. In the beautiful, leafy-green suburb of Desa Park City, amongst dog parks, shady tree-lined streets and a dynamic food and beverage scene, my latest revelation is Love My Do Hairlounge, a hair salon in Plaza Arkadia.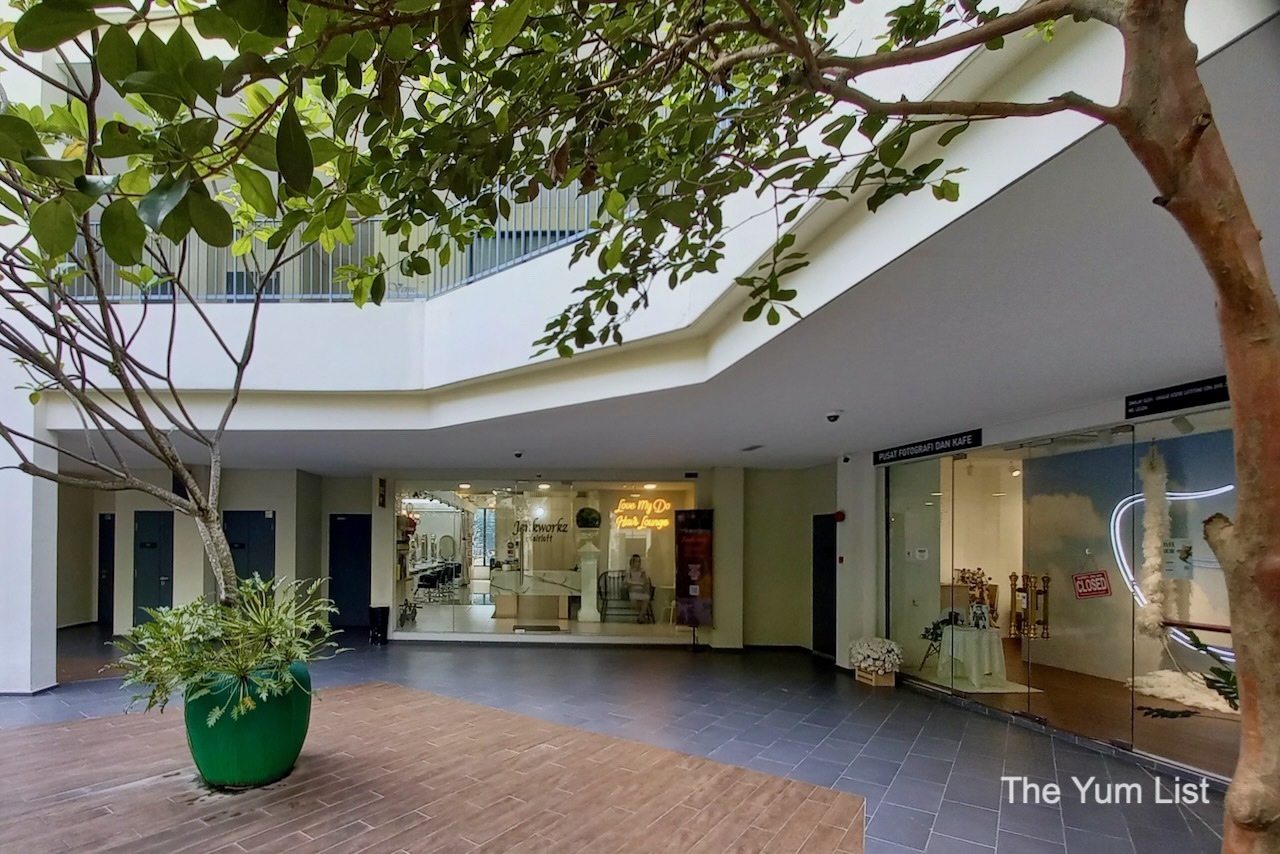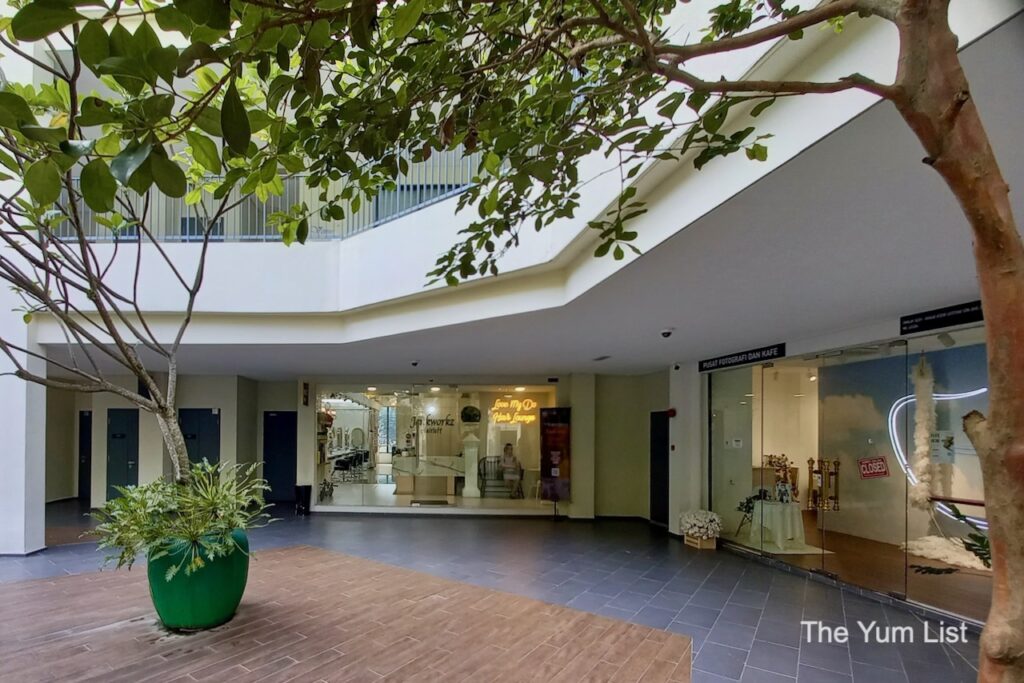 Love My Do Hairlounge – Plaza Arkadia
I found Love My Do Hairlounge on Instagram. They have some super deals for first-time customers. You can get a 30% discount on any service (excluding items that are already on promotion) using the code: LMDY1111. That's a huge saving – especially when looking at bigger ticket items such as colours and treatments.
Once I had my reservation, the team sent me reminders the day prior via Instagram with some helpful directions to make arriving easy. There's plenty of undercover parking, and Block G, where the salon is located, also conveniently offers female-only parking. Apart from feeling safe travelling alone, it's also super handy, next to Village Grocer and the escalators that lead to the salon.
The hair salon in Plaza Arkadia is immediately welcoming with its light, bright setting, cheerful lounge music and white marble counters. Complementary touches of glam are found in pink salmon chandeliers, a spiral staircase and high ceilings. And, even though it's inside an open-air shopping mall, they have a bathroom on site – so no embarrassing trips through the mall to the bathroom halfway through a lengthy treatment.
By 10:30 am, the salon had a lively buzz as a steady stream of clients wandered in. Like a good restaurant, a full salon is usually a good sign.
Two-tone Hair Colour
I've been looking for a hair change – nothing too extreme, but enough of a difference to feel I have a new look. Jeff, my hair stylist for the day, suggested trying a two-tone colour. The roots would be darker, and the colour would gradually lighten down to the tips. This can be as extreme or subtle as you want. I browsed a few photos showing everything from a light brown graduating to blonde to vibrant pinks, greens and blues! I settled on a more understated appearance choosing a natural brown fading down to deep blonde.
First, my hair was bleached, which took nearly three hours to thoroughly coat each strand and allow the product to strip my hair of colour. I have dark hair and there is no way to lighten it other than with products that contain some form of bleach. My eyes were stinging a little from the chemicals. I'm not used to doing intense chemical treatments, but these are the things you put up with if you want a dramatic change.
After the bleach was washed out, my hair was yellow! Straw yellow. Like a bad Barbie replica. Fortunately, I'm not too invested in my appearance, so I didn't panic (too much). The bleaching left a blank canvas for the new colours to take their place.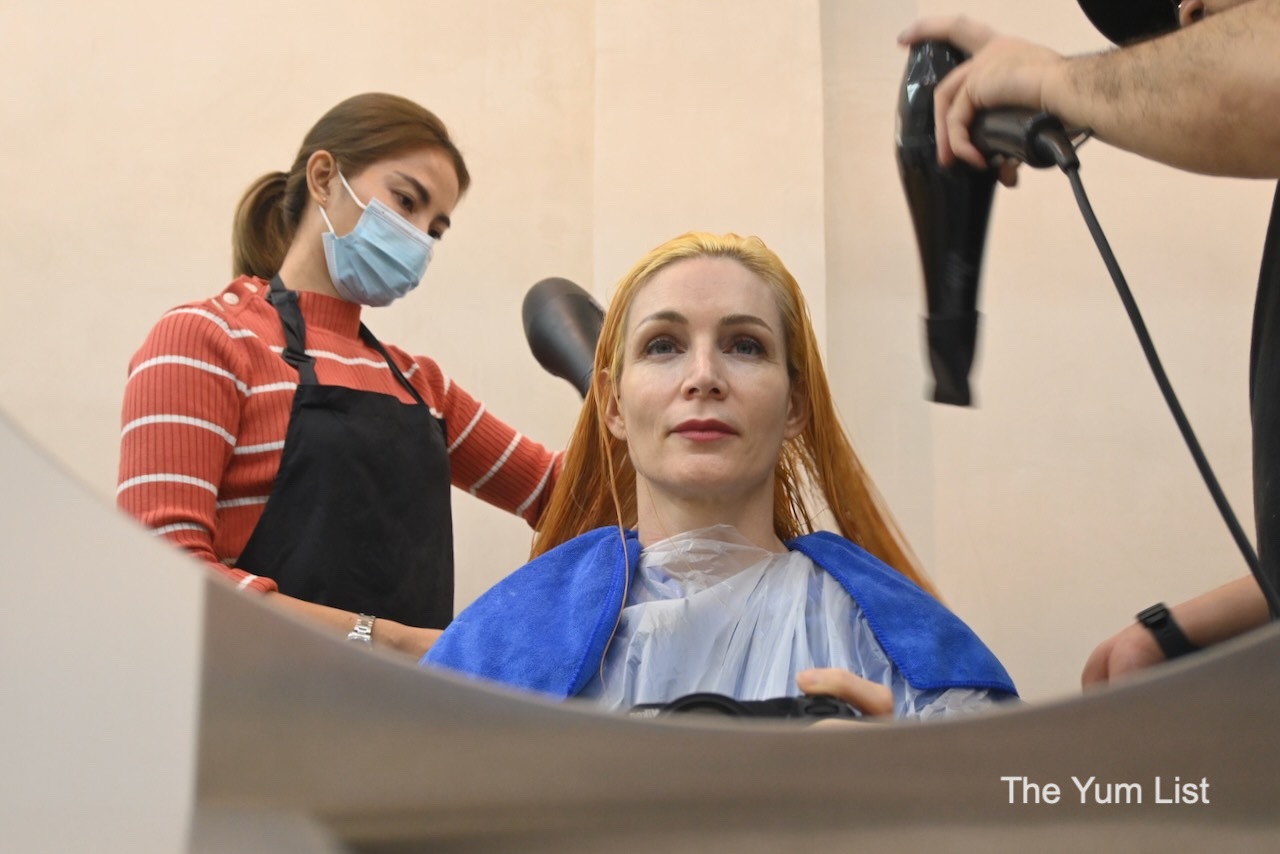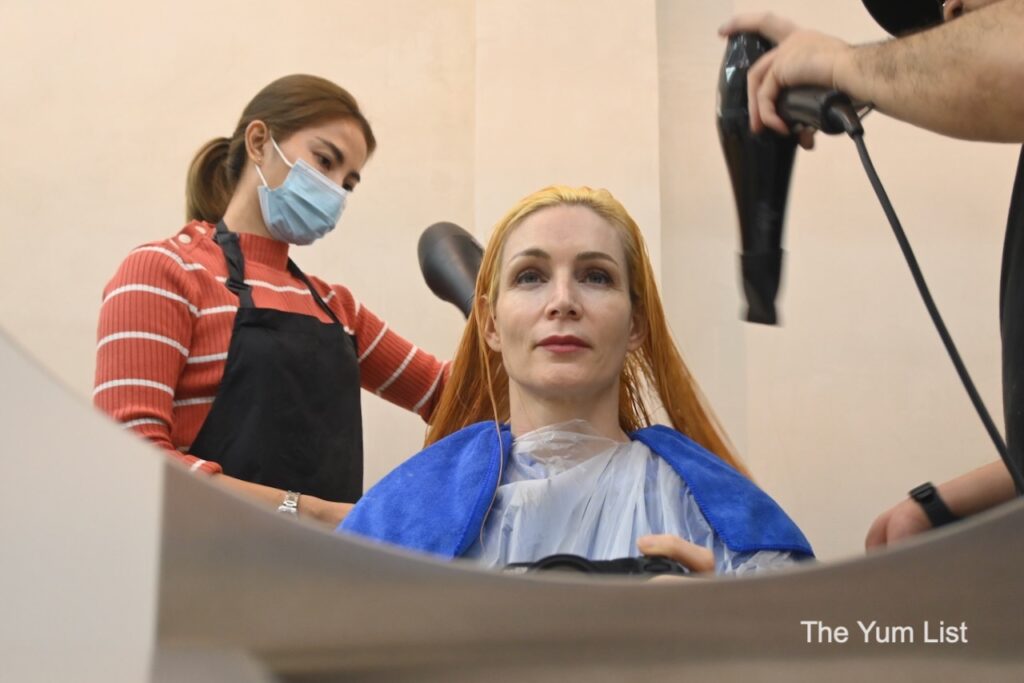 In the next stage, the darker colour was applied to the roots and the lighter shade to the tips. Again, this is quite a lengthy process, especially as two colours need to be applied and evenly worked through. After letting the colours soak in, it was time for another wash.
The hair wash was dreamy. The reclining lounge tilting my head over the basin was comfortable, and Christine massaged my scalp with expertise. Once complete, my hair was blow-dried and the two-tone colours made apparent.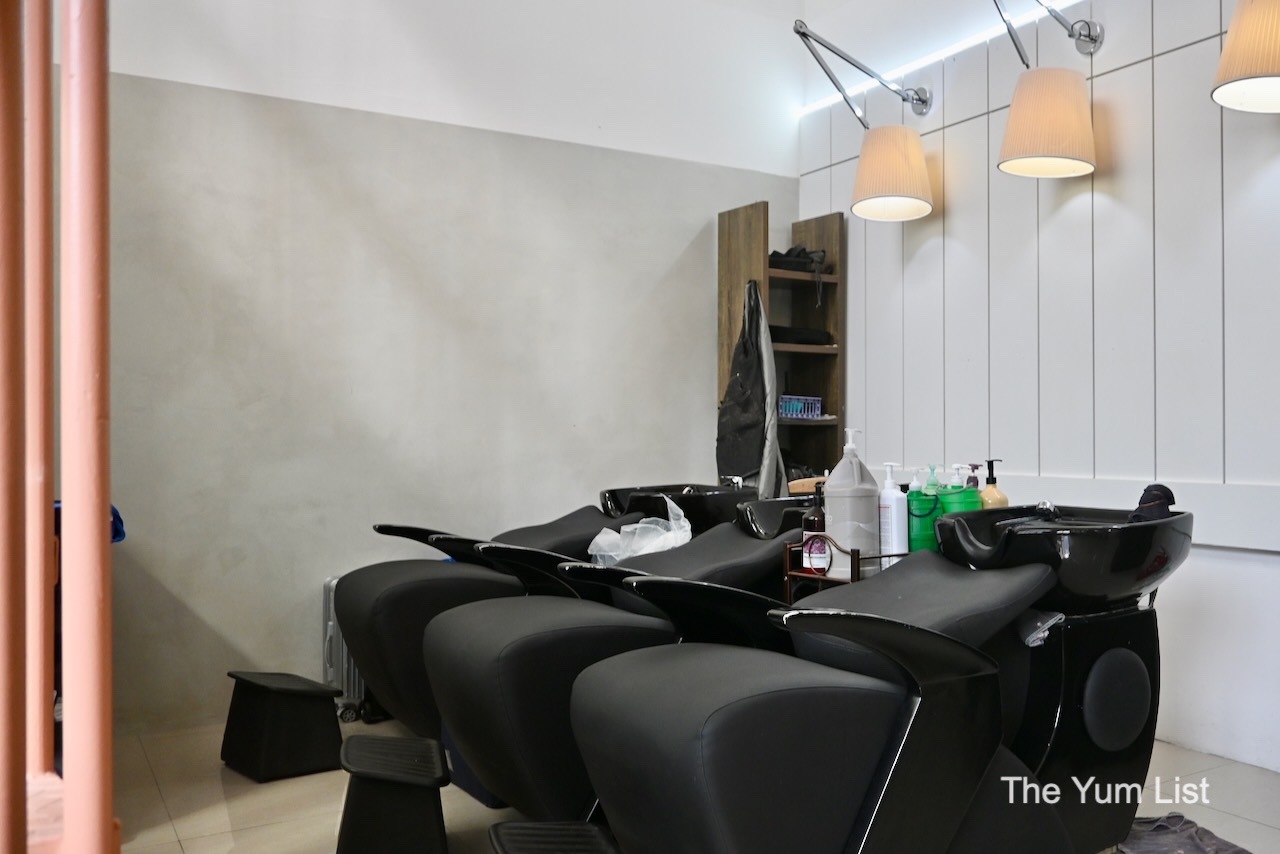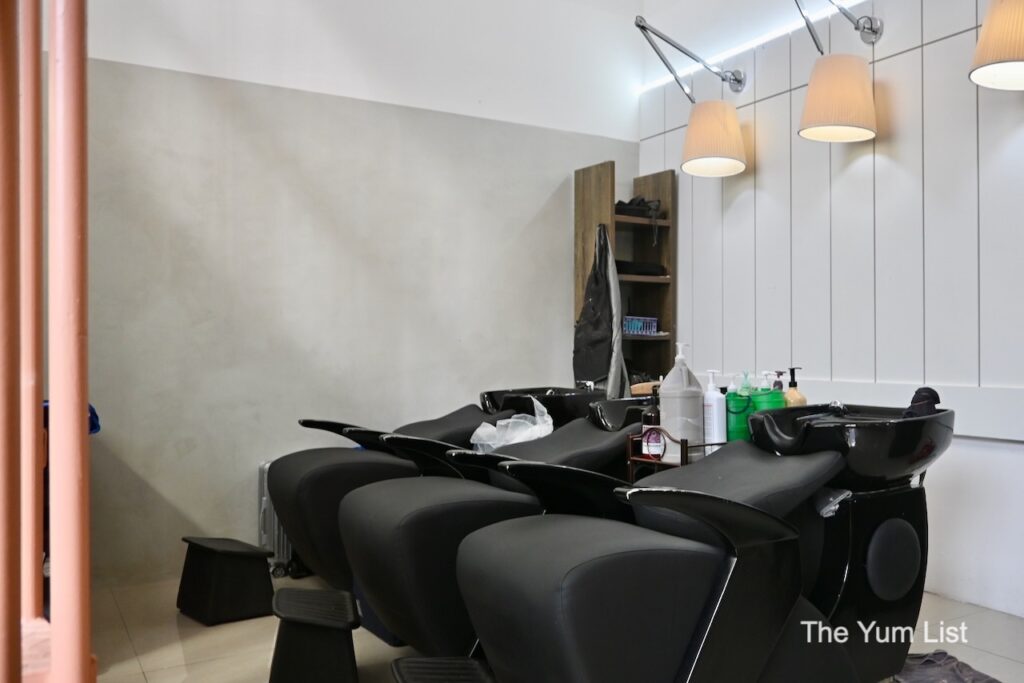 This type of colouring is not for impatient people, nor is it for those with sensitive skin or a desire to reduce chemicals from their lives. You need to dedicate an entire day. Bring books, work, phone, and snacks and be prepared to settle in for the long haul. The hair salon doesn't serve tea or coffee, but every station has small water bottles. I used Grab to deliver a light meal from Plaza Arkadia. Because there are so many options in the mall, I had my food in minutes.
Bleaching is quite a harsh chemical treatment and this was the first time, I'd had something so extreme. My scalp stung a little during the session and for about a week afterwards my scalp was dry and flaky. It wasn't too bothersome and settled back to normal within about seven days.
The results are a much lighter colour than I've experimented with before. A lighter brown at the roots leads down to blonde tips. In the pictures here, you'll see me with straightened hair, but I think the prettiest look is when you curl the ends. That's what you'll find in most two-tone hair colour photos online.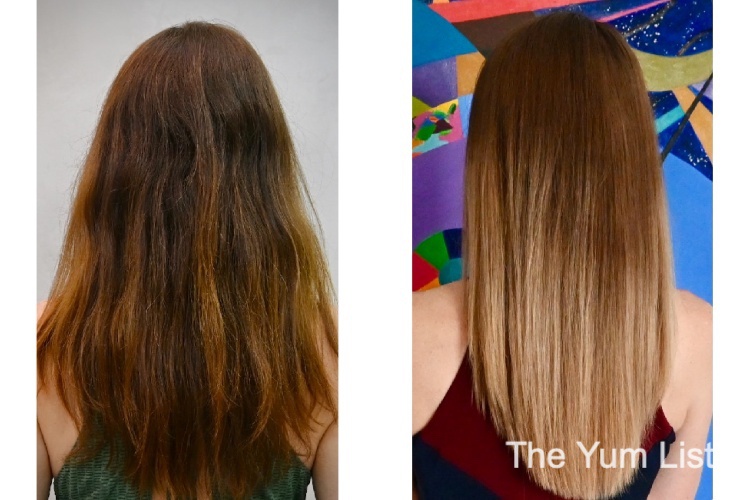 Kerafill Keratin Treatment
As mentioned, I didn't go for a curly finish. That's because I had a Keratin treatment after the colour. I was concerned about the effects of bleaching on my delicate, frizzy hair. My hair stylist Jeff said that it could be countered with a quality keratin treatment. The Kerafill Keratin Treatment is ideal for frizzy hair. It straightens and rejuvenates damaged hair and is specially formulated for chemically treated hair.
The hair is washed before the keratin is applied. Depending on hair type, the product is left on for 20 to 30 minutes. The hair is then blow-dried, and the stylist uses a straightening iron to smooth small sections of hair at a time.
A plastic visor is placed on the forehead shading the eyes to minimise chemical exposure. Still, keratin is quite strong, and it made my eyes sting and tear up. The easiest solution was to take a nap, while the stylists did their work.
Post-care involves avoiding washing or wetting the hair for three days. Foregoing swimming is obvious but you might also consider taking a break from exercise to avoid excess sweating for the three days. Afterwards, shampoos, colouring and products with sodium chloride should be avoided. Obviously, the brand recommends using its own products for optimal results. Other tips are to not use a hair tie for two weeks post treatment and to sleep on a silk pillow. If you take care of your hair, Keratin treatments can last between three and six months.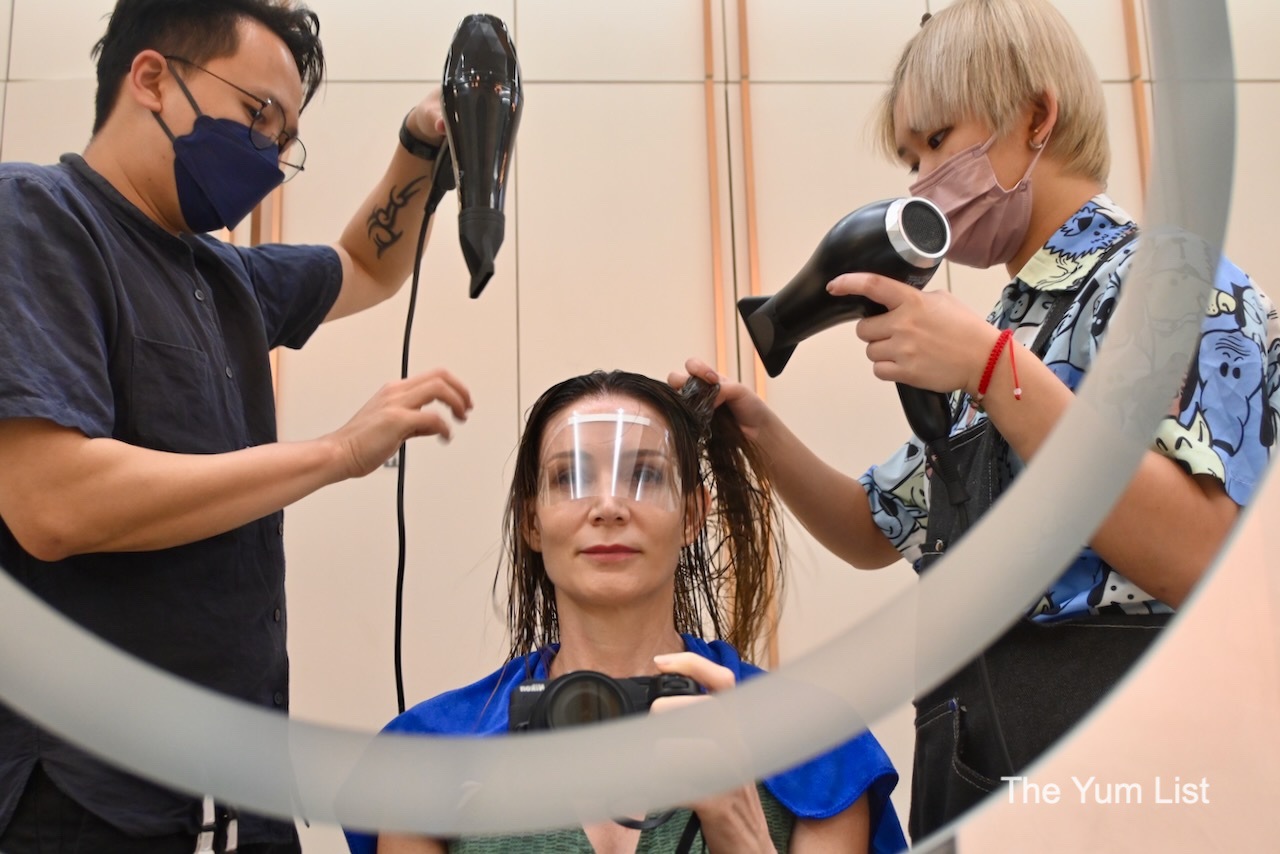 Know Before You Go
While I loved the smooth, frizz-free results of the treatment, you should go in well-informed. Most keratin treatments contain formaldehyde, or other chemicals that convert to formaldehyde when coming into contact with water or heat, even though the label might say otherwise. Manufacturers get around labelling laws, because technically, the gas is not in the liquid product. However, as mentioned above, heat such as the straightening tongs and blow dryers, cause the liquid that is in the product to convert to formaldehyde gas. This is definitely something pregnant women and breastfeeding mothers should avoid. However, even for the general population it's also best used sparingly. While clients are probably at little risk if they only do the treatment once a year or every couple of years, the stylists working in salons who frequently carry out keratin treatments should consider the concern. Good ventilation and mask-wearing can help.
Love My Do Hairlounge Prices
Love My Do Hairlounge has some excellent deals at the moment for first-time clients. Get a 30% discount on all services (not already on promo) when you use the code LMDY1111.
To get an idea of prices for single treatments, full head colouring ranges between RM288 and RM388. A Keratin treatment for any hair length is RM488. Haircuts for short hair are RM128, medium length RM138 and long hair RM148. Bleaching once for any hair length is RM350.
However, as mentioned, Love My Do Hairlounge is currently running some great deals such as the 30% discount outlined above, and also se several packages. I signed up for their unlimited bleaching, two- tone colour for long hair with wash and blow offer priced at RM588. I got the add on keratin treatment from RM199 (the Purchase-With-Purchase rate), and the haircut for RM70 any length (PWP special rate).
Reasons to visit Love My Do Hairlounge: specialists in two-tone hair colouring; a light, bright hair salon; easy parking in Plaza Arkadia; a great deal of a 30% discount on all services (not already on promo) when you use the code LMDY1111.
Love My Do Hairlounge
Plaza Arkadia, Block G-1-07,
3, Jalan Intisari, Desa Parkcity, 52200, Kuala Lumpur
+6 012 632 3370
@lovemydo_hairlounge
Love My Do Hairlounge Opening Hours
Daily 10 am – 7 pm
Find more on the spa and beauty scene in Malaysia here and the latest happenings around Malaysia here and here.