Pomod'Oro Italian Restaurant -Bukit Damansara
Words: Stephen Reid
Photos: Rich Callahan
Located in the leafy, upscale neighbourhood of Bukit Damansara, Pomod'Oro was established in February 2022. It's headed by executive chef Tomas Gocze, born in San Marino, the tiny European microstate bordering Italy. Tomas also worked in Germany and Bahrain before bringing his expertise in Italian cuisine to Malaysia over seven years ago.
The founders spotted a gap in the local market for an authentic Italian restaurant where they could enjoy dishes they missed from home. They envisioned a place that, whilst stylish and comfortable, would not be a 'fine dining restaurant' with starched white tablecloths but rather a more relaxed restaurant where the whole family could gather. Pomod'Oro is a play on the words pomodoro, which is Italian for tomato and oro, which means gold and explains the golden tomato signage which adorns the exterior of their eatery, resplendent against a sunshine yellow backdrop.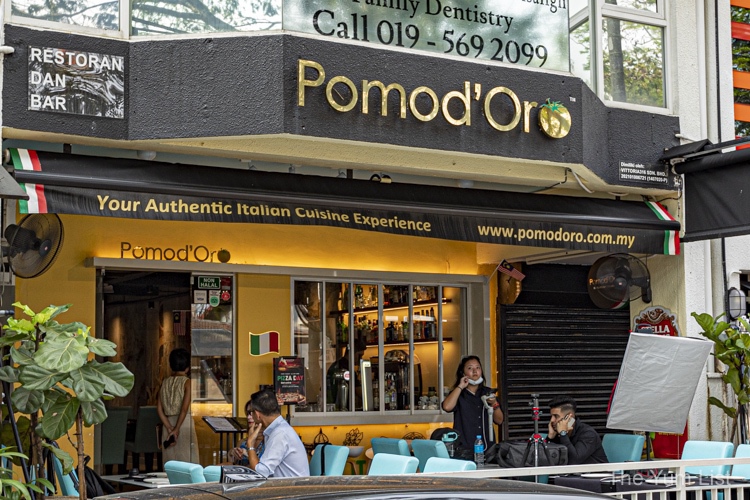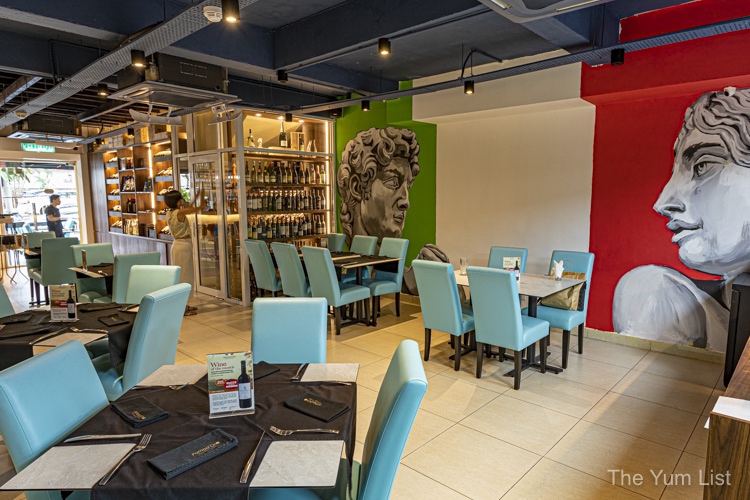 Pomod'Oro Italian Restaurant
The restaurant has a simple, welcoming design, clean white floor tiles and table tops with a pop of colour from duck egg blue chairs and a small bar area at the entrance where diners are enouraged to enjoy a pre-dinner 'aperitivo.' Opposite the bar area is a temperature-controlled 'cantine' featuring mostly Italian wines but also from other wine regions worldwide. The open kitchen at the back of the restaurant immediately drew my eyes to where I saw busy staff preparing colourful dishes. I also heard the occasional mouth-watering sizzle of food hitting the grill. Pride of place is the beautiful Italian pizza oven, which they specially imported from Italy, clad in white marble mosaic tile.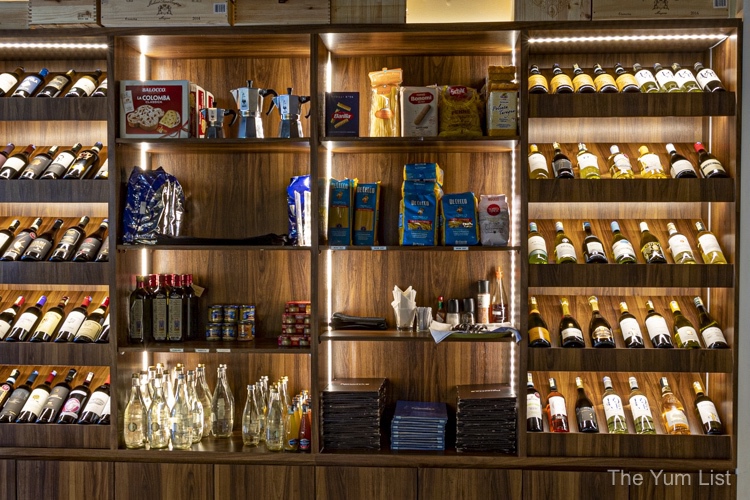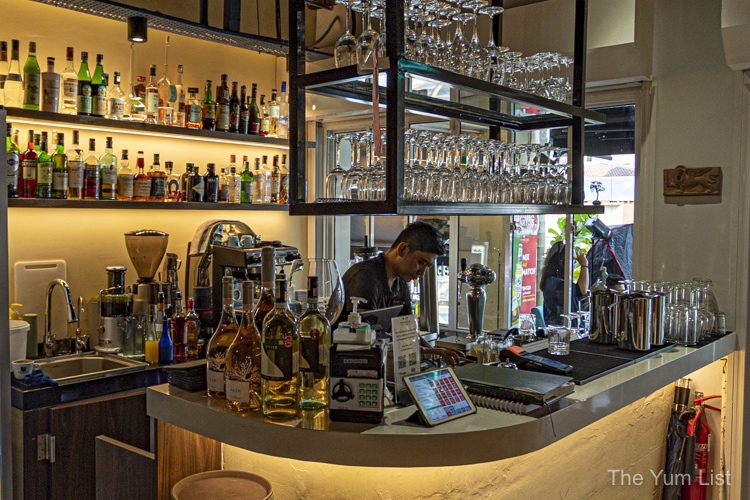 Proudly lining one wall is a modern version of a fresco by Piero della Francesca, a renowned artist of the early Italian Renaissance, which adorns an entire 12-metre wall in the restaurant. Obtaining permission from the Italian Ministry of Culture, a high-resolution scan of a fresco from the Basilica of San Francesco in Arezzo, Italy, was commissioned which an Italian company turned into a unique artwork and print onto the wallcovering.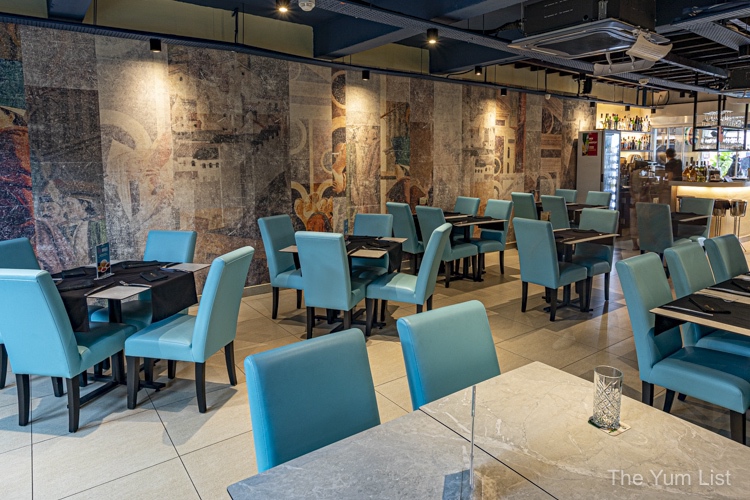 The team do not compromise on the quality of the ingredients used for the food in Pomod'Oro. Since opening, they have imported over 90 per cent of their ingredients, especially pork and ham, an essential part of many Italian dishes.
Cocktails & Aperitivos
Following our warm welcome, we were offered an opportunity to try out a new cocktail, 'Pomod'Oro Punch' (RM 45), a tequila and Aperol-based drink served in a tumbler blended with orange and lemon juice with a salt and orange zest rim. I found this drink very well-balanced and refreshing. I thought it tasted much lighter and less bitter than a traditional Aperol Spritz. However, Monica believed it packed a hidden punch behind its citrussy notes, hence the name we donned this nameless new creation.
Pomod'Oro Menu
We snacked on the complimentary grissini or breadsticks to accompany our refreshing cocktails. These were not the store-bought, homogenised, bland breadsticks that one often finds in restaurants; these were delicious, hand-rolled and baked by Tomas and his kitchen staff. These crisp little batons were an excellent omen for the food that was to follow. However, I only had the chance to sample half of one as they quickly vanished. Fortunately, I didn't have the opportunity to identify the guilty culprit before our starters arrived. It's worth remembering that although Italian menus usually have four courses listed, you are not always expected to have four courses every time you eat. That is generally reserved for special occasions and celebrations, or perhaps at a weekend when people have more time to linger and enjoy food with family and friends. Choosing one or two dishes from that offer is perfectly acceptable. However, with the food quality on offer at Pomod'Oro, I'm confident you will want to sample more, as we certainly did.
Starters
One of the specials on the menu, Grilled Octopus Leg (RM 109), saw the seared purple skin contrasted with the creamy bed of silky smooth mashed potato, which perfectly complimented the delicate flavour of the sea creature. The octopus is imported from Italy, as it's hard to match the quality using local produce due to the temperature of the seas here in the tropics. The leg had been gently grilled until it was opaque throughout but still tender. For those who have yet to try octopus, it is similar to lobster but with a much more delicate flavour, and a texture similar to calamari. It must be cooked carefully; otherwise, it can become rubber-like and unappetising in the wrong hands. I am pleased to report that Tomas and his talented kitchen staff handled this expensive 'hero' ingredient with the respect it deserved after its long journey, and it arrived at our table in perfect condition.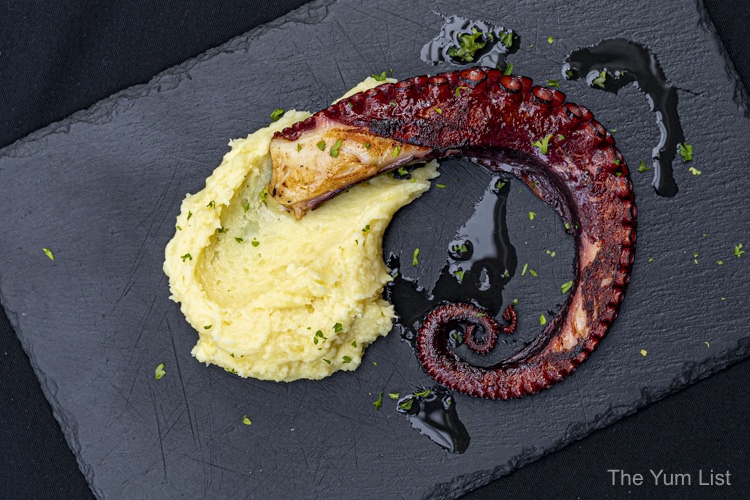 Our next dish was a favourite of mine, Parmigiana Di Melanzane (RM 35), delicate slices of eggplant layered with mozzarella, parmesan cheese and a rich tomato sauce, baked in the oven and served in an attractively decorated black and white ceramic dish. I could have happily eaten the whole thing myself as a main course with a side salad, such as the Insalta Rucola E Noci (RM28). Peppery rocket leaves, slivers of pear and shaved parmesan were drizzled with lemon oil and balsamic vinegar. The acidity of the dressing was the perfect counterpoint to the richness of the eggplant parmigiana.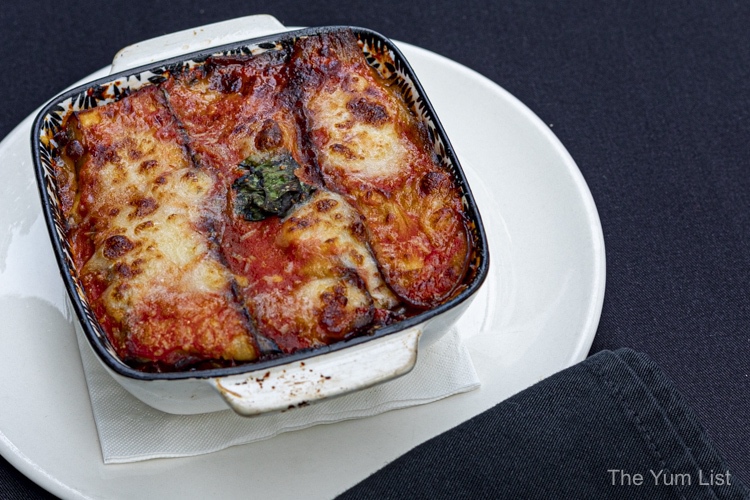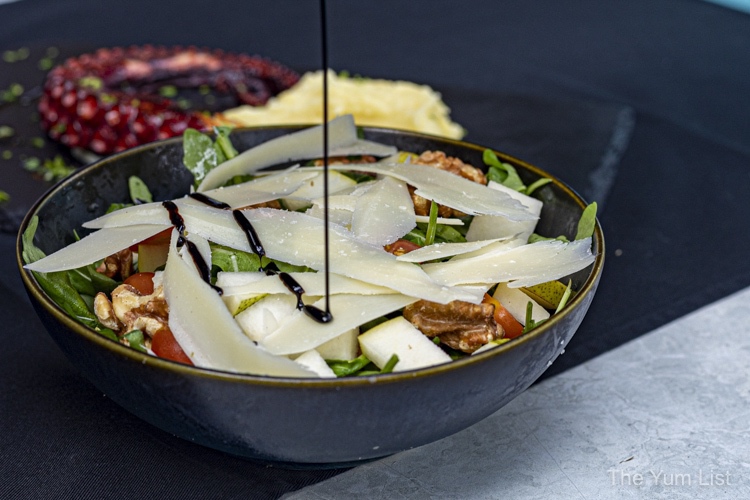 Pomod'Oro Pasta Menu
Pomod'Oro is rightly developing an outstanding reputation for the quality of its pasta. This is best exemplified by the quality of the Chitarra Pomod'Oro (RM 49). Chitarra is a pasta similar to spaghetti. Freshly made egg pasta is thinly rolled out before carefully placing it over a wooden frame, which resembles a giant egg slicer or the strings of a guitar. Then, with the rolling pin, it passes it through the metal strings that divide it into delicate ribbons. After a brief spell bathed in boiling salted water, the pasta is tossed in a pan, joining the imported Italian sausage and porcini mushrooms, a sprinkle of truffle oil and a dash of cream. These ingredients magically emulsify together to perfectly coat the delicate strands of pasta, which arrived at the table glistening and gently steaming.
Chitarra is Italian for guitar, hence the name for this particular form of pasta. I couldn't help but wonder which enterprising Italian Nonna had previously decided to hasten her spaghetti-making by using whatever came to hand, including the family guitar! Whatever the origins of this pasta, I simply loved this dish.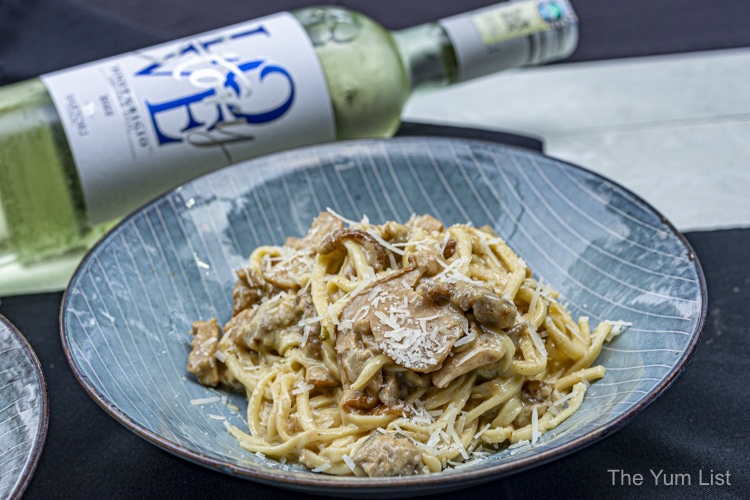 Our following pasta dish, Strozzapreti con Pesto Rossa Vegano (RM 45), was entirely vegan (many others can be adapted to vegan and gluten-free variants). Here, freshly made pasta was prepared without the usual egg, and hand-rolled. This type of pasta is popular in the Tuscany Marche and Umbria regions of Italy. Literally, it translates to "priest strangler" with a story worth Googling. Tomas combined the cooked pasta with grilled vegetables in a rich red pesto sauce. The resulting dish is fairly hearty; the pasta had a delightful texture, while the sauce was flavoursome and tangy. This dish would be ample for a light lunch as it was quite filling.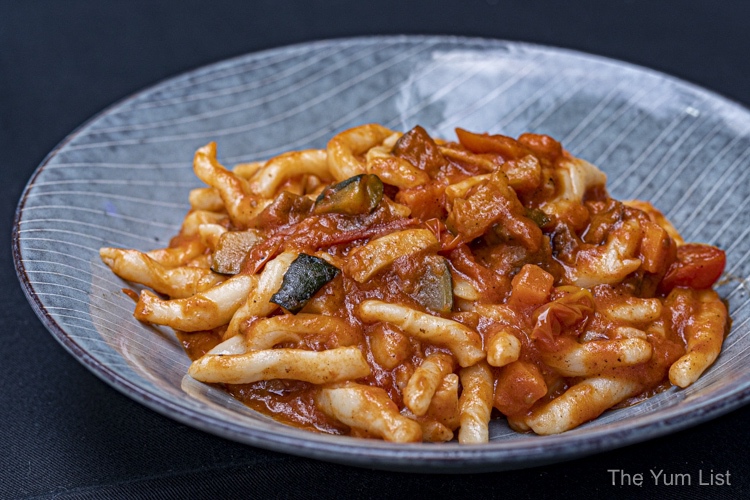 We paired our pasta with their house white wine Sartori Pinot Grigio Love Story 2022 (glass RM 36 bottle RM169). This wine is made from 100 % Pinot Grigio grapes sourced from the Veneto region of Italy. Monica confided that she was lucky enough to have visited the Sartori winery a few years back and has much love for the family-owned business. It was crisp and refreshing and a perfect accompaniment for our salad and fish that followed.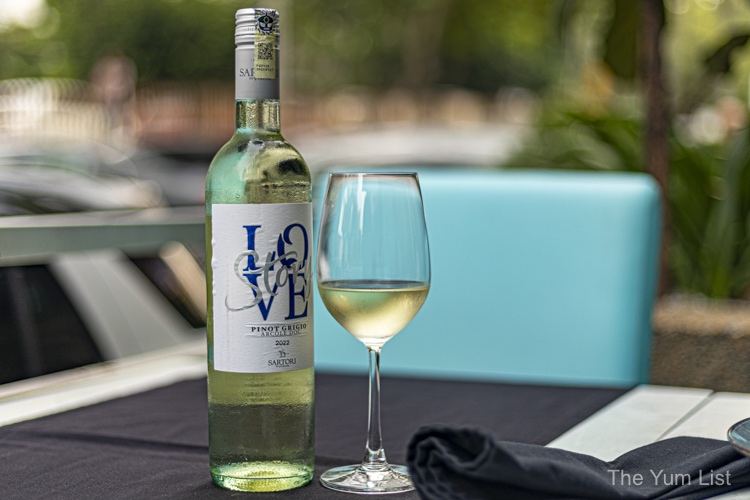 Pizza
Italian restaurants live and die by the quality of their pasta and pizza making. Tomas achieved full marks for his pasta-making skills, so we were keen to see if the quality of his pizza dough matched these and, of course, the finished pizzas. They had invested a small fortune in shipping that magnificent pizza oven from Italy; would his expensive acquisition be justified? I should not have been in any doubt. My eyes hungrily followed the pizzas from their short but fiery encounter with the pizza oven, which can reach temperatures of 400c.
The crust of a perfect Neoplotan pizza is beautiful, with puffed, slightly charred edges that remain chewy and soft. It's not only the fiery heat of the oven, which means that it is a difficult feat to achieve at home, but also the quality of the wheat flour, which, of course, here, is imported from Italy. There was another factor at play here, a secret in the dough-making process (but we promised not to give it away here). Perhaps when you try these delicious pizzas yourself, which you absolutely must, if you ask nicely, they might tell you too.
Firstly, we had the classic Pizza Margherita (RM 35). There is nowhere to hide poor skills with this pizza: a few simple ingredients expertly assembled and baked, house-made tomato sauce and mozzarella cheese. The crust was cooked quickly in the wood-fired oven, producing a distinctive blistered appearance and smoky flavour. The crust retained a slight crunch whilst the centre remained soft and chewy. Poor pizza dough and baking can be hidden under the disguise of a myriad of toppings and flavours. Here, Tomas demonstrates his skill in producing a perfect textbook example of a pizza Margherita, another full mark from us all. The house-made chilli oil tempted Rich. Monica and I were a little concerned that it may have been too fiery; I certainly have been caught out like that before, spoiling the rest of a meal, but Rich assured us that it was well-balanced and added a little warmth and a spicy, smoky heat, which made our tastebuds sing rather than setting them on fire. This pizza can also be prepared as a vegan option (RM 49).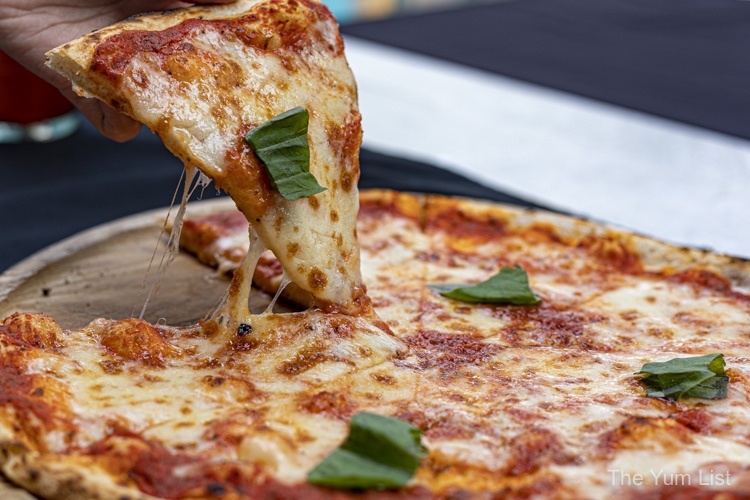 A new addition to their menu amply demonstrated the decision to source and import only the finest ingredients, Pizza Bianca Con Guanciale E Salsiccia (RM 65). This white base pizza has finely shaved cured pork cheek and Italian sausage as a topping. As it was placed it before us, the scent of the melting cheese blended with the smokiness of the pork created an incredibly enticing creamy, milky aroma, which a standard tomato-based pizza sauce may have masked. This pizza was superb, and I can see it becoming a firm customer favourite.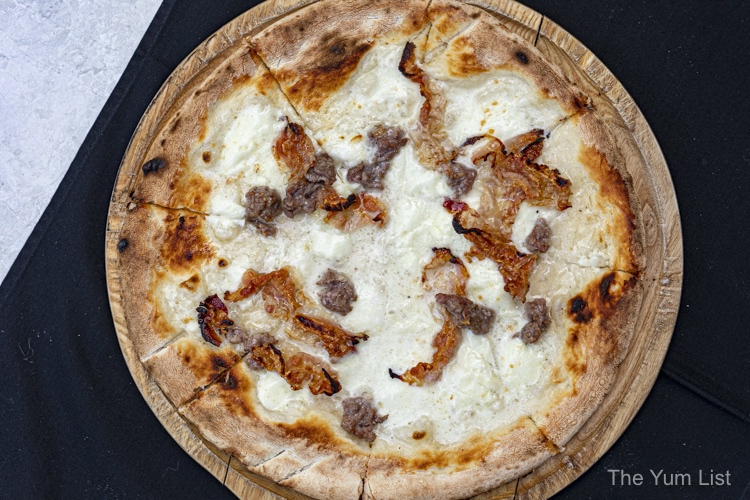 Main Courses
Branzino Su Velluta Di Ceci (RM 58), a sea bass fillet with chickpea cream, provided a delightful blend of flavours and textures. The grilled seabass had a delicate, sweet taste with a hint of the sea. The flesh was tender and flaky, taking on a slight smokiness from the grilling process. It was sitting on a bed of chickpea cream; its rich, nutty flavour and smoothness contrasted with the flakiness of the fish. The fish was decorated with sliced cherry tomatoes, black olives, grilled herbs and a dousing of excellent olive oil.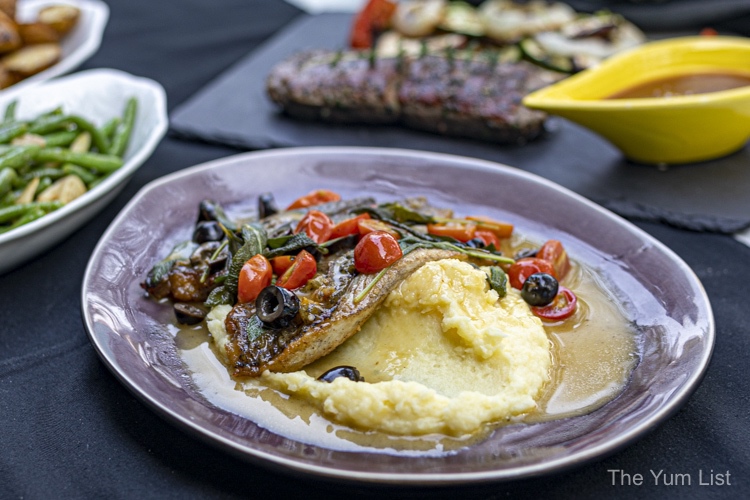 We followed this with Agnello Grigliato (RM 149), lamb sirloin with grilled vegetables. Our lamb was browned on all sides with a slight herb and pepper crust, still juicy and pink when sliced into it, and perfectly tender. Slices of grilled eggplant, zucchini, tomato, onion, and a small dish of lamb jus accompanied it.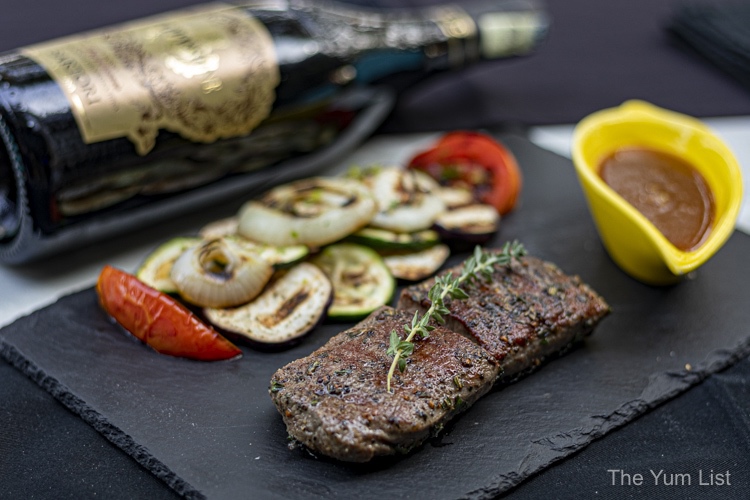 Alongside our main courses, we chose Fagiolini Saltati (RM12), gently sauteed French beans, and Patate Novelle (RM12), baked new potatoes drizzled with olive oil.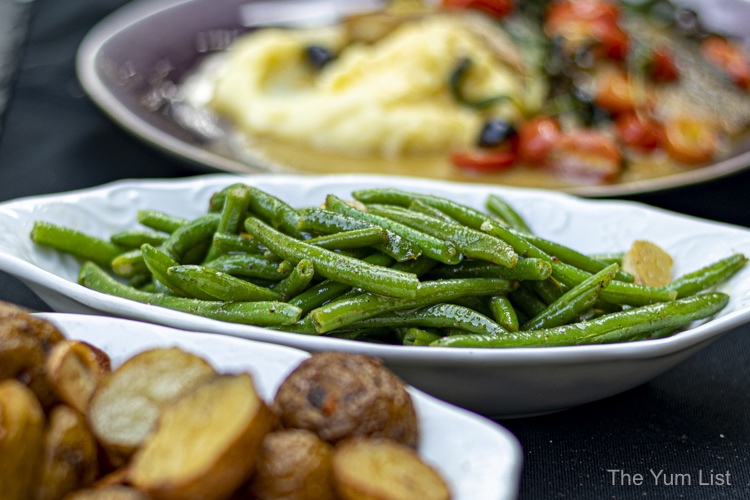 To accompany our lamb, we tried a glass of L'Appassione Oak Rosso Delle Venezie, also from the Sartori vineyards (glass RM 36 bottle Rm169). This was an excellent pairing with our lamb, full-bodied, round and pleasing in flavour with hints of berries and black plums.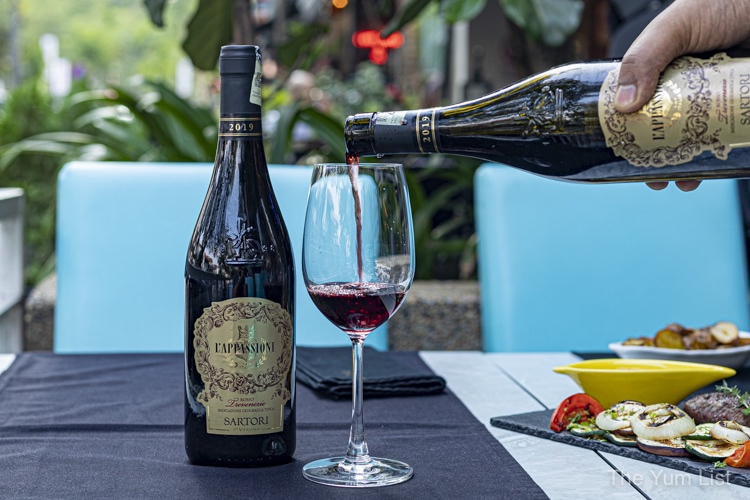 Dessert
By this stage, after so much excellent food, I had to admit we were struggling to find room for anything further. Still, we had to try at least one dessert, the Baba Al Rum (RM 39), a popular dessert in France and Italy. Tomas marinates vanilla sponge in rum. The resulting soft and moist texture certainly packs a punch, which Tomas softened with a scoop of vanilla gelato. They occasionally replace the rum with limoncello. We will have to return again to give our verdict on that variation or try their Tiramisu, which is also popular with their customers.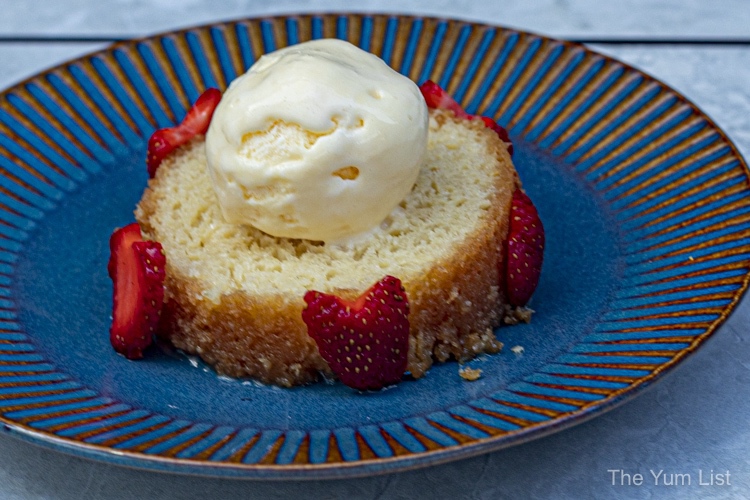 Pomod'Oro Review
We thoroughly enjoyed our first visit to Pomod'Oro. The staff were incredibly welcoming, enthusiastic and keen to share their knowledge and love of authentic Italian food and ingredients. Pizza and pasta dishes are the stars here and perfectly executed. We look forward to future 'Aperitivo' hours at the bar and the opening of two private dining rooms upstairs.
Reasons to visit Pomod'Oro: An Italian restaurant serving pork, a rare find in KL; tasty vegan and gluten-free options; Mon loved the Strozzapreti con Pesto Rossa Vegano; the signature Chitarra Pomod'Oro is hard to beat, in my opinion, possibly the best pasta dish I've enjoyed this year. I look forward to my next visit when I can have the whole plate myself!
Pomod'Oro Italian Restaurant
20-G Jalan Medan Setia 2
Bukit Damansara
50490 Kuala Lumpur, Malaysia
+6017 316 2903
pomodoro.com.my
Pomod'Oro Opening Hours
Monday -Sunday 11.30 am – 12.am
Find more Italian restaurants in KL here and stay up-to-date on the latest happenings in KL's food and beverage scene here and here.