Nadodi Four Seasons Hotel Kuala Lumpur – Contemporary Fine Dining
Words: Stephen Reid
Photos: Monica Tindall
I'm confident that many readers of The Yum List may already be familiar with Nadodi and its 'Engaging Nomadic Cuisine'. Nadodi, which means 'nomad' or 'wanderer', opened its doors in 2017, founded by Abbi Kanthasamy, the CEO of the Cinnamon Group and founding Chef Johnson Ebenezer. Even with changes in the kitchen, each time we've visited, it managed to surprise and delight in the 'Journey.' The degustation explores its roots in the cuisine of southern India, from Tamil Nadu, Kerala and Sri Lanka; after all, no matter the distance, there are always different paths to take on any trip back home.
On this occasion, there were to be 11 steps, or courses, in our degustation menu. Still, perhaps the restaurant itself had taken the most significant step, moving from its previous unassuming home at the corner of Jalan Yap Kwan Seng into its new residency in the sophisticated and upscale Four Seasons Hotel Kuala Lumpur.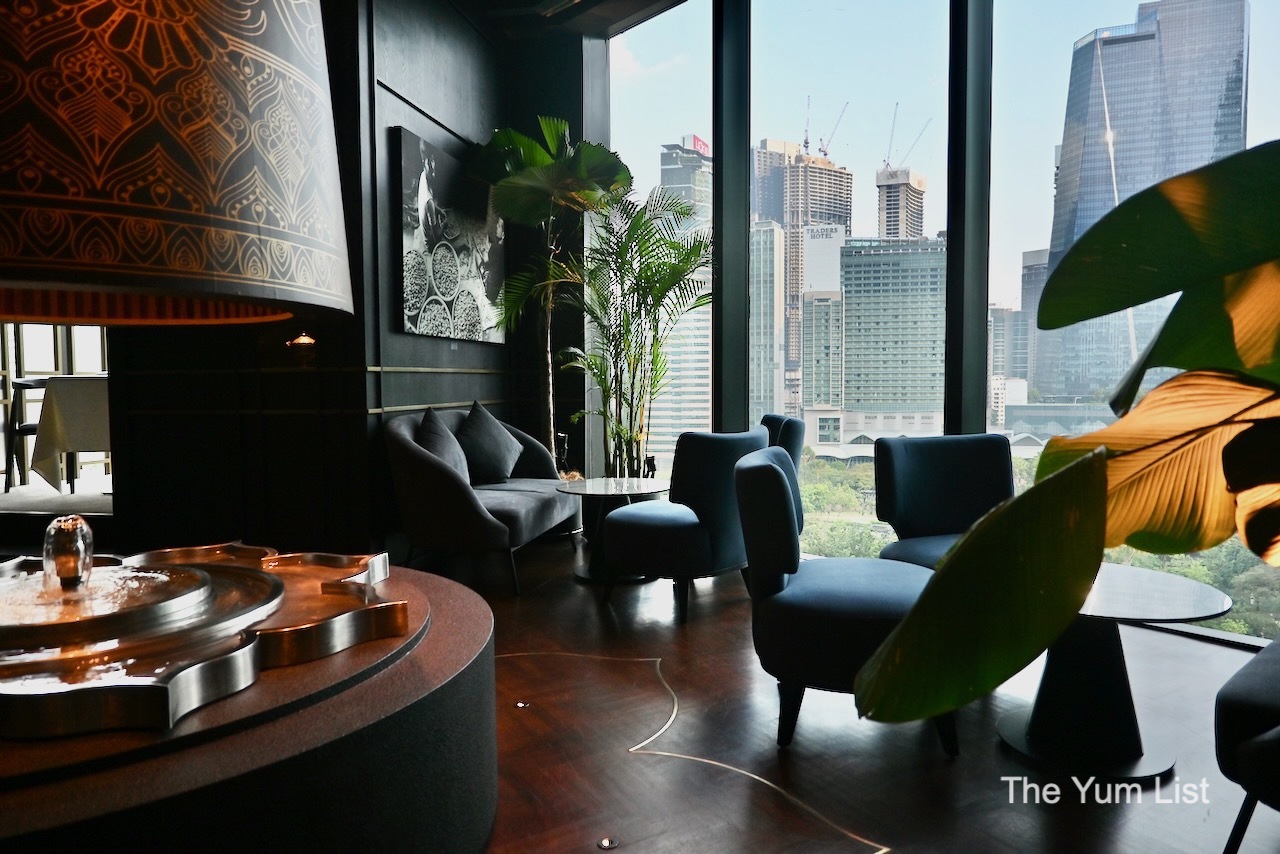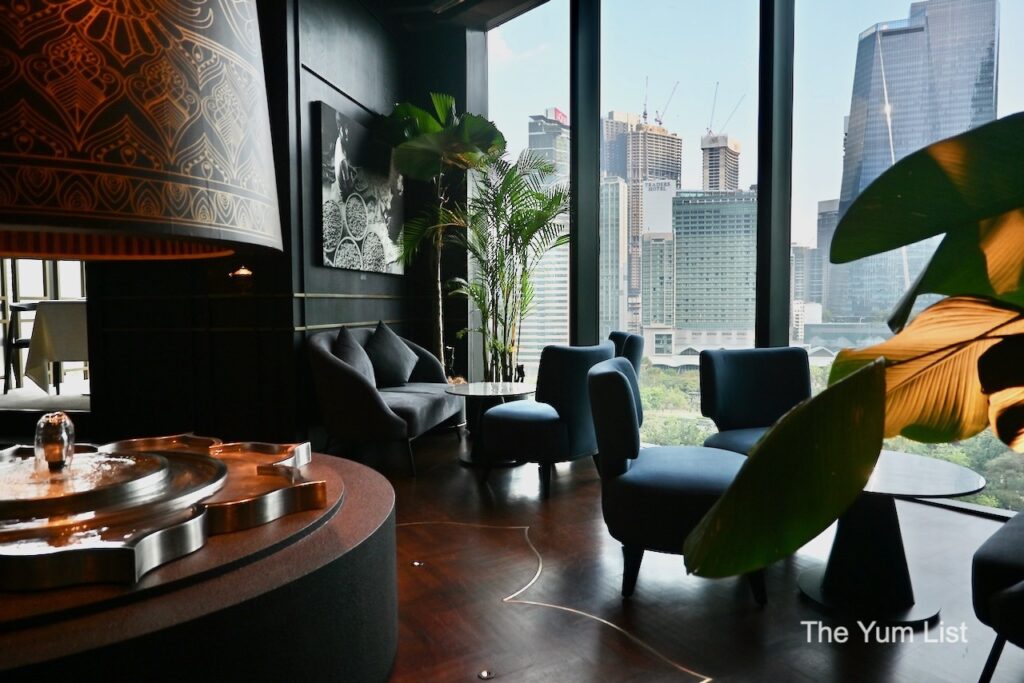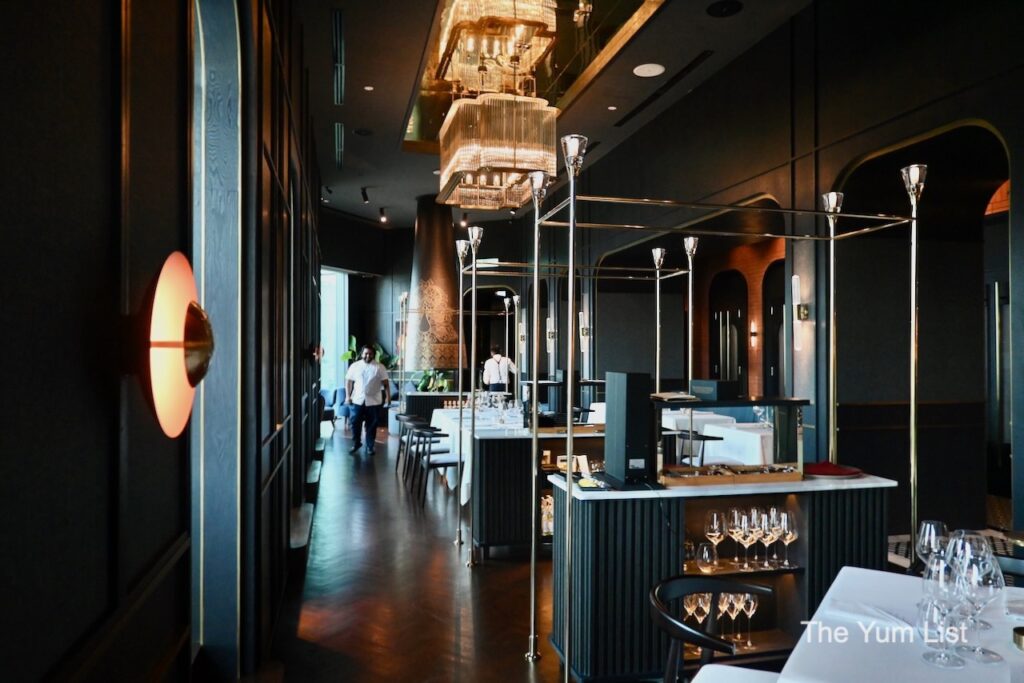 Nadodi Four Seasons Hotel Kuala Lumpur
We enter the restaurant from the sleek, brightly lit elevator lobby, cream-coloured marble giving way to a dramatic black and gold fresco featuring elephants parading above a row of palm trees. A brick arch invites our eyes to travel further into an interior where Indian artworks are displayed in illuminated niches, charcoal-coloured wooden panelling with gold trim and accents adding to an almost theatrical effect, beckoning us further inside. Off this entrance is an absolutely stunning new bar, Vér, which deserves a review of its own at a later date, with bottles of amber-coloured liqueurs arranged in tiers, their contents glinting under spotlights against a magnificent black and gold sunburst effect mirror.
We are welcomed into the main dining room beneath beautiful modern chandeliers across intricate parquet flooring, which, like the wall panelling, has been delicately inlaid with brass accents. Tables are covered in crisp, elegant white linen and surrounded by classic mid-century-style wooden chairs, Reidel glasses twinkling in the light from the setting sun. One of the most striking features of the new location is the clever use of lighting. The restaurant is lit both by soft, diffused lighting and more focused spotlights, creating a sense of intimacy and drama. I particularly liked the golden lights on the tables, which, after the sun sets, allow diners to read the menu with ease; no need to scrabble around to light the menu with your phone here! We were led to what Monica considers the best table in the house, one of the semi-private dining areas, in alcoves set along the dining room's windows. On one side, there are magnificent views over KLCC park, the city skyline beyond and the open kitchen area on the other.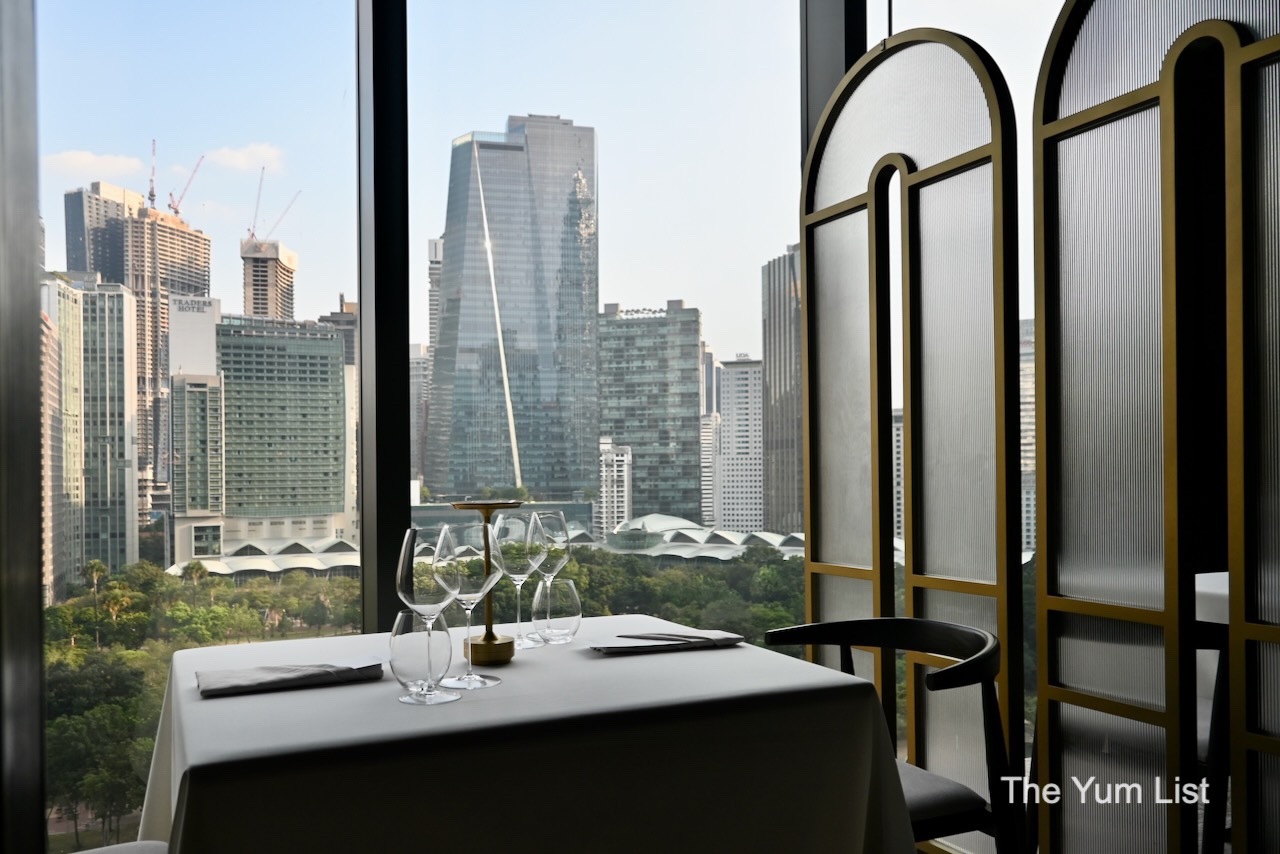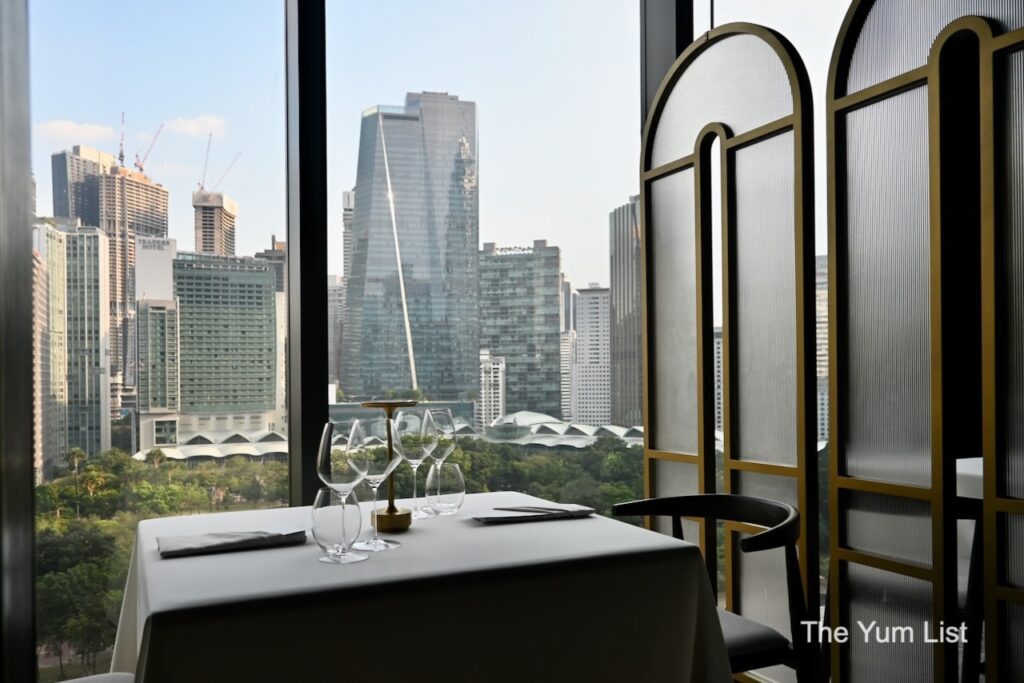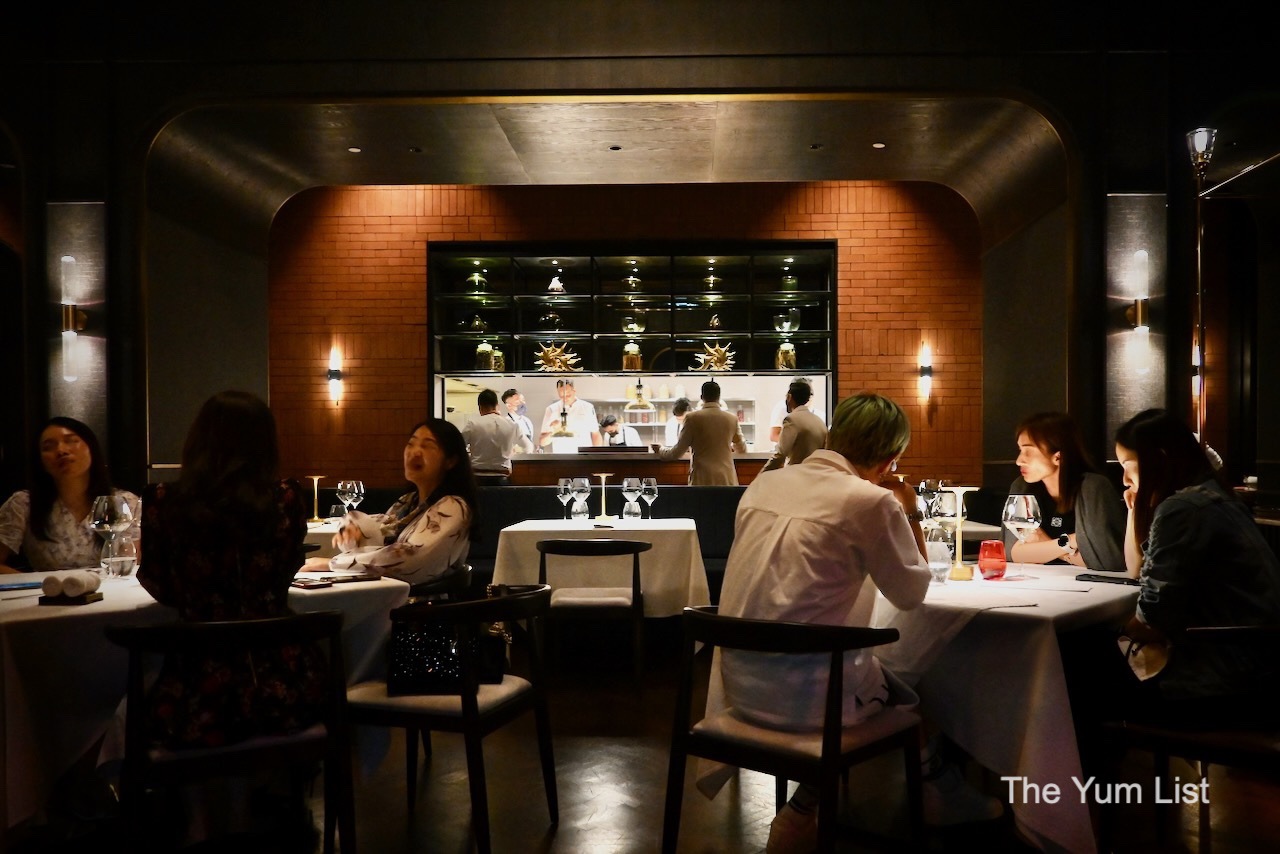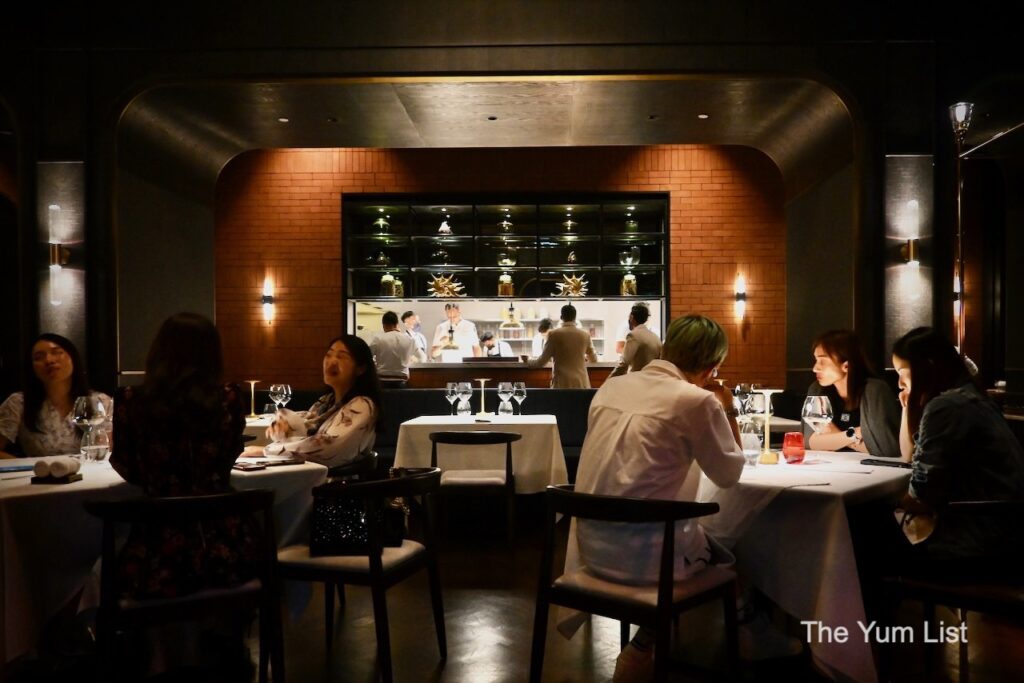 Here, we are afforded views of Nadodi's culinary team, working with incredible care and precision to create beautiful dishes that were set before us. This was a little like seeing the 'Wizard of Oz' behind the curtain. Here, unlike in the movie, however, there is no disappointment, as we see that executive Chef Eliyaz is already hard at work, toiling beside Chef Yahvin and the rest of the staff, working with spoons as well as tweezers to prepare dishes that are as ravishing to our eyes as exciting to our taste buds.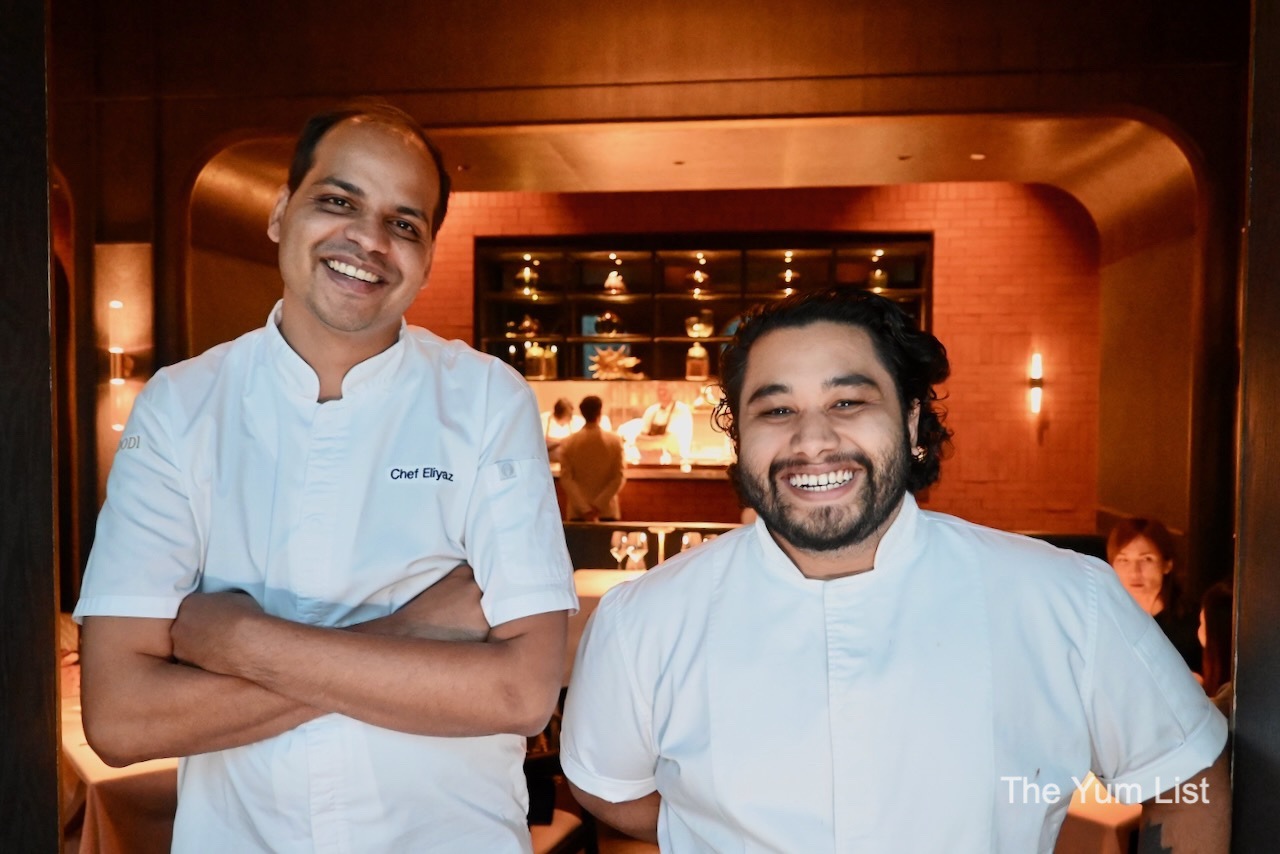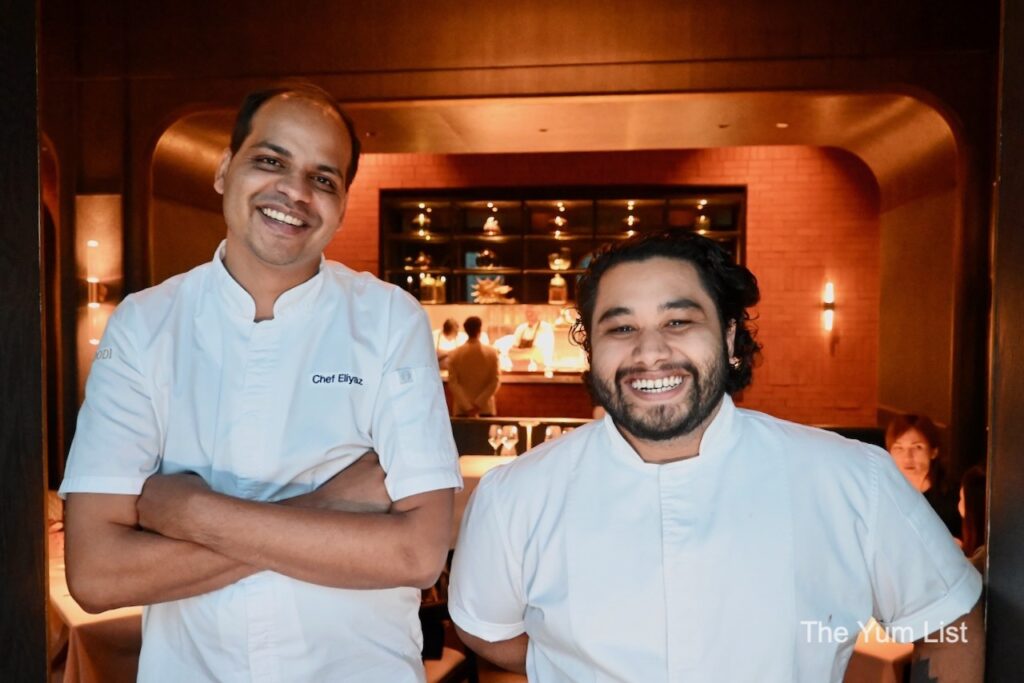 Chef Eliyaz, who originally hails from India, took up what was to become his craft at only 11 years of age, at the side of his mother before embarking on what was to become a career that has spanned over 14 years, taking in leading European, Nordic, Mediterranean and of course Indian restaurants. As well as having a B.S.c in Hospitality and Catering Management, Eliaz has worked with and learned from chefs leading Michelin-starred restaurants from around the world, including Francesco Apreda, Davide Rebeccatto, Felice la Basso, Vincenzo di Touro and Dominic Chapman. In 2019, he was awarded BBC Good Food's 'Best Innovative Chef of the Year'. Joining Nadodi a little over eight months ago as Executive Chef, Eliyaz told us that he is enjoying developing menus showcasing South India's food to Malaysian diners.
Chef Yavin is a second-generation Malaysian who retains strong Sri Lankan and Malayali family roots, which he says is reflected in his interpretation of the vibrancy and diversity of the flavours of those regions. He told us that he seeks novel ways to bring dishes he remembers from his childhood to a modern audience as a homage to his heritage.
Drinks Menu
I was delighted to be greeted at our table by the broad smile of Antu, who has been the sommelier at Nadodi for many years. Always a cheerful and welcoming face, he took us through the available drink pairings for our meal. A Classic wine pairing (RM 310) currently features wines from the new world, emphasising wines from New Zealand, including from the Central Otago and Marlborough regions. However, this is subject to change as Antu constantly seeks to source the best wines available.
A French Wine Trail pairing is also available (RM 420). Currently starting with a glass of Bollinger champagne, followed by a Chablis Premier Cru, Whispering Angel Rosé and then either a Torcolato dessert wine or an Armenac, aged for 15 years. Again, this may be subject to change.
Monica and I had decided to try the cocktail degustation (RM 230) pairing with our Nadodi 11 Steps Back Home Degustation Menu (RM 730). We started off with the Seb, which is served in a coupe glass. Pale yellow in colour with a layer of white foam, it contained green apple distillate, made in-house, together with the juice of calamansi, or 'Philippine limes combined with citrus stock. This cocktail was a refreshing and citrusy drink that prepared our palates for the meal to come.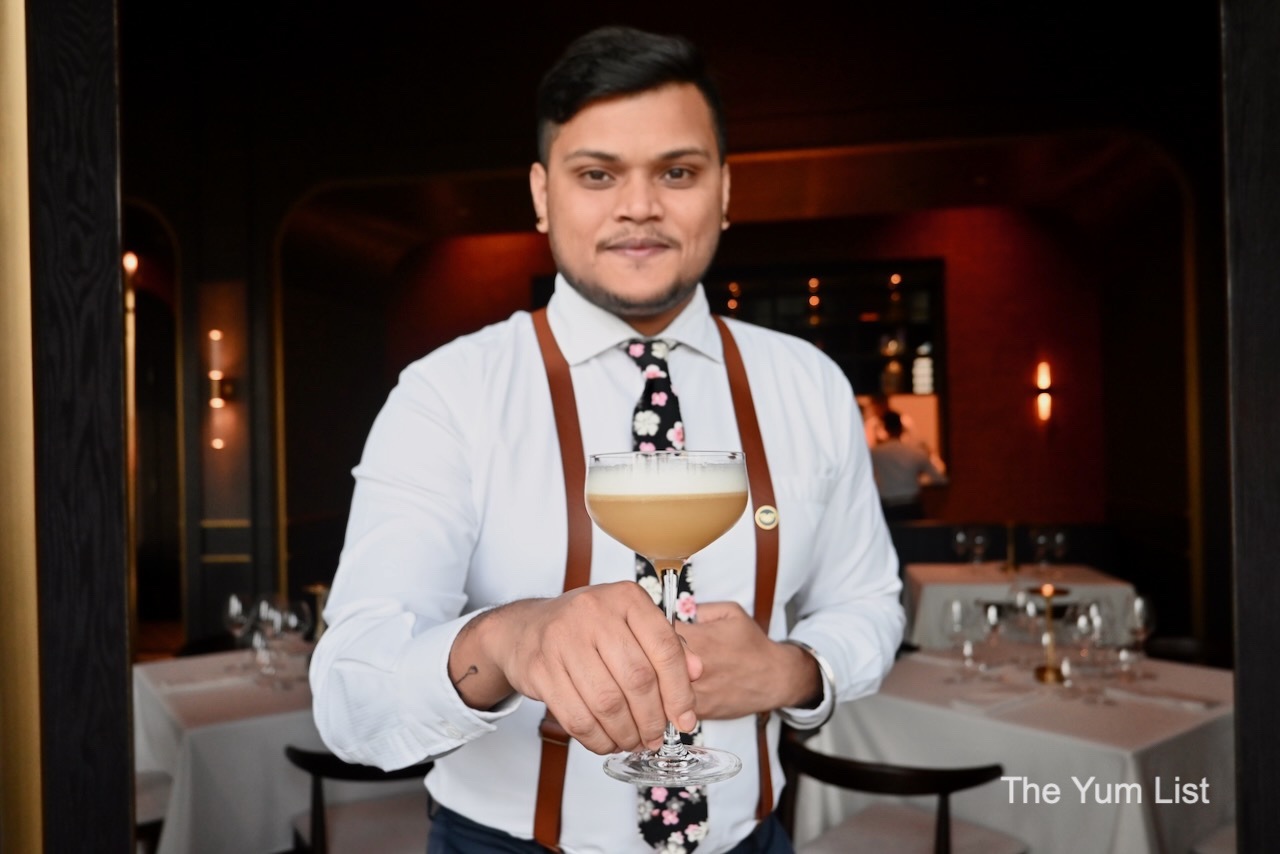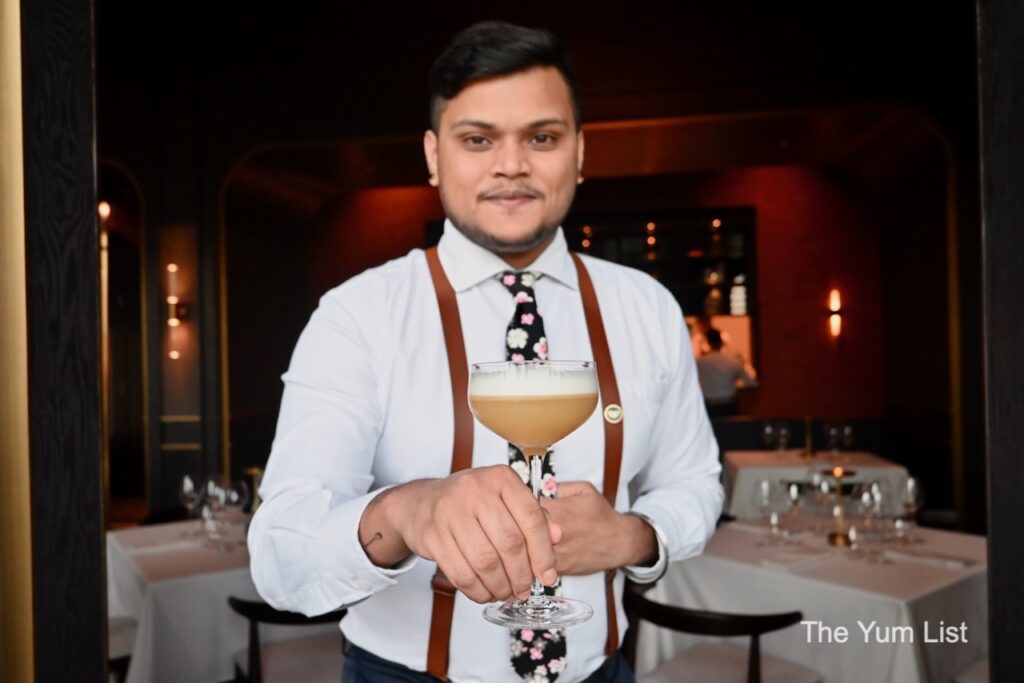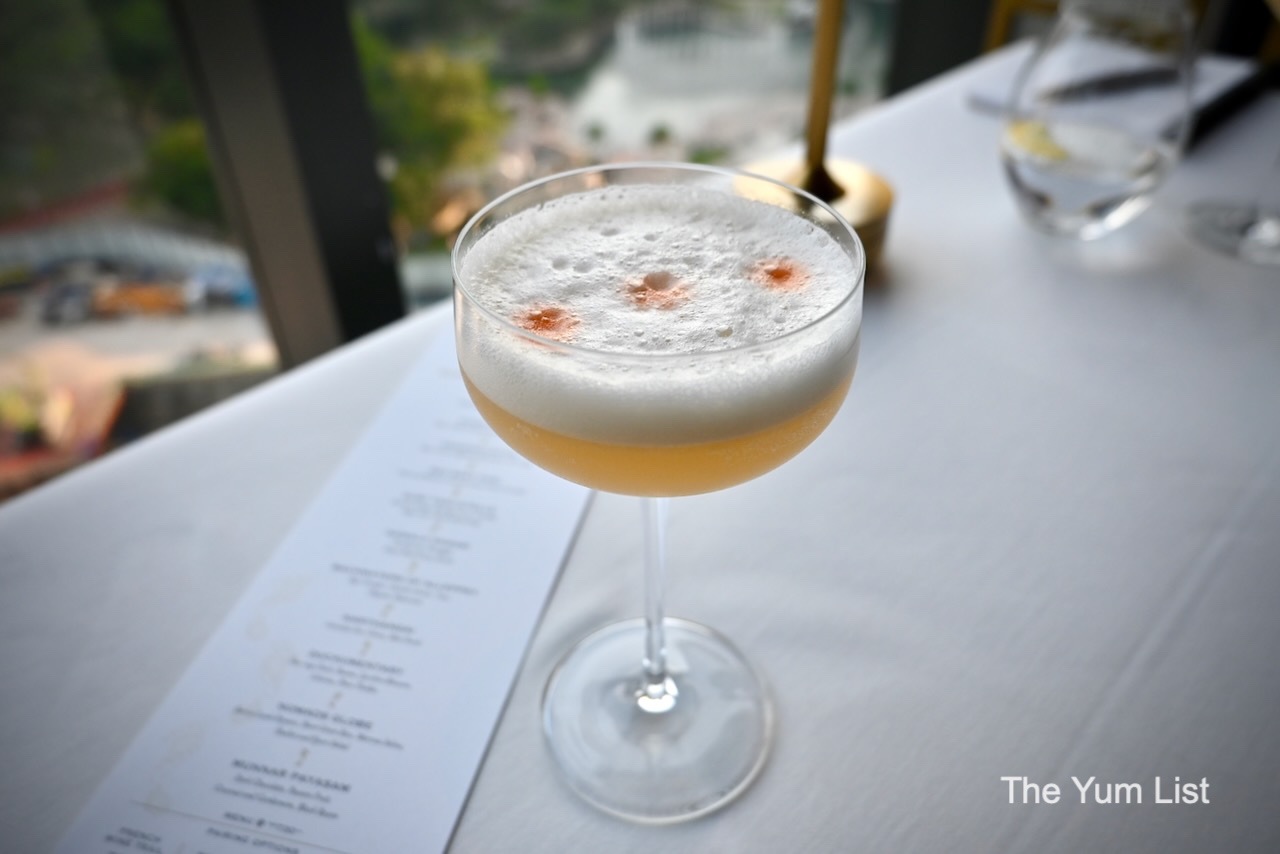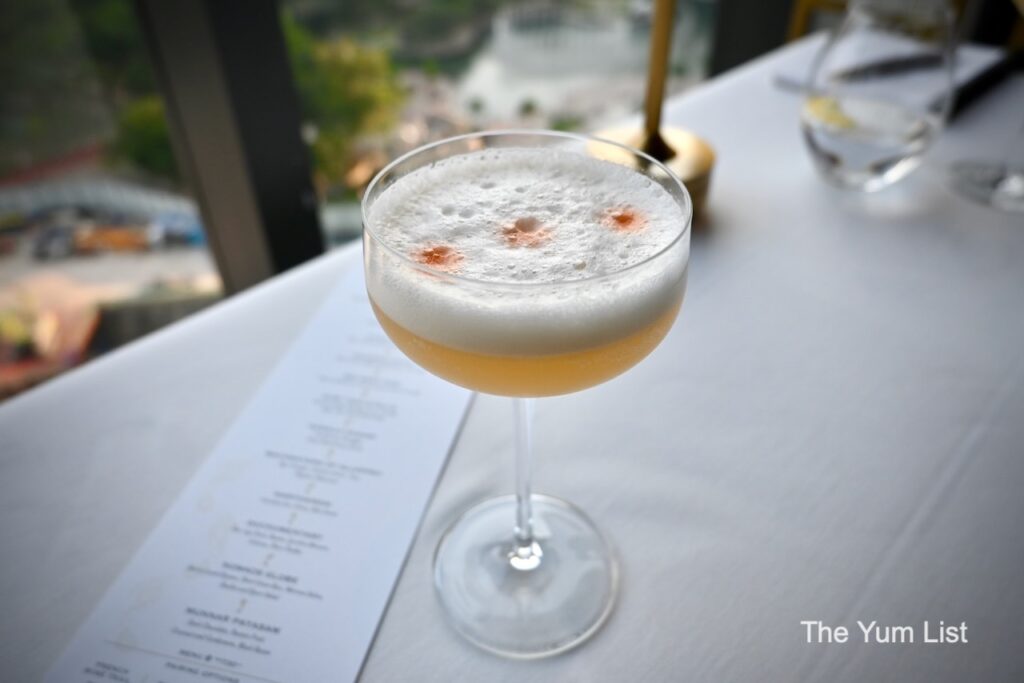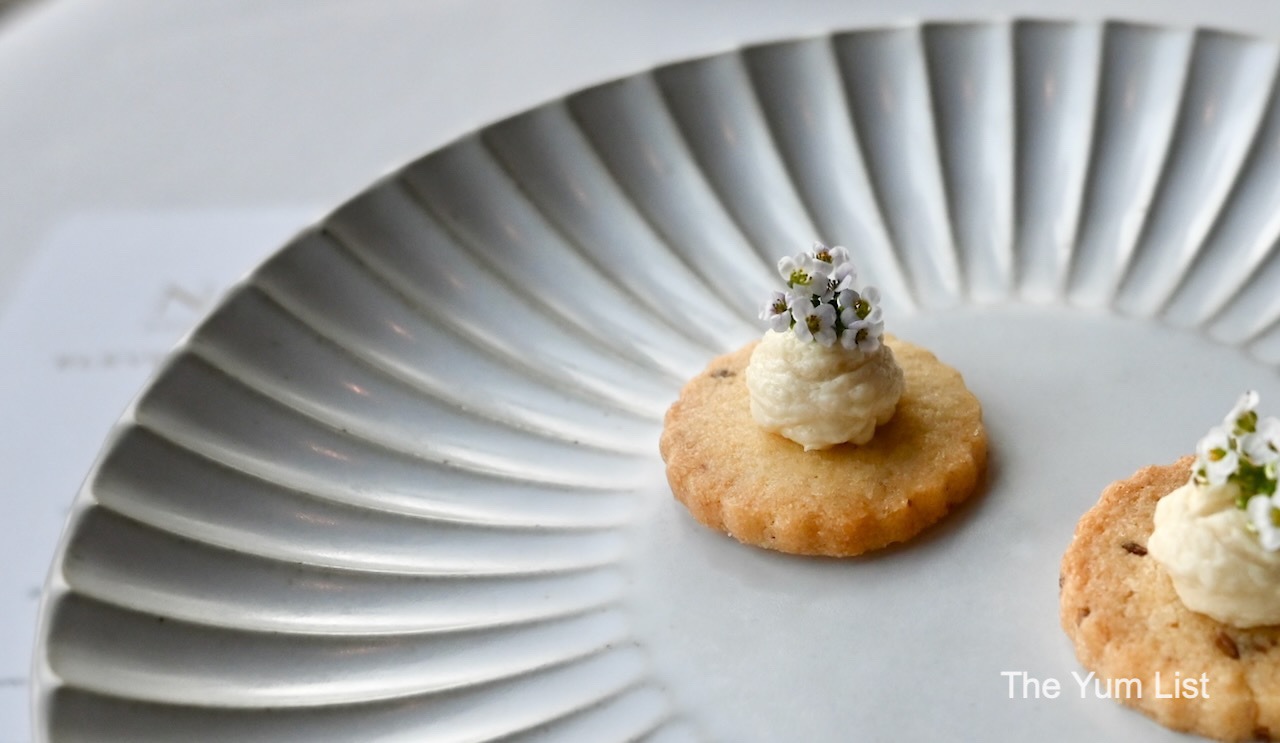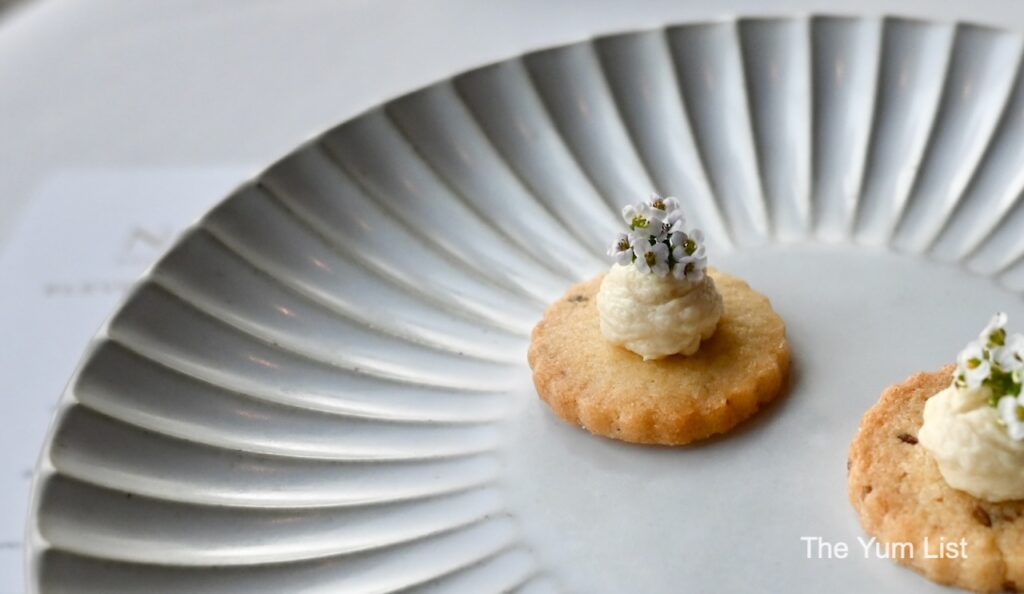 Nadodi 11 Steps Back Home Degustation Menu
The Prelude, Pallipalayam Achu, Kiribath, Rava Prawn
To whet our appetites and presented on a twisting carved wooden branch are a trio of tasty morsels based on Indian street food snacks. The first of these three bites is in the style of a tiny ice cream cone made from rice batter, filled with layers commencing with raw onion sambal. This was followed by a layer of steamed coconut rice cooked with coconut milk, a popular dish in Sri Lanka, finished with a layer of caramelised onion sambal and topped with shredded dried coconut and fried curry leaf. I could not help but think of all the time and care that went into constructing each element in this little cone, yet consumed in seconds, creating a tiny taste explosion, leaving only a little residual heat from the chilli to remind us that it was there.
Our second bite, Pallipalayam Achu, was a variation on achu murukku, or rose cookies, which are usually eaten on Deepavali and other special occasions. They can be sweet or savoury; today, ours were made of activated charcoal and contained Pallipalayam. This is usually made from chicken and is a famous dish from a quaint little town of the same name on the banks of the river Cauvery in Tamil Nadu, India. Instead of the usual chicken, portobello mushrooms had been used, topped with porcini dust and truffle cream. This time, the cookie took several bites, and I detected a slight taste of aniseed along with the truffle and a slight lingering tingle of chilli.
The third bite in this prelude was the Rava Prawn, inspired by a dish from Kerala, where seafood, vegetables and meat are usually deep fried in rava, which is semolina. Here, king prawn has been chopped and coated in semolina before being fried to create a wonderfully crisp shell decorated with blood orange gel and beluga caviar from the Caspian Sea. Biting through the crisp semolina, the prawn remained wonderfully succulent with little pops of salinity from the caviar and acidity from the blood-orange spheres.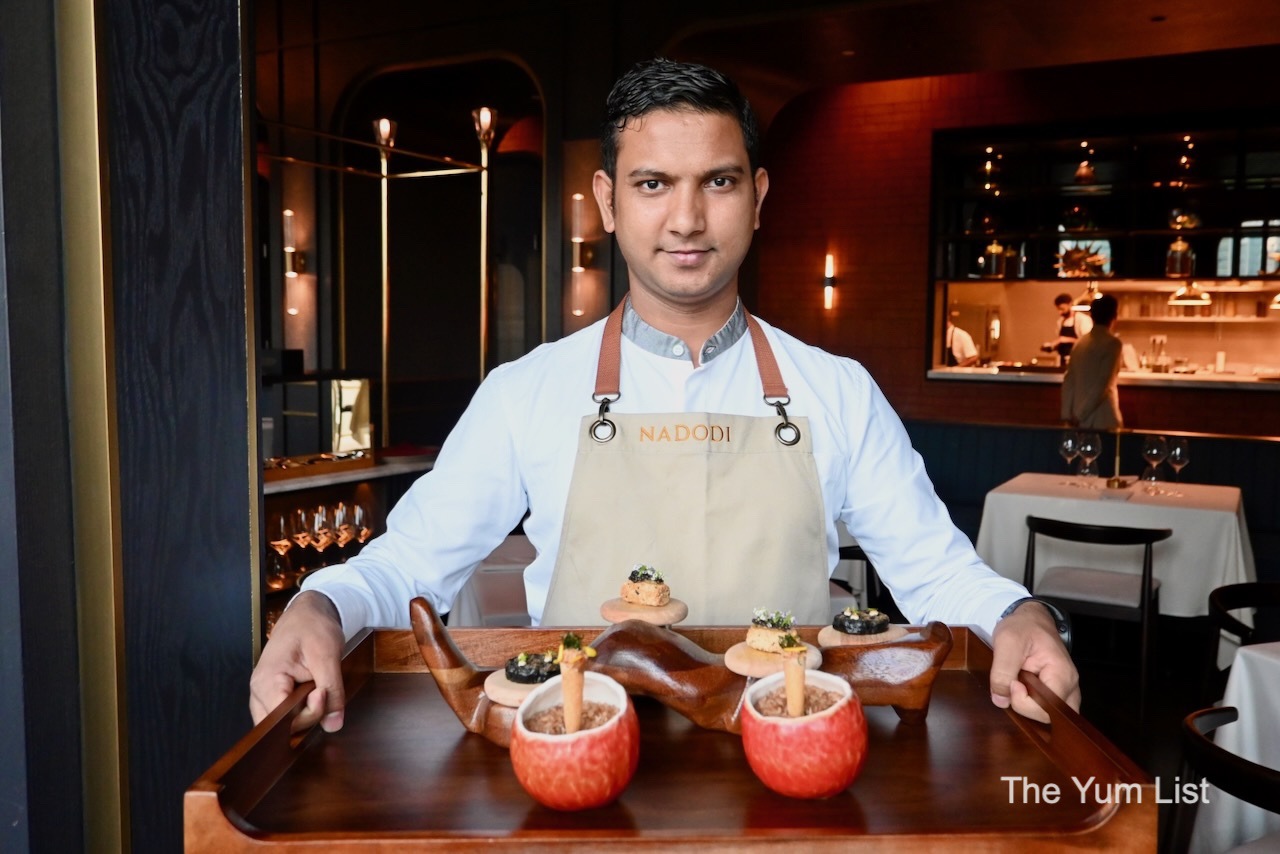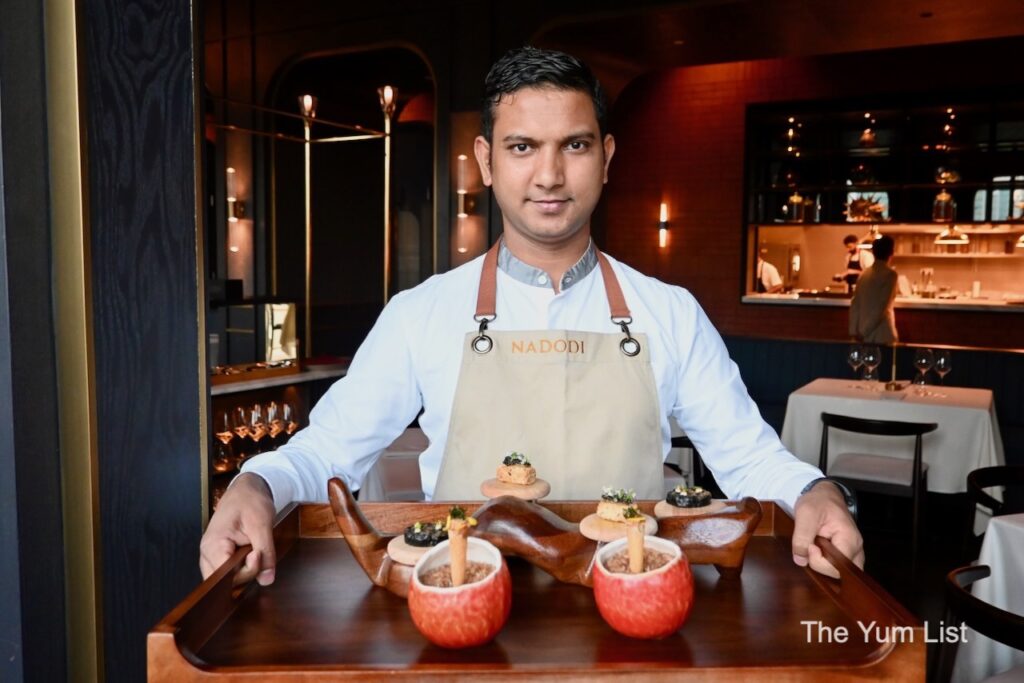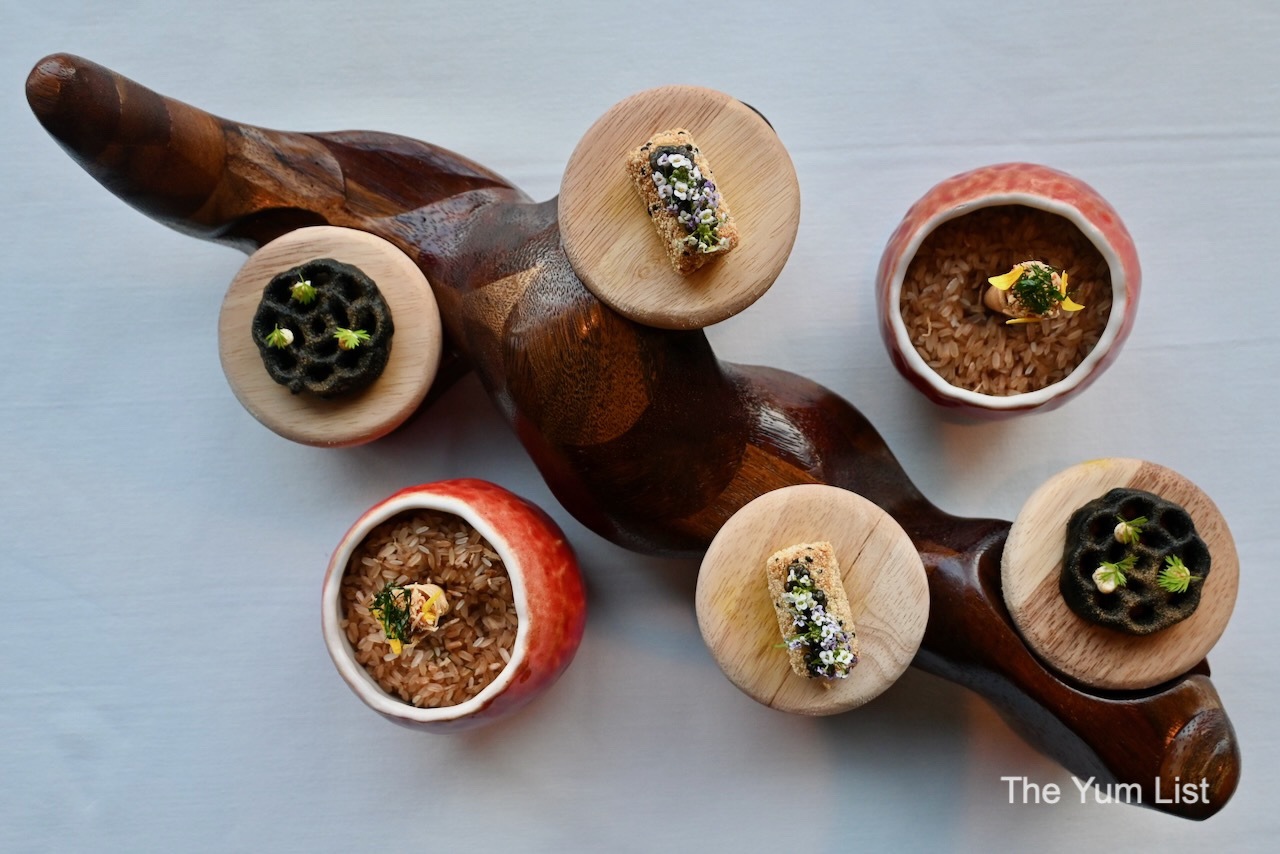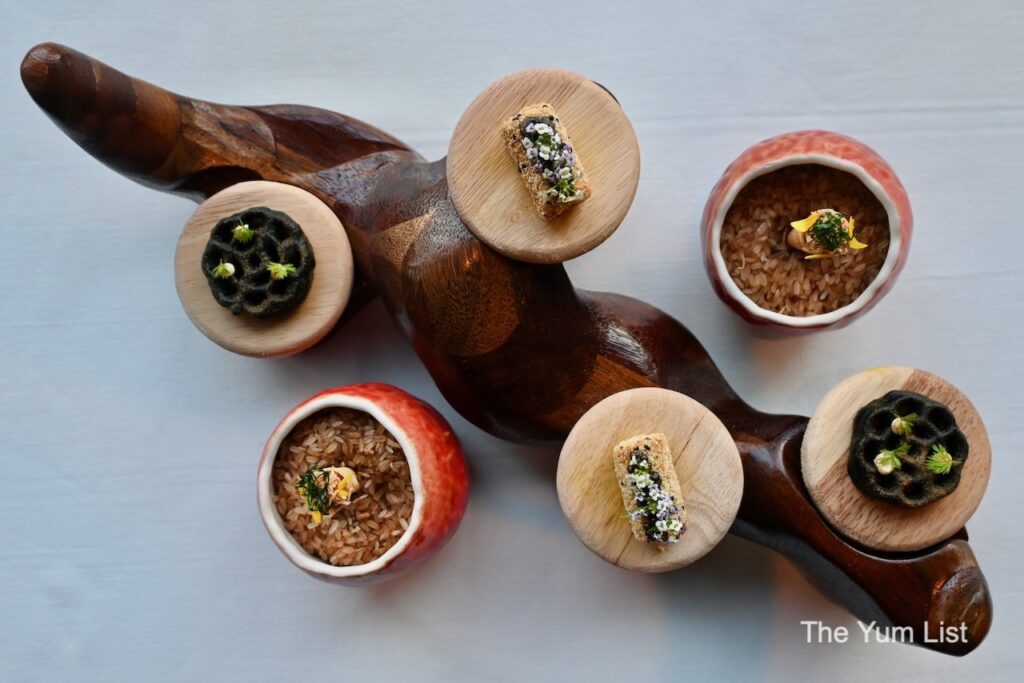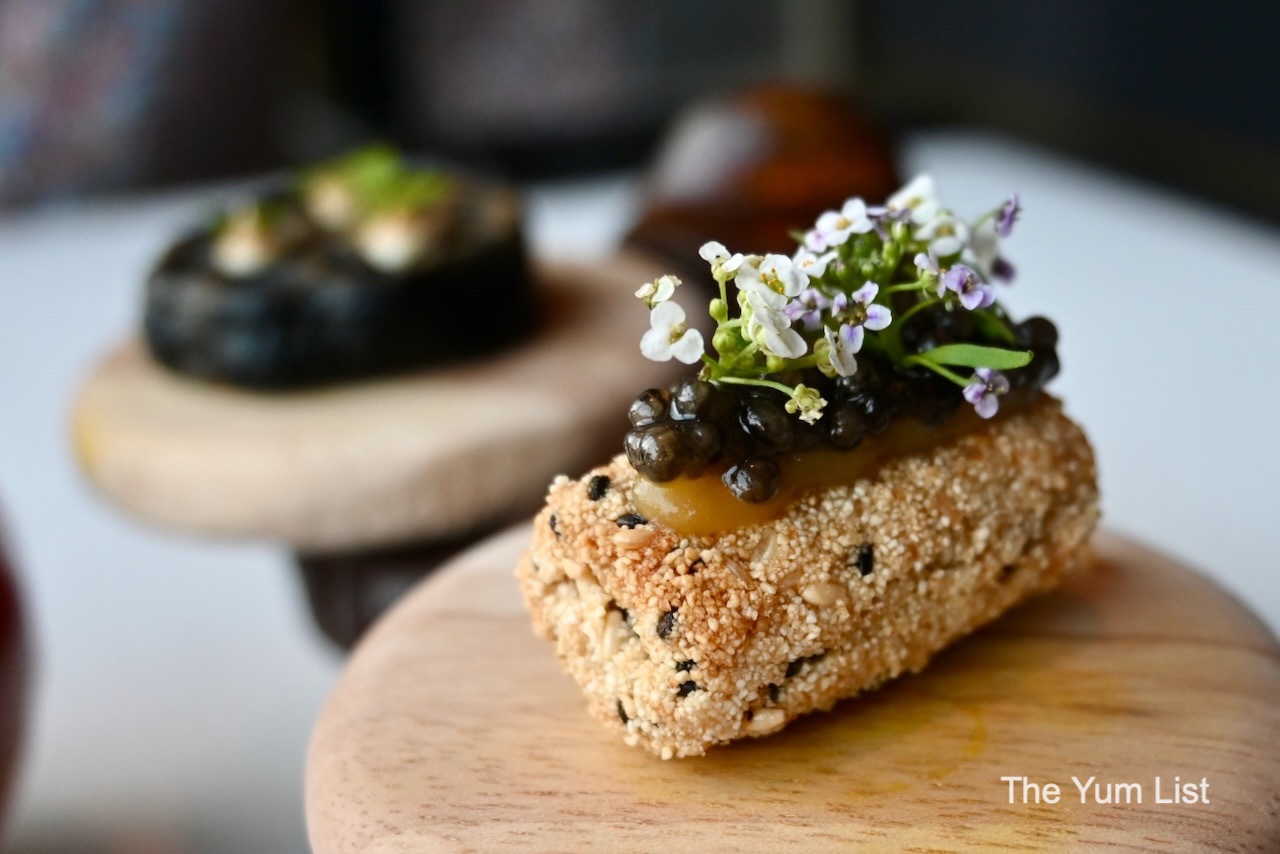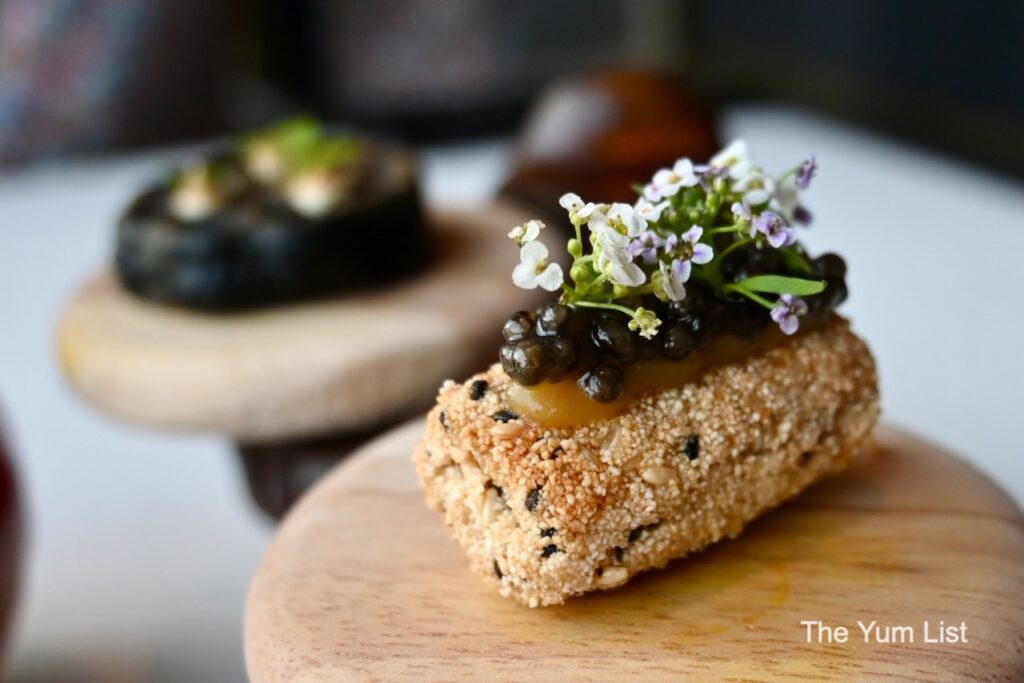 Street Staple, Vadai, Nethili Sambol, Sambar, Coconut Chutney
The next stop on our culinary journey was a modern version of a vadai, a savoury fried snack from India. These can be either cutlets, doughnuts or dumplings, usually served in a lentil stew or 'sambar' with chutney. Usually a more rustic meal, the Nadodi team has produced a very elegant-looking dish here. The sambar has been thickened and piped between semi-circles of crisp wafer, together with coconut and whitebait chutney, topped with peanut chutney, micro flowers, shamrock leaves and tiny crispy prawns that look like they are riding through the surf. Again, this is a dish that looks almost too good to eat.
Our next cocktail pairing was Munakkaya, gin flavoured with the drumstick or munakkaya tree fruit. Traditionally renowned for its benefits for the heart and immune system, the distillate is combined with fenugreek, curry leaf and Indian tonic. Although the drink, served in a high ball tumbler, has a surprisingly strong curry fragrance, the flavour is much more delicate and brings out the spices in the following dishes.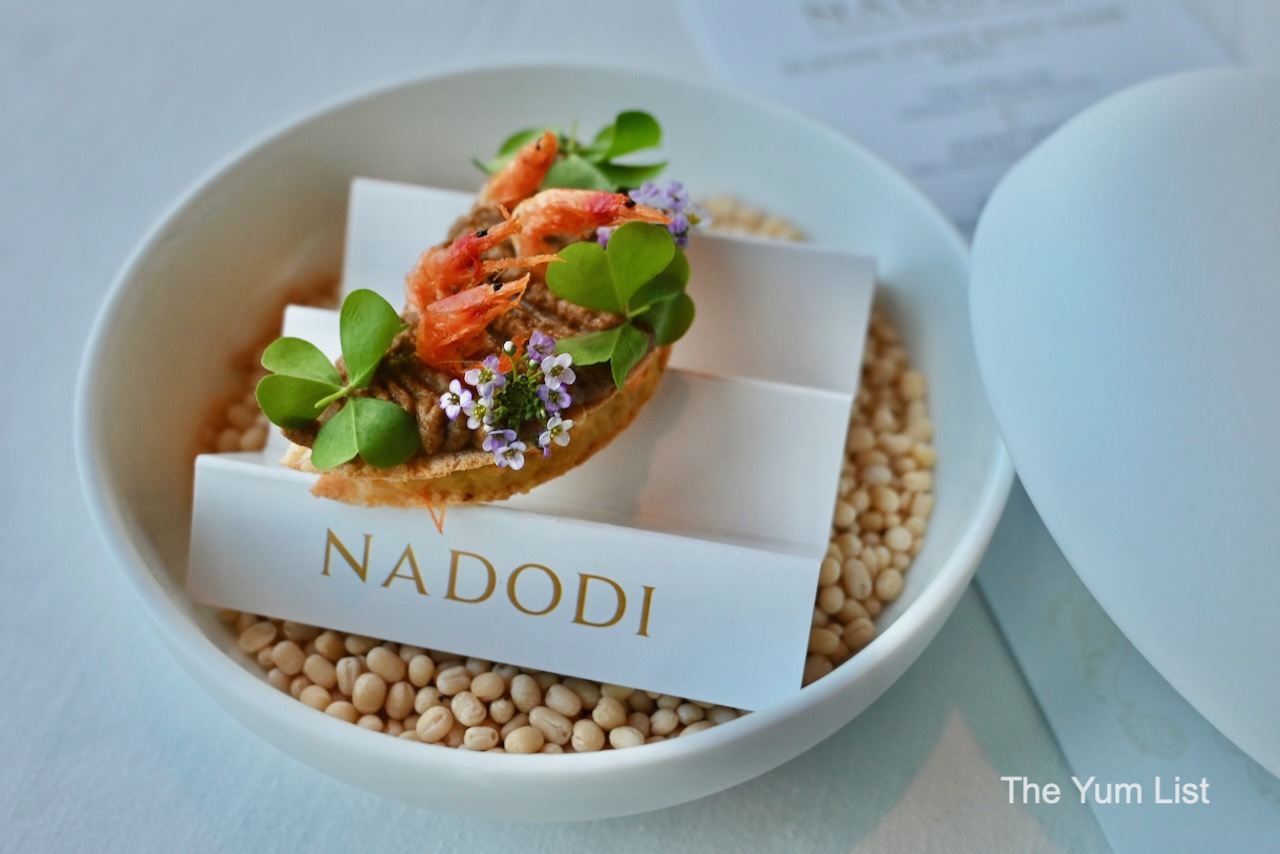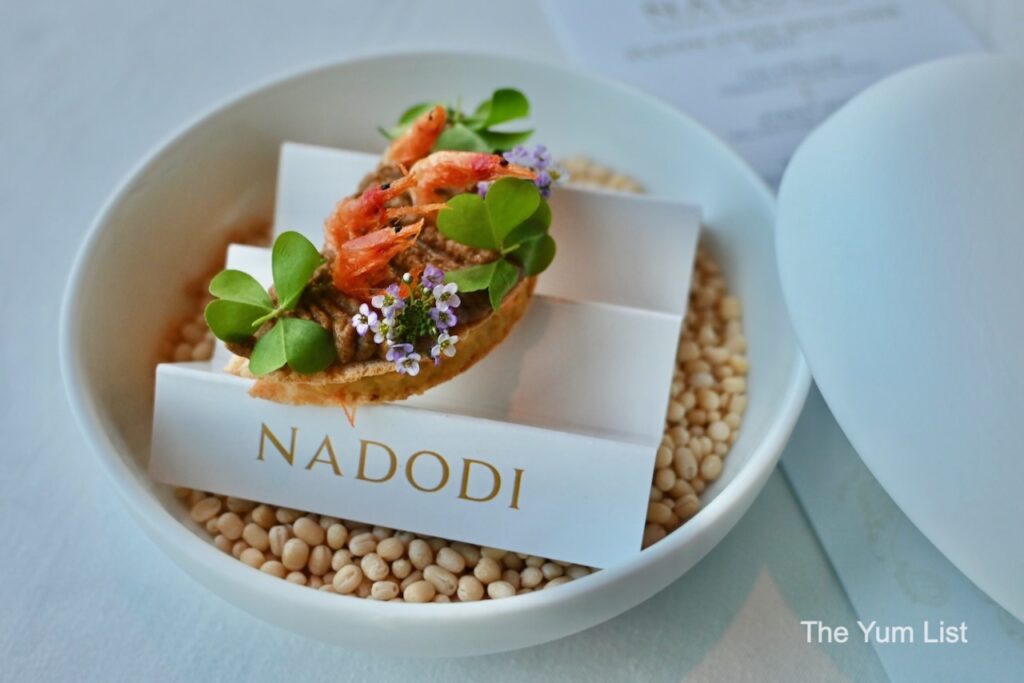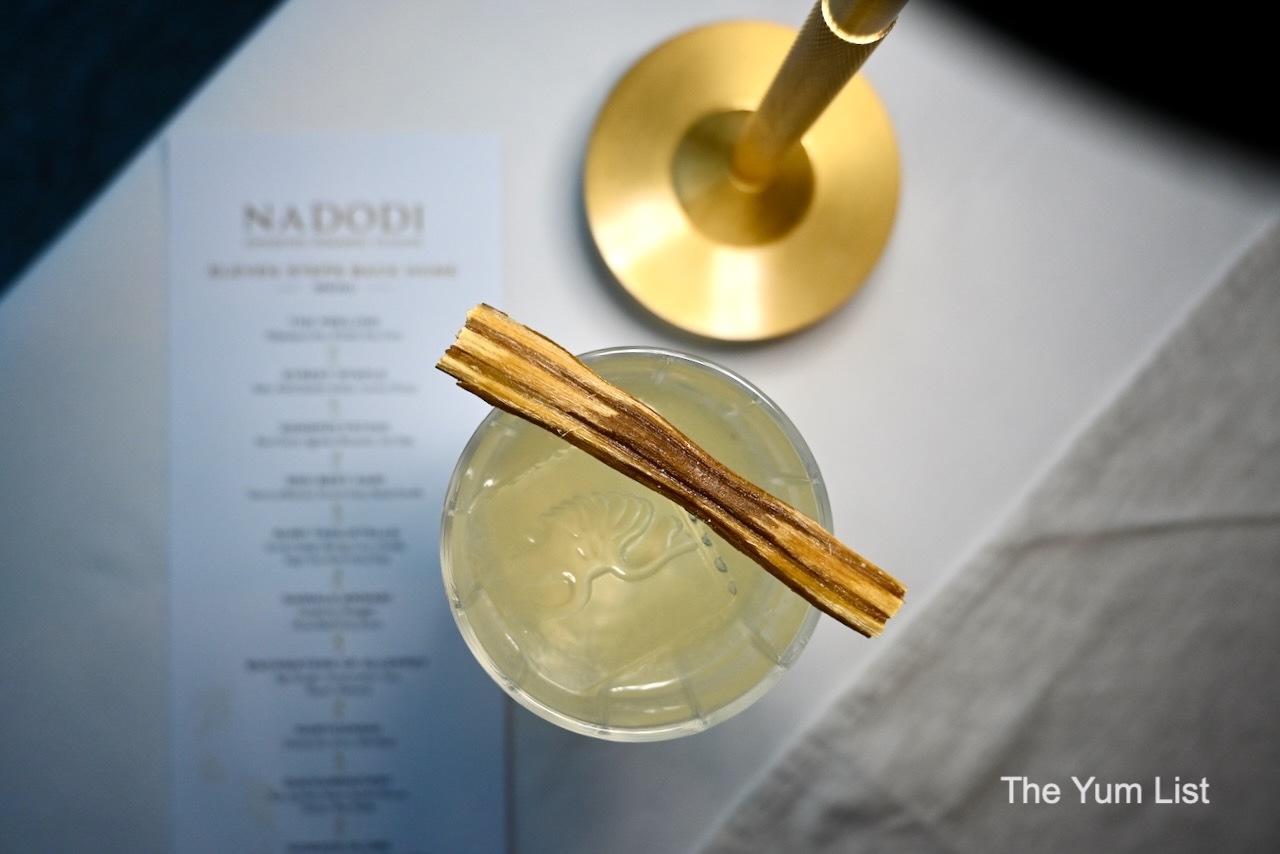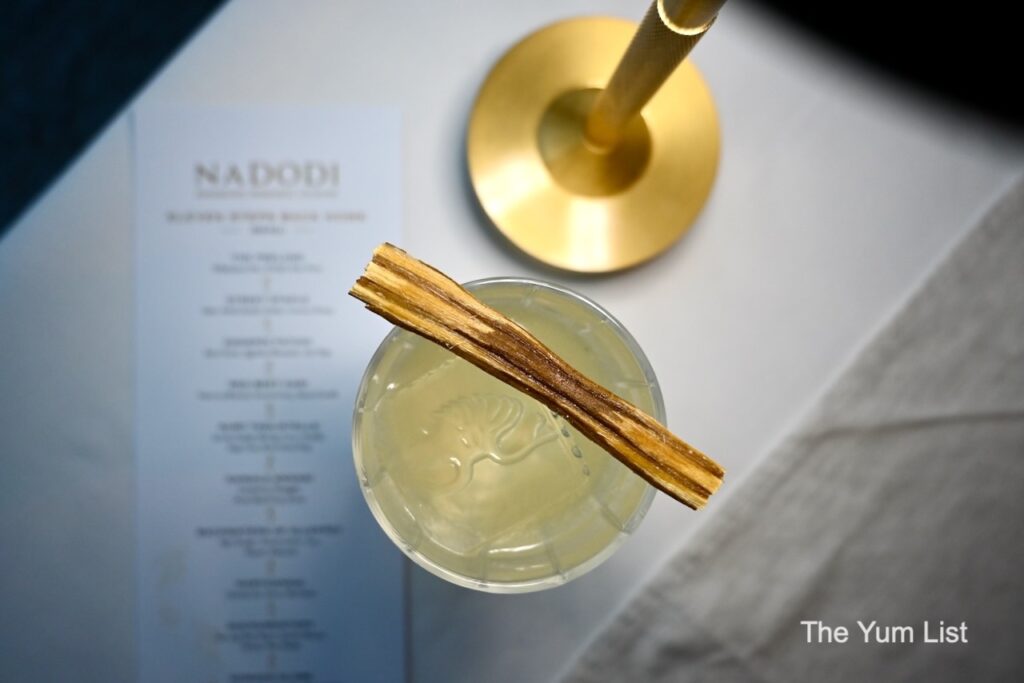 Eggspectation, Baerii Caviar, Egg Roast Mousseline, Yam Chips
This playfully named dish is based on a Kerralan boiled egg roast, usually made with tomato and onion masala sauce. Here, the mutta roast has been transformed into a silky smooth, rich mousseline, topped with crisp strands of fried spring onion and an opulent crown of Siberian Baerii caviar, their salty pearls seasoning the richness and spice of the mousseline, which is scooped up with the crisp little fried yam discs. Monica loved this dish and stated that it could only be improved by more yam chips or perhaps having a tiny piece of naan bread to wipe the plate clean, as it was a tragedy to let even a scrap of the sauce go to waste.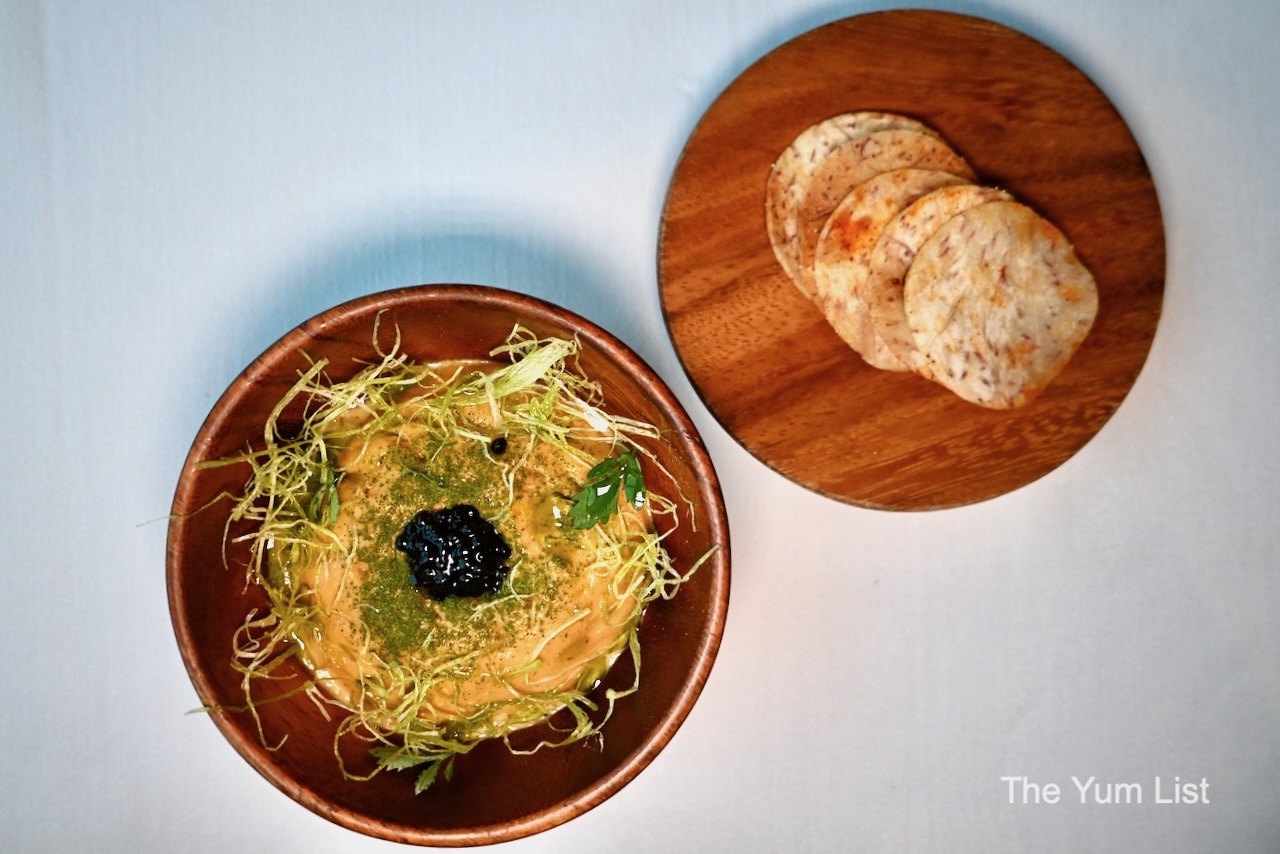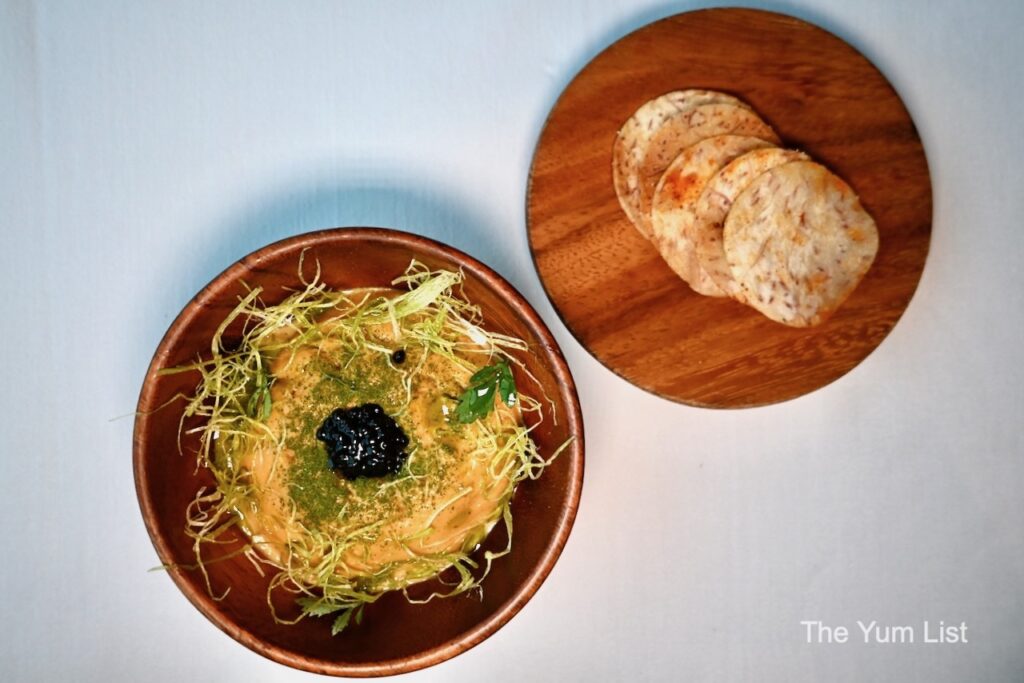 Red Beet Kari, Textures of Beetroot, Coconut Curry, Peanut Crumble
We were excited by the vibrant colours on the plate before us in the next course. We were told that it was inspired by the Sri Lankan dish of red curry, which here was transformed into different textures of beetroot. Coconut curry had been turned into a cremeux with peanut crumble, pickled beetroot, shards of beetroot and beetroot dust. It served as a delicious and palate-cleansing intermission before the next stop on our itinerary.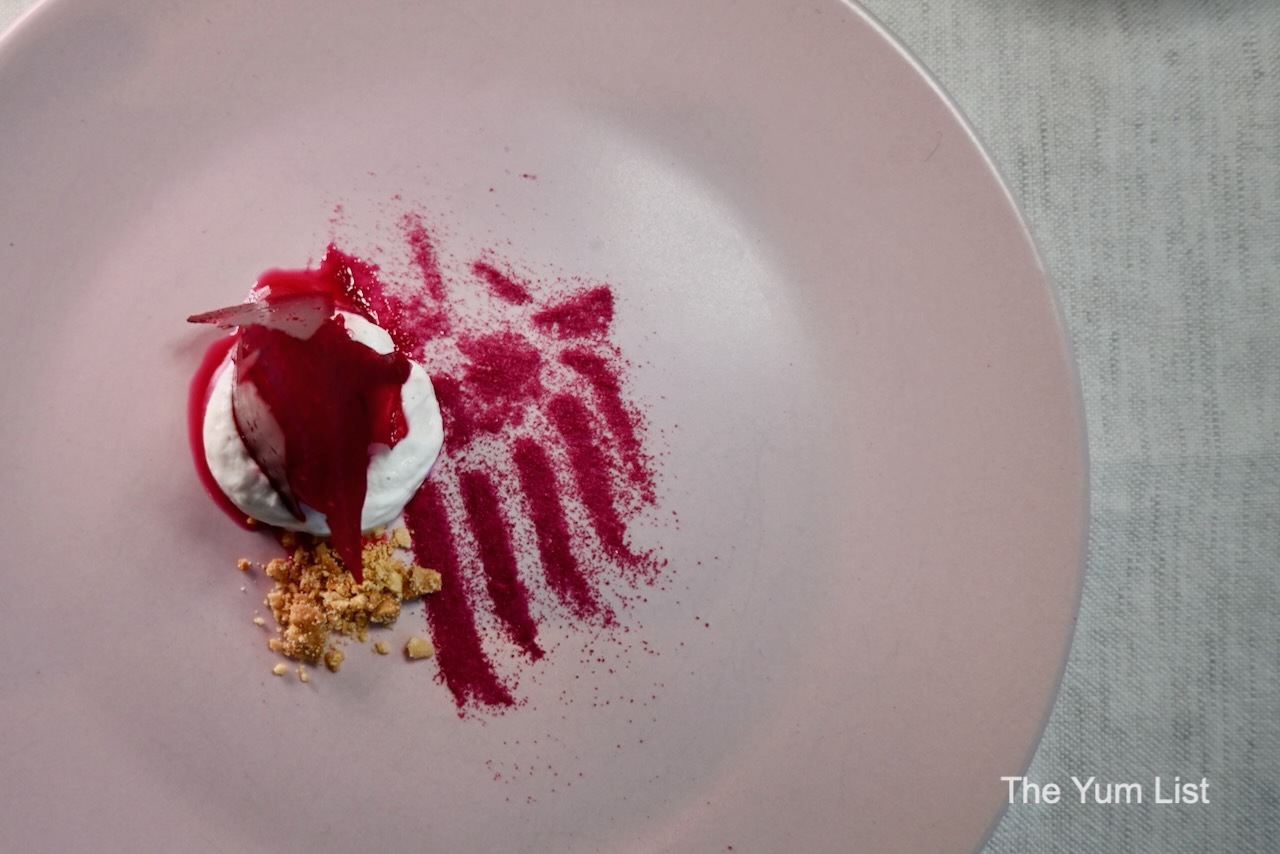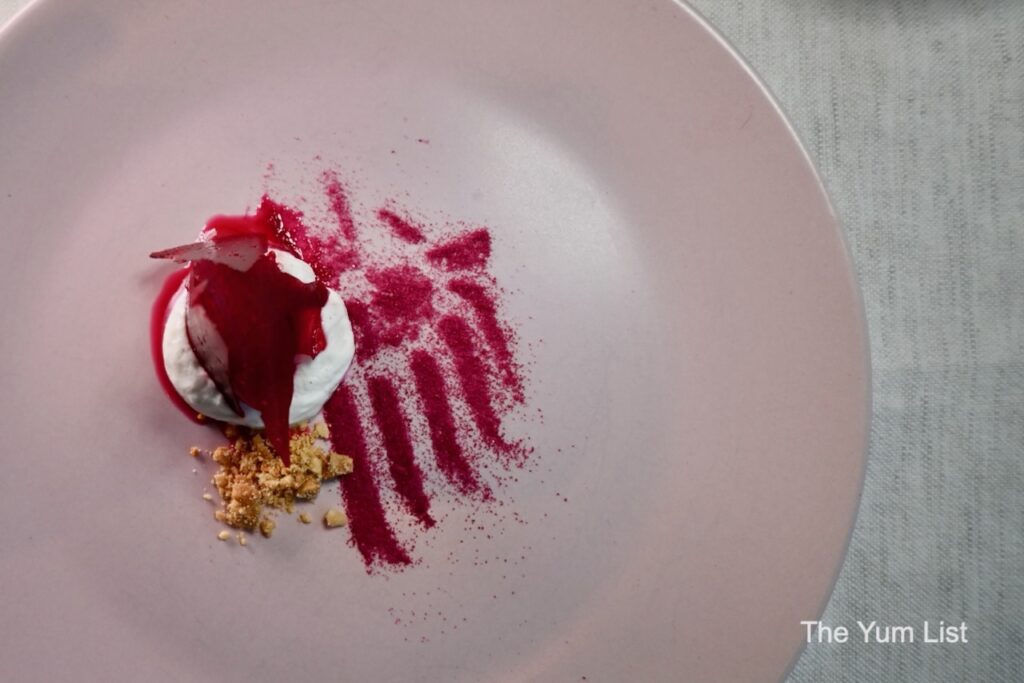 Surf Tagliatelle, Sanriku Scallop, Moringa Curry, Crumble, Finger Limb, Burnt Onion Drop
The waters on the Sanriko coast in northeastern Japan are counted as one of the world's top three fishing grounds. The pure, clean waters produce perfectly shaped, sand-free scallops with exceptional flavour. Here, they have been gently steamed and cleverly fashioned with some toasted ginger into delicate ribbons resembling tagliatelle. This sits on top of fried onion sambal and moringa leaves, known for their anti-oxidant qualities. The dish is delicately garnished with finger lime caviar and flower petals. Moringa has also been used to make a curry sauce, poured around the outside of the dish at the table before tiny amounts of charcoal oil are dropped with steady hands and great care into the curry, lending a smokiness to the flavouring. We are encouraged to stir it all together before eating, which seems almost criminal after the care taken with its preparation. Still, the resulting sauce and elements combine in a most flavoursome creamy emulsion to coat the 'pasta.'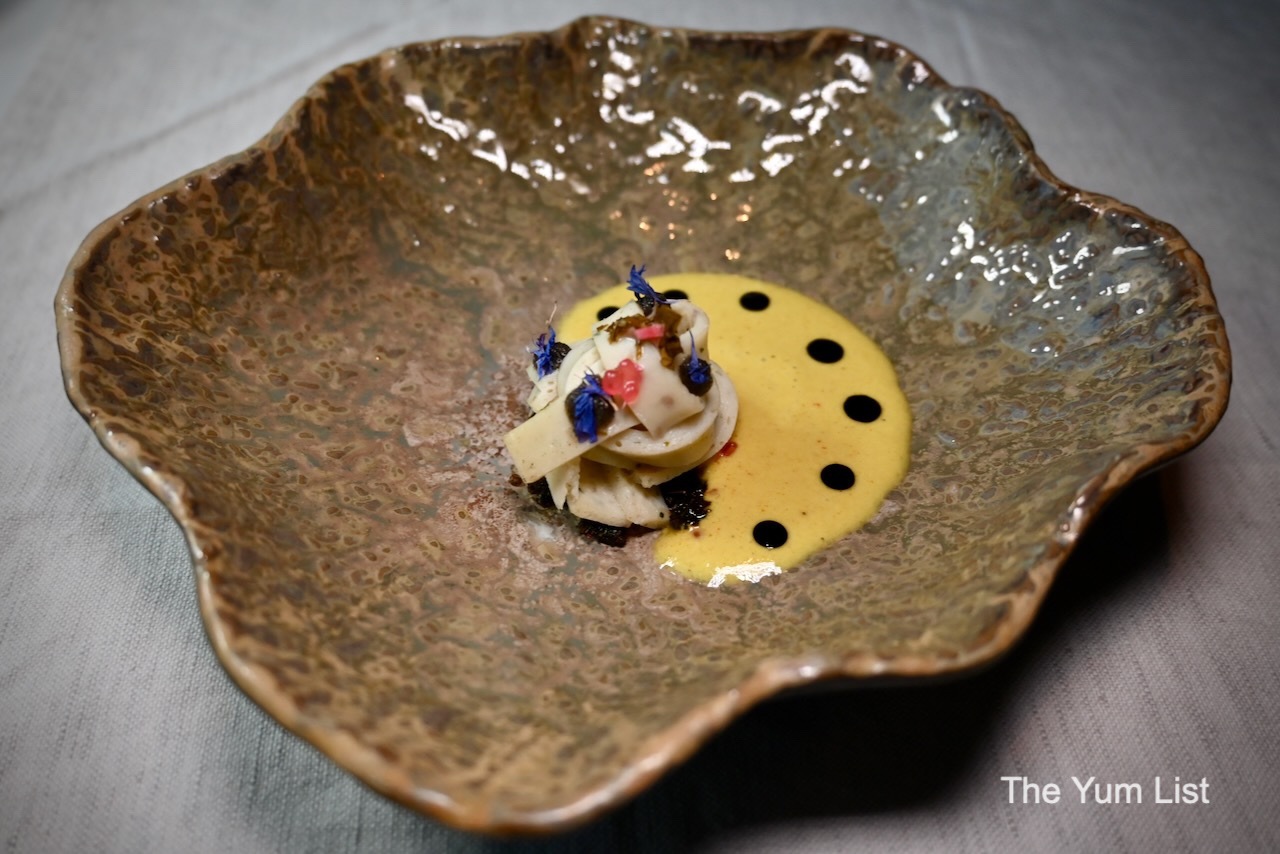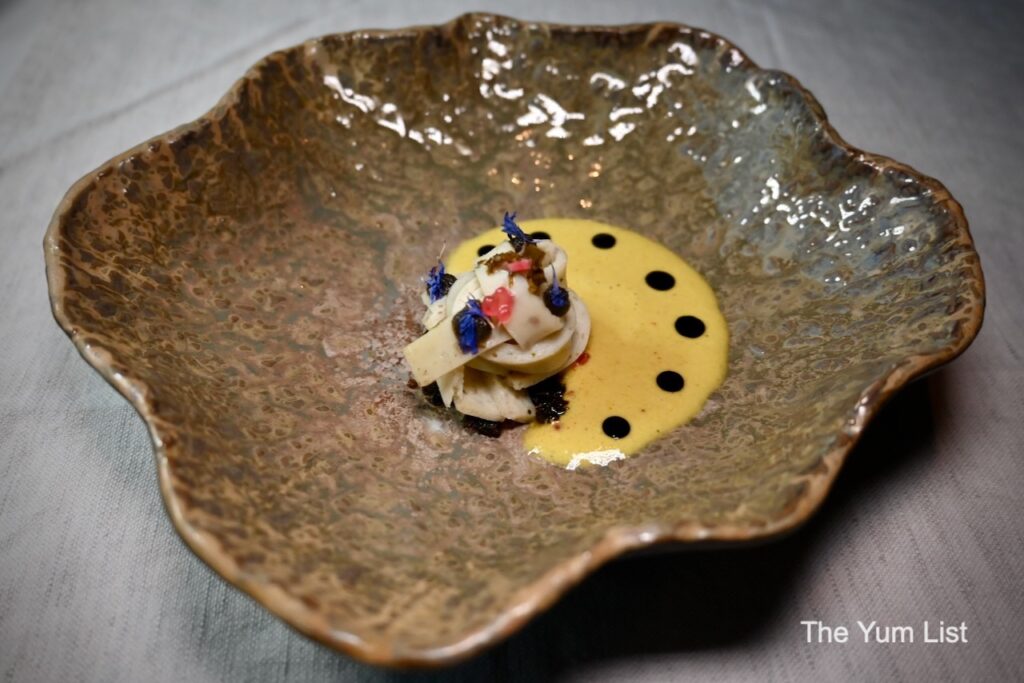 Nawala Annisi, Carabineros, Pineapple, Prawn Head Curry, Jicama
From the oceans off the coast of Japan, we were transported to the deep waters of the Eastern Atlantic Sea with our next dish.
Carabineros is the Spanish description for the highly coveted giant deep-sea prawn, which, together with pineapple, was a featured ingredient in our next plate. Deep scarlet, their Spanish name translates as 'police'. It is said to originate from the similar colour of the uniforms of their customs police. Although to Monica's ears, Nawala Annasi sounded a little like a yoga pose, Nawala is a small township in Sri Lanka very famous for its pineapples, so much so the Sri Lankan singer Chandrasena Hettiarachchi even wrote a song about it. The Carabineros had been lightly grilled to retain their vibrant colour, and the heads had been used to make a deliciously concentrated bisque-like curry sitting in the middle of the plate. This had a gently spiced warmth that did not dominate. Pineapple gel had been piped between the slices of prawns together with pieces of Jicima or 'Mexican turnip' to add freshness and a contrasting crunch. This was then crowned with a golden disc of dehydrated pineapple gel decorated with tiny green leaves. Due to being cooked so lightly and carefully, the prawns retained their beautiful, vibrant colour and a wonderful creamy texture, which the tropical pineapple notes complimented.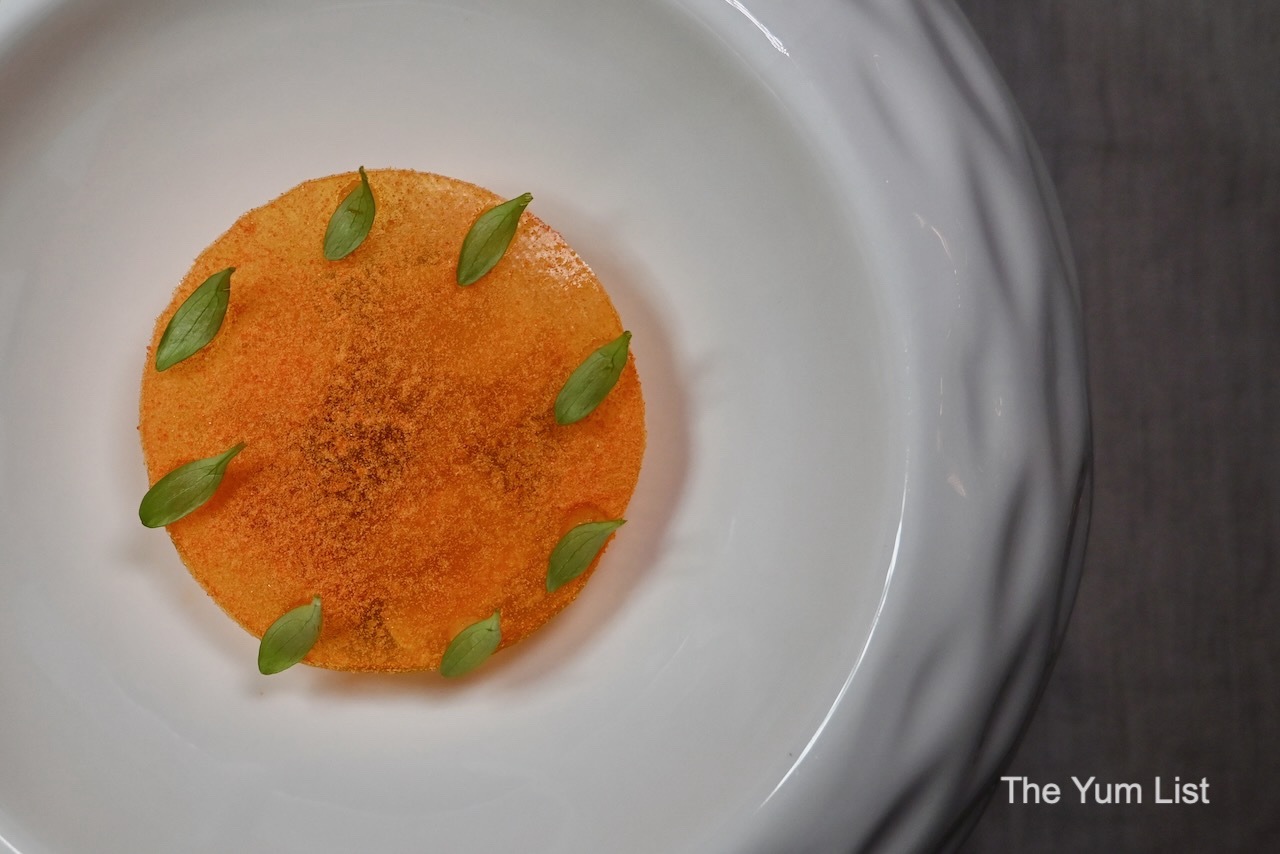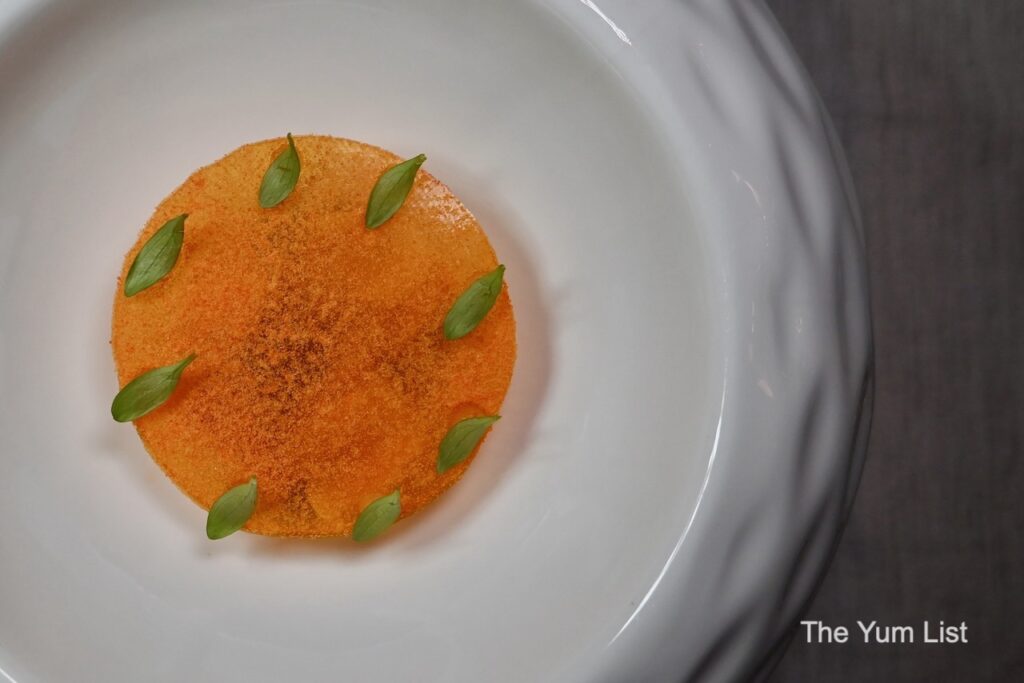 Backwaters of Alleppey, Tiger Grouper, Oscietra Caviar, Yuzu, Chayote, Burburae
The inspiration for the next stop was the backwaters of Allepy, a city on the Laccadive Sea in the Indian state of Kerala. It's best known for houseboat cruises along it's rustic backwaters. I confessed to Chef Eliyaz that despite living in India for several years, I'd not managed to fit in a trip to Kerala; he thought this a great pity and hoped that this dish might encourage me to do so one day. I should add it to my bucket list.
Our Tiger Grouper has been expertly cooked, flaking gently under the slightest pressure, decorated with Oscietra caviar and surrounded by two clouds of yuzu foam, and delicate little balls scooped from chayote, which is from the squash family and is a good source of vitamin C. There is a sprinkling of Japanese rice crackers barely bigger than a grain for texture. These sit in a small pool of orange-hued Alleppy fish curry, a delicacy that people from that region always seek out when they travel abroad and become homesick. Chef Eliyaz said that to get the most flavour from the dish, we should first sample the Alleppy curry before spreading the caviar on the fish and combining it with some curry sauce. After tasting this flavoursome dish, I can see why Indians far from home would seek it out, although I doubt few would have been fortunate to have sampled it in such an elevated form.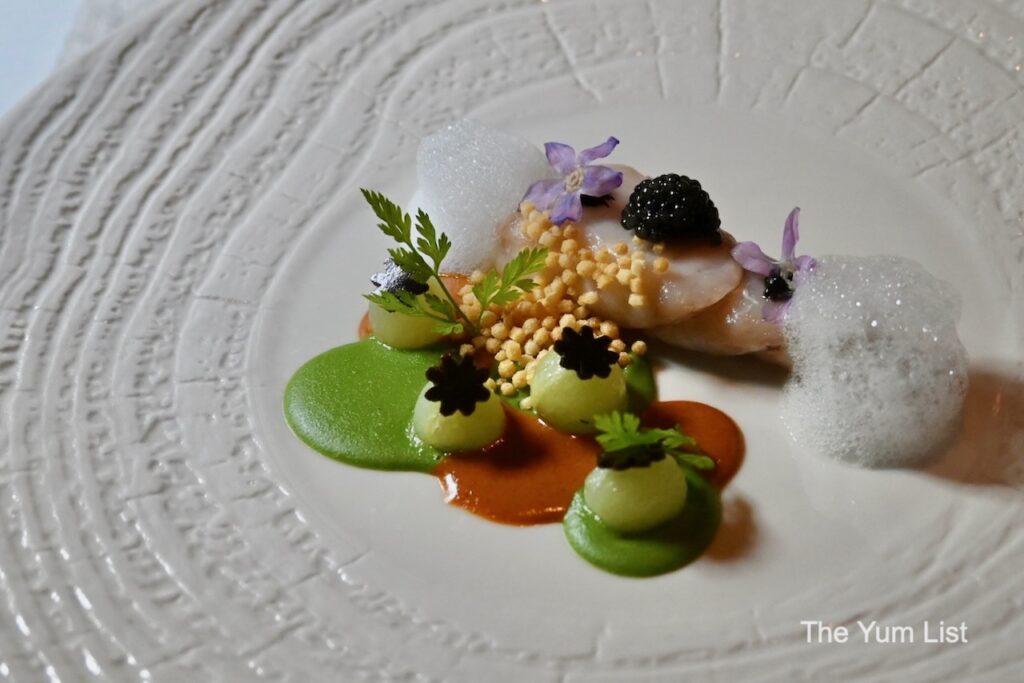 Narthangai, Colombo Gin, Citron, Mint Pearls
The Narthangai was a delicious plate cleanser with the zing of wild and kaffir lime and Colombo Gin sorbet decorated with mint pearls. The wild limes are collected from uphill regions, and their knobbly skin differs in appearance from those found in stores.
Our third cocktail pairing was the Potli, served in a whisky tumbler with a clear cube of ice imprinted with the Ver bar logo. Balanced atop the ice was a slice of plum frosted in rock salt. Plums are combined with spices and fermented for 48 hours before being clarified and blended with Scotch. This drink was possibly my favourite cocktail this evening, and I'm confident I'll order it at the bar on my next visit.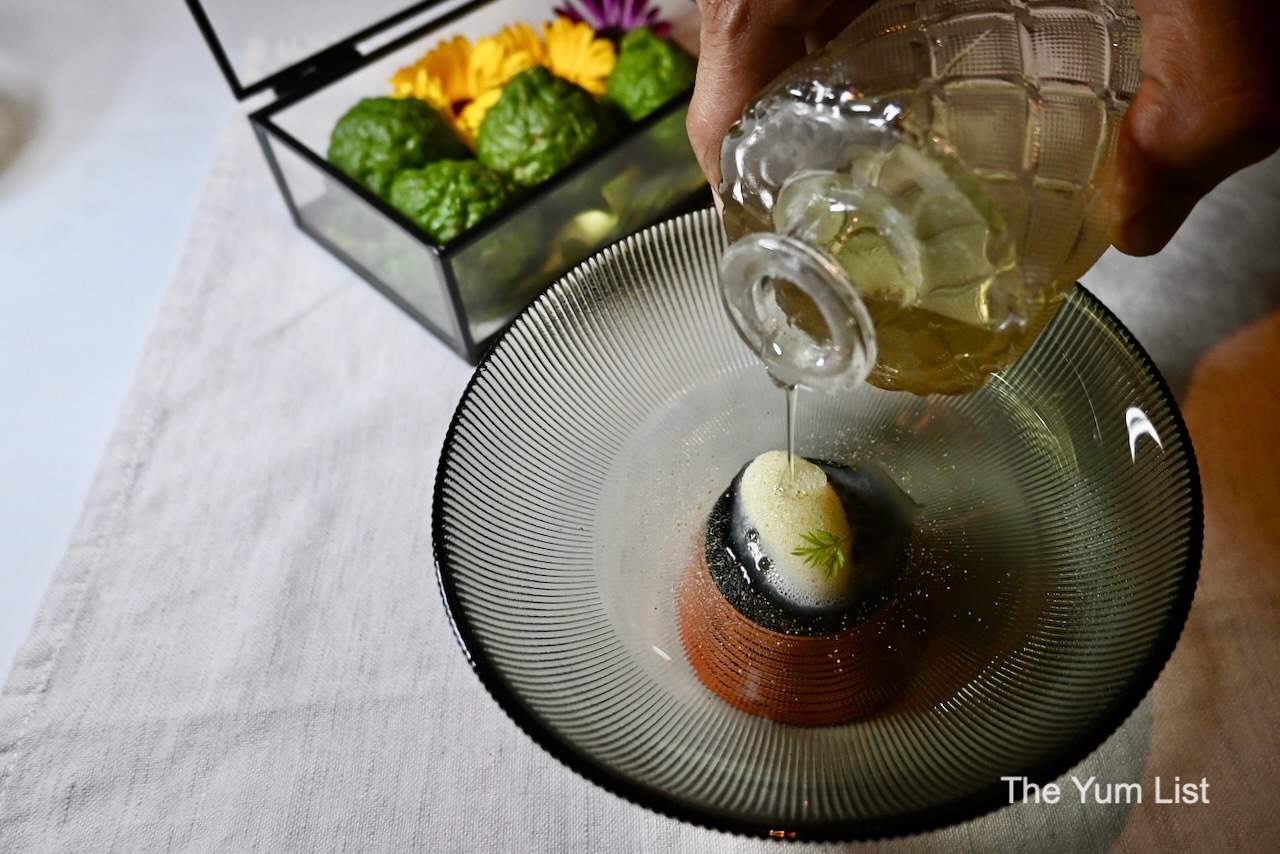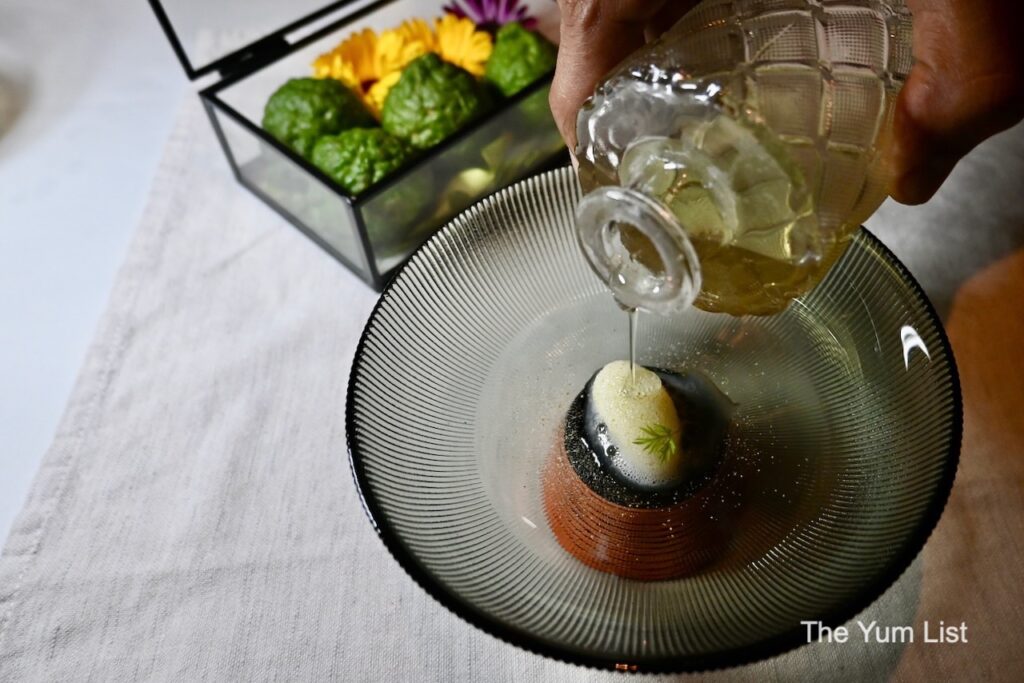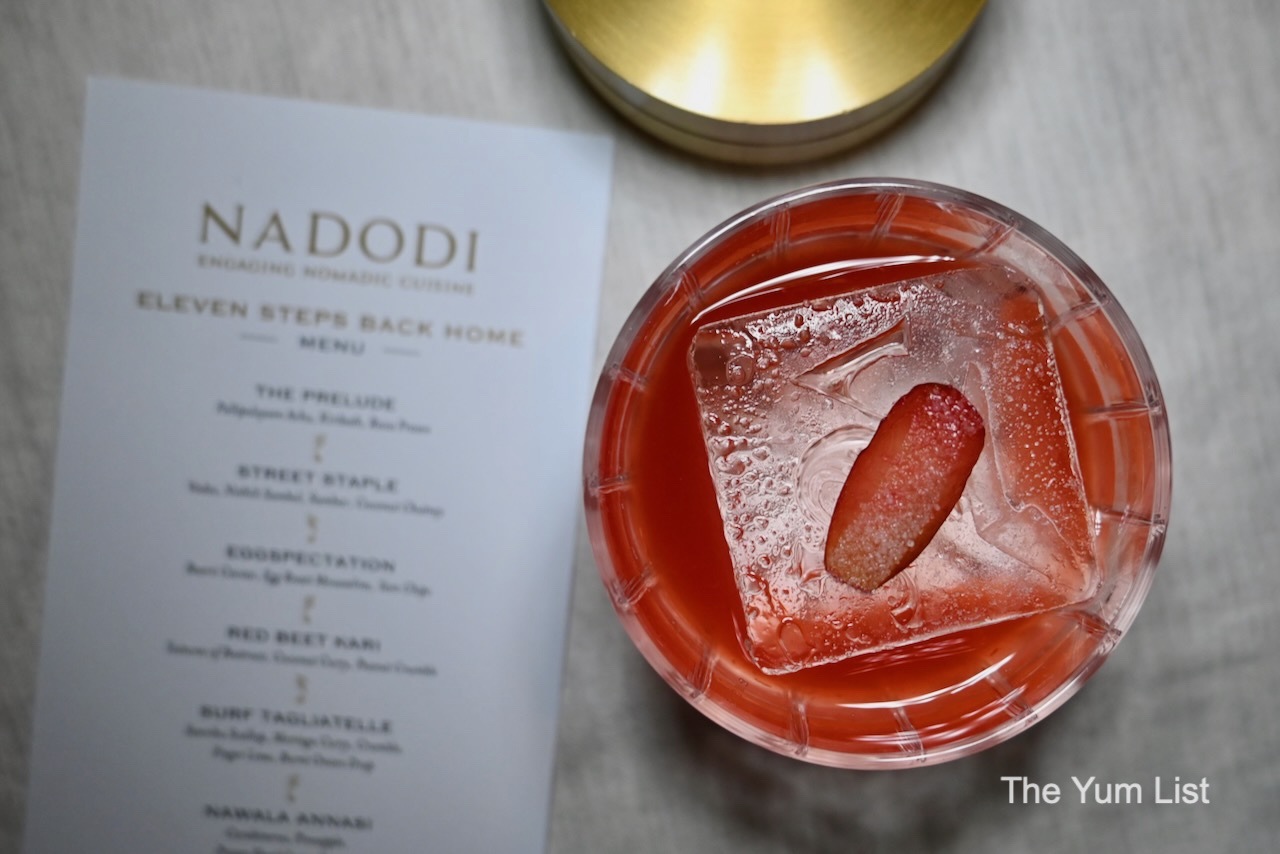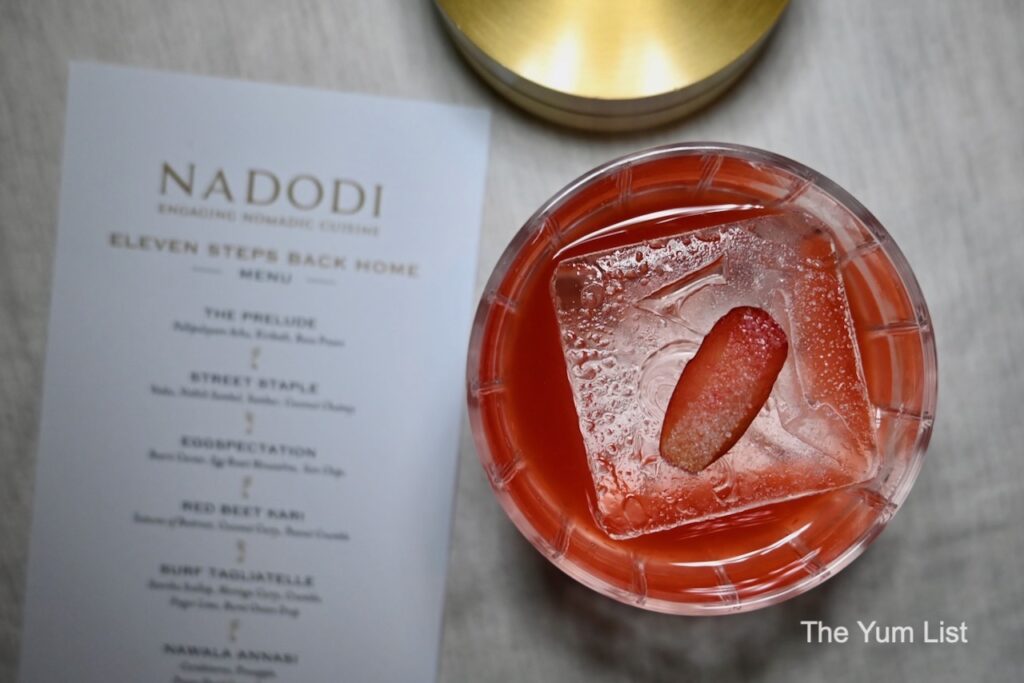 Duckumentary, Two-Way Duck, Rasam, Zucchini Blossom, Celeriac, Plum Thokku
Another playfully titled course was duck prepared two ways; firstly, by pan frying dry-aged duck until the fat was perfectly rendered and the skin deliciously crisp, yet retaining a wonderfully pink flesh, and secondly by making a stuffing or farci from the meat of the leg and piping it into a zucchini flower before frying it tempura style. Monica thought this delicious and complimented perfectly by the piquant spicy plum pickle, or thokku. This is accompanied by a little pot of rassam, this tangy, spicy soup-like dish cutting through the richness of the duck.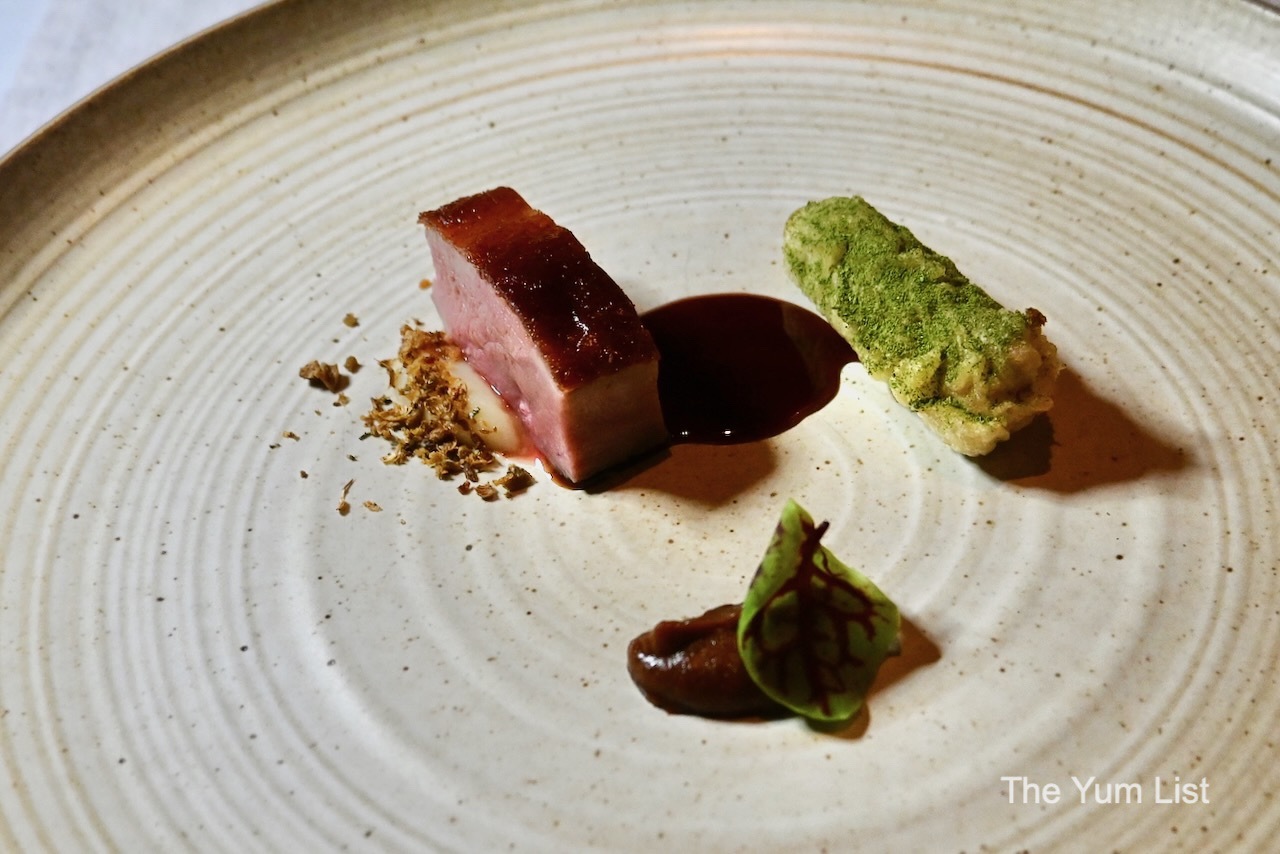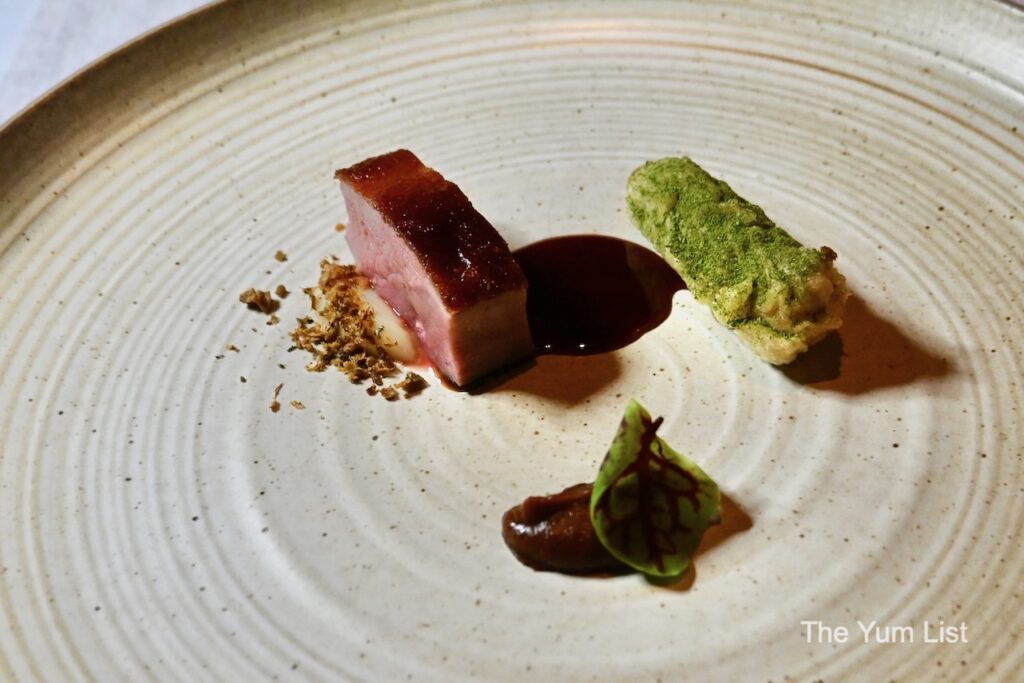 Nomads Globe
Iberico Lamb Biryani, Short Grain Rice, Marrow Salna, Shallot and Kyuri Salad
Anyone who has dined at Nadodi will be familiar with our main course. Indeed, Chef Yahvin confided that on the only occasion they did not feature it on their seasonal menu, such was the disappointment of their regular customers, they had to bring it back promptly.
This dish is Nadodi's variation on biryani and is intended to round out the main courses. It's curated perfectly by Chef Pradeep, who hails from Sri Lanka and has been with Nadodi since its inception. His contribution to the culinary team is vital, with his extensive expertise and personal knowledge of the cuisine. Chef Pradeep's unique spice blends hold the key to the flavours one experiences while dining at Nadodi.
Presented in a glazed ceramic sphere consisting of three separate layers, the first containing puffed rice and pomegranate and Japanese cucumber salad, a plump sphere of yoghurt, flavoured with cumin powder and chaat spices, which had been cleverly encapsulated so it looked similar to a soft-boiled egg or burrata mozzarella, sitting proudly on top. The central layer was the lamb biryani, crowned with crispy fried shallots, large chunks of succulent Iberico lamb hiding within, and served alongside the bottom layer, a salna, usually a vegetarian gravy served alongside biryani but here elevated by the addition of a delicious piece of bone marrow sitting on top, a tiny wooden spoon is provided to ensure that none goes to waste.
It is the custom in South Indian and Sri Lankan homes that a guest should never leave hungry. In a similar fashion at Nadodi, more biryani is always offered for those with larger appetites. As wonderful as it was, I decided to decline on this occasion and save some space for dessert.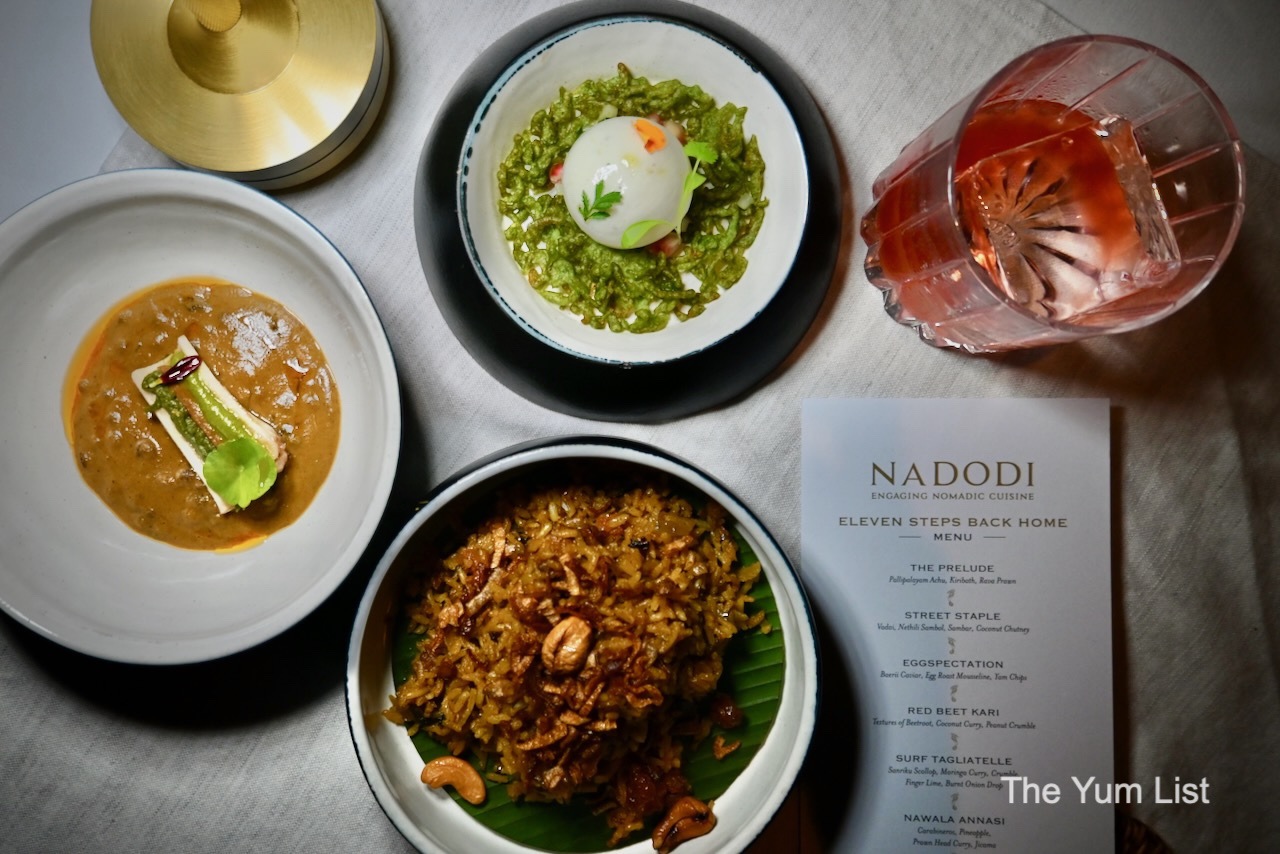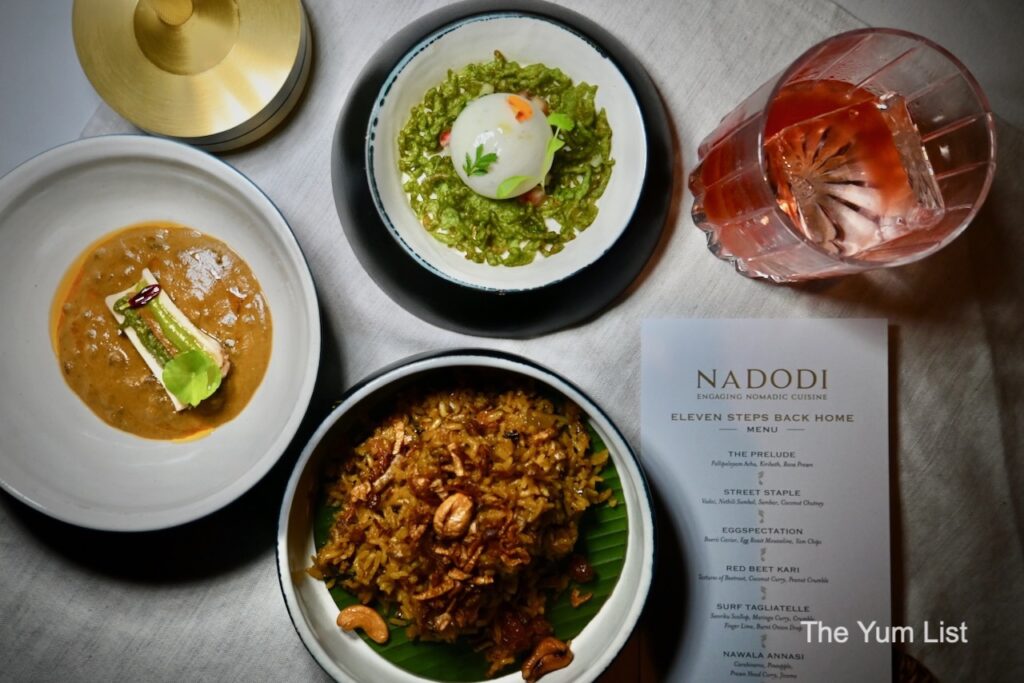 Before our dessert, however, we were given another palate cleanser, a small ruby chocolate confectionary cup filled with delicate jasmine cream and decorated with tiny purple flowers.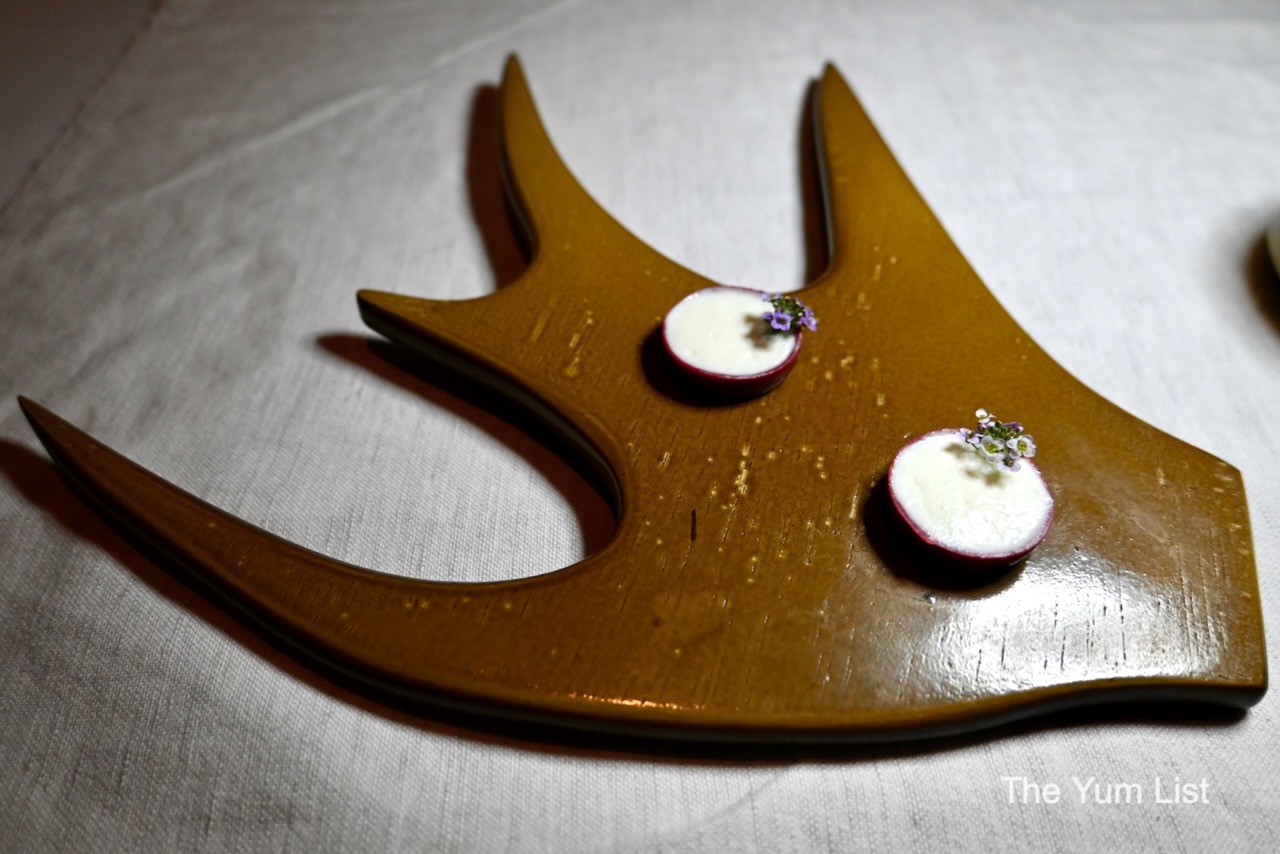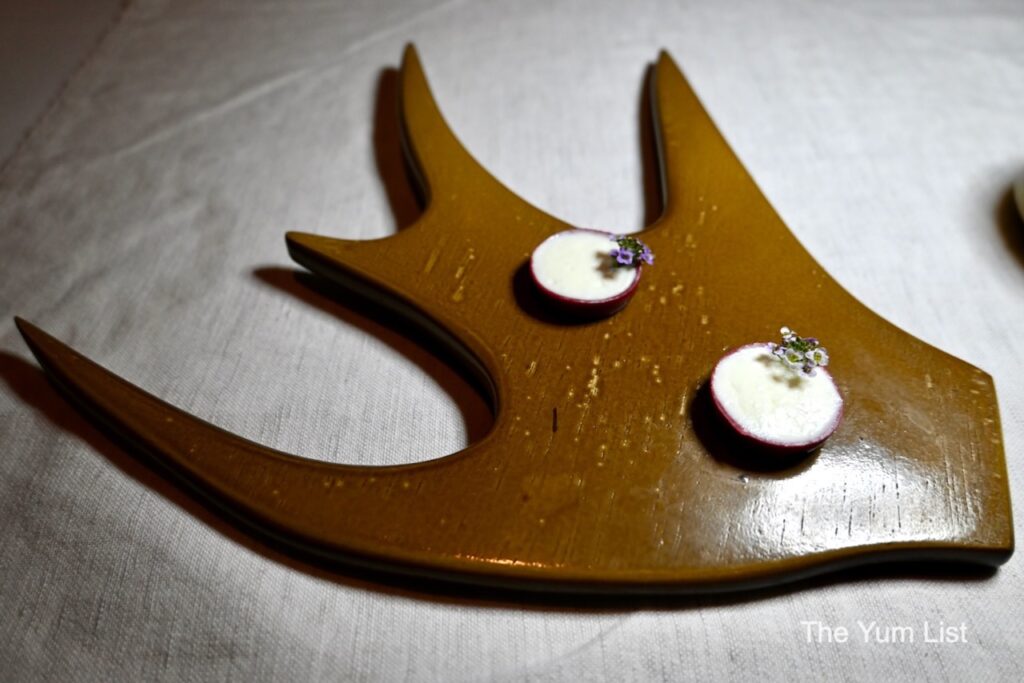 Passiflora, Rum, Passionfruit, Cocoa Nibs
To go along with our dessert, we were presented with our final cocktail pairing, Passiflora. This is presented in a delicate tulip-shaped glass, over ice and decorated with a miniature purple flower. The perfect clarity of the cocktail is a testament to the three-day effort it has taken to get to our table, including two distillations, each lasting 24 hours. Passiflora, or passionflower, was used traditionally in the Americas and later in Europe as a calming herb to treat anxiety and insomnia, so it is perhaps fitting to include it in our last drink of the evening. Monica felt that the coco nibs' delicate, smooth flavour perfectly flattered our dessert's chocolate notes.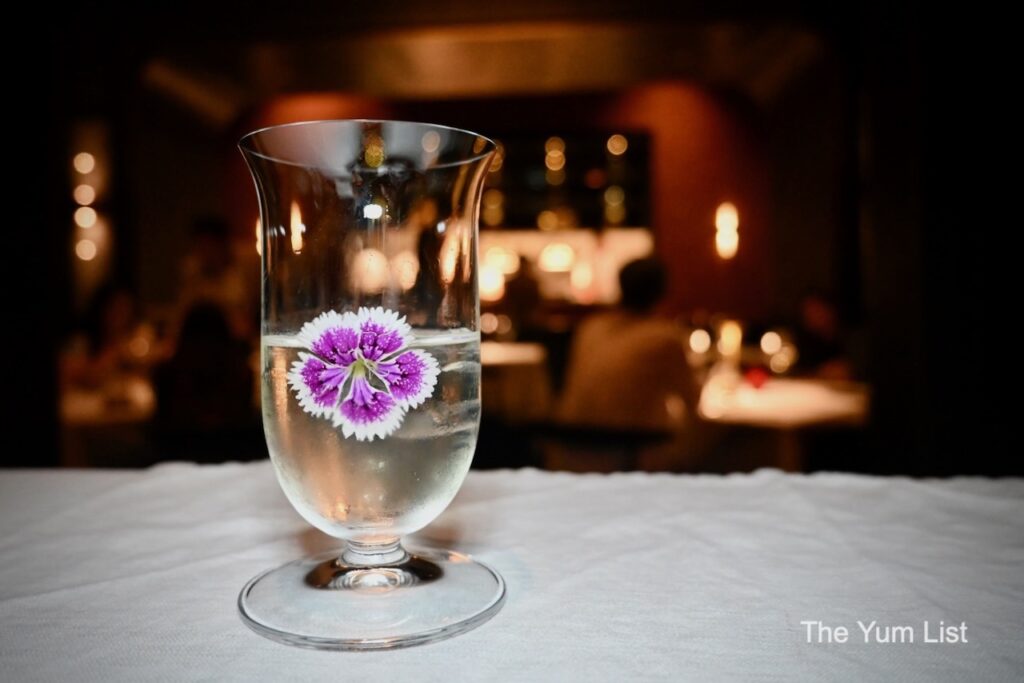 Munnar Payasam, Dark Chocolate, Passionfruit, Coconut and Cardamom, Black Raisin
Payasam is an Indian dessert usually made from boiling rice, milk and sugar. The inspiration for this dish comes from Munnar, a town in the Western Ghats mountain range in Kerala. This region produces over 60% of the cocoa for India. This rich, decadent dessert combines the flavours of dark chocolate, cardamom and black raisins. The dark chocolate and shards of passion fruit balance each other ideally, and the coconut and cardamom add a touch of warmth and complexity. We were told that the chocolate within our dessert is made from cocoa from a family who have produced it for four generations. It is reputedly the best available in India and is usually not commercially available, and has only been obtained as Chef Eliyaz knows the family personally. It was undoubtedly the perfect way to end this meal and will leave you wanting more.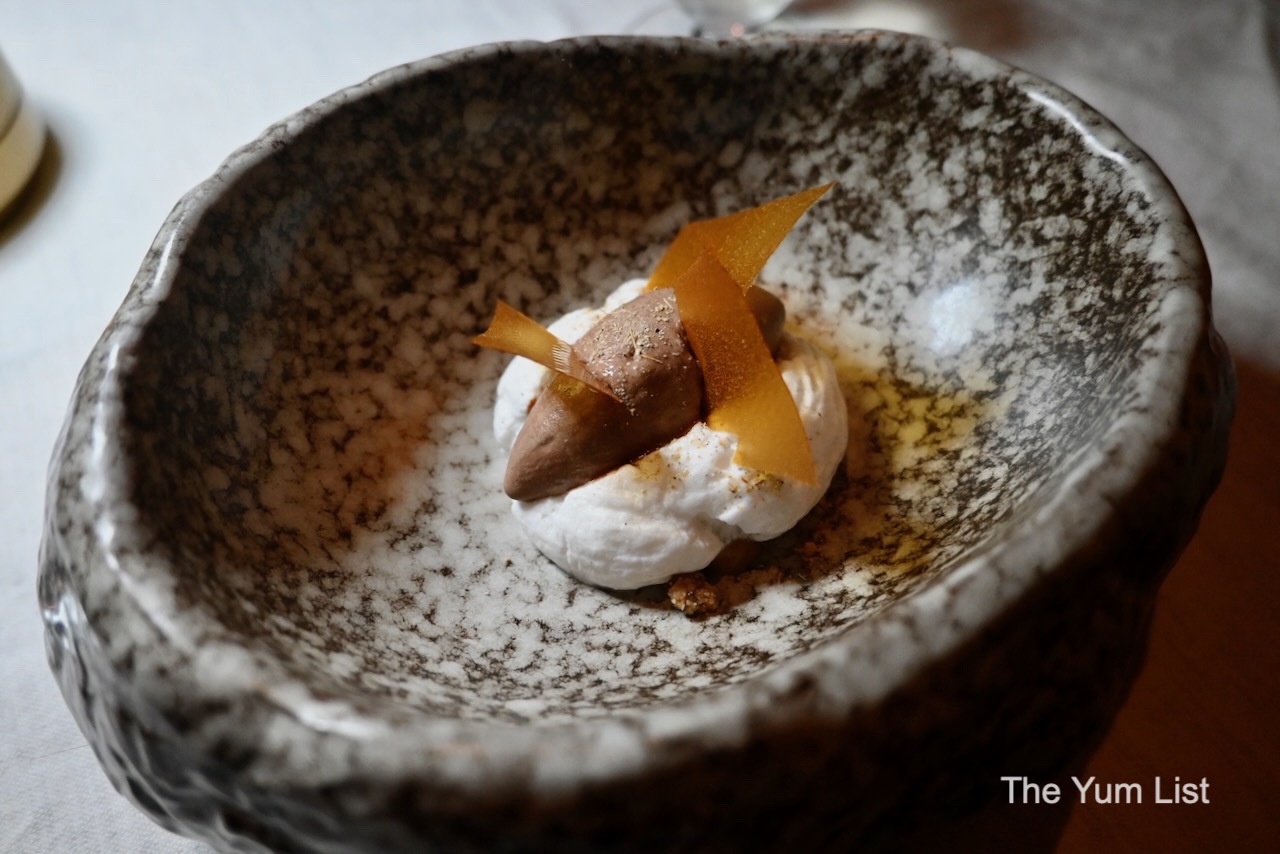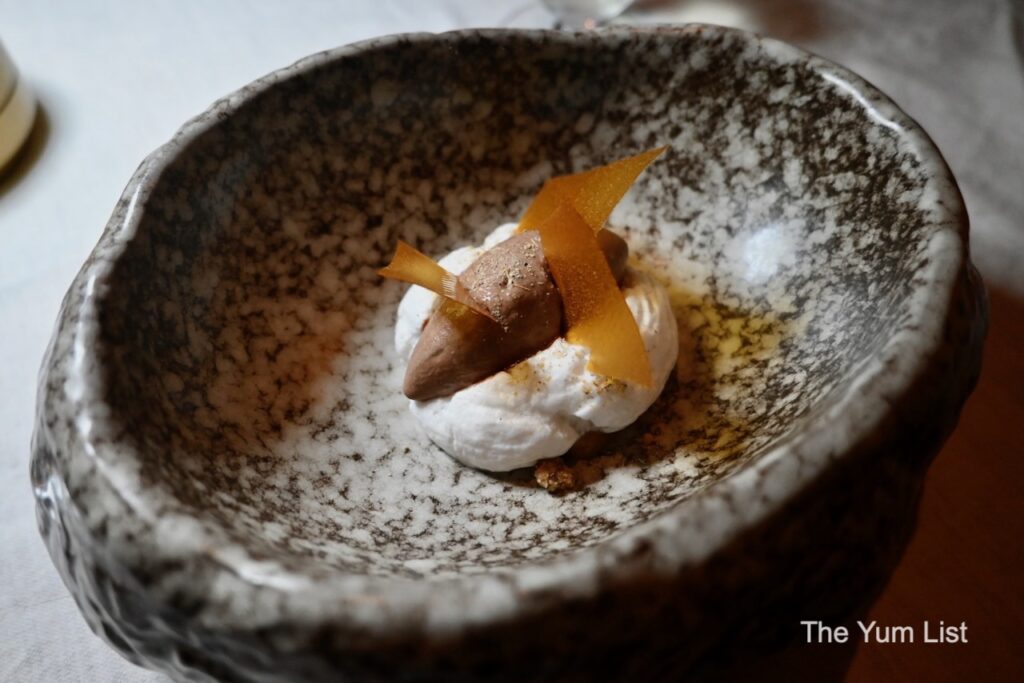 To go along with our coffee, we were served wonderfully delicate petit fours, displayed artistically on a white ceramic coral sculpture and a contrasting disc of black volcanic stone. The first was made from honey and piped into a delicate leaf frond, the second with mango, the third a bonbon made with jaggery and rice flour and the final, a soft jelly made from mandarin oranges.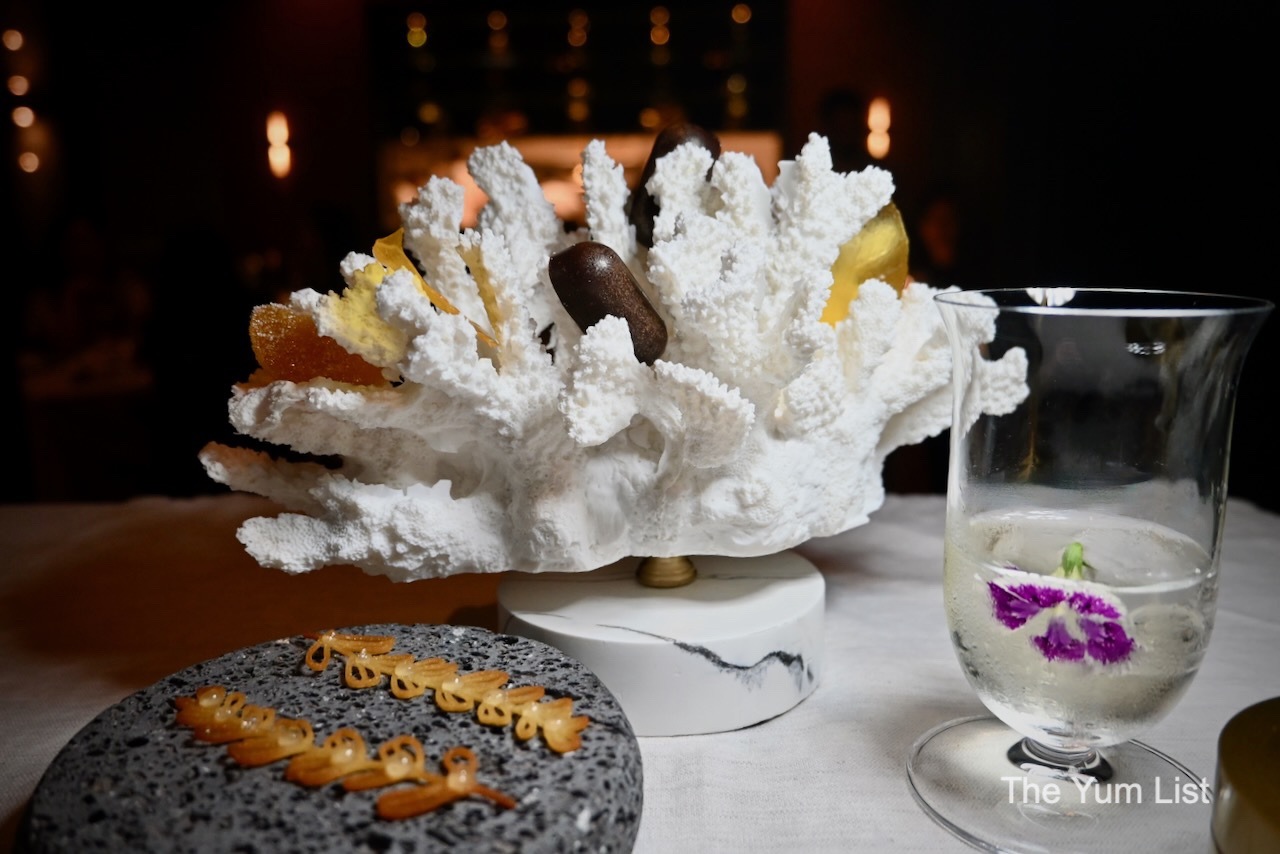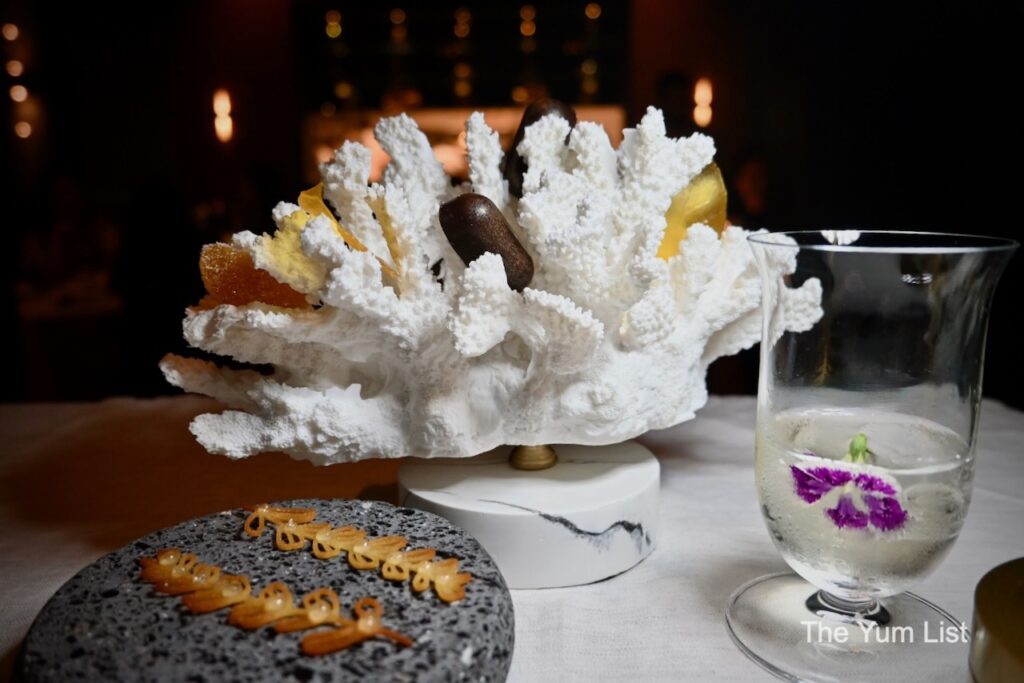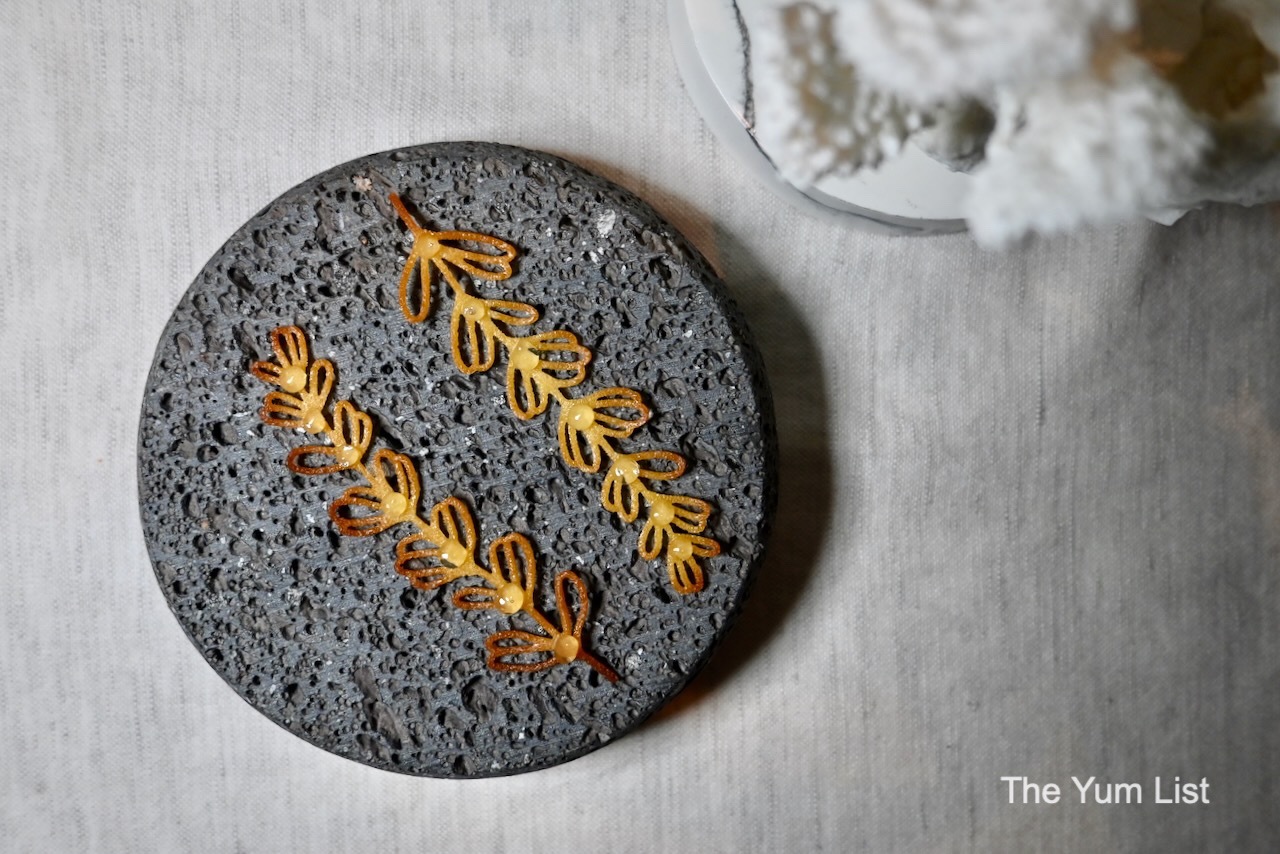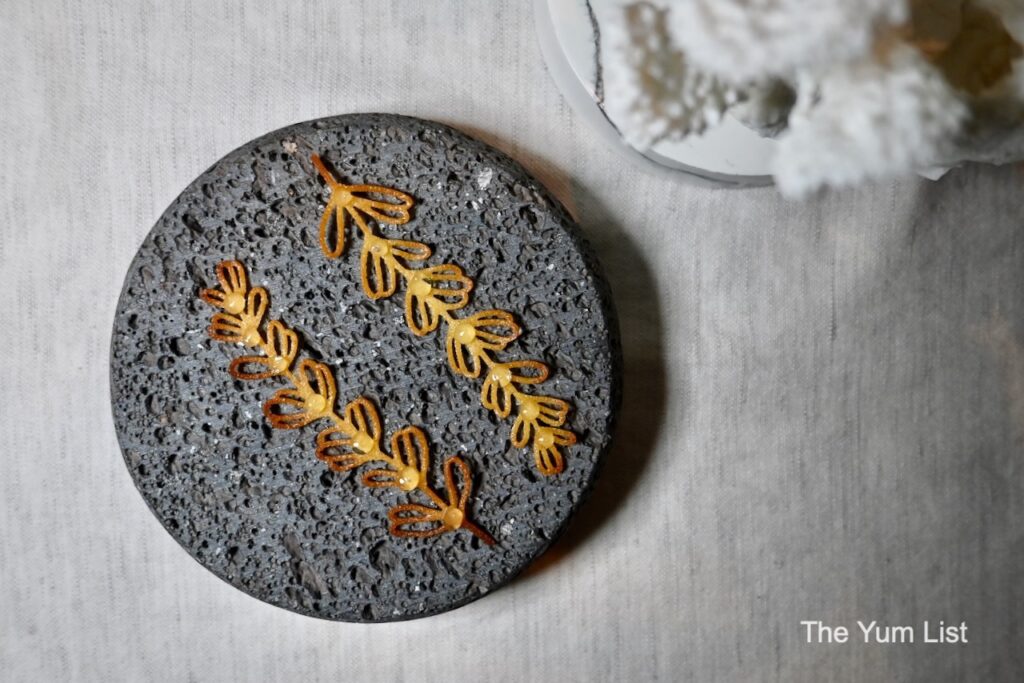 Nadodi Four Seasons Hotel Kuala Lumpur Review
I was already a fan of Nadodi; it has been among my favourite restaurants in KL and in the region for many years. I considered it the 'Jewel in the Crown' of the Cinnamon group restaurants. As happens with very precious jewels, they can sometimes be moved into a new, more modern setting, where they can be given more space to shine and catch the eye. I'm delighted to report that this is the case with Nadodi, which doesn't just shine but positively sparkles in this beautiful new setting. It's a space that is both luxurious and inviting and is the perfect complement to the restaurant's exquisite South Indian and Sri Lankan cuisine, which the current 'Eleven Steps Home' degustation menu exemplifies. I think it's their best yet. I'm confident, like myself, that you will return time and time again.
Reasons to visit Nadodi Four Seasons Hotel Kuala Lumpur: beautiful, stylish and sophisticated setting; incredibly delicious contemporary cuisine; fantastic service; must try the cocktail pairing; we love the semi-private booth by the window with a view of both KLCC park and the kitchen.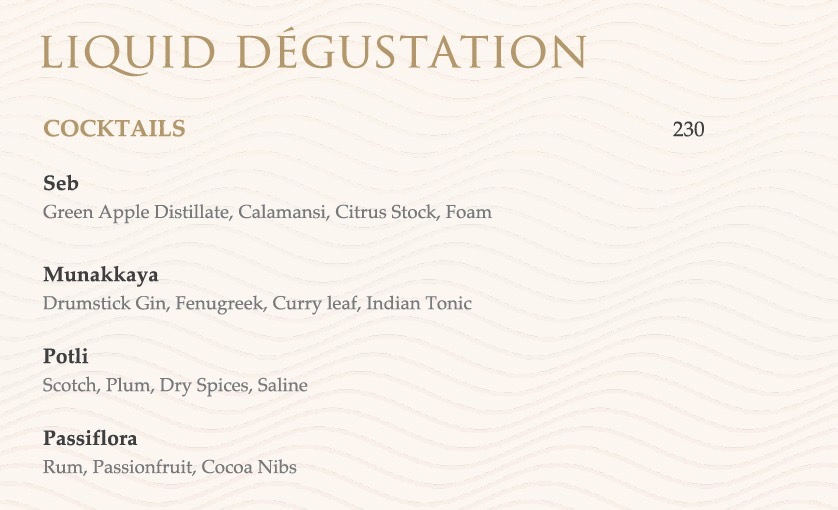 Nadodi Four Seasons Hotel Kuala Lumpur – Engaging Nomadic Cuisine
Level 7A, Four Seasons Hotel Kuala Lumpur
145, Jalan Ampang, 50450 Kuala Lumpur, Malaysia
+6017 296 9520
www.nadodokl.com
Nadodi Nadodi Four Seasons Kuala Lumpur Opening hours
Monday – Saturday: 6:00 pm – 10:00 pm
Find more restaurants for special occasions in Kuala Lumpur here and stay up to date with the latest food and beverage happenings in KL here and here.