Big Trouble Chiang Mai – Brunch Cafe
Words: Monica Tindall
Photos: Han Sen Hau
"We got 99 problems, but a brunch ain't one."
Just outside the gates of Chiang Mai's vibrant Old Town, Big Trouble is a brand-new brunch cafe that is sure to turn heads. From its hip-hop soundtrack to its eclectic décor, Big Trouble is a place where people can come to let loose, enjoy delicious food, and have some fun.
The brainchild of two friends, Fuji and JJ, Big Trouble, was born out of a shared love of hospitality and a desire to create something different. With Fuji's culinary expertise and JJ's business acumen, the duo has created a space that is both unique and inviting.
In addition to its delicious food and drinks, Big Trouble is also known for its lively atmosphere. The cafe is decorated with colourful street art and graffiti, and the soundtrack is always pumping with upbeat hip-hop and R&B tunes. On weekends, Big Trouble often hosts live music and DJ sets, making it a great place to party the afternoon away. We hear they'll soon offer drag brunches, too, guaranteeing their place as one of the most fun and inclusive cafes in the city.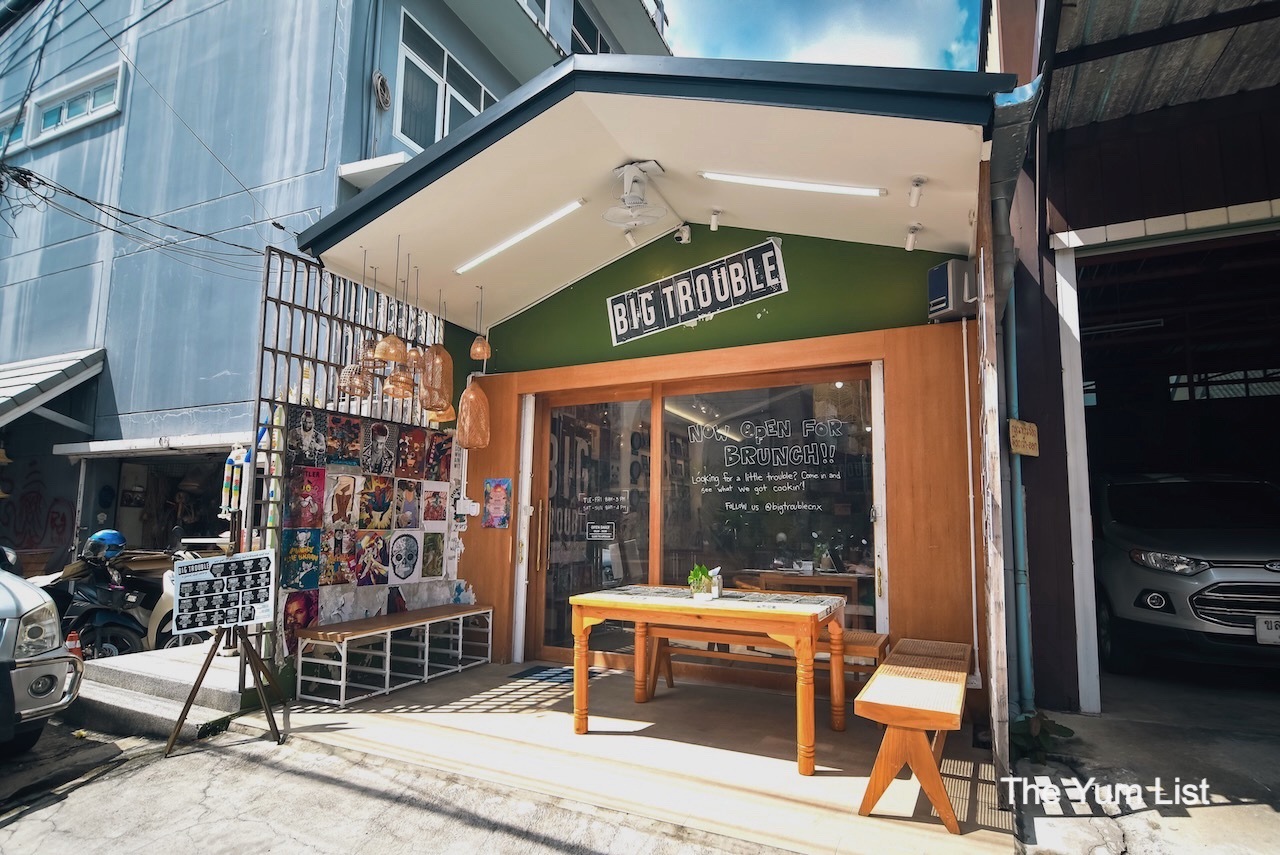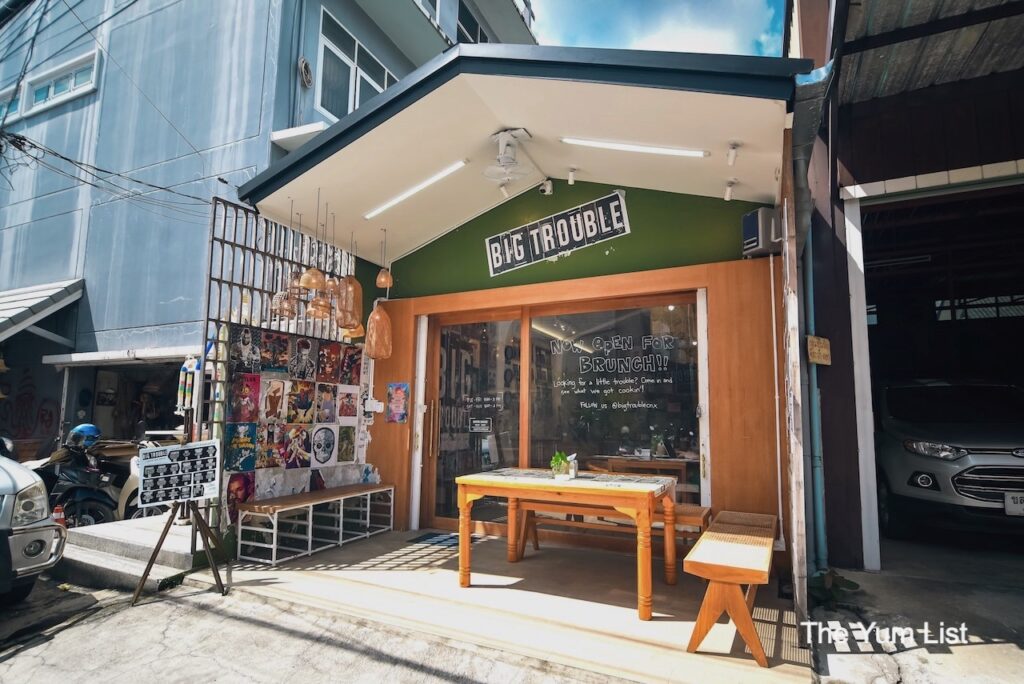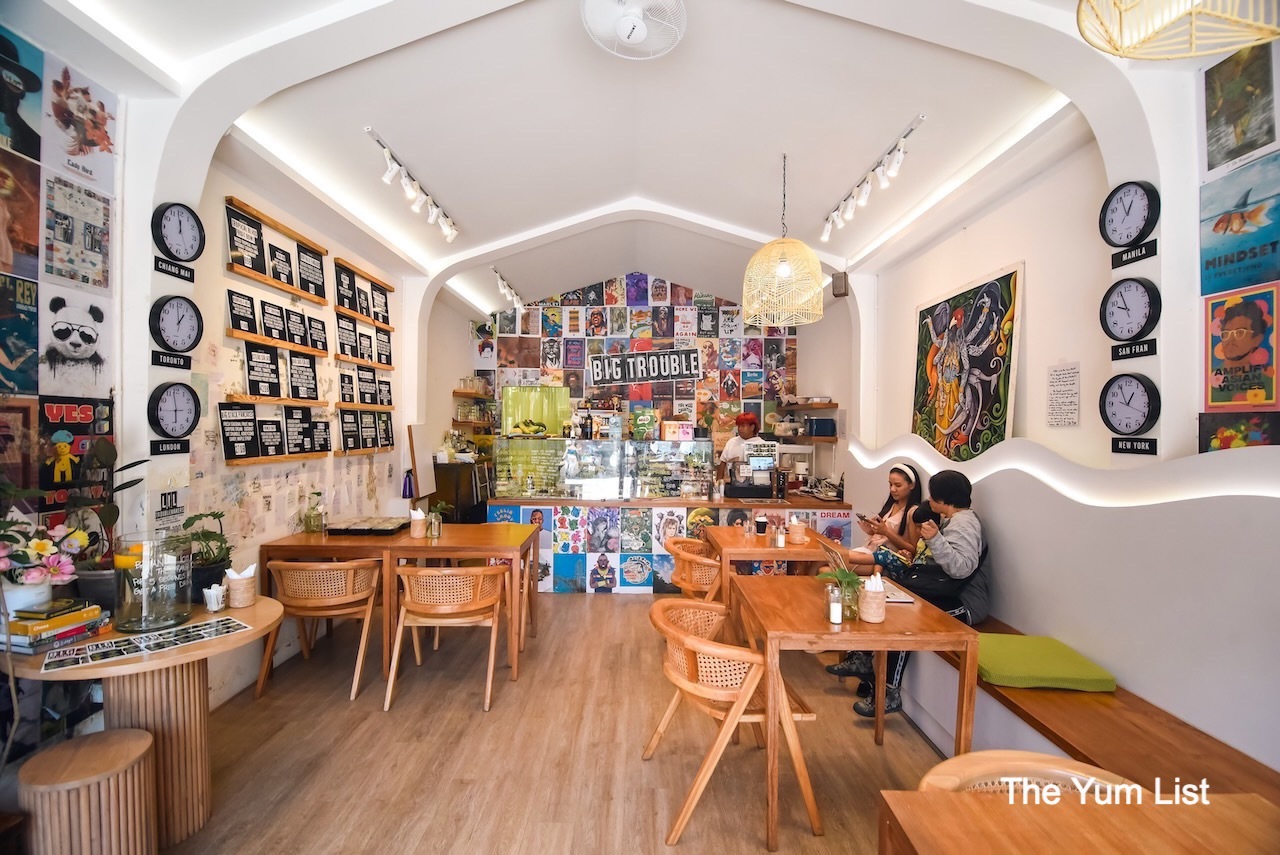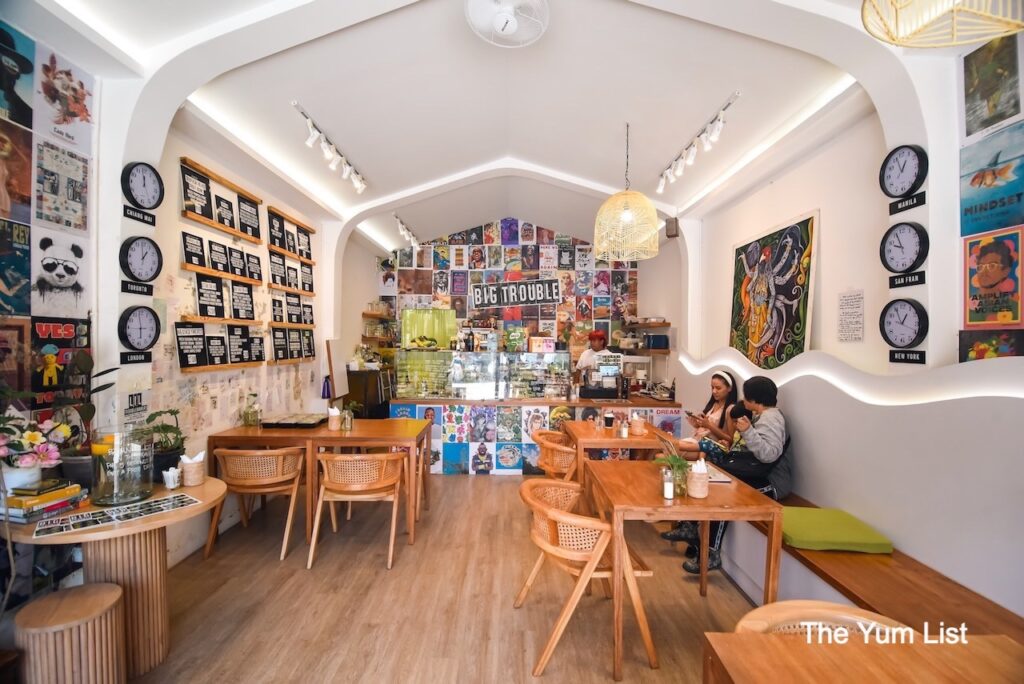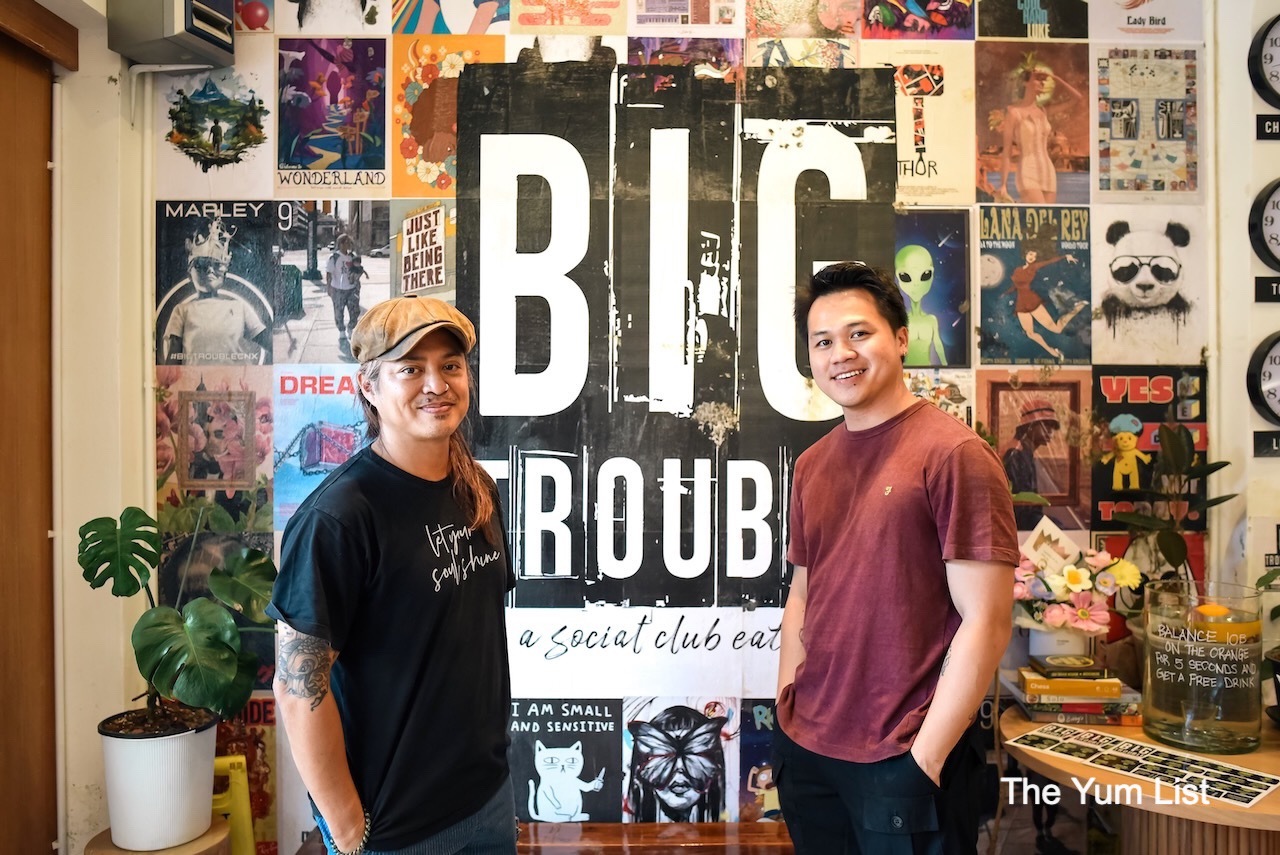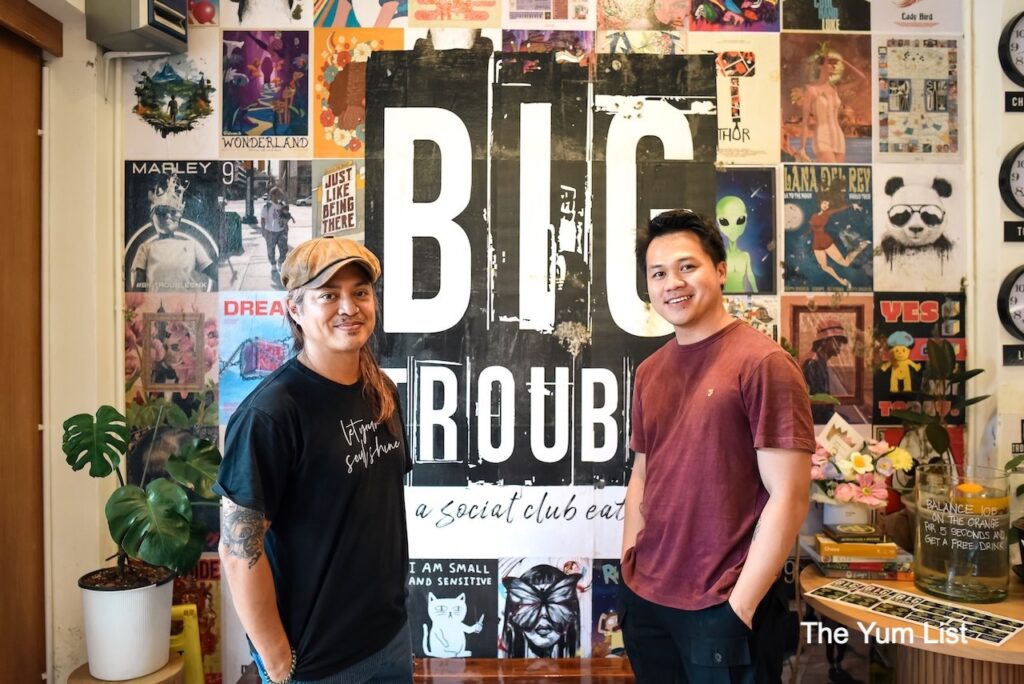 Big Trouble Chiang Mai Menu
The menu at Big Trouble is unapologetically eclectic, with a focus on dishes that are both delicious and fun to eat. From the cheekily named Bad Dad salad to the decadent Big Stack Pancakes, there is something to satisfy everyone's cravings. And, of course, no brunch menu would be complete without a cocktail or two.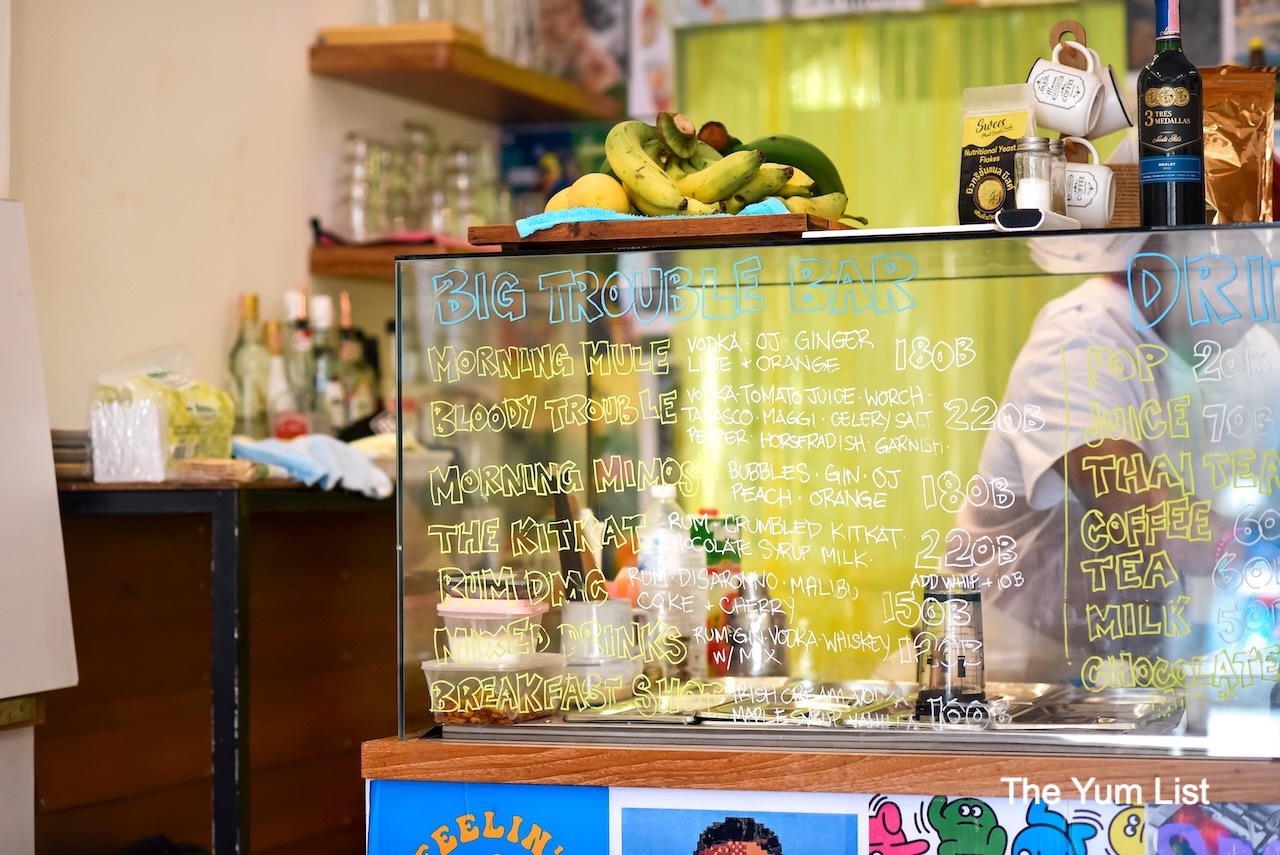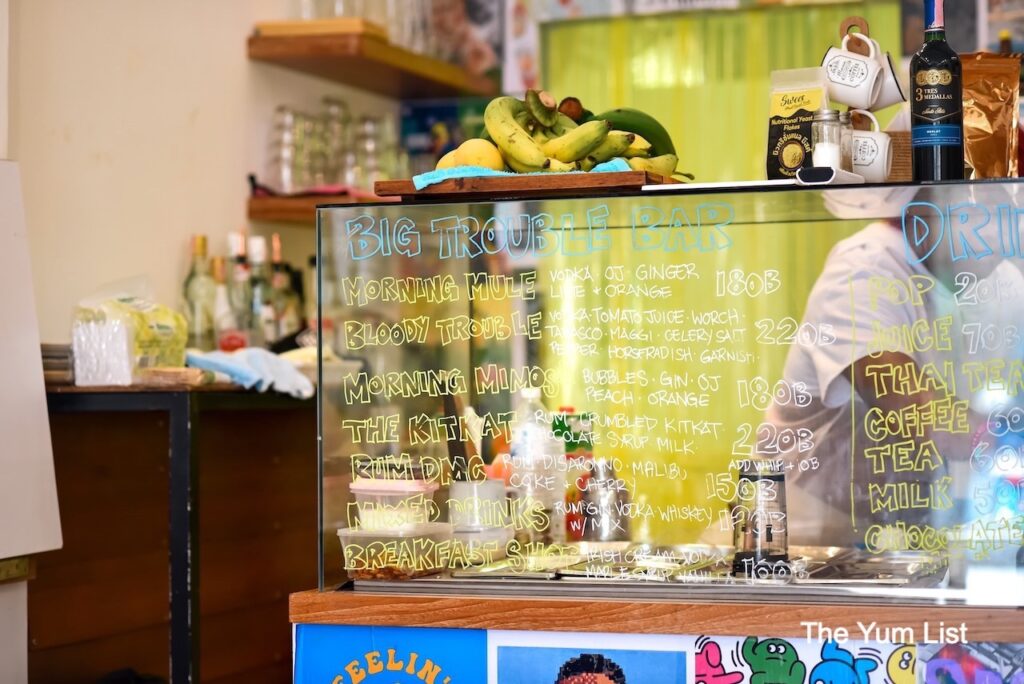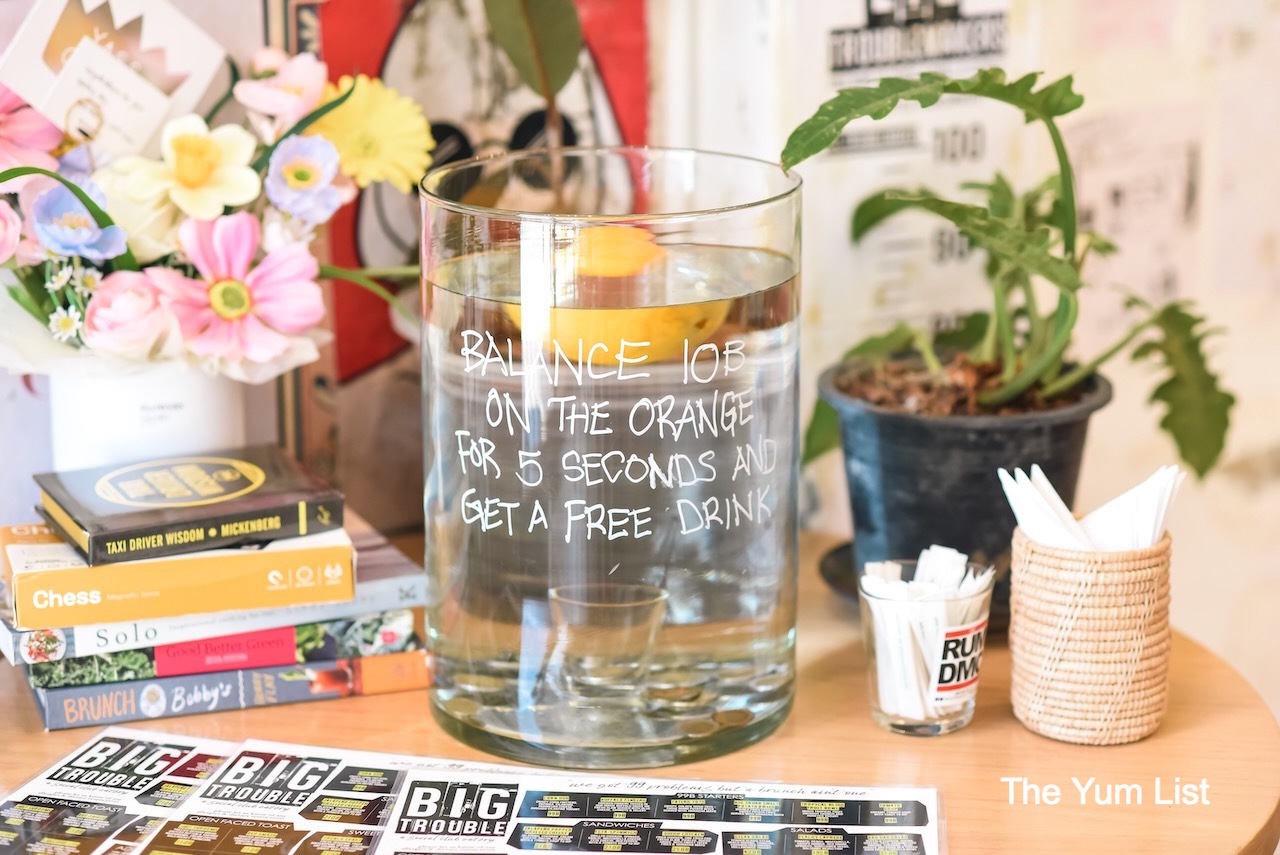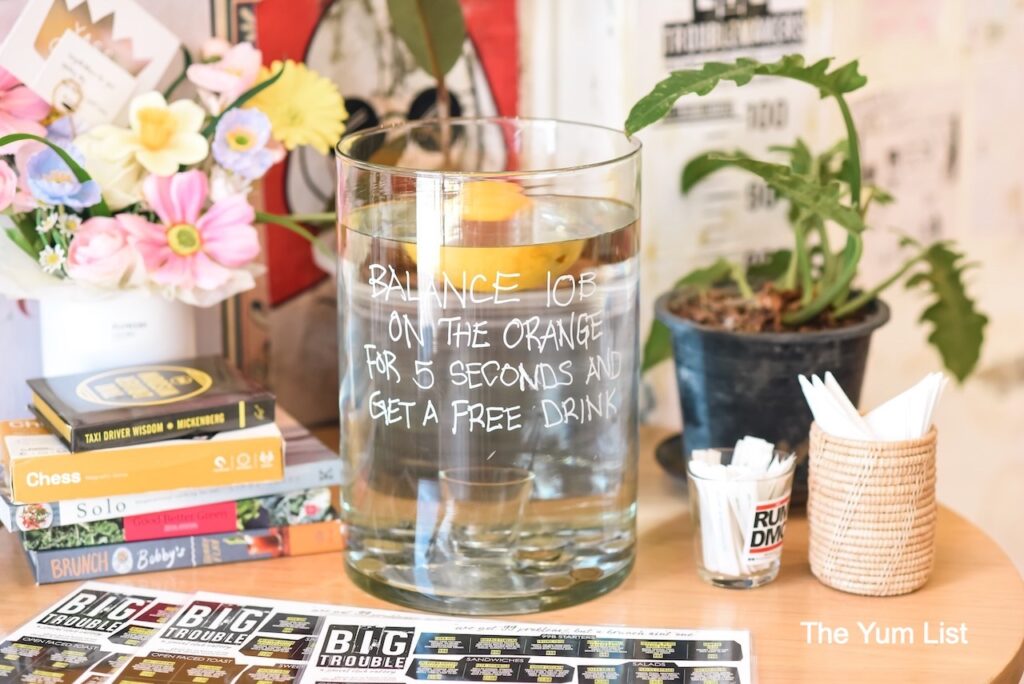 Brunch Menu
We start with delicious bites, ideal for sharing (or not), Corn Hub (THB 99). I'm sure there's a joke in there for someone with a dirtier mind, but nothing comes to this innocent. Crispy corn fritters are seasoned with paprika and cilantro and showered with grated Parmesan cheese. The crunchy shell gives way to a sweet, chewy middle packed with sweet corn kernels. The avocado, cilantro and yoghurt sauce adds some moisture and excitement in the dipping. Don't delay in eating these – they're at their best when hot.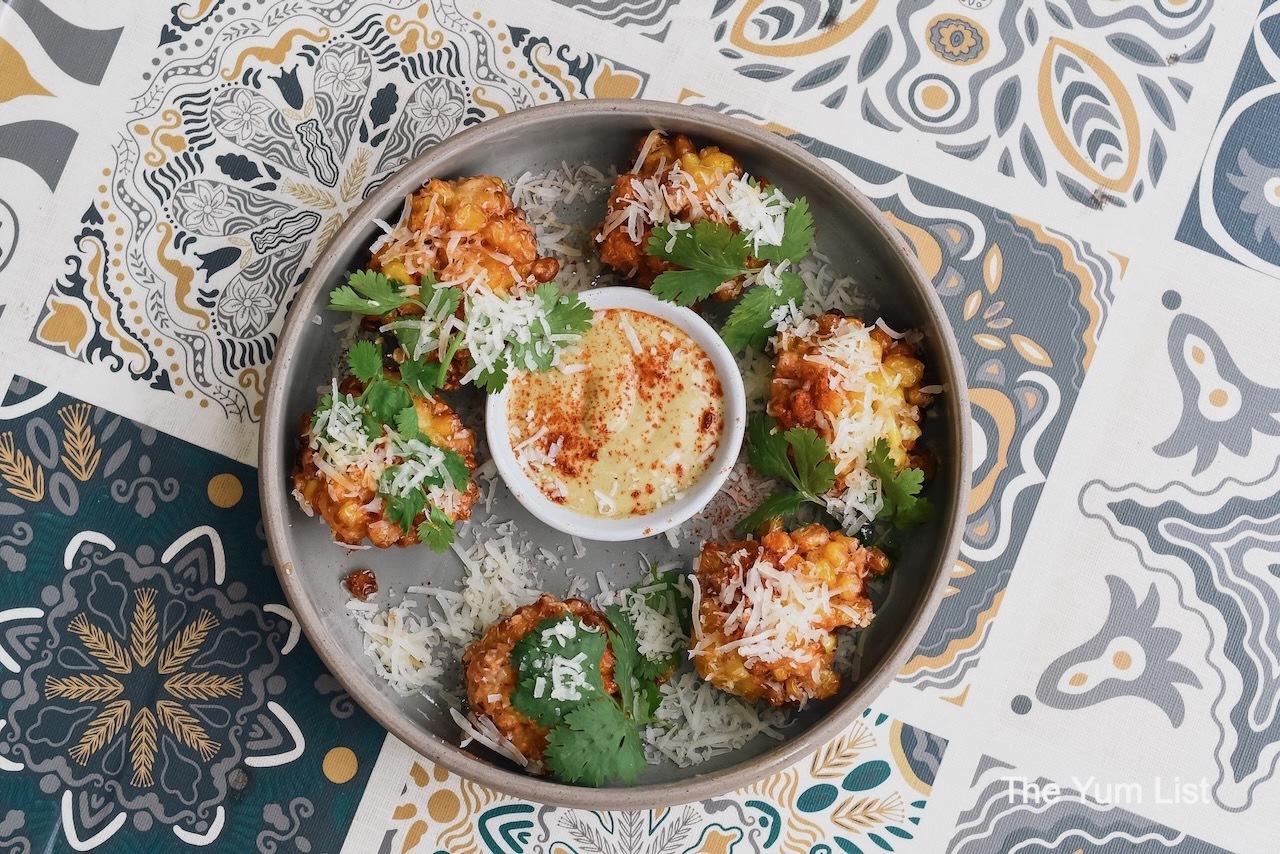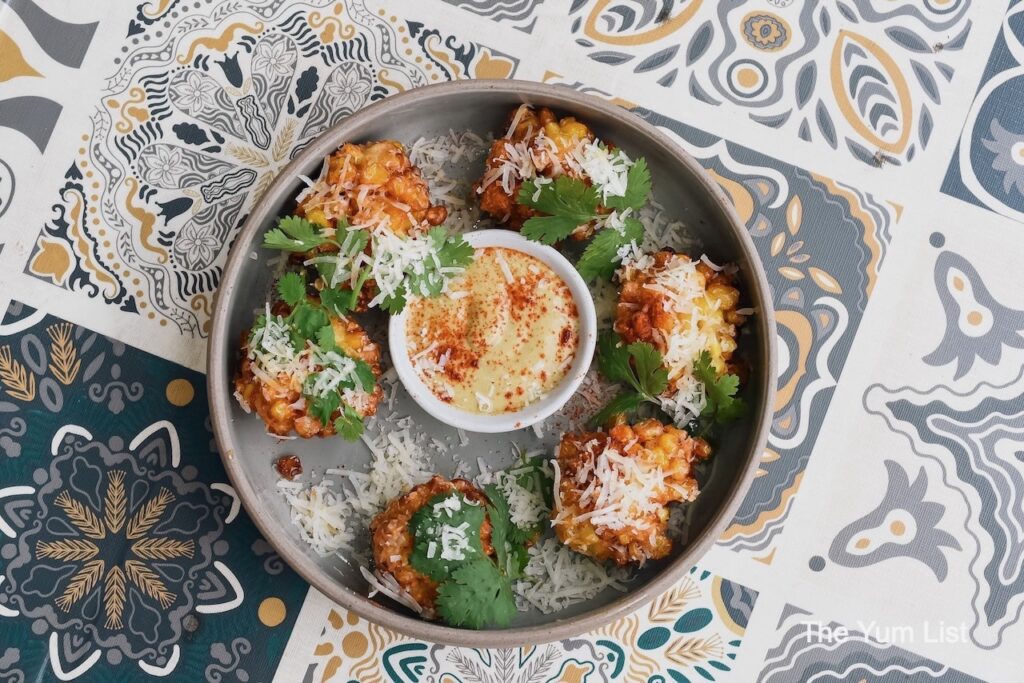 Jalapeño Popper Grilled Cheese (THB 210) is the best toastie I've had in a good while. Jalapeños, cheddar, cream cheese, pork bacon and cilantro are sandwiched between buttered, toasted chewy slices of artisan bread. A rich tomato soup to dunk a corner in, honours both chef Fuji and JJ's childhood memories.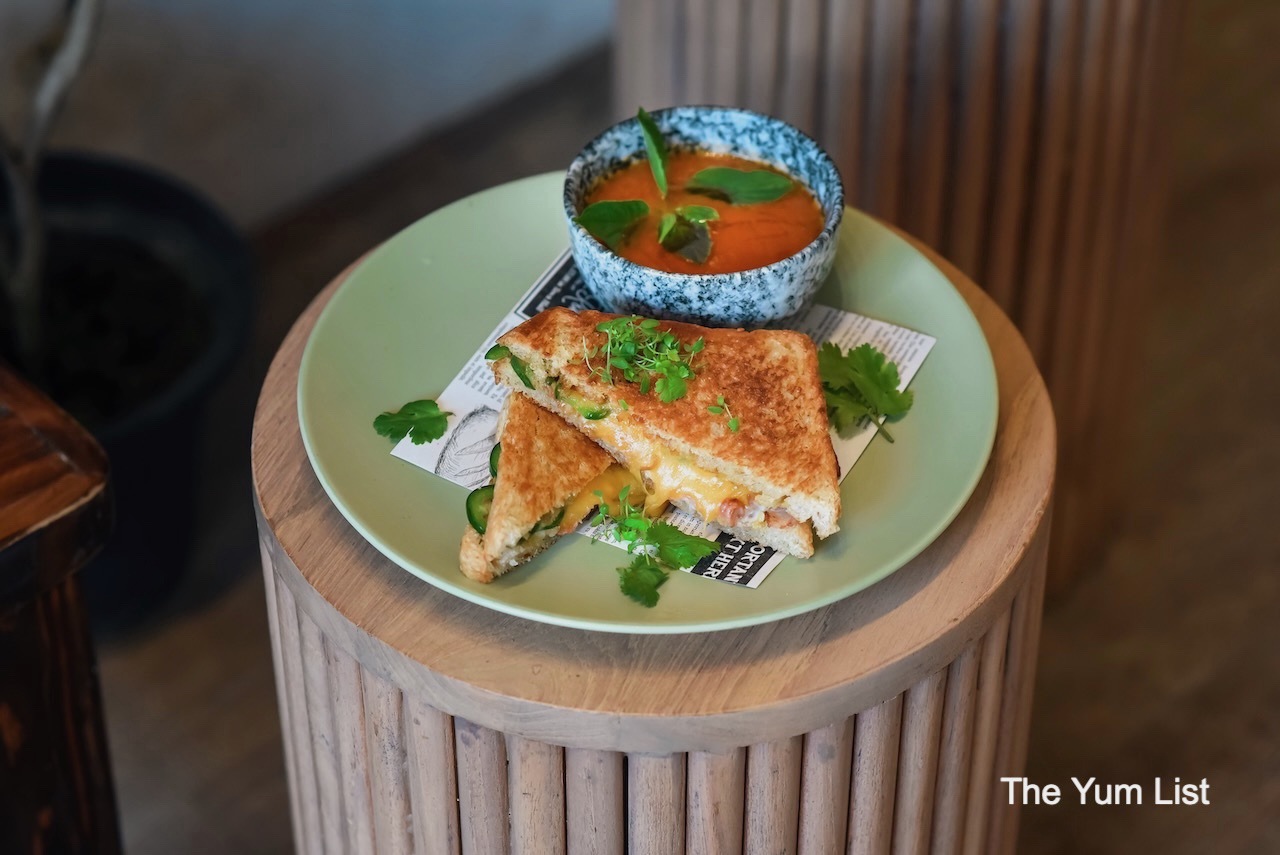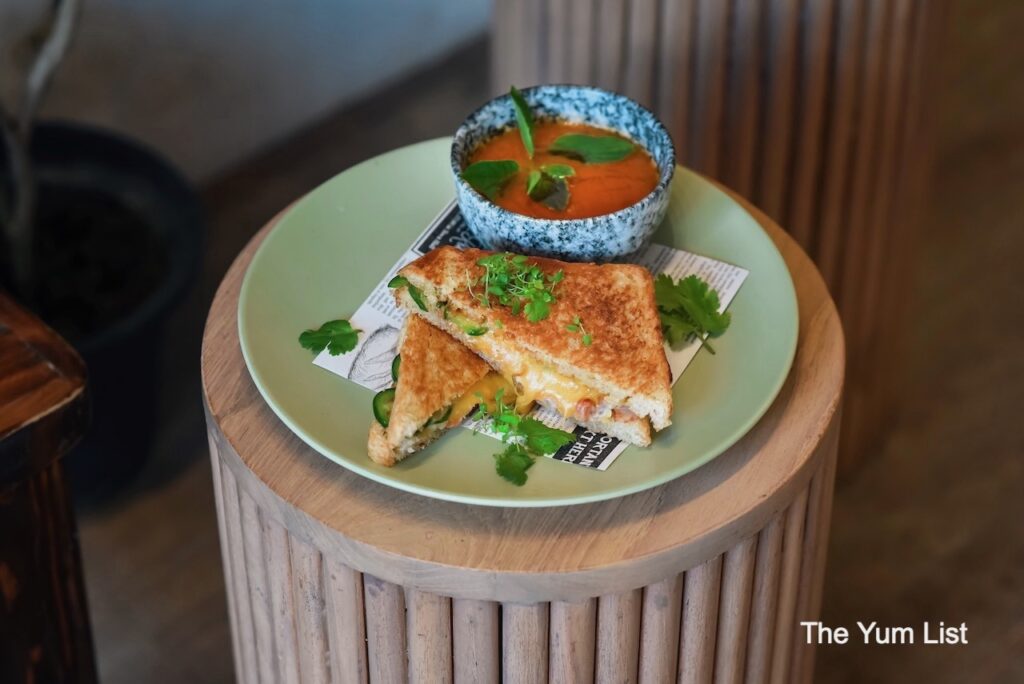 JJ and Fuji reveal that the Bad Dad Salad (THB 250) is a cheeky item, giving people a way to go back to the office and tell their coworkers they had a "salad" for lunch – this recipe comes with a shot of tequila. They're both fathers of boys who are the same age, so relate to the "bad dad" title. Instead of the pile of leafy greens associated with most salads, this bowl is a tipped-over tortilla bowl filled with "deep-fried goodness" – Buffalo chicken, pork bacon, greens, potato tots, caramelised onions, cheddar and blue cheese dressing.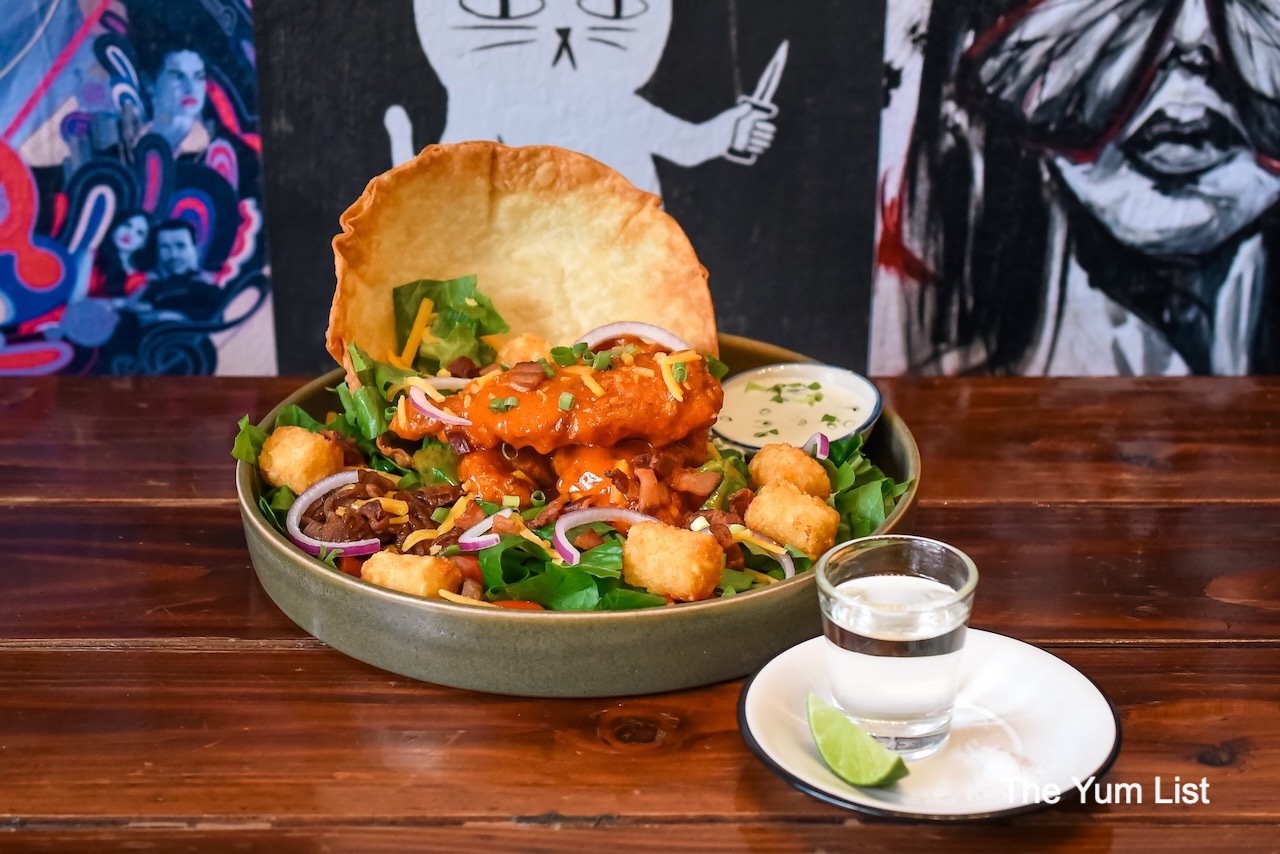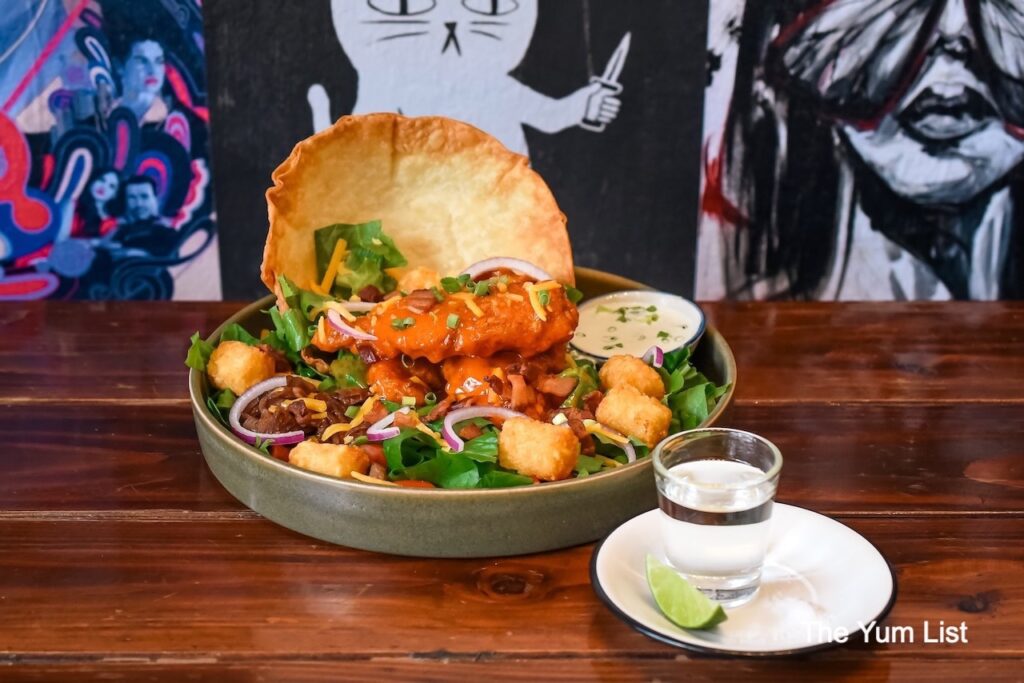 For something a tad healthier, the Open-faced Luscious Lox Sandwich (THB 195) is beautifully plated. A thin slice of toasted sourdough is just the right thickness to hold its toppings without leaving us feeling stuffed with carbs. It's spread with a smearing of cream cheese, house-smoked salmon, half-pickled cucumber slices, dill, capers and pomegranate seeds (which, add colour and little pops of sweet juiciness).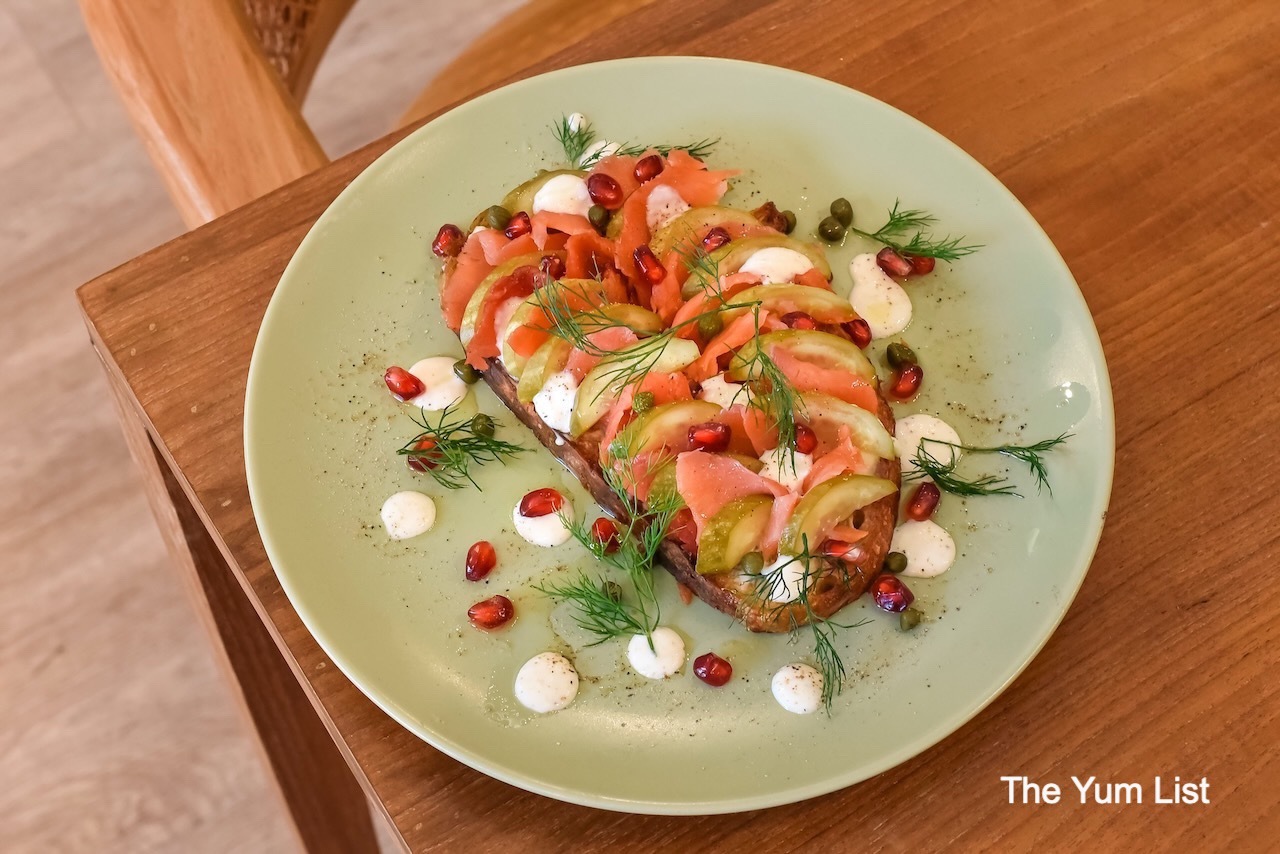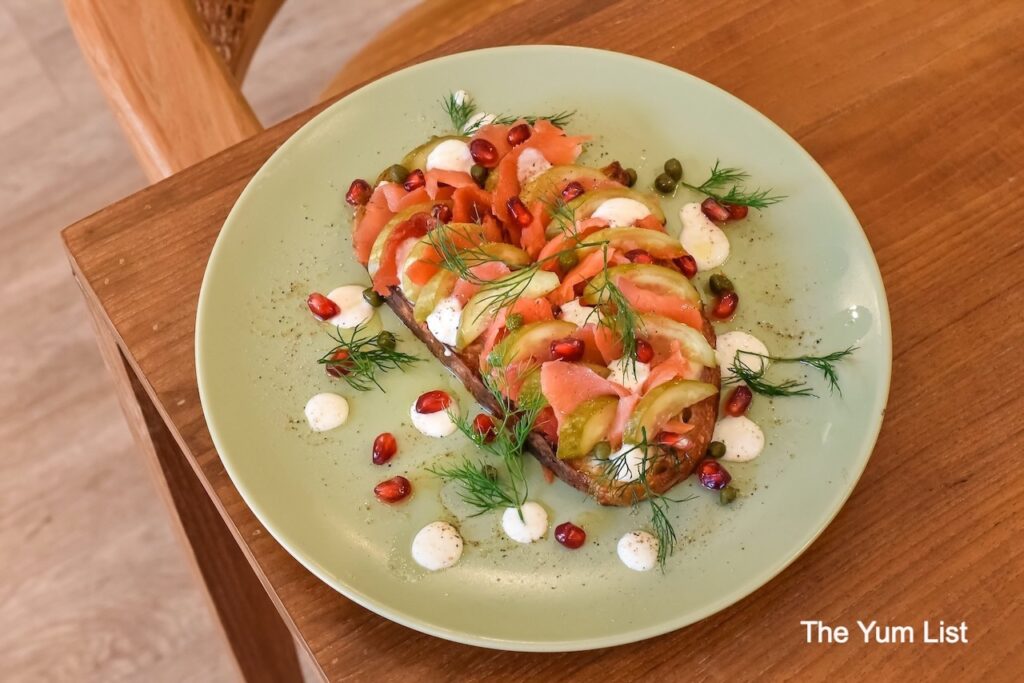 Lastly, the Big Stack Pancakes (THB 270) could serve as dessert or brekkie to share. They're three thick rounds of fluffy pancakes layered with berry compote and topped with mascarpone cream. Fresh seasonal fruit cascades over the top and down the sides, along with coconut oat crumble, honeycomb candy and caramelised banana. Maple syrup comes apart, allowing diners to pour to their pleasure.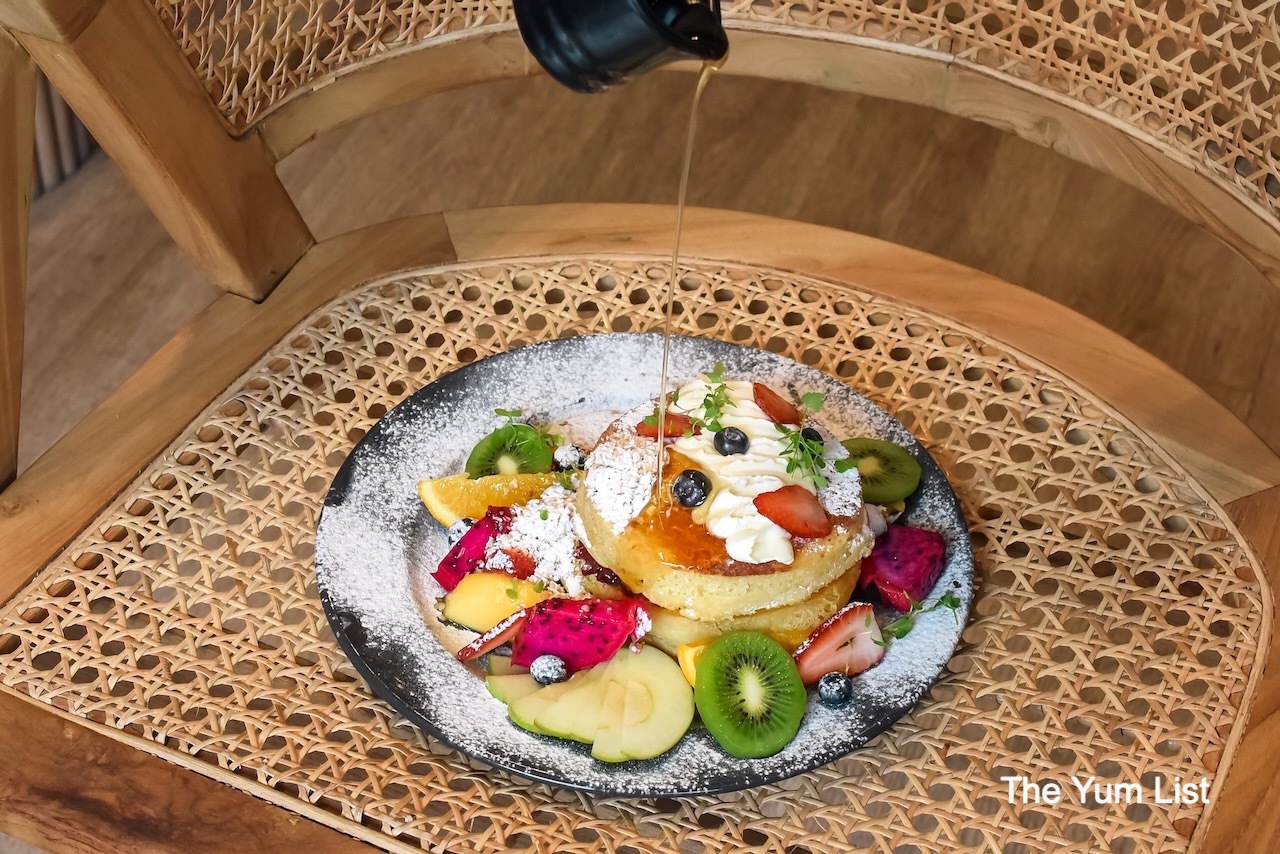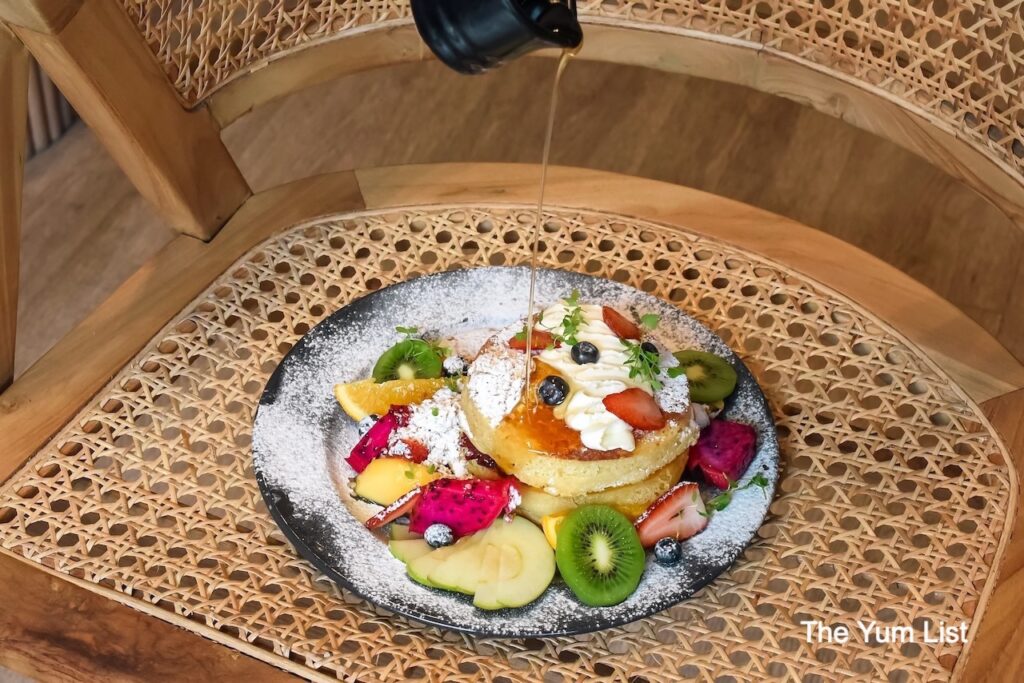 Drinks Menu
Kit Kat, our cheerful server, explains the drinks menu with both boozy and straighter options. Milkshakes, homemade teas and twists on classic cocktails make up the beverage list. For a well-chilled, sweet order try the Classic Thai Ice Tea (THB 60). It's pretty in the glass, with layers of orange tea floating on the top and condensed milk on the bottom. Alternatively, Peach Soda (THB 80) with flavoured syrup, sparkling water and fresh lime is another sweet option.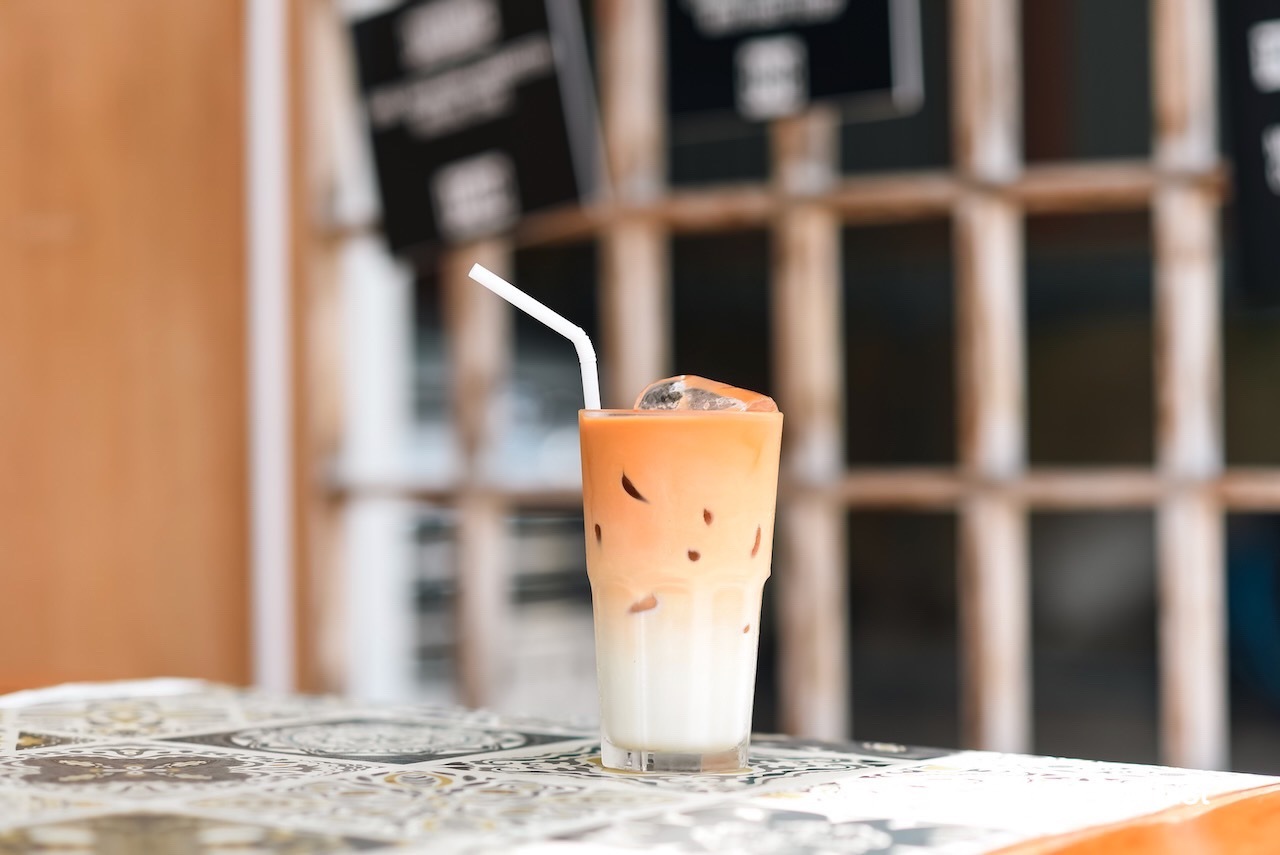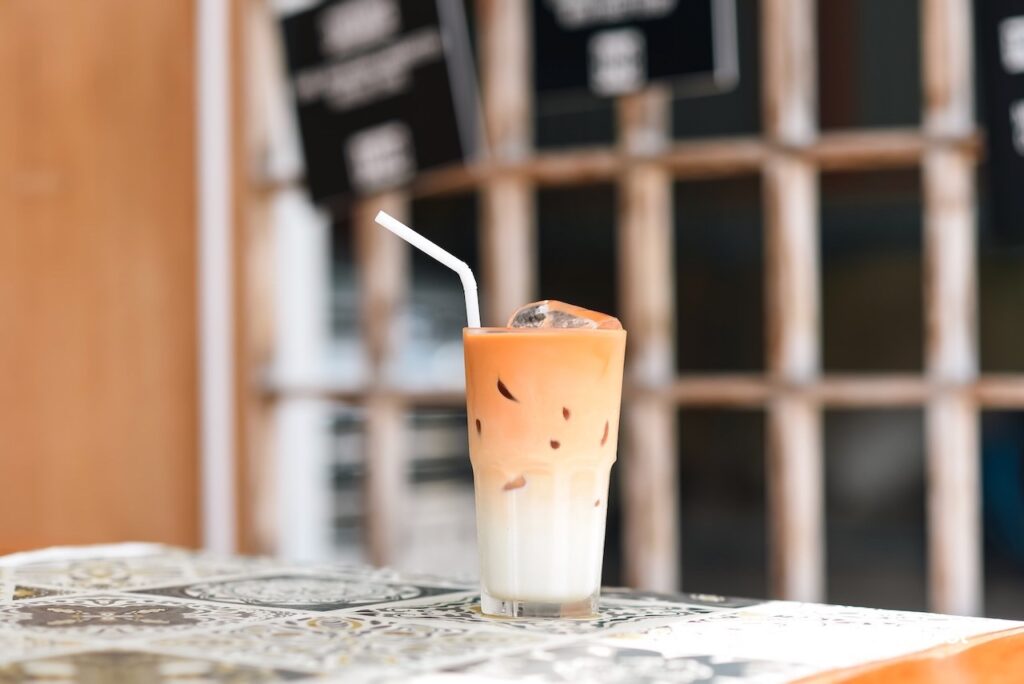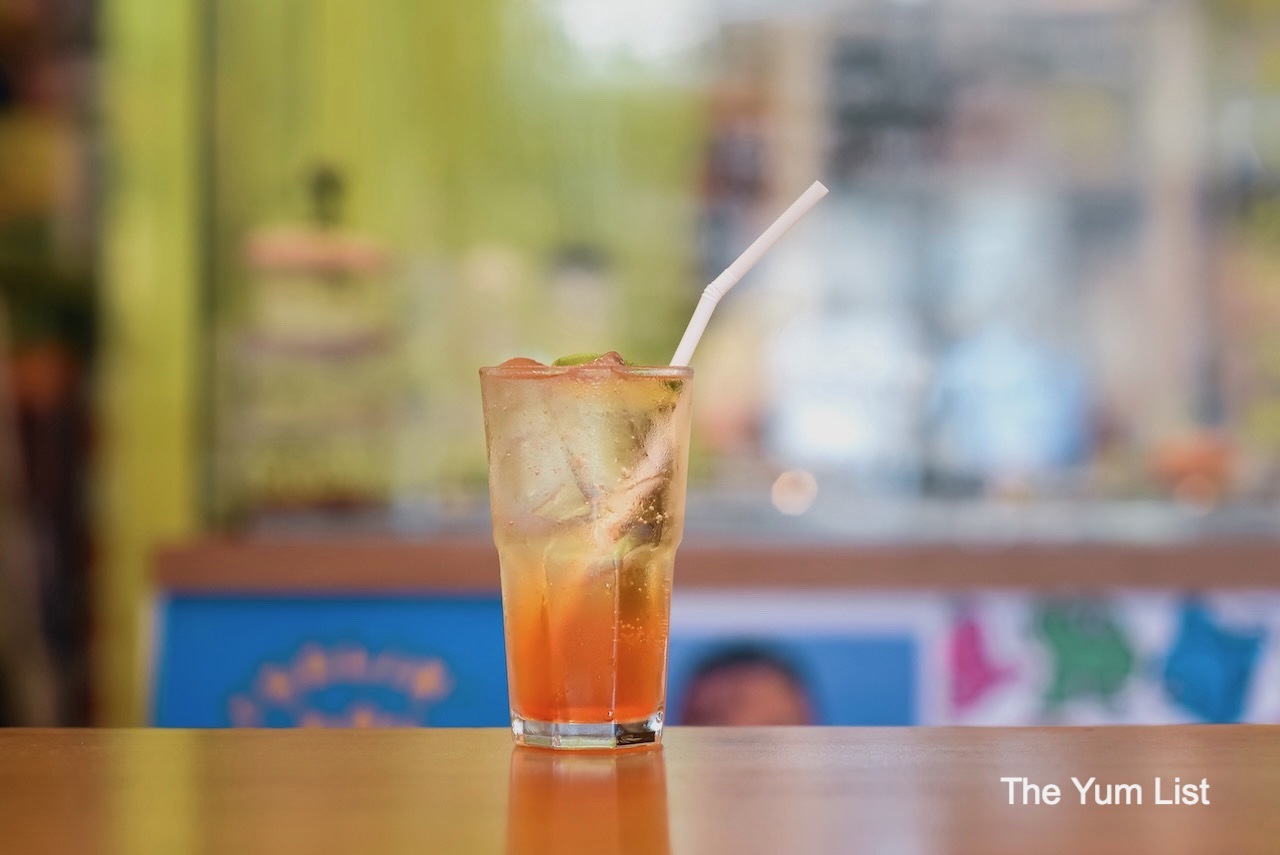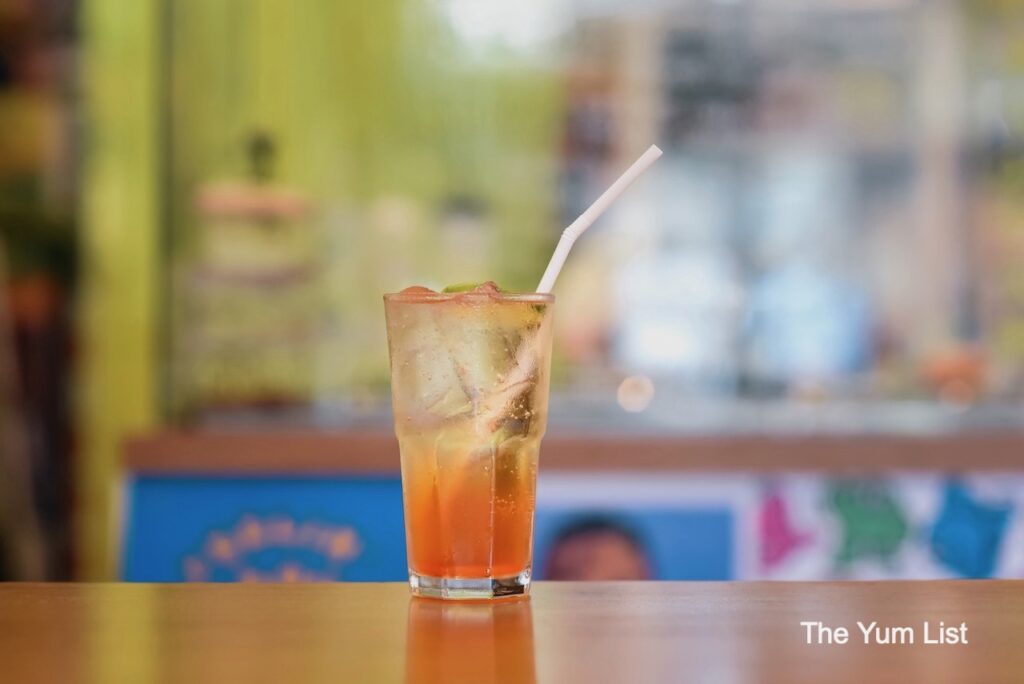 If you think brunch deserves booze, kick it up a notch with some Big Trouble cocktails. Morning Mule (THB 180) is my pick, refreshing with vodka, orange juice, ginger and lime. Otherwise, try the Bloody Trouble (THB 180) with vodka, tomato juice, Worcestershire sauce, Tabasco, Maggi seasoning mix, horseradish and a celery-salt rim. A skewer garnish of cocktail onions, olives, pork rind and jalapeños make it a complete meal.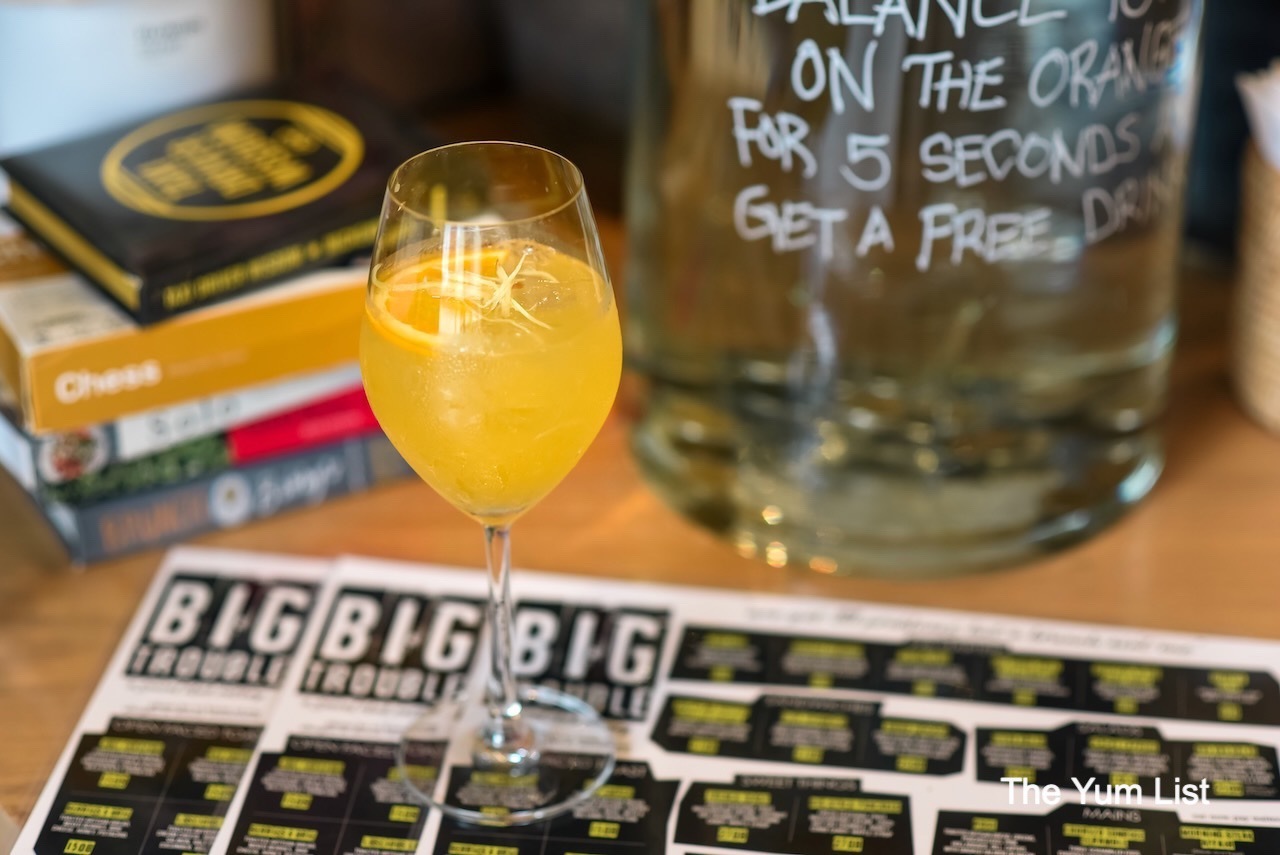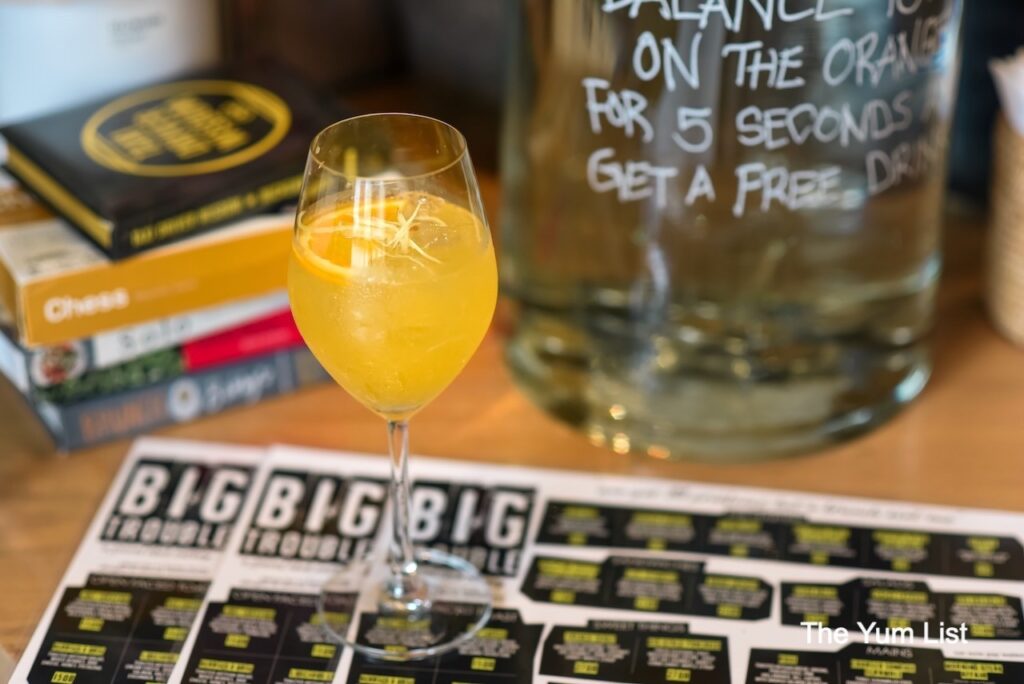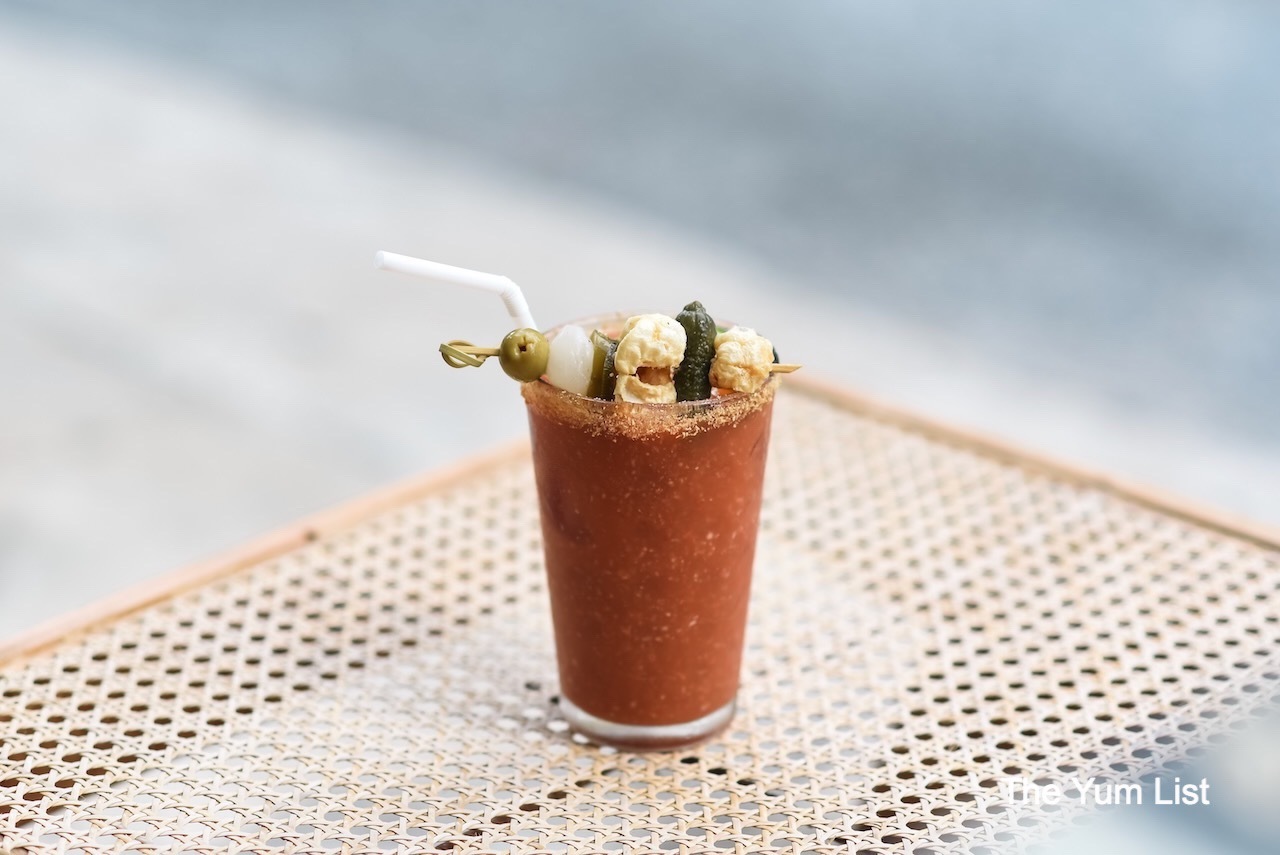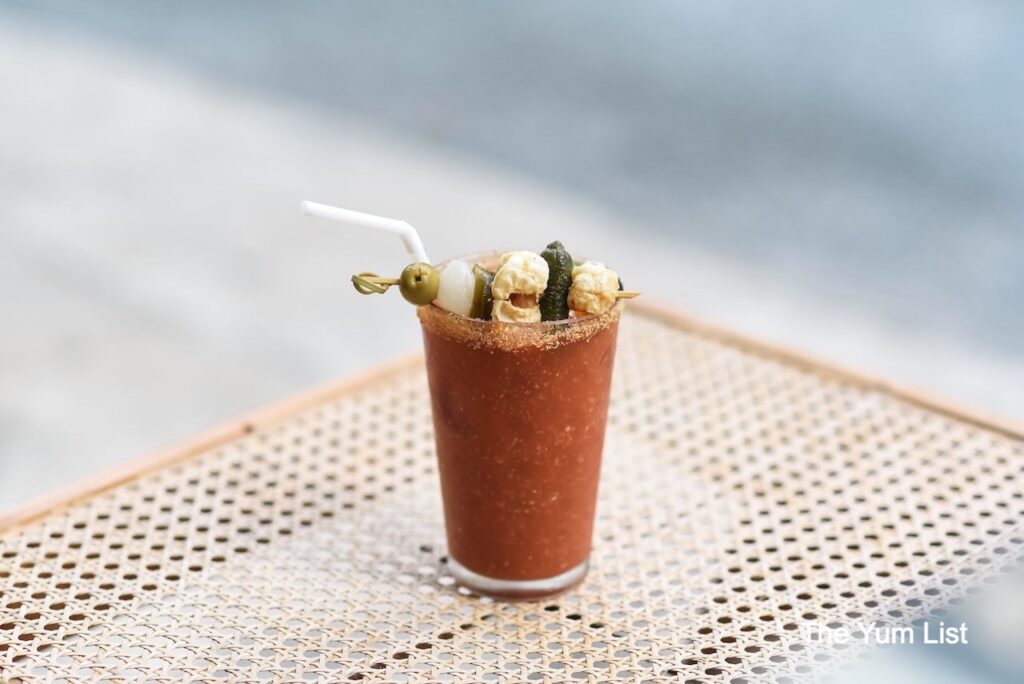 Big Trouble Chiang Mai Review
We're grateful to have found Big Trouble only weeks after its opening. It's a fun brunch café in Chiang Mai with the owners on the floor, interacting with guests, living up to the goal of making it a social club eatery. With its unique atmosphere, delicious food, and friendly staff, Big Trouble is sure to become a new favourite among Chiang Mai's locals and ex-pats alike.
Reasons to visit Big Trouble Chiang Mai: fun, upbeat place for brunch in Chiang Mai; delicious, hearty menu with something for most tastes; everyone is welcome here; don't miss the Jalapeño Popper Grilled Cheese, the Open-faced Luscious Lox Sandwich, and Big Stack Pancakes.
Big Trouble Chiang Mai Brunch Cafe
Chang Moi Kao Rd, Mueang, Amphoe Mueang Chiang Mai
Chiang Mai 50300, Thailand
+66 094 842 0197
@bigtroublecnx
Big Trouble Chiang Mai Opening
Tuesday to Friday: 8 am to 3 pm
Saturday & Sunday: 8 am to 4 pm
Closed Monday
Find more recommendations for luxury travel in Thailand here and stay up-to-date with our latest gourmet travel finds here and here.