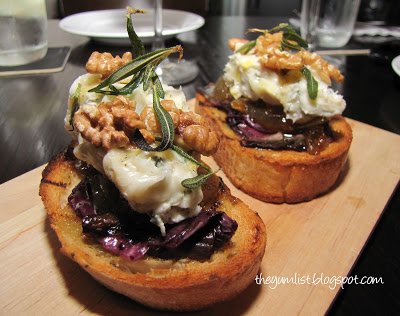 Gorgonzola with Mostarda and Walnut Crostini – Smooth creamy gorgonzola, pear compote, crusty bread – must try!!!
Chargrilled Baby Octopus with Fennel and Orange Salad – tender, charcoaly, fruity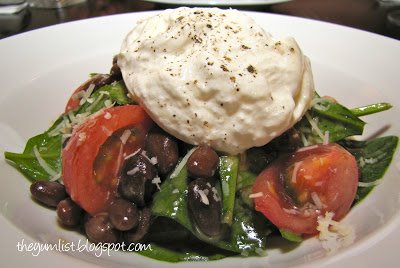 Burratina Cheese Salad – black beans, spinach greens, pearl cherry tomatoes, supple delicate Burratina cheese draping the top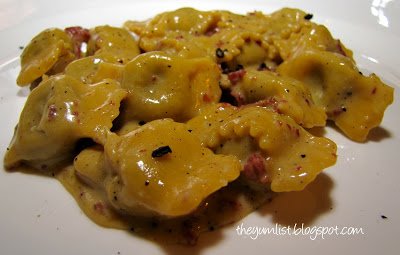 Hand Rolled Agnolotti filled with beef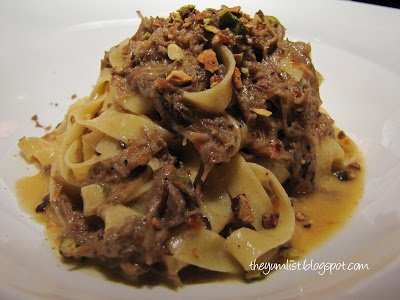 Home made Tagliatelle with Milk Raised Lamb Ragu and finely chopped pistachios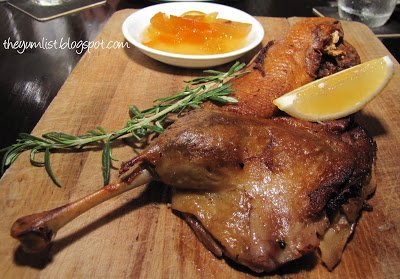 Duck Confit with apple compote and rosemary sprig served on chopping board with lemon – chef's favourite
Traditional Tiramisu and the Italian house red
*** Sadly Delucca has recently closed. 🙁
Alongside a new chef and refurbishments this past December, the whole concept of Delucca has been reconceived. The new space is more intimate and the decor features soft lighting and tiles. The sleek rectangular bar is the centrepiece and draws guests in to congregrate and socialize. Creative dividers give privacy while still allowing a feel of spaciousness. A focus on service arises to the forefront with the word 'consistency' repeatedly heard from return diners. The reinvention of Delucca though has one distinguishing characteristic radiating above the others – it's all about the food. Much time was invested in looking for a chef that could understand
the desired concept of authentic Italian cuisine where quality ingredients are at the heart of all that matters. Chef Afiq, with a recent two year sojourn in Florence fit the bill.
Chef Afiq describes his food as straight forward and rustic. He relies on traditional wood burning and grilling and allows no modern type of cooker in his kitchen. Paying much attention to quality ingredients he keeps things simple, as he learned in Italy, to rejoice in the inherent traits of food in its natural state. A fresh food ideology is at play and this time round Delucca is taking things slowly, gradually building up their menu to create high caliber and consistency. Chef Afiq takes pride in maintaining authenticity and sees his job as educating customers in pure Italian tastes and textures rather than localizing recipes. The restaurant is pork free. Hand made fresh pastas, the crostini and duck confit are all highlights.
Classic Italian wines such as Chianti and Pinot Grigio are on hand and a respectable house wine is set at a reasonable price. The bartender is known for his Lychee Martinis and an assortment of other liquor is also at one's disposal. Wine is served in appropriate glasses with chilled vessels for the white. My preferred way to launch an Italian evening is with either a light fresh Pinot Grigio or dry Prosecco. With not too much fragrance, the white wine makes a great opener as it doesn't complicate your palate before the meal, while the sparkling is crisp and palate cleansing. Happy Hours run from 3 – 8pm and make an attractive alternative to traffic.
Reason to visit: Gorgonzola Crostini, Duck Confit, handmade pastas, Happy Hours
Delucca, The Italian Restaurant
Open 6 days for lunch and dinner with parking readily available in the lot underneath.
Ground floor – Office Tower,
No. 1 Jalan Nagasari, off Jalan Raja Chulan
Kuala Lumpur 50200
Malaysia