Chef Alessandro working hard and happily in the kitchen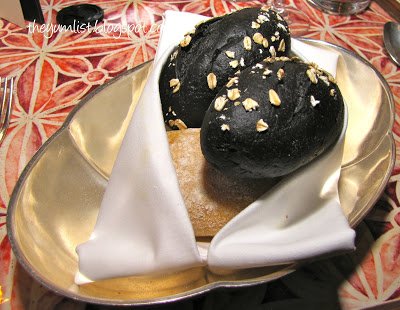 Warm Bread – charcoal, ciabatta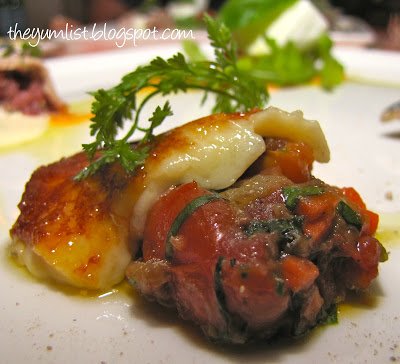 Scamorza Alla Griglia con Crudaiola di Verdure – crispy seared Scamorza cheese with vegetable marinade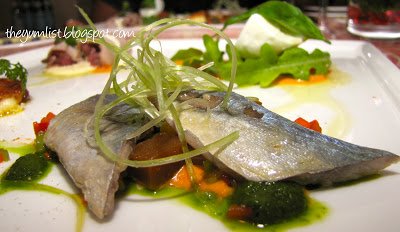 Alici Marinate alla Mediterranea – Fresh sardines marinated with garlic parsley pesto and citrus olive oil, served with Mediterranean vegetable salad and shellfish bisque gelatine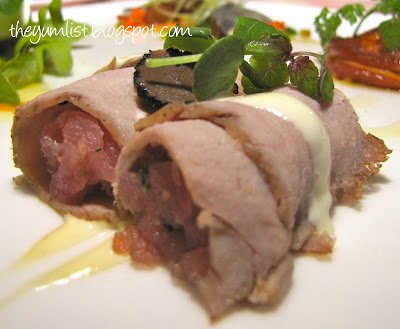 Vitello Tonnato al Tartufo Nero – Sea salt flakes tuna tartar with low temperature roasted veal carpaccio, tuna sauce foam and black truffle flakes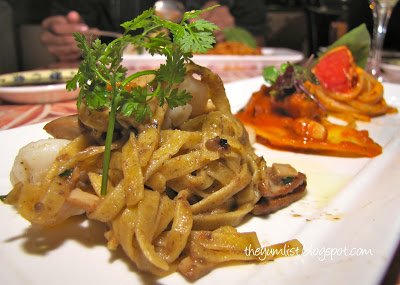 Pasta Platter – Linguine ai Quattro Pomodori (Linguine with tomato sauce, oven roasted Roma tomatoes, tomato concasse and tomato seeds coulisse), Taglioloni Gamberi e Funghi Porcini (Tagliolini with pan fried tiger prawns and porcini mushroom with garlic and basil, shellfish bisque sauce), Mezzelune di Patate, Ricotta e Limone in Salsa di Spigola all' Acquapazza (Half-moon ravioli of potatoes, ricotta and lemon served with sea bass and cherry tomato crazy water sauce)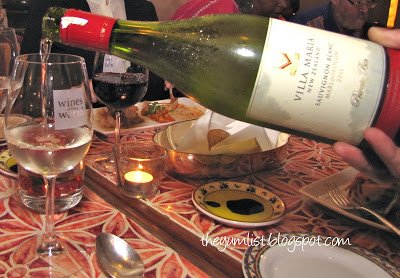 House white – Villa Maria New Zealand Sauvignon Blanc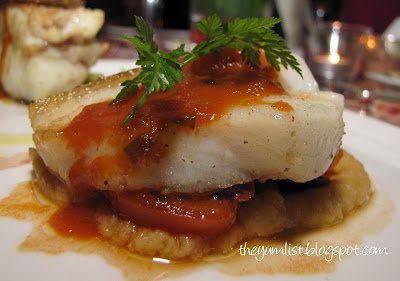 Merluzzo all Mediterranea con Purea di Ceci all' Oilo – cod fish medallion pan seared then stewed with berry capper, Taggiasca olives and tomato shellfish sauce, mashed chick peas with olive oil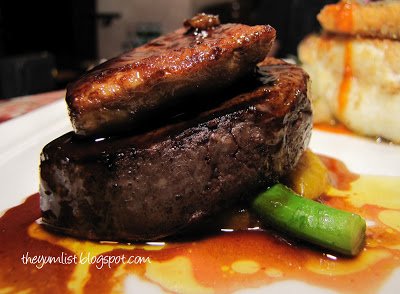 Filetto di Manzo all Rossini, Salsa al Marsala e Miele, Purea di Zucca all Olio e Verdure Saltate – beef tenderloin with pan seared foi gras, honey Marsala beef jus, mashed pumpkin and vegetables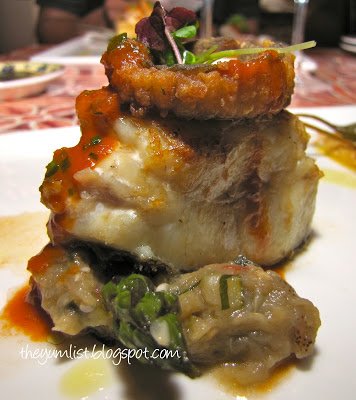 Costata di Rombo con le sue Pancetta Croccanti e Tartar di Melanzane e Zucchini – brill fish t-bone with its crunchy belly, eggplant confit tossed with crispy blanched zucchini and Mediterranean seasoning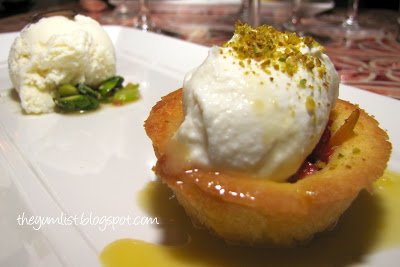 Gelato al Parmigiano, Asparagi Glassati al Miele e Tarufo Nero – parmesan cheese ice cream, honey glazed asparagus and black truffle + Cheese Cake di Ricotta in Salsa al Limone con Zeste Candite e Composta di Fragile – ricotta cheese cake with lemon sauce and candied zest, fresh strawberry compote
Tiramisu – The literal translation of "tiramisu" is Pull Me Up – a dessert which is supposed to give you a twist of energy after the meal, thanks to the caffeine and protein contained in the light cheese mousse

Entering Villa Danieli you could be fooled into thinking that you've arrived to a warm Tuscan villa in the countryside. Heat smolders from the wood fired brick oven, the chef's play in the open kitchen and robust pillars support the roof and the character. Look up to see a busy mural painted by Mindy Lehrman Cameron depicting a cheerful dining scene, and cast your gaze downwards to notice a blend of carpeted, wooden and tiled floors. The scene is further realized with hand painted ceramic table tops and an approachable bar area perfect for aperitif. Completing the picture, is 100% Italian, new chef Alessandro Graziosi.
Chef Alessandro, most recently from Le
Meridien Khao Lak Thailand, originally hails from the north of Italy. He brings to the Sheraton Imperial a devotion to his hometown's regional cuisine inspired by growing up in the kitchens of his mother and grandmothers, but also a fondness of food from all over the country, even crossing the borders to capture some mediterranean influences. He is appreciative of his new position in Malaysia, especially as it means having access to quality ingredients. With a new chef, comes a new menu and we were fortunate enough to have a sampling of some of the redesigned fare last week.
Fresh herbs, hand made pasta and grilled meats seem to be one reliable predictor of an Italian restaurant's authenticity. All three you'll find featured at Villa Danieli, alongside a wood fired oven and uncomplicated food preparation, another two credibility indicators. We sampled four different starters of which I am still drooling over the Pan Seared Scamorza and Tuna Tartar, while hubby starts salivating with any mention of the Mediterranean Sardines. The Mediterranean Cod Fish on a base of mashed chick peas won my tongue's first prize and hubby's pick was the tender full flavoured Beef Tenderloin with honey Marsala jus. We were both enamored with the Ricotta Cheesecake with its citrusy sauce and crunchy encasing, while the Parmesan Cheese Ice Cream left us speechless. The cold temperature and smooth texture of this unexpected dessert are the first sensations you experience, predisposing you to the belief that you're about to indulge in a typical sorbet. Then, without warning, an aftertaste of parmesan cheese fills the mouth disorienting your taste buds. Honeyed asparagus and black truffle add to the assault with savoury and pungent tastes crawling up the sides of your cheeks. Reactions were opposite at our table and only a movie camera could adeptly record the reception. All faces began the same, with a bewildered look as they tried to understand what was happening. The outcome however ranged from puzzled, to unpleasant, to smiles, to happy surprise. Prices resemble other similar caliber hotels with starters ranging between RM38 and RM68, Soups RM24 – RM52, Pizza Pasta & Risotto RM38 – RM65, Mains RM72 – RM108 and Desserts RM35 – RM42. If you're a holder of the Starwood Privilege card though you get a generous 50% discount when dining in a pair.
Reason to visit: impression that you're feasting in an Italian countryside villa without the cost of the airfare, Ricotta Cheesecake, Beef Tenderloin, Cod Medallion, Seared Scamorza Cheese starter, Starwood service, 50% discount if you hold a Starwood Privilege card
Villa Danieli
Sheraton Imperial Kuala Lumpur
Jalan Sultan Ismail
50250 Kuala Lumpur
Malaysia
+6 03 2717 9900
Open weekdays for lunch & Monday to Saturday for dinner.