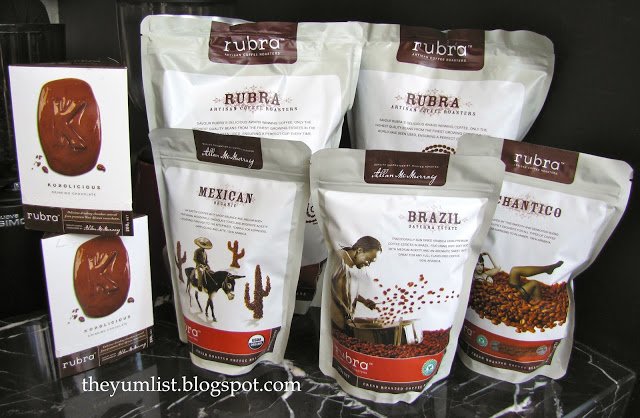 Rubra, gourmet coffee, now at Pietro
Hot Chocolate, Latte and Cappuccino – all based on Rubra – free the Sunday we visited to celebrate the introduction of the new brand of beans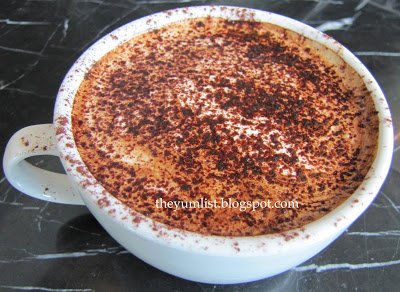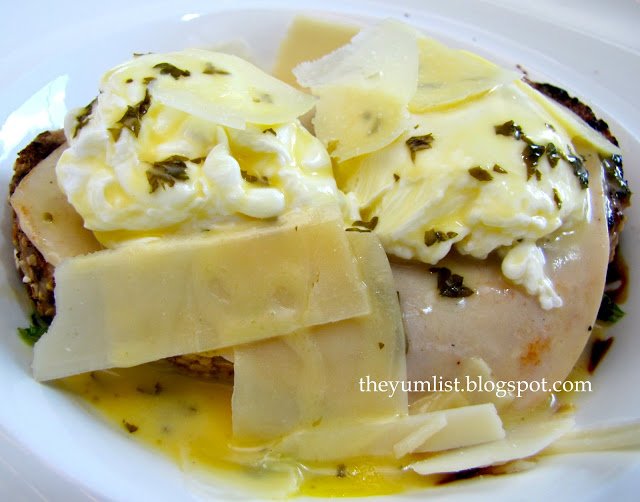 Croque Dame – shredded chicken ham and toasted bread with fried eggs, roasted potatoes and fresh greens – RM16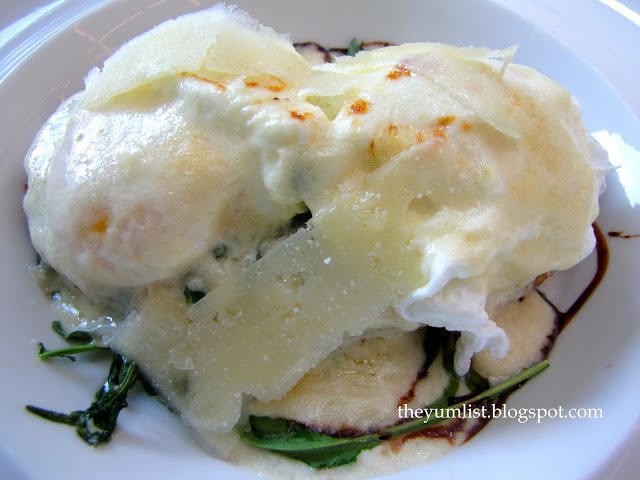 Eggs Benedictine – two free range eggs on toasted chunky slices of grainy bread, turkey ham, lemon butter sauce, melted cheese slices, fresh rocket, garlic and a tang of balsamic, loved it!! – 12RM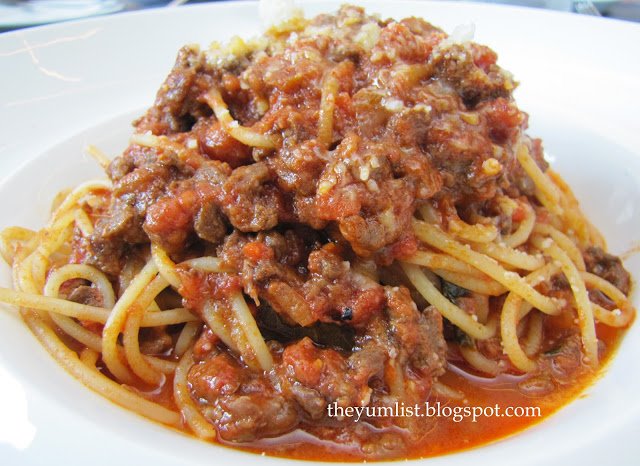 Spaghetti Bolognese – with rich stewed tomato meat sauce & hand grated parmesan cheese – RM24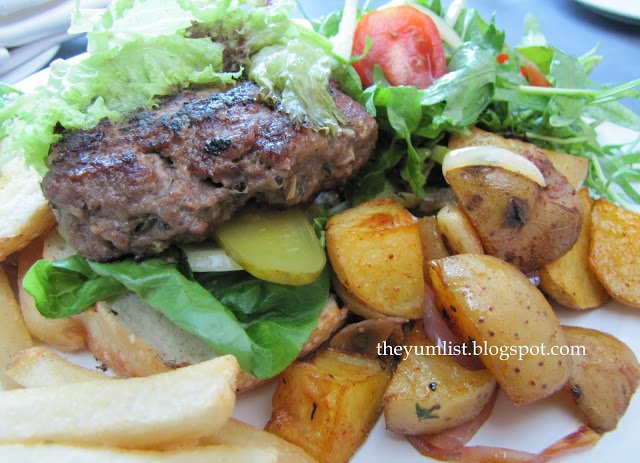 Prime Homemade Beef Burger – chubby patty packed with fresh herbs which bring out the natural flavor of the meat, topped with cheese, lettuce, onions, a side of crispy fries, roasted potatoes and rocket – RM22
Tiramisu and Affogato (literally means 'drowned' in Italian) – a scoop of vanilla ice cream drenched in a shot of rich strong espresso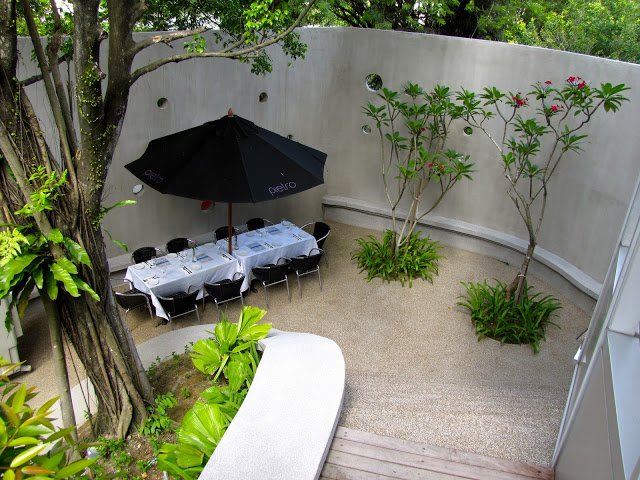 The garden courtyard is shaded by trees and freshened by a portable air cooler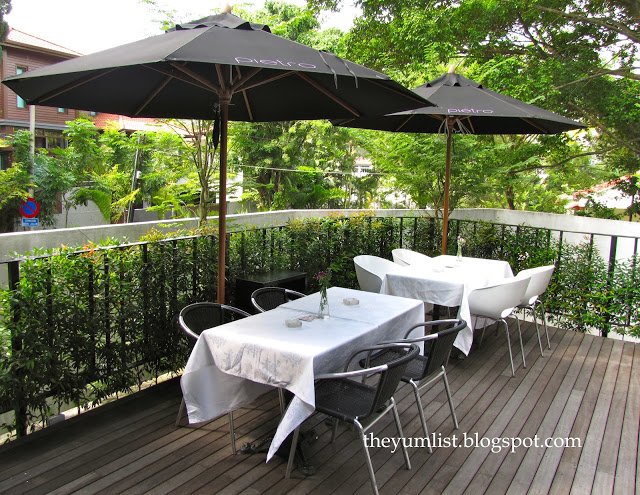 Eating out is just as pulchritudinous as eating in
All the things I admire about Italian dining can be found at Pietro – use of fresh seasonal ingredients, uncomplicated food combinations accenting natural flavours, nothing overly processed and a focus on enjoyment in an easy unpresumptuous venue. The award winning architectural design, by Fendarie Su of Santa Fe, is simple yet contemporary integrating large open spaces, white, grey and black with nature and a splash of colour accomplished with leafy plants, floral table arrangements and eye-catching artwork. The garden courtyard and tree lined patio are nice spaces for morning coffee or evening drinks. Secure parking is easily accessible next door underneath ECM Libra.
Hearing that the launch of a new coffee brand, Rubra, was coming with free coffee, we thought Pietro the ideal place for the start to our Sunday. Arriving, we were also pleased to find we'd be saving yet a few more Ringgit because they offer a 30% discount on their brunch menu every Sunday. Smooth coffee, easy going atmosphere and value for money breakfast – what a great start to the 'day after the big night before'.
Seeing Rainforest Alliance, Organic and Fair Trade certifications on various blends of the newly launched coffee brand gave my conscience a socially responsible satisfying initiation to the day. Tasting Rubra's smooth espresso based coffees, brewed with their Bonito blend, satiated my taste buds too. Rubra, which is specially formulated for cafes, is solely distributed by Auresso in Malaysia. Conceived by Australian mastermind, Allan McMurray, he takes the crafting of this artisan coffee so seriously that he guarantees every packet by stamping his name as approval. Apparently the fastidiousness doesn't stop there. Being so proud of their brand means that not just any cafe can become a partner, they must be selected as being able to live up to the Rubra reputation. Both blends and single origins are available for retail sale, but drinks coming from the restaurant tend to be based on a blend. Having a preference towards the smoothness of Latin American beans, I was delighted to see Brazilian, Peruvian and Mexican single origin beans for sale. Accompanying the recently introduced hot beverages is Kokolicious Drinking Chocolate. Sourced from premium West African cocoa beans, this coffee alternative assures the sweet tooth a gratifying start to their day alongside their caffeine addicts.
Eggs are my favourite weekend breakfast so straight up we ordered: Eggs Benedictine, two free range eggs on toasted chunky slices of grainy bread, turkey ham, lemon butter sauce, melted cheese slices, fresh rocket, garlic and a tang of balsamic – loved them for the bargain price of 12RM; and the Croque Dame, shredded chicken ham and toasted bread with
fried eggs, roasted potatoes and fresh greens – another good value meal for RM16. Being a food blogger does have its benefits sometimes. In this case, Chef Federico, taking advantage of my egg photo session, by bringing out a few of his Sunday morning hangover cures for a chance in the spotlight. The Prime Homemade Beef Burger is a fine choice for soaking up the remains of a late night – a chubby patty packed with fresh herbs bringing out the natural flavour of the meat, topped with cheese, lettuce, onions and a side of crispy fries, roasted potatoes and rocket for RM22 is a steal. The Truffle Shoestring Fries with grated parmesan and chopped
parsley for RM18 greet you with the aroma of
truffle as you lift them to your mouth quickly casting them out of the 'regular fries' category and catapulting them into 'gourmet waters'. The classic Spaghetti Bolognese with rich stewed tomato meat sauce and hand
grated parmesan cheese is a very generous serving for RM24. When overindulging is on the books, why stop at the main? Tiramisu and Affogato were a brilliant ending to overload and ensured that every last drop of the night before was forgotten. Pietro is one of a small few restaurants that serve their meals on hot plates – a simple but important touch deserving a mention.
Reason to visit:
Good coffee, lively ambience, sleek interior,
green exterior, excellent value Sunday brunch
Previous post: 14 January 2012