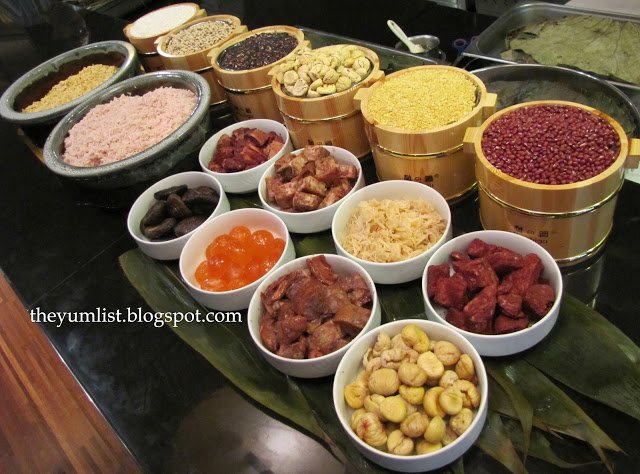 Ingredients needed for glutinous rice dumplings – just in time for the Chinese Dragon Boat Festival
Patient Chef Thye demonstrating and guiding participants in the art of dumpling making. He made it look so easy, but the hands-on proved to be more challenging that it first appeared.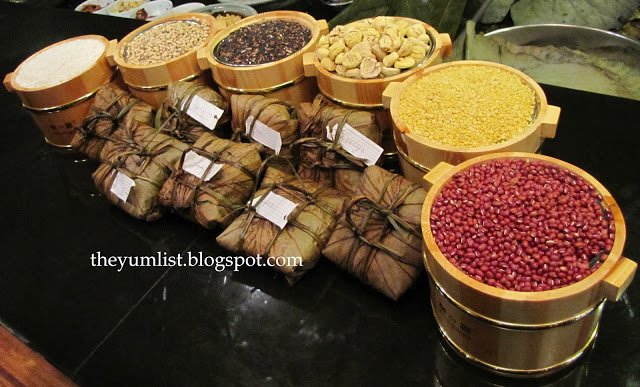 Our finished dumplings – not quite as uniform as those of the chef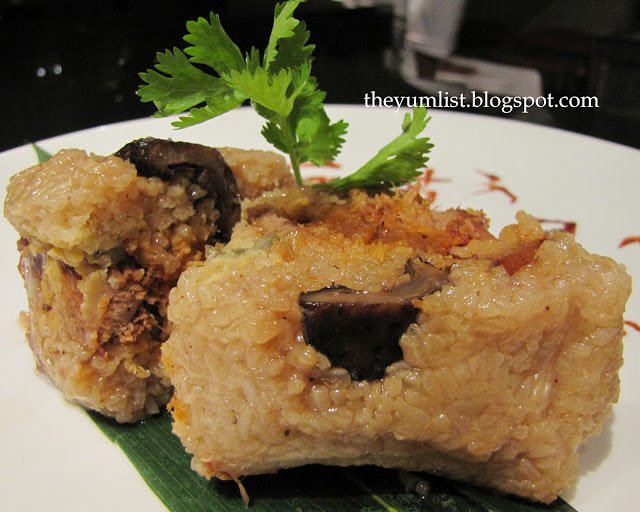 Glutinous Rice Dumpling with Dry Scallop and Roasted Duck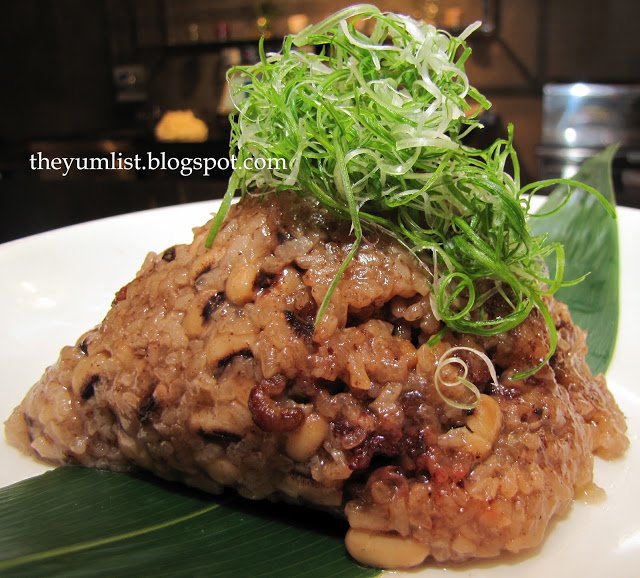 Glutinous Rice Dumpling with Roasted Pork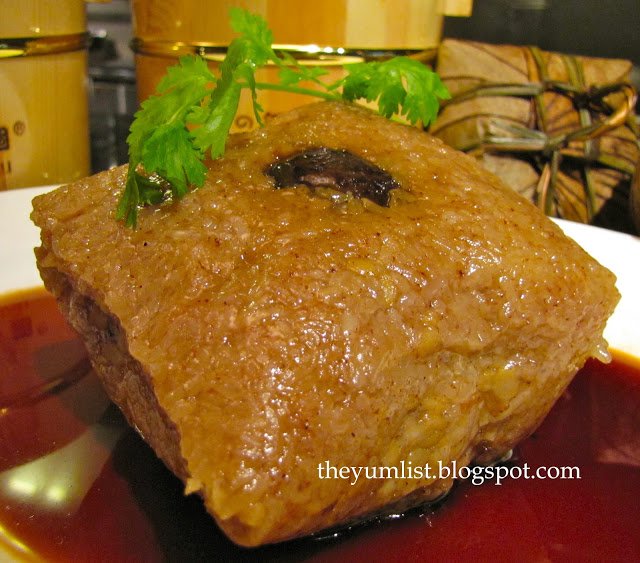 Glutinous Rice Dumpling with Abalone and Chinese Mushroom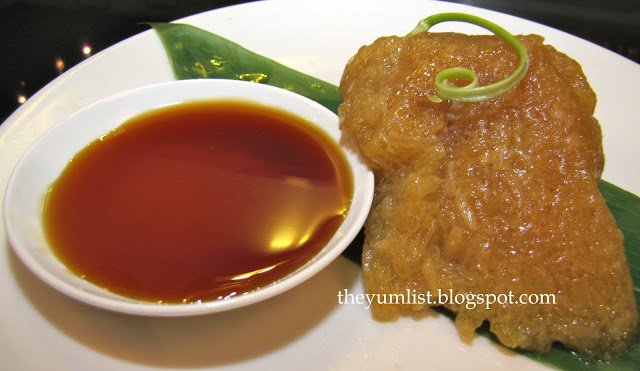 Glutinous Rice Dumpling with White Lotus Paste
"Luck is like having a rice dumpling fly into your mouth," and lucky we were to be shown by Chef Thye, of Lai Ching Yuen at the Grand Millennium Kuala Lumpur, what effort goes into making glutinous rice dumplings. With Dragon Boat festival soon upon us Lai Ching Yuen is wowing its guests with Dumplings or Bak Chang which are traditionally eaten on the fifth day of the fifth month in the lunar calendar. Jovial Chef Thye patiently taught a group of hungry bloggers how to make these special treats.
Two types of leaves, lotus leaves as the large round base and bamboo leaves to provide support and structure, are laid flat awaiting the pile of ingredients. To assemble the Roasted Pork Dumpling, rice soaked in seasonings, beans, mushroom, dried scallops, roasted duck meat, three types of pork – meat, belly and fat – chestnuts and salted egg yolk are then stacked on top of the base. Care must be taken when adding the final layer of rice to shape it as round at possible to ensure even cooking. Next the contents are encased and wrapped just as you would a Christmas present. This task turned about to be trickier than it first appeared. Fumbling thumbs and fingers though were guided by the expert and in the end we all had some creation to call our own. Raw ingredients are used so the dumplings must be boiled for six hours before eating. Some left this workshop itching to give it a go at home. I left with a grand admiration and appreciation of what goes into the preparation of this traditional treat and am happy leaving it to the professionals.
This dense package is a complete meal with rice, beans, vegetables and meat all in one parcel. Chef Thye's special combination of a dark soy sauce is used to complement the dish and Chinese tea is the suggested drink, particularly jasmine, as it is said to help metabolize the pork fat. Lai Ching Yuen Rice Dumplings are available from June 9th to June 23rd and priced from RM28 – RM68++.
Reason to visit: Glutinous rice dumplings to celebrate the Dragon Boat festival
Lai Ching Yuen
First floor
Grand Millennium Kuala Lumpur
160 Jalan Bukit Bintang
55100 Kuala Lumpur
Malaysia