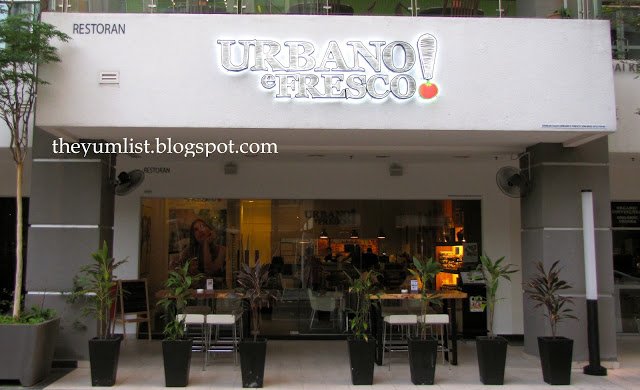 The plant fringed entrance with views to a petite park across the road
Tomato Bruschetta – toasted bread with tomatoes, pesto, extra virgin olive oil, parmesan & basil RM9.90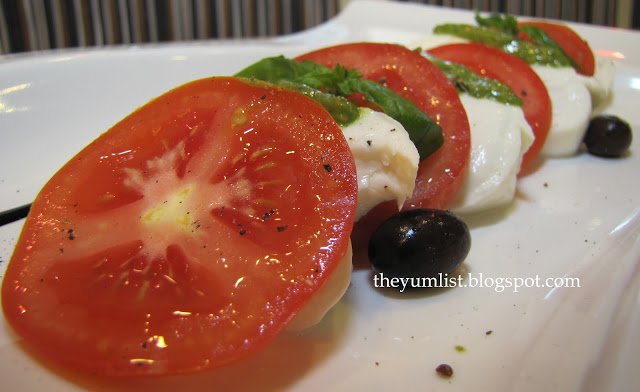 Caprese Buffalo Mozzarella – buffalo mozzarella, fresh tomatoes, pesto sauce, black olives, balsamic reduction – a newly introduced item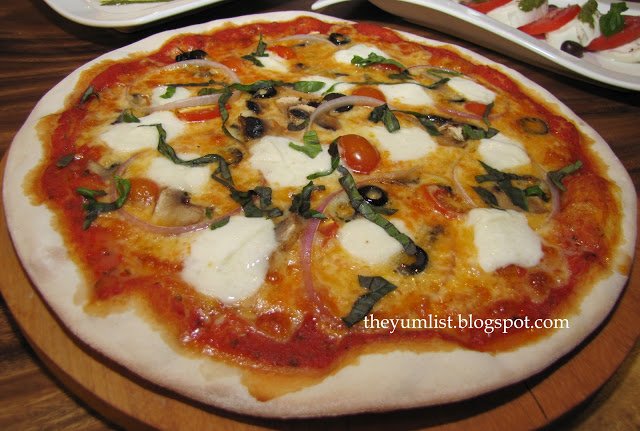 12″ Pizza Chef Massimo – mushroom, onion, fresh cherry tomatoes, black olives, buffalo mozzarella, basil, tomato sauce, crisped in a brick oven RM29.90 – pizzas come in three sizes 9, 12 and 15 inches.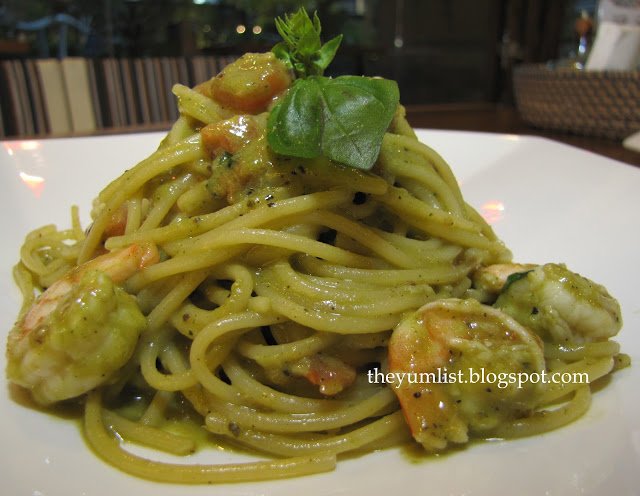 Creamy Seafood Basil Pesto – spaghetti with basil pesto, prawns and tomato RM26.90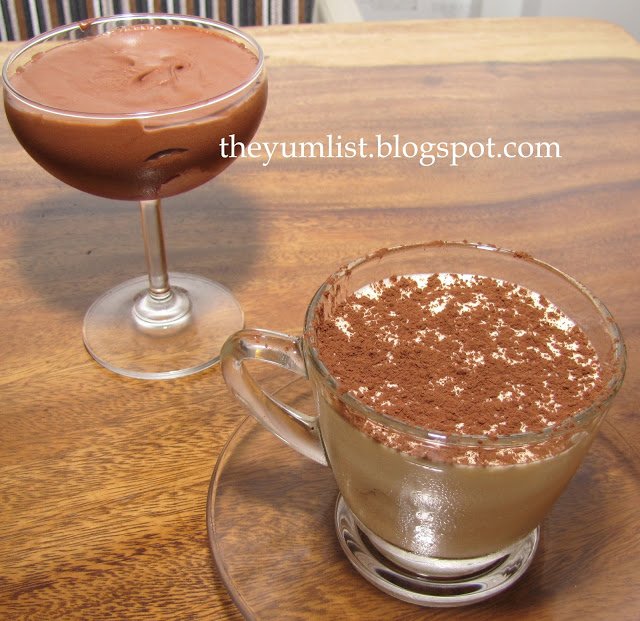 Strawberry Mousse – 50% pure dark chocolate tops a bed of fresh strawberry halves
Tiramisu in Cappuccino Cup – mascarpone, lady fingers, Illy coffee
Open, bright and inviting, Urbano e Fresco makes you feel alive. Adorned with colourful paintings, classic Italian posters and organically packaged products, a small yet roomy space forms a friendly atmosphere for casual dining with family and friends. The garden lined patio affords a view of a leafy playground and an oblong window allows glimpses of the chefs at work. A clever use of rolling pins lined up to shape a dividing frame separates the whole dining square into two smaller comfortable zones.
Urbano e Frecso, as you might have guessed, brings freshness to the urban environment. Chef Massimo Zampar, most recently from Four Seasons Langkawi and hailing from northern Italy, has a passion for the simplicity and focus on quality ingredients that Italian cuisine is known for. He prepares uncomplicated salad, pizza and pasta dishes that are common throughout his native homeland. Soon the link between the Urban and the Fresh will become even more apparent as partnerships and webcams set up in the Cameron Highlands will see the chef selecting produce directly from the farm before it is transported to the restaurant. This locavores' delight will certainly make the socially responsible enheartened and foodies enraptured with the guarantee of meals constructed daily with only the freshest local produce available.
Our tasting experience can be described as clean, fresh and easy. Starting with the Tomato Bruschetta – toasted bread with tomatoes, pesto, extra virgin olive oil, parmesan & basil – and the Caprese Buffalo Mozzarella – buffalo mozzarella, fresh tomatoes, pesto sauce, black olives & balsamic reduction – our palates were opened and left craving for more. The 12″ Pizza Chef Massimo with mushroom, onion, fresh cherry tomatoes, black olives, buffalo mozzarella, basil and tomato sauce came out hot and crispy from the brick oven. This medium sized pizza was more than enough to share between two with leftovers. The Creamy Seafood Basil Pesto – spaghetti with basil pesto, prawns and tomato – followed, and was enthusiastically devoured until the last drop of sauce. Lastly the Strawberry Mousse, a dense blend of 50% pure dark chocolate atop a base of halved strawberries, saw my Hobbit appear as I guarded 'my precious' from hubby's lingering eyes. The Tiramisu in a Cappuccino Cup with its silky mascarpone, softened lady fingers and Illy coffee however was enough to keep him distracted. Food is not the only reason to visit though.
An enthusiastic staff, led by Italian Simone Coletta, heighten the fun. Like a six year old in a candy store, the manager's energy is contagious. He loves his job and considers it one of the best in the world. He is passionate about developing systems to ensure quality and erecting a brand that provides products and service that you can rely upon. This spirit for life rubs off on his staff making Urbano e Fresco a fun and friendly rendezvous.
Reason to visit: simple, fresh Italian fare with a friendly, casual vibe
Urbano e Fresco
D2-G3-3A,
Publika, Solaris Dutamas
50480 Kuala Lumpur
Malaysia
+6 03 6411 3070