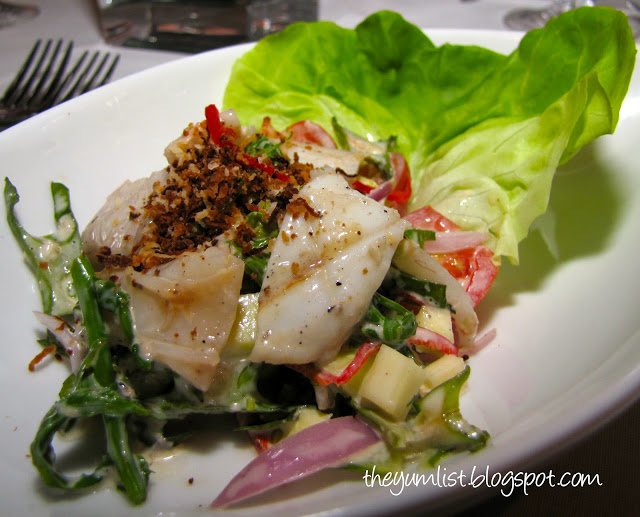 Kerabu Sotong – a light salad of four angled beans, wild fern, red onions, cherry tomatoes, chili, sour carambola with grilled squid with cincalok dressing served in a lettuce cup.
Paired with De Bortolli Sparkling Brut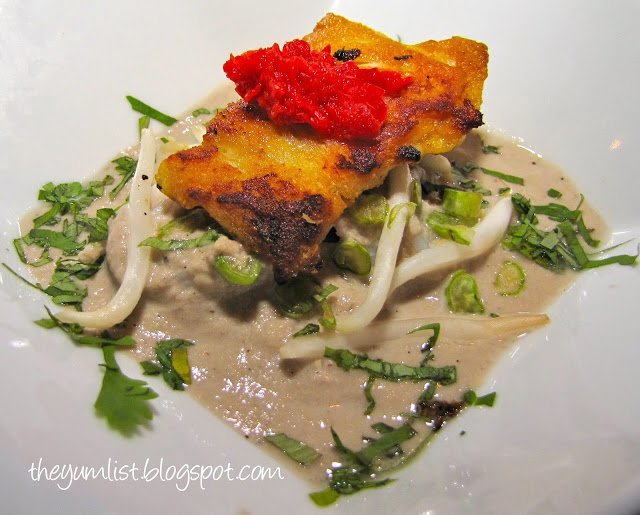 Laksam – fish curry with rolled rice flour noodles
Paired with Mitolo Jester Cabernet Sauvignon – bright, lush, juicy, rich, mouth filling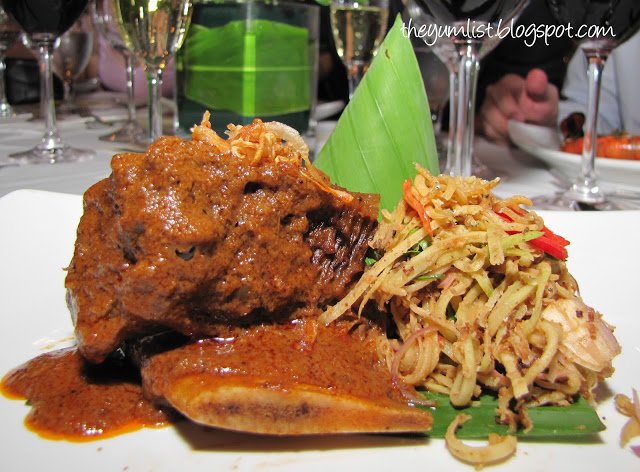 Opor Rusuk – beef ribs slow cooked in a thick opor sauce and mango salad served with beras rice. A choice of three mains, beef, prawn or quail, all paired with Mitolo G.A.M Mclaren Vale Shiraz – vibrant, rich, savoury dusty tannins, impressive length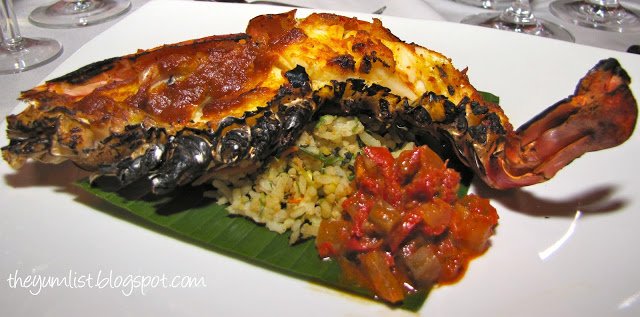 Udang Galah Panggang – chargrilled marinated king prawn served with sambal carambola with pickled vegetables & coloured herb rice.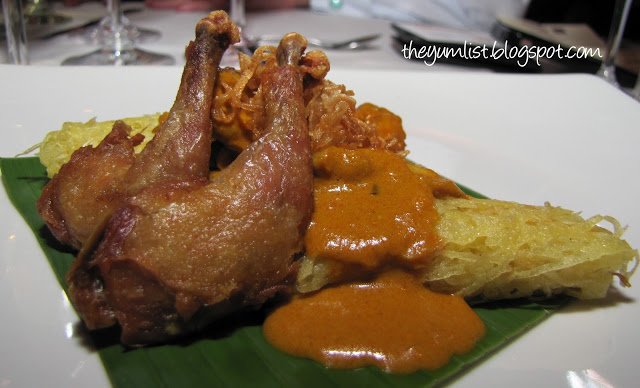 Burung Puyuh dengan Roti Jala Dua Rasa – traditional delicacy of quail leg confit & egg curry, quail breast meat served with tumeric laced pancakes.
Sparkling De Botoli white to begin, followed by a fine selection of Mitolo reds. The Jester Cab Sav was the pick of the night at our table with fellow diners even buying cases on the spot to take home.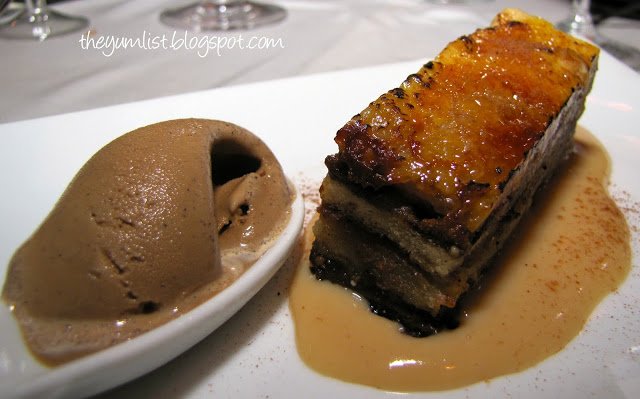 A Bijan Surprise! – coffee ice cream with bread and butter pudding with caramelized top. Last wine, Mitolo Seprico McLaren Vale Cabernet Sauvignon – purity of varietal flavour, savoury tannins, compelling richness, intense concentration of flavour resulting from 100% dried Cabernet fruits.
As much as I enjoy Malay food there has always been something missing. Pairing wine with a cleverly crafted dinner is one of the great pleasures in life. The complexity of local cuisine, and South East Asian food in general, with its battery of herbs and spices, though is sometimes thought of as too much of a challenge to match with an appropriate vintage. Hence, there are few opportunities in restaurants in Kuala Lumpur to take this local cuisine to its pinnacle with the aid of a good drop. Bijan Bar and Restaurant in Changkat Bukit Bintang has filled the chasm with fine wine from around the world walking hand in hand with masterly forged Malay dishes.
Bijan honours and elevates local culinary treasures in chic elegant surrounds. An authentic Malay meal can be encountered minus the worries of an upset tummy, sweltering heat or car fumes, that might come with many experiences of 'real' local food at a road side stall. A large dining area accommodates both group bookings or more intimate dates. Large folding doors open up to a covered patio giving the options of air conditioned coolness or al fresco dining. A handsome bar and cocktail tables at the entrance are an inviting spot to begin your evening.
The food is described as authentically Malay, however I noted the added benefit of excess fat trimmed from meat and no MSG used in the kitchen. Those new to Malay food will find something intriguing in every bite. Generous use of seasonings father a kaleidoscope of tastes and dishes are generally rich and intense. The evening we participated in the Mitolo wine dinner, the Laksam – fish curry with rolled rice flour noodles – was a hit. A creamy sauce smothered the flat noodle rounds with bean sprouts and herbs freshening up the heaviness of the sauce. The fried white fish crowning the top, set apart from the wet ingredients, provided a balance of textures and moistness. Dining in a group has its benefits and in this case meant I got to pick at my companions' mains (who were given strict instructions to all order something different – I can be a little bossy at times :-)). The seafood and quail left us all smiling but it was the Opor Rusuk – beef ribs slow cooked in a thick opor sauce served with mango salad and beras rice – that had us fighting over who had ordered what. Not only picture perfect, but succulently morish, tender meat dissipated in the your mouth without need to even chew. The Bijan Surprise! – home made coffee ice cream with bread and butter pudding and caramelized roof – was a cheerful closer. Enriching the lineup with carefully chosen wine awarded multiple layers to the experience. Excited by the prospect of exploring my own couplings of Malay dishes with some rose and chardonnay grape varietals, I eagerly plan my return.
Reason to visit: A rare chance to pair Malay food with wine in a sleek contemporary atmosphere
Bijan Restaurant
3 Jalan Ceylon
Changkat Bukit Bintang
50200 Kuala Lumpur
Malaysia
+6 03 2031 3575