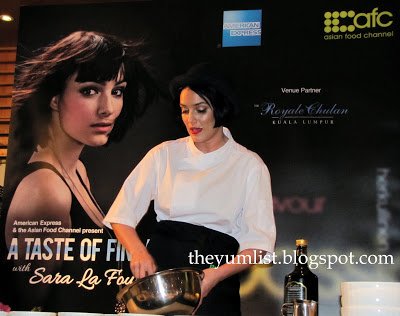 Sara La Fountain demonstrating her culinary skills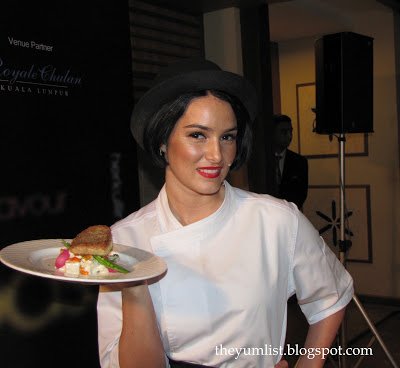 Fried Fish with Summer Potato Vegetable Salad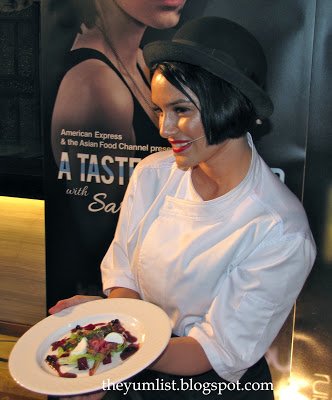 Goat Cheese Salad with Beetroot, Dark Sweet Bread Croutons, Marinated Red Onions & Blueberry-Balsamic Vinaigrette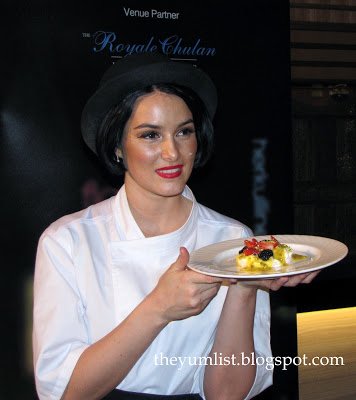 Summer Pavlova with Passionfruit Cream served with Strawberries and Pistachios
A Taste of Finland
For those of us who are so familiar with Asian Cuisine, it
was a refreshing change to sample some delights from the other side of the
globe. Sara la Fountain, a renowned Finnish American-chef and former model has
the ability to turn simple ingredients into artistic masterpieces.
The first things that one normally associates with any
mention of Finland are wide open spaces covered with snow, reindeer and trees.
This was all about to change however with the return to Malaysia of one of Finland's
best culinary experts, Sara la Fountain. Sara, hosted by Asia Food Channel and
American Express, appeared to present three of her amazing Scandinavian recipes
at The Royale Chulan Kuala Lumpur. Sara la Fountain created three dishes from her newly released
book, in front of an audience of Malaysia's most discerning press members
and food critics.
Sara's overall approach towards cooking is summed up in her
basic philosophies: "The ideas must be clear and distinct; with clear themes
suited for the type of people, (e.g. older people or children) Food must be
easy to prepare, shared amongst friends and the most important spice being love." This kind of passion is clearly seen throughout the dishes
she prepared from salads that represented the forests of Finland through to a
zingy pavlova desert with passionfruit cream and pistachios.
In Finland the dramatic seasonal shifts influence the type
of foods eaten at different times of the year. Hence the first course prepared
was a creamy Goat Cheese Salad with Beetroot, Dark Sweet
Bread Croutons, Marinated Red Onions and Blueberry-Balsamic Vinaigrette. The
tangy blueberries and beets are an indication that the northern summer has finally
arrived and are a great addition to a salad that was prepared, in Saras words,
to "look like a painting".
The main course, while being simple, was a subtle blend of
flavours that are mostly foreign to Asian palettes. The diced potatoes were
covered with a creamy horseradish and mayonnaise dressing. The fried fish
fillet was crunchy on the outside and delectable on the inside. The garnish of
dill complimented the horseradish to provide a pleasantly aromatic eating
experience. Nothing is more colourful and exciting than the use of salmon roe
as a final topping to this dish that added further explosions of flavor.
As we learnt from Sara, the Pavlova was actually created in
Australia when the famous Russian ballerina Anna Pavlova visited many years
ago. In search of a light and airy dish reminiscent of a ballet dancer the
chefs created this desert from beaten egg whites and toppings. The Fins then
have taken this concept to new levels as seen in Sara's artistic creations. The
final result being a riot of colour and texture that would raise the eyebrows
of any hardened desertaholic.
Sara spoke with passion about collecting chanterelle
mushrooms as a young girl in the forest for her grandmother. Her recent idea is to combine learning Music
DJ skills combined with cooking. La
Fountain was awarded the Best First Cookbook award at the prestigious Gourmand
World Cookbook Awards in Kuala Lumpur, Malaysia, for her debut book à la Sara
in 2006.
Guest writer and adventurer James Gibbs runs a paramotoring school
air Venture
–
the most fun I've personally had in KL
.
Guest photographer Caning Alexis is a man of many talents – stay tuned for a new Latin fashion line soon to be launched in KL.