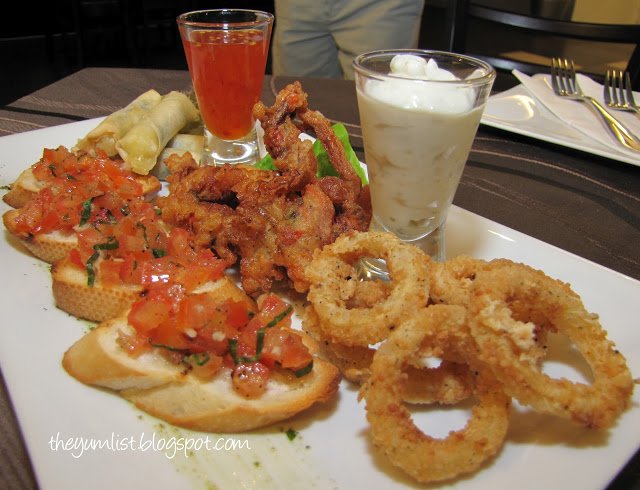 Bruschetta, Deep Fried Calamari, Soft Shell Crab and, Spring Rolls with Spinach, Emmental Cheese & Tomato Concasse – thin crispy batter enfetters all fried items
Apple Sin – Apple pie in a glass! Rum, vanilla, apple juice, cinnamon and baked apple slice with a caramelized rim (rim dipped in vanilla syrup then flamed). Put the apple slice rim in your mouth, drink over the slice, eat the apple. MUST TRY!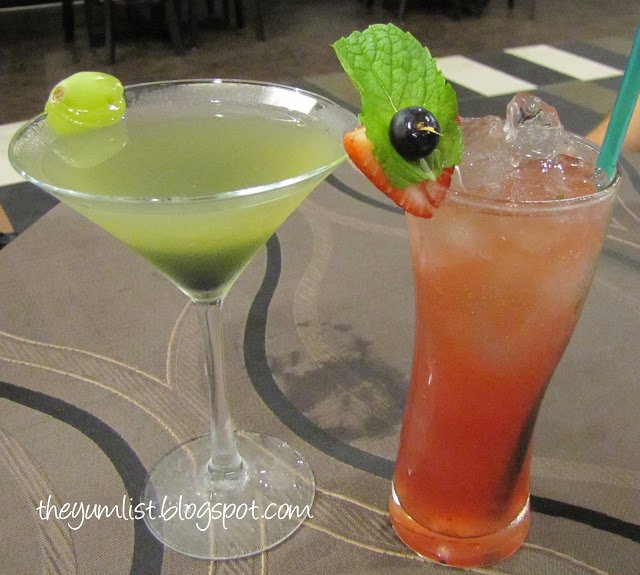 Midnight Kiss – Bombay Saphire, fresh grapes and violet, topped with champagne… a martini you will never forget. The Prestige – A berry explosion! Wild berries, mint and Absolut Citron topped with Champagne for long lasting refreshment. Revitalizing summer drinks.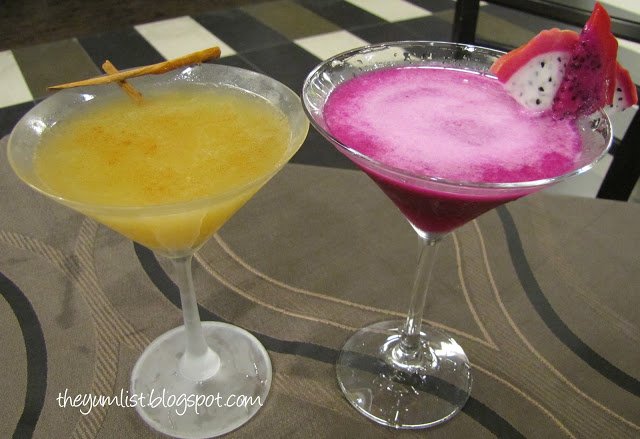 Jealousy – lychees, vanilla, cinnamon and mango juice turn rum into your new favourite spirit. Dragon Tattoo – created for the Year of the Dragon – Absolut Raspberry, red dragon fruit, vanilla and cranberry. Fruity and naturally sweet.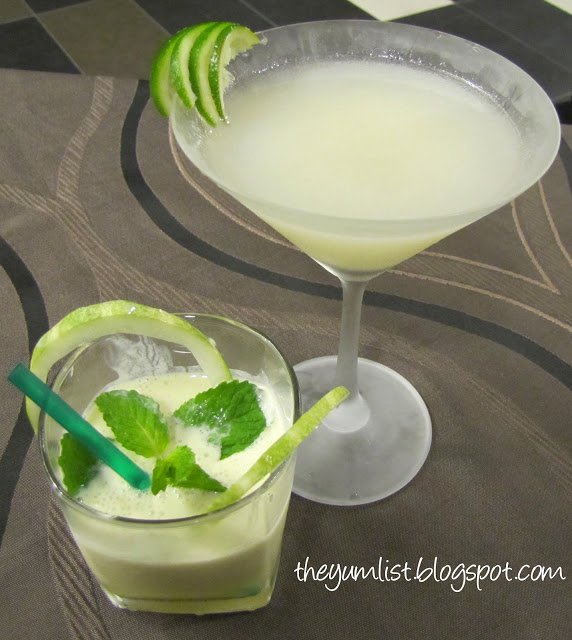 Bitter Moon – not for every palate but such an interesting mix that it should be sampled – Bombay Saphire, Absinthe, Greek yoghurt, cucumber, mint and lime. Desperado – Patron Tequila, paired with mangosteen (can you ever go wrong with this fruit?) and elderflower.

Paradiso in Publika mall deserves more traffic. The concept of the shopping centre as an
artists' haven – cool, creative, hip, boutique – is a welcome one to the
multitude of sameness in KL. The layout of the space, however, does not make for
easy navigating. Most places are destination outlets, not benefiting from foot
traffic at all. Paradiso is a hidden gem, worth navigating towards. German
mixologist Chris Kinne whips up some of the best cocktails in town, so add a visit to your agenda.
Chris has studied, worked and traveled in Europe, Australia
and Asia. With formal training in the
hospitality industry, including mixology, he takes his profession seriously. He
says "no" to artificial colours, flavours and premixes and is a purist when
it comes to selecting ingredients. Only using fresh fruit and mixing his own
sugar syrup, preparation takes longer, but you are assured a high standard. Celebrating local accessibility to quality
produce his drinks are structured expertly. He believes in starting with an
alcohol base and surrounding the liquor with flavours that match, contrast or
enhance it naturally. Presentation is sleek and contemporary. Not overly
stylized but more minimalist, a single slice of fruit or cinnamon sticks
criss crossed with a sprinkling of spice are enough to complement each glass.
While you find many of the classics on Paradiso's drinks menu, Chris believes in experimenting and boldly explores a full range of ingredients creating his own signature concoctions. Tasting every blend before it leaves the bar, he assures consistency and quality. Our personal picks: Jealousy – lychees, vanilla, cinnamon, mango juice and rum – the use of fruit, rum and cinnamon inspire tropical thoughts; Desperado – Patron Tequila, mangosteen and elderflower – seriously how can you go wrong with Patron and mangosteen! – the fruit of the gods entwined with the hootch of the devil and; Apple Sin – rum, vanilla, apple juice, cinnamon and baked apple slice sipped over a caramelized rim – a liquid apple pie. A spot at the bar is perfect for a chat with the bartender. Equally as good though is a well lit table or lounge outside overlooking Publika
square, where you can view the entertainment or weekend happenings from a
comfortable distance, smirking at the crowd with a delicious cocktail in hand.
Reason to visit: premium cocktails, original creations
Paradiso
G3 – 28 / G3 – 29
Publika
Solaris Dutamasa
Jalan Dutamas 1
Duta Nusantara
50480 Kuala Lumpur
Malaysia
+603-6211 3344