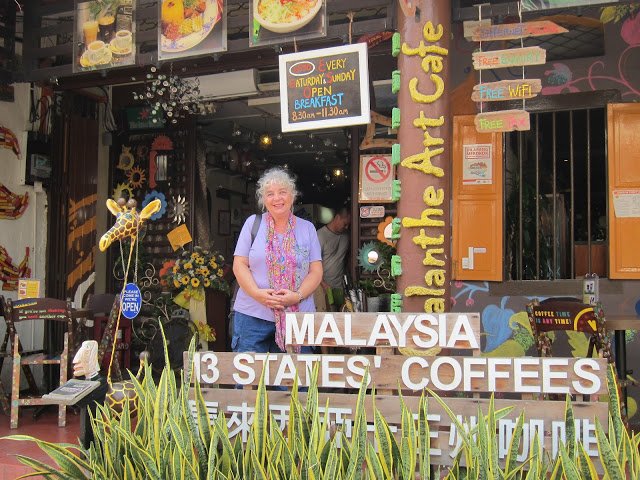 Here's a funky find in
Melaka – Calanthe Art Café.
This is the place to come for coffee
– Malaysian-grown and special Malaysian combinations. Local beans come from Johor, Sabah and Sarawak, and there
are also coffee blends from elsewhere in the region. The unique appeal of this café is that coffee is served in
the style of all the different States of Malaysia.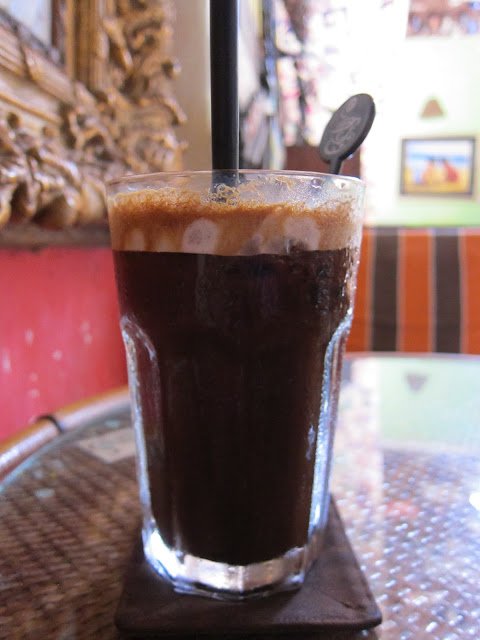 Melaka Iced Coffee
I decided to try the Melaka
Iced Coffee, a highly satisfying, strong, dark brew with just a hint of sugar
in the roasting. At RM4.95 for a
big glass, it's a steal, and I can understand why many visitors keep returning
to try all the varieties.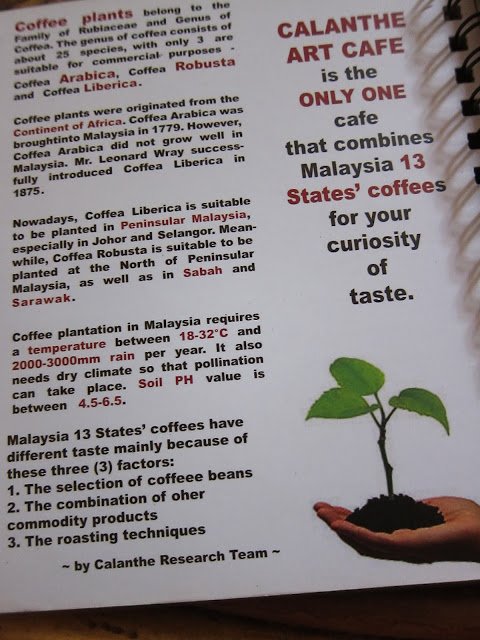 Informative Menu
There are plenty of interesting teas, juices, sodas
and cold drink choices too. There
are ice-blended options and all the other coffee shop favourites, including
Affrogato, along with a few surprises.
How about Aloha Zoey, a coffee, coconut and passion fruit syrup? Wow!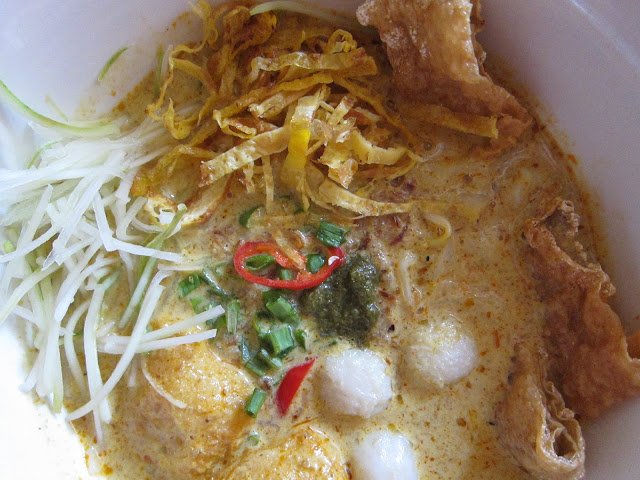 Calanthe Laksa
And "wow" again for the
Calanthe Laksa. I chose kuey teow
noodles, which came in a rich coconut gravy infused with lemongrass, turmeric
and secret spices. This Laksa is
accompanied by a sambal of roasted chillies and dried prawn paste which you can
add to your taste. There are tofu
puffs, fried beancurd skin, thin egg strips, fishcake slices, beansprouts and
grated cucumber. I'm not a big fan
of fishballs, but Calanthe-style fishballs went down a treat. And here was another surprise. In the very centre of the Laksa, there
was a big dollop of thick mint sauce.
The sour vinegar blended beautifully with the sweet coconut milk, an
inspired combination that ensured I ate every last drop. The Laksa was priced at a very
reasonable RM7.95.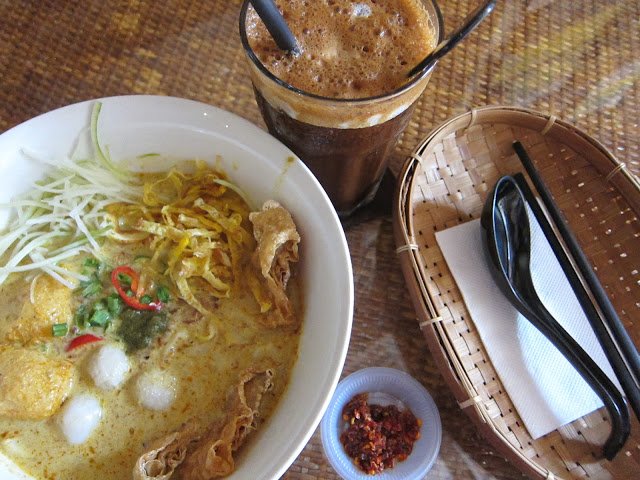 Highly recommended combo!
Didn't I say this place was funky? Just take a
look…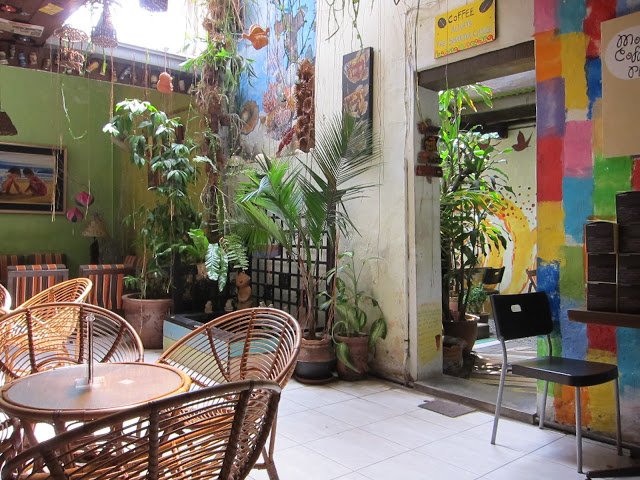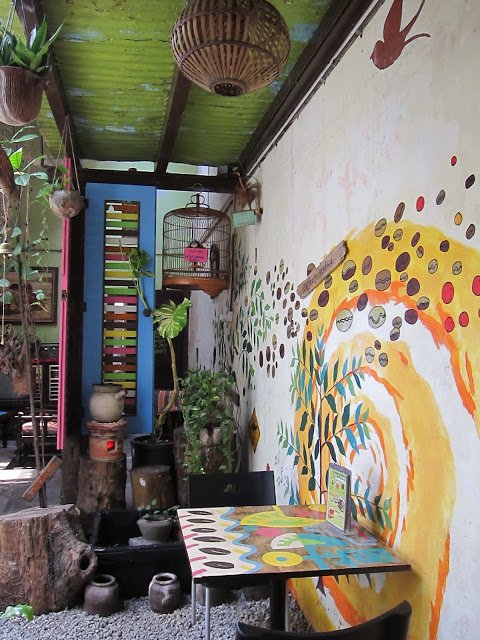 I was so impressed with the
café that I went back later that day for dinner. It's always hard for a Brit like me to pass over fish and
chips, and though I try to limit myself, I do indulge from time to time.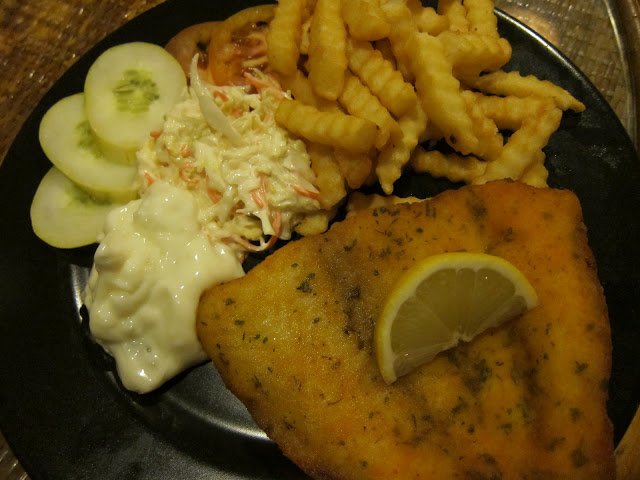 Fish and Chips
Calanthe's version didn't
disappoint…perfectly cooked fish, snapper or grouper, I'm not quite sure
which…but what I do remember is the little twist to add interest. There was a sprinkling of mixed herbs
in the fine breadcrumbs around the fish, a very simple idea that imparted a
novel flavour and lifted the dish from ordinary to extraordinary. The price was right too, just
RM11.95. I washed it down with a
Very Koo, a very kooling fruit juice blend.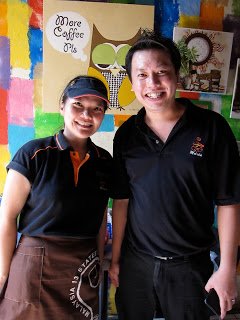 Joseph, one of the owners, and Yen Teh, who gave me excellent service.
Reason to visit:
For the innovative menu, good value for money and to try one of more of
the 13 Malaysian State Coffees.
You can also find them on Facebook, in
fact I just noticed there's an image of me posted there!
https://www.facebook.com/calanthe.melaka
It seems the café's continuing its legacy of keeping everyone interested by
surprising its guests too!