The Buka Puasa Grand Buffet at the Mandarin Oriental Hotel, Kuala Lumpur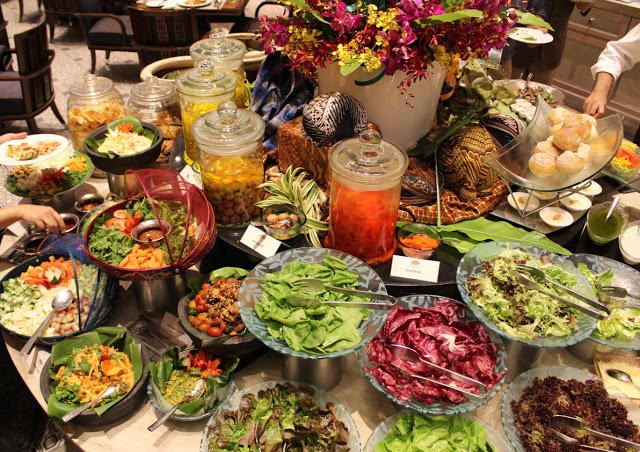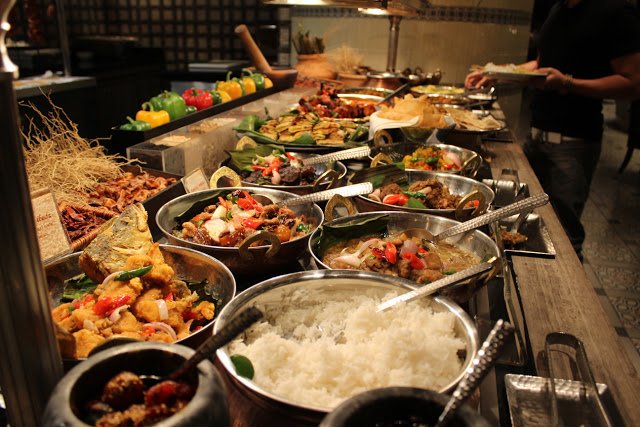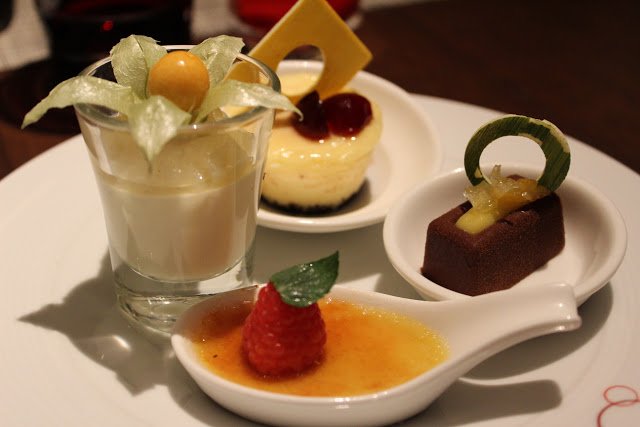 James Gibbs,
of
Air Venture,
dines in "Buka Puasa" style at
the spectacular Mosaic restaurant of the regal Mandarin Oriental Hotel in the
center of Kuala Lumpur.
There are
quite a number of superlatives you can apply to the Mandarin Oriental Hotel
that is situated next to KLCC. However, when reflecting over the sumptuous Buka
Puasa dinner, there are several that particularly come to mind; that is quality,
ambience and heavenly. The recently renovated restaurant is unique and tasteful
with soft and soothing lighting throughout. Most floor and service areas have
been elegantly chiseled from expensive rocks creating a pristine environment of
visual texture to enjoy the food. Guests may also choose to dine in one of two
private dining areas.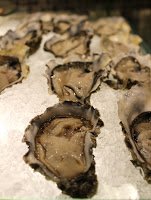 As you enter
the restaurant there are so many options or cuisine so it is maybe the toughest
decision that you will have to make that day as to where you are going to start.
There is just so much food! Salads, Indian, Italian, mixed grill and a dessert bar artistically crafted by
Executive Pastry Chef Holger Deh that is so big you would need about a week to
gorge yourself on all the options there.
For me it was
the glistening rows of oysters and salmon rolls that beckoned from a glacier of
ice that was lit from underneath. The oysters, were of course, amazing as were
all the other seafood hors d'oeuvres including prawns and succulent sushi.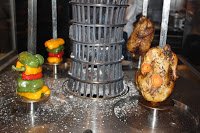 At the grill
there was a vertical BBQ with several trussed chickens pirouetting around the
coals. Choose from chunks of salmon, various sausages, fish, meats that are
then grilled before you. The roast beef was also cooked to perfection as were
all the supporting condiments.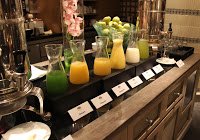 The visual and
taste experiences just kept on enticing return trip to the various
international cuisine bars located around the restaurant. Another area to mention was the juice bar with so many great choices including a particularly delicious chilled mango lassi.
The Indian and
Malay sections provided so many different exotic flavors and colours… Kashmiri
Lamb Kofta. Murtubak, Sambal Udang Petai, Burbur Lambok, Sup Tulang Rawan to
name a few. Honestly, the only thing one can say here is that you just have to
go and try for yourself! Just writing about this just makes me want to jump
into my car and go do it all again!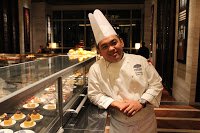 The Malay
Kitchen Sous Chef, Kamarudin brings experience from several notable restaurants
around the country. He said however, his greatest culinary inspiration came
from his grandmother who was a meticulous, authentic cook of traditional Malay
dishes. Here he spoke with particular pride about the Rendang curries served
with lemang that is commonly enjoyed at this time of the Islamic year.
For lovers of
food Italian there is plenty on offer with pizzas, pastas and all a variety of
cooked meats.
Whether you are
fasting or not, it is well worth the trip into the city to experience some of
Malaysia's finest foods offered during the month or Ramadhan.
Price for the
Buka Puasa feast is RM108++ (Sunday to Thursday) and RM128++ Friday and Saturday
night. Visit www.mandarinoriental.com, email
[email protected]
or call +6 (03) 23808888 for
reservations.