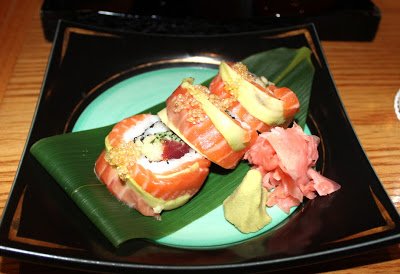 The Picturesque Pheonix Maki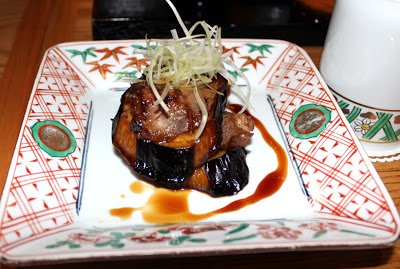 Gyuniku Hasamiyaki – eggplant and sirloin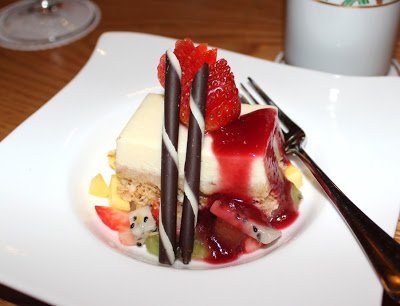 Tofu Cheesecake – light and fruity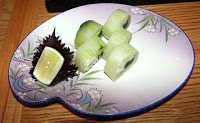 Kani Kyu Japanese cucumber sushi
James Gibbs, of Air Venture, tells of his recent experience at Prince Hotel Kuala Lumpur.
The Prince Hotel in Jalan Conlay turns 10! To celebrate this
significant birthday milestone, two of the restaurants within are flinging
their doors open and offering a "Perfect 10" menu being served within each. That
is, RM10 per dish of delectable goodies selected by the chefs of both the Enju Japanese and Tai Zi
Heen Chinese restaurant.
All you need to do is head off the lower end of town near Bukit
Bintang where you will find the amazing five star Prince Hotel and Residences. With a choice
of either Japanese or Chinese dishes,
you too can be living large for the price of a crispy 10RM bill or thereabouts.
Everything is 10 Ringgit – even the booze! It's the closest thing I have ever experienced
to Asian style Tapas – how cool is that? Price, however, is not really the issue here, moreover the
amazing, unusual dishes on offer. Clearly both chefs are trying to out do each other here thus forcing guests
to make tough decisions as to which side of the corridor they will dine.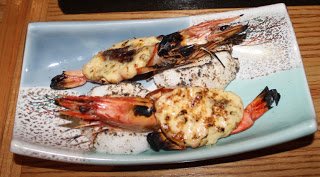 Ebi No Cheese Yake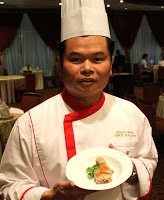 The Enju offered some sushi style dishes of spectacular texture
and taste delight. The 'Ebi No Cheese Yake' were tasty grilled prawns with a yummy,
gooey cheese topping served on a bed of salt. However, maximum sushi pleasure was derived
here from the Pheonix Maki that won the presentation award of the night. Here salmon
encircled rice and tuna and was garnished with avocado and some great little tobiko
roe eggs that always seem to make a dish just stand out from the rest. You have
to try the Kanu Kyu as well for another exotic texture experience – Japanese cucumber
sushi!
After slurping down an unusual and tasty cheesecake dessert made
from tofu, we crossed the East China Sea to the Tai Zi Heen restaurant next door
where it all began again! Here head chef Michael Wong, trained by a Hong Kong
See Fu for 25 years, presented some of his best. Despite already being somewhat
filled by the previous Japanese fare, it didn't take long to get excited about this
second lap of Chinese treats.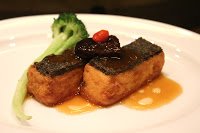 Morel Mushroom – with truffle oil!
Outstanding dishes here were the Braised Morel Mushroom with
– can you believe it? – truffle oil – wow what an unexpected and fine fungal fusion
that was!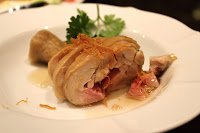 The outstanding Kwai Fei steamed chicken
I thought I had pretty much eaten chicken in every possible
flavor and cooking style until I tried the Kwai Fei Chicken. If you still
require a final incentive to pack your family and friends into the car and then
do battle in Jalan Tun Razak to get there, this is it. This marinated chicken drumstick,
apparently derived from the tables of previous emperors of China, is prepared
with ginger and scallion oil and then steamed to the nanosecond of perfection. Stand
aside Hainanese chicken rice – this really is something to talk about. Those crab filled Shanghai dumplings were also
excellent thought, one has to be patient before eating, as frequently the contents
within can be as hot as they are tasty.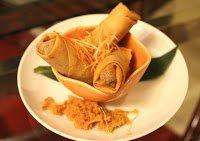 Crispy Spring Rolls
While we are not suggesting you dine at both restaurants in one
night, visiting either is for sure a great opportunity not to be missed. This is
a unique food experience in very pleasant surroundings at a very affordable
promotional price.
For those who don't want to miss out on this culinary experience
you must visit the Prince Hotel between the auspicious dates of 18 July (the
actual 10 year anniversary of the Hotel) to the 18 August 2012.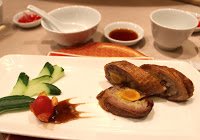 Stuffed Duck Gelatine