Leam Hin Seafood, Phuket, Thailand
90/11
Moo 7, Soi Baan Leamhin,
Thepkrasattri
Road,
Tambon
Kohkaew,
Amphur
Muang,
Phuket
83200,
Thailand
Telephone:
+66 (0) 76 239 357, +66 (0) 76 238 156
Fax:
+66 (0) 76 238 156
E
mail: [email protected]
Price range: Low to Medium
Appetizers: 80 Baht upwards
Main Courses: 250 Baht upwards to 2,500+ for lobster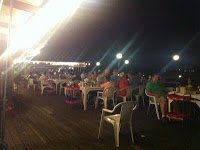 People along the pier
My first review for the Yum list is an old favourite
of mine from Phuket, Leam Hin Seafood, not only because it serves great
Thai seafood but also because it was only a short distance from my home at the
Royal Phuket Marina located along Phuket's east coast making it convenient for
a good feast at a reasonable price. Other than a slight "lull" they had a few
years back it is always pretty consistent. Just turn left on the top of the
hill on Thepkrasattri road after the temple in Sapump and drive through Leam Hin
village till you reach the sea and the restaurant. Parking here is ample but a word of warning when you arrive to the restaurant, it does look well used and could probably do with a good paint job and high heels not recommended ladies!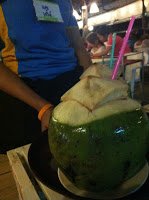 Coconut Shake in the shell
Leam Hin does not only serve seafood though, there
are also lots of other genuine and delicious Thai dishes to tickle your taste
buds. What promotes its position in serving good Thai food I think more than
anything is its popularity amongst the locals, always a good sign to go by in
Thai restaurants in Thailand, and even though it's a large restaurant, the food
you never have to wait too long for which is a great plus for me!
I always have problems choosing from the menu here
because it's vast and it is all pretty good. Friendly staff that speak
English or if not will get someone who does to help you choose and tell you
what fresh catch they have in their tanks.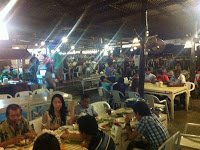 A full house at Leam Hin
For this visit, there were only 2 of us so we chose
our dishes carefully as the portions are of good size. Drinks we ordered 'Ban
maprao' coconut juice blended with the meat and some ice and put back in the
shell and served with a straw and spoon so you can scrape out the rest of the
coconut. Beer, wine and soft drinks are available and Thai whiskey and other premium spirits are available by the bottle if your having a 'bit of a do'.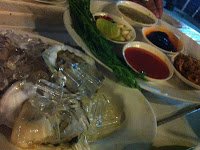 Fresh Surat Thani oysters
with condiments
Normally
with Thai food, it is ordered family style but here I have a couple of favourites to start with 'Buer Thod' deep fried
seaweed with prawns, the batter is flavoured with turmeric and the prawns look
as though they are fried swimming amongst the seafood and fresh Surat Thani
oysters served with condiments and are excellent, I love eating them with a
touch of chili sauce, ginger and fried shallots, lovely! Once upon a time the local
oysters were HUGE and far too big but over the past few years they are farming
them smaller and of very good quality, thankfully, as I was always sure the
oyster was eyeing me rather than the other way round!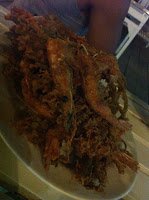 Deep fried seaweed
with prawns
All sorts of fish and seafood are available
daily and cooked in various styles and this visit we had the 'Mieng pla
krapong krob', deep fried snapper topped with a mixture of chopped onion,
ginger, cashew nut, peanuts and chili and served with a sweet/sour sauce made
from palm sugar, tamarind and other "secret" ingredients and beetle nut leaves.
The idea is you make a cone with the leaf and put some fish and topping mixture
inside followed by the sauce and then pop it in your mouth where you get a
explosion of all the flavours, delicious (as I am not so tolerant of chili I
normally ask them to serve the chopped chili separate to avoid displeasure!).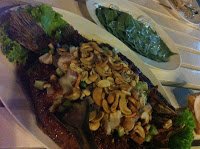 Deep fried snapper
with 'mieng kham'
Here I always order here the local vegetable 'Pak mieng' a green leaf vegetable
with a unique flavour and normally cooked 2 ways, either fried with egg and
dried shrimp which is what we had this time or cooked in coconut milk with
shrimps which is equally as good. Next 'Poo pad pong
ka-ree' crab fried with curry powder, onion, pepper, greens and egg, excellent
and I think this restaurant does one of the best in the area (I choose to have the meat only as I am too
lazy to deal with the shell but you can have it either way) and for my Thai
friend he chose 'Hoi chak teen naam jin talay' whelks with a spicy seafood dip,
they looked good as he picked them from their shells but not for me as I have a
slight aversion to small shell fish after a slightly drunken experience with
fresh wood smoked fresh seafood at a famous London establishment which still
haunts me (not the shellfish fault I may add!). Of course no Thai meal is
complete without rice but with all these wonderful flavours we just went for 'Khao
suay' plain steamed rice though they do an excellent selection of fried rice, particularly
the crab fried rice.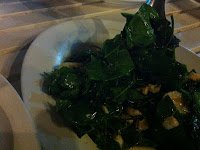 Pak mieng fried with garlic,
egg and shrimp
Normally
for dessert, fresh cut local fruits to cleanse the palate but at weekends they
have some special homemade Thai desserts which are worth a try. Sticky rice with different fillings wrapped in coconut or banana leaves and cooked over the BBQ, interesting, which I always buy to take home.
A
feast and stuffed we depart happily from Leam Hin Seafood with a bill that will
no means break your bank! If you keep away from the Lobster, you can have a decent meal with drinks for 1,000 -1,500 Baht for 2 persons.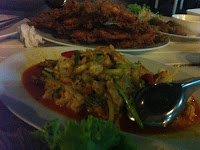 Crab fried with curry powder
Reason to visit: Good local seafood and Thai dishes, good portions at reasonable prices and good for large groups.
Downside: Place could do with a good paint and refurbishment. Not for that 'special night out'!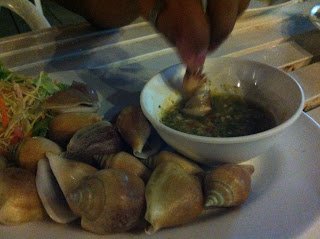 Local whelks with spicy seafood dip