MIGF Menus, Al Amar & Circus, Pavilion, Kuala Lumpur, Malaysia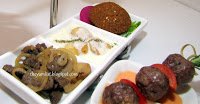 Hot Mezze
October is a lip-smacking month for foodies in Kuala Lumpur.
All around the city, fine dining establishments do their best to outwit their
competitors with set menus and wine paired offerings showcasing the skills of
their chefs and the cuisine specialties careening from their kitchens in an
attempt to dazzle spectators of the Malaysia International Gourmet Festival.
Sampling two menus in one night at Pavilion we tried conserving
tummy space by just nibbling at Al Amar in preparation for a later five course
menu at Circus.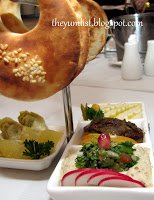 Cold Mezze
A profusion of Middle Eastern restaurants around the city makes
choosing difficult. Al Amar, however, stands above the flock with its
beverage menu filled with alcohol enriched options – the only Middle Eastern spot
I know of in Kuala Lumpur that serves liquor. A couple of Lebanese wines make
the drink list unique as well as a strong anis flavoured Kefraya Arak. Keskoun! (cheers) to that.
Al Amar's MIGF menu is a stomach engorging list of classics.
It begins with hot and cold Mezze of enduring favourites including these
highlights: Shanklish (a fusion of aged Lebanese cheese mixed with olive oil
and chopped parsley, tomatoes and onions); Hommos (chickpea dip); Meffarakeh
(lamb stuffed wheat dough cooked in yoghurt) and; steamed artichoke with a zesty
garlic and olive oil dressing.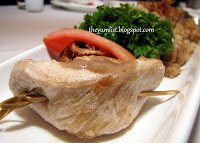 Moghrabieh Chicken
The main is a choice of a hearty plate of Moghrabieh chicken
– poultry and semolina pearls cooked with cinnamon and an all spice onion broth,
or, Lamb Rack with Cousa Mehchi and Warak Enab – lamb served with rice stuffed
zucchini and vine leaves with mint yoghurt sauce. (The vine leaves are
particularly grand!) Dessert, Layali
Loubnan (The Nights of Lebanon) is a layered pudding of kachta and bananas
topped with nuts and honey.
Al Amar's MIGF menu is priced at RM115++ per person without
wine and RM195++ with wine.
Moving down to Circus, a five course meal and an incredibly
eye-catching environment was waiting for us. Giant paintings, an evolving visual
display and long feature bar backed with a beehive of bottles changes over the
day with the aid of clever use of lighting and upbeat chill music. The goal of restaurants
in the Eatertainment group is to provide a comprehensive night out including entertainment
in the form of food, live music, dance shows and a host of drinks. Al Amar and
Circus are both examples of places to pass a leisurely few hours with friends,
both old and new. Describing themselves as a "modern bistro and cocktail lounge
to gather, relax, mix, mingle and drink," Circus is more than just a restaurant.
Circus' (* Note Circus is now closed) MIGF menu is a five plate degustation featuring a
mish mash of international cuisines. The Amuse Bouche of Parmesan Crissini with
Bresaola was a popular start at our table and came paired with a French 75.
This classic cocktail dates back to 1914 Paris, where it was named after a
canon used in the war for its strong kick. A base of gin, lemon juice and sugar
is topped with Chandon champagne producing a perfect opening for the palate.
An appetizer of Chili Crab Cake with Organic Mixed Salad came
next with a Chilean Sauvignon Blanc by La Palma. Usually this wine would have paired
well with the crustacean, however the heavy handedness with spice slightly
overpowered the grape. Presentation of this dish, along with the others were all
eye catching though and those who taste first with their eyes will be pleased.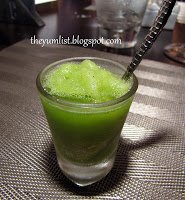 Lime Granite Sorbet
Crispy Wild Mushroom Risotto served as the starter and was
just a touch drier than the traditional version allowing it to be rolled into a
log allowing a unique mounting. The fruitiness and crispness of the Argentinian
Terrazas Chardonnay paired well with the unctuous risotto. A Lime Granite
palate cleanser came at just the right time, refreshing our mouths for the
main.
Cod Fish with Truffle Butter Foam paired with a Californian
J Lohr Painter Bridge Chardonnay was my choice. The peach and pineapple notes
of the wine allowed the cod fish to shine while providing a silky addition to
the palate complementing the dish. The Wagyu Beef Tenderloin was hubby's pick.
A smooth peppery Australian Shiraz by Tyrells Moores Creek was a good companion
to the beef but would also be a decent drop for quaffing on its own.
Dessert came in the form of a classic Crème Brulee. The
subtle addition of lavender added a touch of interest and the partner glass of
Dr Loosen Riesling Qualitatswein provided extra sweetness. This citrusy,
peachy, rich textured German wine seems to be quite versatile and I could
imagine it too with some toasted walnuts and salty cheese or a spicy dish such
as the Crab Cakes from earlier in the meal.
Circus' MIGF menu is priced at RM168++ without wine an
RM278++ with wine.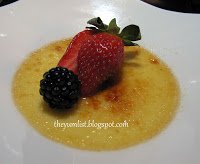 Lavender Crème Brulee
Reason to visit:
Al Amar – the only Middle Eastern place in the city serving alcohol. Circus
– chic funky, a good place to meet, mix
and mingle.
Al Amar Fine Lebanese
Cuisine
Level 6, Pavilion
+6 03 2166 1011
Circus
Level 3 , Pavilion
+6 03 2141 6151
Open Sun – Thurs 10am – 2am
Fri & Sat 10am – 3am
* Note Circus is now closed.
Pavilion
168 Jalan Bukit Bintang
55100 Kuala Lumpur
Malaysia