Watami Casual Japanese Restaurant
Paradigm Mall By Sam Gibbs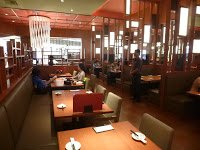 A Cosy Comfortable Ambience
Following the highly successful Japanese model Watami Casual Japanese Restaurant has come to Malaysia. Initially they have opened three outlets here in Kuala Lumpur – Pavillion in the city centre, 1 Utama and the the newly opened Paradigm Mall in Kelena Jaya.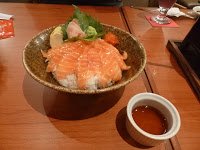 Delicious Salmon Sushi with Rice
I was fortunate to be invited to a menu sampling session at Watami situated in the Paradigm Mall. Nestled on the second floor one will find Watami a veritable gastronomic oasis amongst the many shops and boutiques. The bright red sign set in mellow wood panelling is your invitation to experience more. On entering one is not only greeted warmly by the staff, but also the intimate and pleasing ambience of the interior décor. From the outset it establishes an inviting precedence that has you wanting for more.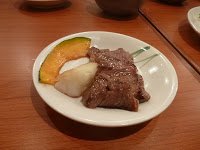 Self Grilled Beef Short Ribs
We were presented with a series of menu specialities during our dining experience that commenced with Crispy Chicken Wings with Special Sauce (Bariuma Teba Karrage) that were cooked to perfection. This was followed by a delicious and well presented series of dishes that included the Self Grilled Beef Short Ribs (Wafu Touban Gyu Steak) cooked at your table and my personal favourite the Salmon Sushimi Rice (Salmon Sushimi Don). Also we sampled some tantalizing rice bowls that included the Crab Meat Pot Rice (Kani Kamameshi), and the famed Tokyo Gyudon with egg.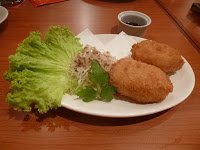 Crab Meat Cream Croquette
The ultimate surprise came with desert. For fruit lovers with a kamakazi take on calories the Chocolate Banana Toast Box is a battleship well worth sinking. Encased in this treasure chest are fresh berries, strawberries, banana of course, and many other tantalizing surprises. It was the grand finale to a thoroughly pleasing dining experience.
Hedonistic Choc Banana Toast Box
When visiting restaurants like Watami I always look for the creative touch and personal element that makes dining out special. In this respect one can see care and attention to detail concerning the whole Watami experience from the friendly attentive service, the selection of tableware and utensils to the cosy and comfortable dining areas. Also of note is Watami's pork free policy using only Halal meats. Whilst alcohol is available one would hope that this would not discourage Muslim clients to also indulge in this excellent dining experience.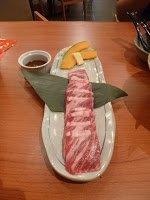 Watami Casual Japanese Restaurant offers an extensive menu of traditional and creative selections and a range of special promotions during lunch times and weekdays. Prices are very reasonable ranging from RM15 for starters up to RM 28 for the beautifully marbled Beef short ribs.
Watami Casual Japanese Restaurant
Lot 07, Level 1, Paradigm Mall,
1, Jalan SS7/ 26A, Kelana Jaya,
47301 Petaling Jaya, Selangor
Malaysia
T: +603-7886 9661