Writer Polly Szantor and photographer Cheryl
Hoffmann sample delicacies at Celestial Court Restaurant, Sheraton Imperial, Kuala Lumpur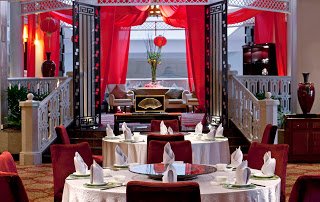 You know those evenings when you're not looking for really fancy food but you want something
a few cuts above the place around the corner, something that satisfies your
desire for comfort food and turns out to be even better than anticipated? I'd like to suggest the
restaurant where I dined a few nights ago, Celestial Court at the Sheraton
Imperial Hotel. This is the
Sheraton's elegant Chinese restaurant which offers Cantonese a la carte
choices, Dim Sum favourites and
traditional dishes with a hint of fusion, that arrive at the table without airs
and graces It's good, honest,
down-home cooking here.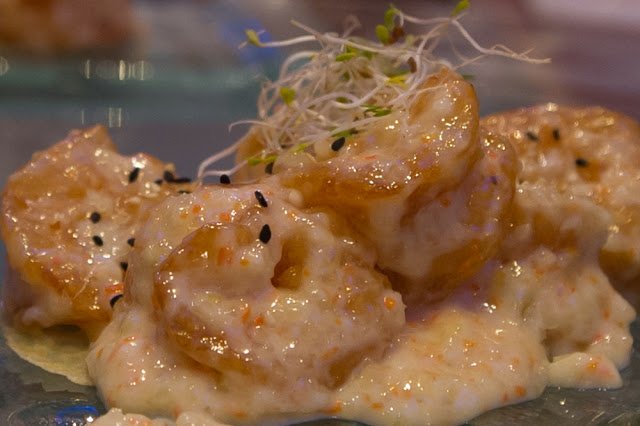 Executive Chef Ho Boon has recently created several
new, a la carte dishes, and I can honestly say that everything I tried was
delicious. We began with
Fried Prawns in Chunky Mayonnaise – tasty, juicy and totally desirable.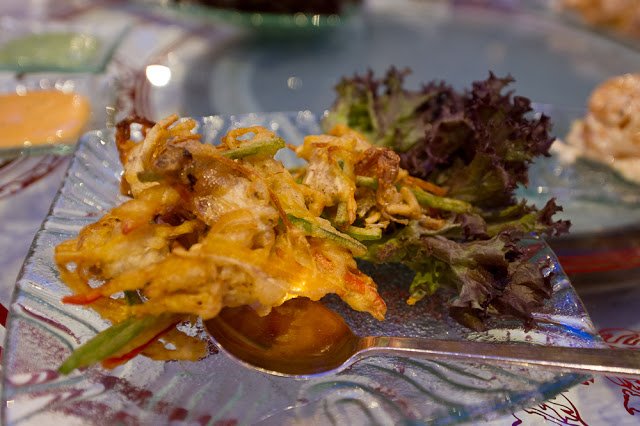 The Tempura Soft-shelled Crab and
Shredded Vegetables, served with Wasabi Mayo, had a Japanese twist that was
echoed later in the menu and was crunchily delicious.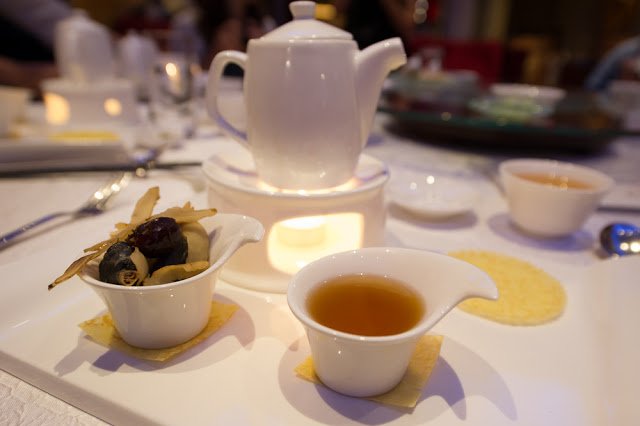 I confess that I swooned as I sipped on the Double
Boiled Chicken Soup with American Ginseng. I could feel it permeating my body with goodness and I
noticed that all my dining companions drained the cute little teapot containing
the precious broth. I was sure I
was healthier after imbibing this treat.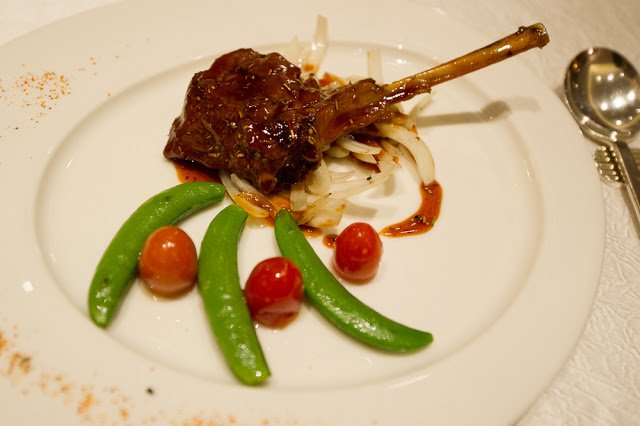 The Pan-Fried Lamb Cutlet was served unexpectedly
rare with a melt-in-the-mouth quality that only happens when the very best of
meat (in this case Australian) is cooked to perfection (by Assistant Chef Chan
Hoo). The meat was served with a
sauce reminiscent of the Canadian barbeque variety, very down-homey and
satisfyingly tangy.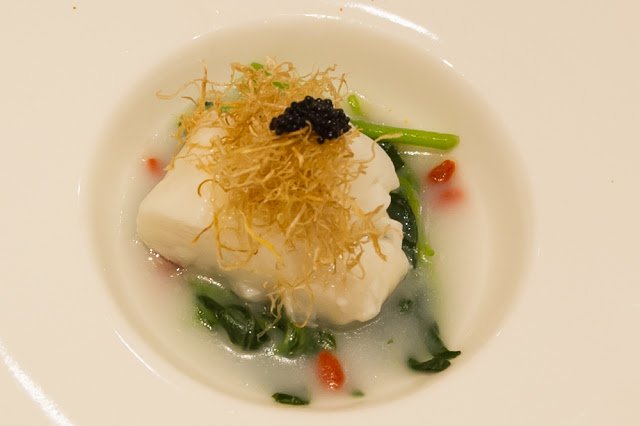 Now take a good look at this. It seems simple; a chunk of steamed
black cod nestled on spinach in a rice porridge puree and topped with fried
shredded ginger and black caviar.
Nothing fancy, but hands down, the crowning glory of the menu. This combination of gently cooked fish,
crispy ginger, salty caviar, earthy spinach and silky rice sauce is an inspired
creation, and is hands down the most engaging dish on the menu. For this miscellany I would return,
over and over again.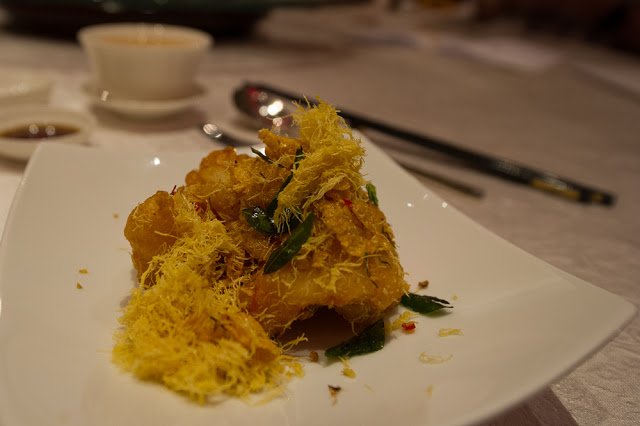 Moving onwards, we tasted Crispy King Prawn with Cornflakes and Shredded Egg. I love
crispy and I love prawns, so this worked beautifully for me. The cornflakes were super-crunchy and
lots of fun to eat with chopsticks!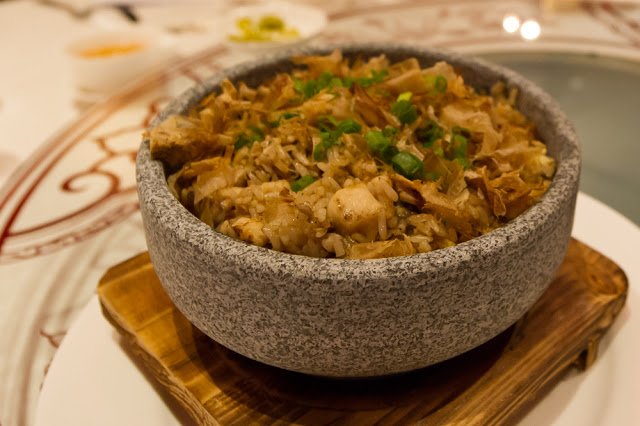 The final savoury dish was Celestial Court Fried
Rice, a healthy combination of glutinous rice, brown rice, barley, sunflower
seeds and other odds and ends, topped with bonito flakes (the Japanese touch
again) that gyrated in the heat and confounded the photographers. This is comfort food at its very best.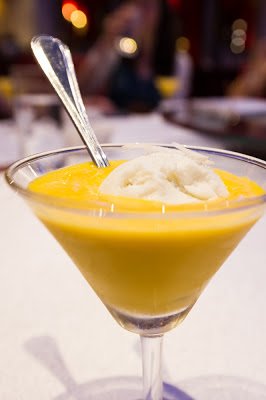 We ended with one of the house signature desserts, Pumpkin Puree with Coconut Gelato, sheer heaven in its sweet smoothness,
vaguely reminiscent of pumpkin pie yet enjoying that Asian twist of coconut.
Reason to visit: For the comforting food, relaxing
atmosphere and to come away with an overall feeling of well-being.
Celestial Court is open
daily for lunch from 12 noon to 2:30pm Mondays to Saturdays and from 10am to
2:30pm on Sundays and public holidays.
Dinner is served 7 days a week from 6.30pm to 10.30pm.
Celestial Court Restaurant
Sheraton Imperial Hotel
Jalan Sultan Ismail
Kuala Lumpur