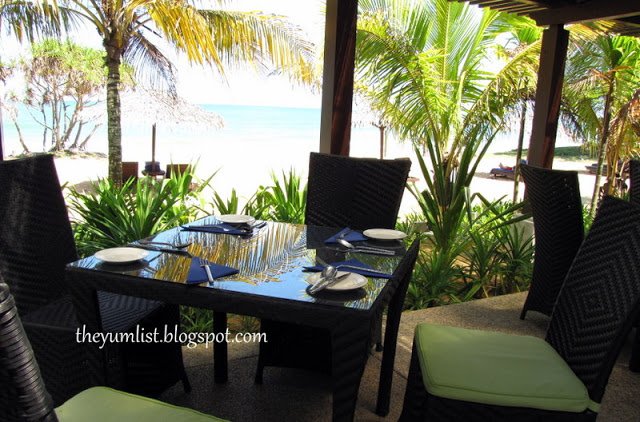 Nelayan al fresco seating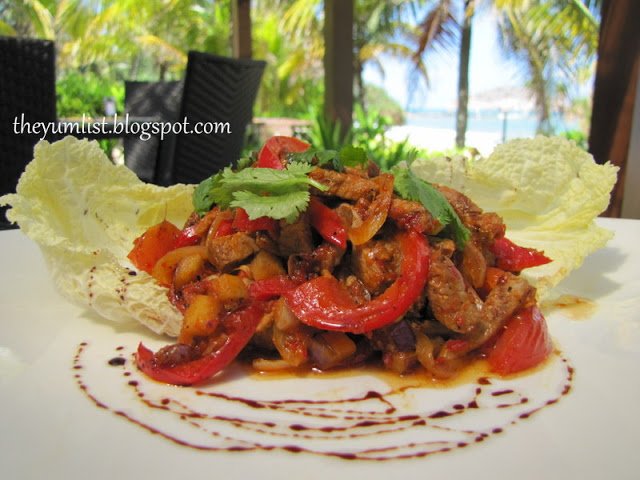 Thai Beef Salad RM40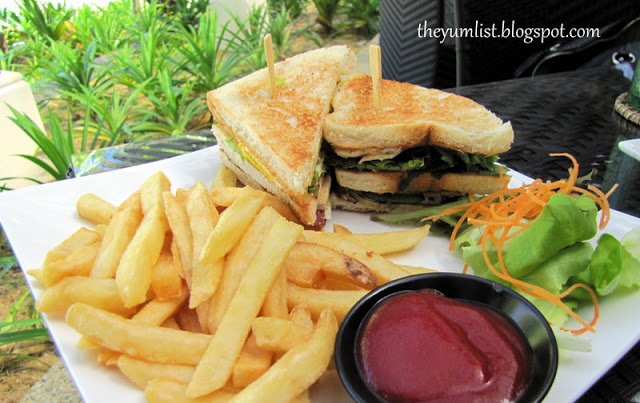 Club Sandwich RM35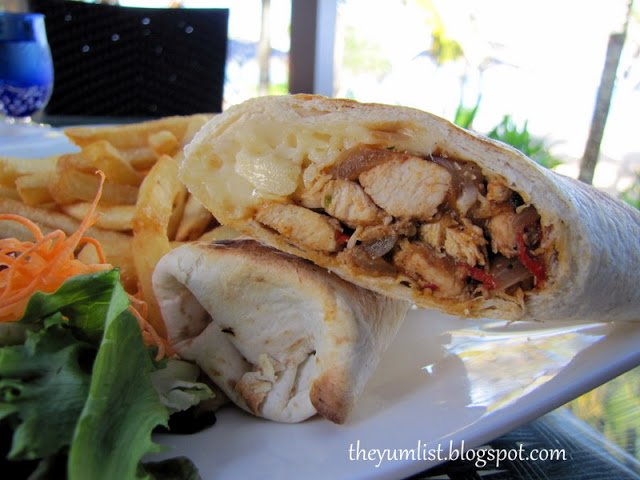 Mexican Tortillas RM40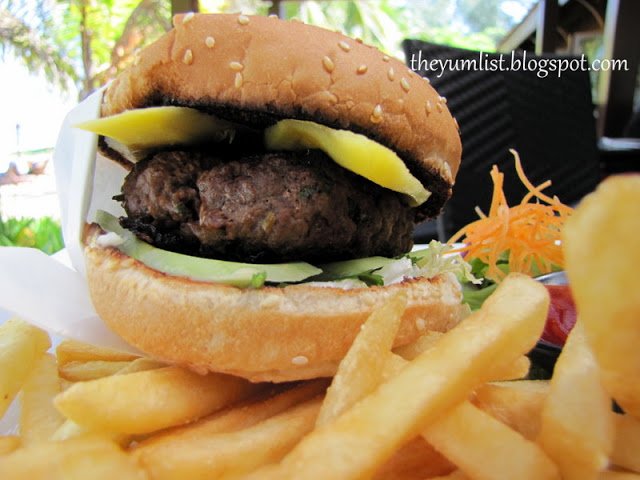 Asian Burger RM40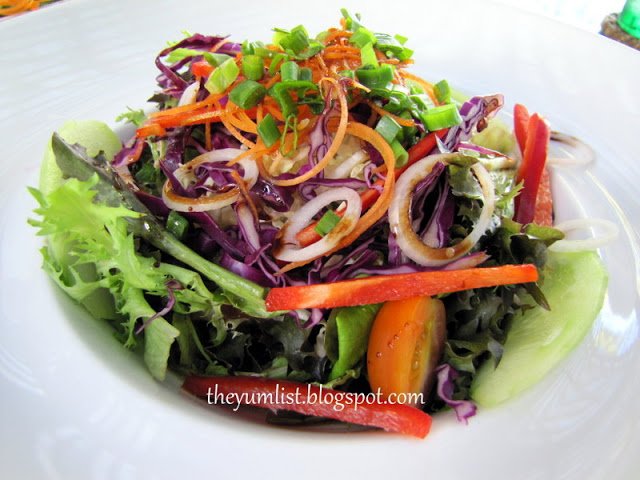 Garden Salad RM35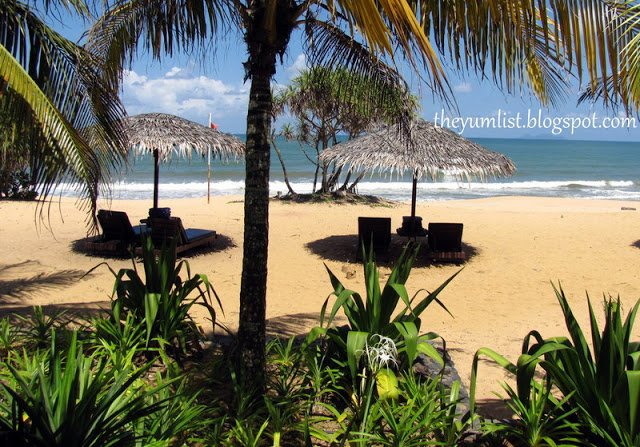 Seaside Dining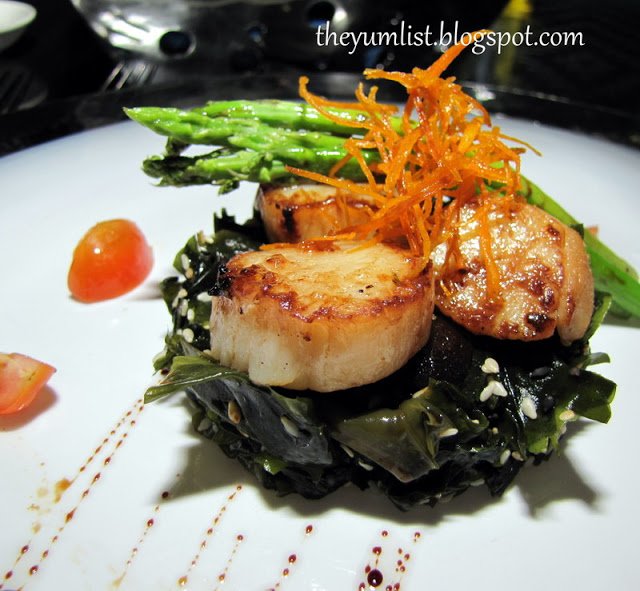 Scallops and Asparagus on bed of seaweed and mushrooms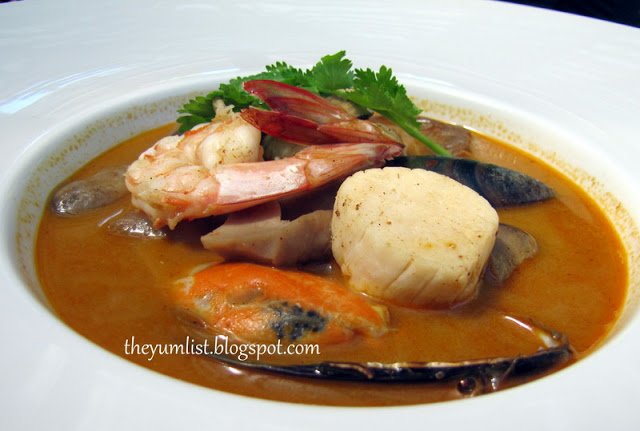 Tom Yam Talay RM30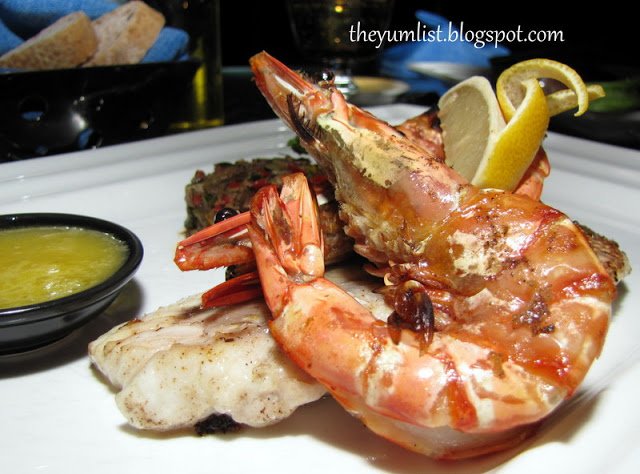 Pan Seared Fish with Prawns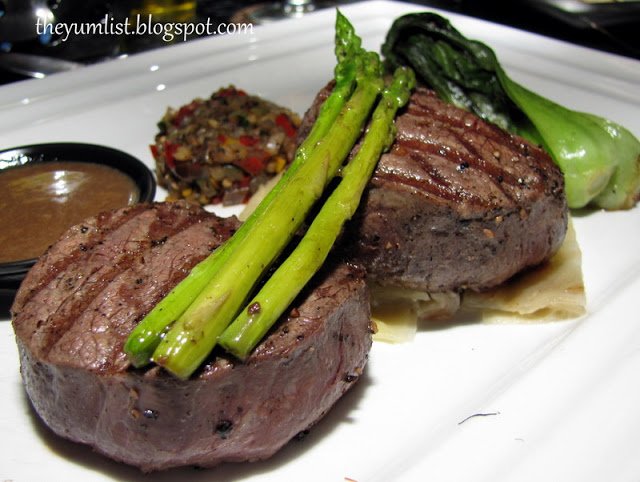 Beef Medallions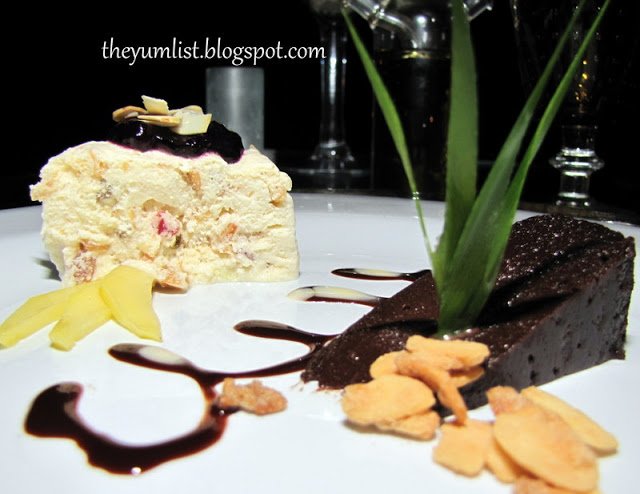 Rich Chocolate Mousse and Mascarpone Fluff
An idyllic tropical beach setting with tables cleverly arranged to capture the best of the seascape is what you find at Nelayan Restaurant at Tanjong Jara Resort. Waves crashing the beige sand, azure sea deepening on the horizon, brilliant blue skies and sea breeze set the stage for lunch.
A moderate drink list covers all of the bases with more than enough to refresh on a summery day. The food menu covers salads, soups, sandwiches, burgers, pastas, local delights and desserts and is more than enough to satisfy post swim cravings. Although labeled the Western restaurant on the resort, there are still sufficient regional dishes for locals and tourists alike to savour the native pleasures of the East Coast.
We arrived to the resort ravenous s as soon as we were checked in headed directly to the beach café for lunch. Wait staff proved friendly and efficient and patient enough to answer all of our questions politely.
The Tropical Salad was a fresh mix of crisp mesclun, crunchy bean sprouts, sliced four-angle beans, shredded cabbage, pineapple, mango and coriander served with an Asian-inspired dressing. As noted in many previous posts, Malaysian chefs have a tendency towards gross generosity when is comes to dressing salads. So, if you prefer a lighter meal, do remember to request the dressing on side.
The Thai Beef Salad featured char-grilled Australian beef, sliced and served warm on eggplants with tomatoes, capsicum, onions and homemade Thai dressing. It had quite the bite to it doing the country proud, as did the Spicy Thai seafood soup, Tom Yam Talay, infused with lemongrass.
The Club Sandwich is one of hubby's favourites and, if it's on the menu, it's an easy bet that he'll order it. Nelayan's version came with chicken breast (you could also choose beef) with beef bacon layered on white bread with lettuce, eggs, tomatoes, cucumber and cheese. Following the manager's recommendation I ordered the Asian Burger. A grilled beef patty on ginger blossom, lemongrass, coriander, finely sliced cabbage and mango, seasoned with soy sauce and spiced mayonnaise came piled high on a sesame seed bun. This might just be the most flavourful patty I've ever eaten.
Chasing for a glimpse of childhood, hubby finished with a Banana Split.  Three scoops of ice cream crowned a fresh split banana and was drizzled with chocolate syrup and whipped cream.
We ate another midday meal again at Nelayan before departure and found similar quality with the Nelayan Burger, Garden Salad, Caeser Salad with pan seared tuna, Mexican Tortilla and Apple Pie.
From a bright well lit beach café during the day, Nelayan transforms into a romantic softly illuminated scene at night.
Already partially undressed (shoes removed and light beach wear), a private dinner on the beach makes a romantic and memorable encounter. Seduced by the texture of soft sand under your feet, crooned to by the sea crashing the shore, and caressed by the gentle breeze, a meal on the beach is exhilarating and vivifying. Lit by candles flickering in the zephyr, flames of a nearby beach bonfire and the glow of the moon, by evening's end you've formed an amorous relationship with the sea with a promise of a repeated rendezvous.
While the sundown menu at Nelayan is a la carte featuring fresh seafood, dinner on the beach comes as a set with a choice of either fish or beef as the main. An amuse bouche in the form of a Tom Yam Chicken Ball (rocked!) and Cucumber Juice (not so fond of) accompanied by freshly baked walnut bread (crunchy crusty and soft middle just the way I like it), balsamic and olive oil started the meal favorably. While we both liked the Teriyaki Scallops and thin sprigs of asparagus that came next, the seaweed and mushroom base however was a little too slippery for our personal tastes. The Cauliflower and Prawn Soup was delicious! The contrast in flavours and textures intermingled with the ocean air to create a wholesome soup very appropriate for seaside dining. An Orange Sorbet cleansed our palates before the main. After soup and starter, two whopping Beef Medallions with a vegetable gratin, steamed cabbage and bok choy was more than any rational person could get through (even hubby took his time – although do note, none went to waster every succulent slice was consumed). The Pan Seared Fish topped with two king prawns and sided with potato mash and a spicy vegetable caponeta was tasty enough to not need even a drop of the sweet dipping sauce. Full to the brim but not willing to miss what the chef had created for dessert we shared an aerated mascarpone fluff tasting like Christmas with raisins and dried fruit with rich chocolate mousse.
While the prices might seem a bit steep, remember you're paying for an incredible and exclusive ambience. If you're wise, you'll sign up for one of Tanjong Jara's all-inclusive packages including meals and accommodation. Residents of Malaysia and Singapore receive special rates so contact the YTL Travel Centre to find out about their latest promotions.
Reason to visit:  a laid-back meal by the sea and pool during the day or a romantic dinner with the sand in your toes in the evening, cauliflower and prawn soup, Asian burger, crisp salads (with dressing on the side), friendly attentive service
Nelayan
Tanjong Jara Resort
Batu 8 off Jalan Dungun
23000 Dungun
Terangganu, Malaysia
YTL Travel Centre
+6 03 2783 1000