Waffles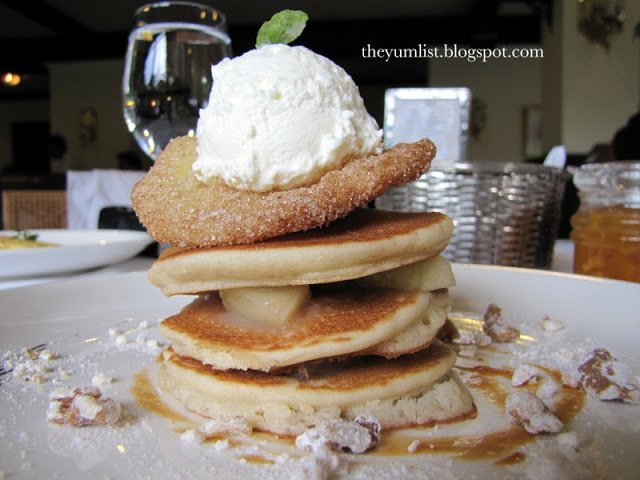 Buttermilk Pancakes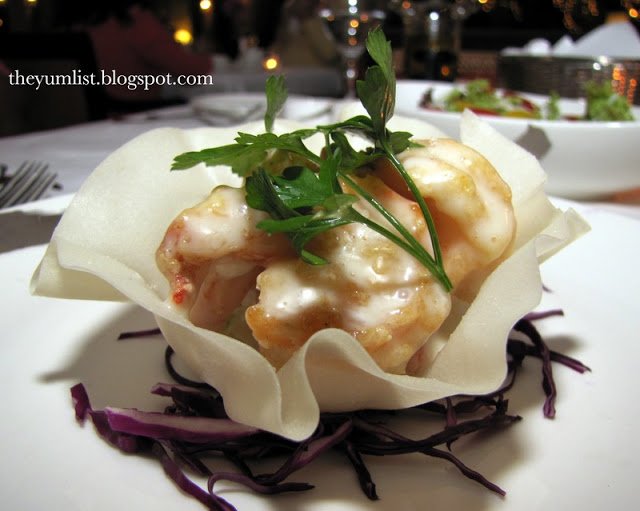 Dancing Prawns RM45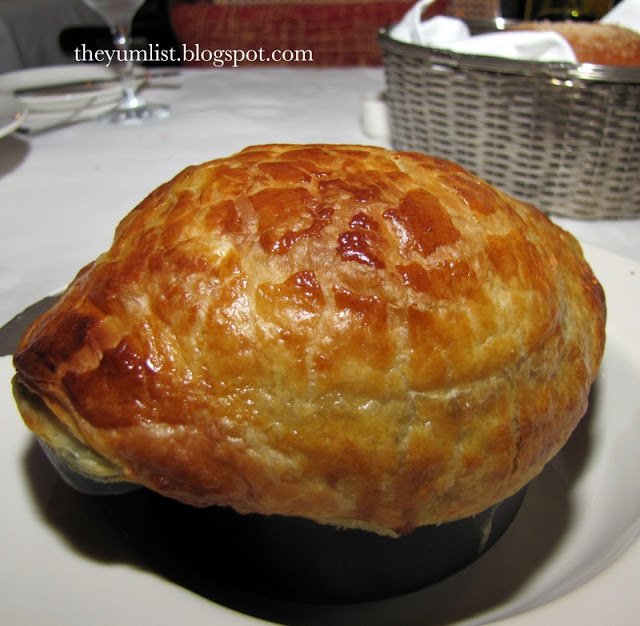 Cameronian Tomato Soup RM30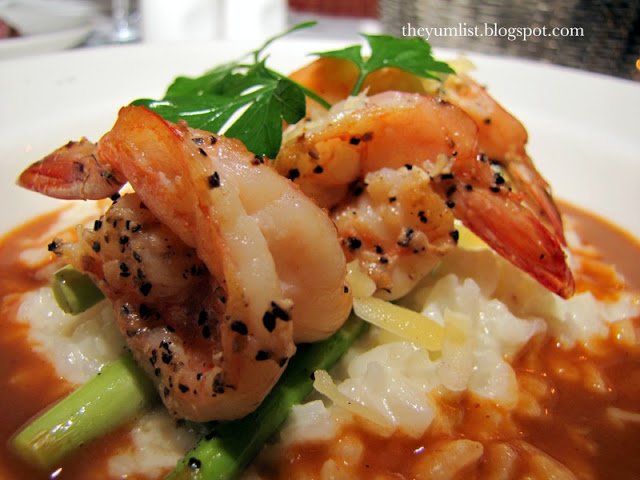 Prawn Risotto RM90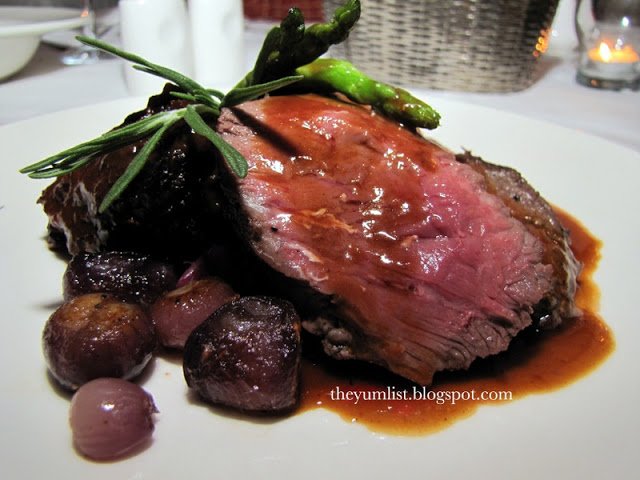 Wagyu Beef Cheeks and Lamb Rump RM110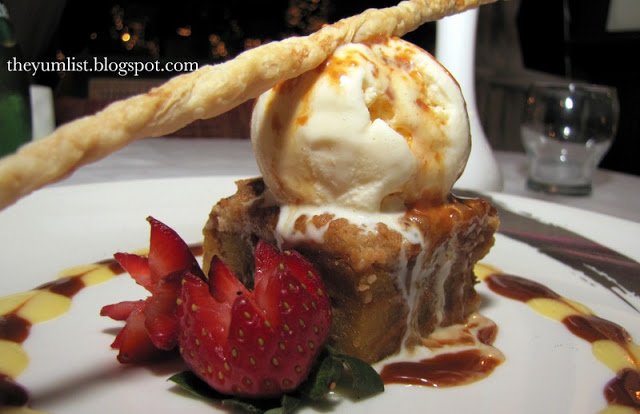 Apple Butterscotch Crumble RM30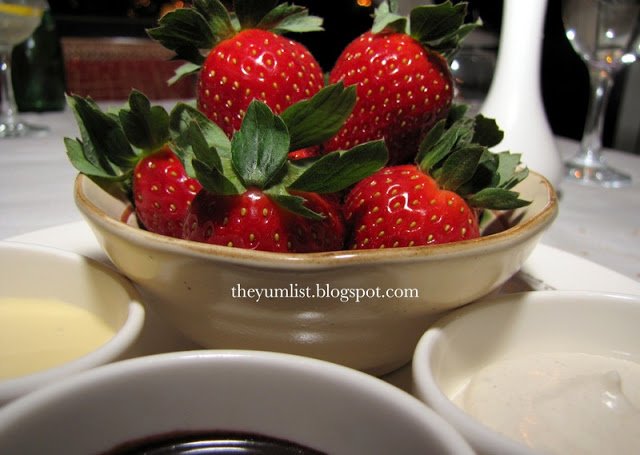 Highland Strawberries RM30
The Dining Room, Cameron Highlands Resort, Malaysia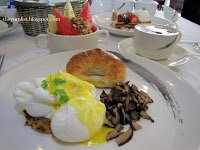 Poached Eggs and Mushrooms
The day begins in The Dining Room with fog filtered sun streaming through the border windows. Fresh flowers adorn the white linen tables and wait staff dressed in white suites with golden buttons attend a mix of local and foreign guests.
Breakfast is served cascade style with tea, coffee and juices followed by a bakery basket, fresh fruit and yoghurt. At busy times, a semi buffet is presented decorated with orchids on a round table and hot items are ordered from the menu.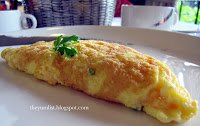 Omelette with Aged Brie de Meaux,
Smoked Salmon and Chives
Following cereal, tropical fruit and coffee we tried some cooked dishes. The Omelette with Aged Brie de Meaux, Smoked Salmon and Chives was just as good as it sounds and the Buttermilk Pancakes layered with apple compote, crisp pineapple fritters, laced with honeycomb nougat and thick double cream were a towering sight to behold.
Closed for lunch, the Dining Room reopens again for dinner with a mix of local and western dishes. Fruits and vegetables from the area are a highlight and you'd be wise to order something utilizing these fresh tasty ingredients.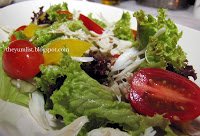 Crisp Highland Greens RM35
Crisp Highland Greens tossed with shredded mud crab meat and drizzled with yuzu dressing was one such dish proving local and fresh as unbeatable. Dancing Prawns stir fried with hot mayonnaise, served with apple and walnut salad was recommended by the waiter and proved to be an excellent suggestion.
Cameronian Tomato Soup featured pureed local tomatoes infused with basil, topped with beef bacon and golden puff pastry. This was not a typical rich deep soup but rather a fresher spring style variety. The bulging covering had a flaky croissant like texture and hubby enjoyed this just as much
as the liquid it was protecting. French Onion Soup was again a lighter version than many I've tried. Filled with a runny brew with plentiful strips of caramelized onions and simmered with local spices, this too came with a carbohydrate flaunting covering – in this case a slice of cheese encrusted toast.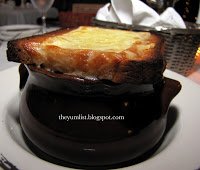 French Onion Soup RM30
For a hill retreat, the seafood was certainly a vibrant example of freshness. Firm peppered prawns topped the creamy Prawn Risotto crisscrossed with long lean grilled asparagus, truffle flakes and ringed with an ochre crayfish sauce. A rich rice base was so powerful that I managed to get through less than half. Hubby happily 'helped me out' by polishing the rest off.
The Wagyu Beef Cheeks and Lamb Rump was something special. Enough meat for me for a month, but hubby again had no trouble terminating the flesh. The slow cooked cheeks and rump were served on braised savoy cabbage, petit roasted red onions and enveloped in a rich bordelaise (red wine and onions) sauce.
The Fresh Highland Strawberries served with clotted cream is a MUST order. The berries were much bolder than the wee variety that arrive from Cameron Highlands to KL. The juicy bold berries didn't need either the clotted cream, or the vanilla and chocolate sauces that it was sided with. We still dipped them though, nonetheless. Apple Butterscotch Crumble, was another traditional dessert founded with stewed apples, capped with crumble, oven baked until golden and served with warm
butterscotch sauce.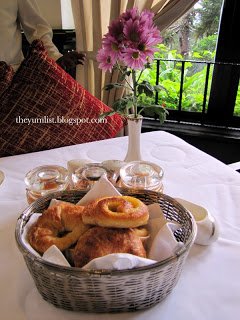 Bread Basket
The cascade breakfast is valued at RM70++ per person, while the dinner menu is a la carte. The Dining Room is open from 7- 10 morning and night. While popular amongst in-house guests, walk-ins are also welcome.
Reason to visit: Crisp Highland Greens, Dancing Prawns, Wagyu Beef Cheeks and Lamb Rump, Fresh Highland Strawberries, an elegant setting with old English charm and excellent service
The Dining Room
Cameron Highlands Resort
By the Golf Course
39000 Tanah Rata
Cameron Highlands
Pahang, Malaysia
YTL Travel Centre
+6 03 2783 1000
Fax: +603 2148 7397