Polly Szantor enjoys Christmas fare at the latest
Serai Restaurant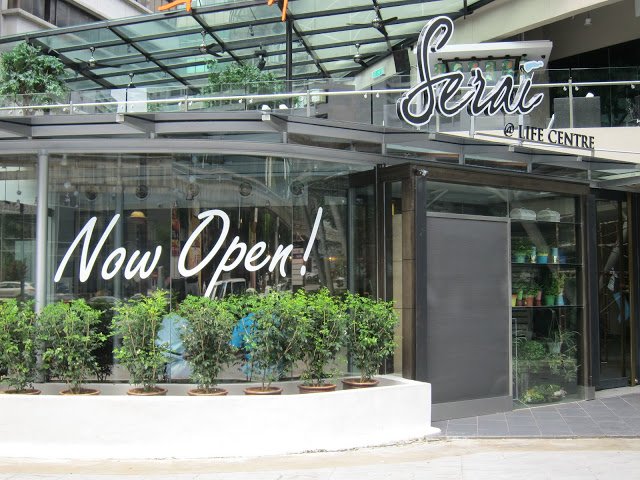 It's pleasant to sit in this newly opened Halal restaurant. Half of the room is an atrium, which
allows plenty of light and creates a bright, airy space. Although I was there to sample the
special Christmas Set Meal, I had a look at the extensive regular menu, and
found plenty of tempting choices.
Amongst the interesting salads there's Roasted Pumpkin and Portobello
Mushroom with Chickpeas, Tomatoes and Walnuts in a Honey Lemon dressing. A host of seafood options are offered, along
with Malaysian, Western, Thai and Italian favourites. There's beef and chicken
sate too, and a tempting variety of desserts and gateaux, the ideal match for a
mid-morning cup of coffee.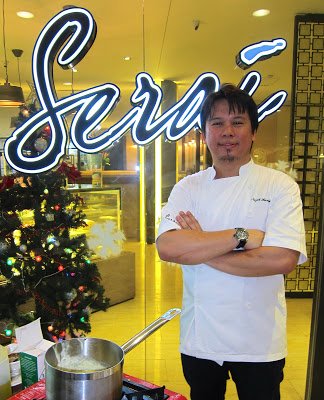 Sabahan Chef Mohd Najib Abdul Hamid spent 10 years in
Melbourne, Australia, and has cooked for many celebrities, including Pierce
Brosnan, Sean Connery and Kylie Minogue.
He has created a special menu for the Christmas holiday season that is
designed for a minimum of four people.
Instead of just one main course, there are three: Baked Salmon with
Maple Syrup and Thyme, Beef Wellington with Onion Marmalade and Tarragon Butter
Chicken stuffed with Smoked Turkey and Tasmanian Double Brie. I didn't try the Beef Wellington, but I
can certainly vouch for the moist, roasted chicken and the delicious
salmon.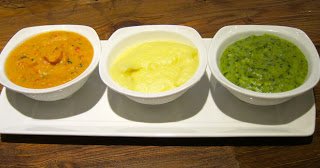 The mains were accompanied by Roasted Rosemary Potatoes,
Roasted Vegetables, Buttered Brussels Sprouts, and Roasted Tomatoes still on
the vine, a nice touch. There was
also an interesting trio of Mashed Potatoes. It's not my favourite style of potatoes, but I went back for
seconds of these tasty combinations.
They were mashed with garlic, roasted red pepper and pesto. The salmon was served with a Horseradish
Cream Sauce and there was Roasted Garlic Jus for the chicken.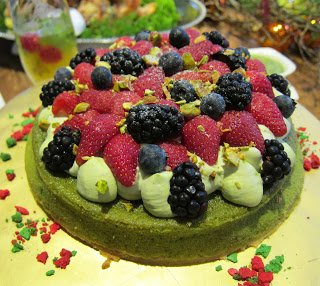 Chef Najib shared 3 desserts with us, and I found it
difficult to chose my favourite. The
Pistachio Gateau with Mousseline Cream and Mixed Berries looked spectacular and
was a hit at the table. I didn't
expect to be impressed with the Butter Cake with its white butter icing and
sprinkling of coconut, but the flavour was phenomenal and I had to stop myself
from reaching for more. I loved
the tangy Passion Fruit Pyramids with Mascarpone and Mango too. But my favourite part of the dessert
was the garnish…you'll notice those little Macaroons in the photo below. The pink one, raspberry flavour, was
really yummy…sweet on the outside and sour on the inside.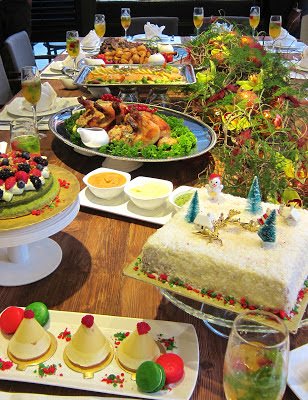 If you'd like turkey at home for Christmas, Serai
will cook one for you, Priced at RM350++ for a 3kg + bird, it will be stuffed
with chestnuts and comes with Pesto Mash, Roast Capsicum Mash, Cranberry Sauce
and Jus.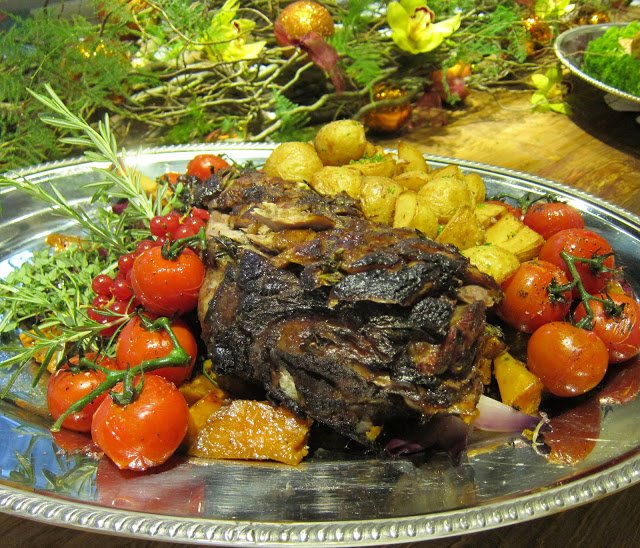 They're also roasting
Honey Mustard Australian Lamb Legs (2.5kg) and I can vouch for the tastiness
and tenderness of this dish. It
comes with Orange-Glazed Roasted Root Vegetables, Mint Sauce and Parisian
Mashed Potatoes all for RM400++.
The third takeaway choice is a Seafood Platter, which will serve 3-4 people. For RM450++ you will receive Boston
Lobster, Salmon, Prawns, Oysters, Soft Shell Crab and Squid accompanied by
Asian Cucumber Salad and Turkish Bread with two dips. Please note that the restaurant needs at least 2 day's
notice in order to fill these orders.
Reason to Visit: For a menu that covers a variety of cuisines, including many popular dishes, and for
the excellent gateaux and macaroons.
For reservations, please call (603) 2181-6717. The Christmas menu will be served until December 31, and it is essential to book at least 2 days in advance. It is priced at RM120++ per person with
a minimum of 4 people dining and will include 3 main course dishes, Gateau of the
day and the Serai Christmas Mocktail.
Serai @ Life Centre
Ground Floor
Jalan Sultan Ismail
Kuala Lumpur
Malaysia
+ 6 03 2181 6717