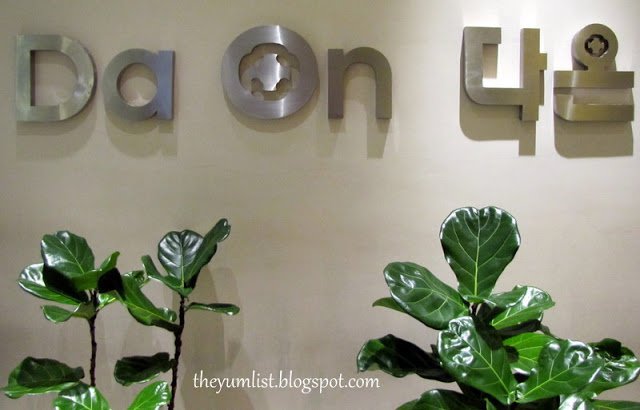 Da On, Fine Korean Cuisine, Pavilion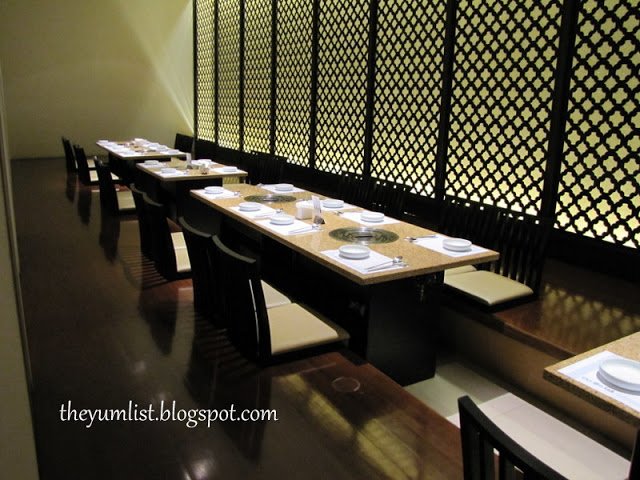 One of the rooms for shoeless seating in Da On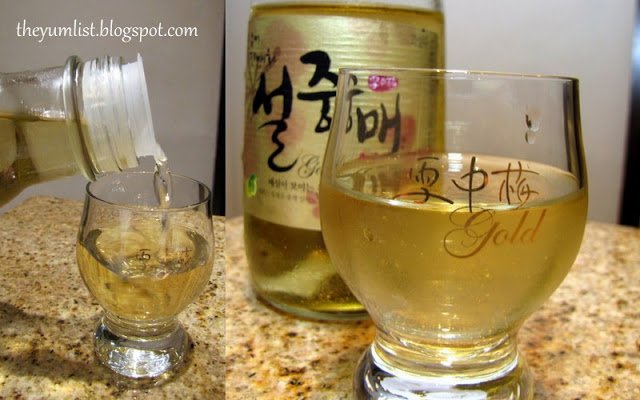 Seol Jung Mae Gold Special Reserve – Can you see the edible gold flakes?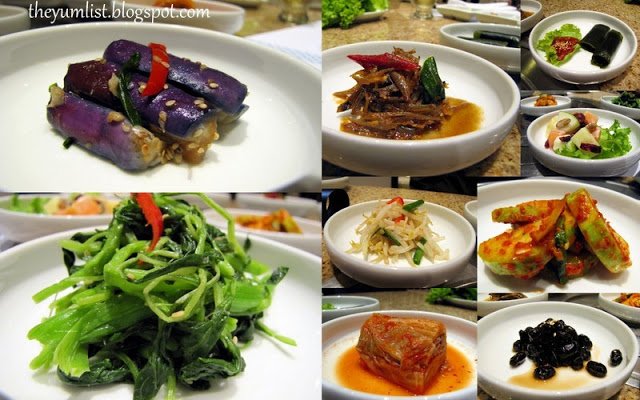 Assorted Korean Side Dishes – Refillable Free of Charge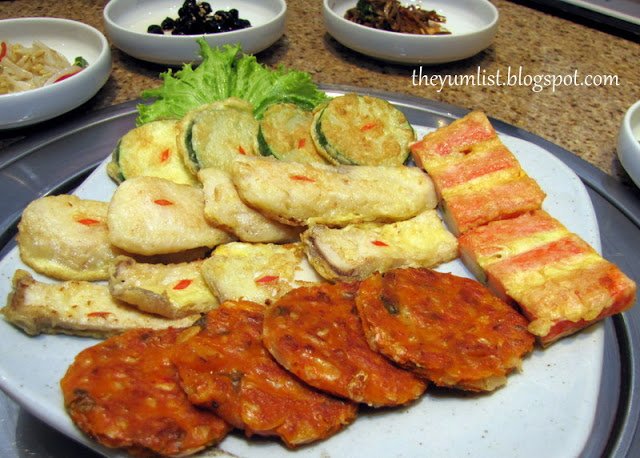 Modum Jeon (selection fo Korean pancakes) – Zucchini, White Fish Fillet, Mushroom, Kim Chee and Crab Stick Pancakes
Modum Gui (Korean barbecue) – Ju Mul Luk (charbroiled marinated US beef sirloin), So Galbi (charbroiled marinated beef ribs), Saen Galbi (charbroiled US black angus ribs), (Saeng Deung Sim Gui (charbroiled US black angus sirloin), Daeha Gui (charbroiled tiger prawns) and Garibi Gui (charbroiled fresh scallops).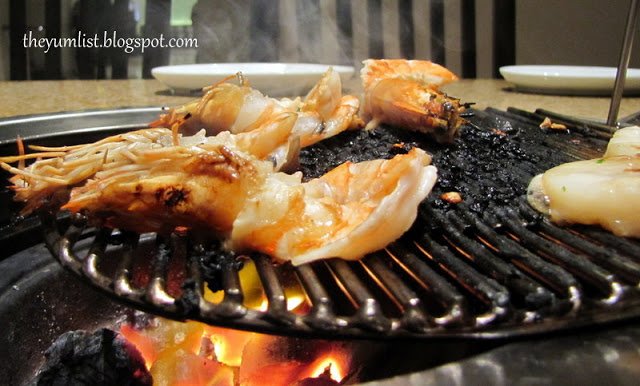 The barbecue cooked by waitstaff at your table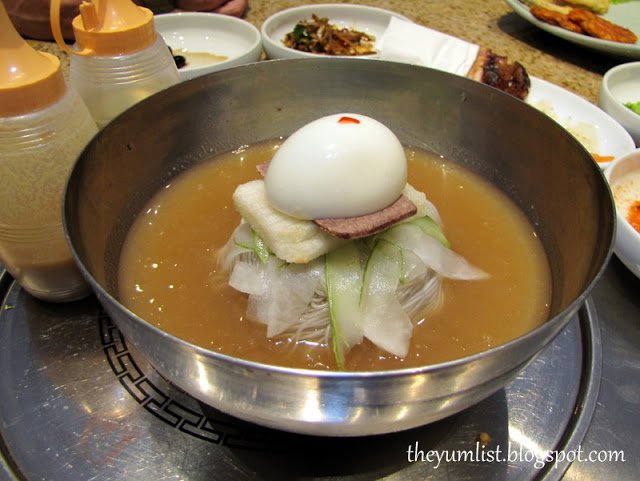 Mul Naeng Myeon (spicy Korean cold noodles)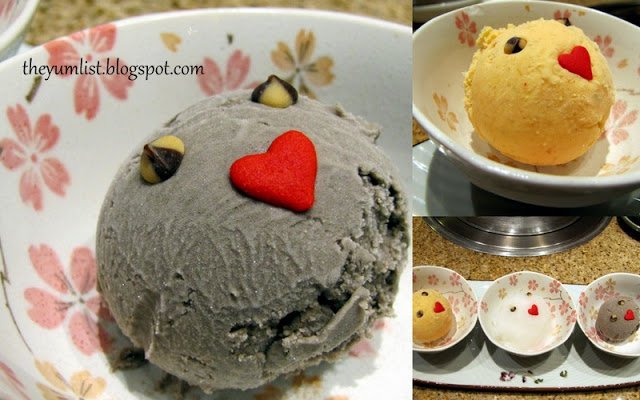 Home Made Ice Cream – Black Sesame, Kim Chee (!) and Lemon Soju Ice
Da On, Fine Korean Cuisine, Pavilion
"May all good things
and fortune come your way."
Over played as the tune may be, PSY's, Gangnam Style has
brought more than earaches and switched off radios to the world. It too has created
a wider interest in the East Asian territory and its culture. Many outsiders
have found new intrigue for Koread cuisine and Da On, in Pavilion, makes a perfect
entry into this unfamiliar culinary world.
Da On has been described as modern yet authentic. Five years
old now, 6500 square feet of space affords five private dining rooms and
numerous seating areas. Beige walls with traditional tapestries, neutral
colours and granite topped tables form the setting that has become famous with
patrons from the royal family and celebrities alike.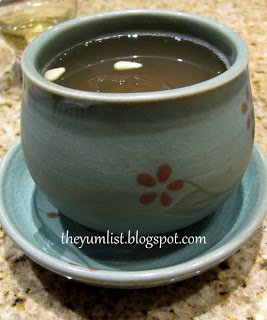 Shik Hae (traditional Koren fermented rice drink)
Authentic Korean cuisine with contemporary presentation and
refined service is what we found on our visit. Genuineness in their offerings is achieved by
importing most products from Korea, with meats coming from specific countries
known for their specialties such as Wagyu from the USA and Hanwoo beef from
Korea. It doesn't hurt either, that their chef is Korean, and insists on
sourcing only the best, even if it's expensive or time consuming to track down
the right stuff!
Our journey through the menu began with a Special Reserve
Gold Plum Wine with real plums inside and edible gold dust! I'd recommend this
to anyone new to Korean wines. It's easy drinking and made a perfect aperitif,
not to mention the coolness factor of consuming a precious metal!
Enthralled with the Korean style of eating, we began with a
palette of mini bowls of appetizers. Marinated cucumber, home made kim chee,
black beans, bean sprouts, fruit salad, eggplant, wild spinach, anchovies and,
seaweed with chili paste sauce were served aside miso paste, raw sliced garlic,
sesame oil with sea salt and a sweet sauce for dipping. Side dishes are
refillable free of charge, but with the lineup we tried, we dared not replenish
supplies for fear of filling ourselves before the rest of the meal arrived.
Steaming Korean pancakes, hot off the griddle, were more tasty
starters that threatened to plump our stomachs before the bulk of the meal had
been presented. Crab sticks, kim chee,
tingiri mushrooms, white fish fillets and zucchini were lightly coated in a
flour batter and terrific on their own or spiced up with some of the dipping
sauces.
If you're not familiar with Korean cuisine, the Modum Gui, Korean barbecue, should be
ordered. An assortment of fresh meats and seafood are brought uncooked to your
table as a host fires up the coals on the barbecues built into every table. Grilled
to your liking and served on individual plates allowed for appreciation of each
item separately. The beef was good on its own but the marinade requires special
mention with its fresh fruits such as pear acting as a natural tenderizer.
Cold buckwheat noodles are the traditional follow up and in
Da On's case, are made instantly upon order with their own machine. I imagine
these chewy chilled noodles could be refreshing on a hot summer's day, but too
that they might be an acquired taste. They were definitely not unlikeable, but
something a little too astray from our tastes for us to fully appreciate them
first hit.
The final scene was set up with home made Kim Chee and Black
Sesame Ice Creams, Rice Wine Sorbet and Shik Hae (Korean fermented rice drink).
The finish to our meal was just as spectacular as the start and, while we
eagerly devoured appetizers and barbecued meats, we might also be quite content
with a glass of plum wine and a scoop of these wonderful desserts.
Besides the beverages already highlighted, a small drinks
menu features Korean wines such as Hwayo (premium Korean rice wine, Baek Se Ju
(Korean ginseng with 12 herbs wine), Bok Bun Ja (Korean wild raspberry wine),
Seol Jung Mae Gold (Korean winter plum with gold wine), Soju (Korean sweet
potato and rice wine), Seol Jung Mae (Korean Winter Plum wine), Make Gerl Li
(Korean rice wine), Chung Ha (Korean clear rice wine) and Jinro (Korean sweet
potato wine). A regular selection of cold and hot beverages including a hand
full Korean teas are listed too.
A good way to check out the food is via their set lunches
available from 11am – 3pm. Deals usually include a main and a soup and cost
either RM40 or RM45.
Reason to visit:
fine dining Korean, Special Reserve Gold Plum Wine, Korean barbecue, kim chee
and black sesame house made ice creams
Da On
Fine Korean Cuisine
Lot No. 6 40 00
Level 6
Pavilion
Jalan Bukit Bintang
Malaysia
+ 6 03 2141 2100
+6 03 2141 3100