A Perennial Feast – Food, Flavours, Restaurants, Recipes
A Perennial Feast, YTL's Long Awaited Coffee Table Book
A Perennial Feast is a beautiful coffee table book showcasing the culinary excellence at YTL's hotels, resorts and restaurants worldwide. It's more than just a collection of gorgeous photos and write-ups though, it's also a collation of recipes carefully selected by chefs for ease of preparation in your own home.
A journey around the world via YTL is presented in spectacular photographs, text capturing the essence of each location and, recipes enabling you to live a little of the dream presented in the book in your own humble abode.
A recent Gourmet Safari Dinner in the private dining room, The Gallery, at the J. W. Marriott highlighted some of the unique flavours featured in the book. YTL Corporate Executive Chef Wai Look Chow and chefs from various restaurants including Chef Matthew Ona, who had flown in from Shook! Shanghai, came together to share with guests signature dishes appearing in the book and restaurants.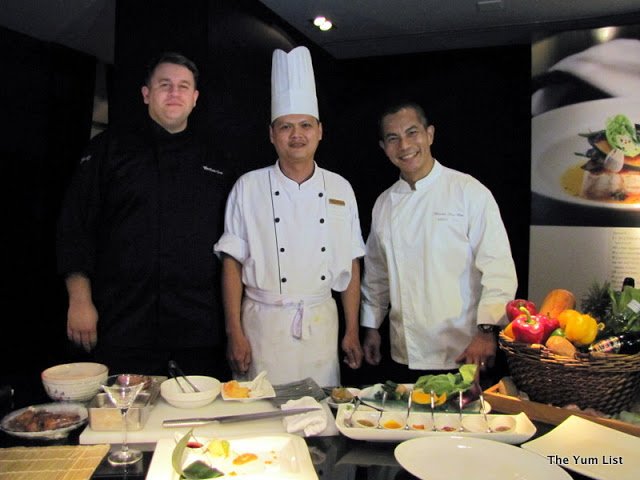 Each sampling from the book was preceded with a demonstration of the recipe by YTL chefs from the restaurant the dish originated from.
In an impressive black dining room, walls were lined with enormous pages from the book, A Perennial Feast, and two stretched 24 seater tables were elegantly dressed with fresh floral arrangements awaiting the arrival of diners. Each dish was preceded by a demonstration by chefs, before being served by a line up of waiters – one for every two guests!
The dishes brought from page to table were: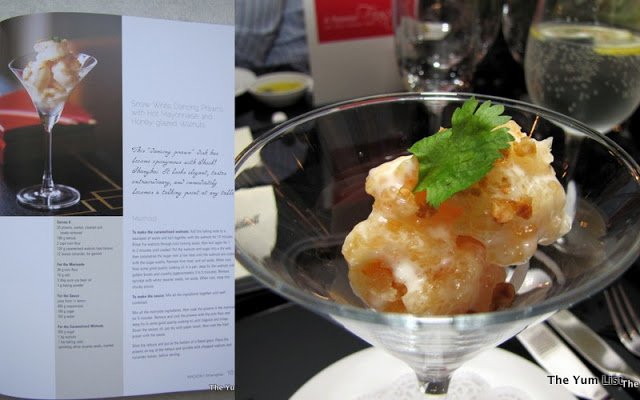 Snow White Dancing Prawns with Hot Mayonnaise and Honey-glazed Walnuts – Shook! Shanghai, China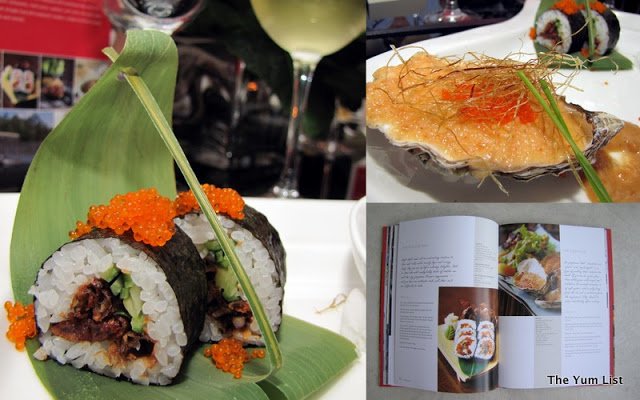 Soft Shell Crab Maki and Kaki Agebonoyaki – Gonbei San, Kuala Lumpur, Malaysia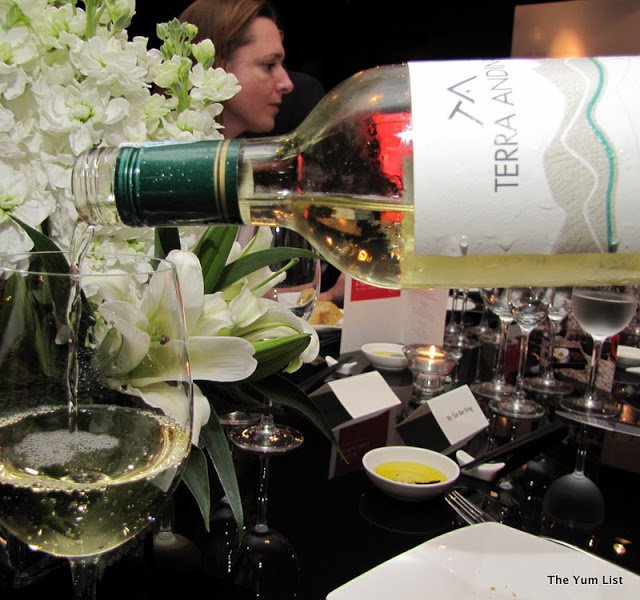 Chilean White Wine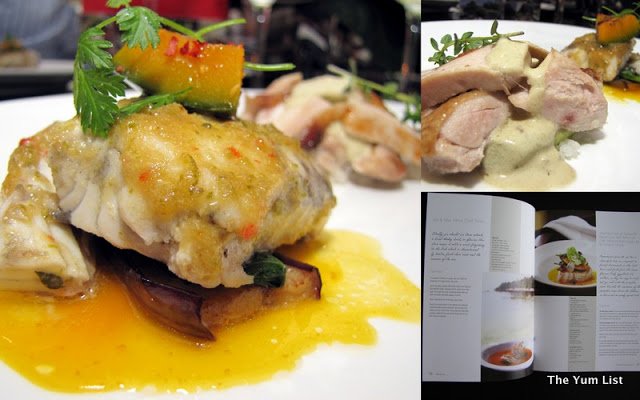 Steamed Fillet of Saltwater Barramundi with Bird's Eye Chili, Roasted Baby Eggplant and Pumpkin Sauce – Fisherman's Cove, Pangkor Laut Resort, Malaysia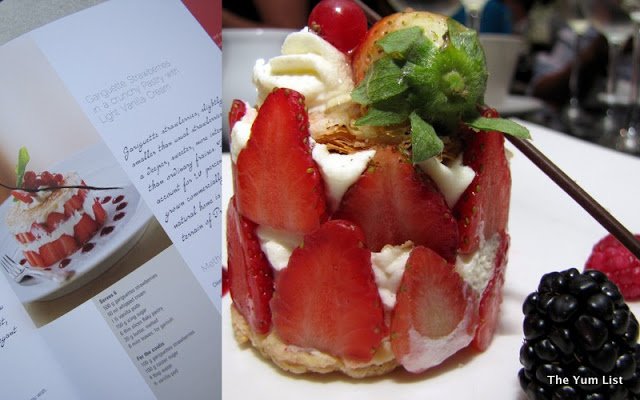 Gariguette Strawberries in a Crunchy Pastry with Light Vanilla Cream – MUSE Hotel de Luxe, Saint-Tropez, France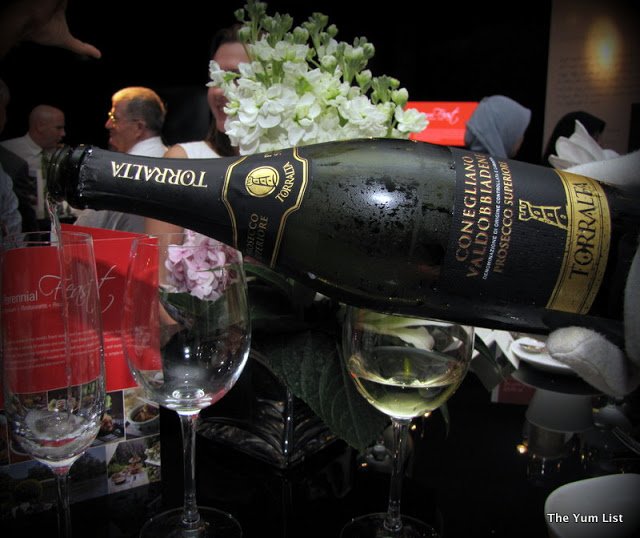 Italian Torralta Prosecco di Conegliano Valdobbiadene DOCG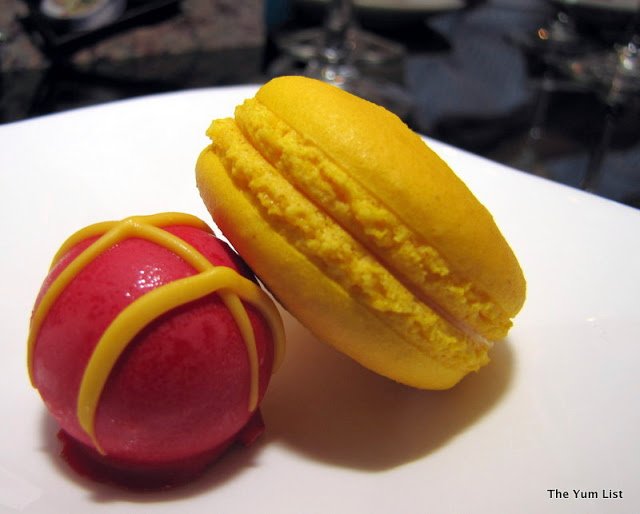 Chocolate and Macaron
Authored by Kim Inglis, published by Talisman Publishing and, with full colour photography by Danish photographer, Jacob Termansen, A Perennial Feast is available at Kinokuniya, Borders, MPH Bookstores, Times the Bookshop and WH Smith bookstores in Malaysia at the price of MYR125 per copy.