There are only a handful of top-notch Malay restaurants in Kuala Lumpur, and Bijan is known to be one of the best.  Obviously I jumped at the chance to take a cooking class with award winning Chef Zulkifli bin Razali, who has been offering classes to corporate clients for some time.  Bijan, which means Sesame, has decided to cater to a wider audience, hence the  special class arranged to launch this venture.  What I didn't know was that another famous artist in the kitchen, Chef Norman Musa, would join Chef Zul.  Chef Norman runs two successful restaurants in England.  He has appeared on numerous television food shows and he was travelling around Malaysia to work on his second book, Malaysian Street Food.  How lucky  was I?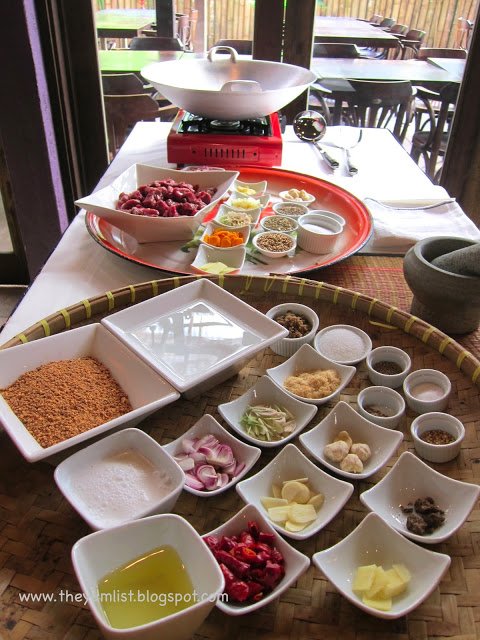 The restaurant was beautifully set up for the occasion, with ample room for the eight participants.  My cooking partner and I had a large table with our own gas burner and wok, mortar and pestle and preparation areas.  The ingredients were presented on traditional dulangs (woven trays), ready to be ground to a paste or added immediately to the dish.
We began by making a few sticks of authentic Beef Satay with Peanut Sauce.  How many times have you enjoyed satay, without a thought about the time involved to prepare all the spices and condiments?  It's not something I will easily forget
after pounding away with the mortar for at least 10 minutes.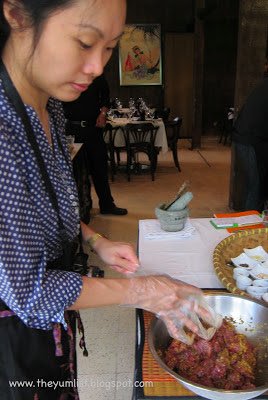 Eventually the 12-ingredient paste was
ready to massage into the beef.  (Luckily our mentor chefs were lenient and allowed us to puree and grind
in the blender and food processor from this point on.)  Normally the meat would be left to
marinate overnight, but we had to move right ahead, impaling the squares of
beef on well–soaked bamboo skewers.
The Spicy Peanut Sauce, Kuah Kacang, was another labour-intensive dish with many ingredients pounded together then sautéed in the correct order.  The sweet, spicy mixture was enhanced
with coconut milk and simmered slowly until thick.  It tasted so much better than the peanut butter version I've made at home in the past.
It was fun to grill the Satay on a traditional charcoal brazier, though admittedly it was hot and smoky work.  After careful tending, the resulting satay was bursting with a complexity of flavours
enhanced by the fragrant sauce; the best I've ever tasted…and I made it myself!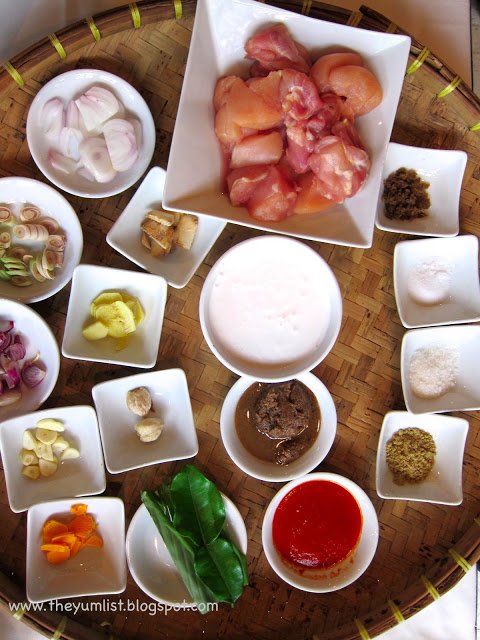 Rendang Ayam translates to Caramelised Chicken Curry because the dish is cooked until almost completely dry, intensifying all the wonderful spices.  I learned a great deal cooking this dish, such as how to cook a dried chilli paste in coconut milk until the mixture begins to separate and you end up sautéing in coconut oil.  The blended wet ingredients are added next: ginger, galangal, garlic, shallot, red onion, candlenut, lemongrass, turmeric.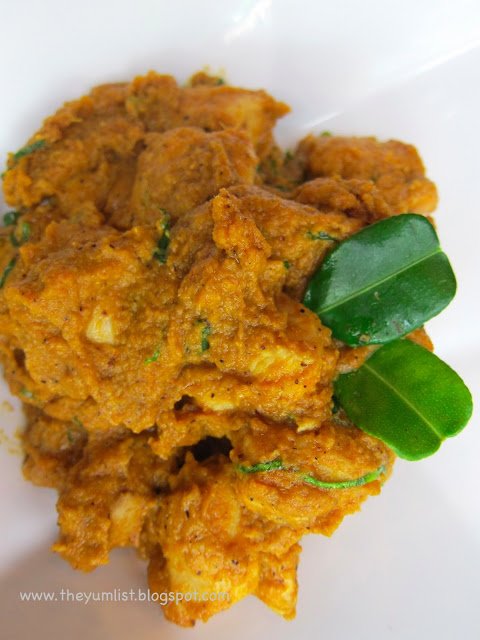 The gravy should ideally be allowed to simmer for 30 minutes before adding the chicken and korma powder. Palm sugar, kerisik (toasted coconut) and salt are added, and then it's a case of reducing and reducing until the gravy is thick and intensely flavoured.  The addition of finely sliced kaffir lime leaves and turmeric leaves gives the ultimate twist to this rich and delectable curry.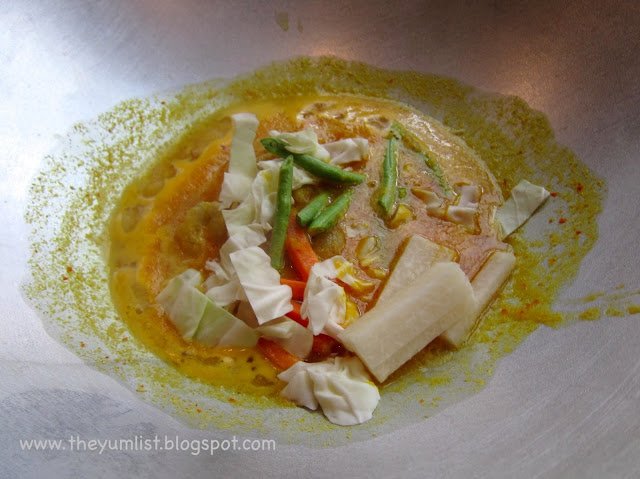 The last dish, and perhaps the easiest to recreate at home, was Coconut Vegetable Curry, Sayur Lemak Lodeh.  Julienned carrots, jicama cabbage and long beans were briefly simmered in a little water mixed with curry paste, along with 3 or 4 prawns.  The remaining ingredients were added: glass noodles, bean curd sheet, small pieces of tofu and tempeh, red and green chilli, turmeric leaf, salt, sugar and that all-important coconut milk.  That's about it really, very simple and very tasty.
We cooked for 3 hours, with a little break in between to enjoy our satay, then we ate and chatted for another hour.   I thought we would only taste the food we'd made, but we were treated to many of Bijan's best-loved dishes.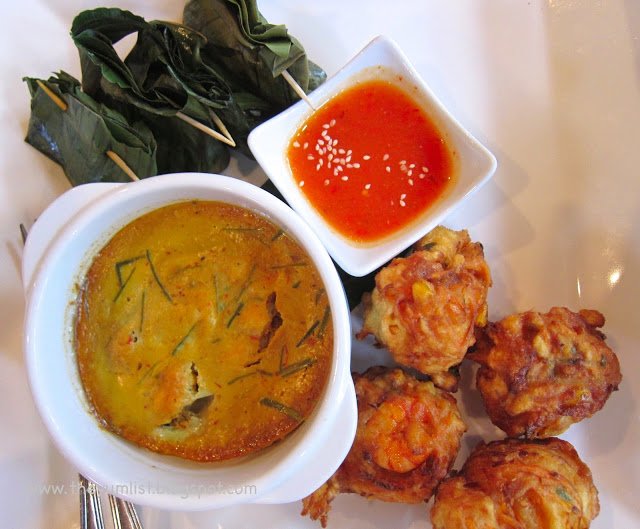 We began with a selection of appetisers, crispy Prawn Fritters, Otak Otak and tender steamed beef and coconut wrapped in a pancake.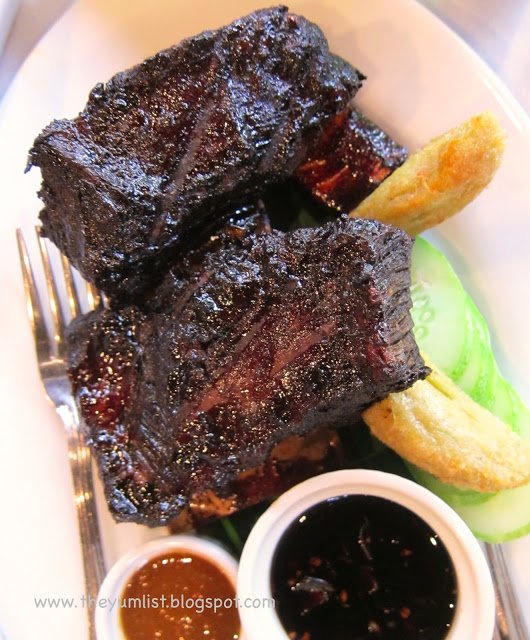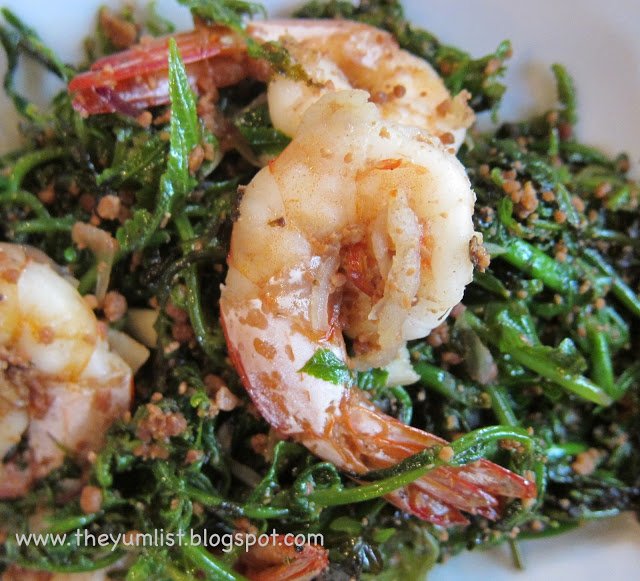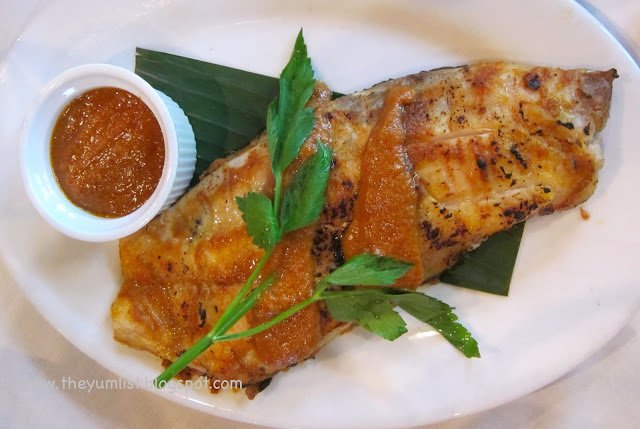 The main courses included Lamb Rendang, Chargrilled Marinated Short Ribs, (Rusuk Panggang), Marinated Grilled Snapper (Ikan Percik), Jackfruit Salad and my favourite dish of all, Wild Fern with toasted coconut, chilli and shrimp. For dessert, we had home-made Pandan Ice-Cream with Gula Malacca Sauce.  Everything was delicious and highlighted the fact that this restaurant is justifiably famous.
Bijan created a very elegant event, with beautifully presented recipe booklets and tables swathed in traditional batiks.  The atmosphere was relaxed and comfortable and I'm sure their cookery classes will be a huge success.
Reason to visit: To appreciate the complexities behind seemingly simple Malay dishes and to feel a real sense of achievement when you taste your own creations.
The cooking class is priced at RM180 nett and includes a substantial lunch.  There's a special rate of RM170 if three or more people make a booking together.  The class will be cancelled one week before the event if less than six people sign up.  Here's the schedule:
Thursday February 28      Street Food Galore
Wednesday March 20      Malay Heritage Recipes
Saturday April 27             East
Coast Favourites
Enquires and reservations:
Phone:  03-20316568
Bijan Restaurant
3 Jalan Ceylon
50250 Kuala Lumpur
Tel: 03-20313575
http://www.bijanrestaurant.com