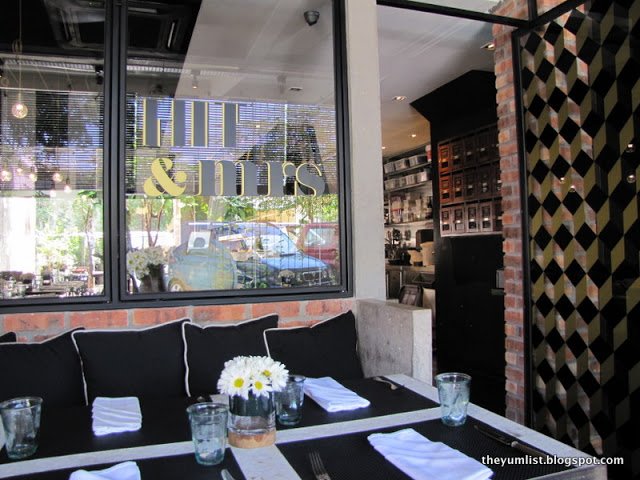 Hit and Mrs. Bangsar, by the BIG Group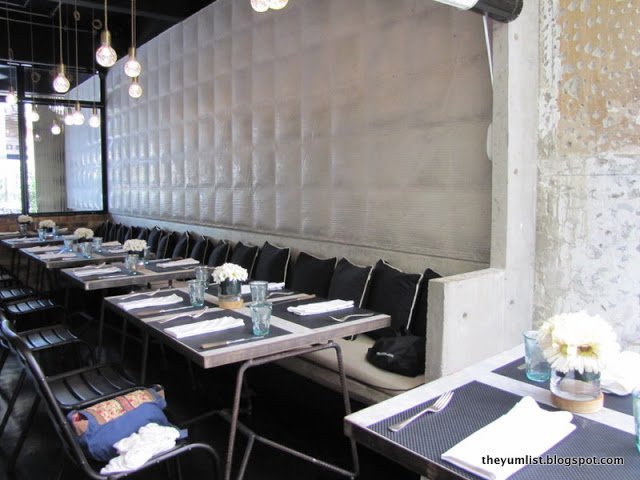 Downstairs dining area
Wake up coffee RM8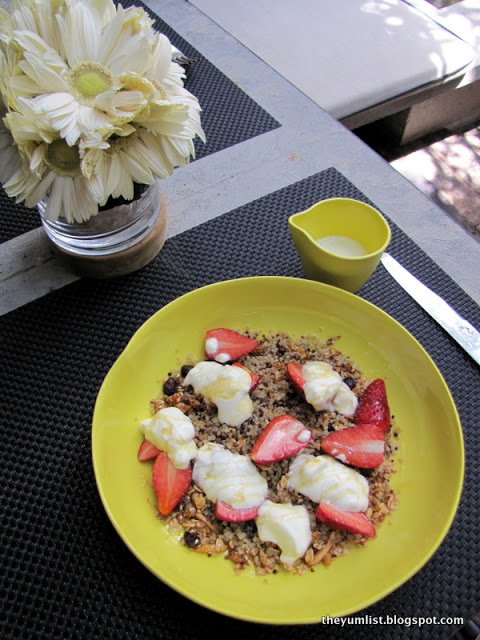 Quinoa Granola with yoghurt, strawberries and Australian honey RM25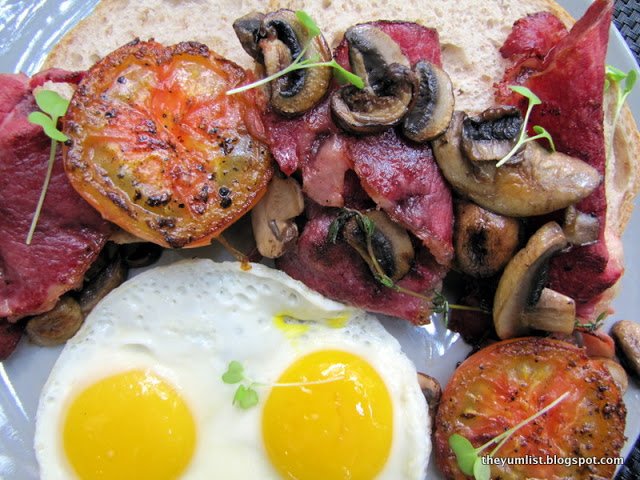 Fry Up – two eggs on sourdough toast, slow roasted tomatoes, buttered mushrooms and beef bacon RM35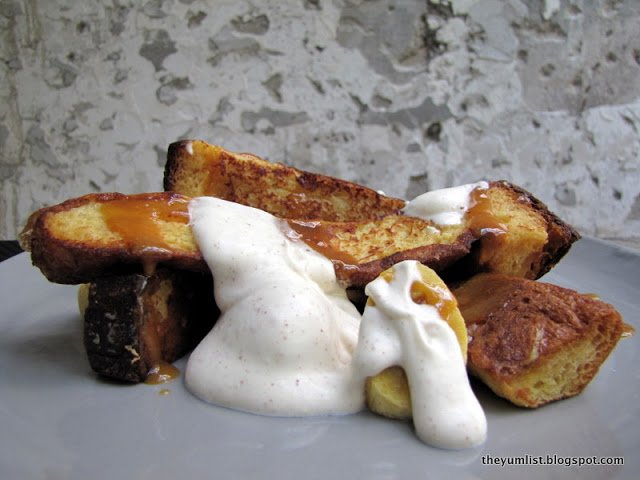 Pana French Toast, Banana and Chantilly Cream RM25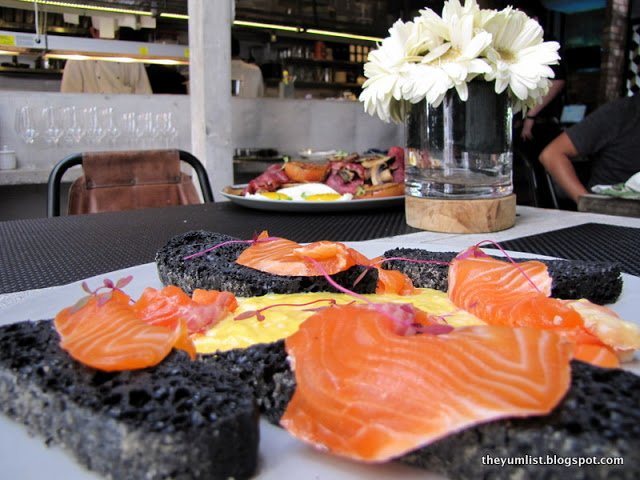 Scrambled Eggs, Home Cured Salmon, Squid Ink Focaccia RM35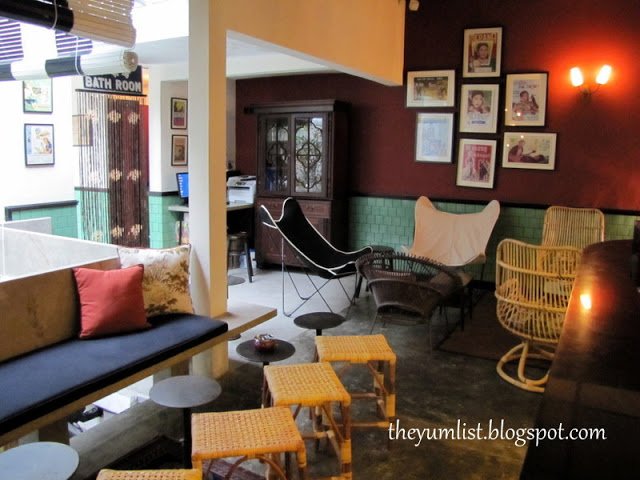 Upstairs bar and lounge area
Brunch at Hit and Mrs. Bangsar
Chef Mashad's smile radiates from the open kitchen as guests
amble in to the lower level of Hit and Mrs., in a hushed park-fronted area of
Bangsar. Staff greet regulars by name,
and quickly establish rapport with new arrivals, making them feel welcomed as
special invitees into a good friend's home. Downstairs is stylish, yet
resembles a comfortable dining space in a chic residence. Upstairs mimics a
cozy lounge and bar area straight out of the hippest home of the 50s.
Textured tables, walls and floors, accommodate antiques hand
picked for their original design and quality-of-make that was once known in the
past but no longer in attendance in today's 'throw away' consumer society. Just
as the substance of a time once lived is carried through in the décor of Hit
and Mrs., so are the traditional values of developing meaningful relationships
and courtesy that too seem to be long forgotten in many modern institutions. The
BIG Group's latest venture is certainly bringing soul back to the business.
With a reputation for incredibly rapid expansion in mall outlets, this concept,
located on a quiet suburban street sharing the neighbourhood with local
individually run shop houses, presents a pleasant detour from the mass-market image
established by the Food and Beverage giant.
A weekend brunch is the perfect introduction to the restaurant.
Muted daylight, spilling from the sunroof through the indoor treetops,
illuminates the dining area with a natural glow. Jazzy music from a bygone era
and, tables graced with fresh flowers polish off the setting. As mentioned
before, personalized attention generates a familiar tenor of meeting friends for
lunch in someone's home.
Apparently not yet ordered by many locals, the Quinoa
Granola was the first item my eyes were drawn to. Served in a bright yellow
dish with fresh yoghurt, strawberries and Australian honey, this plate is a healthy
happy start to the day – crunchy, chewy, nutty, just awesome. The Pana French
Toast, Pisang Emas and Chantilly was predictably hubby's favourite. Thick
fluffy rectangular prisms of panettone soaked in egg and lightly toasted were
slathered with cream and drops of caramel. A more traditional breakfast was the
Fry Up, consisting of two eggs on sourdough, slow roasted tomatoes, buttered
mushrooms and beef bacon. A slight twist in an eggy breakfast came in the form
of Scrambled Eggs, Home Cured Salmon and Squid Ink Focaccia. The deep black spongy
bread provided a direct contrast to the bright pink fish flesh and expertly soaked
up the creamy pond of ovum. Coffee (soy milk available too) and fresh juices are
satisfying thirst quenchers.
Brunch at Hit and Mrs. is available 11am to 2:30pm Saturday
and Sunday. By the end of February a wider selection of dishes will enter the
menu beefing up the primarily breakfast spread with some lunchier options. Their dinner menu is quite exciting too. A sampling of, what has been described as 'experimental cuisine,' can been found in this
January post
.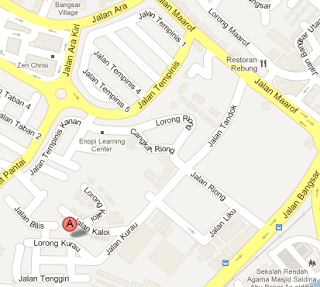 Reason to visit:
relaxed yet stylish ambience, experimental cuisine, big sized breakfasts,
personalized service
Hit and Mrs.
by The BIG Group
15 Lorong Kurau
Bangsar, Kuala Lumpur
Malaysia
+6 03 2282 357