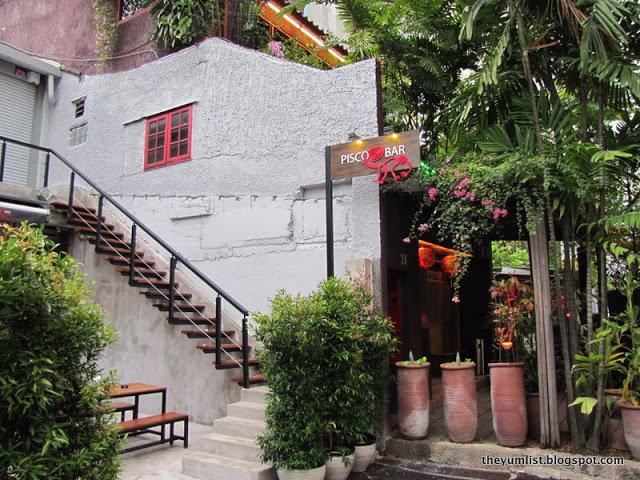 Pisco Bar, Jalan Mesui, Changkat Bukit Bintang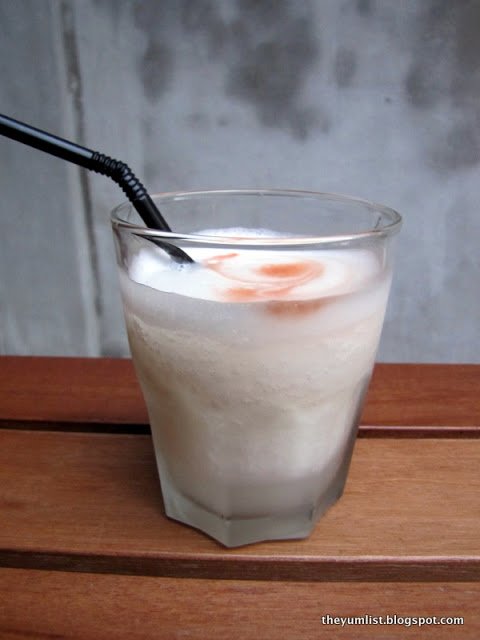 Pisco Sour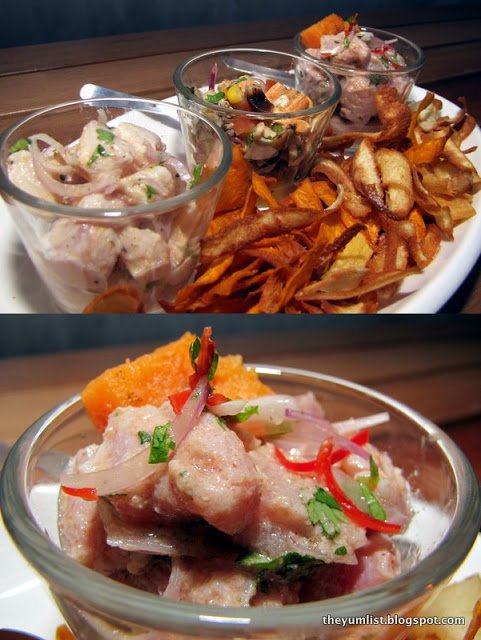 Trio of Ceviches with Sweet Potato and Tapioca Chips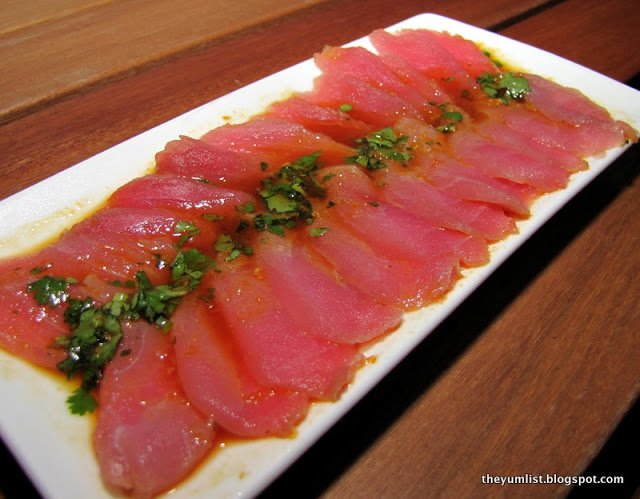 Tuna Sashimi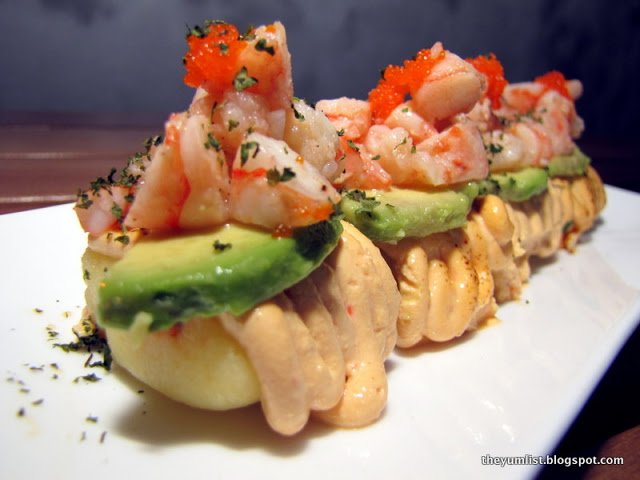 Potato Maki Rolls with Soft Shelled Crab and Avocado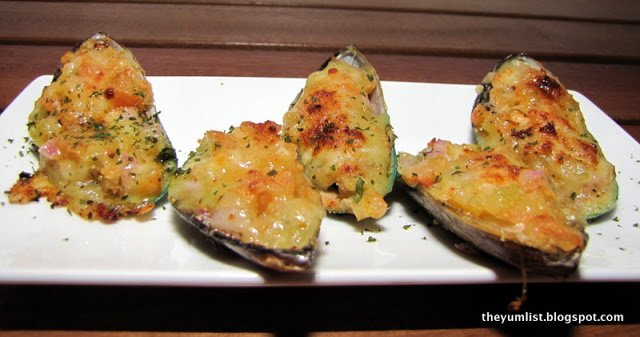 New Zealand Mussels with Cheese and Peruvian Salsa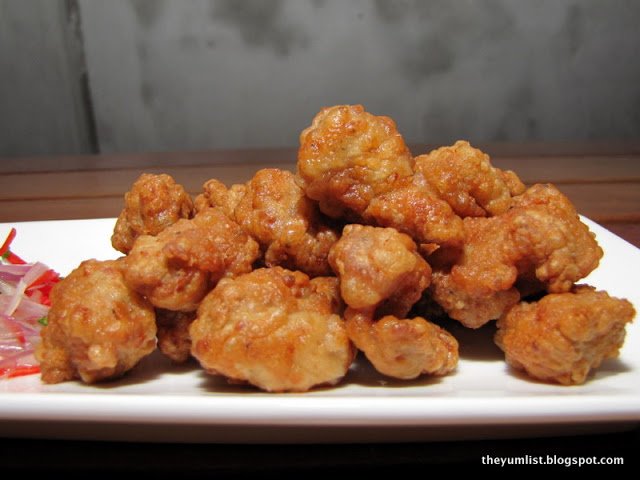 Pork Belly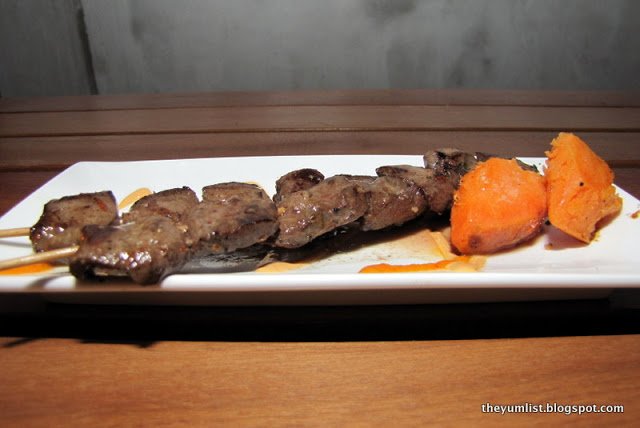 Beef Heart Skewers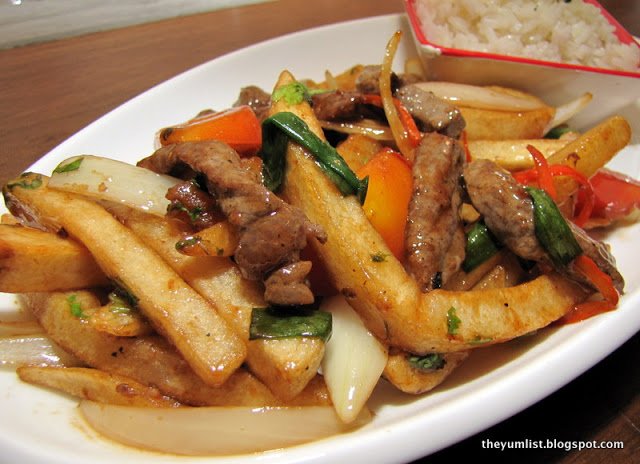 Lomo, Fries and Rice
Words: Kirsten Durward
Photos: Monica Tindall
An after- work drink accompanied by a range of tasty bitings?  A bar where conversation is welcomed?  A unique but unpretentious menu?  Those who like their music to be background, and their food to be foreground will surely enjoy spending hours in this delightful new spot on Jalan Mesui.
The overall impression is rustic but together, soft tones of grey, sand and rust weave among whitewashed walls; clever use of different texture gives interest to my wandering eye.  Upturned pails serve as bar lights, tubular lighting cleverly woven through palettes adds a homely, friendly appeal. Owners Nicolas and Yvonne have created a wonderful ambience, which already has a well established feel.
Chef Miguel Hokama has the ability to blend spices judiciously to add flavor rather than heat. A range of imported Peruvian chili combine with fresh local ingredients allowing for unique and distinct taste sensations.
Our meal begins with a Ceviche tasting plate, (RM36).  It's a great start! Three generous glasses of different ceviche are arranged between delicately roasted sweet potato and tapioca chips.  Tuna, snapper and chopped mussels, quick marinated in lime juice with exquisitely finely sliced onions and chili peppers. The marinade, known as tiger's milk is believed to be both a hangover cure and an aphrodisiac…. all the more reason to delve in!  All three ceviche are delicious; my favourite is the snapper, which sensuously dissolves on the tongue, delivering a blissful lime and chili warmth to the back of your mouth. The tuna is firm and fresh; the mussel corn mix is chunkier and chewier, a great contrast of textures. Each ceviche is available separately in two different sized servings. If you've never tried one before, I do recommend the tasting place for your first endeavor.
Chef's Japanese heritage comes to the fore with Tiradito Sashimi Tuna; a beautifully spiced fusion. Slithers of melt in the mouth tuna swimming in Amarillo (yellow chili) tiger's milk and soy sauce.  This delicately spiced Sashimi slips down a treat, clean and fresh.  One comment – 'Amazing!'
I've wandered the world and these days I don't often find much that is truly original in food.  But the next dish on the table, Mashed Potato Causita: Nikei (RM14) is.  Potato sushi!  Luscious velvety smooth potato roulade topped with avocado slithers, and chunks of fresh prawn well textured with prawn roe.  Wait for it, ah there it is, the little chili lime kick. I want another… only crumbs left, Monica's spoon was faster.  Warning! Four between three is not enough!  I'm returning for the untried Limena (tuna and quails egg).
Following the potato morsels comes a more Mediterranean flavor; baked mussels with tomatoes onions and parmesan (RM18). Simply presented, with Parmesan bubbling a perfect toasty cheese colour, the shells are soon empty. Cheese fans are happy. The mussels have great texture; but like the meat dishes this is food to be eaten hot, on service, don't leave it waiting…
Next to arrive is a hearty plate of Chicharrones (RM18). A golden, high crunch coating encases tender pork belly bites, tastily satisfying and deliciously moreish. We scoff away happily. A perfect accompaniment to that after work beer!
Two rows of well-browned juicy meat on skewers prove to be grilled beef heart, (RM10). Delicate high flavor tender morsels, they don't last long. My first taste of beef heart, it really was a delicious tasty bite. There are, however a good range of more traditional skewers for you to select among.
Our last dish is the Lomo Saltado (RM30). Salty sweet sticky sauce coats slips of delightfully soft beef, reeds of onions, slim cut fried potatoes, with a hint of fresh coriander.  A bowl of fluffy rice completes the set. Traditional to serve dual carbs in Peru, chef graciously gives us the choice here. A fulsome dish, guaranteed to keep you reaching for your beer or cocktail.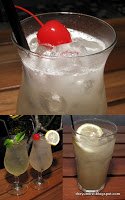 Pisco inspired cocktails
Ah cocktails, cocktails… As well as some of the usual suspects, Pisco offers a few unique original and fresh concoctions.
The traditional Pisco Sour is foamy and light and soon disappears; the suction of the straw on the bottom of one guest's glass brings the waitress running… Everyone is happy.
Sweeter toothed drinkers will be in heaven with the syrupy fullness of Pisco Punch. I prefer the slightly fizzy lemon-lime undertones of the Pisco Chilena, a fresh and light treat which slips down slightly too easily and I imagine will be great on a hot afternoon.
The Elderflower has a lollipop comfort reminiscent of childhood, sweet and refreshing, while the Mint with Ginger has more than a hint of old-fashioned ginger beer but this modern bar twist with a vodka base gives it a slightly harder kick.
I can fully recommend the food, the drinks, the ambience. An eclectic mix of urban chic and campensino; European café-bar in feel, shrubs and flowers rambling around the entrance, Pisco is in perfect synergy with the rest of this quiet street. We're a stone's throw from the flash and dash of Changkat, but a million miles away in terms of the evening's experience.
Pisco Bar is open Tuesday through Sunday from 5 pm at present.  Foodservice from 5 pm to midnight. Drinks until closing…
Pisco Bar
29 Jalan Mesui
Off Jalan Nagasari
50200 Kuala Lumpur
Malaysia
+6 03 2142 2900
www.piscobarkl.com