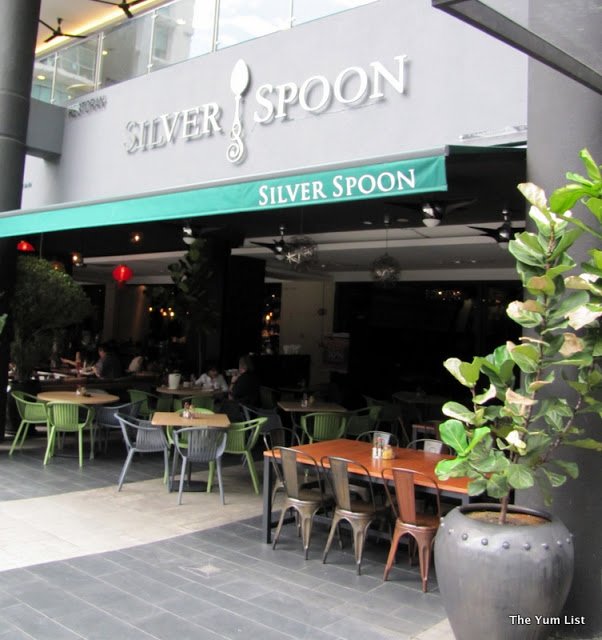 Silver Spoon, Publika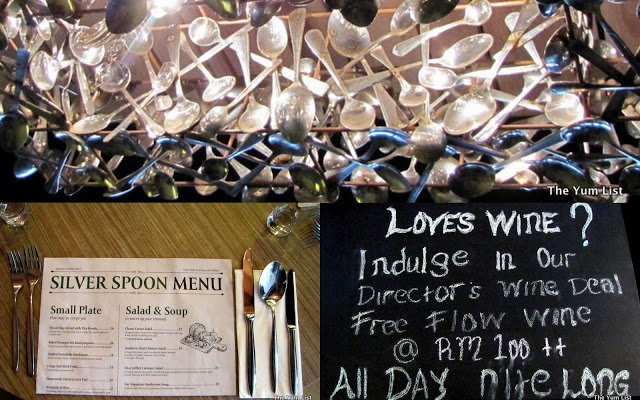 Spoon light shade, menu newspaper and "love wine?'… yes we do!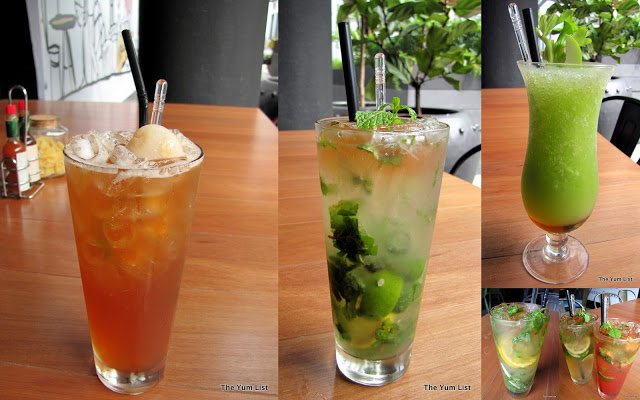 25 different types of Mojitos! Where to start?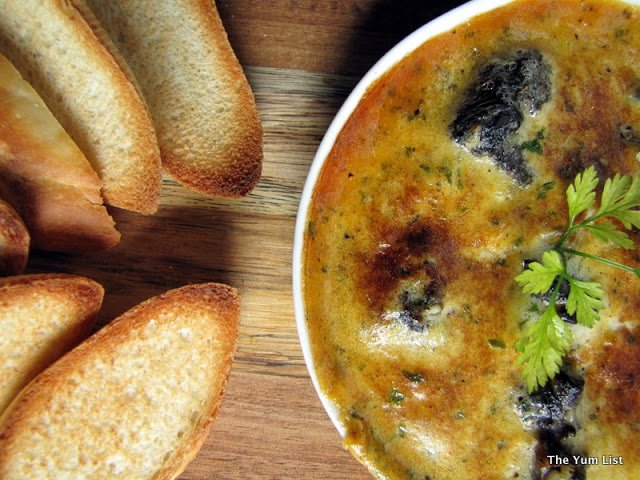 Escargot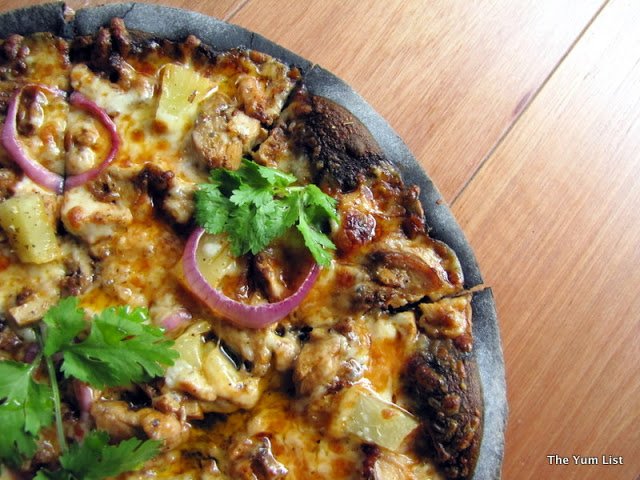 Charcoal Base Pizza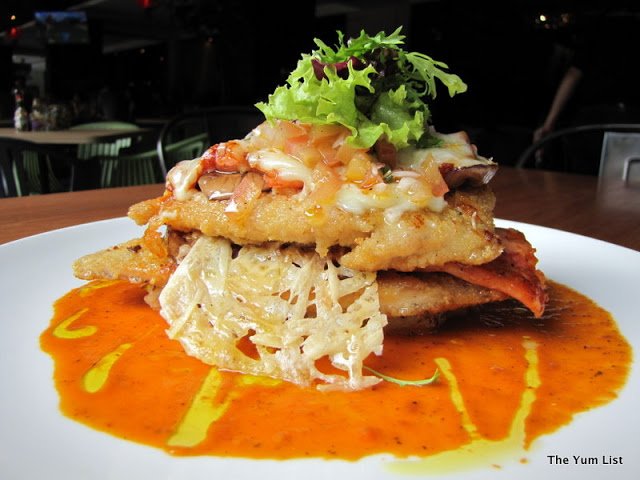 Layered Cheesy Chicken Chop – very generous portion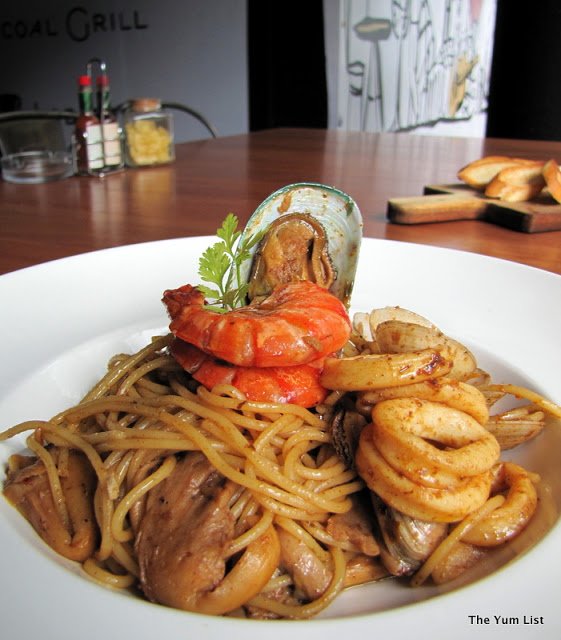 Tom Yum Spaghetti with Seafood and Mushrooms
Silver Spoon @ Publika, Solaris Dutamas, Kuala Lumpur,
Malaysia
Words by Polly Szantor
Photos by The Yum List
Kuala Lumpur
has waited a long time to welcome a trendy mall like Publika, and as the shop
lots fill with tenants, they blossom with numerous one-of-a-kind boutiques,
coffee shops and art galleries. There
are plenty of restaurants too, and with fierce competition, innovation is
imperative.
The first
Silver Spoon opened in Kepong over almost three years ago, and now, their
Italian inspired cuisine mixed with a pinch of fusion can be enjoyed by diners
at Publika. With 10 years experience
with La Bodega and two years with their sister restaurant in KK, Sabah, Chef
Gopi recently joined the Silver Spoon @ Publika. He brings with him a wealth of experience and
oodles of enthusiasm. It's obvious that
he easily becomes bored with routine, so he's bursting with ideas to brighten
up the menu at Silver Spoon and he's keen to bring in all kinds of special
events.
The first
thing we noticed at the restaurant was their extensive cocktail menu,
especially the 25 varieties of Mojitos, and we managed to try several! My
favourite was the ginger citrus Mojito, while my dining companion loved the
Fruiti Tutti, a blend of vodka, crème de banane, strawberries, lime, lemon,
orange and mint. Both were priced at RM24.50++. For the more fearless imbiber,
RM29.50++ will bring the Monster Mojito, a potent blend of white rum, gin,
vodka, triple sec and mint. If you'd like to try a few variations, there's a
special price of RM65++ for any three Mojitos on the menu. We also tried the
Iced Tea, which was freshly made, and a detoxifying health drink named
Forcefully, a refreshing blend of apple, celery and cucumber.
We sampled
four items from the dinner menu, all of them tweaked a little by Chef Gopi. The
Hawaiian BBQ Chicken Pizza was given an interesting twist by adding Bamboo
Charcoal from Taiwan to the bread dough. The resulting black, crispy crust
didn't taste particularly unusual, but it certainly had eye appeal. The zippy
Tom Yam Spaghetti was served with a variety of seafood and just the right
amount of spice. There was also a generous serving of Chicken Parmigiana with
Aubergine and Turkey Ham, which was tender and tasty. My favourite dish by far,
however, was the Escargots. Rather than the herbed butter mentioned on the
menu, Chef Gopi had heightened the flavour of the butter by the addition of
brandy and port wine. When I ate snails for the first time on the ferry between
France and England in my early twenties, it was love at first taste. I've
munched my way through many gastropods since then, and I must say that Chef
Gopi's are some of the best I've eaten. I will return!
Brunch is
served between 11am and 3pm on Saturdays and Sundays. Eggs Benedict is priced
at a very reasonable RM7++, and Smoked Salmon can be added for RM8. There are
several choices on the menu all the way up to the Silver Spoon Breakfast for
RM22++. There are plans to open at 9am for breakfast after Chinese New Year.
There are
numerous special offers including Ladies Night on Friday and Saturday: buy one
cocktail get one free. Happy Hour runs from Noon until 7pm with 50% off house
drinks, while on Tuesday and Thursday nights after 6pm, buy one draft beer and
get a second free. More offers and special events can be found on the Silver Spoon
Facebook page:
www.facebook.com/silverspoon.publika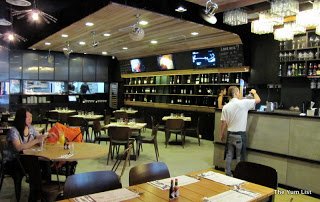 Silver Spoon Bar and Dining Area
Reason
to Visit: for the special offers on beverages, to meet friendly Chef
Gopi who'll come and chat at your table, for its prime location opposite the
outdoor stage and don't forget to try the Escargots!
Silver Spoon @
Publika
Lot No 33, Level G2, Publika

No 1, Jalan Dutamas 1

Solaris Dutamas
50480 Kuala Lumpur
+6 03 6201 6800