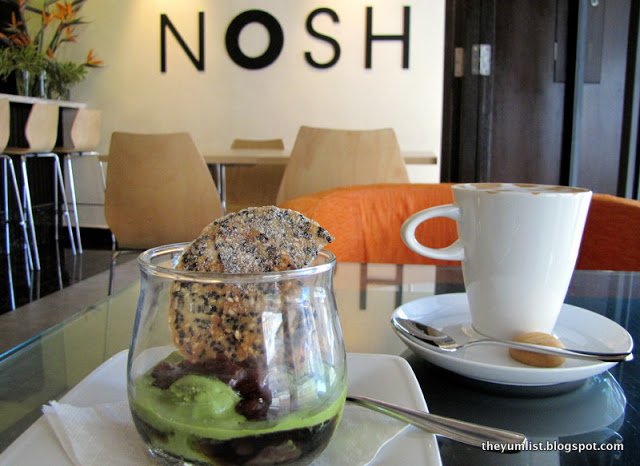 Greenie Beanie Ice Cream and Latte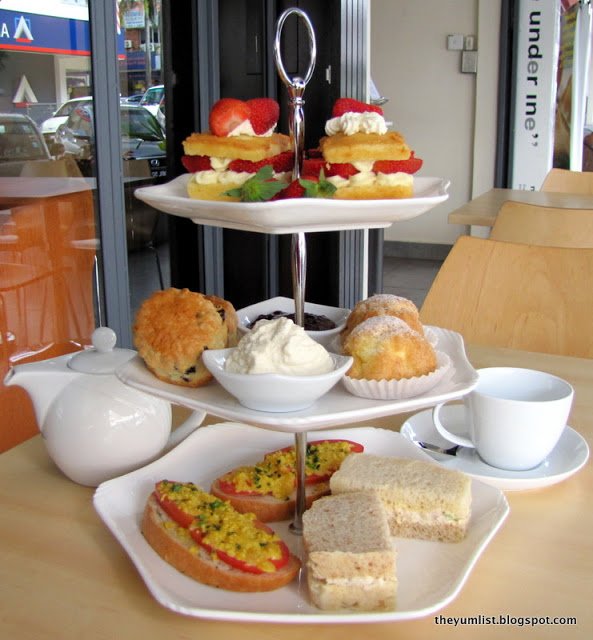 Afternoon Tea Set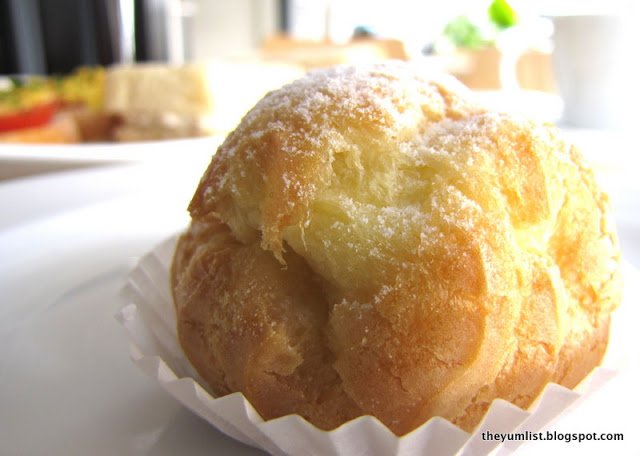 Cream Puff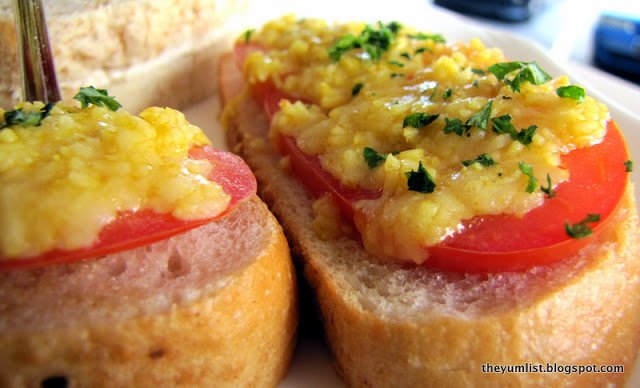 Savoury Plate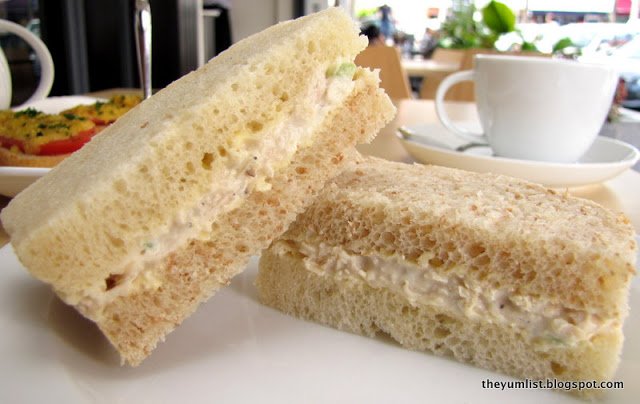 Finger Sandwiches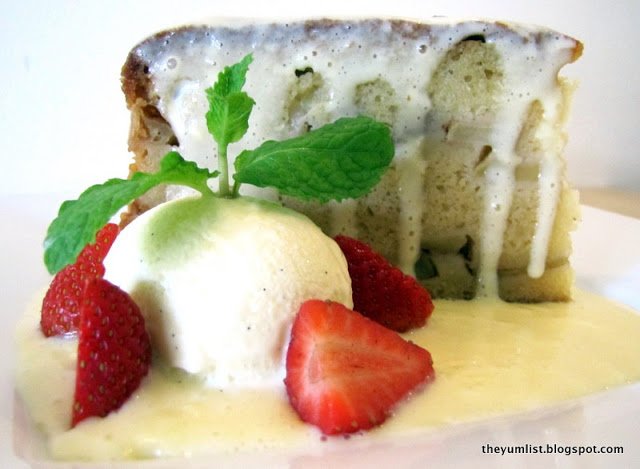 The Big Apple with Vanilla Ice Cream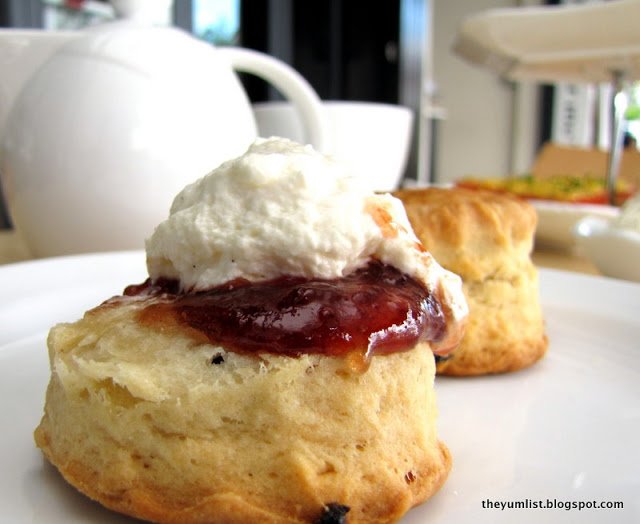 Fruit Scones
Strawberry Shortcake
Afternoon Tea at Nosh, Bangsar
Words by Polly Szantor
Photos by The Yum List
If you're looking for something just a little bit different for Afternoon Tea, Nosh will certainly fit the bill. This restaurant is already making a name for itself by using fresh, quality ingredients and serving classic dishes with a twist. In a business where competition is huge, it can be hazardous to take a risk with the menu, but owners Ann and Judith are doing just that, and they're winning at the game.
The Afternoon Tea Set reflects a strong European influence. The Sarnie Duo offers two different sandwiches both on delicious homemade bread. (I think you may have to be British to know the word "sarnie". Seeing it on the menu made me a little nostalgic.) There's an open-faced grilled cheese, reminiscent of Welsh Rarebit and a Chicken Salad sandwich made with white bread on the top and brown flaxseed bread on the bottom. There are just a few caraway seeds in the filling, giving a pleasant surprise when you happen to bite into one.
Remembering the Fruit Scones makes me smile… they're just like Granny used to make, and the best I've eaten in a long time. A little crisp outside and not at all dry, they were perfect, and a real treat eaten with whipped cream and homemade strawberry jam.
The French Delicacy is a pair of profiteroles, or cream puffs, filled with a light, vanilla custard cream. I often find these too sweet, but the Nosh pastry chef has a light hand on the sugar, so they were very much to my liking. The cake in this set was Strawberry Shortcake, a light butter sponge sandwiched with Chantilly Cream, nice and airy and again, not overly sweet.
The set comes with a choice of teas or a long black coffee. The teas are locally sourced from the Bharat Tea Plantation in the Cameron Highlands. I had a nice pot of ginger tea, which was very soothing.
Ann mentioned that when groups of four arrive in the afternoon, they often order one tea set, for two, and a few sweet and savoury choices. There's the Cup-a-Cake option too, a tea and cake of the month special priced at RM18, which is a steal when you consider the size of the servings. I tried the Big Apple (RM16) and it was certainly made for sharing. It's a moist dense cake with tangy slices of Granny Smith apples, served with Crème Anglaise and Vanilla Bean Ice-cream, which is made on the premises. Once you start noshing on this, it's hard to stop.
There are several tempting icecream flavours, such as vanilla bean, rich chocolate and natural yogurt. I tried the Green Tea Ice-cream, which was obviously made with top-of-the-line green tea, giving an intense flavour and a dish that is undoubtedly brimming with anti-oxidants. The ice cream was complemented by a sweet, red bean purée and a sesame wafer, a lovely combination.
Reason to visit: For delicious food made with top-quality ingredients, bringing a taste of the old country to Kuala Lumpur. What a delightful way to spend a weekend afternoon.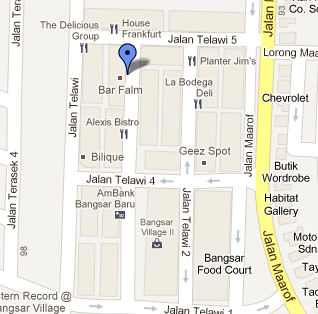 Map to Nosh
Nosh's Afternoon Tea is served on Saturday and Sunday from 3pm to 6pm. They have a very cool website; you can check out their promotions at
www.nosh.my
As an added bonus, there's RM2 off the Cup-a-Cake special right now if you like NoshKL on Facebook.
Nosh Restaurant
7 Jalan Telawi 3
Bangsar Baru
59100 Kuala Lumpur
Malaysia
+6 03 2201 3548