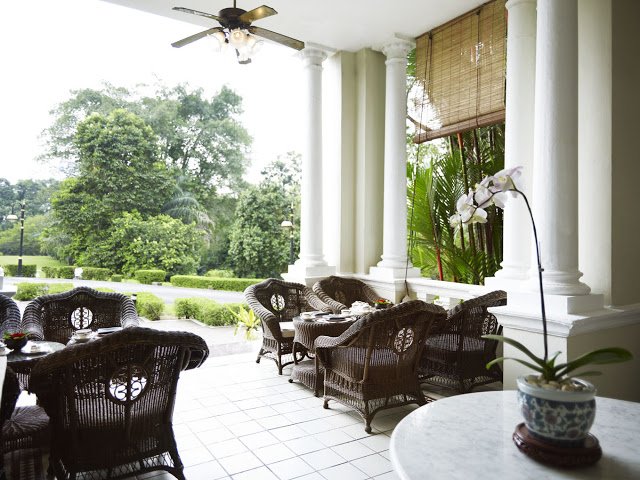 Tea on the Verandah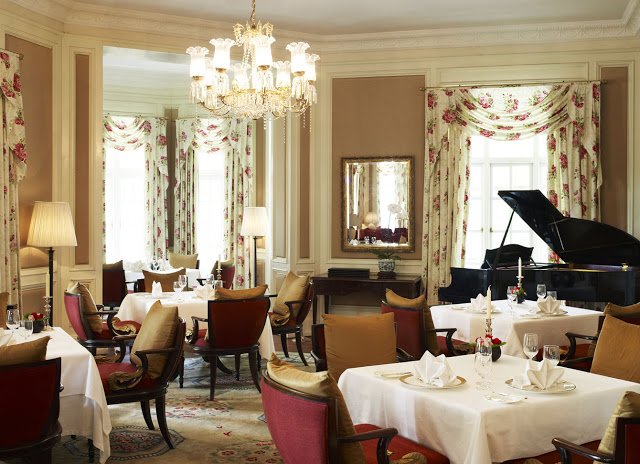 The Drawing Room, Carcosa Seri Negara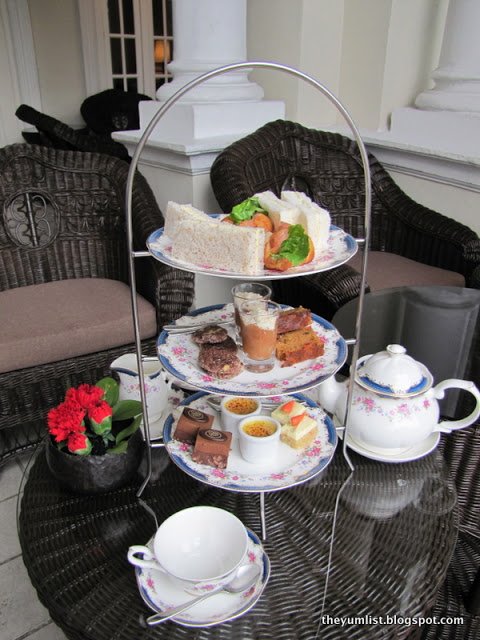 English Afternoon Tea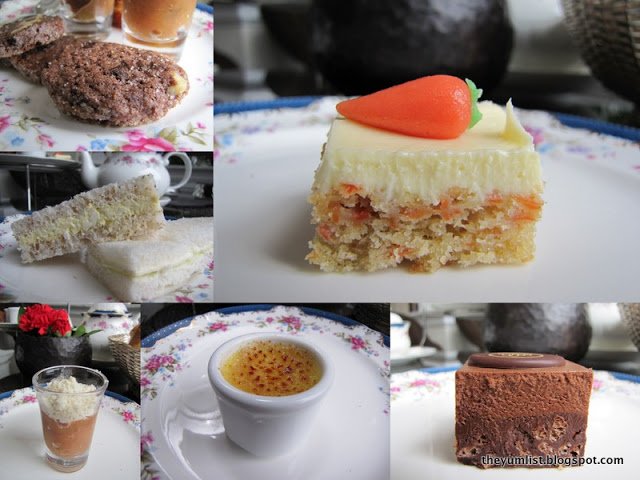 Bites from the English Afternoon Tea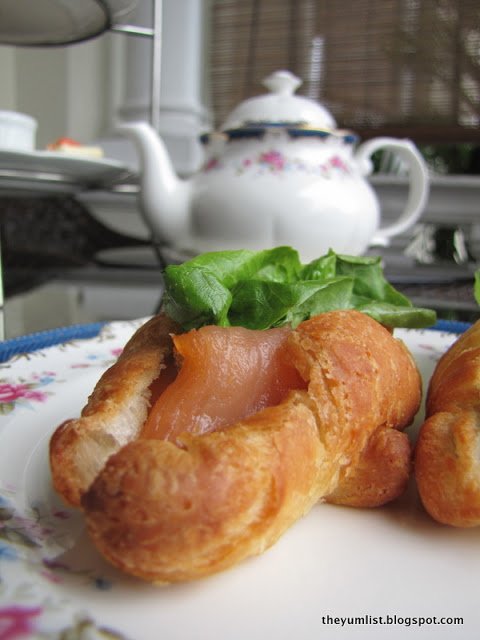 Salmon Croissants
Scones with Strawberry Jam and Clotted Cream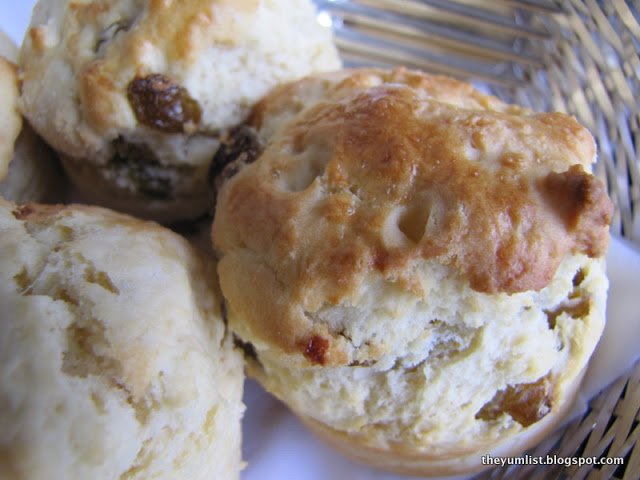 Plain and Raisin Scones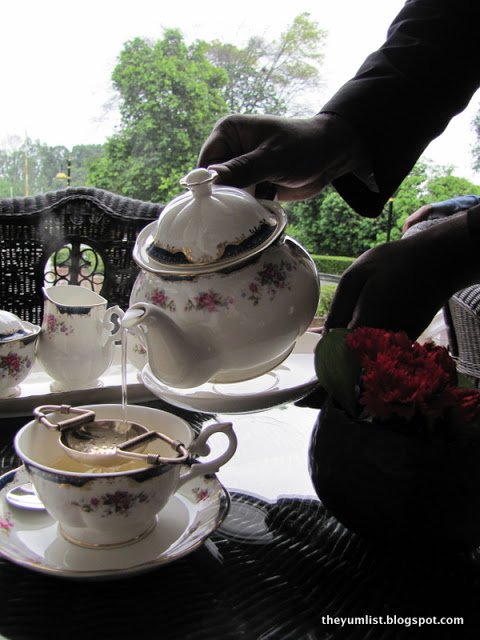 Tea Service
Bringing
Nostalgia Back into Afternoon Tea, Carcosa Seri Negara
Words by Craig Selby
Photos by The Yum List
As a kid, my favourite experiences were high tea at the Rose Gardens, or at this exclusive mountain-side restaurant that I used to love. As I grew older, this love for a good high tea continued, and as I move from country to country, I have always managed to find somewhere in each city that offers me the opportunity to reminisce days gone by. The building may be different, the platters on offer different, but the emotions that the experience conjures up certainly aren't.
In Kuala Lumpur, the fire of these memories was recently stoked by a visit to Carcosa Seri Negara, a beautiful historic property set amidst sprawling grounds, yet just a stone's throw from the hustle and bustle of KL Sentral and the city centre. Two beautifully restored period mansions offer sanctuary from the heat and the noise of the real world, with a casual restaurant for high teas and light meals in one mansion, and a luxury hotel and formal banquet facility in the other. England's Queen Elisabeth II stayed here, and I can say the suite she had was to die for.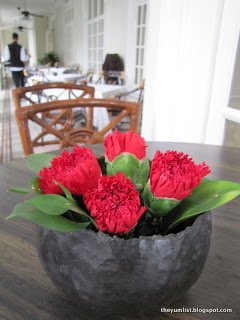 What I enjoyed most about my Carcosa experience is the combination of personalised butler style service, along with the expansive balconies where one can sit and be at one with nature. High tea is served both inside the building in a beautiful Victorian style dining room, complete with antique furniture (but all the modern conveniences) or outside on the terrace in comfy and spacious old wicker chairs, overlooking the manicured lawns and flora and fauna in the immediate background. We chose outside, to commune with nature. A rainy day (well, it is KL after all), we were protected from the drizzle (and no doubt the heat) by rattan blinds, and strategically placed furniture – designed to get the best of the environment, without letting the environment get the best of us.
Afternoon Tea at Carcosa is a culinary delight. With a standard high tea running seven days a week, they also offer a traditional Malay option on weekends – local delights prepared and served to the same high standards. Whilst this visit I opted for the English afternoon tea, I know that I will be back to experience the Malay version pretty soon –
something clearly not to be missed.
The tea component is so important, and Carcosa offers an exceptionally broad list of quality teas, but the teas we would normally get at great restaurants, but also a selection of quality infused and flavoured teas not commonly seen elsewhere. For the 'afternoon tea infidels', there is a small selection of coffee available as well. I selected Earl Grey tea,
my personal favourite, along with my usual request for thinly sliced lemon slices on the side. Not often in Malaysia do they get the lemon slices request right – slices are slices, not chunks, and I really did appreciate our waiters attention to detail in producing five thinly sliced, seedless lemon slices. Perfection for my tea. In true butler style, tea is served from the pot (with its own saucer I may add) and refreshed regularly by our impeccably uniformed waiter.
A silver three tier sampling platter is presented at the table, with three layers of different bite sized delicacies from the kitchen. Scones and jam – ok, so what tea would be complete without this – sandwiches and croissants, and cakes and desserts.
The scones were exceptional – some of the best in Malaysia to date. Not too dense, they had a light fluffiness about them, but still solid enough to hold together upon bite. Freshly made strawberry jam aplenty, along with clotted cream, an old British tradition, accompanied these little gems, and gave the right balance to the flavour and texture combination.
The selection of sandwiches had salmon, cucumber and egg. The salmon croissant was a mini croissant with a generous helping of sliced smoked salmon; the cucumber sandwiches were parcels of freshly baked white loaf with piles of thinly sliced cucumber. Nothing beats a stack of thinly sliced cucumber on freshly buttered bread – it transforms the taste and certainly arouses nostalgic memories. The egg mayo sandwich was also nice, a simple addition to the trio.
The cakes platter had a selection of petite sized desserts – Fruit Cake, Carrot Cake, Chocolate Fuillitte, Apple crumble, Vanilla Cream Brulee, Home Made Cookies. Each delicious in their own right, my partner in crime for the day enjoyed the crème brulee the most, whilst I opted for the hearty textured carrot cake. To me, a great carrot cake has lots of personality, and the texture of the cake reveals that more than anything else. Covered in thick icing is also a balance, as the coarse healthy texture of the cake is subdued with icing oozing into every mouthful. What more could I want?
The afternoon drew on, and sitting on the terrace enjoying the solitude that Carcosa offers, certainly provided an excellent respite from the daily hassles of work and business. Definitely a place to go for a truly enjoyable experience, Carcosa is a testament to an older way of life, reminding us that even within a busy city, there is always a time and place to step back and let nature into our lives, with some pretty awesome food to boot.
Reason to visit:  Traditional afternoon tea in superb setting
The Drawing Room
Carcosa Seri Negara
Taman Tasik Perdana
Persiaran Mahameru
50480 Kuala Lumpur
Malaysia
+6 03 2295 0888