Restoran Fatty Crab, Taman Megah
By visiting performance poet Paul Cookson
A ten minute walk away from Taman Bahagia Station, on the corner of a busy street, opposite a garage … not the most exotic situation for a restaurant but as I've come to learn in this part of the world, first impressions aren't always accurate.
The ubiquitous white table and chairs and the equally ubiquitous Tiger beer and we're away.
In England I'd usually shy away from chicken wings but having seen the big bubbling wok, we decided we had to go for them plus chicken satay. Again, in the UK chicken satay may seem a little obvious, but as far as taste and enjoyment are concerned – fantastic, loved them, couldn't get enough!
I love seafood and am not an experienced crab eater … the experience was interesting, violent, greasy on the fingers, crunchy and very tasty … but in that order! The crab meat (when I got to it) was lovely, but I found it simply too labour intensive and inevitably went back to the satay and chicken wings. Maybe my inexperience hindered me here. However, the king prawns were sublime – more please! If you like king prawns you'll love these – what's more to say?
I didn't leave hungry, I didn't feel bloated, yet judging by the pile of debris on my plate it seemed that I had eaten the contents of a small farm – and loved it!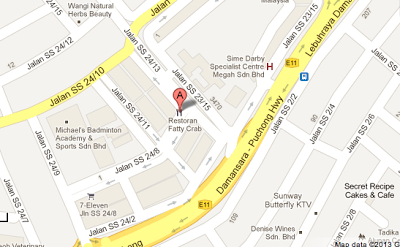 Map to Restoran Fatty Crab
Paul Cookson
Restoran Fatty Crab
No. 2 Jalan SS 24/13
Taman Megah
47301 Petaling Jaya
Selangor, Malaysia
+6 03 7804 5758
Closed Mondays