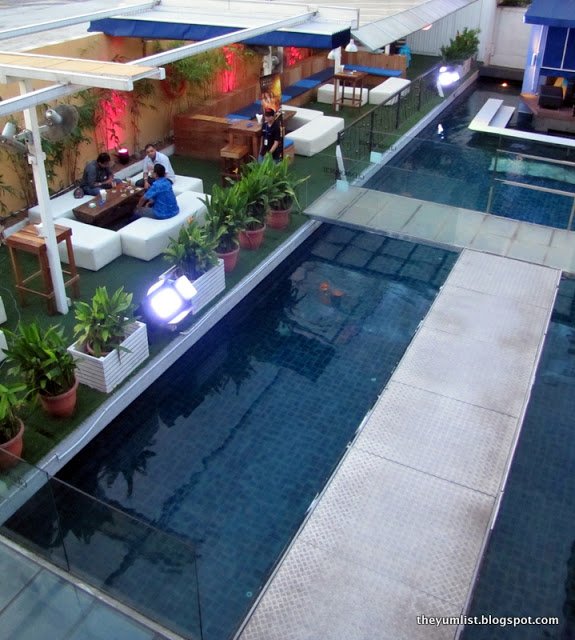 The Pool Ampang
Cocktails at The Pool, Ampang
Words by Emerald Eye Photos by The Yum List
Listen up ladies, the best excuse for a girls night has hit Kuala Lumpur with 'The Pool' in Ampang. 'The Pool' has created a spectacular menu, featuring a range of delicious, fun and exciting cocktails in all shapes and sizes, from tropical and fruity to smooth and chocolatey, to downright hardcore for the seasoned drinkers.
Cocktails are the primary focus with a large selection of unique flavours to choose from. Making a change from the traditional margarita, or martini, these cocktails can only be found at 'The Pool' in Ampang, or at their sister bar, 'The Hill' in Damansara. Standout favourites include Milo Ais, a lipsmackingly delicious chocolate cocktail, and Coco's Nutz, a rich and creamy coconut blended drink, expertly presented in an old coconut shell to make you feel like you've been crowned queen of your very own tropical island.
However, choosing favourites was not an easy feat as every cocktail I tried left me wide-eyed in delight. I was like a kid in a candy shop; distracted and excited with too many delicious options to choose from:
Coco's Nutz
Malibu, Rum, Condensed Milk, Fresh Coconut Juice and; Coconut Cream.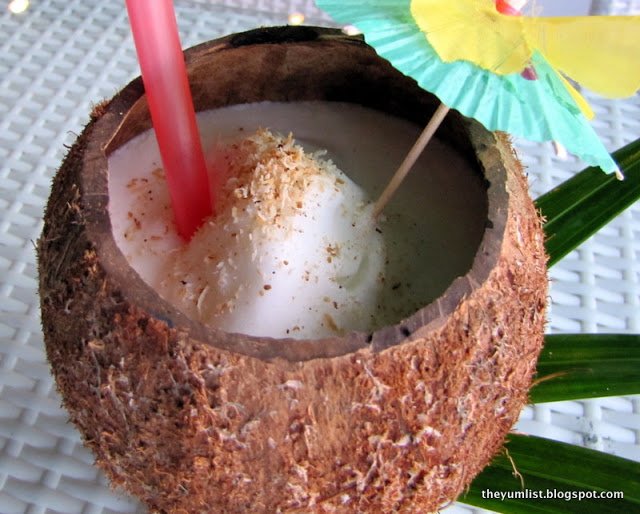 Coco's Nutz – Malibu, rum, condensed milk, coconut juice and coconut cream RM28

Transporting you to a deserted island, beneath the swaying palm trees, this delicious, creamy and oh-so indulgent cocktail tastes like tropical euphoria as its cold, smooth and richly coconut flavour delights the taste buds, making it impossible to sample without a deep-rooted 'MmMmm' passing your lips.
The Fish Bowl
Crisp White Wine, Blackthorn Cider, Peach Liqueur, Peach Infused Tea, Refreshing Floating Fruit and; Spice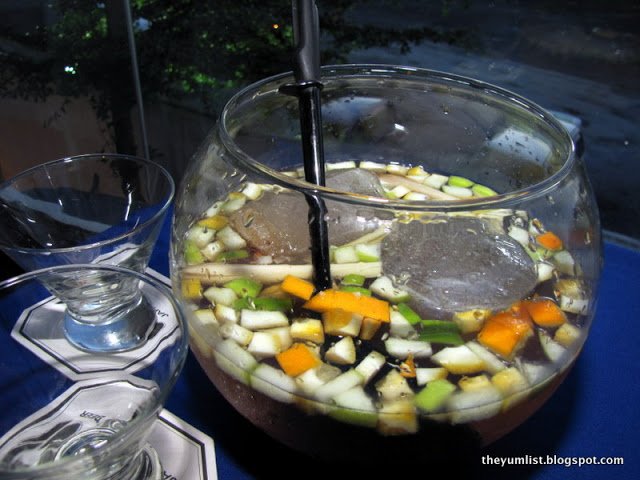 The Fish Bowl – white wine, Blackhorn cider, peach liqueur, peach infused tea, fruit, spices RM70
Made for sharing, this fruity bowl of goodness can keep you and your party going for the better part of the evening. Wonderfully light and refreshingly crisp, this blend of fruits and spices gives a gentle and unique flavour not to be missed out on.
Nutella Martini
Vodka, White Curacao, Frangelico, Nutella and; Milk.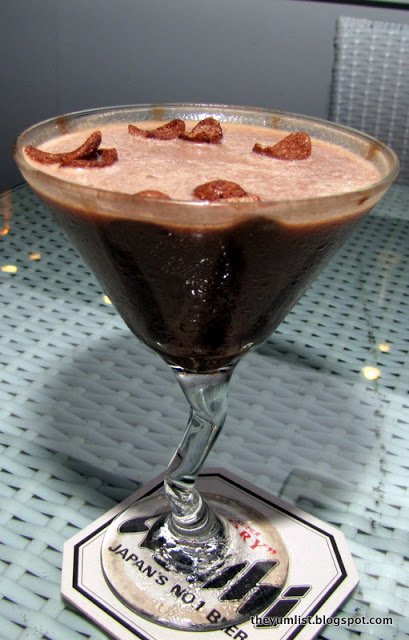 Nutella Martini
For the extreme chocaholic who's unashamedly in touch with their inner child, this thick and chocolatey treat is deliciously familiar in all the right ways. Rich and packed full of flavour, this cocktail is the perfect choice for dessert lovers. Finished with the ever-popular coco crunch cereal, 'The Pool' yet again shows its appreciation for local tastes with its playful love of simple childhood pleasures.
Pool Disinfectant
Sambuca, Rum, Vodka, Gin, Tequila, Blue Curacao, fresh apple juice.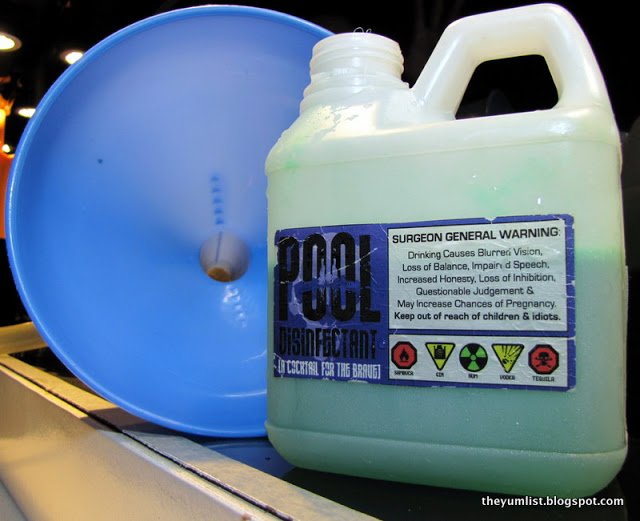 Pool Disinfectant – Sambucca, rum, vodka, gin, tequila, blue Curacao, apple juice RM60
Made with the intention to either punish or praise, this cocktail is the life of the party. A true drink to create a stir, the villain, or hero is burdened, or enlivened with the serious task of conquering this challenge. Get comfortable centrestage as this cocktail brings you a mass of attention. With friends, onlookers and even staff cheering for you to either pass or fail, your pride is on the line with this one, and it's a very serious game indeed. Note that drinking this cocktail takes two, a ruthless administrator and a powerless victim, tasked to drink as much as they see fit to give you. Packing an eye-wincingly strong concoction of a whopping six different spirits, I advise you order at your own risk. Warning: May cause everyone to seem more interesting, including yourself. Drink responsibly.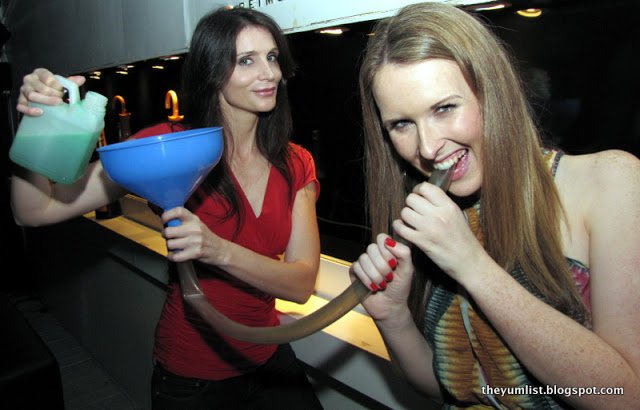 Pool Disinfectant


Baker's Dozen
Crème caramel, chocolate brownie, apple pie, macaroon, key lime pie, dark cherry cheesecake and a mystery shooter.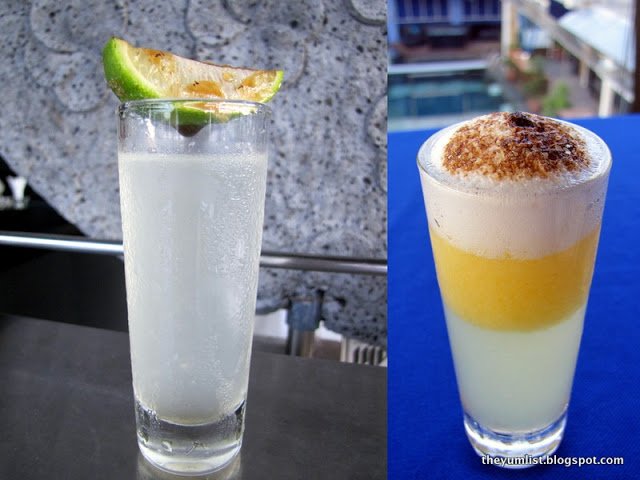 Key Lime Pie and Macaron Shots
I would credit a pâtissier sooner than I would a baker with this fantastic array of decadent dessert-like shooters. With a selection so creative, the mouthwatering platter of temptations leave you giddy with excitement. From the fruity zing of the key lime pie, to the rich indulgence of the chocolate brownie, all tastes are catered for with this delicious range of flavours.
Watermelon Slush
Smirnoff Vodka, Midori, Lychee Liqueur, Watermelon.
Watermelon Slush – vodka, Midori, lychee liqueur, watermelon RM40
This best-selling cocktail is ideal for sharing with your girlfriends. Pink and girly with a light and refreshing blend of watermelon and lychee, the cocktail is meant for two, served with two straws and cut in the shape of a heart, this cocktail is sure to make you fall in love. However, it should not be underestimated. Containing a total of six shots in every drink, this little fella packs a punch!
Skittles Bomb
Cointreau, Red Bull and Skittles.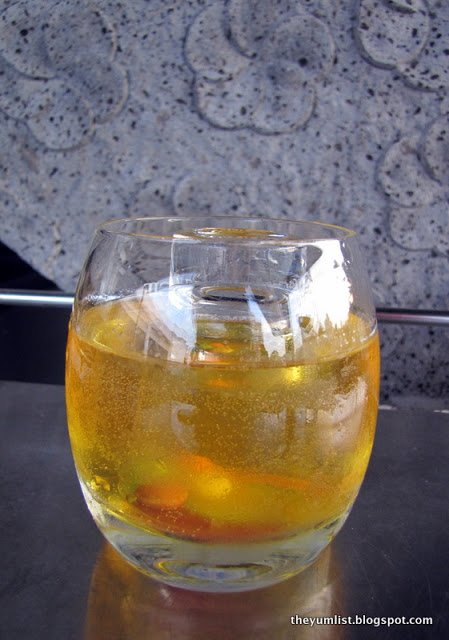 Skittles Bomb – Cointreau, Red Bull, Skittles RM20
Explosively adept to satisfy your sweet tooth, this light and seemingly innocent cocktail is not to be underestimated. The sugary sweet addition of the skittles sneakily masks the flavour of alcohol making this a drink you can sip on all night. However, it should be noted, that under no circumstances should you 'follow the rainbow'!
Milo Ais
Rum, Baileys, Kahlua and; Milo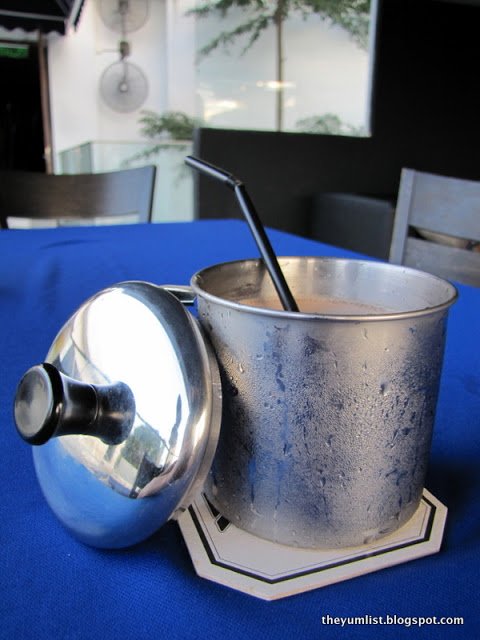 Milo Ais – rum, Baileys, Kahlua, Milo RM28
Sweating in an ice-cold metal cup, this moreish cocktail brings you back to your childhood. A naughty adult upgrade to the ever-popular childhood drink, this ambrosial concoction is so right in so many ways. The smooth and creamy Baileys, combined with the deep Kahlua coffee flavour, the splash of gin with the sweet Milo chocolate milk make this a taste that will last on your tongue long after your visit. This nostalgic drink is the perfect balance of local and international treasures.
The Pool is open Wednesdays to Saturdays from 5pm – 2:30am, Sundays from 4pm – 2:30am and closed on Mondays and Tuesdays. The dress code is casual chic or designer pool wear. Men are charged a RM35 entry fee, while ladies enjoy free entry daily.
The Pool
347 Jalan Ampang
50400 Kuala Lumpur
Malaysia
017 998 5577