Kedai Kopi Mee Bon – Don't bother looking for the sign, the awning covers it. Just head for the shop with the most people with waiters in yellow shirts.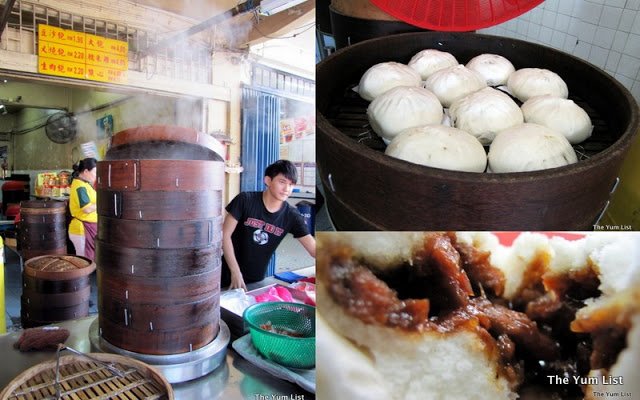 Steamed Pork Buns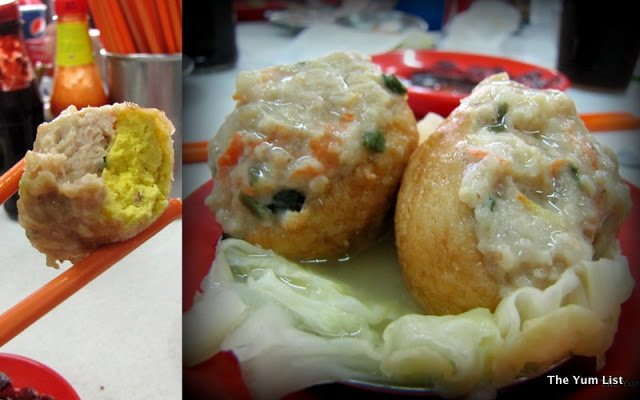 Boiled Egg Dim Sum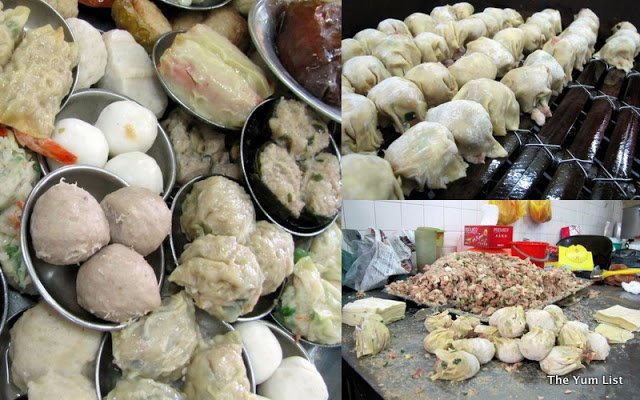 A big selection and, dim sum in the making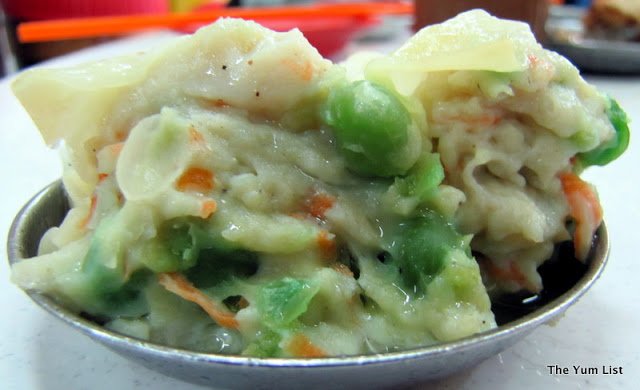 Mixed Vege Dim Sum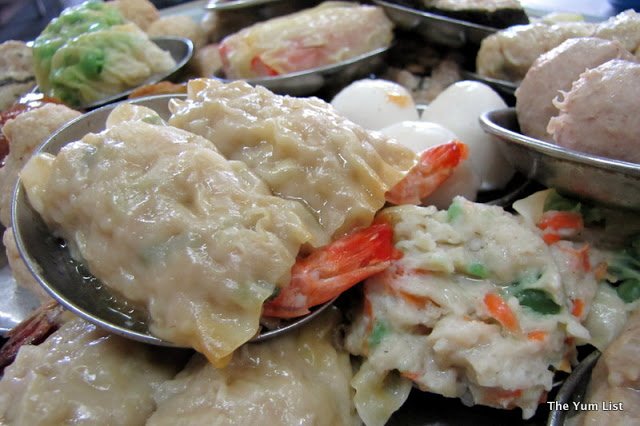 Prawn Dim Sum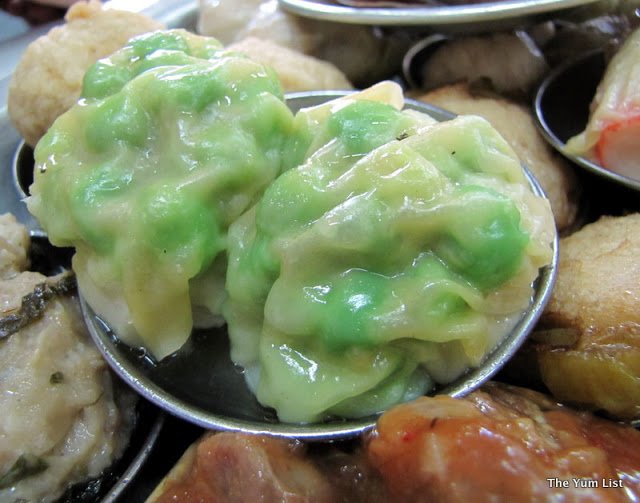 Dim Sum with Peas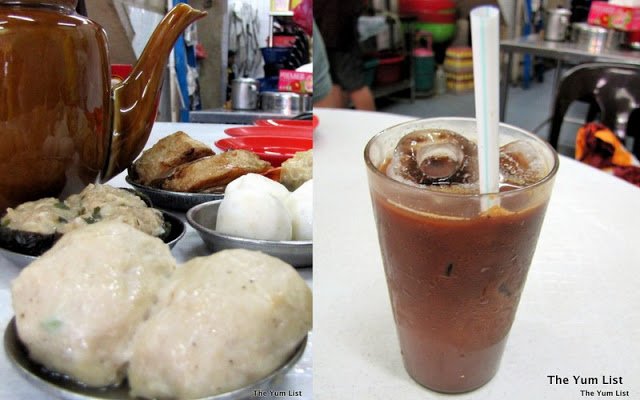 Dim Sum and Iced Coffee (a strong brew mixed with condensed milk is a sweet pick me up or great dessert replacement)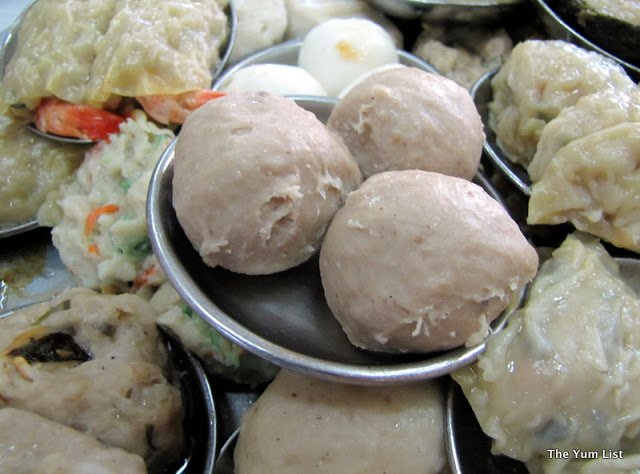 Mixed Dim Sum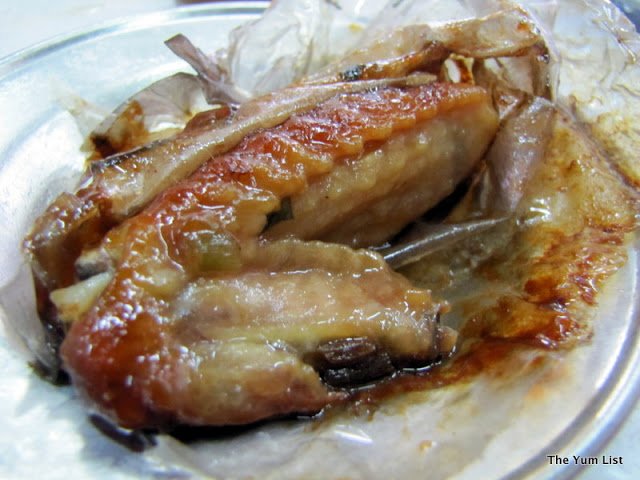 Chicken Wing cooked in paper bag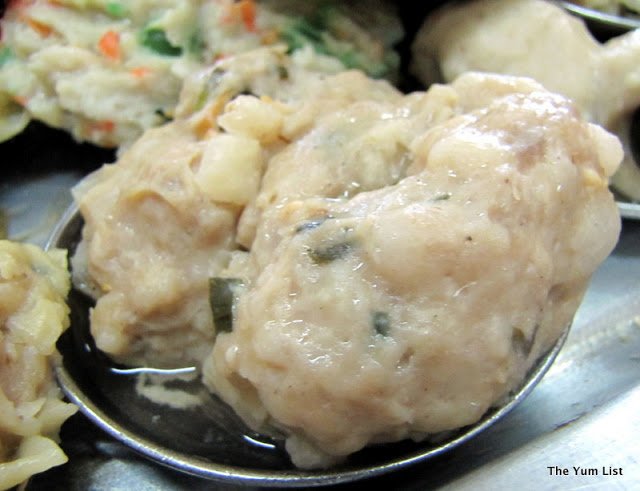 Dim Sum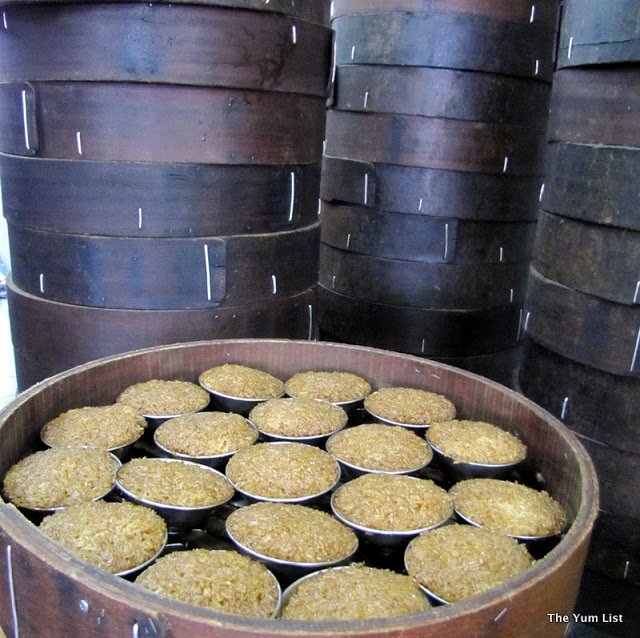 Glutinous Rice
A Dim Sum Adventure on Jalan Ipoh, Kedai Kopi Mee Bon
Heading off one morning to meet a local friend for chicken rice under the tree on Jalan Ipoh turned into an unexpected dim sum brunch. Finding the chicken rice spot closed, we looked for the closest place that seemed good – a pack of people usually being a good sign. We spied an opening in the wall with tables spilling out into the street just down the road. Upon arriving I found it was one of those spots on my recommended list of, "must find one day." So cravings for chicken rice quickly turned to saliva production for dim sum as we saw giant bamboo steamers and glass ovens heating up the side walk.
No menu and not much English didn't matter as staff were soon welcoming us in and showing us fingers summing the total number of our party and guiding us to a fan cooled plastic table. Again the lack of written or verbal forms of communication mattered little as a tray of hot dim sum delights were speedily delivered to our table for selection. Not knowing what we were ordering, and thanking our good stars that none of us had food allergies, we dove in, pointing to the prettiest, juiciest, tenderest balls on the tray.
Sad to admit that even though I have demolished a decent number of dim sum meals since living in Asia, I'm still yet able to name many of the selections without a menu. Everything we ate however was super tasty owing to large portions of pork and prawns being in most mixes. The steamed pork buns were enormous with a juicy sweet pulled pork filling and the soft bread casing light and feathery. The chicken wings in a sticky sauce cooked in a paper bag were taken in numerous portions so were the halved, boiled eggs topped with pork and unidentifiable goo. The only plate I didn't find my palate craving for more were the century egg buns. Filled with a quail egg that's black in colour and firm jelly like in texture I found them rather bland. My local dining buddy though did repeat the order so I guess it's just a matter of opinion.
Each tray came with two portions and was priced at RM4 a round. The bill came at the end through a tallying of the silver trays on our table and a cash payment. The iced coffee made with thick black brew and heaped condensed milk is a sweet pick-me-up or a great dessert replacement. Canned drinks are too available but a pot of Chinese tea is the recommended accompaniment.
Reason to visit: steamed pork buns, good range of mouth watering dim sum, a truly local experience in a bustling ambience
Kedai Kopi Mee Bon
491 Batu 3 Jalan Ipoh
Kuala Lumpur, Malaysia
+6 03 4043 7784