Renoma Cafe Gallery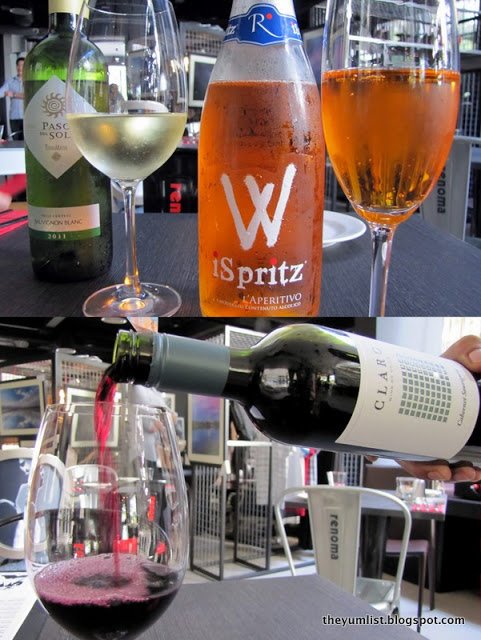 First things first – get the drinks sorted – Sauvignon Blanc, iSpritz or Cabernet Sauvignon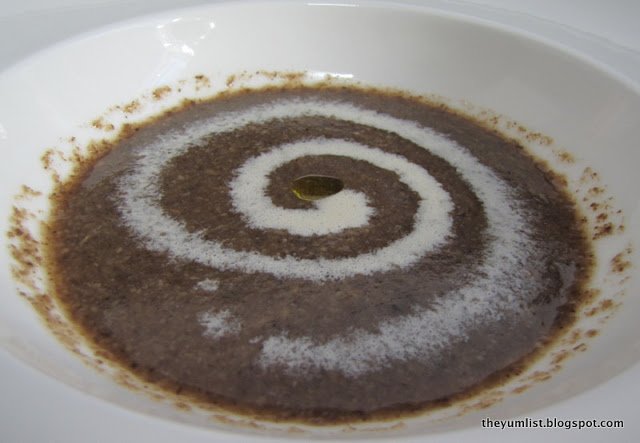 Forest Mushroom Veloute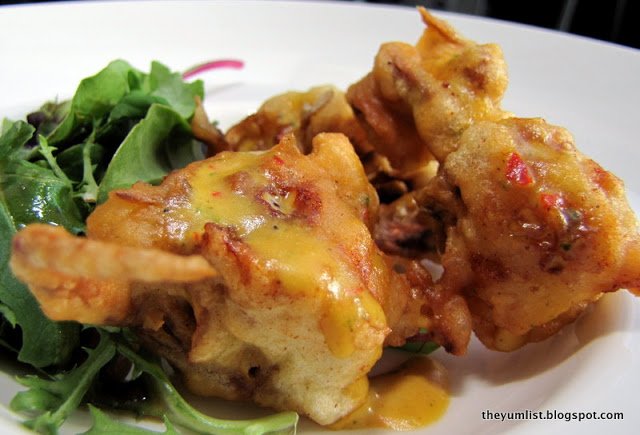 Salted Egg Yolk Soft Shelled Crab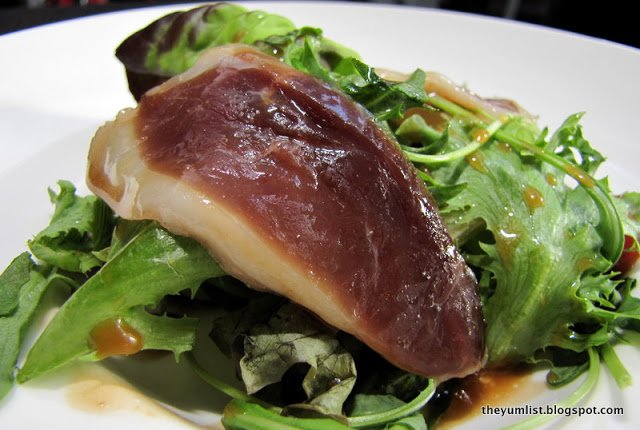 Cured Muscovy Duck Breast Salad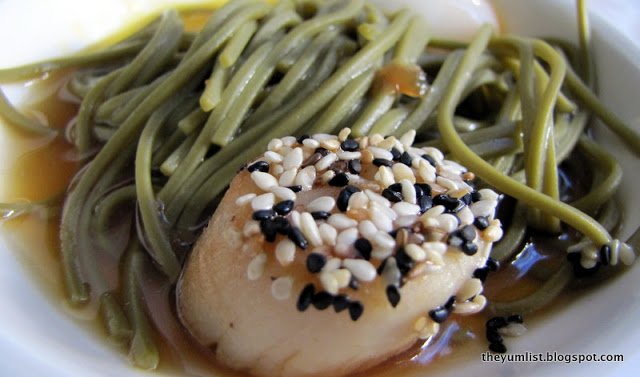 Hokkaido Scallop and Cold Cha Soba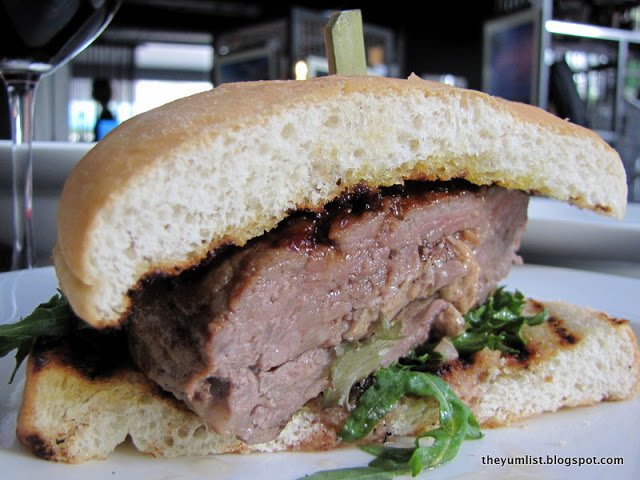 RCG Signature Burger – Pan Seared Foie Gras, Muscovy Duck Rillettes, Crispy Leek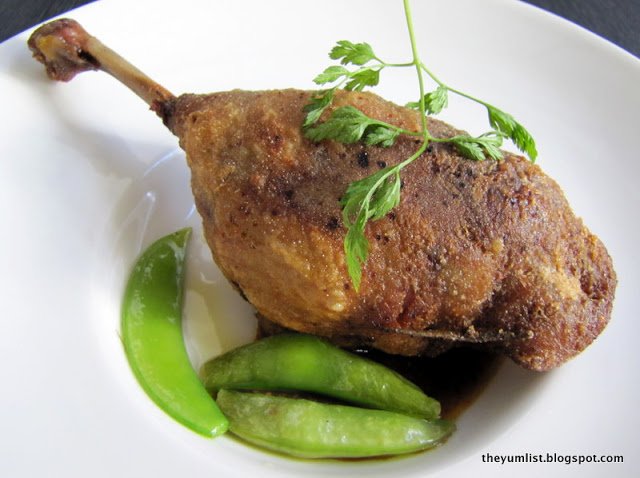 Confit of Muscovy Duck Leg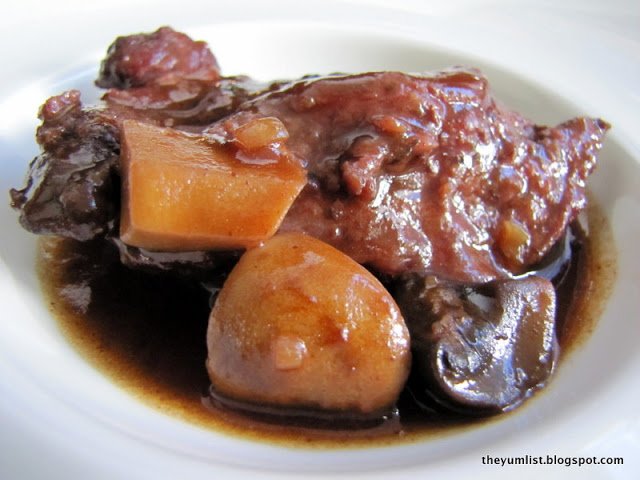 Slow Braised Beef Cheek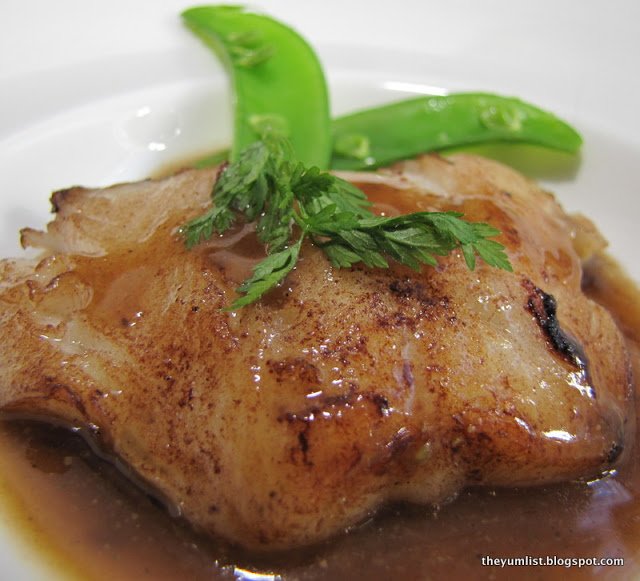 Miso Glazed Atlantic Cod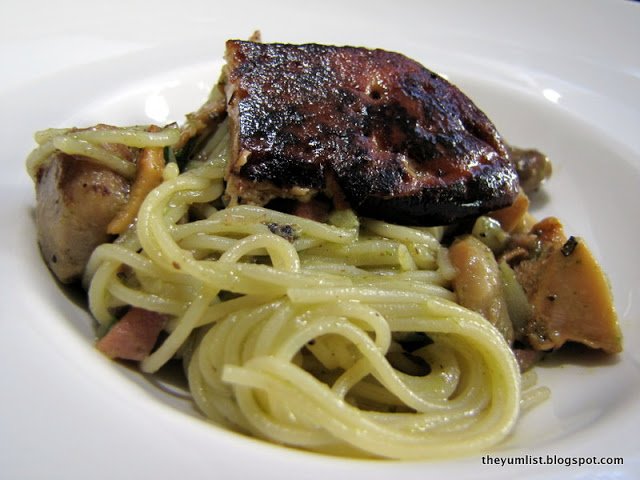 Foie Gras Capellini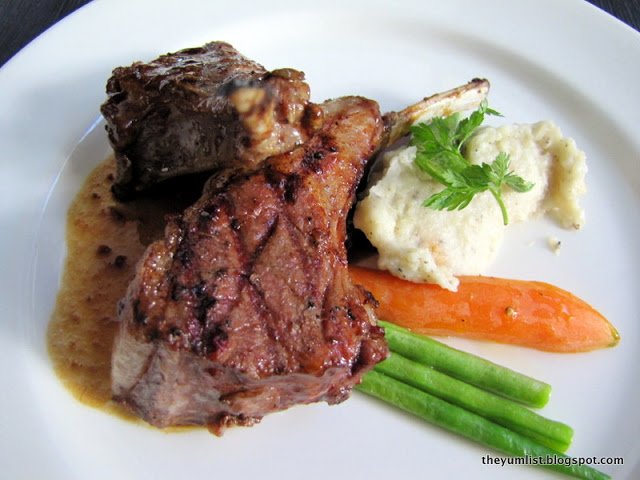 Oriental Rack of Lamb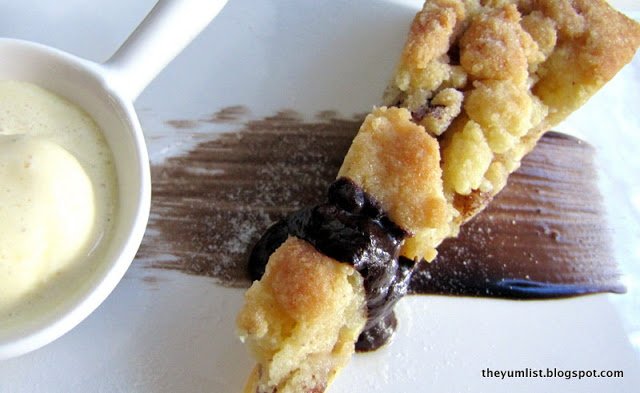 Apple Pie
Orange Vanilla Crème Brûlée with assorted ice creams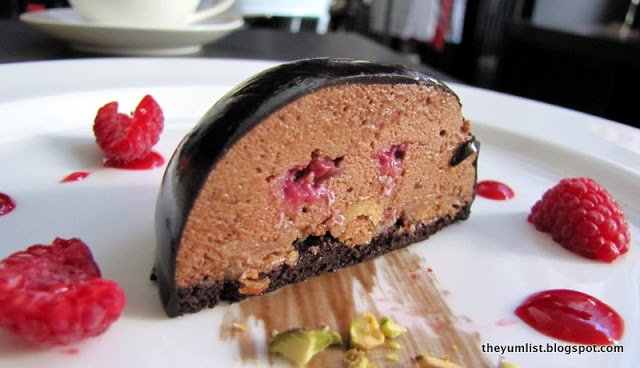 Chocolate Raspberry Mousse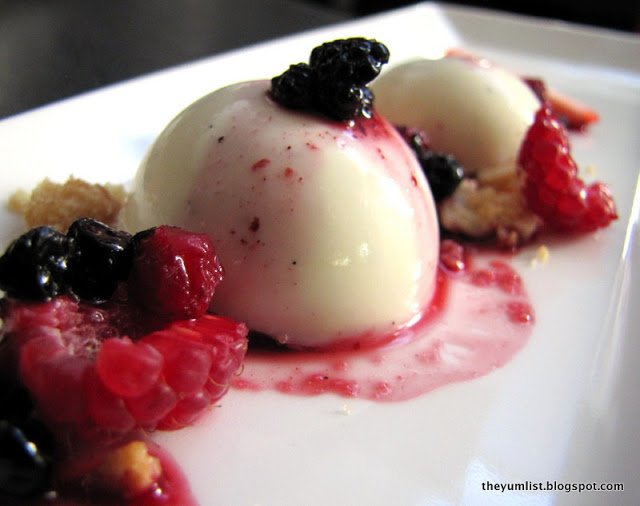 Vanilla Panna Cotta with Forest Berries Stew
Bringing the Brunch into the 21st Century
Renoma Cafe Gallery
Word by Kirsten Durward
Photos by The Yum List

A light and airy atrium greets us; the high ceiling creating sense of freedom and space. Plush red drapes fall dramatically from floor to ceiling, framing the oval bar. A vast black spider hovers over-head, metal tendrils falling earthward; this light fitting is a modern work of art. A wooden ladder lies casually against the library shelves that fill one wall, while eclectic surrealist art pieces; black and white, and colour, hang down columns and above our heads. The whole effect is baroque-rococo-retro-ultramodern. It somehow pulls together and works incredibly well to create a fresh new space on the KL food scene.
We're privileged to view the private dining room, which resembles a miniature baroque palace complete with lounge and private bar. It's full of personality and worth considering for a very special occasion.
Renoma Café Gallery is not at all what I expected. It's like nothing I have ever experienced before. Originally conceptualised in Paris, French influence is apparent in the food and design, but with unique Asian twists running through. A range of seating to suit every taste, open tables, secret tables, rounded diner like high back seating, an outside terrace area. A small stage set discreetly off to the side hosts two singers with an acoustic guitar. Mellow music that does not dominate, accompanies the meal.
Come for the brunch, and enjoy the inspiration of the surroundings, a visual smorgasbord. If you have half an imagination I promise you will not be disappointed!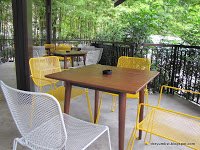 Outdoor Terrace
The sparkling wine opening our meal proves to be an Italian Aperitivo, a sherbety blush that is perfect for sweet-toothed drinkers. It reminds me of Campari and Lemonade. Caning is happy; we others move on to dryer pastures. The white proves to be a slightly gooseberryish but pleasantly crisp and light Chilean Sauvignon blanc, well chilled and a decent lunch accompaniment. The red, a 2012 Chilean Cabernet Sauvignon, is a light young wine, with a slightly smoky aftertaste – all the better for breathing a little. Our glasses are discreetly replenished during the meal, slowing down only towards dessert on our direction.
This is like no brunch I have ever experienced. Not a sign of buffet tables laden with dish after dish of confusing choices. Not a sign of over-laden plates, discarded half eaten. Each dish is beautifully described on the menu. Perfectly sized tasting portions arrive to order, each elegantly presented and inviting to the eye.
Hokkaido Scallop is pan friend and served with green tea soba noodles. It's a perfect texture, and the accompanying quail egg deliciously gooey. Slippery noodles with a touch of tasty yuzu kombo broth are gone in a flash. Monica names it one of her favourites for today.
Three crispy golden bites in a green nest are Soft Shell Crab with Salted Egg. They are salty and soft as described, inside the light and crunchy batter. A hint of chilli and some slightly bitter leaves combine for a delectable mouthful.
I've been dreaming about Mushroom Veloute since I first saw this menu, so it's arrival a slight climax. Deep rich brown, a swirl of cream, a glisten of truffle oil an aroma of forest; arouse the senses in preparation for the first taste. A sensuously textured blend of black velvet, oyster and porcini mushrooms flows over my tongue. Perfectly seasoned and refreshing to the palate; dreams come to life.
Cured Muscovy Duck Breast salad; two glistening strips of duck lie atop a mixed green rocket salad, salty and smoky, an unexpected soft quails egg breaks through the salad. It's light and tasty. We joke that this upmarket 'bacon and egg' forms the breakfast part of the brunch!
Foie Gras Capella is a tiny but delicious morsel of nicely browned foie gras nestling in delicate angel hair pasta with slivers of forest mushroom and tiny cubes of smoked duck prosciutto. Mmmmm… is the verdict around the table as the flavours hit. Eyebrows raise, mouths chew, heads nod. When a second arrives by accident we say nothing, but smile secretly. It's perfect, hot and obviously cooked to order.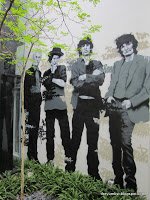 Artiness is not limited to inside,
this wall mural decorates the terrace
Signature Burger proves no ordinary grilled snack. A lightly toasted soft bread roll holds a hand made meaty patty, stuffed with foie gras. It's so juicy and tender; all are surprised. For me, the best burger I've ever set teeth into. A serious YUM!
Miso Glazed Atlantic Cod lies on a bed of baby nai pak. Beautifully cooked fish flakes onto my fork and slips down my throat with a delicious savour of lemongrass and kaffir lime. The RSG chefs, all locally trained are pulling off some accomplished technical cooking. We're impressed.
Braised for nine hours, Beef Cheek is incredibly tender. Slow cooked in a red wine reduction, morsels melt in the mouth. The beef flavour insinuates rather than dominates. Happily eaten.
Oriental Rack of Lamb is two generous chops with a light demi glaze glistening beautifully. Cooked to perfection with just a touch of grill, it's pink, soft and very, very tasty. Meat-eater Caning's dish of the day.
There is something slightly medieval about the presentation of Duck Confit. I just want to grab it and gnaw to the bone. Caning is more reserved and prods with his fork. Luscious shiny duck meat literally falls apart. Often duck can be dry or chewy. This one is anything but. The sauce has a very slight apricot tang to it, and once again we feel well taken care of by the RCG kitchen.
We think we're ready for dessert, but Caning's not quite done and wants to try one last Chef Recommends. Chicken Bugolgi is duly delivered. Bugolgi proves to be tiny, sticky, hand held drummers on a bed of mixed leaves. Like the rest of the meat, the chicken falls off the bones, and a slightly sweet Korean barbecue flavour is the residual taste.
Our ice cream arrives in tiny tasting portions, proving you can have more than one flavour without mounting up the calories. First to taste is my childhood favourite of Rum and Raisin, lightly spiced, and slightly melty, I rush to French Vanilla, the slightly yellowish colour indicating a true vanilla, just starting to go foamy at the edges, it clearly needs saving. It slips down, clean and refreshing. Chocolate Marshmallow is delightfully gooey, not too sweet and greedily satisfying.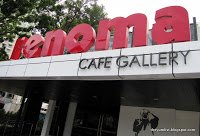 Renoma Cafe Gallery
Readers may be aware that I prefer Crème Brulee in large portions, but this mini Orange Vanilla example has a delicate sugar crust, and an insidiously creamy texture with a delightful aromatic flavour slips down a treat. I'll have to come back soon for the full size version.
Our next delight is a Chocolate Coated Raspberry Mousse, the chocolate glistening to perfection, presented prettily with fresh raspberries and delicate dots of raspberry coulis. It's visually pleasing but the flavour could do with upping the raspberriness some, in my humble opinion.
Three tiny quivering mounds with a draping of stewed forest berries prove to be Vanilla Panna Cotta. Delicious… and disappeared.
We feel it our duty to the reader to report on the pastry section of the menu so duly set to the Apple Pie. Served with vanilla ice cream and chocolate sauce, it's heartier than the other desserts and in a rustic French style with pastry filling between the apple. Personally, I prefer more of juicy apple but pastry aficionados may disagree.
The meal finishes with coffee, black for Monica and cappuccino for me. The Italian blend is slightly bitter to our tastes, both of us preferring a mellow Colombian or rounded Arabica.
We leave feeling happy, energised and delightfully well fed.
Renoma Café Gallery offers an A la Carte Buffet Brunch Menu on Sundays and Public Holidays, 11.00am – 3.00pm. The cost is RM85++ per person (RM160++ with free flow of sparkling wine, red and white and soft beverages).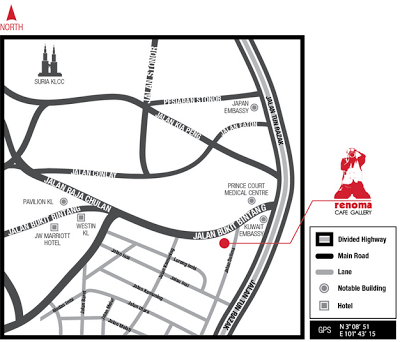 Map to Renoma Cafe Gallery
Most of the above dishes are also on the regular dinner menu, available Tuesday through Sunday. RCG hosts live music on Thursday, Friday and Saturday evening, with Thirstday Thursdays being a special with jazz and free flow wine from a selection of four wines for RM 60++.
Reason to visit: You will never have had a brunch quite like this in KL before. It is exceptional value.
Renoma Café Gallery