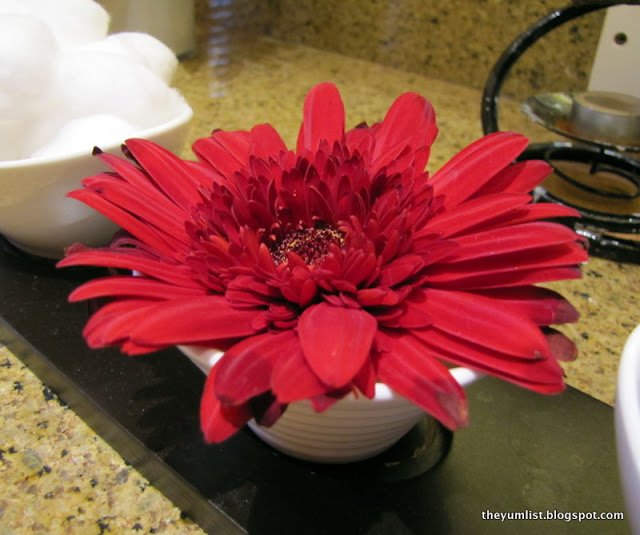 Fresh Flowers Brighten the Rooms at the Hilton's Spa and Gym
The Spa and Gym, Hilton Kuala Lumpur
There's nothing like a good sweaty cardio session and
strenuous weights workout to get you warmed up for a spa treatment. The
ultimate in health packages has you first releasing your stresses through
exercise and then fully recovering with a relaxing body treatment. The Spa and
Gym at the Hilton Kuala Lumpur is set up for both.
The gym, a relatively small space compared to some of the
giant chains out there, cleverly dons the feeling of ampleness through the use
of double story windows, frosted glass and, an abundance of mirrors. A well laid out floor provides enough
equipment to cater for peak hours and, allow you to skip in a slipshod fashion
from machine to machine in the down times.
Orchid
Star Trac cardio machines, many with their own TV screen,
individual weight stations and a range of free weights, outfit newbies to the
experienced, with all that's needed for sudorific labour. A small aerobic floor
provisioned with mats, balls and a few steps presents a space to do your own
thing or remove yourself from the main buzz for a stretch and cool down. Upbeat
music, loud enough to motivate but not intrusive enough to interfere with your
own personal headsets, enlivens the scene.
Following the liberation of tension in the gym, the Hilton
spa is conveniently positioned next door, importuning you to make an
appointment. Soft lighting, a central sound system radiating soothing tunes
and, the aroma of a blend of lavender, lemongrass and peppermint welcome your
arrival, encouraging you to breathe more profoundly and slow your pace. Warm
sandstone and rich Italian marble flooring are complemented with the earthy
tones of dark wooden furniture. Bursts of colour enliven the scene with fresh
flowers in every room.
Massages, masks, scrubs, facials and wraps dominate the
menu, with packages combining two or more treatments the most popular options. It's
hard to find quality time with hubby these days so we signed up for the
Couple's Ultimate Bliss Package. We were
to experience a Fusion Massage, Full Body Scrub and Bath infused with Ocean
Dreaming Bath Oil in a private suite.
After deciding upon your therapy, you're guided to a
consultation room. A questionnaire, filled out over sips of warm ginger tea, is
used to identify your neediest body parts – feet, legs, back, neck, head or
shoulders – and your preferred pressure – soft, medium or firm – to customize
the massage, targeting your individual areas of need. While your room is set
up, you get changed into appropriate clothing.
Spa changing rooms are light, bright and equipped with basic
products such as cotton buds, moisturizer and hair dryers. Lockers contain
disposable panties, a robe, slippers and towel. Awaiting your exit, a therapist
leads you to a treatment room where you have a choice of oils for the massage.
The techniques of the Traditional Urut, utilizing pressure
points, stretching, lymphatic draining and classic movements, combine to form
the Fusion Massage. Therapists checked in with us regularly regarding pressure
and we both found their skill to be standard and professional. The second part
of the treatment was the Body Polish.
Scrubs are not usually my favourite treatments. Afterwards,
I appreciate the baby smooth skin, but during I often feel uncomfortable coated
with sticky wet glumps of goo and find myself counting the seconds until it's
over. The LI'TYA products from Australia used at the Hilton spa, however, are changing
my opinion on this piece of a therapy. Coming in the form of a dry salt, the
grains are sprinkled on top of your skin and massaged across with oil, leaving
a slightly gritty impression, but no sign of moist disagreeable mucilage, as is
the customary deal.
Relaxation Room
LI'TYA, Pure Australian Botanicals, is a brand inspired by
the Aboriginal culture's respect for the significance of the elements in 'terms
of their physical, emotional, spiritual and environmental wellbeing.' Indigenous
and organic plants in their raw form are blended with the latest advancement in
skincare technology to form a rich healing range of products. LI'TYA packaging
is environmentally sensitive, degrading even in landfill and, a percentage of
profit is donated to the indigenous people of Australia.
The final segment of our Couple's Ultimate Bliss Package was
a hot bath infused with Ocean Dreaming Bath Oil. The only piece missing from
the finale was a glass of red wine. But, I'm sure with advance notice, the
Hilton could easily take care of that for you.
Costing RM810 for a couple (single option also available for
RM430), the treatment lasted two hours. If you're paying a visit though, you
should save time to utilize the facilities. A Jacuzzi, sauna and steam room all
await. The gym operates from 6am to 11pm and the spa opens at 10am and closes
at the same time as the gym.
Reason to visit: airy
well equipped gym, professional spa treatments, LI'TYA spa products
The Spa and Gym
Hilton Kuala Lumpur
Level 8
3 Jalan Stesen Sentral
50470 Kuala Lumpur
Malaysia
+6 (03) 2264 2830