Words: Kirsten Durward
Photos: Monica Tindall
Step above the crowd with an elegant business lunch.
The entrance to the Grand Hyatt is nothing but spectacular. A grand staircase swoops above a tinkling lake. Immediately the city and the stress of the working day fade away. There is none of the hustle and bustle of regular hotels. It's a respite from worry, a step into a cocoon of care and efficiency.  Take the elevator up to 39. Walk out to be greeted by a panoramic city view. Dulcet strains of a gentle Blues music float up from the floor below. A host is waiting with smiling efficiency. It's perfect for those with impeccable taste.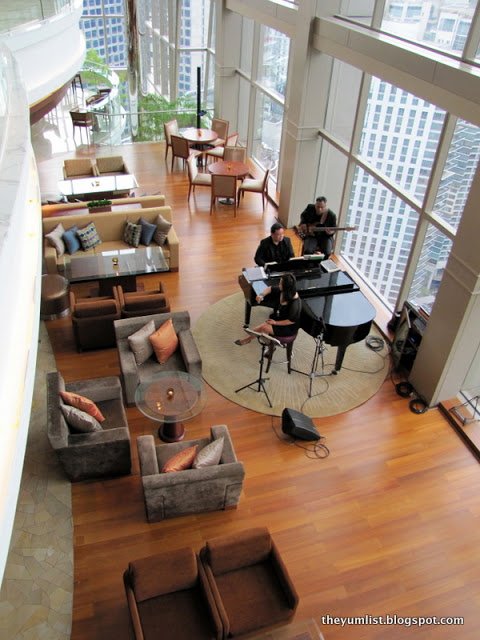 Live Music, Thirty 8, Grand Hyatt Kuala Lumpur
As I step into the bubble lift, I have the sense of being a big player in a James Bond film.  My bird's eye view is dramatically delightful as I am whisked down to the expanse of space that is Thirty8.  A circular bar set away from the window welcomes early evening cocktail drinkers while the restaurant exudes an expensive atmosphere of quiet elegance. Thirty8 is sweepingly modern with echoes of old style charm.  You just know you are going to be well looked after.  Every seat is a window seat. Everyone has a view. On one side lies a seminal view of the twin towers, on the other side cooking fans can view chefs at work in an amazingly effective full open kitchen.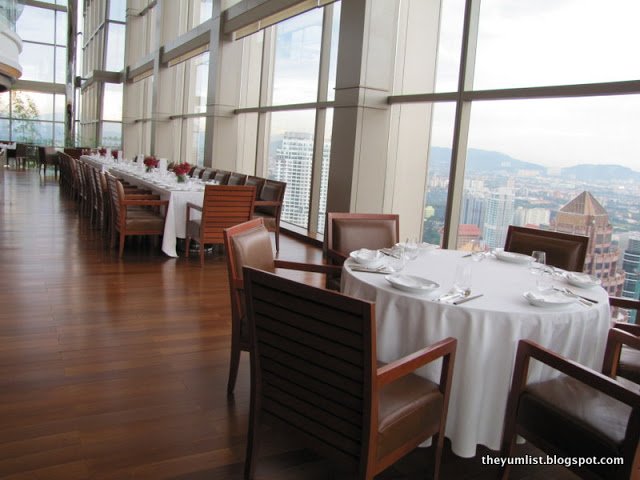 Thirty 8, Grand Hyatt Kuala Lumpur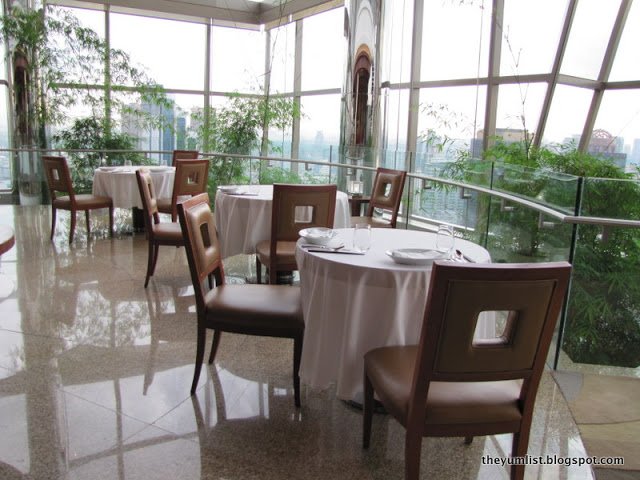 A variety of dining spaces at Thirty 8, Grand Hyatt
Chrome gleams, terrazzo shines, glasses sparkle, crisp white linens glow. Above all, space and calm pervades.  Our hostess, Ann, comments on the perfect egg yolk sunset and we turn in admiration. Although we are tasting lunch, it's evening time, and the ambience is ideal for a classic dinner.  The large party at the next table enjoy cocktails from the bar and look set to enjoy the evening; a little way away, couples sit romantically at windows, cocooned in their own world of perfection. The space allows for everyone to enjoy just what they need.
To start our meal, crispy sourdough style rolls appear classically wrapped in a sparkling white napkin with an elegant pat of butter for each diner.  Crisp crunch, the colour shows unbleached flower. Chef Tommy is living up to his reputation with bread.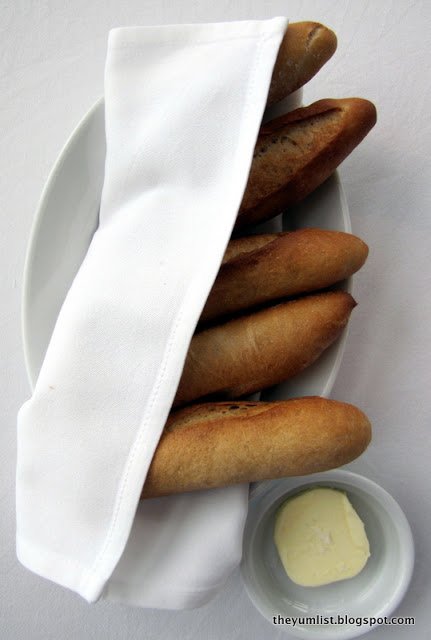 Sourdough Bread
Chinese Set:
Plump fresh wok fried prawns sizzle with tender asparagus shoots. On tasting they are firm and juicy with just a hint of spice in the crustacean sauce.  Fluffy steamed rice.  Baby lily bulbs lightly stir fried on the side. A light broth with Chinese vegetables floods the mouth with fresh deliciousness. I want to say it's sweet, but it's not, it's round. This chef has me beaten, I have no idea what is in this; I only know the soup is the star of this set.  RM75 ++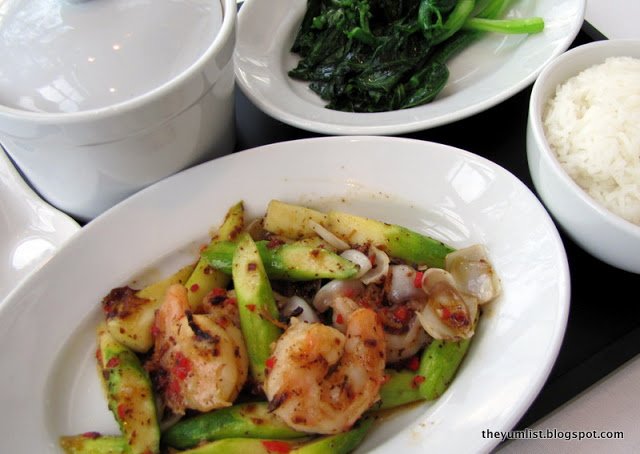 Chinese Business Set Lunch
Japanese Set: A picturesque fresh sushi moriawase is first to arrive. The colours of the fish glow winningly before our eyes. Caning comments that the Tuna is rich, dark, fresh and meaty. I start with Snapper, and graduate to Ebika roll, loaded with deep orange roe. It's crunchily delicious. Next is a delightful Kampachi, white with a blush of purple and pink below. Almost too pretty to eat, but not quite, it slips down a treat. The fish is fresh and firm, the rice just sticky enough. Accompanying salad refreshes the mouth with a light sweet and sour yuzu dressing.  The miso is delectable, melting tofu dissolving on the tongue.  The set is ideal for a lighter appetite with a busy afternoon to follow. RM60 ++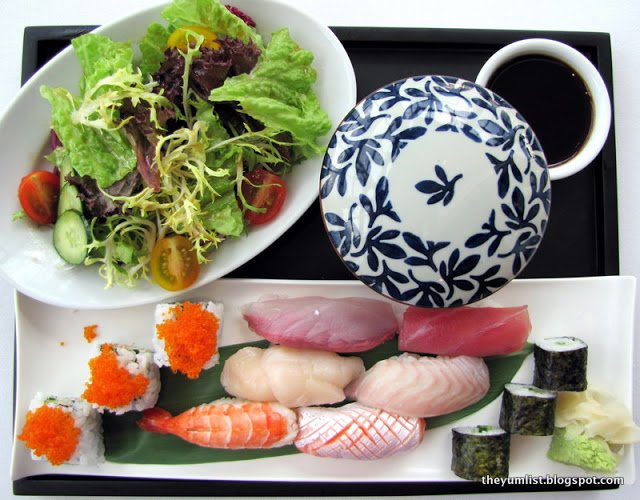 Japanese Business Set Lunch
European Set: The Tasmanian Sea Trout appears perfectly cooked and a delightful organically pink colour. Tiny jewels of fresh tomato salsa glisten among the dark green spinach accompaniment. I can't wait to taste. The flesh has a delicate deep flavour that can only be found in fish that swim free and wild. If, like me, you reject the bland oiliness of farmed salmon, put this on your 'must eat' list. It's tender and luscious, flakes of the tongue and melts in the mouth. Accompanying, pumpkin soup is slightly sweet and creamily delicious. Fantastic with fresh bread and butter for a European treat. A leafy salad with a light Marie Rose dressing completes the set.  RM95 ++
Western Business Set Lunch:
Although we are served with three delightful seafood sets there are also options on the Chinese and Western menus for those who prefer meat at midday.Thirty8 offers a superb choice of wine by the glass, unusual for KL.  We select a Caves Desclaus Cotes de Provence Rose and a Shaw and Smith Adelaide Hills Chardonnay 2009. I used to live in Provence, and no Caves I visited made wine like this or I might never have left.  The bottle glistens in the fading sunset; the melting colours of the sky palely echoed in the blush of the liquid within.  In the glass it's a clear pale pink with a light perfume. On my tongue it is perfectly chilled and beautifully light with a discreetly lingering taste.  The subtle flavour is enhanced by food, grows in body throughout the meal.  The label name 'Whispering Angel' is perfect for this glassful.  The chardonnay too is a surprise.  A cool climate chardonnay, with a superb colour and a high, clean tone, it sparkles in the mouth and leaves no doubt that it is a superior wine. Cotes de Provence RM39 ++  Chardonnay RM53++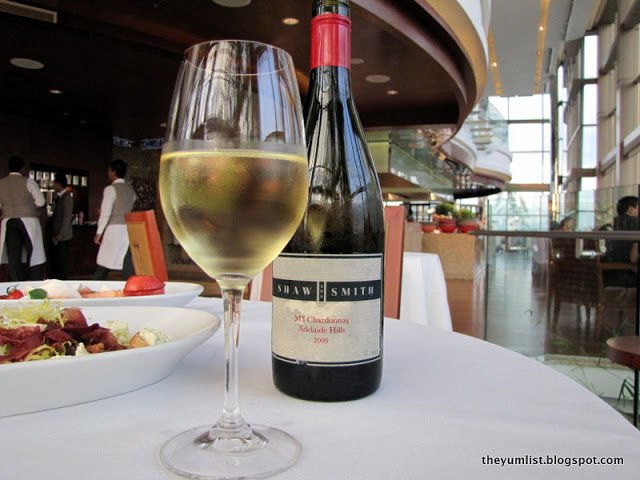 Shaw and Smith Chardonnay
If you want to keep your brain active and refresh yourself during lunch, Thirty8 at the Grand Hyatt is a perfect choice.  The choice of three set lunches is cleverly conceived to suit a combined consultation of Asian and European Palates.  The food is fresh and simple, designed to not detract from high-level thinking. Efficient service allows for short sessions or lingering discussions.  For those with more expansive tastes there are also a-la-carte options available.Ann invites us to try two new salads from the a la carte menu and offers carnivorous Caning a taste of steak.  We eagerly accept.  My plate is whisked away and I have a fresh clean one to taste with.  It seems only moments later that two extremely charming salads are placed on the table by our discreet yet friendly server.
Frisée salad: Fresh herb black pepper cheese coats delicate crostini, shavings of air-dried bresaola glisten across feathery frisee, scattered with caramelized walnuts and drizzled with honey. The tastes and textures blend beautifully and the plate is soon cleared. RM40 ++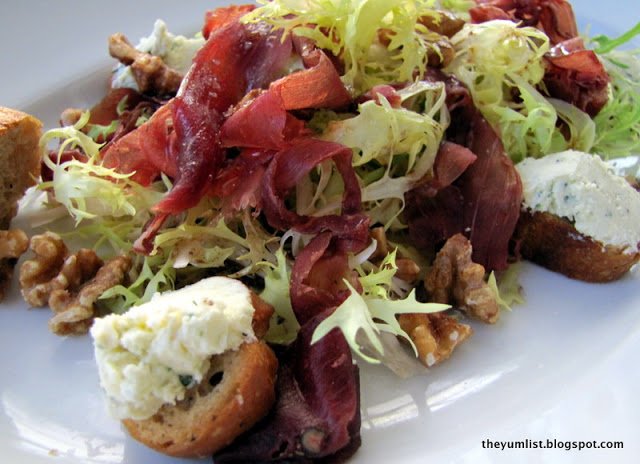 Frisee Salad
Caprese Salad: Plump mozzarella lies with juicy red tomatoes in a dark balsamic pool.  This is a clean rendition of a favourite classic. The Mozzarella firm and natural, the tomatoes bursting with flavour. Italy would be proud.  RM40 ++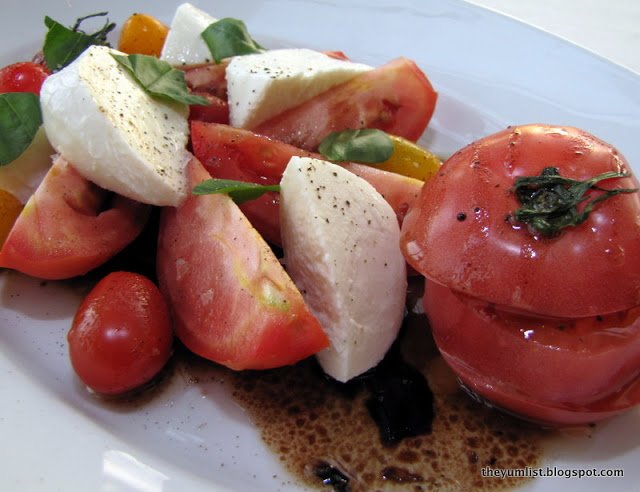 Caprese Salad
Angus steak sizzles in. 200g of juicy Tenderloin.  Perfectly pink and full of flavour. Served with a selection of sauce; Monica and I concur that the Mushroom is divine, while Ann declares preference for the creamy Bearnaise.  A succulent steak for discerning meat eaters.  RM210++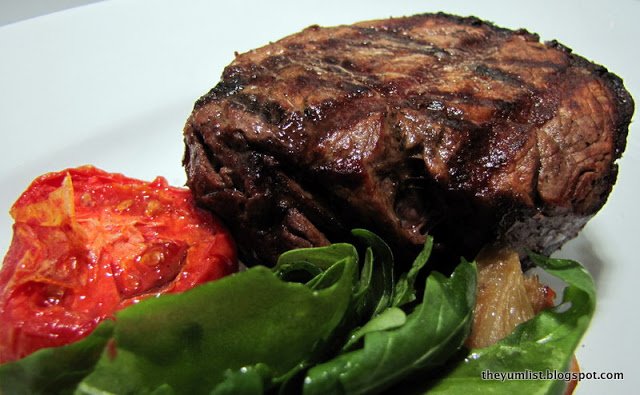 Black Angus Beef Sirloin Steak
Ann spoils us with the new addition to Thirty8's dessert menu, Mille Feuille with white chocolate macadamia ice cream and chocolate glass tuile. It's an elegant and delicate dessert, beautifully presented and perfect for the light menu we have tasted.  The pastry is meltingly light, the ice cream smooth and sensuous.  RM20++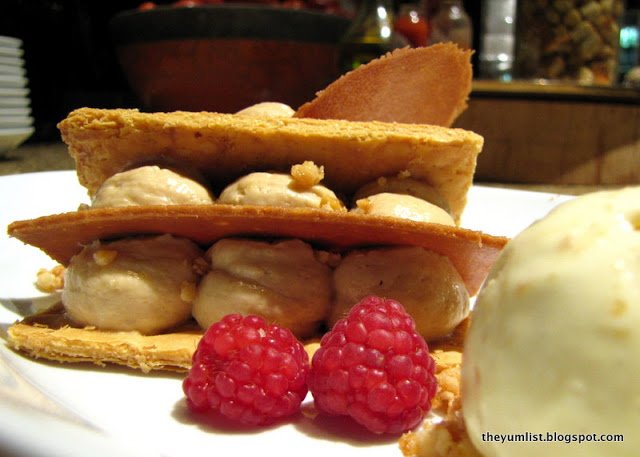 Mille Feuille, White Chocolate Macadamia Ice Cream, Chocolate Glass Tuile
The trio of sorbet absolutely burst with flavour.  The texture is thick and slippery; not a granular moment to be found.  Powerfully refreshing after any meal.  The mango catches Caning with its full sweetness, Monica sighs over the tart echoes in the lychee-lime and I plump straight for the vibrant raspberry, childhood favourite, plucked from the hedgerows. It is incredibly different to get a real raspberry flavour, but this one's the business, bursting rainbows in the mouth and mimicking the freshness of this seasonal fruit to a T. Raspberry Sorbet, Lychee-Lime Sorbet, Mango Sorbet RM8 ++ per scoop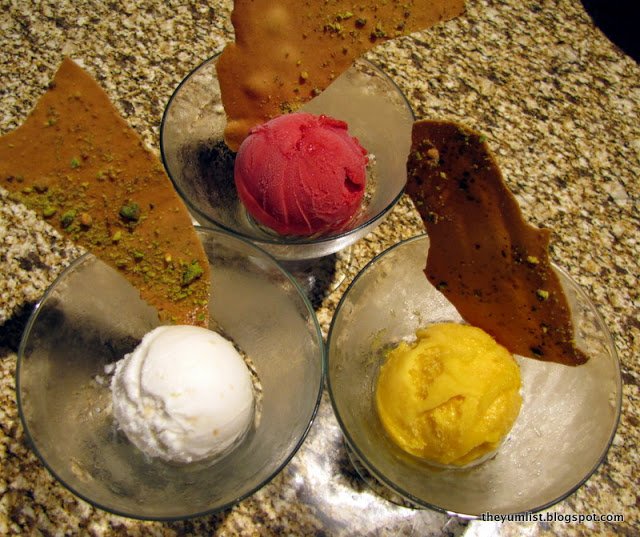 In house made sorbets – raspberry, mango, lychee-lime
THIRTY8 presents Business Set Lunches from as little as RM55++ between the hours of 12:00pm to 2:30pm, Monday to Friday
Reasons to visit: Impeccable service in elegant surroundings with stunning views.  Light and fresh contemporary food. Seriously good wines by the glass.
Thirty 8
Grand Hyatt Kuala Lumpur
12 Jalan Pinang
50450 Kuala Lumpur
+6 03 2182 1234
kualalumpur.grand.hyatt.com