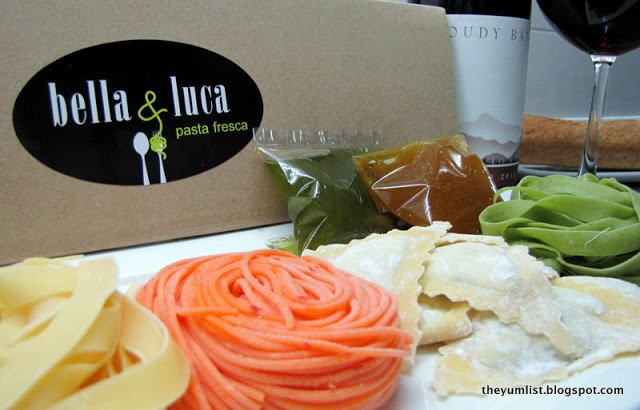 Bella and Luca Pasta Fresca
Bella and Luca Pasta Fresca, Village Grocer, Bangsar Village I, Kuala Lumpur Malaysia
It's rare these days that I have time for a home cooked meal. If you're a regular reader though, you'll know three things about me: one that I eat out a lot; two that I truly appreciate simple, healthy, minimally processed food and; three I'm a bit of a health nut. A wholesome dinner prepared at home with fresh ingredients, a glass of wine and, friends is my idea of a great time.
I was delighted to take a recommendation from a colleague recently, who couldn't stop raving about this new pasta place he and his wife had found in Bangsar. Apparently they'd stumbled across the counter while shopping in Village Grocer and, since their first bite, have been going back ever since. Pumpkin Sage Ravioli and Red Pepper Linguini were mentioned numerous times in our conversation. J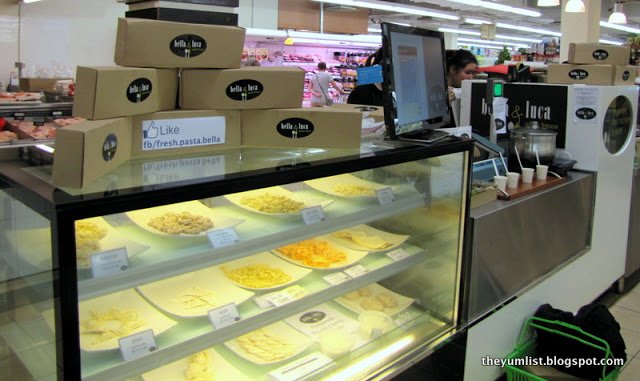 Bella and Luca, Village Grocers
Determined to cook at home at least once this month, I ventured over to Bangsar Village I to find Bella and Luca Pasta Fresca. This family run business has a counter in the fresh foods section towards the back of the supermarket. Fresh pasta is made daily. A range of egg based noodles, vegetable infused fettuccines and stuffed raviolis were on display. Two sauces (herb filled oils) currently complement the pasta selection with plans for additional options in the near future.
Ravioli
The surprising sign that quickly grabbed my attention was the price board. A couple could easily get a light meal of fresh pasta for less than ten ringgit! Add a sauce and a couple of extra ingredients from your own kitchen and you're looking at a hearty wholesome dish.
Later that evening I arrived home actually excited to cook. With a glass or two of Cloudy Bay's 2010 Pinot Noir as my cooking companion, dinner was looking propitious. A quick rummage through my fridge produced some left over chicken, almond stuffed green olives and sun-dried tomatoes. Pasta dropped for three minutes in boiling water, a toss through of the herb infused oil and leftovers from the kitchen, a shaving of Pecorino and, voila, the dish was ready. A rocket salad on the side with a splash of balsamic vinegar and a few drops of olive oil made a wonderfully colourful presentation. (This was so easy that thoughts of cooking again this month even crossed my mind.)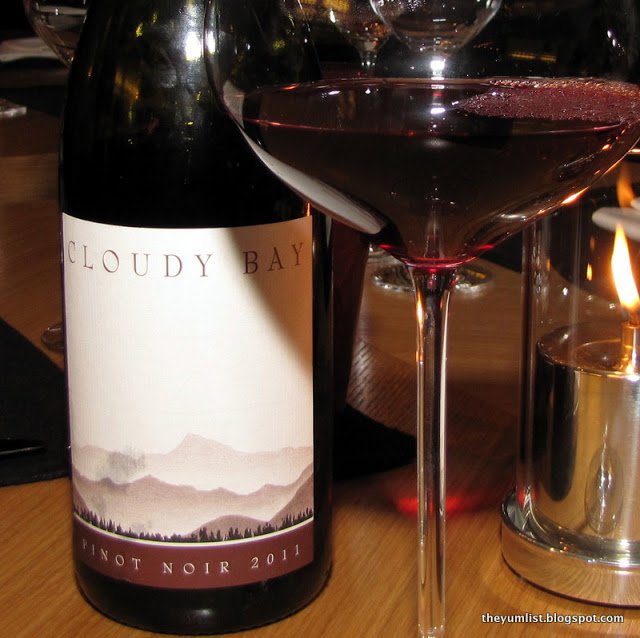 Cloudy Bay Pinot Noir 2010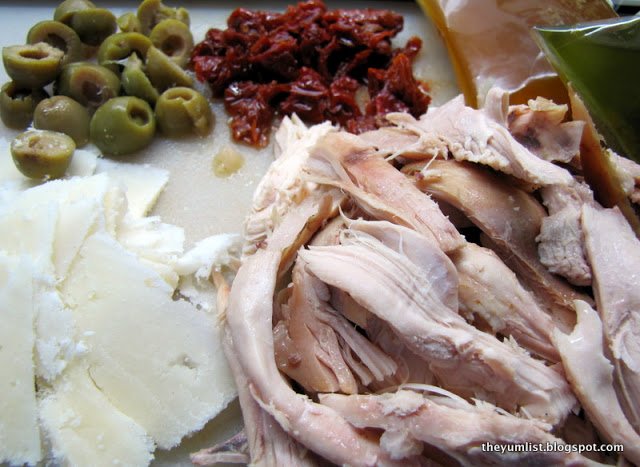 Bella and Luca's Pasta Fresca and Sauce by themselves are tasty enough. I however, was cooking which is a rare occurrence indeed, so decided to add in a few more goodies.
So… Bella and Luca Pasta Fresca is convenient, inexpensive, fresh, healthy, easy to make and looks great. Only one test left to pass…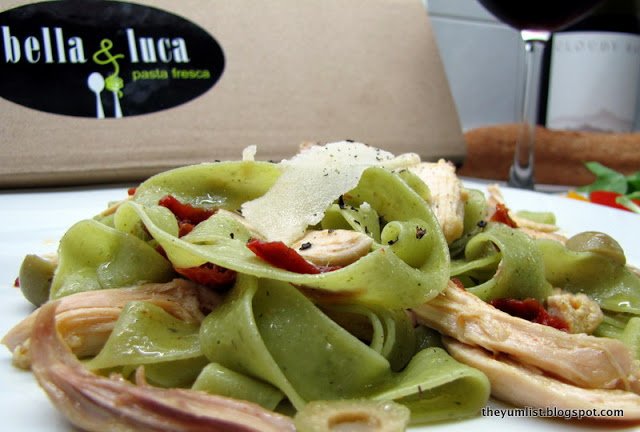 Fettuccine with herb infused oil, sun dried tomatoes, shredded chicken breast, almond stuffed olives and a shaving of Pecorino
Pasta is served. Pasta is eaten. Hubby moans rapturous accolades between mouthfuls. My mouth and mind are equally thrilled. Healthy dinner at home – tick! Glass of delicious wine – tick! Time with family – tick! Thank you Bella and Luca Pasta. With you in hand, my kitchen might just be seeing a little bit more of me this month.
Reason to buy: a quick healthy meal in minutes; nothing beats fresh pasta; herb infused oils; bargain price for such quality!
Bella and Luca Pasta Fresca
Village Grocers
Ground Floor
Bangsar Village I
Kuala Lumpur
Malaysia
Open 8:30am – 10pm daily