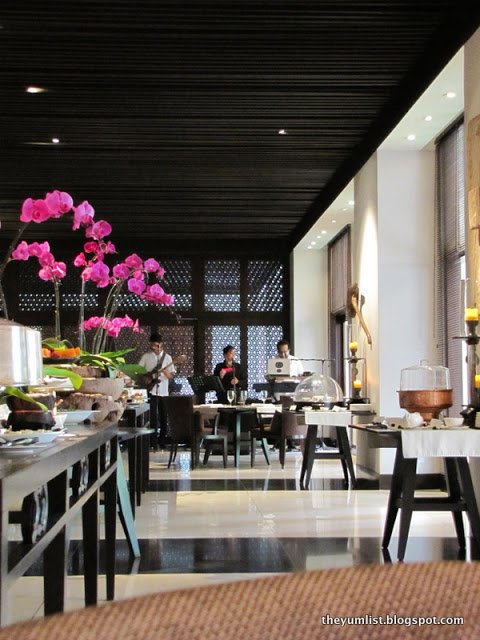 Blazing Barbecue Brunch, The Restaurant, The Club
Blazing Barbeque Brunch, The Restaurant, The Club, Saujana Resort
Clean lines, earth tones and lots of glass seamlessly play
together to form the sophisticated atmosphere of The Restaurant at The Club,
Saujana Resort. Just as together are the sounds of the three-piece jazz band
who croon a variety of old favourites. An adjoining terrace with green and
water views is often the preferred location for foreigners, while many locals
enjoy the air conditioned comfort of the indoors.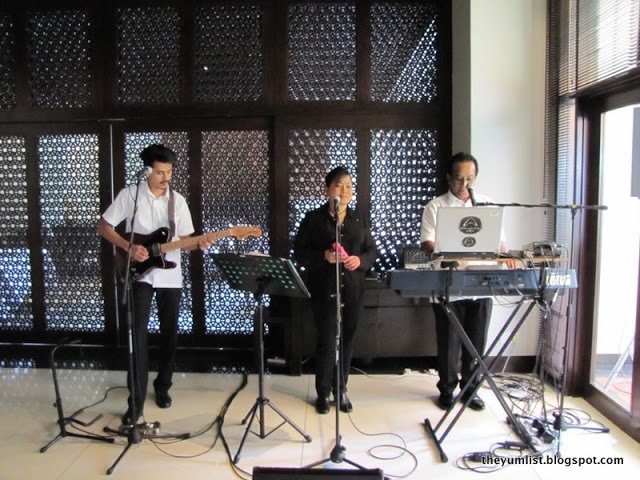 Jazz Trio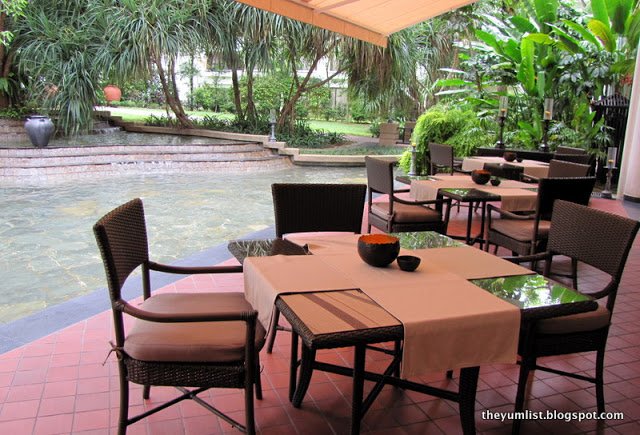 Outdoor Patio
With the name, The Club, the location sounds like an
exclusive member's only institution. It lives up to the title in terms of
style, elegance and first-rate service, but the beauty of this place is that it
is indeed open to everyone. The privileges of a high-class establishment are
there, for all to share.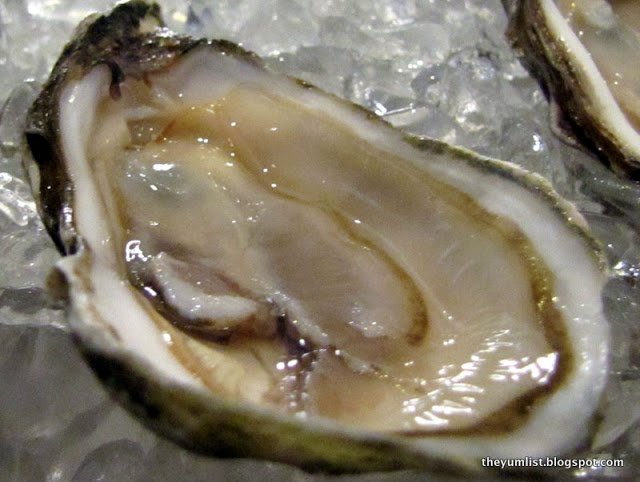 Fresh Seafood
The best way to celebrate this good fortune is to partake in
the newly launched Blazing Barbeque Brunch. Chilled Somersby Apple Cider and
Carlsberg Beer are free flow. Come in a group of four and the benefits increase
to an additional bottle of Prosecco on your table. Grab your drinks yourself as
you're browsing the buffet or wait staff will bring your thirst quenchers directly
to you.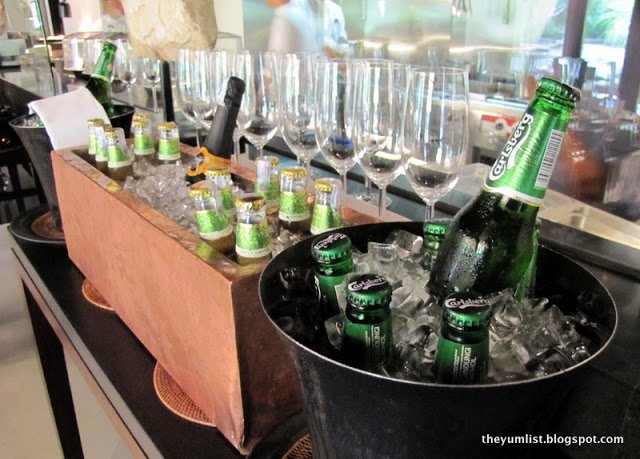 Free Flow Cider and Beer
Food is presented in an exquisitely clean set up. Each
oyster, each tart, each slice of tomato seems precisely placed in just the
right spot. Three rows of buffet are spread across the room providing enough
space to feel clutter free and for vases of fresh flowers to adorn the room
abundantly.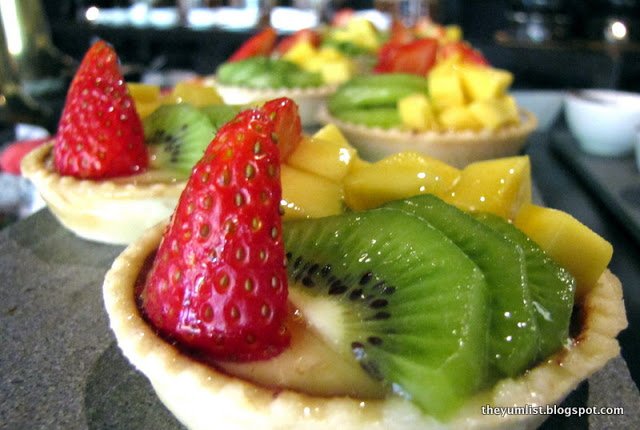 Desserts precisely lined up
Fresh salads are a mix of high quality produce with Western
and Asian seasonings. Hubby devoured more than one helping of the salmon and I
couldn't stop scooping up the seafood mixed with tangy condiments. Irish
oysters crowning a giant ice bowl come with a variety of dressings – the
Champagne one shouldn't be missed. The European cheese selection is accompanied
with house made hard breads and crackers and shows how flavourful cheese can be
when kept in ideal conditions and served at the correct temperature. A hot
selection of local dishes are filled with spice, giving a quick wake-me-up to
unaccustomed palates.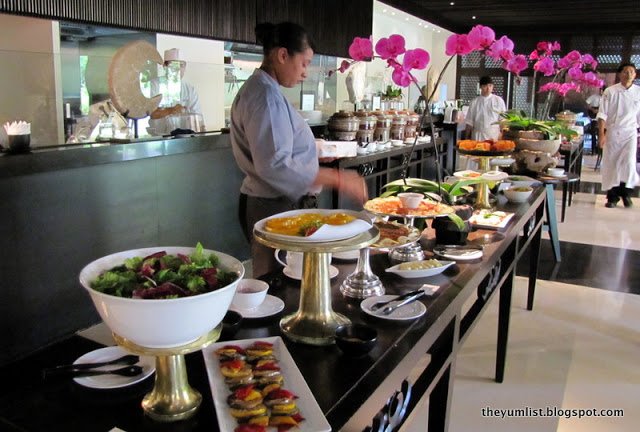 Salad Bar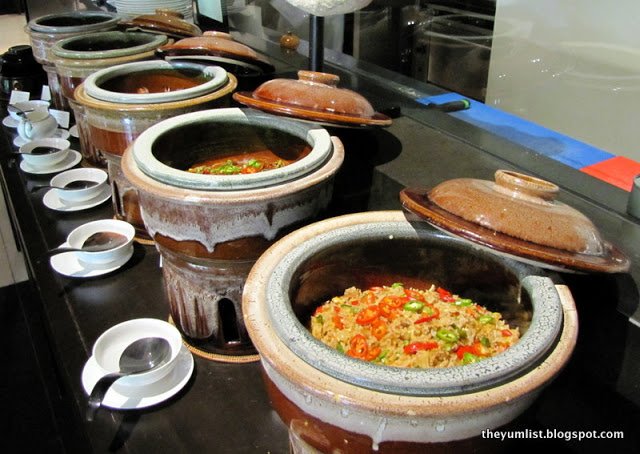 Local Dishes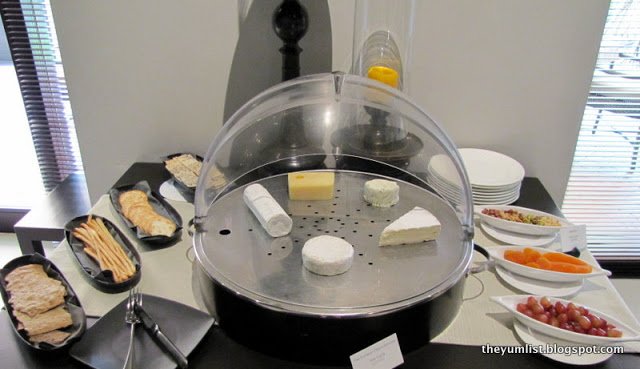 European Cheeses and House Made Breads
The buffet spread is fresh and wholesome. The star of the
event though lies in the open kitchen. This concept encourages guest interaction
with chefs and conversation about individual dining preferences. It is here
that a wonderful display of raw meats is on show and where chefs will slice and
prepare your choices to your liking. I drooled over the succulent fish and
seafood, while hubby went straight for the beef and lamb. Neither of us was
disappointed. Here too you can have pasta made to your liking. Choose your
noodle and your sauce and let the kitchen do the rest.
Barbecued Seafood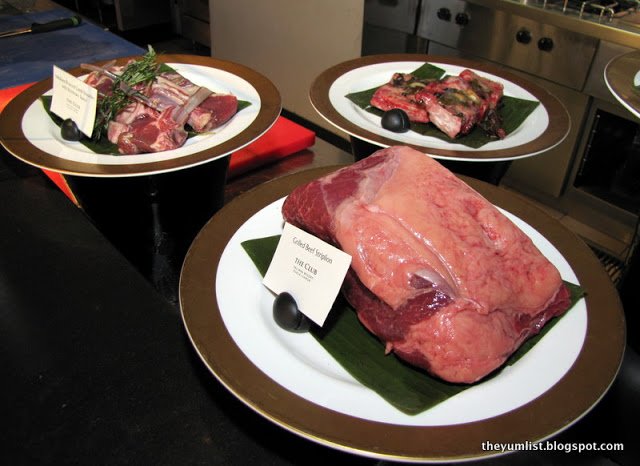 Meat for the barbecue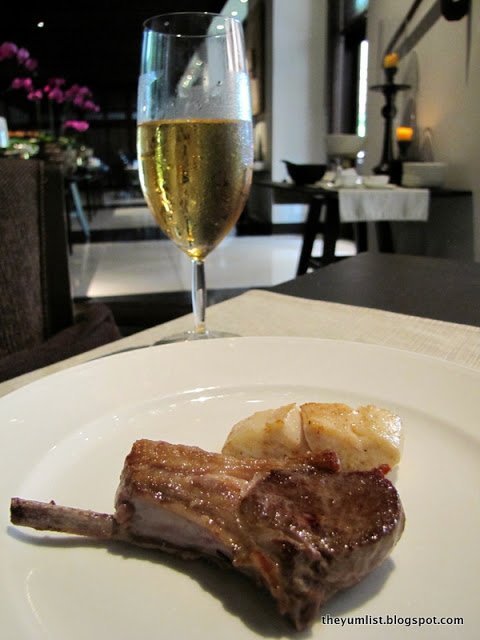 Rosemary Lamb
Unlike many places who claim to be serving brunch, but
really just provide an enormous lunch spread, leaving out the all too important
/br/, The Restaurant makes eggs and other breakfast items to request. French
toast, pancake stacks, nasi lemak, bagels with cream cheese and smoked salmon,
are just some of the possibilities. Basically, it seems that the staff will do
whatever it takes to make you happy.
Of course, with an Austrian chef leading the kitchen at The
Club, you'd expect delicious desserts. The famous Sacha cake leads the sweets
spread along a line of saccharine treats, including berry tarts, chocolate,
puddings and apple crumble. As with the rest of the menu, items change every week.
So, essentially you could come back every Sunday without tiring.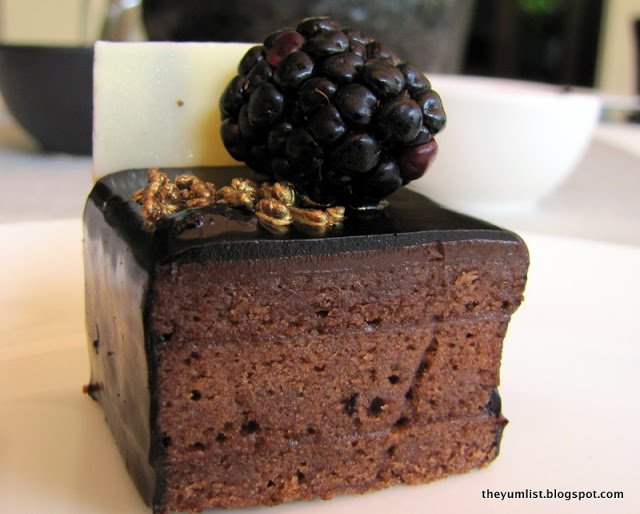 Sacha Cake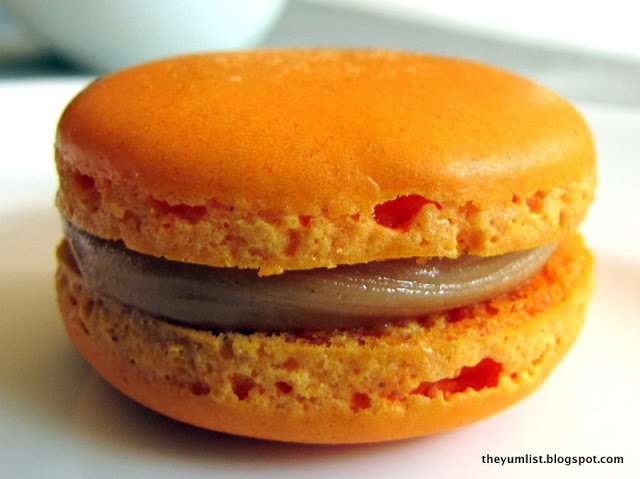 Peanut Butter Macaron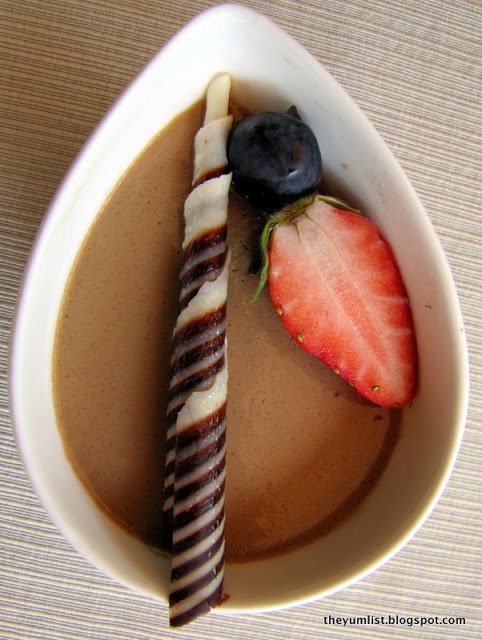 More Dessert
Barbecue Brunch runs Sundays from 11:30am to 2:00pm. Free
flow of Carlsberg Beer and Somersby Apple Cider are included in the price of
RM210++ per person. A group of four diners receive a bottle a Prosecco – so
come with friends. Discounts apply for SGCC members, Lifestyle by Saujana
members and CIMB credit card holders.
Reason to visit: high
quality ingredients prepared to your liking on the spot; free flow beverages; pleasant
surrounds.
The Restaurant
The Club
Saujana Resort
Jalan Lapangan Terbang SAAS
40150 Shah Alam
Selangor Darul Ehsan
Malaysia
6:30am – 11:30pm
+6 03 7806 7000