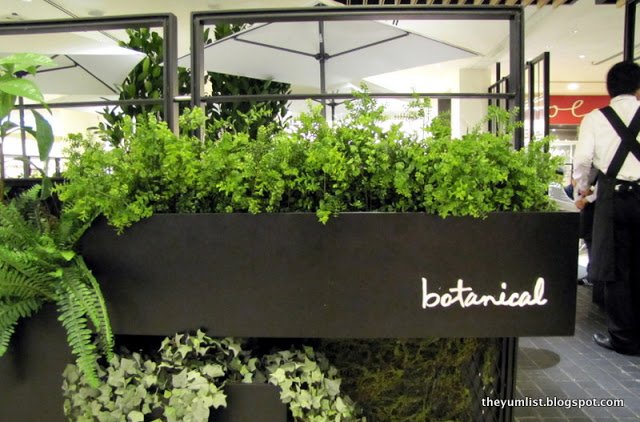 Botanical
*** This restaurant is sadly now closed.
Botanical, Bangsar Village II
Words By Kirsten Durward
Photos by The Yum List
Soft gray furnishing with flourishes of green provide us with a relaxed, chilled out experience for our evening. Somehow the outside seating at Botanical manages to pull off the outside feeling of being in a garden bower despite being in a shopping mall. Inside diners can experience a more elegant and crisp traditional dining experience.
Our host for the evening, Benoit, explains the concept of modern, fresh meatless dining, with the emphasis on dining. The menu ranges through traditional Asian, classical European and combination blends. There is a commitment to provide fresh flavourful food using only top quality ingredients. Which is a great find in a convenient location like Bangsar Village II.
We start with a choice of breads, both from the group's central kitchen. It's the dark and the light. Monica enjoys Spinach bread, soft, spongy, light and airy, while Charcoal bread, rustic, black and coated in seeds hits the sweet spot for me. What strikes me straight off is even the simplest servings are thoughtfully and prettily presented. The tall water jug carries chunks of pink watermelon, a colourful touch.
A trio of freshly made juices are presented, each an original and delightful combination of flavours. Green Goodness grabs me with a blend of textures, gritty pear, smooth avocado and the background buzz of fresh orange. Mango Mia is simply delicious with crisp apple, mellow mango and a nip of coriander. The sour note of passion fruit combines delightfully with sweeter orange and mango in Tropical Comfort. We're all passion fruit fans, so this juice soon disappears. Liquid goodness, and total refreshment, I'd surely stop for one while browsing shops. Freshly Made Juice RM11.90 ++
A chunky slice of cheesy toasty bread floats on top of thick French onion soup, vegetarian style. The depth of flavour is built with a white wine base and a judicious use of bouquet garni. Chunky wild mushrooms on toasted bread accompany dense creamy garlicky mushroom soup. Both soups are heartwarming and nourishing, a delightful afternoon filler. Soup RM16.90 ++
The salads are the stars of the meal for Monica and me. Dish of the night is the Watermelon lychee salad with salt and pepper tofu. Make no mistake, I will be returning to eat this again. I love Thai style salad and this one has its own special twist. The lightest tofu ever floats on top of spicy Asian greens full of herbilicious flavours, peanut and sesame hints. Beautifully balanced spices boom in my mouth, and then a perfect burst of superbly sweet lychee, flavour and moisture. It's a YUM! RM19.90++
Pomelo salad is more mellow, very light and flavourful, hints of kaffir lime and coriander weave through firm jackfruit, juicy pomelo and luscious coconut dressing. It's a savoury fruit salad and it's very special. I'd eat this again, original, creative and genuinely delicious. Perfect lunchtime fare. RM19.90 ++
Pineapple fried rice is colourful and served in the traditional presentation; I know it will appeal to my hungry carboholic Malaysian friends. A fun offering to visitors to the region too! Glistening egg sits on top of sticky rice, the warm sambal on the side offering a kick to those who want it. RM19.90 ++
Pasta y fagioli is a neat twist on traditional Macaroni Cheese. Saffron gives the dish an inviting golden glow, and together with freshly chopped herbs brings a flavourful zing and a lighter modernity to the dish. White beans give different texture as well as a much needed protein boost as well as a varied texture. RM 19.90++
Mushroom mash pie is Caning's personal favourite of the evening, and being a mashed potato fan, I have to agree that it is simply delicious. Best mash so far in KL. Smooth and luscious potato, very, very cheesy sits atop generous amounts of mushroom sautéed in red wine, still retaining their firmness and flavour It comes with a side salad, with a very special sticky vegetable relish dressing, hints of garlic, ginger, edamame and seaweed among other flavours. RM 19.90++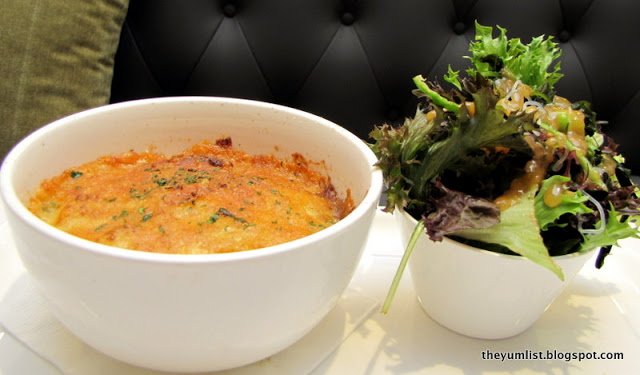 Mushroom Mash Pie
We finish with a smooth chocolaty Cappuccino; perfect drinking temperature and a plate of tempting looking deserts. Tarte au citron meringue (so much sexier to my ears than lemon meringue pie, I'm going to use this always) has a great lemony flavour, although I prefer more meringue and a crumbly textured pastry. Strawberry shortcake offers a light sponge and smooth cream with nippy fresh strawbs. A good accompaniment to an afternoon coffee, as is the Opera, which layers coffee and chocolate cream with biscuit jacquard.
Botanical also offers a three course set lunch menu for RM45 with a choice of three starters and mains plus a cake/pastry dessert. With the size and freshness of portions this is a great value offering.
Reasons to visit: inspirational salads; delicious fresh juices; elegant dining for non-meat eaters and; a great place to take a break on a shopping expedition.
*** This restaurant is sadly now closed.
Botanical
First Floor
Bangsar Village II
1 Jalan Telawi Satu
Bangsar Baru
59100 Kuala Lumpur
Malaysia
+6 03 2287 6566
Open 11am – 10pm