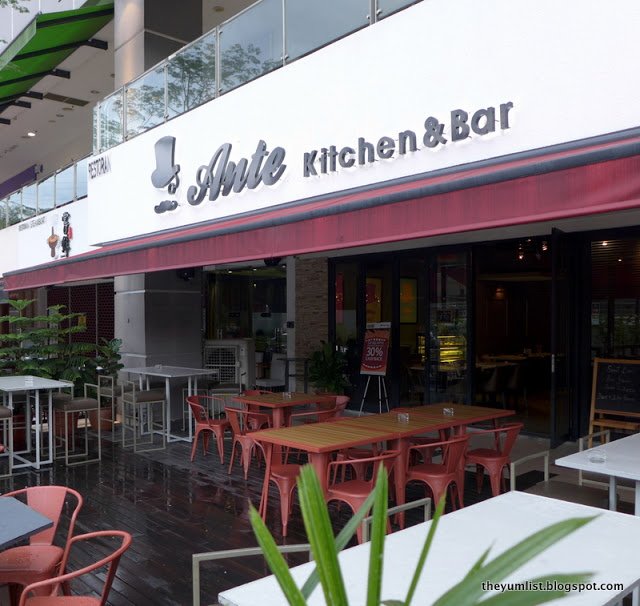 Ante Kitchen and Bar
Ante Kitchen and Bar, Solaris Dutamas
Porky, pork, pork – seems to be the mantra of Ante Kitchen and Bar. And… the more of it, the better. From sausages, to burgers, to ribs, to bacon, swine lovers will be in piggy heaven here.
Easily found at street level, to the left of the parking entrance to Solaris Dutamas from the main road, Ante Kitchen and Bar is drawing the crowds. We arrived early evening on a Saturday and, by the time we departed the restaurant was abuzz with hungry diners.
Chocolate studded lounges, soft hanging lights, wine barrels and old fashioned tiling hint at a 1920's ambience. Just-the-right volume slow paced big band tunes add depth to the concept. Outdoor seating too is gently lit and, an effort to separate supping from the street is made with a forest of shrubs fringing the patio.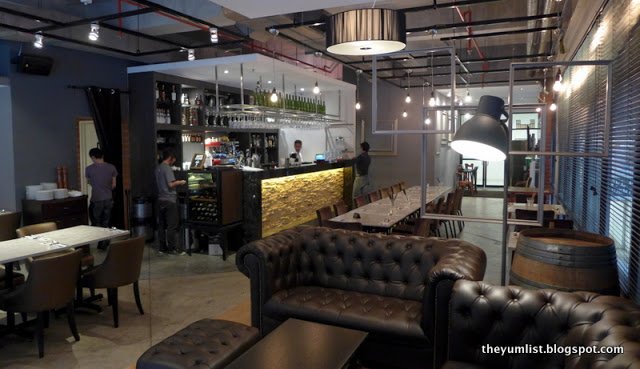 Ante Kitchen and Bar
A meat-dominated menu features, of course, a whole pigsty of hog. A shade of poultry and seafood is included in the hoard, but this is very much a restaurant for eaters who like their protein plump, podgy and porcine. While a variety of regional cooking styles, such as Japanese, Chinese and Thai, play a supporting role in the production, the star protagonist is unmistakably swine.
In an attempt to at least give the appearance of some relic of concern for our health our first three dishes had some veges in the mix.
The Crispy Pork Trotter Salad (RM21) featured deep fried pork trotter slices with roasted peanuts, mixed lollo lettuce and a Thai dressing. The crackling was so crisp that it almost achieved a crunch similar to that of a candied brittle. The peanuts supplied a softer chomp transitioning between the texture of the delicate salad leaves and super crispy pork. A touch of sweetness in the sauce balanced the savoury aspects of the dish. The plate was cleaned.
Chef's Tomasco Soup (RM12), with a mild spicy twist, came garnished with a sprinkling of fresh parsley and a swirl of cream. Proving both sweet and tangy, the overriding verdict was 'delicious'. The Chunky Mushroom Soup (RM12) blended of a variety of mushrooms to create a thick heart warming broth. Both soups were well-liked, and easily merit repeat orders.
Having our token fill of vegetables, it was pork all the way for the rest of the meal.
The Sweet Belly (RM26) had our entire table drooling. Roasted pork slices dipped in Ante's house made sauce were presented in a long strip, deceivingly looking like a line of sushi, devilishly not even a hint as healthy. Caramelized pork fat dripped from the corners of hubby's mouth, and reduced to babbles, all I could interpret from his ramblings was, "Can I have the last piece?"
Enoki Bacon Skewers (RM26) saw tender pork cutlets, wrapped with enoki mushrooms and swaddled with bacons strips. Served grilled on a stick with a side of egg yolk dip, these sticky, salty, sweet, stringy cylinders of goodness fast disappeared.
The "Real Bacon" Carbonara (RM26) shows why pork (no turkey imposters please) is the most delectable ingredient in this dish. Strings of al dente pasta are coated in a creamy sauce with chunky pieces of bacon, onions and mushrooms. It's crowned with shaved cheese and crispy bacon bits. Yum, yum.
One of the most popular dishes on the menu is the Char-Grilled Pork Steak. The leaner Boston cut (RM33) is a slightly smaller, meatier portion. The New York cut (RM42) has many strands of fat making it tender and the flavour more intense. Topped with cream sauce and a baked apple and, sided with a huge blob of mashed potatoes, this dish is not for the feeble. I'd recommend sharing. We paired it nicely with an Argentinian Malbec, but a Riesling or Chardonnay would do equally as well.
The Crispy Pork Knuckle (RM78) is recommended for two to three people. It goes through three cooking processes before reaching the table. First it's boiled in a special broth, then twice baked in the oven. In total, it takes about four hours to prepare. The final crisping is done right before serving, so allow about half an hour from the time of order for the plate to arrive. Beer is a safe bet as far as pairing goes, but I'd just save the tummy space! Succulent within and crispy out, your taste buds will want to get as much of this whole kilogram feast as your tummy can handle.
Hogger Pork Ribs (RM75) are just as sinful as they sound. They're another dish I suggest going halvsies (or thirdsies) in. Charcoal grilled hickory ribs are glazed with house-made BBQ sauce and accompanied with coleslaw, potato salad and fries. The tender meat falls off the bone and the sauce is a definite finger-licker.
If you always reserve a pocket in your belly for dessert, then you can't go wrong with an old fashioned Bread Pudding (RM16). Ante's take on this classic sees layers of bread and sultanas topped with a generous ball of vanilla ice cream. Lightly toasted around the edges and dense and gooey within, it's a wholesome finish.
Prefer to end with a beverage? The newly introduced Mocharita (RM26 – not yet on the menu, ask for it at the bar) is a dessert and drink all rolled into one. Kahlua, Bailey's and espresso are blended with ice and garnished with a cherry and mint leaf. Coffee too merits an order. EspressoLab supplies beans, machines and barista training. Expect to pay around RM8 for an espresso-based drink.
Reason to visit: all things piggy but especially don't miss the Sweet Belly!
Ante Kitchen & Bar
A2 – G1 – 09 Solaris Dutamas 1
Jalan Dutamas 1
50480 Kuala Lumpur
(Otherwise attached to Publika Mall)
Malaysia
+6 03 6206 3364
Open 11am – Midnight (2am Friday and Saturday)