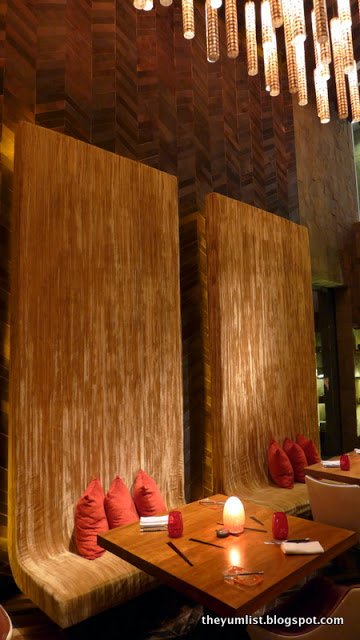 Fire, W Bali
Words: Kirsten Durward  Photos: Monica Tindall
I'll let you into a secret, we weren't supposed to have dinner at 'Fire' but Director of Cuisine Richard Miller literally had us salivating at his description of the tasting menus and particularly the tantalizing chocolate globe (of which more later), that we begged him to let us sample it. Being of course totally committed to ensuring our dear readers experience with us the best that Bali has to offer, we felt it incumbent to request a change of plan. Which happily, was possible. It does indeed seem that anything is possible at the W Rereat and Spa, Seminyak.
In keeping with the surreal and slightly 'Alice in Wonderland' feel that defines the W in Seminyak, entering 'Fire' is a dramatic experience. A dark narrow stairway leads you towards a glowing light, feeling you are descending into the Hades of ancient mythology. A glowing orb dominates the restaurant space, suspended from the ceiling, above a circle of fiery red flowers, twine suns above and below.
Should you want something more intimate to celebrate a special event with friends, Fire offers two private dining rooms, one large and glass walled, and one smaller in a warm walled wine cellar surrounded by lush bottles of red.  Monica's lighting needs drive us into this private sanctum and we luxuriate in the individual service this provides.
The concept of Fire is modern Australian, with imported beef, for quality, but Chef Richard speaks of his passion for local produce, everything organic, 'You have got to know where things come from, how it has been handled and so forth to get the best. Food is about touch, taste and feeling. You know it will be good or not because of the way that it is cooking. You have to be hands on if you want to deliver an experience and something that is different to what everyone else is offering.'  He tells us that he gardens every day, growing fresh herbs, spices and vegetables, to keep close to the earth.
Our Amuse Bouche arrives to squeals of delight from Monica. It's the fattest and juiciest scallop ever, a delightfully caramelised coating carrying just a hint of curry spice. Silky cauliflower puree is delectably blended, supporting intriguing little macro greens, the sweetness of raisins, the saltiness of capers and teeny tiny pieces of cracked pepper. It's just the start and already I could lick the bowl for more of these delicious flavours.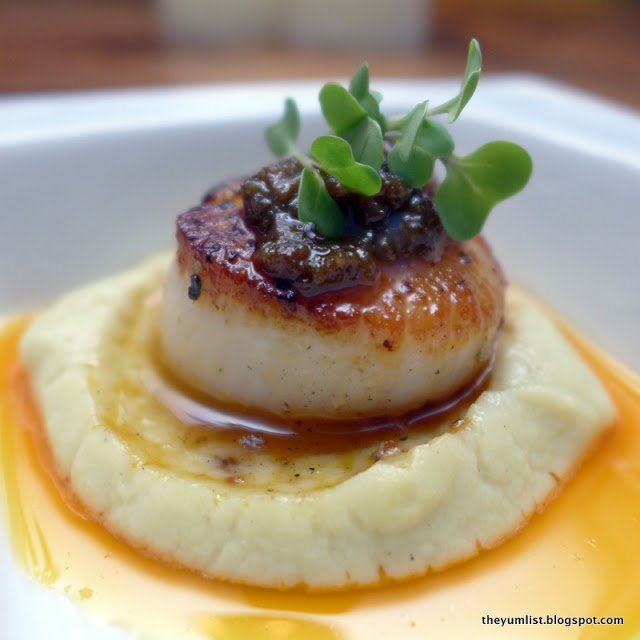 Amuse Bouche
The drama of Fire is encapsulated as steaming black teapots are carried in on slate trays. Dry ice and rose aroma oil arouse the senses as chef promises with a twinkle, 'If you rub that teapot a little genie is going to come out and grant you three wishes.' Honestly, what else could we wish for? This is a theatre of cuisine with chef the director of the show.
We hold our weighty mortar dishes in our hands and scoop out the gentle intriguing flavours of a sensational prawn ceviche, citrus foam fresh and subtly limey with just a teasingly tantalizing hint of the sea in the ceviche. The taste grows tangier towards the bottom and finishes with a bang of spice before sweetening the mouth with a touch of compressed melon.
A Duo of Foie Gras appears next to tantalise us. The presentation is yin and yang, humorously plated in tandem like a lovers' bridge; inviting both to the eye and to the fork. I begin with the Foie Gras foam encrusted with olive liquorice. I can only describe it as a sensuous cloud. The lightness surpasses words, but the tinge of salt liquorice sprinkle is a touch of genius.
The yang is Foie Gras Choimushi, which is warm, silkily velvety and dense, served humorously in a teacup. I dig in and find savoury fish, mushroom and Edemame.  Japanese egg custard just moved into a whole different dimension.
From cool and light to hot and rich, the promise of the presentation is definitively delivered both in texture and taste. Chef's creativity has us both in ecstasy as we anticipate what the next sensational surprise will be on this tasting menu.
An appetizing aroma heralds the arrival of pan fried Mahi Mahi on a dramatically clear warm glass plate. 'Ohh what is that?  Is that quinoa?' asks Mon, unable to conceal delight as yet another of her favourite foods alights in front of her.  Edible flowers nestle in tiny sprouts amongst the moist quinoa, delightfully, delicately herbed. We've waxed lyrical about some fantastic fish dishes in Bali, but this is the very best of the best. A salty crust with freshly blended spice, leads us to moist and firm white fish flesh. Taste after subtle taste entwines our tongues. Here a star anise, there a cardamom popping into the overall undercurrent of gentle curry leaf. This is tongue tinglingly good and one of our favourite dishes to date.
Sous-vide squab pigeon is so pretty that I peruse it with pure pleasure. It's a garden on a plate; an earthy, man of the soil, freshly dug garden, yet delicate at the same time.  Chef plays with contrasts visually, conceptually and definitively with tastes in this elaborately elegant dish. Bandung pigeon hails from Java and is bursting with flavour, salty and dark, balanced with a lingering artichoke puree. Chili jam has an incredible tingle, so fine and refined and then a boost of fire. It's a divine blend of softness and crispness, nuttiness, sweetness and spice. Can I admit that the crispy chicken skin is so decadently delicious, that I could eat it all day with disdainful disregard to dietary directions?
The intermezzo palate cleanser has me crying – 'this is insane!' So often strongly coloured dishes disappoint on taste, but this delicate beetroot tulle shell holding a salty sweet sorbet is something else. Teeny tiny chopped apple and cucumber salsa adds balance and clarity to the powerful boost of beetroot taste. I can actually feel it cleansing my palate, the way an intermezzo should. We are impressed; this is something out of the ordinary. Since stepping into the W, I have been experiencing a feeling of unreality but this just puts it over the top.
An oyster blade steak, cooked carefully for 48 hours is the moistest, most flavourful piece of beef I have ever put into my mouth. A smoked pumpkin puree accompanies it – just on the sweet side, and perfect portioning too. No steak knife! What seems to be a butter knife cuts through easily, and we wonder if that's the point, as the beef is insanely soft.
We are offered a Chocolate Story. Chef dreamed of creating a perfect chocolate sphere. Challenged with chocolate tempering in a humid climate, he struggled to achieve the level he wanted for the dish. A delightful discovery was Pod Chocolate, an organic chocolate made near Ubud by an environmentalist turned chocolate lover. Aspiring to create organic chocolate to the level of Vahlrona and Lindt, entrepreneur Toby Garrett has worked with Chef Richard to create the dream that we are going to taste right now.
We're drooling with expectation as our globe is ushered in… 56 grams of 64% organic dark chocolate coverture hand brushed with Fire's oranges and reds. A perfect orb 'til warm chocolate sauce is poured over, slowly, sensuously, sinuously melting the outer layer to reveal the treasure within – another moment of drama in the theatre of the night. Subtle tinges of colour and tempting textures hint at joyous delights as a waft of cocoa aroma hits the senses in the suddenly warm room. I can't wait to bite in!
Superbly high quality chocolate hits my palate, mmmm…. not a tinge of over-sweetness. WOW! Sensationally silky, custardy thick white chocolate mousse, then lemon popping candies fizz in on my tongue adding a zest to the taste. But wait there's more, a smoother texture, a softer tang. Blood orange jelly soothes and caresses with yet another dimension to the dish. Delicious! Delectable! Decadent! We're done.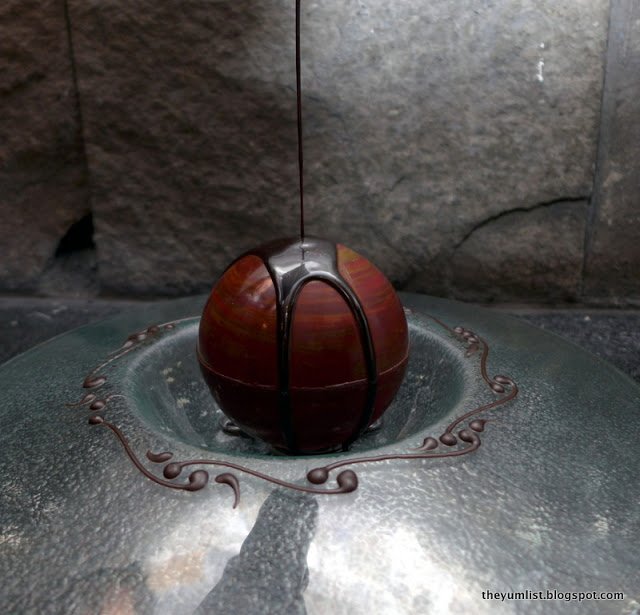 One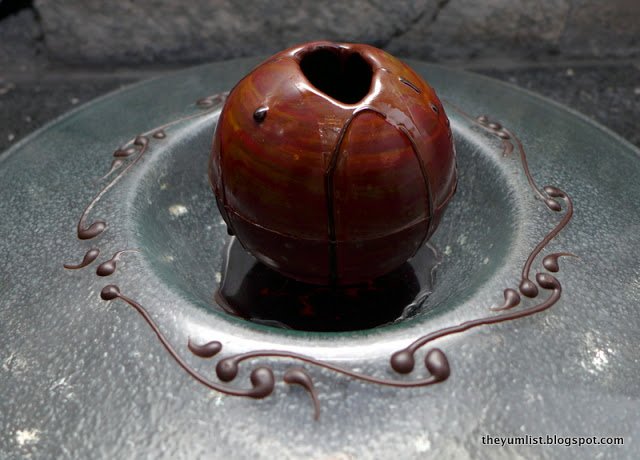 Two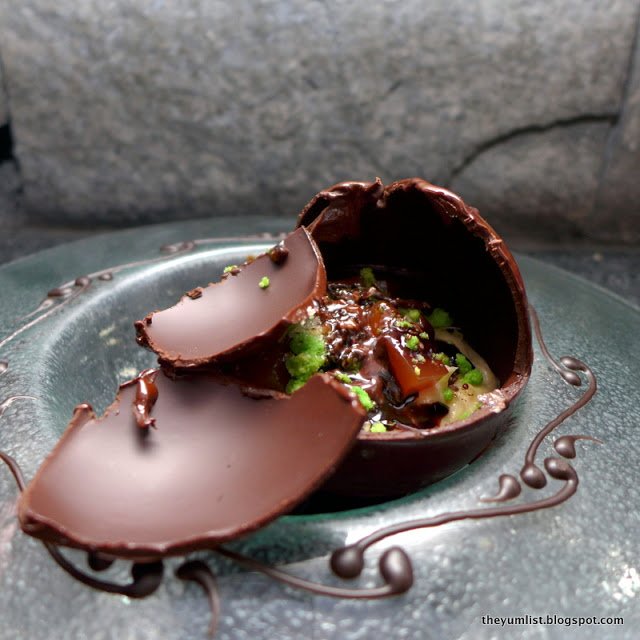 Three
But not quite, because Chef has one more trick up his sleeve. He tells us that VIP guests are welcomed to their rooms with a gift of chocolate lips and a chocolate lipstick. We squeal with total delight as a double pair of blue and red lips appear and tubes of chocolate lipstick are opened. Such fun! Praline Blue has salted caramel, and dare I say it an almost blue cheese tinge. Chili red is a blast of chocolate with a chili hit. Both are blazingly brilliant. The lipsticks we admire and decide to keep as mementos rather than eat.
We are just the right amount of full. The meal has been perfectly paced and we've been entertained and educated all evening. We'll always remember this as one of the best meals we've eaten together. Do your taste buds a favour and visit Chef Richard Millar at Fire. You'll always remember it too.
Reason to visit: Original, beautifully cooked, memorable food. Theatrical atmosphere. Unmissable everything.
FIRE
W Retreat and Spa Bali
Jl. Petitenget
Seminyak
Bali 80361
Indonesia
+62 361 4738 106