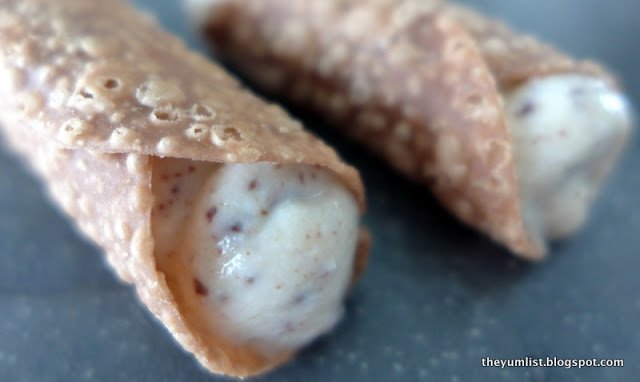 Cannoli
Graze, Hilton Kuala Lumpur Hotel
Graze is a classy yet amiable restaurant in the newly renovated food and beverage arena at the Hilton Kuala Lumpur Hotel. Serving modern European cuisine with a strong focus on the fresh, simple ingredients of the Mediterranean, Graze is a surprisingly affordable brasserie considering the location, professional service and quality of food offered.
There's a feel of Europe here. An intimate setting buzzes with energy. It's sophisticated, yet friendly, lively, yet cultivated. Staff and customers seem genuinely cheerful to be here.
Curved glass, walls both sides of the restaurant and a ceiling mirror gives spaciousness to a relatively small interior. Drop down lamps gently illuminate and maroon leather chairs and pecan hued tables all add warmth. Tiles looking like cross cuts of wood showing the age rings, patchwork a floor mosaic. Pots of garden herbs on every table could be used as extra condiment, but more speak to the philosophy of freshness and quality that conceptualizes Graze.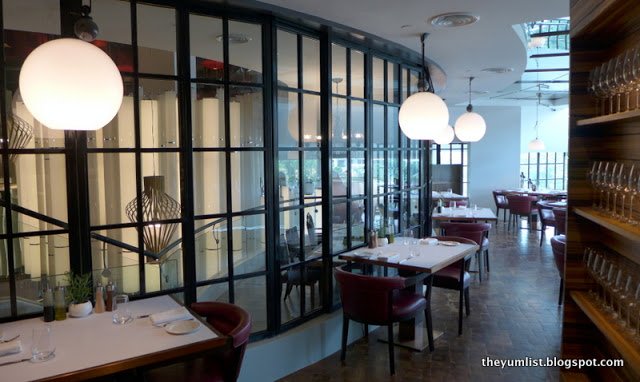 Graze
The pork free menu is a simple page of starters, mains and desserts. Relying primarily on seasonal high quality produce (organic where possible) imported from Europe and Australia, the items change roughly every three months. Daily specials make use of the best produce on the market and add interest to the regular fare.
Starters
An Italian aperitif, the Spritz was the suggested start. Prosecco and a dash of Aperol topped up with sparkling mineral water had a hint of bitterness and a bright orange hue. Coupled with warm focaccia made in house, a bowl of crudités (carrots, fennel, celery) and a delicious anchovy cream dip, we could not complain about the opening.
Chorizo Sausage with Chickpeas, Piquillo Peppers, Fried Duck Egg and Garlic (RM32) was hubby's choice for an appetizer. Lamb sausage, sliced in coin-sized ovals, presented a stroke of spice that lingered at the back of the roof of the mouth after swallowing. The sweetness of the roasted capsicums, the creamy egg yolk and stable flavour of the chickpeas balanced out the bite. The dish matched its rustic appearance with intense mouth filling flavours.
I chose a lighter beginning in the Boullabaise with Snapper, Prawns, Clams and Mussels (RM38). If ordered as a main the soup comes with a half lobster. This bowl was superbly fresh and clean. The rosé I was drinking (Chateau du Rouet Cuvee Esterelle Rose 2011) mirrored the dish well in terms of delicateness and smoothness. Often the best food wine combinations are those where the ingredients come from the same area. This held true with the Cotes de Provence wine playing well with its neighbouring Marseille seafood broth.
Chicken, fish and red meat with uncomplicated sauces and sides are featured as the principle plates. Various cuts of beef and lamb too are offered, grilled with French fries and Bearnasie sauce on the side.
Predictably, I ordered fish, and hubby some red meat. My Pan Roasted Cod with "Acqua Pazza," Italian Tomatoes, Olives and Parsley (RM62) was fantastic. The Alaskan fish tasted so fresh it could have been pulled from the ocean an hour before I arrived. The transparent 'crazy water' broth was intriguing. Clear, yet with a rich tomato sauce taste, the mismatch in colour and taste expectations was wonderful.
Veal Shank Osso Bucco with Risotto Milanese (RM98) came as a mustard yellow pond of soft, yet firm to the bite rice holding a boat of deep brown meat with a hollow tubular bone in the middle. This dish too was intense and rich. Hubby didn't leave even a grain of rice and, a meat knife on the side must have been a joke as the flesh fell off the bone with a mere light poke. A glass of red, Bartali Chianti DOCG (Glass RM49), fruity on the nose and round and balanced in the mouth, was the perfect pairing.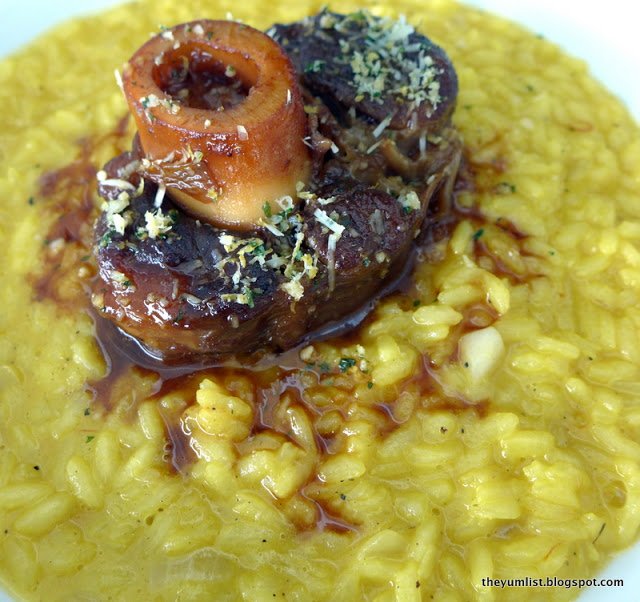 Veal Shank Osso Bucco with Risotto Milanese RM98
Desserts
Desserts are baked fresh for each meal period and come on a first come, first served basis. Benoit (Executive chef of the Hilton), while no longer behind the oven, still supervises all kitchens and has a reputation for superb pastries, so no meal at the Hilton, truly is complete until you've eaten something sugary.
Three sweets and a cheese platter on the list make ordering easy. The Chocolate Tart, Coffee Sauce and Anglaise (RM18) was rich and dense. It's the sort of thing you want to take your time with, savouring every lavish crumb.
The Graze Tiramisu (RM18 ) with alcohol, came highly recommended. The rustic presentation is enchanting as a smiley waitress ladles out a big scoop from a ceramic bowl directly to your plate.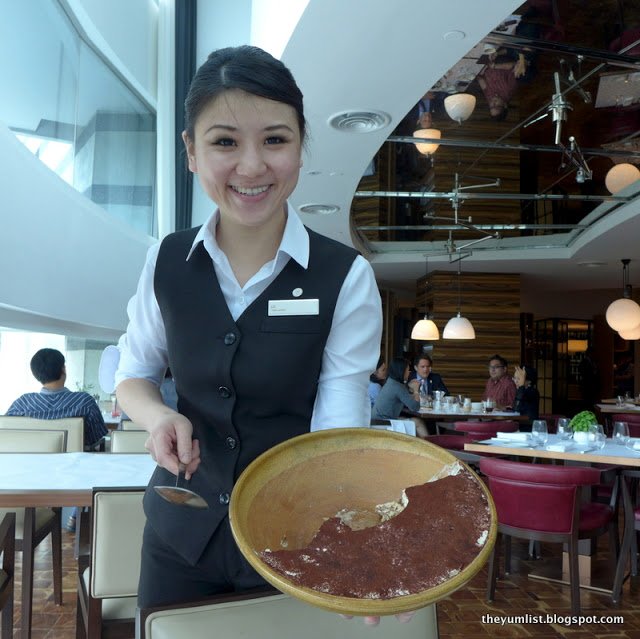 Tiramisu – served home style from a bit ceramic bowl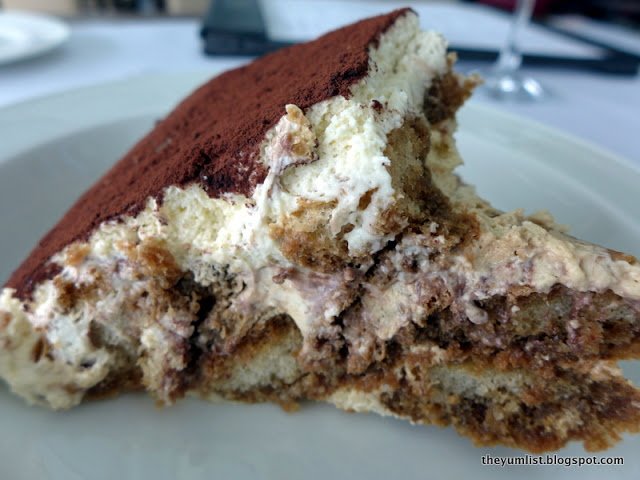 Tiramisu
Dr. Loosen 2006 Urziger Wurzgarten (the spice garden of Urzig) Riesling Auslese, our dessert wine, wafted spice and earthiness. This drop was honeyed but not cloying, and well suited to the creamy tiramisu.
Because of high quality ingredients and simple preparation, Graze is able to get meals quickly on the table, making it a popular place for a business lunch. For those who have time to linger though, an Italian finish is the way to go. Coffee freshly brewed in the moka pot with a finger roll of cannoli ends the meal on a high note. A shot of Limoncello, the final indulgence.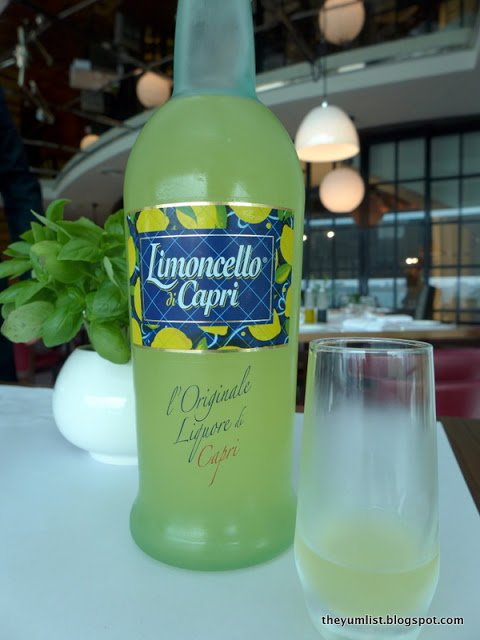 Limoncello
Graze is a high quality experience, at prices that energize diners to return again and again.
Reason to visit: excellent value menu for the quality of ingredients, ambience and service provided
Graze
Hilton Kuala Lumpur
3 Jalan Stesen Sentral
50470 Kuala Lumpur
Malaysia
+6 03 2264 2264
www. life.hiltonkl.com
Pork free