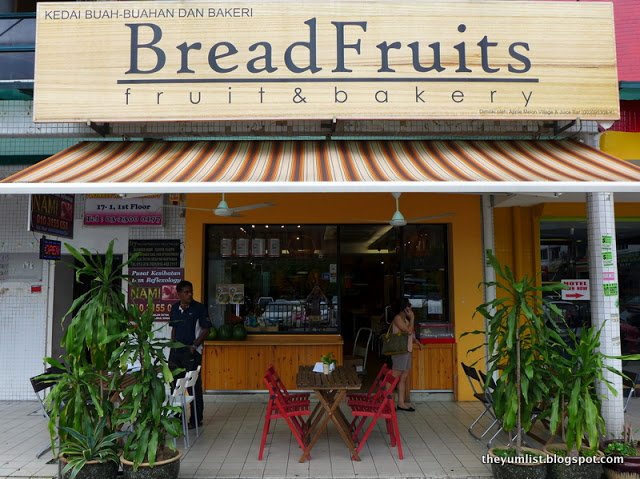 BreadFruits
BreadFruits
Words by Polly Szantor
Photos by The Yum List

Bread Fruits Cafe is an up-and-coming addition to the dining options in Desa Sri Hartamas. In addition to serving delicious breakfast and lunch dishes, they also sell top quality fresh fruit and vegetables, a variety of organic dried goods, free-range eggs and honey. This is no ordinary honey, but pure, unprocessed Wild Malaysian Honey from Pahang. Just a little taste results in a burst of complex flavours, which are intense and compelling. Several items on the menu are enhanced by the honey, resulting in something just a little bit different, which is helping to make this charming eatery a popular place for brunch at the weekend.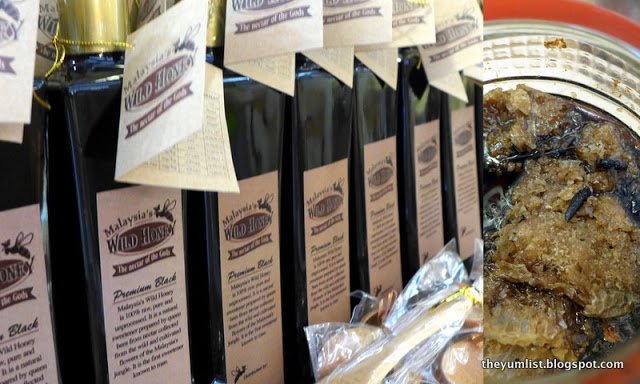 Wild Honey in the Bottle (left) and with the Beehive (right)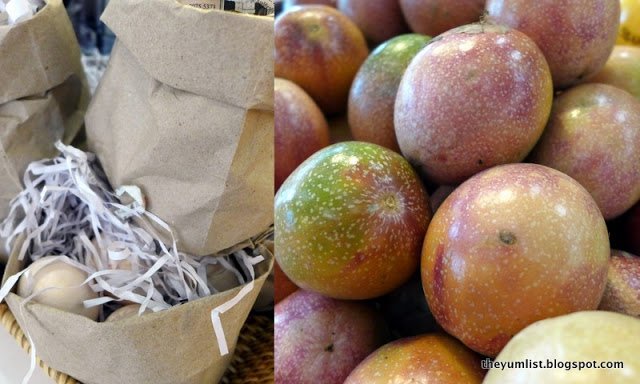 Fresh Produce – Free Range Eggs and Passionfruit
If you like a traditional Western breakfast, SatisFry Up (RM22.80) will keep pork lovers happy. It's a plate generously piled with your choice of pork sausage or bacon, eggs scrambled or sunny-side up, sautéed mushrooms, roasted cherry tomatoes, mashed potato and arugula, served with rye toast and a choice of tea, coffee or fresh fruit juice of the day.
SatisFry Up (RM22.80)
The Smoked Salmon Breakfast Platter (RM24.80) brings a delicious combination of smoked salmon, scrambled egg and arugula, served with a tasty salad of avocado, cherry tomatoes, finely sliced onions and capers. It comes with sourdough toast and choice of beverage.
Smoked Salmon Breakfast Platter (RM24.80)
There's a food and drink combo for vegetarians too, the Vegan Tree Hugger (RM21.80), which offers mushrooms, tomatoes, mashed potatoes, avocado, home-made baked beans, arugula and rye toast. I was rather taken with the BLT Avocado Guacamole (RM16.80), rustic toasted ciabetta spread with guac and piled with bacon, lettuce, tomato and a fried egg, served with a potato salad. There are several other egg dishes on the menu, or you can choose Eggs Your Way (RM9.80), which are served with multiseed toast and wild honey.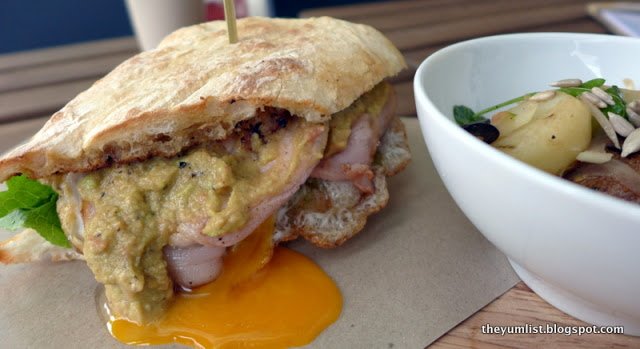 BLT Avocado Guacamole (RM16.80)
There's a nice selection of wholesome salads, sandwiches and toasts and a few pasta dishes. The Brunch Pasta with 7-Minute Egg (RM16.80) is al dente pasta in a light carbonara sauce with mushrooms, bacon and rocket. The feature here is a soft-boiled egg , perched in its shell in the centre of the dish. Spoon out the egg, stir it into the pasta and enjoy all the delicate flavours.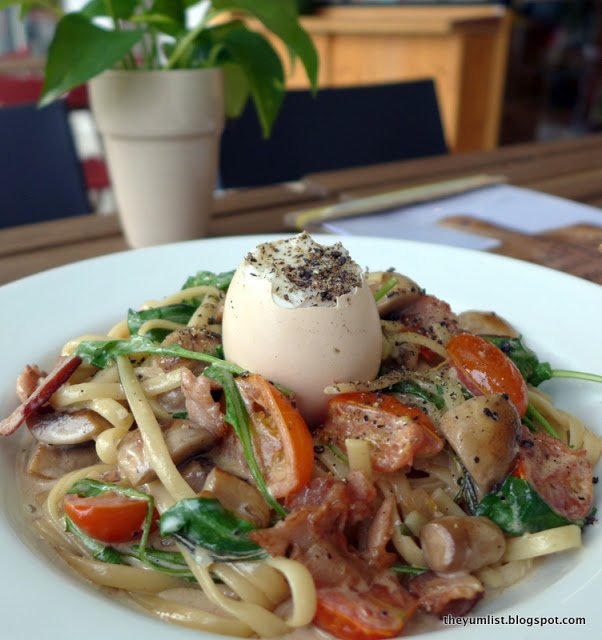 Brunch Pasta with 7 Minute Egg (RM16.80)
The most desirable breakfast/brunch dish, however, has to be the Roasted Banana Bacon French Toast with Passion Wild Honey (RM18.80). Just the name is enticing but it's visually appealing too, with its cinnamon-dusted caramelized bananas ready to be smothered in honey and passion fruit sauce. The French toast is specially baked in the oven to create a crispy outside that contrasts beautifully with the supersoft bananas. Add the salty, smoky bacon and this really is an inspired creation.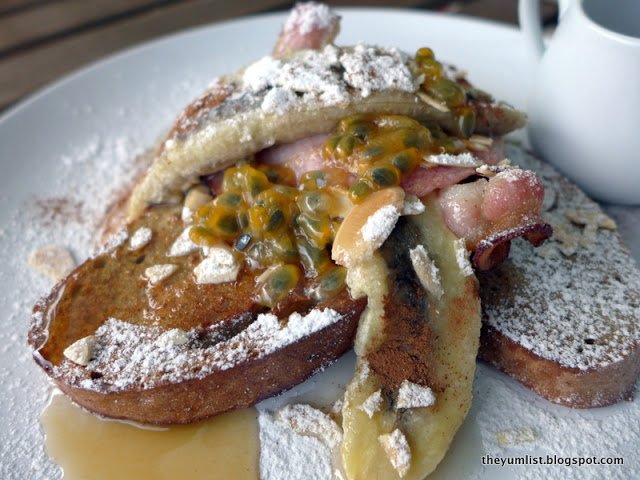 Roasted Banana Bacon French Toast with Passion Wild Honey (RM18.80)
BreadFruits has a large selection of fresh juices, some of which are listed according to their energizing, detoxifying and healing properties. The Passion Fruit with Wild Honey (RM9.90) is like drinking a delicious iced bubble tea, but with crunchy passion fruit seeds throughout. It's not too sweet, but it has nice honey overtones.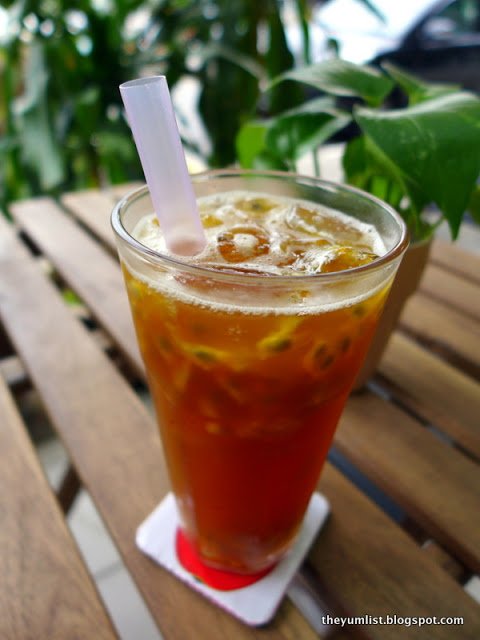 Wild Honey and Passionfruit
There are several hot beverage options too, including a Wild Honey Latte (RM9.80. This is good, strong coffee with just a hit of sweetness, very pleasant even if you prefer coffee without sugar.
Wild Honey Latte
Reason to visit: For the real mushrooms, thickly sliced back bacon, interesting salads and magical honey but the main reason I'll be going back is for more of the Passionate Banana Bacon French Toast!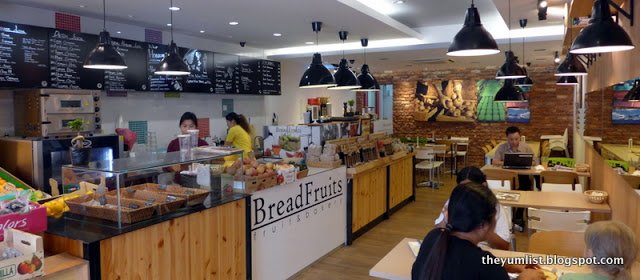 BreadFruits Interior
BreadFruits is open from 8:30am to 9pm, 7 days a week and on public holidays. All prices are subject to 10% dine-in service charge, which does not apply to take-away orders.

BreadFruits
17, Jalan 26/70A
Desa Sri Hartamas
Kuala Lumpur, Malaysia
+6 03 6201 0090

View Bread Fruits in a larger map