Fashion house. Restaurant. Space for young artists to grow. Elegantology combines them all. A partnership between noted Malaysian designer Beatrice Looi and the Cognac label Martell, sees the formation of a creative space where emerging local talent in the fashion and gastronomy scenes are given a platform from which to rise.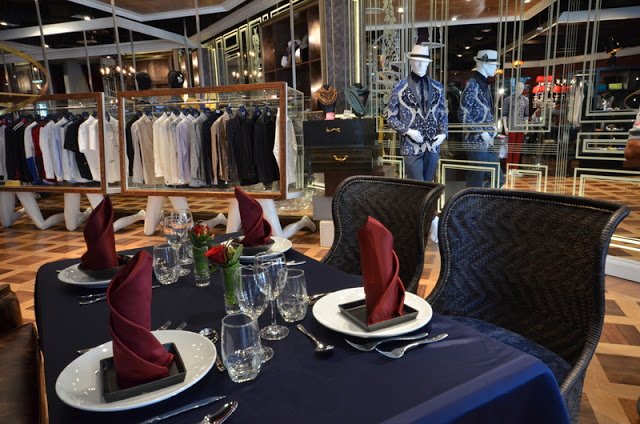 Dining and Fashion
Men's fashion and lifestyle collections form the backdrop for elegantly dressed dining tables and a pretty swish bar. A kitchen counter is lined with hanging lights, but shielded with transparent glass, allowing a peak into the food preparation action but also a barrier from the smells. Celebrity Chefs Johnny Fua and Sherson Lian are at the helm of the kitchen and the reason for our visit. Currently shooting the TV show, Reality Bites: Rise Above with Style, due to air on the Asian Food Channel in December, they needed some diners to serve. We happily obliged. 😉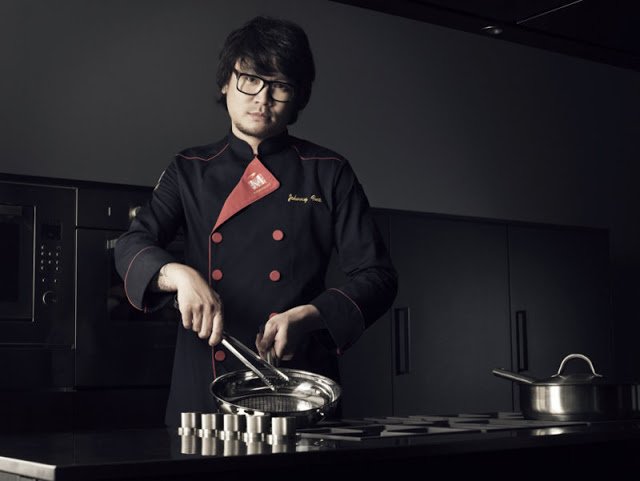 Chef Johnny Fua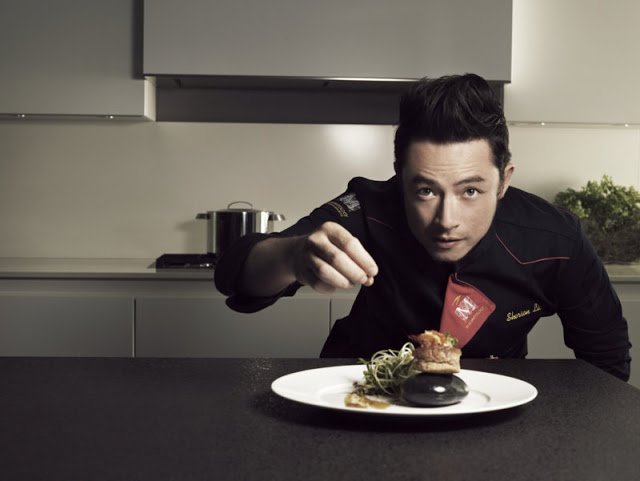 Chef Sherson Lian
Our four course tasting menu was paired with brandy from France's oldest Cognac house, Martell. Dating back to 1715, when Jean Martell first founded the company, the spirit has earned a reputation for being mellow, light and fragrant. We were able to sample a trio of styles representing three of the more popular varieties on the market with this meal.
The experience began with an Amuse Bouche featuring a white gazpacho of grapes and almonds with salmon tartare. Recommended to first take the spoon of pink fish, followed by the shot of chilled soup, it was a complete mouthful of flavours, serving to excite the appetite for the rest of the menu.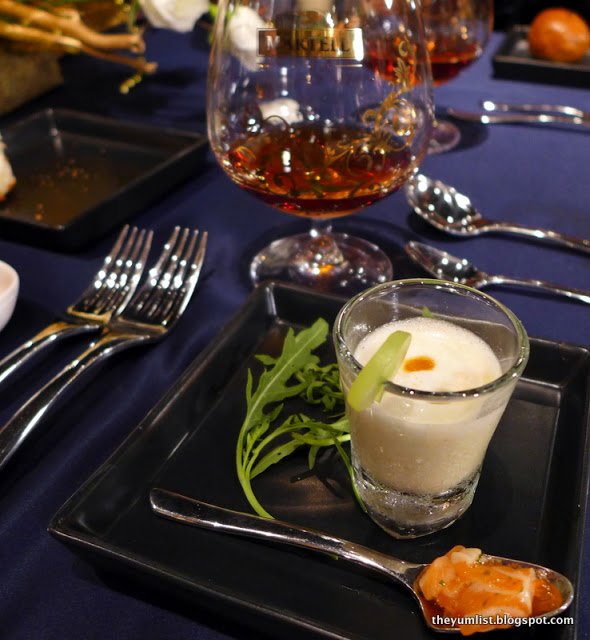 Amuse Bouche
Martell Cordon Bleu is a good representation of what Martell has to offer and opened up the evening alongside the starters. Graceful and aromatic, this drop is rich flaxen in colour presenting a complexity of fruit, coffee, nuts and honey on the nose and, a round mellow sensation on the palate. It paired well with food but would be equally as good as a stand-alone drop.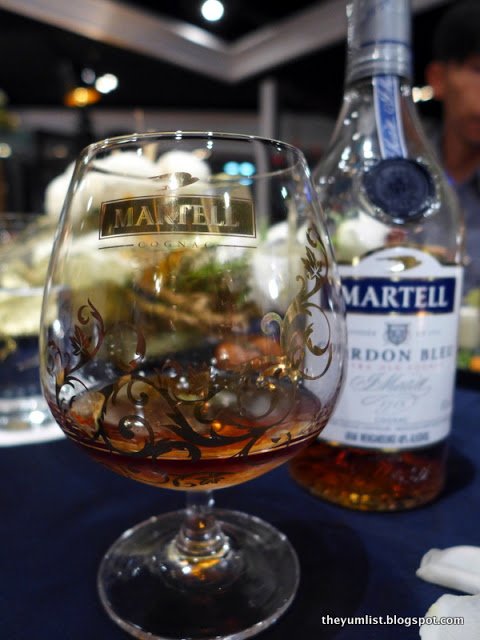 Martell Cordon Bleu
The First Teaser, a lightly seared Hokkaido Scallop, came aside a base of Cauliflower Puree with a garden of Mixed Mesclun leaves crisped up with Fish Skin Crackers. A surprising sprinkling of a sweet crumble lined the edge of the plate adding complexity and balance to the dish. Martell's Cordon Bleu was sauve enough to complement the delicate shellfish rather than overpower it.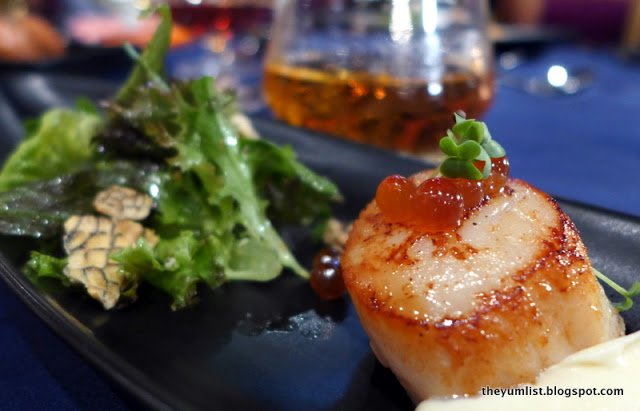 Hokkaido Scallop, Cauliflower Puree, Fish Skin Cracker, Mixed Mesclun
A Zuppa of Foie Gras Veloute came next. Smelling this one before it arrived, the thick soup was given a crunchy contrast with Smoked Garlic Toasts and spiced up with a tangy Citrus Tomato Salsa. Martell Chanteloup Perspective served to bring out both the earthiness of the foie gras and the citrus in the accompaniment. Glowing with a honey-yellow hue, this Cognac gives off aromas of stone fruits and presents a light, harmonious impression in the mouth with flavours of piquant berries turning into a long-lasting spicy finish.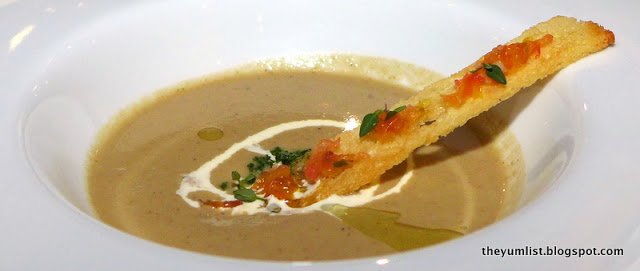 Foie Gras Veloute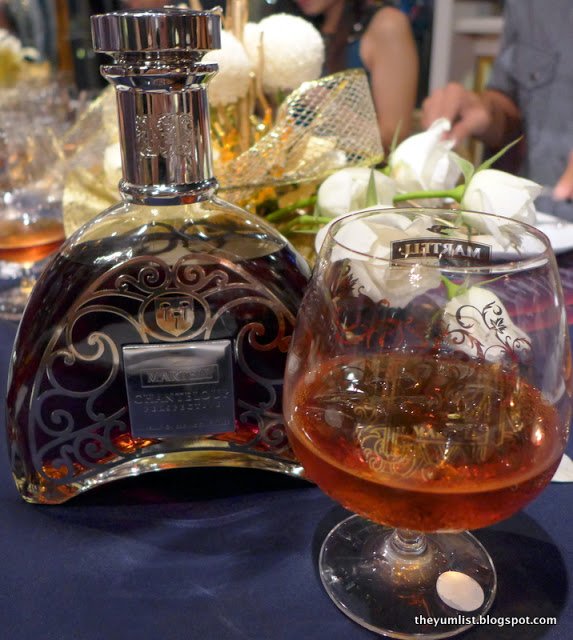 Martell Chanteloup Perspective
So much thought seems to have gone into palate cleansers these days that many seem to have lost sight of their purpose and manifest more as a dessert, rather than refreshing the mouth between courses. Happily though, this was not the case with Elegantology's sorbet of Passion Fruit Granita. More of a shaved ice texture than a sorbet, the ice was only faintly sweet, topped with micro greens and fresh passionfruit pulp, it did the job for which it was intended.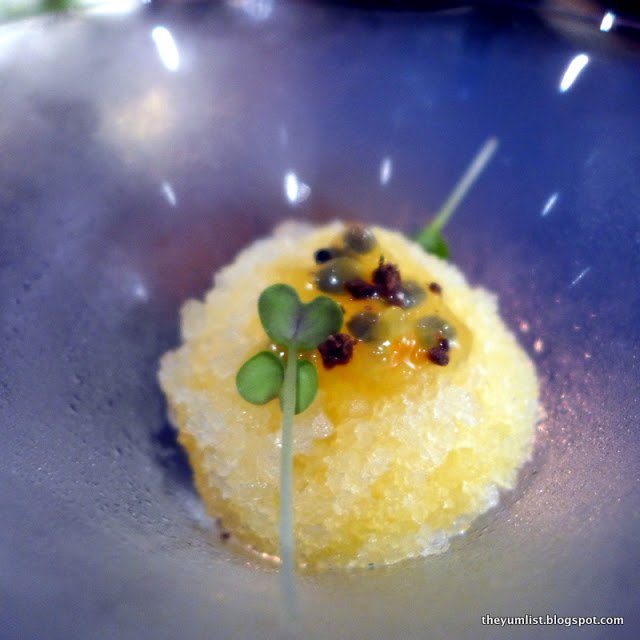 Passion Fruit Granita
Guests could choose between seafood, lamb, beef or fish for the Main Course, each paired with a matching Martell Cognac. As could probably be predicted, hubby's carnivore tendencies surfaced in the ordering, as did my fancy for lighter healthier cuisine.
Master Kobe MB10+ beef was served in Natural Beef Jus and sided with bitter Arugula Leaves and, an intriguingly presented tin of Fried Glutinous Rice & Muscovy Duck. As expected, the flesh melted in the mouth and could easily have been sliced with a butter knife. The sticky rice accompaniment with a spicy topping was more-ish and, I'm sure if I had the same dish as hubby, my tin would have magically made its way over to his plate. Martell XO was a sufficiently strong partner matching the intensity of this dish. Shaded a translucent copper, aromas of spices, figs and nuts made their way gently up nostrils and, fruit and walnut on the tongue transformed into a prolonged smooth finish.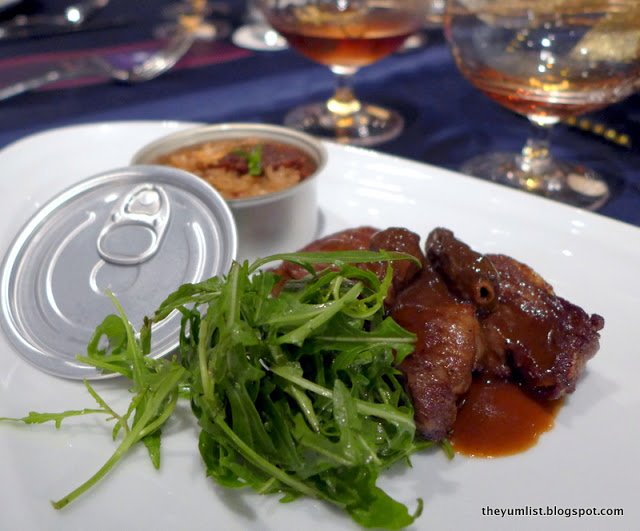 Master Kobe MB10+, Natural Beef Jus Fried Glutinous Rice,  Muscovy Duck, Arugula Leaves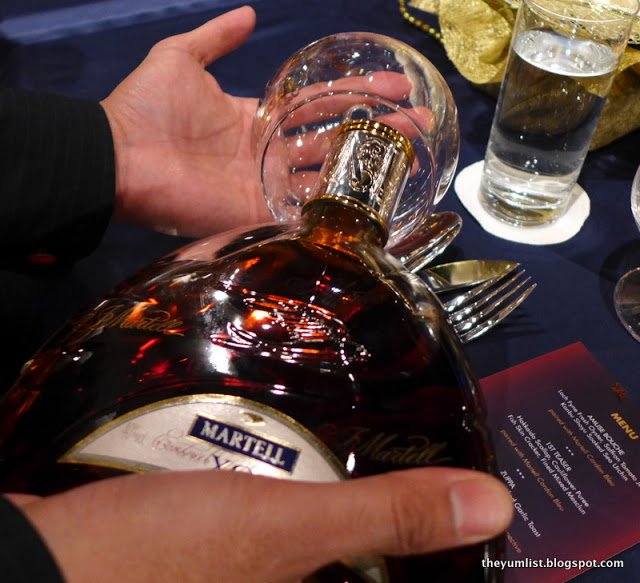 Martell XO
My choice for the main, a small round of US Black Cod was topped with oily balls of Butternut Pumpkin Gnocchi, drizzled with Chilli Oil and, sat in a Classic Cream Carbonara sauce. Unexpected bursts of fish roe popped in the mouth with the cream sauce balancing out their saltiness. The Martell Chanteloup Perspective did a double job of coating the tongue while cutting through the cream – a well-suited teammate for this dish.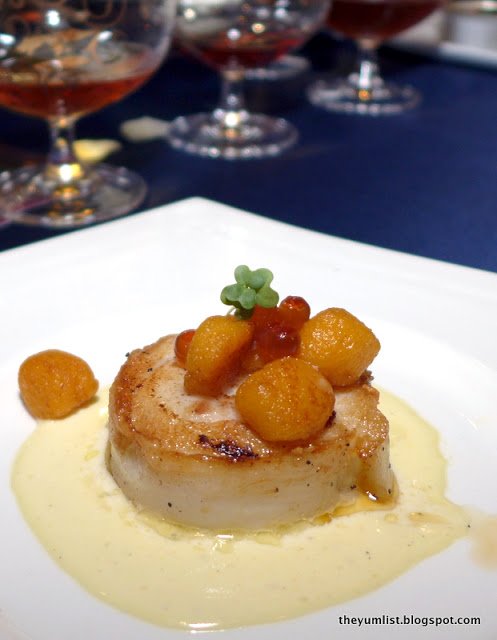 US Black Cod, Butternut Pumpkin Gnocchi, Chilli Oil, Classic Cream Carbonara
Dessert sounded and turned out to be rather entertaining – Baked Cheesecake with a Fireworks Crumble and Kumquat Confit in Tarragon Infused Syrup. A deconstructed version on the classic sweet saw creamy balls of cheese spread across the plate linked by an explosive (popping candy) crumble. Delightfully, the tingling lingered in the mouth long after the smooth cream cheese had disappeared. The tart candied kumquat added interest but the tarragon syrup was not needed. Martell Chanteloup Perspective finished a lovely evening.

Baked Cheesecake with a Fireworks Crumble and Kamquat Confit in Tarragon Infused Syrup
Reasons to visit: fashion, food and fun all in one locale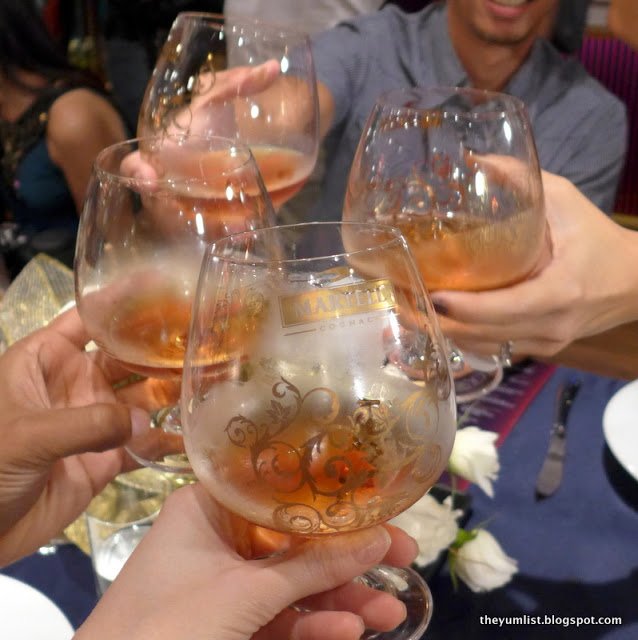 Cheers to Martell
Elegantology
35 Level G2, Publika,
Solaris Dutamas, 1 Jalan Dutamas 1
50480 Kuala Lumpur, Malaysia
(at the public square near Estilo, Silver Spoon and The
Social)
+6 03 6306 5577