Tiger Rock
Island and Jungle Living. An Artist's Retreat
Tiger Rock offers a chic rustic retreat with the touch of an
artist, the thoughtful care of a family and, the conveniences of modern life.
This is jungle-island living at its best and, it's only four hours from Kuala
Lumpur.
Getting There
A 90 minute drive north of KL, on an excellent highway,
followed by two hours of travel on meandering roads through villages, palm oil
plantations and small farms sets you down at Lumut Jetty.  Ten ringgit buys you a return ride on the
ferry across to Pangkor Island where your affable host, Mohan, from Tiger Rock
awaits your arrival. A short, adventuresome, four-wheel drive jaunt later and,
you're in paradise.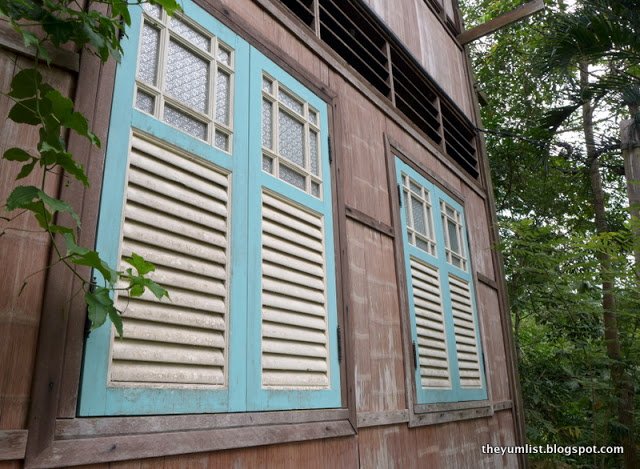 Shutters on a Room
Sustainable Tourism
Formerly the private residence of the Duckett-Wilkinson
family, Tiger Rock stretches over an elevated area of Pangkor Island and is interlaced
with the verdant tropical environs.
Sustainable tourism is the catch phrase here. Artist and
owner, Rebecca Duckett-Wilkinson places high value on "preserving the natural
environment and cultural way of life…" This is seen both in design and
management of the property.
Traditional architecture, recycled wood and pre-loved
furniture are all key elements in the structures. Minimal terrain was disturbed
in constructing the buildings and the retreat is intertwined with nature in all
of its glory. From rocks protruding through the corners of rooms, to vines
taking over the exterior walls, to trees poking their branches through gaps in
the ceiling, nature is knocking on the doorstep.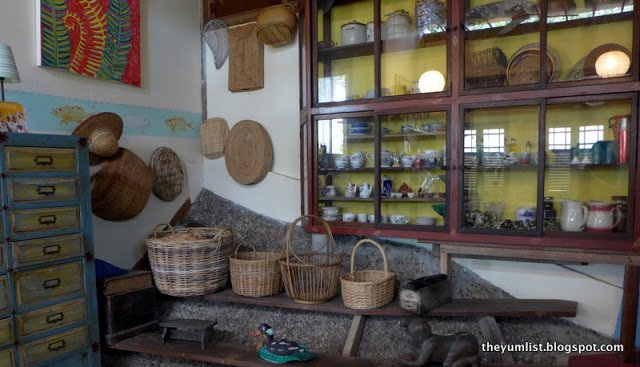 Kitchen Built Around the Boulder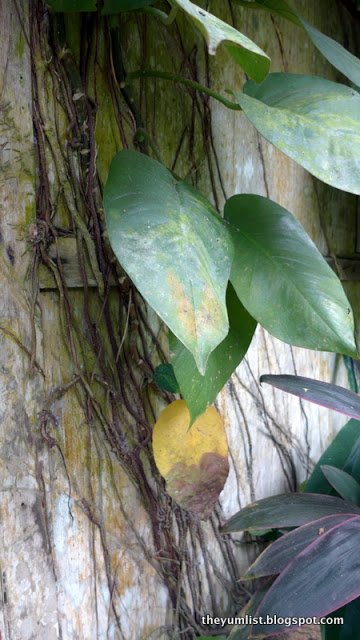 Vines Overtaking the Walls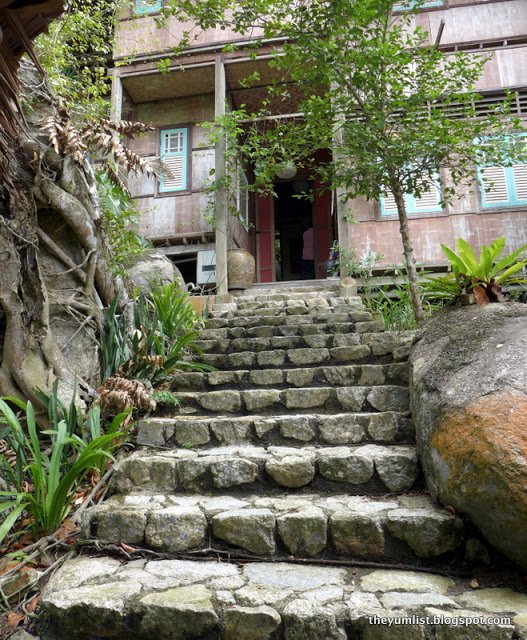 Stairway to the Main House
Animals: monkeys; birds (even the Pied Hornbill!); snakes; squirrels;
flying lemurs; wild boars; mice; mosquitoes; ants; butterflies and; lizards:
Tiger Rock houses them in abundance. What might be some people's fascination
could also be a biophobe's bad dream. In general, the wildlife keeps its
distance though, the only exception being the persistent mossies.
Air-conditioning, ceiling fans, mosquito coils and, repellent, however all form
part of a rather successful self-defense system.
A local family manages the property and, with that, goes
both an infusion of Malaysian culture, and the benefits of hanging out with an
island community member. Mohan, his lovely wife Bavanni and team, welcome
guests into this shared home as if long lost family members, entitling them to
participate in ceremonies and events that a tourist might not otherwise be
privy to. Too however, they are intuitive in reading lodger's desires, knowing
when to quietly recede from view when given the sense that seclusion is wished
for.
In the Arms of Nature
Snug in the arms of nature is the hill house, consisting of
four bedrooms girdled around a central living and dining gazebo. This spacious
set up is ideal for families or groups of friends. The Main House, Pool Chalet
and Studio provide further accommodation, sharing common areas for relaxation
and eatertainment.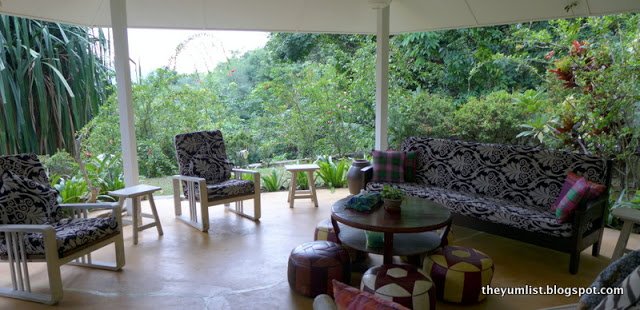 Living Area – Hill House
The Main House
Originally the Wilkinson family's private home, the Main House
holds a master bedroom and children's room, both with attached bathrooms. All
have fans and air conditioning and are lovingly decorated. Dotted with family
photographs, old birthday cards and other such memorabilia, the ornamentation
imbues feelings of a happy family refuge.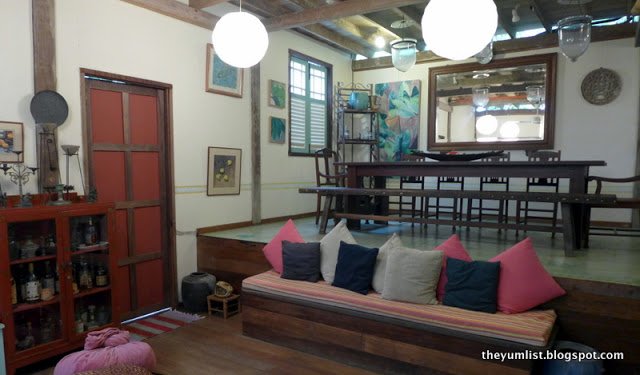 Living Area of the Main House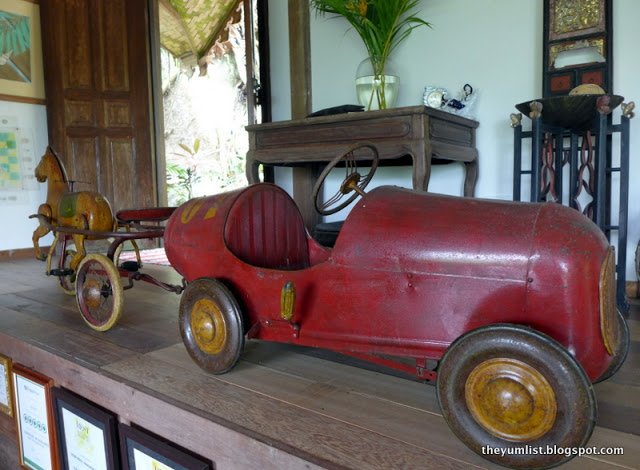 Antique Toys
The Pool Chalet offers a compact jazzed up cabana. Roosted
in the hillside, it's enclosed with trees. The natural stream filled pool and lush
valley vegetation are seen from the chalet's private balcony.
The Studio
When the Wilkinson family was residing on the island, this
was Rebecca's workplace, the artist's studio (and our nest for a few days). The
highest point on the hill cradles a large living and sleeping area with an en
suite bathroom. A lawn sprawls from the building to a natural rock fence backed
with dense tropical forest. Thoughts of an afternoon in the yard are nurtured
with a picnic bench in the middle.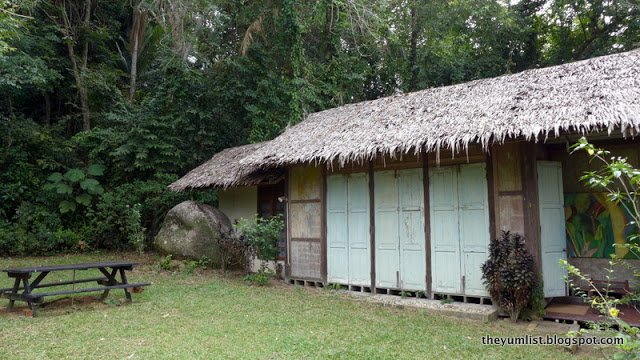 The Studio
On the other side, viewed through open shutters behind the
bed, is more vegetation. Tarzan vines and thick foliage produce sweet smelling,
health inducing fresh air – if only it could be bottled before returning to the
city. While the walls can be opened with plentiful panel doors, they can also
be shut giving privacy and protection from the weather.
The bathroom too welcomes the great outdoors to reside within.
Three silver-gray boulders bulge from the floor and louvered windows reveal yet
more verdure.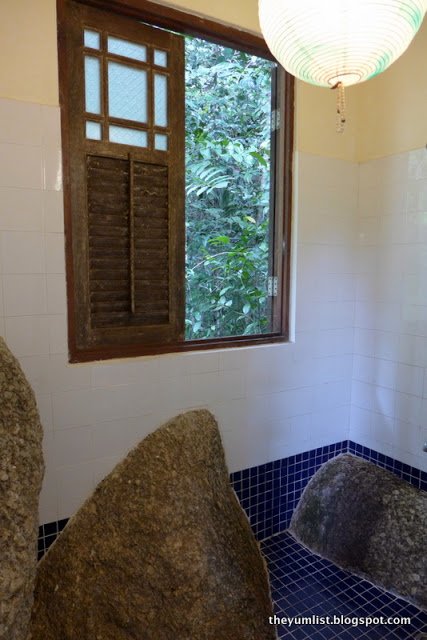 The Studio Bathroom
Natural timber, beamed ceilings and thatched gable roofs carry
a bricolage of knickknacks. Seashells hang from beach wood in a mobile
reminding you of the retreat's proximity to the sea. Brightly patterned tiffin
tins form eye-catching rows atop wardrobes and shelves. Antique dolls and
miniature porcelain tea sets are lined up in a glass display cabinet furnishing
you with a peak into days gone by. Colourful artworks add cheer to the room and,
no less than ten paper lanterns dangle from above, gently illuminating the
space.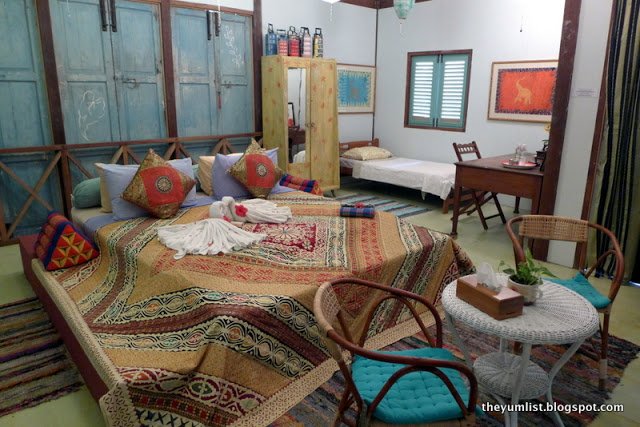 The Studio – Bedroom
The bed is king size and spread with an Indian inspired
mosaic covering. Wicker chairs and table sit at the foot, topped with a potted
plant and outlook over the lawn. An antique desk forms a workspace and a single
bed allots more sleeping capacity.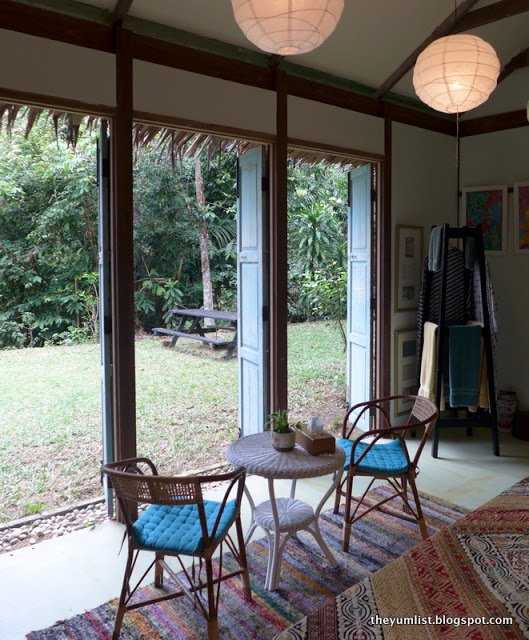 Wicker Table and Chairs
Common Areas
A Library Pavilion and Pool House offer distraction with satellite
T.V., walls of reading material and, board games. An infinity pool overlooks a
lush valley of virescence. Sun chairs fringe its edge forming a popular place for
hours of lazing and, a tennis court is a few minutes walk away for those
wishing to be more active. Guests can grab a snack and drink, whenever hunger
or thirst arises, from the public refrigerators.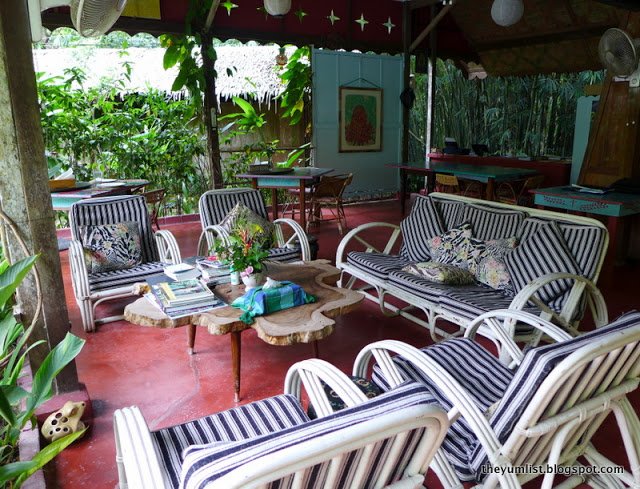 Pool House – a central living area where meals are taken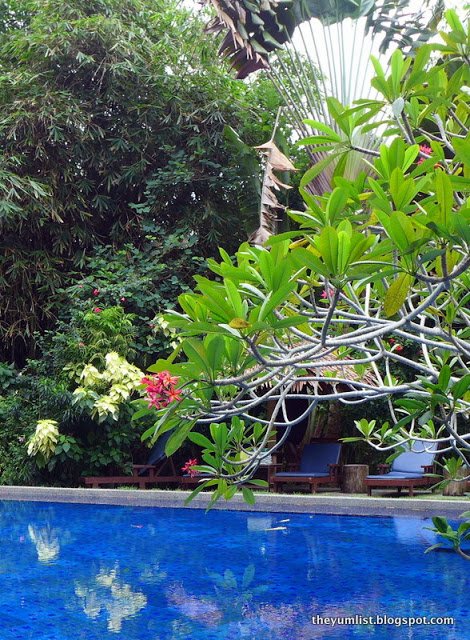 Pool
Bavanni's Cooking
An article can't be written about Tiger Rock without
mentioning Bavanni's home cooking. Most packages sold are full board, including
accommodation, transfer from jetty, snacks, non-alcoholic beverages and meals.
From arrival to departure guests are showered with the chef's delicious dishes.
An expert in Indian and local cuisine, but also master of Western plates and, a
wizard in preparing child desirable food too, Bavanni ensures that no-one goes
hungry during their stay at Tiger Rock.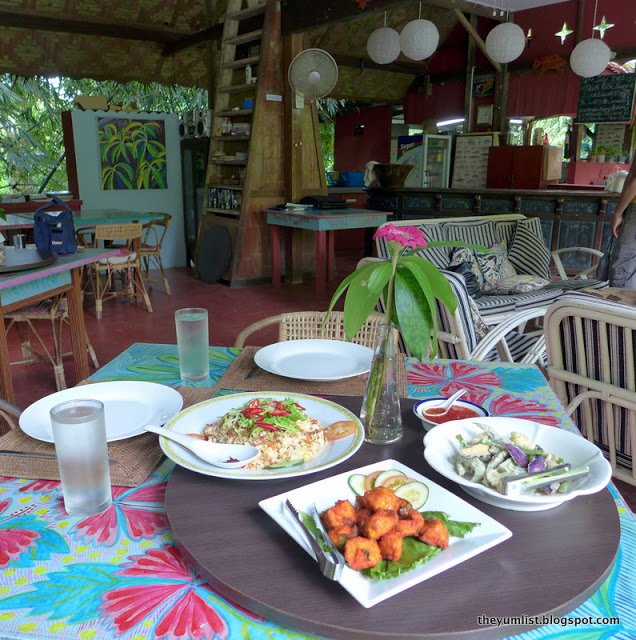 Bavanni's Cooking
Tiger Rock presents culinary hospitality in an island
getaway, an artist's retreat in the beautiful natural surrounds of Pangkor
Island.
Reason to visit: a chic rustic hideaway enveloped with nature, Bavanni's cooking, Mohan's warm hospitality
Tiger Rock
WD.2 Pangkor
Pulau Pangkor
32300 Perak
Malaysia
+6 04 264 3580